Whether you're a gym or restaurant franchise with locations nationwide – or an international company with a mix of in-office and remote workers– digital signage for Enterprise businesses can be an incredibly powerful tool in your communications arsenal (as can these digital signage content ideas).
But with multiple locations comes the need for multiple screens. And with this comes The Four Concerns:
Scalability
Flexibility
Security
Cost
Only one of these four needs to be an issue before the whole idea of mass digital signage and multiple screens  is scrapped; it might be flexible, but it's not affordable. It might be affordable but it's not secure…
Having listened to our customers' concerns over the past few  years, we like to think that we have built ScreenCloud into a concern-squashing digital signage software solution. But, we understand that when it comes to our enterprise customers things can get a bit daunting. Especially with multiple screen management.
Bonus concern: Future-proofing
Something else that should always be taken into consideration when investing in a new software is: is it future-proof? A software is only as good as its provider, and if that provider doesn't have a roadmap for future development – or the financial backing to deliver on that roadmap – then you'll outgrow the capabilities of the software and you're back to square one.
Screen health check: how to know if a screen is on/offline
When managing  multiple screens across various locations, knowing which screens are online or offline is essential; waiting for someone to notice a blank screen or outdated content across hundreds of screen locations just isn't viable.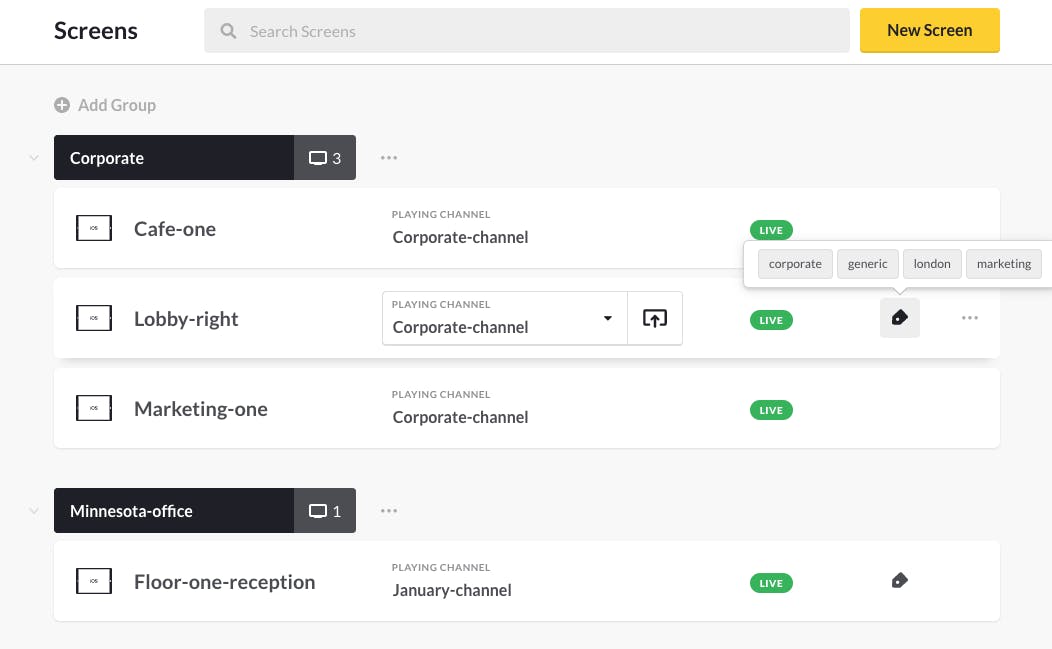 Offline / Online indicators
Within the Screens section of the ScreenCloud dashboard you'll notice the offline / online indicators. Essentially, this is just a binary indicator of whether a screen is online or offline; is there a network connection with the device, and is that device communicating with your account and our servers correctly so that content and data can move back and forth?
Cache is king 
ScreenCloud offers full offline caching for all assets; images, videos, documents and applications like Canvas will keep running on the screen even if it drops connection, so it might take a while to notice that the screen is actually offline. (Streamed media like YouTube, real-time social media feeds etc. are an exception to this.)
If your screen is in an area of poor Wi Fi connectivity, because of offline caching and pre-loading if a connection is dropped your content will continue to play. As soon as it reconnects, content will run as intended. If you receive a message that a screen appears totally blank, the easiest  fix is the classic one: turn off and restart to see if the device picks up connection again. 
Quick troubleshooting: 
For troubleshooting a blank screen:
Restart the whole device
Restart the player
Clear the cache
Check Wi Fi connectivity / Ethernet connection
Do all of the above
Remote screen management
For Enterprise business screen management, remote management tools are better than popping  a Tylenol. 
Remote screen management tools are a sophisticated way of checking the health of – and managing – your devices away from the ScreenCloud platform. Tools like Chrome Enterprise allow you to:
Check the connection of your screens
Run remote diagnostics
Remotely restart devices
These remote management tools are an additional piece of software that you run on the same hardware that runs ScreenCloud. And what you run is generally dictated by the sort of device that you buy; Google devices will run Chrome software, whereas Android devices support remote software like Airdroid. And with more advanced remote management tools, there is also the option to wire them with an Ethernet cable, which will make your screens much more reliable.
Multi-screen management
When it comes to managing as many as 100+ screens, you've got to ask yourself two questions: 1) who do you want involved, 2) how much access do you want them to have.
Whatever your answers, there is a 3-in-1 solution: permissions, Spaces and Groups.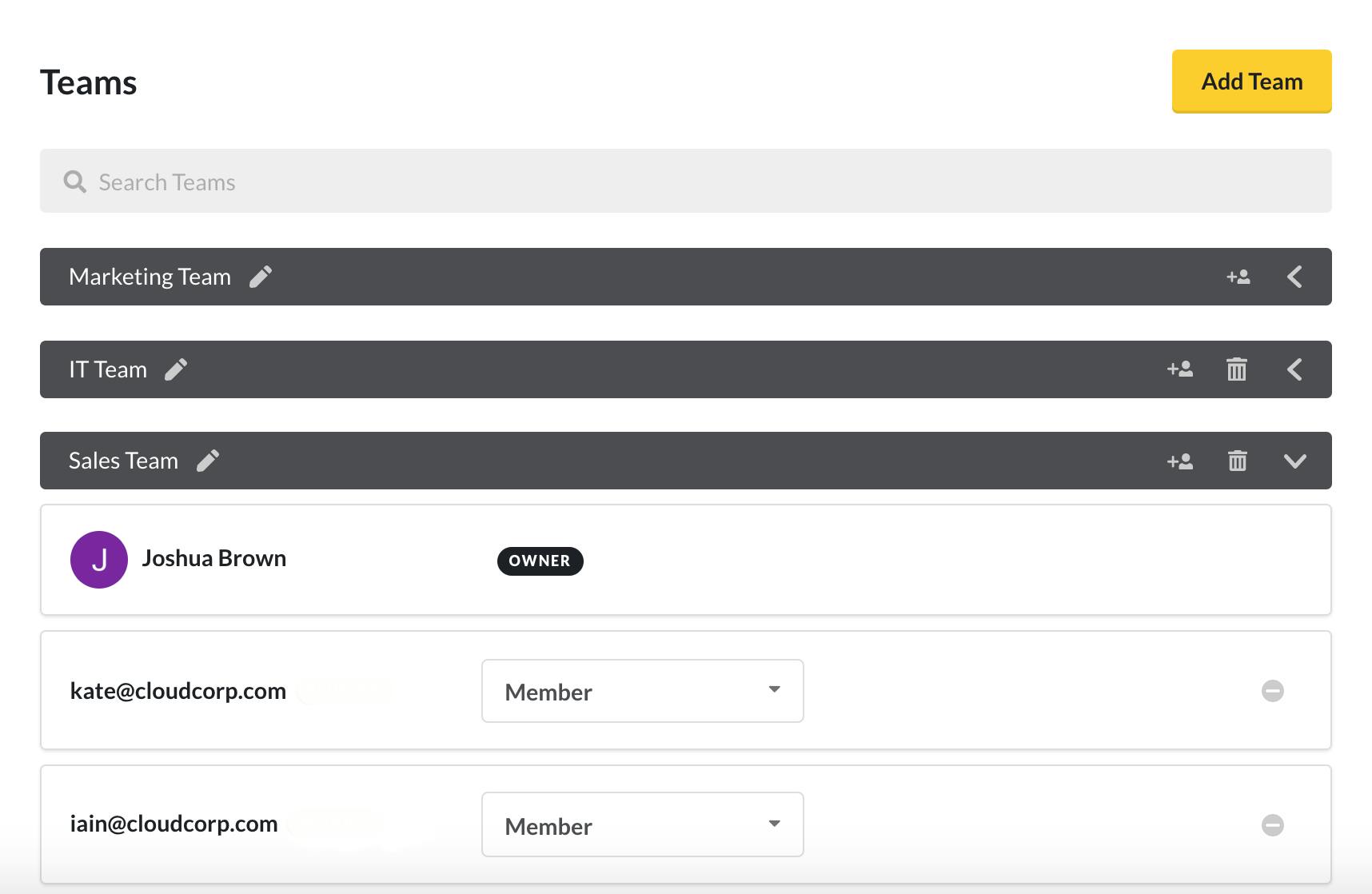 Permissions
This does exactly what it says on the digital tin: what will your team of ScreenCloud users actually be able to do? Can they create Channels and Playlists, or just edit them? Are they allowed to download and display apps, or only handle local content? 
When it comes to Enterprise-level multi-screen management, it's often a case of too many cooks spoiling the broth. Restricting global permissions will allow those in Content HQ to maintain control over the main content shown across all screens, while local teams can handle the management of local content. This is done via a mix of Spaces and Groups.
Spaces: You can create multiple Spaces within one ScreenCloud account. Spaces basically subdivides the account; one of the major benefits of this is that billing, security, logins, SSO etc. is all connected to one account. In effect you are firewalling different Spaces off from one another so that each Space can't affect the other one's content and screens. 
Within each space lives a "mini ScreenCloud" account of screens, Channels, Playlists and media files that is available to a specific group of users.  But if you're going to work with a crack team from one location to handle all screens, it's best to stick to one Space.
These Spaces could be separated into a Global Space, Location #1 Space, Location #2 Space etc. If you're looking to localize content and screen management, then Spaces is the way to go. 
Groups: These are teams of users who can be attributed to any number of Spaces. Within these Groups you can also set individual permissions, e.g. creator, viewer, manager, admin etc. 
Sharing is caring
If you're working with a global channel, then it is possible to share Channels between Spaces and keep those as "read only". This is ideal for when you have company-wide  global content that you wish to share on top of localized content that can be edited and controlled by your local teams. Create a Corporate Playlist, share into each Space and add it to each local team's Channel. Then, set permissions as 'edit only' so that each local team can only edit a Playlist that is in their Space.
(Confused about Channels and Playlists? Click here).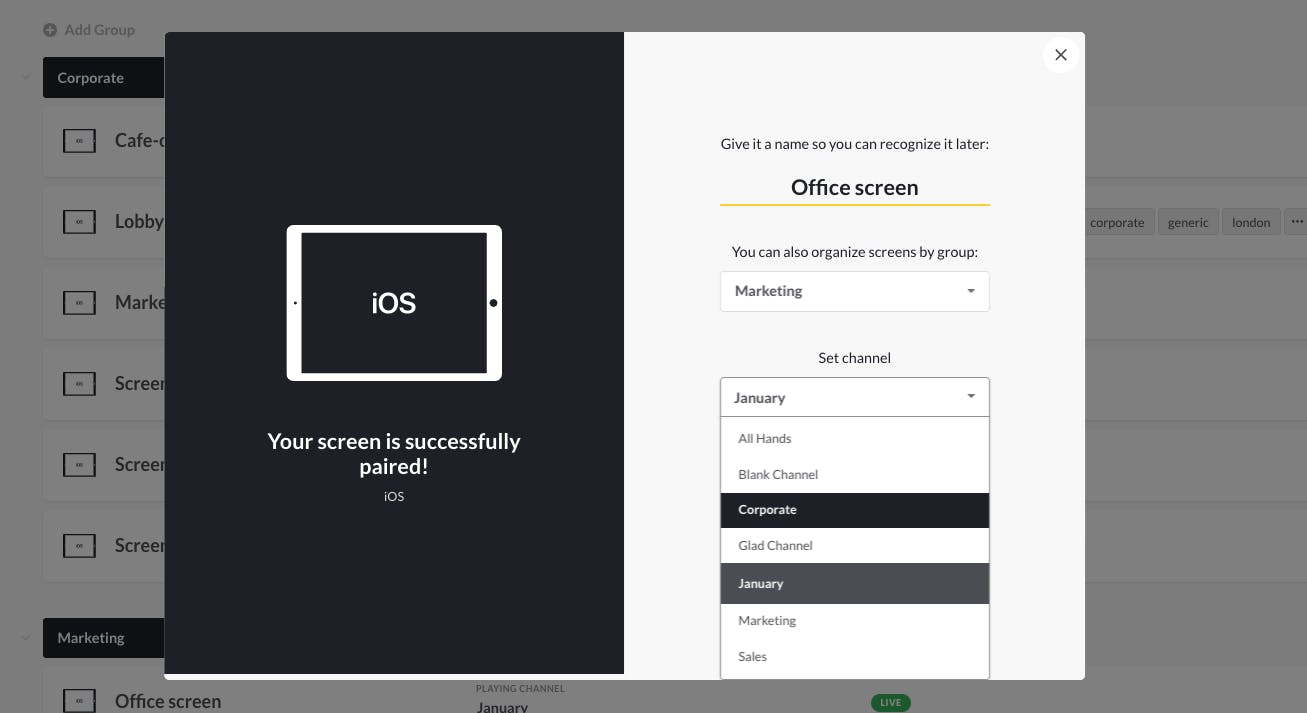 Multi-screen management housekeeping
Sticking to rigid naming conventions also helps manage multiple screens, especially when you're not able to physically check what content is playing on each one. An example of this: "LA Office#2-Reception-Left-Corner" – name your screen after its exact location. And as you can drag-and-drop, you can decide whether you want to work by location (e.g. all the LA office screens together) or by screen content (e.g. all reception screens together).
Of course with all of these Playlists and Channels there will be masses of media content. This can be stored in folders and subfolders and sub-subfolders (and so on). It's just like a traditional computer filing system to ensure you know exactly where everything is.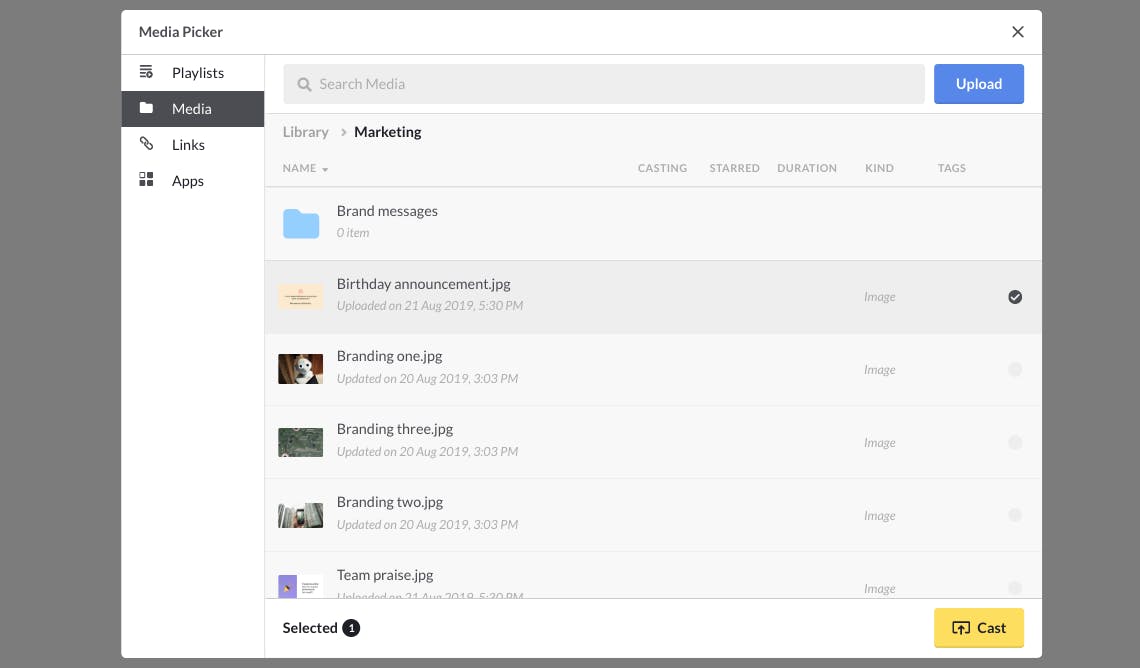 Multiple screen content management
Arranging content to be shown on one screen can be daunting enough, but 100+? Luckily, we built ScreenCloud with this in mind. 
Multi-select
If you need to cast all of your screens, or just set specific content to all of them, you can multi-select screens by either clicking the checkboxes or pressing control and clicking on them. This works the same for Channels. And, you can also duplicate at the click of a mouse. You can also multi-select media and add everything in one go to a Playlist.
Content scheduling
It may be that you have a special offer that expires after a month, or holiday-specific content that you want to run at certain times of the year. When managing multiple screens, remembering which content is about to become outdated and then manually remove it… no thanks.
By setting media availability you can set its expiry from a Playlist ahead of time. Once it has expired you'll still see it within the Playlist on the backend, but it will be greyed out; the Playlist on screen will just skip it. This is ideal when planning campaigns or if you have a recurring series of offers.
Search
You can also search through all of your assets to find the correct content you require for your Playlist. You can even search within apps like YouTube to quickly find exactly what you want to add to your content reel. 
Customize
With our GraphQL API, if there's an app you want ScreenCloud to  integrate with but doesn't, you can build your own custom integration. 
Stay on brand
There's nothing worse than seeing different fonts, brand colors or logos used across an organization. In the Canvas app you can create branded templates that can be drag-and-drop edited by anyone (not just the in-house design team).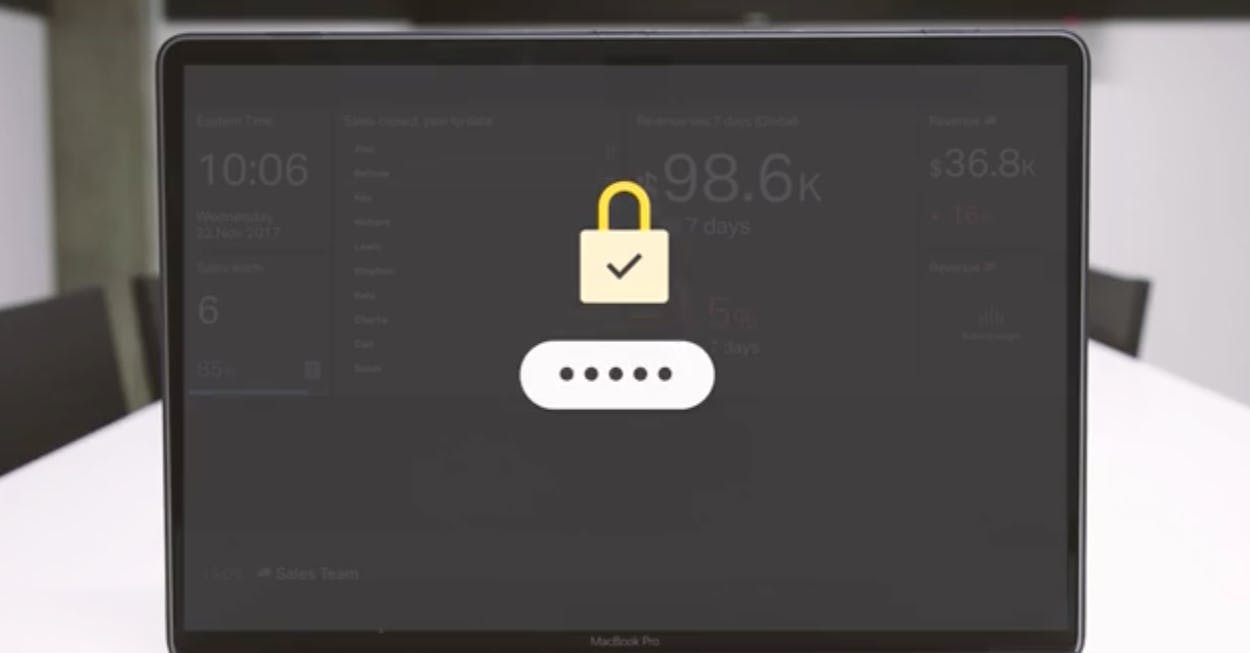 Digital signage screen hijacking and security
Keeping a handle on the security of multiple screens in multiple locations is also a major stress factor in enterprise-level digital signage. Rest easy, ScreenCloud is SOC2 Type II compliant. 
We also have various levels of encryption on the data and the way in which we store it. And so the biggest risk for screen hijacking is either the people who have permissions in the account, or someone physically removing the digital signage hardware. 
We also have information about how to securely show business-critical dashboard data via digital signage.
Screen hijacking countermeasures 
One of the best countermeasures for screen hijacking is to make sure everybody's permissions are set correctly and that they are using SSO. You can also deep provision accounts automatically so that when somebody leaves, just turn off their email address and they won't be able to log in.
Another is to be wary of the physical screen placement. High up is good, but you also have to take into account how visible the screen is. To protect the hardware that is plugged in, you can encase the screen and lock it in. Otherwise, with remote management you can run ScreenCloud in kiosk mode, meaning that nothing else can run on the screen except ScreenCloud (e.g. you can't hijack the screen to play games, change TV channels).  Or simply, you can just hide the remote. 
Permissions. Part Two.
As mentioned above, permissions allow you to manage exactly who has access to your ScreenCloud account. We have secure sign-on for end users and audit logs of actions, as well as the authentication from the market-leading Auth0. You can choose from five preset user permission levels or customize to whatever granular level you want.
But it's not all about you. We have all completed our SOC2 Type II attestation and conduct regular team training to keep security a priority.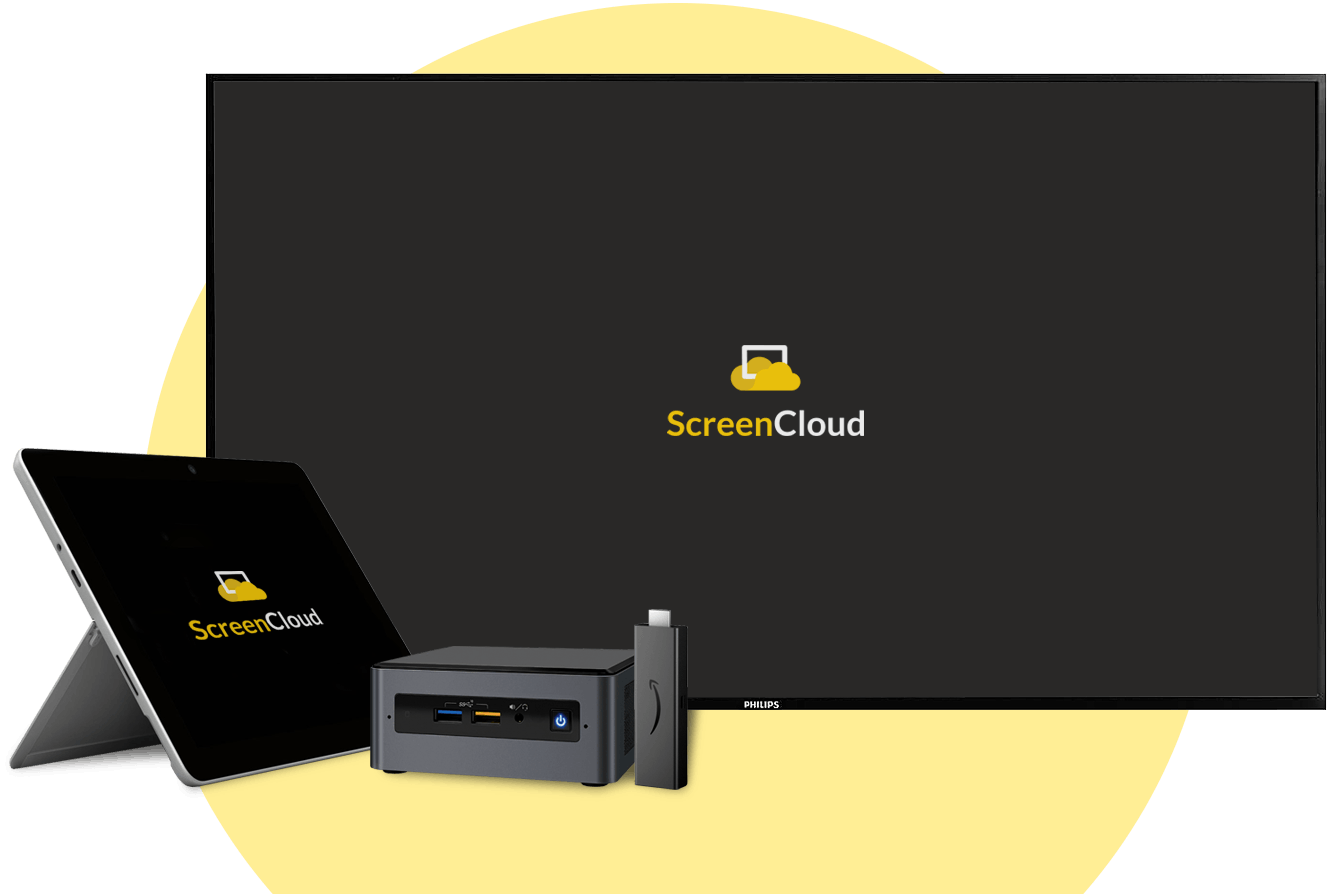 Enterprise digital signage and hardware
(For an in-depth look at hardware, check out our comprehensive guide here.)
Hardware is constantly changing and evolving (we'll keep this page updated). But as ScreenCloud is hardware agnostic, you're not limited to what you want to use. 
At the moment, one of our most recommended hardwares for Enterprise-level digital signage is the UGOOS device. These powerful Android-powered industrial PCs are designed specifically for business cases like digital signage. They run a more complete version of Android (when compared to, e.g. Amazon Fire TV 4K devices) that supports more business apps, and can even support remote device management options.
You can also get a "system on chip device", which basically means that the TV has a computer inside it. With this you can then download the ScreenCloud player directly onto the TV. These, however, don't often come with remote management. So for enterprise and multiple screens, we suggest that you connect a separate device on which you can install remote management software as well as the ScreenCloud player. 
Choosing the best hardware for multiple screen management
Ultimately, it comes down to how you want to manage your screens. If you're happy with allowing local teams more control over their screens, then an Amazon Fire TV 4K stick might suffice. This is simply a plug-in-pull-out device that comes with no remote management, but works well in local settings.
But you don't have to use the same hardware everywhere. ScreenCloud is hardware agnostic, so you can mix and match between a Firestick or an UGOOS across all your locations. 
ScreenCloud Professional Services
When it comes to digital signage for Enterprise, there is a slightly more strategic approach needed. Our Professional Services team work across multiple industries – global and nationwide – to roll out strategic digital signage strategies and assist with creating custom apps and integrations. Check out their services here, or, request a demo. 
Thanks to https://unsplash.com/@takeshi2 for the cover photo