Publish content to your screens directly from Microsoft Teams
Learn More


Create looping Google Slides decks optimized for big screens
A few small changes can drastically improve how your presentation looks when it matters most.
Google Slides is old enough to drive. In a 2007 Blogspot post, Google announced the release of its "Google Docs presentations feature" (it wouldn't be rebranded to Slides for five more years), explaining that "Maybe more than any other type of document, presentations are created to be shared. But assembling slide decks by emailing them around is as frustrating as it is time-consuming." Slides definitely fixed that. But there's still the issue of differences in how your presentation looks on your computer versus how it looks on a meeting room TV or break room signage.
Maybe you're creating a slide deck that will loop on a reception area screen, only the screen is mounted sideways, taller than it is wide. Or you want to add an animated background to a digital bulletin board and get the dimensions just right for it to look good. Whatever the case, it's worth experimenting with a handful of display settings to ensure your presentation is as engaging and effective as possible.
Set your presentation to loop
For such a basic setting, Slides' Auto-advance slides feature is a little hard to find. Open the File menu, go to + Share, and click Publish to web. You'll have the option to generate a shareable URL or an iframe embed code. Choose the option that's best for you (links are easier to use, embed codes are more customizable) and click Publish.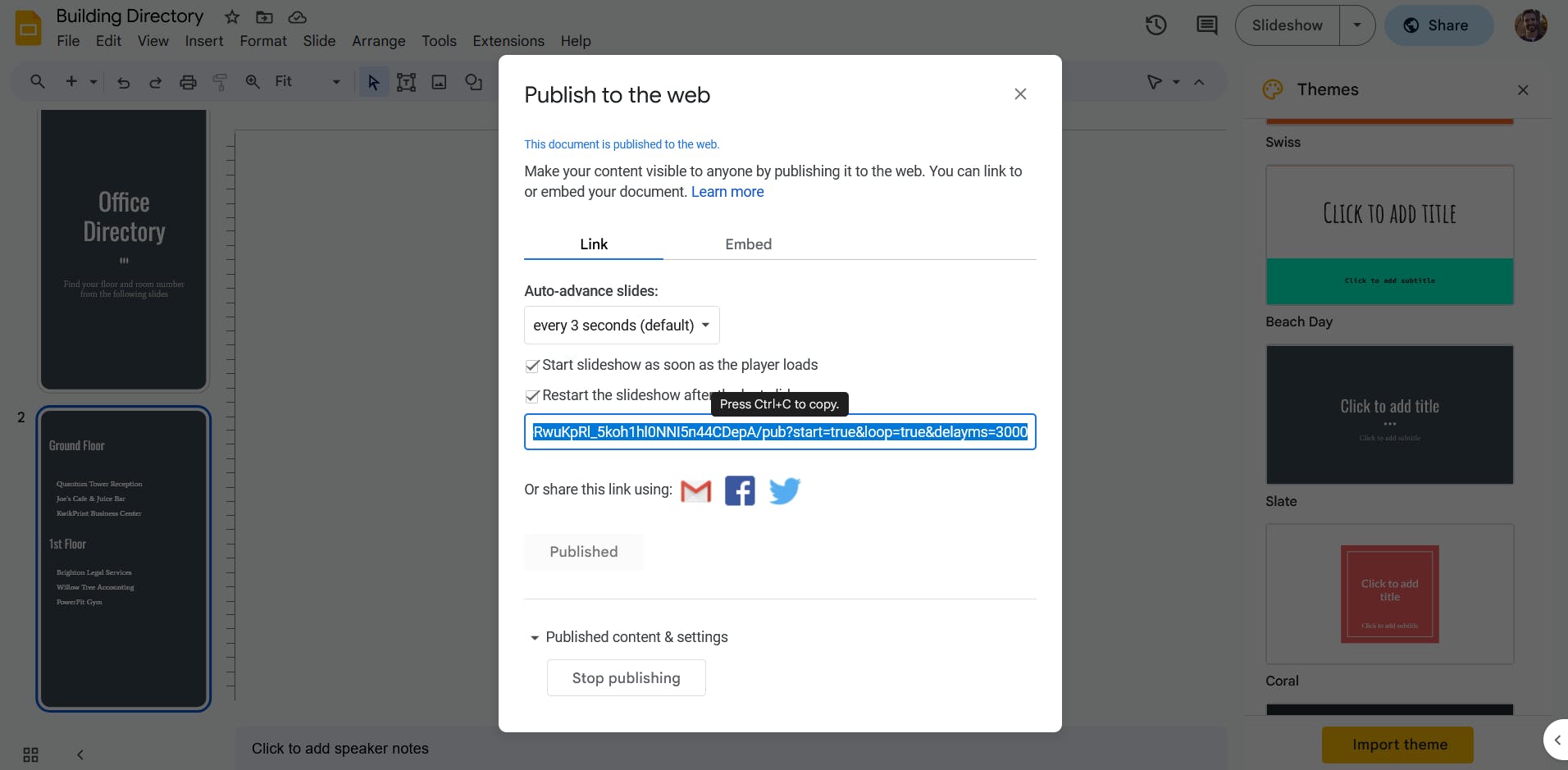 After your presentation is published, tick Start slideshow as soon as the player loads and
Restart the slideshow after the last slide to enable looping. Then, from the drop-down menu, pick how long you'd like each slide to be shown before automatically advancing to the next one. Or, if you want to set an auto-advance interval that isn't listed, update the number after &delayms= in either the link URL or embed code. For example, four seconds isn't a default option, so you'd need the &delayms value to equal 4000.
Fine-tune Google Slides dimensions and aspect ratios
Any new presentation will default to a 16:9 aspect ratio, and that's usually a safe bet for most TVs and monitors. Digital billboards, LED video walls, and screens divided into independent display zones often use a different ratio. It's not the end of the world if your presentation's dimensions don't match your screen exactly. Google Slides scales your content to fit within the screen, possibly adding black or white "letterbox" bars to the sides to maintain the original aspect ratio. Nothing gets stretched or skewed. You just miss out on valuable screen real estate.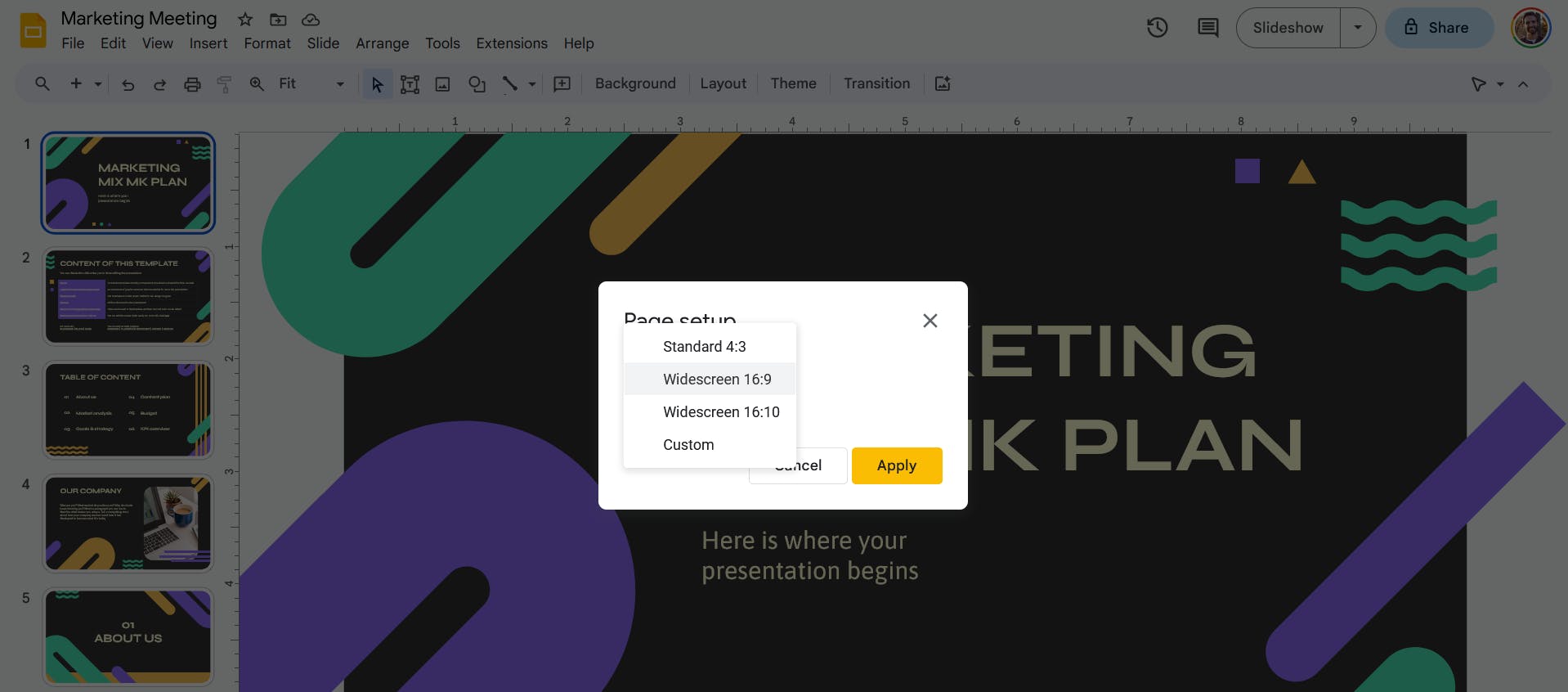 Updating a Slides canvas so it uses precisely the same dimension as your presentation screen is a piece of cake. Open the File menu and select Page setup. There are three preset options: 4:3 (for older monitors and projectors), 16:9 (for most modern TVs, laptops, and computer monitors), and 16:10 (some MacBooks and graphic design displays). There is also a Custom option to set your own aspect ratio. Width is the box on the left, height is on the right, regardless of whether you choose inches, centimeters, pixels, or points.  
Options for determining the dimensions of a screen include Googling the model number, experimenting with ratios on a test slide, or connecting the screen to a computer and checking the display settings. In Windows, you'd right-click anywhere on the desktop, select Display Settings, and open Advanced display settings to see specific details. In macOS, click the Apple icon, open the About This Mac window, and choose the Displays tab.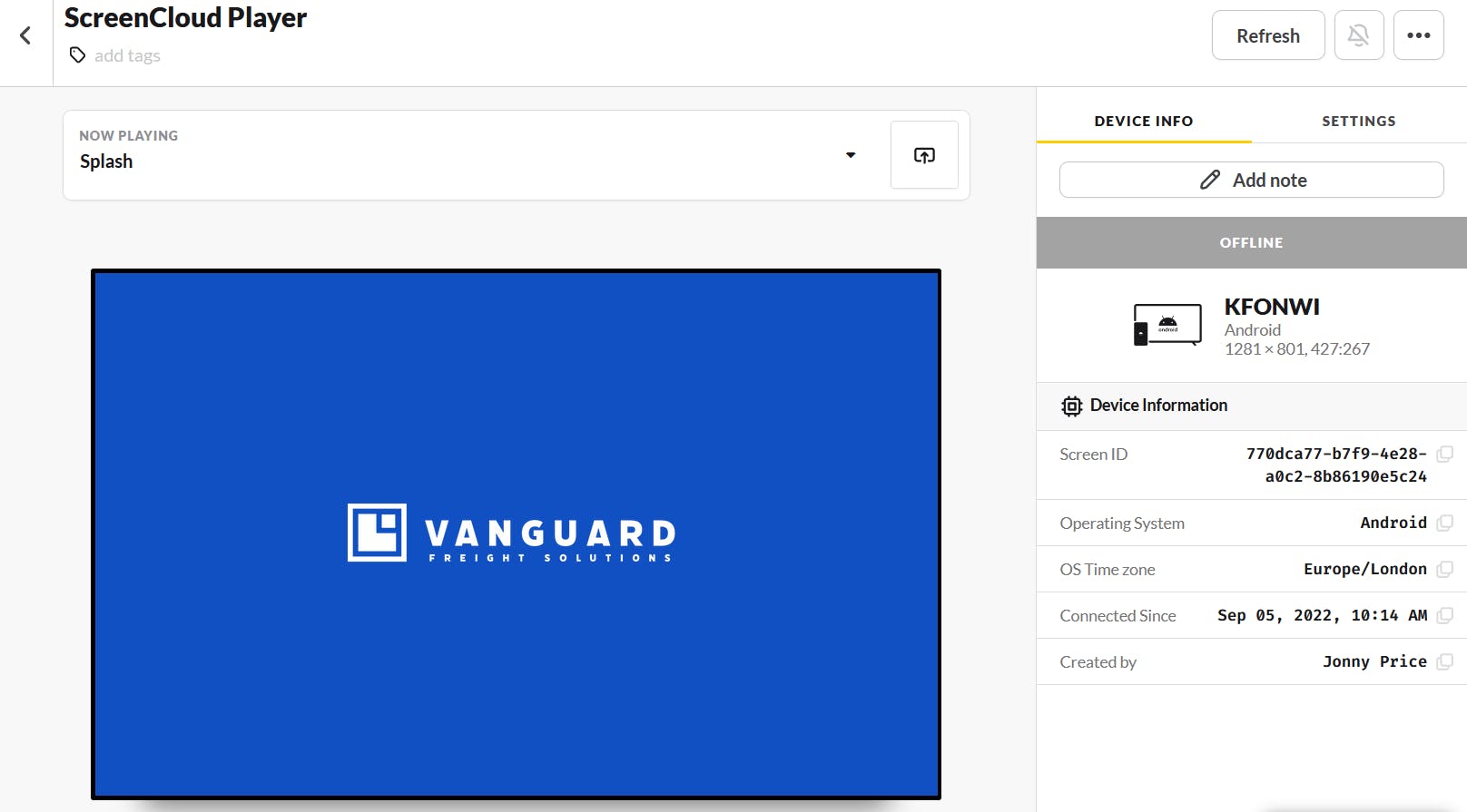 If your Slides presentation will play through a digital signage app like ScreenCloud, the dimensions should be available from the screen management tab. Divide the width by the height to see if it's a standard aspect ratio (e.g., 1280/800 equals 1.6, the same as 16/10). 
Certain types of presentations look better when they play on a loop on a screen taller than it is wide. Building directories, event itineraries, social media feeds, we've been conditioned to expect these in a portrait orientation. But Google Slides doesn't have a native portrait mode.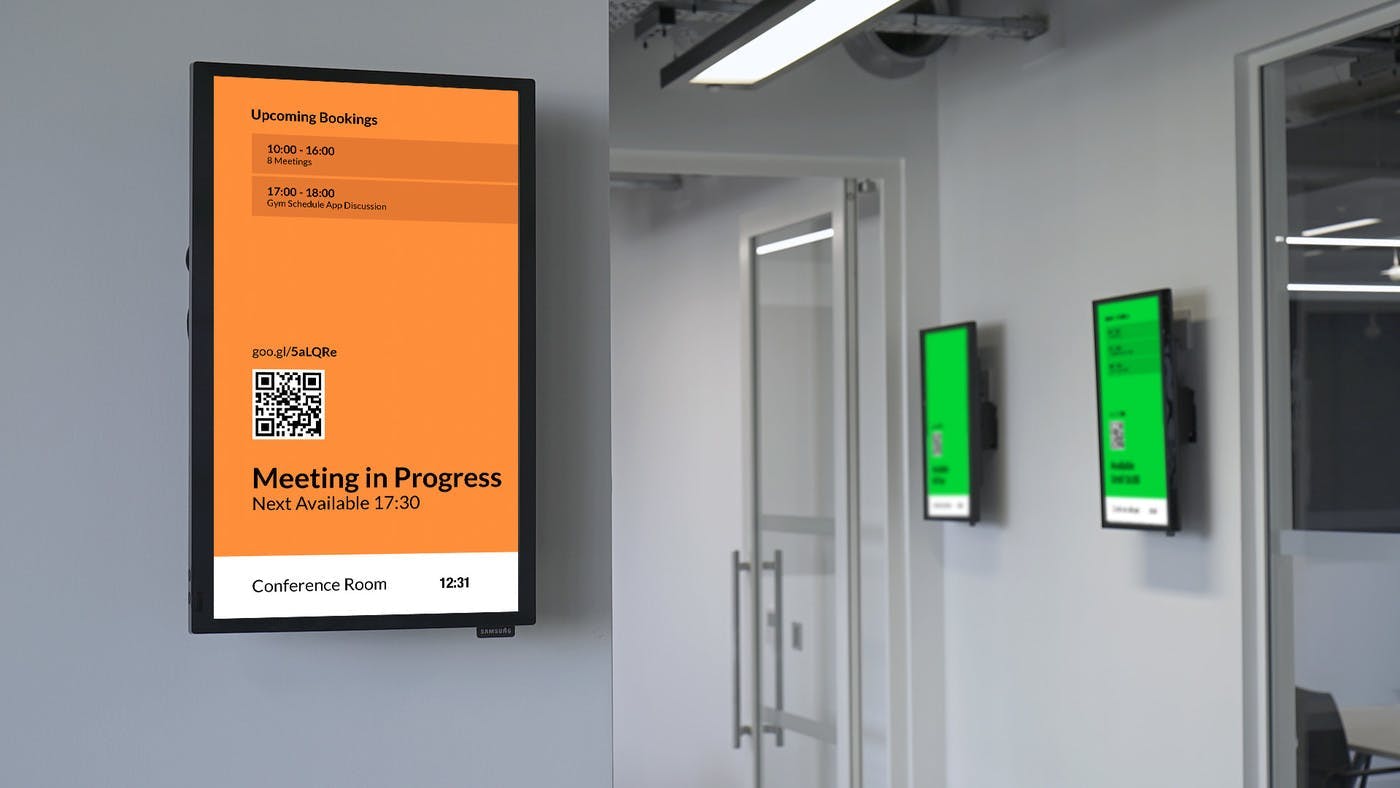 To flip the orientation of your presentation so slides display vertically, open the File menu again, select Page setup, and choose Custom. Then, flip the values so the smaller number is in the box on the left and the larger is on the right. For example, 1920 x 1080 pixels is one of the most common Smart TV resolutions. So you'd enter 1080 x 1920 in Slides. Simple as that.
Experiment with image transparency and overlays
Most looping presentations should use videos, animations, and images sparingly. Slides are only on the screen for a few seconds, and text is usually what you want people to focus on. But if you really need to include visual media, there are a few ways to minimize distractions.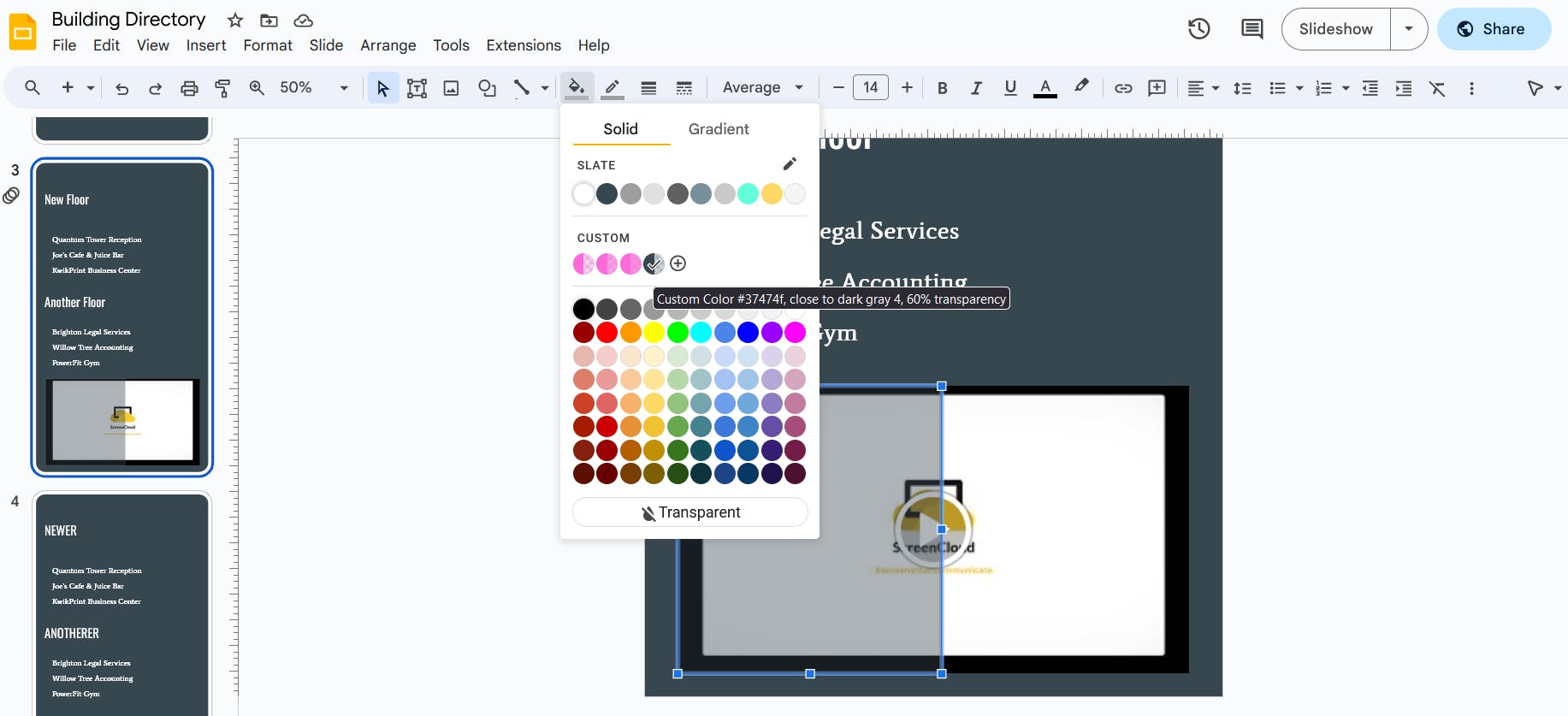 Let's say that you want to add a short animated GIF to show event attendees how to get from where they are to the next panel. Open the Insert menu, go to Image, and select whichever option is easiest. After inserting the GIF, right-click on it and choose Format options. Recolor is good for converting an image to black and white, which is far less distracting than vibrant colors. Then, in the Adjustments options, dragging the Opacity slider from right to left will add degrees of transparency to your image so it's less noticeable than large-font, high-contrast text.
Check out our 30+ Free Google Slides Templates for Digital Signage for more examples of design cues that focus people's attention where it matters most.
To insert a video, you must first upload it to YouTube or Google Drive. Once you have a link, open Google Slides, go to the Insert, click Video, and paste the link. Make sure to right-click the video and open the Format options to enable Play (automatically) and Mute – most browsers will only let you auto-play the video if there's no sound.  
Unfortunately, Slides does not let you recolor or add transparency to videos. And if you place a semi-transparent shape on top of the video in the editor, the video will jump in front of the shape as soon as you start the presentation. To get around this, you have a couple of options. If the video is short enough, you could convert it to a GIF (which also solves the sound issue) at ezgif.com. Or you could add your presentation to a cloud-based digital signage app that lets you play it alongside other apps and widgets that Slides doesn't support.
Connect Google Slides to ScreenCloud for more advanced options
Over the past 15 years, Slides has made creating and sharing presentations much more straightforward. But there's a lot it can't do. You'll need to use another app if you want to add real-time data feeds, embed a calendar, display recent social media posts, or run some basic Javascript. With ScreenCloud, you can split a TV into zones and have a Google Slides presentation running in one with a live feed newsfeed in another.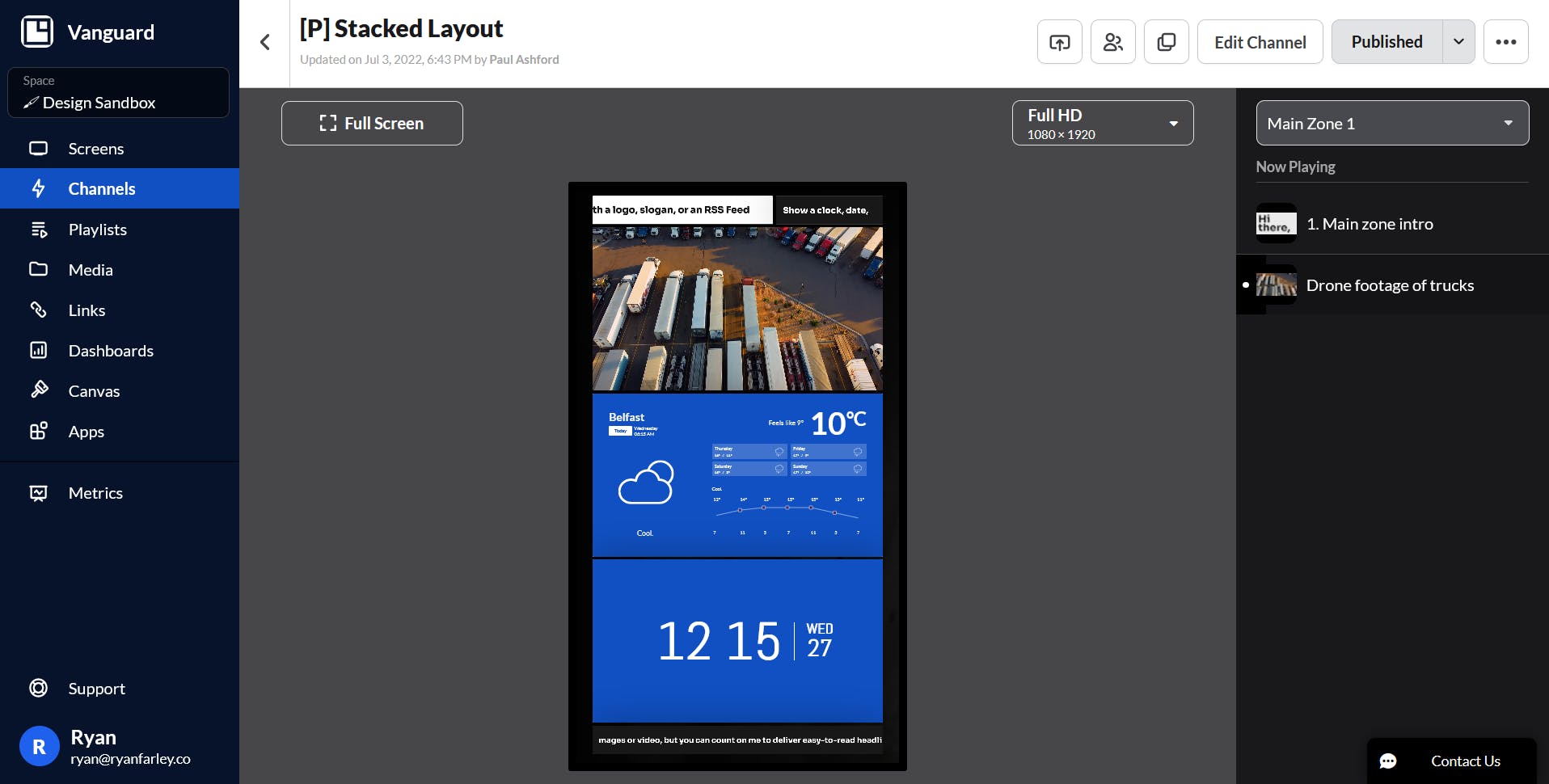 Better yet, embed virtually any other app you use onto the canvas. That would let you build a unified wall calendar that combines events from Outlook and Google calendars into a single view. And while updating a Slides presentation on your laptop will push those changes to any other browser playing the presentation, that's nothing compared to the ability to schedule different playlists for different times of day or update your content with an email or a Siri voice command.
Grab a free 14-day trial of ScreenCloud and start putting together engaging, eye-catching content that looks great on big screens.
Ready to get your organization connected?
Connect your first screen today with our 14-day free trial
articles