Publish content to your screens directly from Microsoft Teams
Learn More


Build a Unified Outlook and Google Digital Wall Calendar
You need a smart calendar on your office walls to show the date, upcoming events, availibility, and more. Here's how to build a digital calendar display with ScreenCloud.
Clocks perfected readability centuries ago. You can tell the time with the briefest of glances at an analogue or digital clock. No wonder they've stuck around lobbies and offices even as screens have overtaken every other bit of signage.
Calendars, not so much. Glance at a paper calendar on the wall, and at best you'll see today's month, date, and day of week. You'll need to pause and focus to see upcoming meetings and holidays. Keeping that office calendar up-to-date requires eternal vigilance as well—where the clock just keeps ticking.
Your office needs a digital wall calendar. Your team needs a way to see what's coming up at a glance. Here's how to turn your existing digital signage or a spare TV into a digital calendar display that works with Outlook, Google Calendar, or an iCalendar feed.
The easiest way to build a digital wall calendar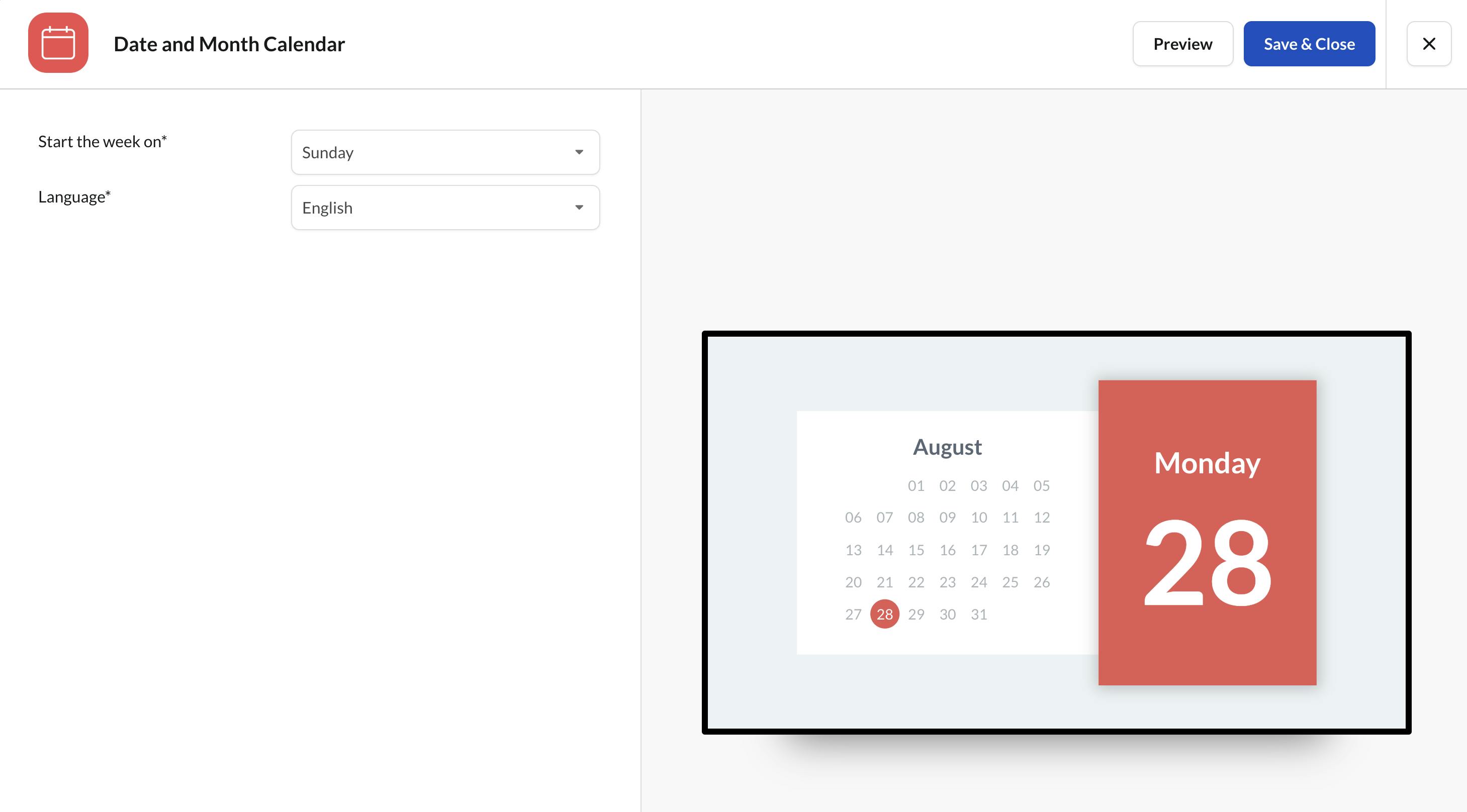 ScreenCloud's Date app is the easiest way to build a simple digital wall calendar
Maybe you've got a digital calendar already on your computer. Perhaps a Google or Outlook calendar keeps track of your schedule or a shared office calendar feed for company-wide events. All you need is a way to put that on the big screen.
It starts with your signage. ScreenCloud's digital signage software makes it easy to put your company's software on any screen. And it comes with a handful of built-in calendar tools to show the current date and upcoming meetings, countdown the days to a launch, and build smart conference rooms that show when a meeting will be finished.
Think through what you want to show on your signage. Just the date and month? Want a list of upcoming events? Or a combined feed of everything happening across your company? There's a ScreenCloud app for each.
Start out with the simplest wall calendar replacement: ScreenCloud's Date app, shown above. Search for Date in the ScreenCloud Apps pane, and add a new instance. Choose to start the week on Sunday (American style) or Monday (European style), pick your language, and that's it. The current date is as easy to read as the time on a clock.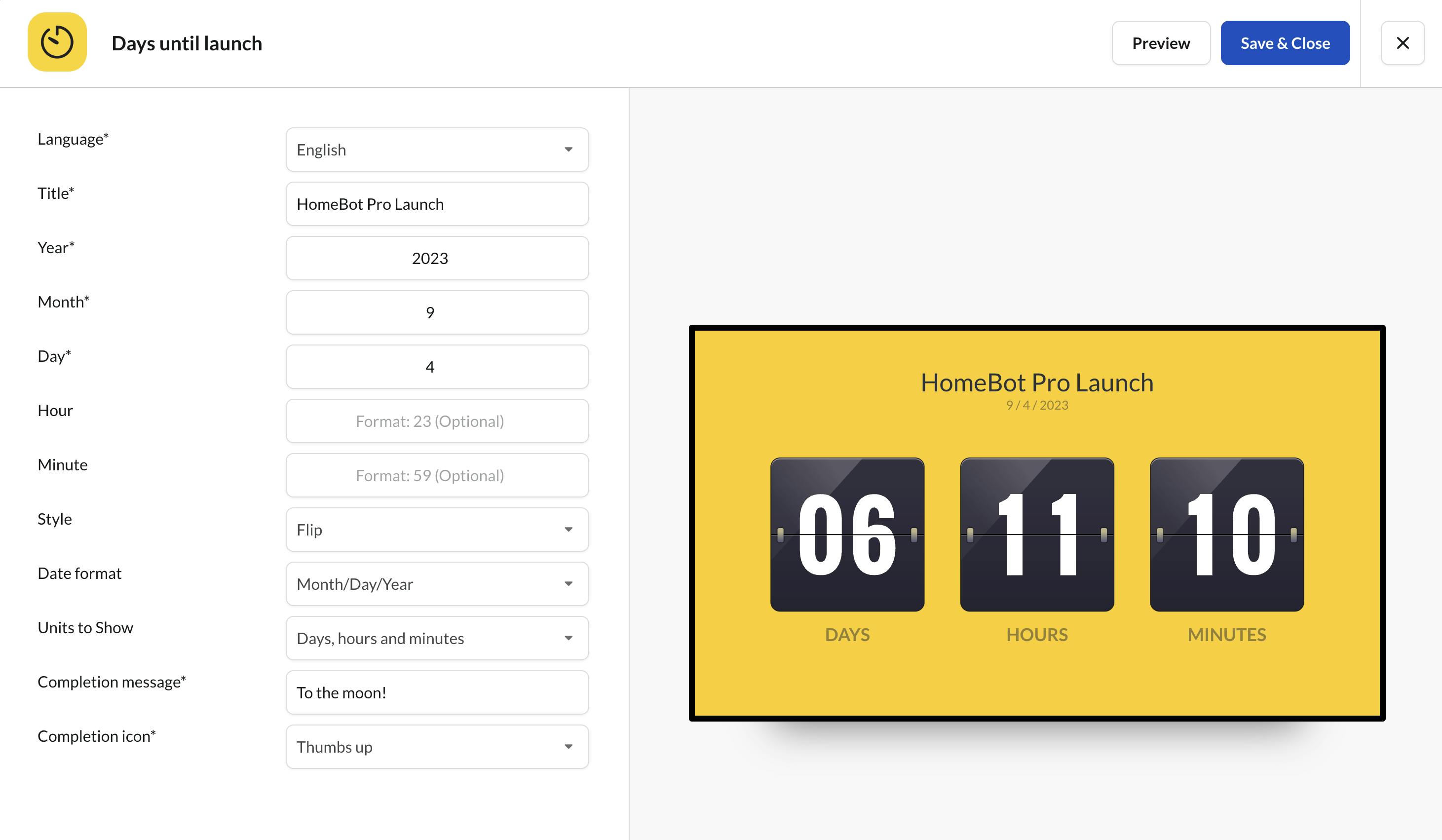 Show how much time is left before the next big thing happens
Another simple option is ScreenCloud's countdown timer app to see the time remaining before a product launch or event (with a companion count-up app to show the days since a launch or incident). Add the app from ScreenCloud's app pane, enter the launch date, time, and title, and choose date and timer settings. ScreenCloud can show a flip board counting down the days, or a more minimal screen showing how many days are left until launch.
It's not a calendar, per se, but it does give your team a bit of actionable calendar data.
Build a full-featured Outlook or Google Calendar display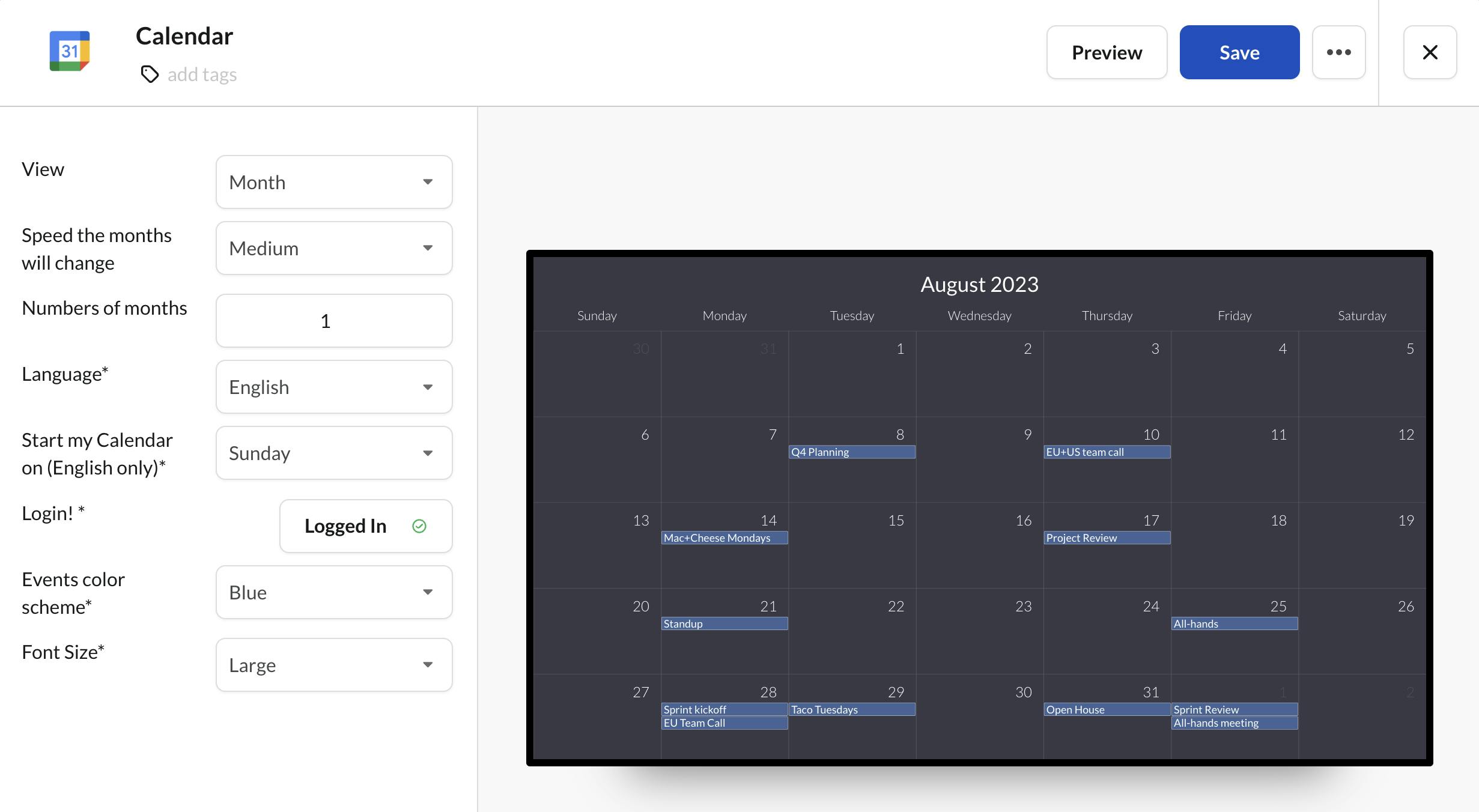 Show the whole month, or a day's events, on a digital wall calendar
What about upcoming events? The best way to add those to your signage is with ScreenCloud's Outlook Calendar or Google Calendar app.
Both apps work the same. Pick the one your business uses, then in the ScreenCloud app settings click the Login button to connect to Outlook or Google Calendar. Sign into your account and select the calendar you want to put on your signage.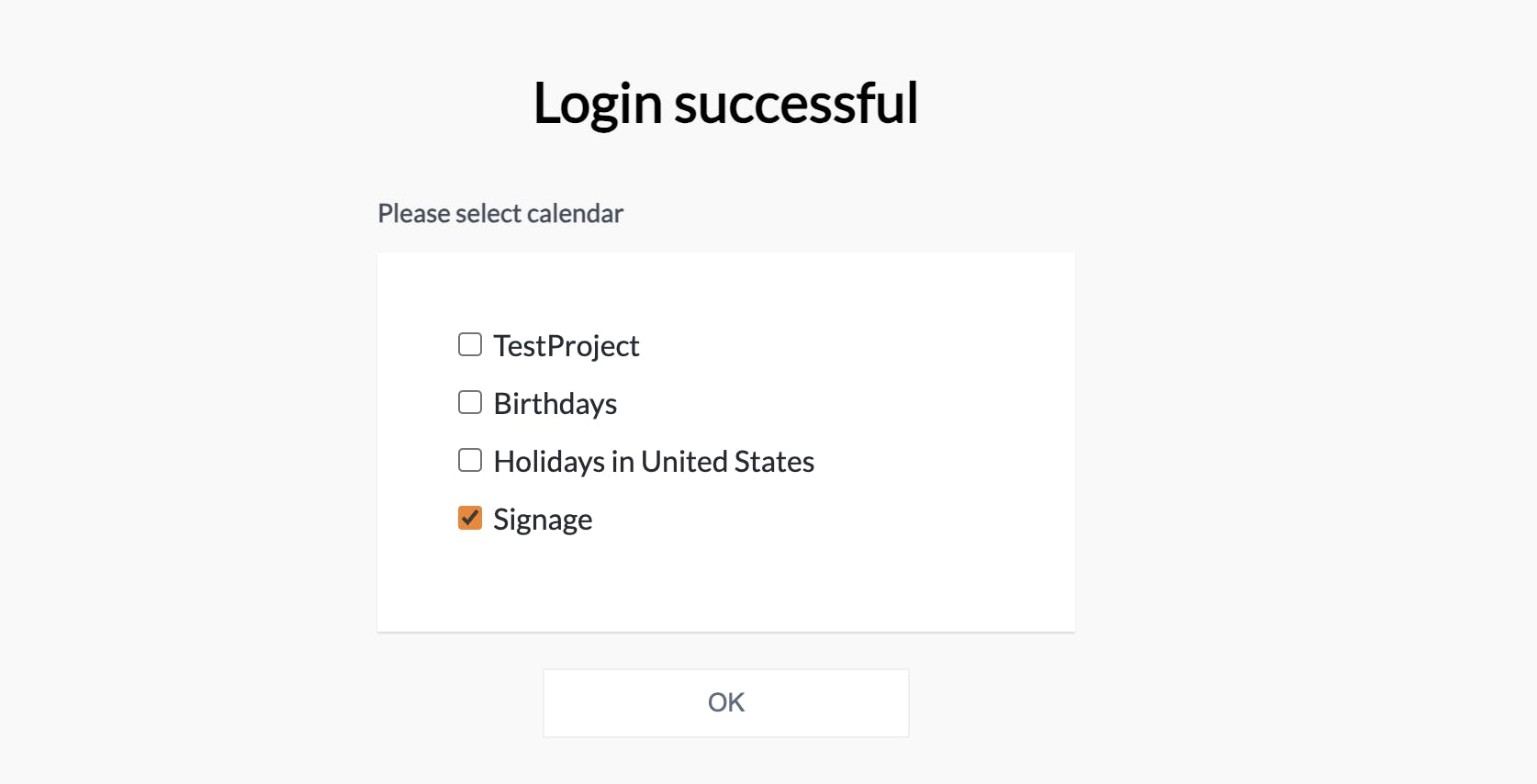 Choose the calendar you want to add to your signage
You can only display one calendar feed at a time. Need to display more calendars? You can add as many instances of ScreenCloud's Outlook or Google Calendar apps as you need, each with their own dedicated slide. Or, you could build a merged calendar feed—we'll show you how to create that below.
Now that you've added your calendar, it's time to tweak how it looks. There's a Day view that shows events per day, a week view with an overview of what's happening every hour of the day, and a month view (pictured at the top of this section) for something approximating a paper wall calendar.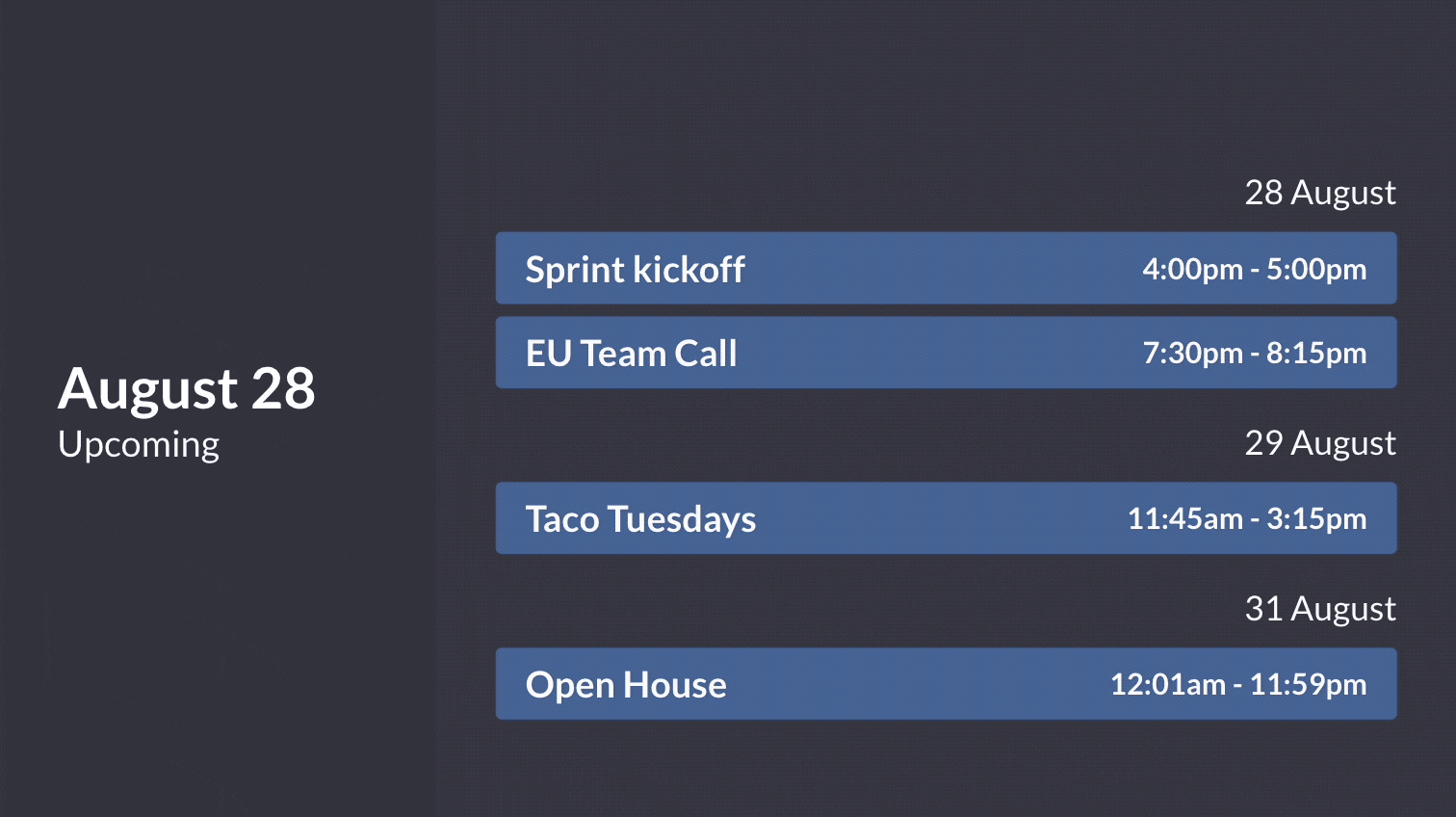 ScreenCloud's Google Calendar and Outlook Calendar Upcoming view shows a list of upcoming events
Most handy is the Upcoming calendar view. This shows the next four to six events over the next few days, before shuffling to the next screen to show what's coming up after that.
Pick the calendar that fits your team's needs and set the calendar options (including language, day to start the week, and event color). You'll likely also want to choose the Large font size to make your calendar readable at a distance.
And that's it. You've now got a digital calendar for your office wall that shows every upcoming Outlook and Google Calendar event. Every new event you add to that calendar, back in your Outlook or Google Calendar apps, will show up on your signage automatically.
Add an iCalendar .ics file to digital signage

Import a calendar file or feed to Google Calendar, then add it to your signage
Have a standalone calendar that you'd like to put on your signage—perhaps a public iCal calendar feed with local events or a calendar file you exported from an app?
The easiest way to add that to your signage is with Outlook or Google Calendar. First, import the calendar feed or file to your Google Calendar or Outlook account. In Google Calendar, click the + button beside Other Calendars, choose From URL for a calendar link or Import for a .ics file, and add your calendar.
Then, in ScreenCloud, add a new instance of your calendar app, this time choosing the newly imported calendar to add it to your signage.
Merge multiple calendars into a single digital wall calendar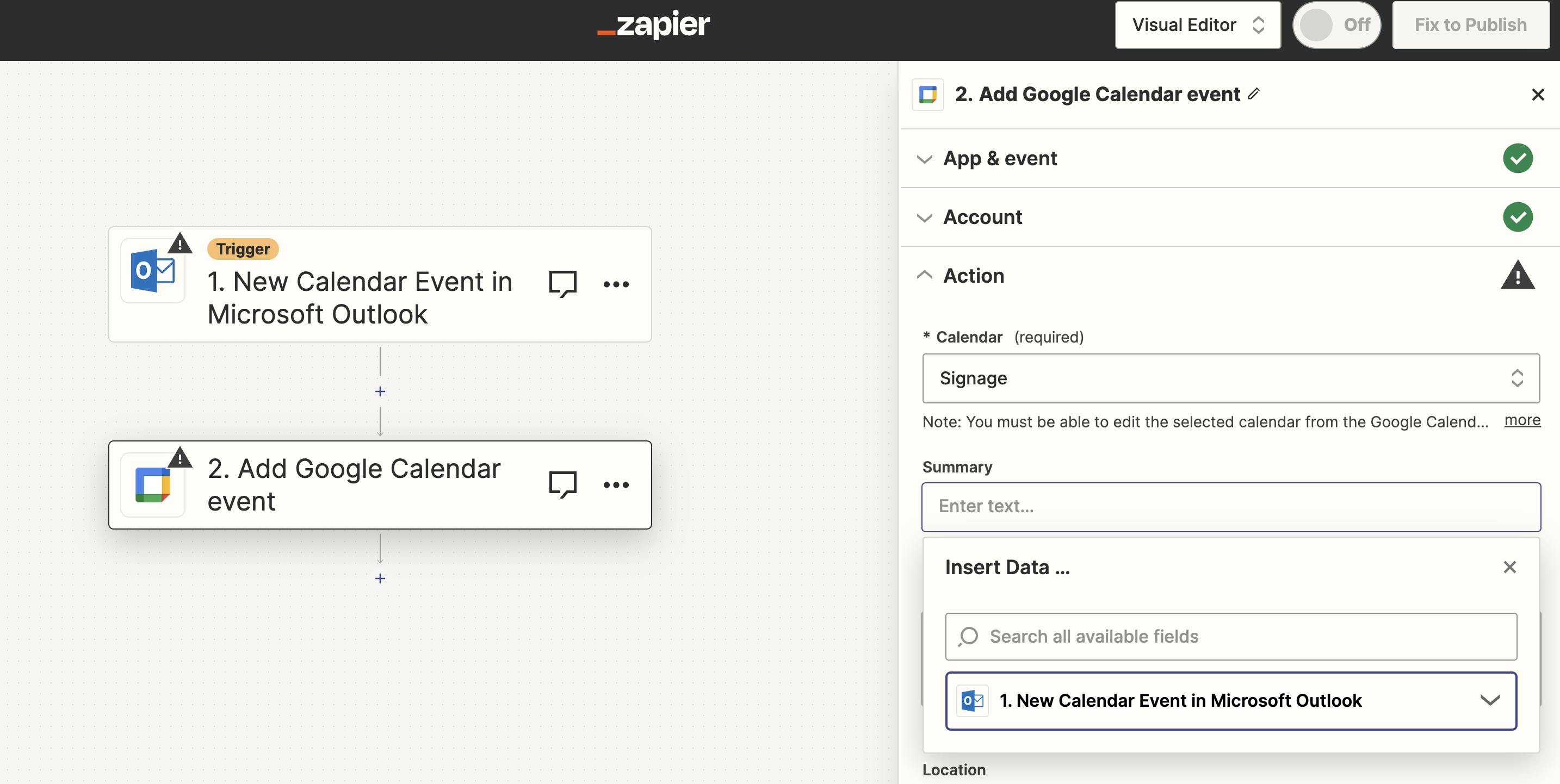 Build a single merged calendar with Zapier
Or, you could pull all of your events together into a single calendar—something that's a bit more complicated.
App automation tools Zapier or IFTTT are great for this. Start your automation with Google Calendar, Outlook, or any other supported Calendar app including Zoho Calendar, CalendarHero, and more. Select your calendar, and have Zapier watch for any new event. Then, in the action step, select either Google or Outlook Calendar, select the calendar you want to use to show all events together, and have Zapier add a new event.
Repeat that for every calendar. You could add Outlook events to a Google Calendar, and vice versa. Once you're finished, add your merged calendar to ScreenCloud, and you'll have every event in one view.
Want to customize your calendar's design in ScreenCloud? Instead of adding each event to a calendar, you could add them to an RSS feed. Then, you could use ScreenCloud's RSS app to show a feed of events, or use ScreenCloud Playgrounds to build a custom event ticker. Check our guide to consolidating company notifications into a single feed for the steps—including ideas to turn your events into a news ticker, airport-style flip board, or Star Wars opening scroll using Replit code snippets.
Add any calendar widget to digital signage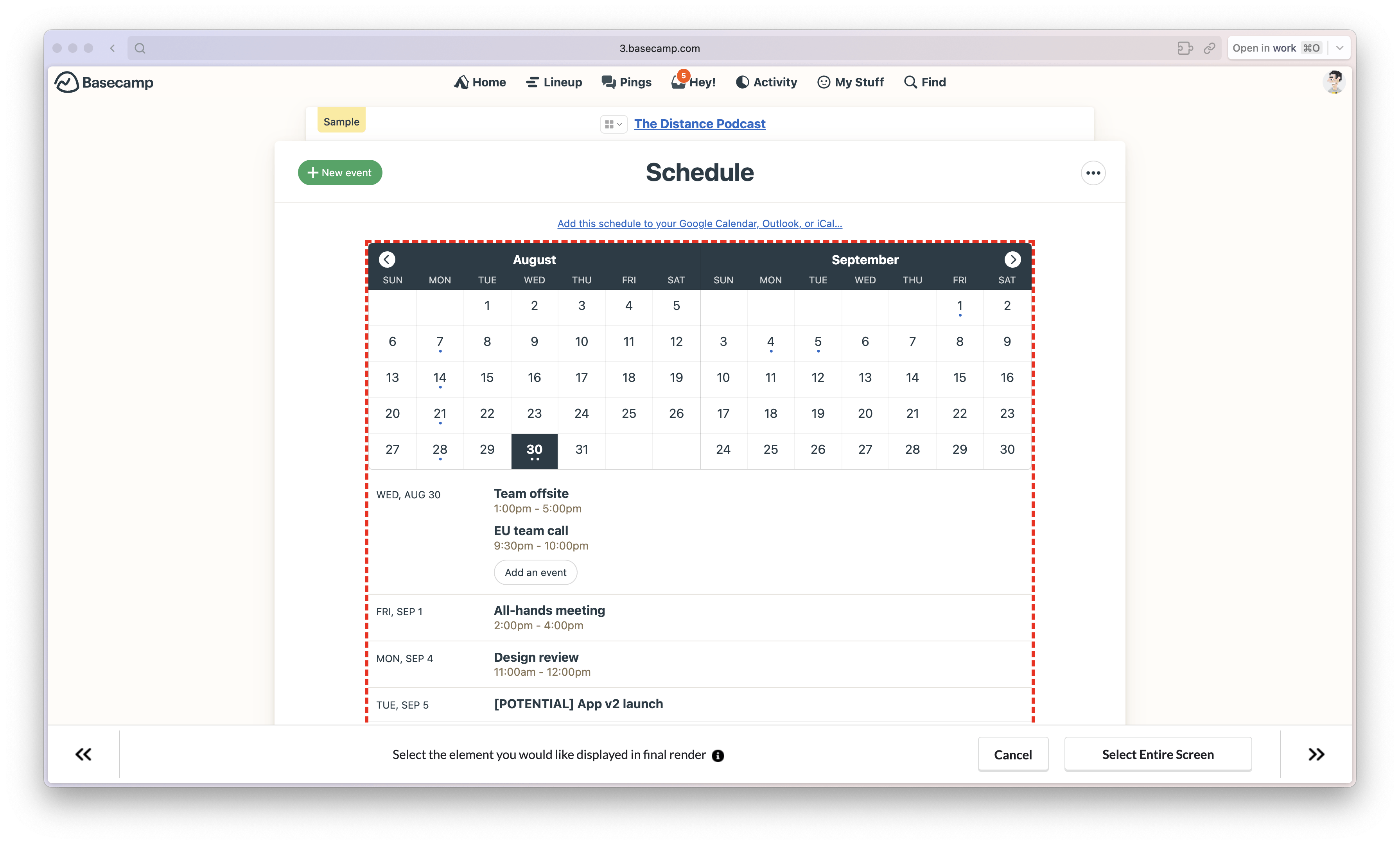 ScreenCloud Dashboards can embed most online calendars into your digital signage
Have a calendar inside an app that you'd like to share with your team? Basecamp or Trello calendar to show project milestones. Salesforce's calendar to show important sales calls. Notion or Airtable's calendars for team-focused events. Even a public events page on a local website to keep track of civic events.
There are a few ways to get those on your signage. You could import an iCalendar feed from the app into Google or Outlook calendar. Or, if the app's calendar includes an embed code, copy it and add it to ScreenCloud's Embed app.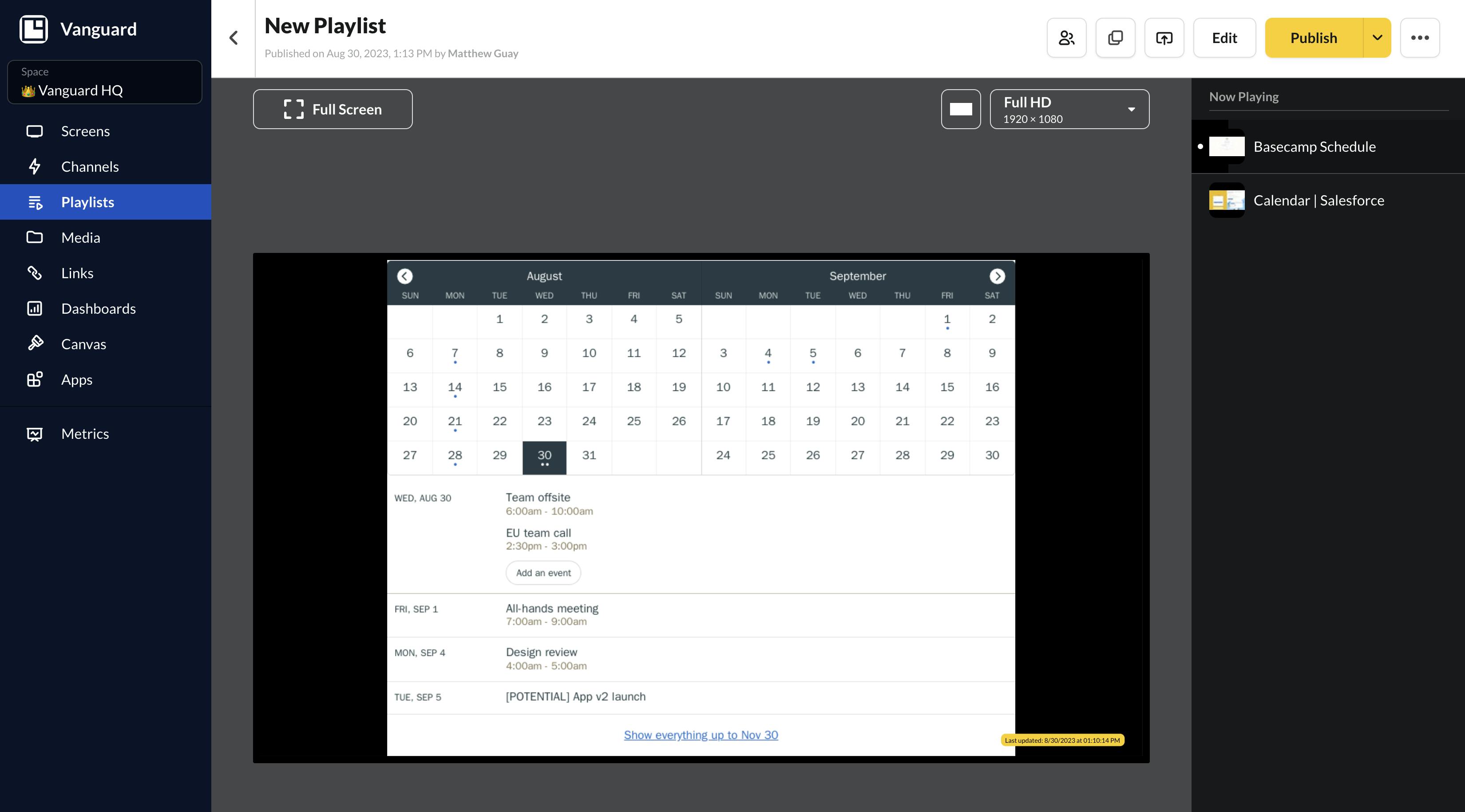 A Basecamp calendar on ScreenCloud digital signage
Or, you could scrape the website and grab the calendar widget for your signage, with ScreenCloud Dashboards. Click Dashboards in ScreenCloud's sidebar, add a new Dashboard, then enter the link to the site with your calendar. ScreenCloud will open that site in a new window. Login to your app, if needed, and navigate to the calendar widget. Then click ScreenCloud's yellow Finish Journey & Take Snapshot button, select the calendar widget from your app, and tap Finish Journey.
Save your Dashboard and add it to a Channel or Playlist to display any in-app calendar widget on your digital signage.
Show the date, upcoming events, and a countdown timer together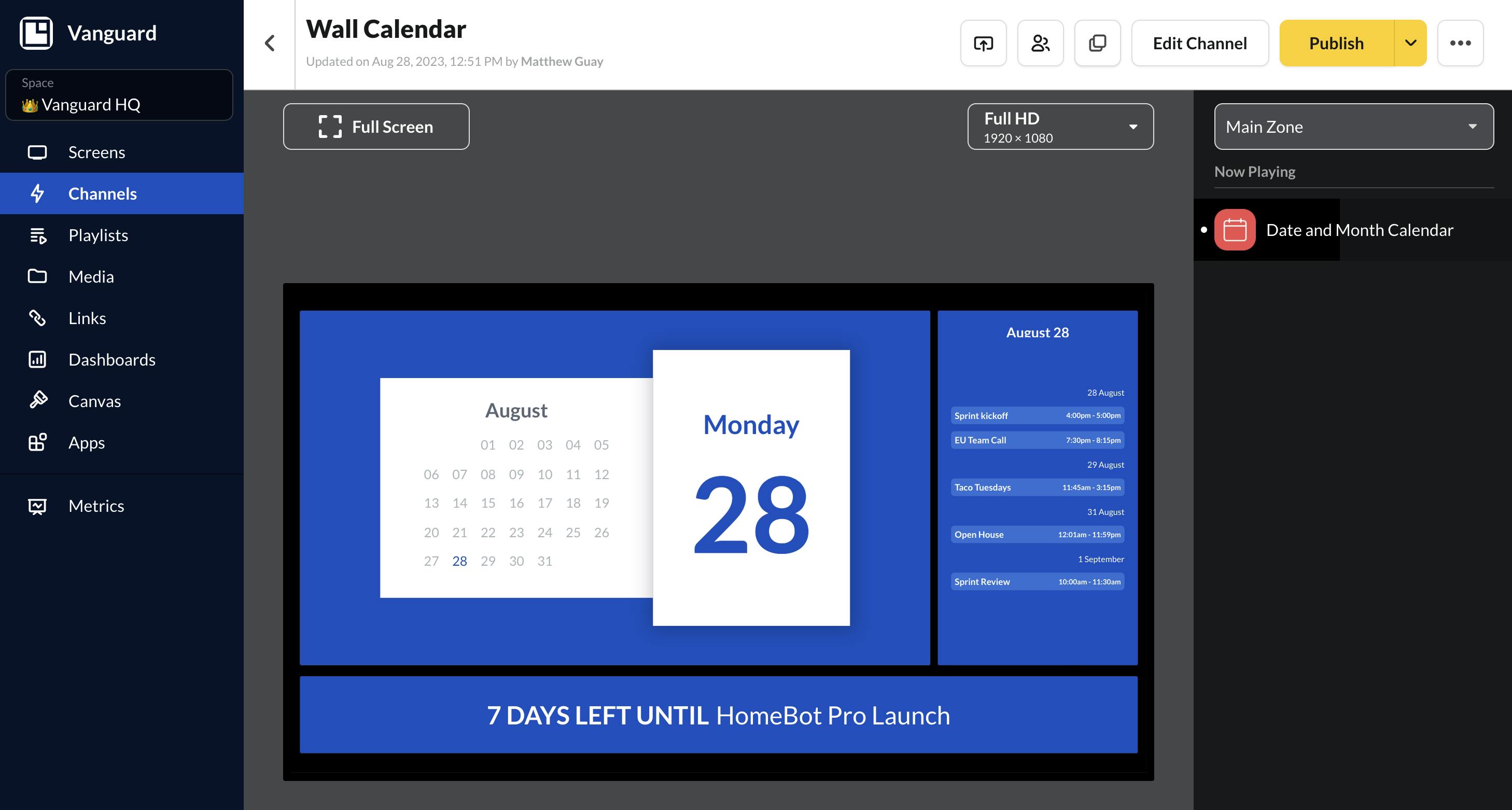 Three calendar widgets on one digital signage screen
You can also bring it all together, with an oversized date and month overview, a list of what's happening, and a countdown timer for your next big event.
All you need is a ScreenCloud channel that can turn your Google Calendar into a widget. Click the Channels tab, add a new one, and choose a layout with multiple widgets. Then click each section of the screen and add the calendar app you want. The Date and Calendar apps both require large widgets; the Count Down Timer app can run as a news-style ticker along the bottom of your screen.
With that done, you'll have a heads-up display for your team's schedule with everything date-related together. Or, if you'd rather keep info separate—or have too many calendar widgets for one display—add your calendars to a ScreenCloud playlist and your signage will rotate through them on the schedule you set.
Build smart conference rooms with digital calendars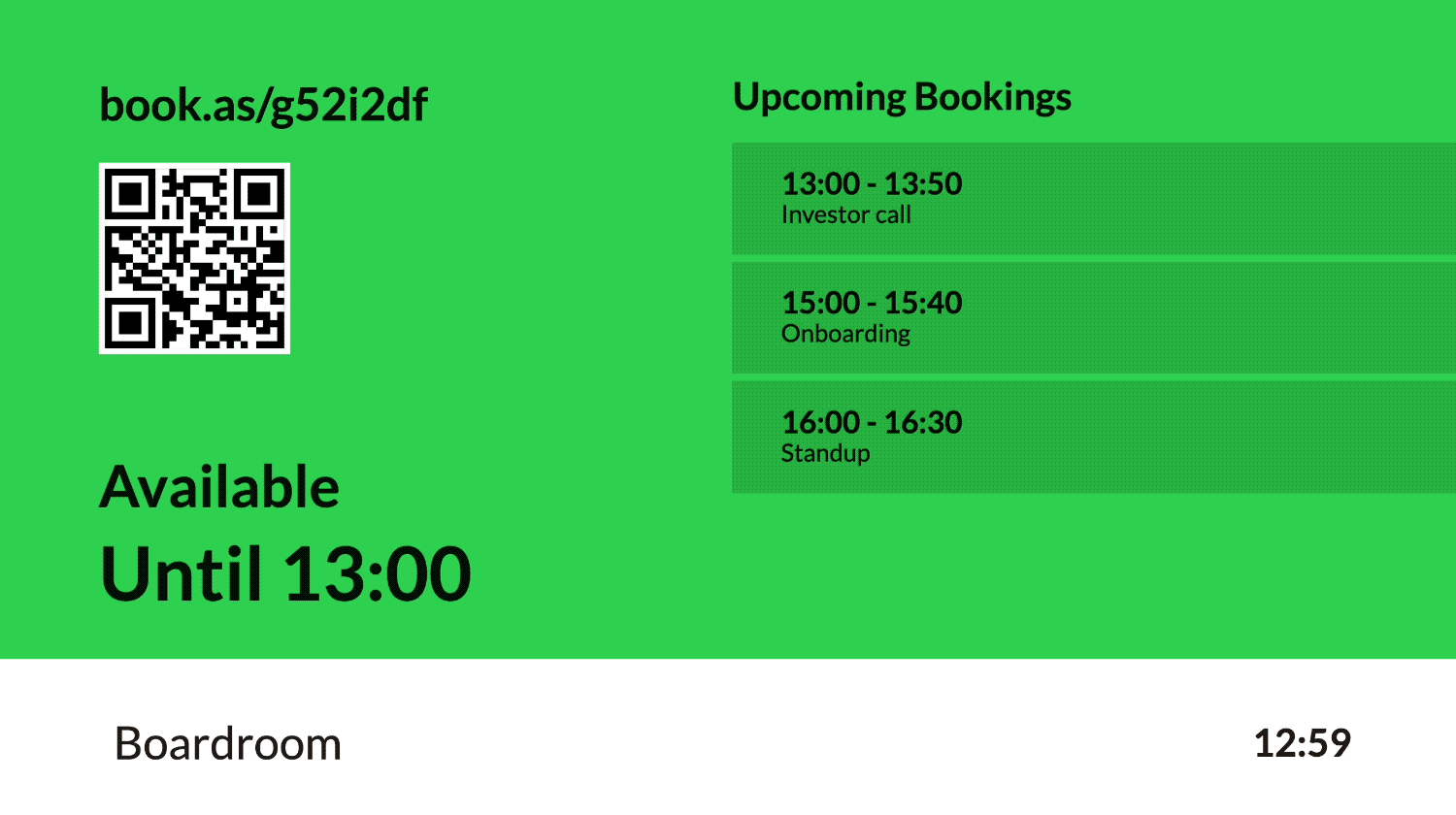 ScreenCloud's Meeting Room app is perfect to build smart conference rooms
Calendars aren't all general purpose. Some events—like the times a specific meeting room is booked—aren't exactly private data, but they're also something you only need to know if you need that meeting room.
That makes meeting rooms perfect for custom digital signage calendars.
ScreenCloud's built-in Meeting Room signage app is custom-built for that use case. It shows a list of upcoming meetings that will be held in that room, along with a QR code to book the room for your next meeting. And if a meeting is in progress, the sign will turn orange and show when the room will be available.
And if you want, you could add the Meeting Room app to a playlist, so your signage will show other company-wide events and calendar details along with room availability.
Automatically update digital signage based on events
You could also use ScreenCloud's GraphQL API to build smart digital signage that updates based on company-wide events.
Say you'd like to greet office visitors with your signage, or want to have holiday-themed playlists show up on the correct dates. You'd need an automation that watches your calendar for events—another place where Zapier comes in handy. Have it watch your Google or Outlook calendar for new events, and consider adding a search term to have it watch for specific functions.
Then add a JavaScript code action to run your ScreenCloud GraphQL mutation, perhaps using castStart to temporarily cast an app or playlist, or setScreenContent to switch a screen's playlist. Check our full GraphQL guide for more details on setting that up.
Build the smart office wall calendar that fits your team
Now it's time to start tweaking your calendar signage to show the event data your team needs most.
Need a quick digital calendar? ScreenCloud's date and Google Calendar apps are perfect.
Want a smart conference room? Throw in ScreenCloud's meeting room app.
Or, get fancy with Zapier-powered calendar feeds and some GraphQL automations to dress your signage up for special days.
And while you're at it, build more dashboards to show any number on any screen—your stats and sales figures and other data alongside your dates. Build the signage your team needs to always know what's happening, or start a free 14-day ScreenCloud trial to start building out your team's first digital wall calendar.
Image Credit: Calendar photo by Gaining Visuals via Unsplash
Ready to get your organization connected?
Connect your first screen today with our 14-day free trial
articles