Publish content to your screens directly from Microsoft Teams
Learn More


4 Things to Look for from your Digital Signage CMS
A checklist of considerations to think about early on in your digital signage journey.
The thing about technology these days is that it's not really the technology you need to worry about. It's how the technology works for you, the end user, and the results it can produce. 
The same can be said of digital signage. When you're tasked with getting screens onto walls, producing content, writing playlists and executing campaigns, which question do you ask first? 
There are so many options available, it can be seriously overwhelming even for digital signage pros like ourselves! As a result, we believe you should have a list of contributing factors that you want as standard from your digital signage supplier:
A great but simple CMS and smooth product experience - without a rocket scientist to help you work things out!
A level of interoperability between screens, devices, tablets, smartphones, etc.
A company prepared to stand behind its product and help with questions or fixes.
Pricing that can scale - no hidden costs.
In the guide below, we'll run through each of these points, helping you to make the best digital signage decision for now and in the future. 
1. Simplistic CMS and product experience 
Of course no one is going to choose a system that's difficult to use on purpose, but a stigma has surrounded digital signage for such a long time, and it can be hard to break.
When you think of simple, well-designed products you use every day, you might think of Dropbox, Facebook, MailChimp, or any number of other tools that made once-arduous processes easier. 

Your digital signage CMS should be made of the same stuff. As we often point out, uploading an image or video to your digital signage CMS should be as easy as uploading an image to Facebook, something you probably do without any thought! Creating a playlist - well, that should be as easy as adding an email list to MailChimp. Organizing files, changing digital signage content - yes, you got it - it should be as easy as looking after your Dropbox folders.
Why? Because all of these products have one thing in common. They're simple to use and it feels natural to use them. Cloud-based digital signage systems can be just as simple and you don't have to stick to the clunky, heavy products of the past to get your content up onto your screens. 
Usability
When you're trying out a piece of digital signage software, ask yourself: how difficult is this to use? Could my marketing manager use this? What about my HR manager or a teacher at this school? You don't want to have to hire someone to train your staff how to use a basic digital signage CMS. 
Here are some of the things your digital signage manager might have to do:
Manage and add new screens
Add content and create it from scratch 
Produce playlists
Define schedules
Get content live onto the screen and test it
Edit content and change it at a moment's notice
Could the CMS tick all of those boxes? More importantly, how much of the heavy lifting would it take off of your hands? We know for sure that one of ScreenCloud's most popular features is our App Store.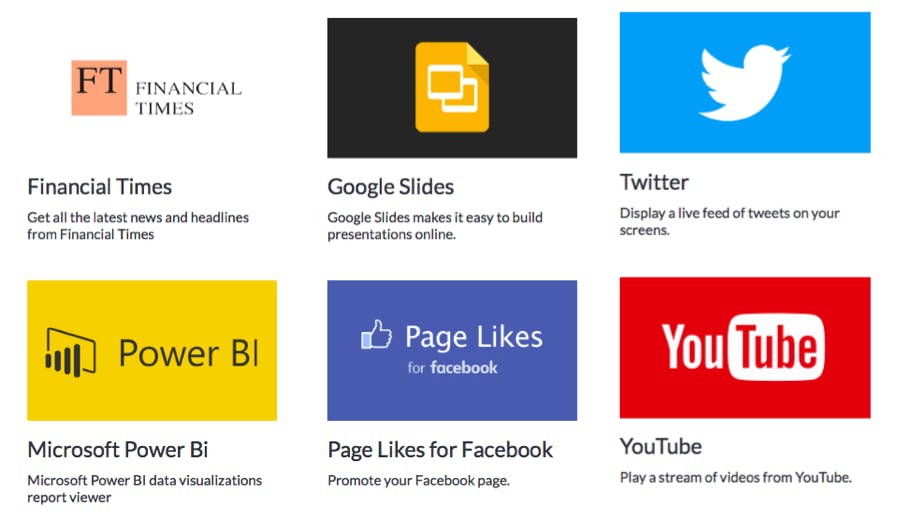 The App Store lets anyone - designer, teacher, chef, office manager - design content and get it up onto the screen very quickly. This could save hours of time and budget! These features and the simplicity of use are what will make a huge difference to your digital signage deployment. 
The web check
Lastly, although this is not a hard and fast rule, we often have customers comment that the reason they picked ScreenCloud as one of their software products to test was because of website ease. There was nothing hidden, they knew exactly what they would be paying, and they could get into the product without waiting for guidance from a sales call.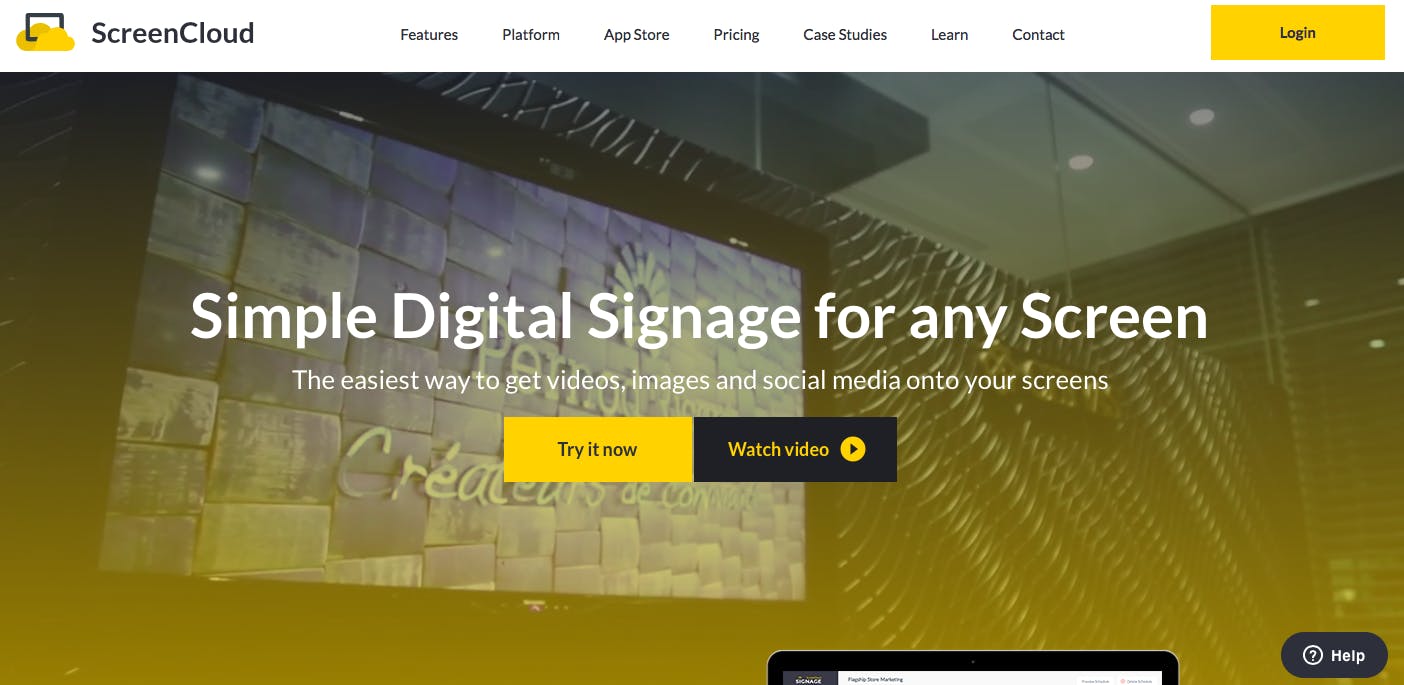 If the CMS you want to try is locked behind a gate, the sales calls are slow, and it takes you a long time just to log in, what do you think the product's going to be like?
2. Interoperability with screens
Finding a digital signage CMS that will jam with the infrastructure you have in place is a key consideration. 
Cloud vs on-premises
First is the cloud vs on-premises question. In the past, all digital signage systems had to be on-premises. They ran using servers, media players and screens and you needed some room to house them, plus someone fairly technical to look after the logistics.
Now, you have cloud-based digital signage. To run this type, all you need is an Internet-connected screen (any Android TV) or a basic TV that has a small media device like an Amazon Fire TV Stick 4K or Chromecast with Google TV plugged in to make it smart. That's all of the hardware needed.
Once setup, you can then turn to your laptop or PC to manage the content from anywhere. 
Try before you buy
A big frustration with any software is not being able to try it out, unassisted, before you have to add credit card details to buy it. One of the features we were clear about with ScreenCloud is that our users would be able to try the product themselves, see how it works, and then give us a call if they needed help.
If a digital signage CMS is claiming to be simple to use, why do you need a company employee to show you how to use it? Try before you buy and remember that if you need someone to help you learn the system, your staff and the next in line will too. 
Check compatibility
Most modern digital signage systems will repurpose your content to the correct screen ratio. However, some other compatibility considerations are:
Resolution: Will it support full-HD or 4K screens?
Can I switch between portrait and landscape?
What about zoning my display and is this easy to use?
Does it continue to work offline if my Internet goes down?
If there's a power interruption, will it manually reboot or will I have to reset everything?
These considerations will come down to what you're trying to achieve, but are still worth asking in the early stages. 
3. Product support
If you're a ScreenCloud customer, you've probably had some type of dealing with Mark, our CEO. Building chemistry with your digital signage vendor and having a great relationship from the start is so important!
Digital signage is such a prominent marketing method (anyone walking by will see your screens!), that feeling supported and like you're working with a company who has your back will make a huge difference. 
For us, user support and being in touch with the needs of trialists, current users and potential future users has been key to building a product led by the things people need and want. 
Look for this quality from your digital signage CMS - trust us, it makes a big difference. 
Support directives
If you need a fix or have a question, who do you get in touch with? Is it easy to call for help? More importantly, how does the company stand behind its product? If they aren't interested in feedback now, or if they struggle to give a defined roadmap for what you might consider as a basic feature, you may want to look elsewhere. 
Testimonials
Testimonials often play a big part in the early stages of choosing a digital signage CMS. 
If you search the name of the CMS, can you easily find social proof and client feedback? We often turn to forums and personal recommendations through channels such as Facebook and online reviews to get an honest review of the product in question.
This is a great way to see what other people, just like you, are saying. If others have had a great experience, you can be confident that the system is worth spending time exploring. 
4. Ability to scale 
If you're in the early stages of getting your digital signage system up and running, perhaps just for one screen, you may miss a crucial area of consideration.
Ensuring your digital signage CMS has the ability to scale will prevent it from clipping your wings later in the journey.
Cost 
This is often one of the first barriers to large-scale deployment. There are a few different cost models within digital signage where you could make a monthly subscription payment or a one-off licensing fee. 
You could pay per screen or per organization. You will also want to ask questions such as:
Are there any hidden costs? For example, if I want to add more than one administrator or multiple organizations?
What happens if I add/remove screens? Is this easy to do or will I still get charged?
Can I end my contract at any time?
Large-scale deployment
With some digital signage systems, setting up one screen to show content can be completely different to setting up 500 screens. It may be beneficial to look into devices that have large scale deployment capabilities, a great example of which is our own ScreenCloud OS device, Station P1 Pro. It comes with ScreenCloud's software pre-installed and uses a ScreenCloud OS provisioning USB flash drive to configure your network settings quickly, allowing devices to be set up and ready to go in just a few minutes. If you think your campaign has the ability to scale, or you know that it does, look into future capabilities. 
Can you split screens by organization? Are there easy ways to name, segment and search through your content?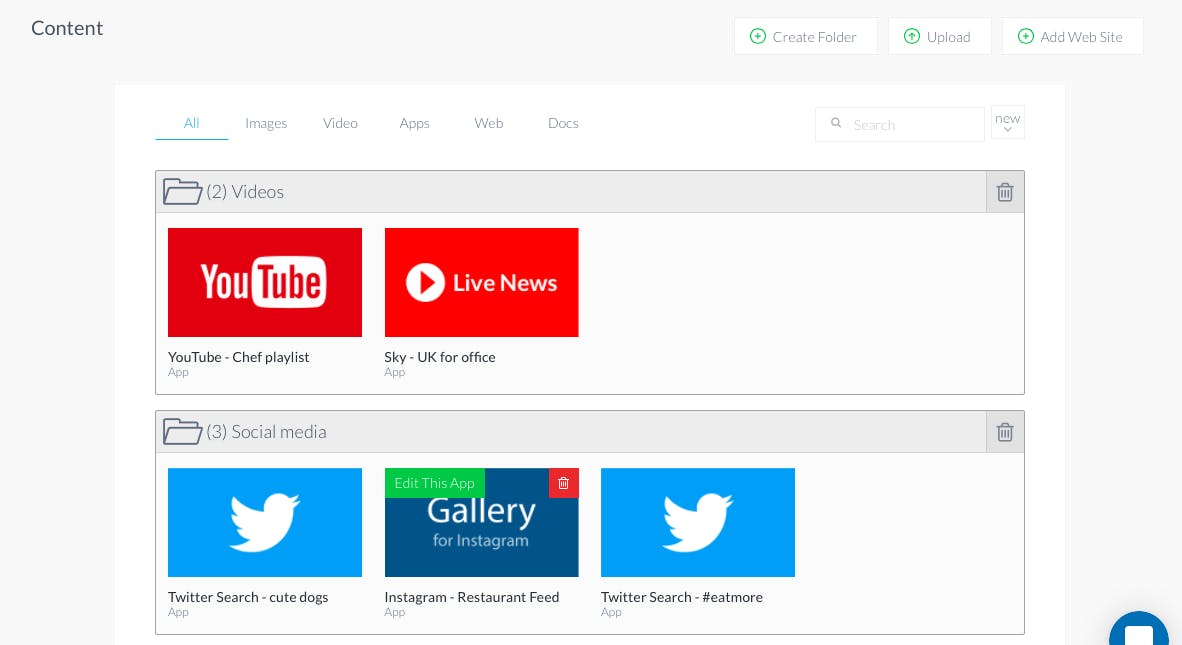 Content folders, playlist naming and different schedules may not be that important now, but they will be when you have 50 different screens and content plans to manage. 
Support and discounts
Most digital signage systems will offer a discount for enterprise users or those looking to adopt a platform at scale. You may also want to consider if the level of support you'll receive throughout is correlated to how much you're spending, although hopefully it won't be. 
Like ScreenCloud, you will also find you can get a discount by paying annually, or by being a NFP or education user. If in doubt, ask the question - you could make a huge saving! 
Conclusion
Hopefully the above has given you a firm footing to get started with your digital signage strategy. Picking which digital signage CMS to use is probably the biggest decision you'll make when starting out, and it's crucial to get it right.
If you have any other questions about choosing a CMS, we'd love to help - get in touch on hello@screen.cloud. If you'd like to try a 14-day free trial of ScreenCloud, head here. 
Ready to get your organization connected?
Connect your first screen today with our 14-day free trial
ideas