Publish content to your screens directly from Microsoft Teams
Learn More


Digital signage best practices: A comprehensive overview
Learn about everything from screen placement to monthly content reviews
Start with the basics, master advanced techniques, then go back to square one. For attorneys, it's "Continuing Legal Education" requirements. In real estate, agents have to periodically retake consumer protection courses. Project managers need professional development units to maintain PMP certification. New technology and trends mean that best practices are constantly evolving and worth revisiting every couple of years.
In the digital signage world, contactless menus weren't an industry standard until 2021. AI content moderation tools weren't advanced enough to be totally hands-off until 2023. It doesn't matter whether you just connected your first screen or your hundredth, a quick review of current digital signage best practices includes a little something for everyone.
Creating goals and objectives for digital signage
If you're lucky, existing business goals align perfectly with new digital signage efforts. Screens are great for nudging people to follow your social media page or sign up for loyalty rewards emails with a trackable QR code, for example. But it's not always that straightforward. You can only measure mouse clicks and keystrokes tied to a URL that only appears on your signage. 
There's no direct connection between, say, when someone sees a product or a message on your screens and goes back to their desk to Google it. The solution isn't putting a QR code or tracking URL on every digital signage slide. It's rethinking how you create objectives and track progress.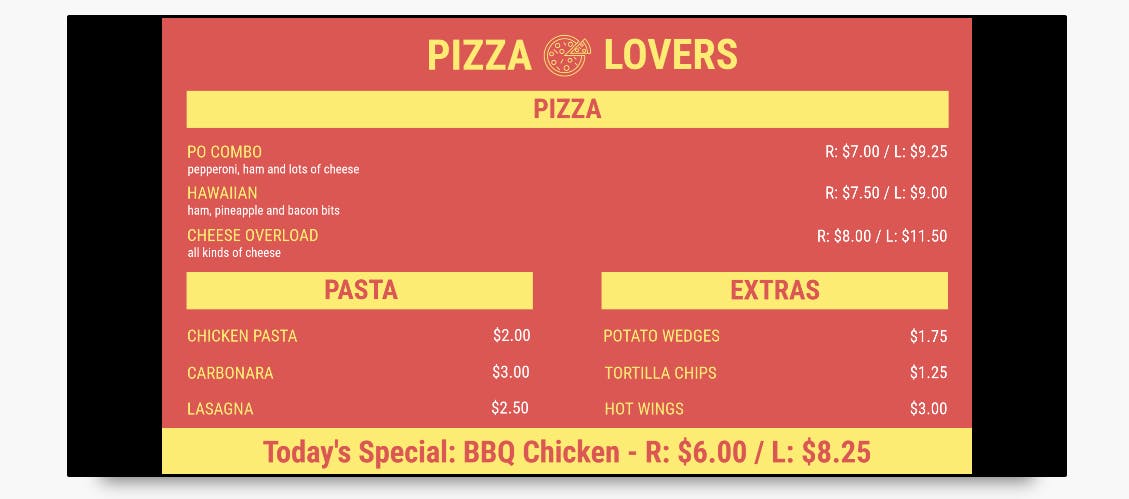 Let's say you run a quick-service restaurant. You have a digital menu board with a segmented zone for showcasing a discounted item. If you were to display one item in the special zone for two weeks and then swap in a different item for the following two weeks – while keeping other advertising and promotional materials unchanged – you'd have a rough idea of how influential that zone is. It won't be an exact number, but that doesn't mean you shouldn't use it to boost the sales of specific items.
There's nothing wrong with imprecise goals (e.g., "improve employee wellness with automated daily health tips") as long as they're labeled as such and you're regularly reevaluating them. Ask viewers for their opinions, watch how people respond to the content "on the floor," and look for strong correlations to behaviors that are measurable (e.g., "a month after adding wellness tips to our screens, sick days decreased by 10%).
Mapping out your digital signage content strategy 
Assuming you've defined what you want to achieve, the next step is clarifying who you're targeting, how you'll keep them engaged, and when and where you'll update signage. A content strategy based on the demographics, habits, and preferences of people who see your screens.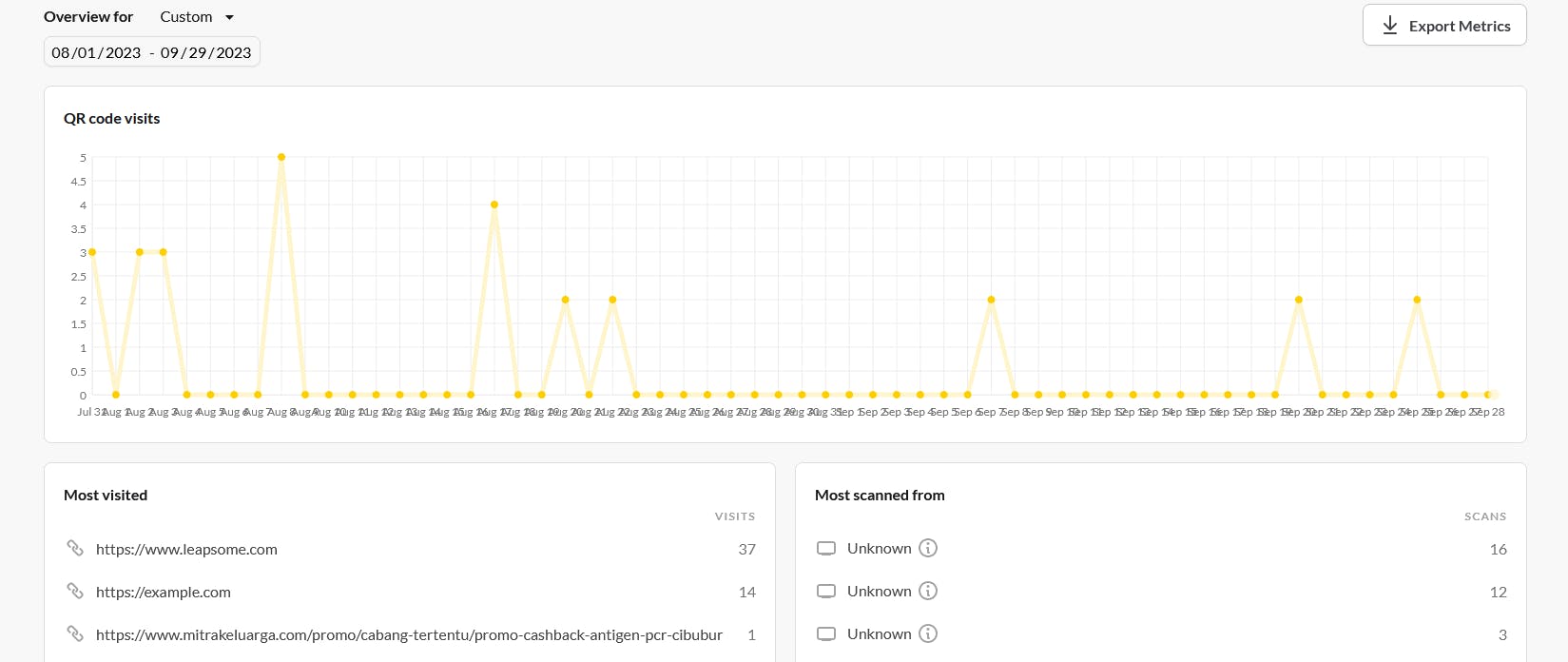 The process of defining your audience can involve everything from data-driven fact-finding (e.g., charting what time of day people are most likely to post on social media using signage-specific hashtags or scan location-specific QR codes) to creating viewer personas based on face-to-face conversations and offline research.
Audience insights could also include specific examples of words, phrases, and designs that received positive or negative responses in the past and in other channels. Employee-facing screens for internal communications, for instance, might perform better when negative wording (e.g., mandatory, problem, urgent, etc.) is replaced with more palatable alternatives (e.g., essential, challenge, time-sensitive). 
Standardizing screen hardware and placement
Above all else, everything on your digital signage must be easy to read and digest. The most exciting announcement of the year won't mean a thing if people can't see it. You'll want to create guidelines for things like minimum hardware requirements, screen locations, and content accessibility.
Do your screens need to be at least 40"? Do they need to support 4K? What cabling do they need to support your digital signage players? Create hardware standards and put them in writing so there's no confusion. Then, add in rules for where those screens are mounted.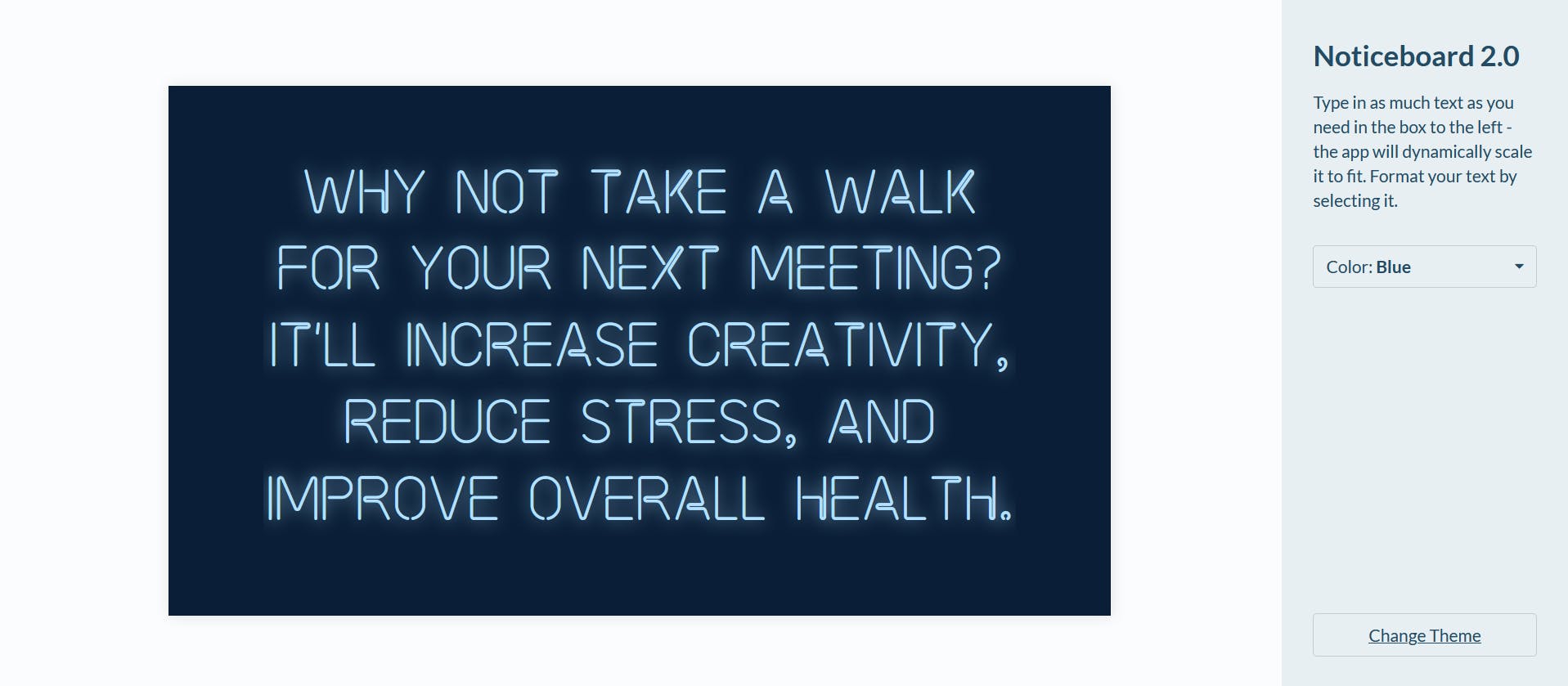 For content that is limited to a few lines of text, high-traffic areas like entrances and exits might be best. Move to reception areas and breakrooms for messaging that hinges on long dwell times. If a screen or connected media player will connect to wifi, make sure to speed test the signal before installing a mount. 
Place screens at eye level (~58-62 inches or 147-157 cm off the ground) and in locations where glare won't affect legibility. When a screen needs to be mounted high on a wall because of cubicle partitions, furniture, or shelving, tilt the screen downwards to enhance visibility. Landscape orientation is better for quick glances, while portrait slides work well for scrolling text or social media videos. 
Improving digital signage accessibility 
Accounting for things like vision, hearing, and mobility impairments is an important way to recognize and engage users who are often neglected. The accessibility experts at WebAIM recommend using standard fonts like Arial, Helvetica, and Times New Roman, and keeping text-to-background contrast ratios above 4.5:1.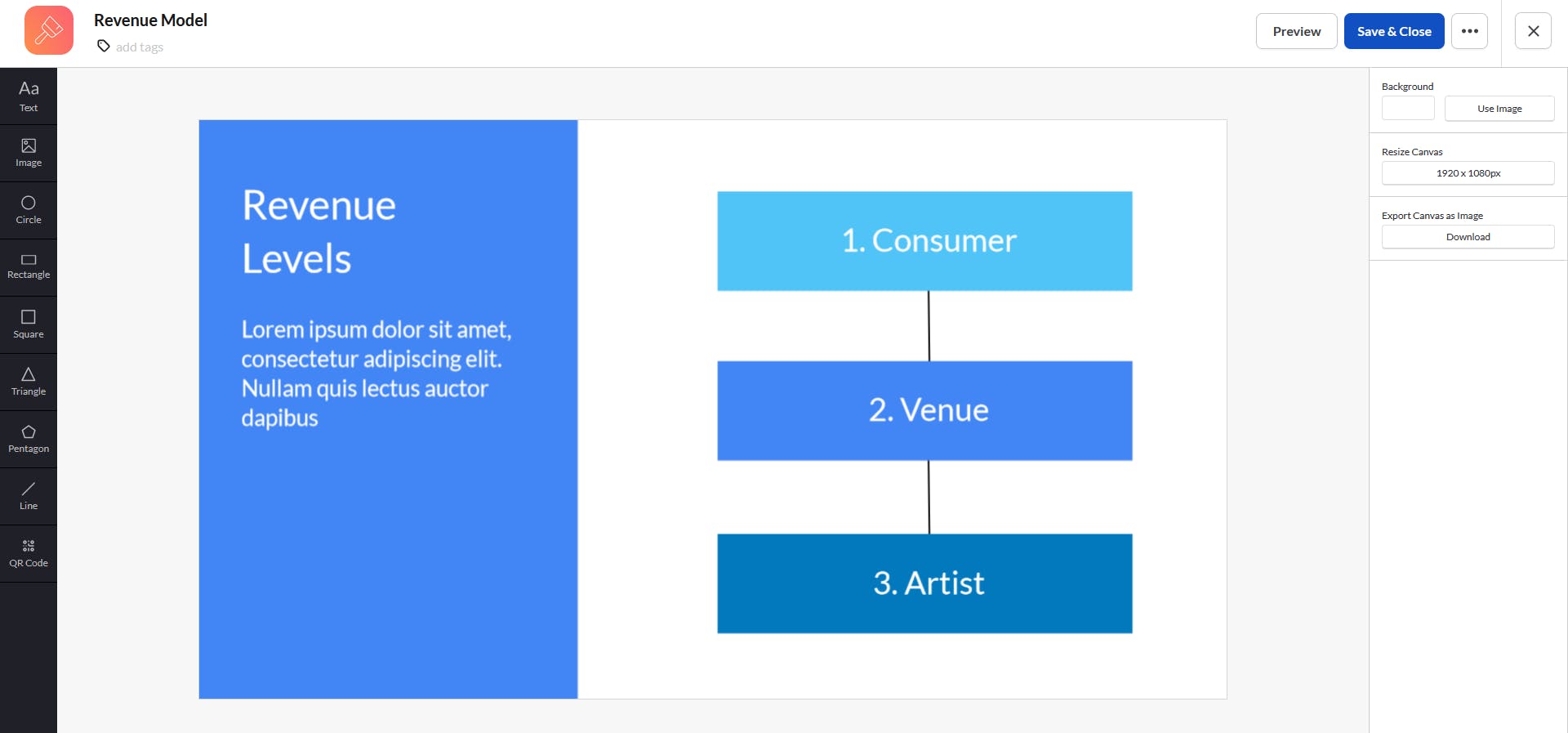 One popular rule of thumb states that a one-inch-tall character will be legible up to 12 feet away. If viewers will be further from your screens than that, increase the font size accordingly. You should also avoid using color alone to convey meaning. For example, using green text to indicate a correct answer and red text as incorrect, without any other design cues. 
Always confirm that someone in a seated position will be able to scan QR codes displayed on high-mounted screens. It's often best to spell out the URL above the code, just to be safe. And when you play a video on your screens, make sure to include subtitles. Accessibility isn't a one-and-done improvement. Every time you incorporate a new type of content or feature, consider how accessible it is to everyone.
Designing content based on current best practices
Digital signage apps like ScreenCloud provide so many ways to connect content to your displays that it can be hard to maintain consistency without well-documented guardrails. Obviously, anyone who can update screens should have access to your most up-to-date brand colors, fonts, logos, and basic design rules. But they'll likely need much more than that.
Content resolution
Minimum image and video resolution are a good place to start. Full HD (1920x1080) should work for most situations but may not cut it on very large screens or pinch-to-zoom touchscreen signage. Display hardware limitations might also help you formulate rules surrounding content zones. If any of your screens are smaller than 40", segmenting them into smaller zones might not be a good idea.
Word count
Even when all of your screens are large enough, it's still best to avoid giving viewers too much to digest during a quick glance. While certain situations, such as workplace signage, might encourage longer viewing sessions, you're typically working with five seconds or less. The average person reads 3-5 words per second, depending on how distracted they are, which means 15-25 words per slide is a good place to start.

Slide and playlist durations
Deciding how long to show each slide is trickier. Someone could come around the corner and see your screen right as it transitions to something new, or seconds before it moves onto the next slide – there's no way to know. That said, slides should stay up for at least 10 seconds. Faster than that will feel rushed to someone giving the screen their undivided attention. Thirty seconds should be plenty of time for static content that doesn't have any URLs, phone numbers, or QR codes. Tack an extra 10 seconds onto any slide that asks viewers to take action.
One step up from slide duration is playlist duration. Repetition kills engagement, so try to include at least 10-12 slides in your playlists, ideally alternating between text and media. You don't want the same person sitting through an entire playlist multiple times. Dynamic content like live news, Slack groups, and sports updates are one way to keep things fresh. Another option is scheduling playlists designed for different times of day, especially to accommodate different audiences.
Content hierarchy and margins
Assume that viewers will scan from the top of a screen to the bottom. Use large, bolded text higher up, highlight details in color further down, and use eye-catching characters like dollar signs, percentage symbols, and hashtags throughout. Calls to action tend to get the most engagement when they're centered on the screen with a two-inch margin along the bottom.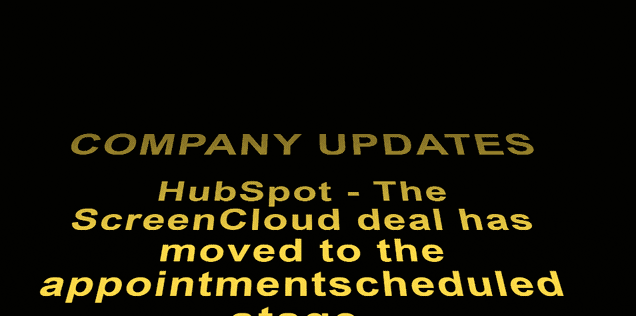 Most built-in digital signage tools and integrations add plenty of padding to the edges of your screens. But come up with a firm number for more customizable, freeform content, like branded CSS animations or stylized RSS feeds. Two-inch margins should be enough for screens under 60"; bump it up to 3" for larger displays.
Keeping content up to date
Things will get easier as your digital signage guidelines become second nature. But there's still some work to be done. Adding fresh new content to your screens is something you should aim to do at least twice per month, ideally weekly. Make it a goal to change at least 25% of the slides in any playlist, or at the very least, rephrase and redesign existing messaging just to avoid banner blindness.
If you can incorporate content that automatically updates in real-time, you might be able to bump updates down to once per month or less. For employee-facing signage, custom dashboards based on sales, marketing, or support metrics are always engaging. In a retail or franchise context, you pull data from point-of-sales systems to create display receipt numbers, or customers served for the day.  
There are other options for speeding up digital signage content creation as well. Your screens can be updated with a Siri voice command or with a keyboard shortcut from your desktop. And when you're having a hard time coming up with ideas for what to display on your signage, ChatGPT has lots of good ideas. Just make sure to revisit your goals, content strategy, and audience insights before hitting the Send to Screen button.
Staying ahead of the curve with ScreenCloud
The more flexible and full-featured your digital signage app is, the less time you have to spend hacking together content that aligns with the topics and trends of the day. With an app like ScreenCloud, you can show live data from apps you already use, on screens you already own. Or, if you want to build something more advanced, you can write basic GraphQL mutations to update your content instantly. 
Sign up for a free 14-day trial today to get started. 
Banner image from picjumbo.com. 
Ready to get your organization connected?
Connect your first screen today with our 14-day free trial
articles