Do you remember what life was like before marketing automation became a thing? Before ads aimed at 'cohorts' and specific groups of people were made personalized? We certainly do.
For one, your secret shopping habit remained secret when remarketing didn't force products onto your Facebook sidebar. 
But that aside, let's backtrack slightly.
When you look at the billboard ads of the 90s and 00s, they were namely big brands, showing their latest big-budget ad campaigns in high-profile locations. 
Next, there were internet banner ads, the infamous copy that asked you to click your mouse RIGHT HERE and which were such a rarity that you probably did just for the novelty factor. 
Later, we saw the rise of automation and programmed ads. This is where data was used to create specific creatives and adverts based on specific behaviors, set up in advance and occurring across the web. On a basic level you can see two examples that we still use today; Google's dynamic headlines in search engine results pages and Facebook's advertising platform which provides a huge amount of options on what ad to serve and when. 
Now take digital signage, our medium of choice. How far has advertising come since the original conception? Certainly not as far as some of the other practices happening across the web, mobile and social media.
Most of the digital signage we see every day feels, well a little stale. If it doesn't feel stale it's often because of a great creative or visual, rather than the thought and automation behind it.
But here's the thing, we can hack the automation of digital signage content right now. We just need to get clever about how we use the software systems gifted to us and the data we already have (or know) about our audience. 
Personalized to our audience
Even without amassing a huge amount of data you could probably already name 10 things about your audience. Who they are, where they live, what time they visit, their top-level interests or career choices and how they connect with your business. Top tip: if you need a little help, check out these 10 questions. 
From this, you can quite easily automate your first personalized digital signage content campaign. If you know what time of day your audience visits (say early morning for argument's sake) you can personalize your menus to breakfast. They might be in a hurry, so you'll take the content showing at that time of the day and make it short and snappy.
You'll know not to ask too much of them (it's still early) but you might advertize your fresh, steaming hot coffee that takes less than 30 seconds to brew. Or perhaps you mention your extended opening hours, so they can visit after work when they have more time. 
Content that's genuinely useful
As well as figuring out what type of content your audience will want to see when, you can also take advantage of apps that build content for you. These engines just need a few details plugged in and they churn out content that's designed, optimized for a digital screen and that has already been tested on a live audience. 
A lot of the hard work done for you, some might say. 
But don't feel bad about it, this type of content, unlike most advertising spiel, is genuinely useful to your audience.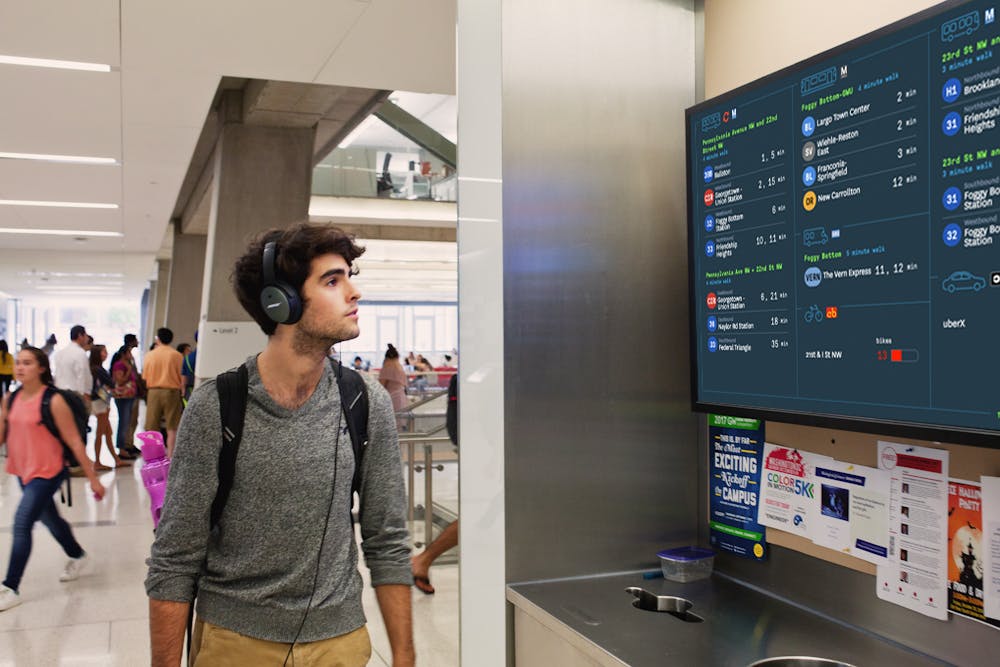 From timezones around the world, currency, stocks information, live news feeds and one of our new favorites - the travel information of bus, train and tram services directly surrounding the individual. This type of content is genuinely useful which in turn, reflects great on your organization and your marketing. 
This content can also be joined with adverts, so your screen holds an ad on one side then travel information on another. A special incentive, followed by a quick introduction to your new product. 
As the famous Howard Gossage quote goes: "The real fact of the matter is that nobody reads ads. People read what interests them, and sometimes it's an ad."
Content that can scale
Want to know another huge benefit of automating your content in digital signage displays? 
Scalability.
It's really, really hard to scale personalized content. That doesn't mean it's not worthwhile of course, but if you've already personalized all of the settings you can using playlists and schedules to nail what content plays and when, it's much easier to automate the rest.
Live news feeds, travel information and other forms of automated digital signage content allow you to add more content streams and roll out larger scale systems.
Back when digital signage was clunky and difficult to implement, the idea of rolling out multiple feeds was sweat-inducing. When the apps do the work for you and screens can be added from any location, then managed from one central system, how hard can it be? 
At some point in the future we may see digital signage algorithms, led by AI, that track and adapt the most effective content for us. Until there's a reliable way of tracking this (outside of ROO) a pared back version can be achieved in the here and the now. 
To begin harnessing the power of automated content in your digital signage displays head to https://screencloud.com - all apps are included in the price of your package so there's really nothing to lose.