Publish content to your screens directly from Microsoft Teams
Learn More


3-Step digital signage audience growth: Define > design > delight
Want to learn more about the people you're trying to engage? Or how to create content tailored for target demographics? You need a reliable, repeatable process.
Peak motivation for most creative projects is on day one. The challenge is novel, and imagining making a meaningful impact at work is inspiring. But it's hard to keep that up.
Motivation decay creeps in when a project's end date stretches further into the future or, even worse, becomes a task with no definable end goal at all. That's a common problem with digital signage efforts. It can be exciting to set up but difficult to keep fresh month after month.
One approach to avoiding project fatigue on content projects—digital signage, and marketing projects alike—is to end every month with three questions. On a scale of 1-10:
How well do we know our audience? The answer changes more than most people realize.
How aligned is our content (recent and dated) with our audience data? If your audience looks different this month compared to last month, content from a year ago is no longer optimized.
How much attention have we paid to our audience's emerging interests over the past month? The demographics and identifiers of your audience can stay the same while interest in specific topics wax and wane.
Whichever question scores the lowest is the highest priority for the following month. If you feel like you've lost touch with your base, you might create new audience personas from scratch. Or, you might have that dialed in, but your content isn't cutting it design-wise, so you spend a few weeks focusing on that. It's a helpful process for maintaining digital signage audience growth and project motivation.
How to define your digital signage audience
Marketers have used focus groups to learn about and analyze audience demographics since the radio soap operas of the 1940s. But focus groups are expensive, time-consuming, and biased toward finding the lowest common denominator in large groups of people. For digital signage, narrowcasting is a better strategy. The audience is smaller, and everyone is in the same physical location, which makes it much easier to analyze, especially with the right technology.
Digital signage audience measurement tools
When someone visits your website or watches one of your YouTube videos, tools like Google Analytics and YouTube Studio can tell you things like the age, gender, and location of your visitors. With digital signage, there are a few more hoops to jump through.
While a screen-mounted camera that snaps a picture once every 15 minutes might seem like a straightforward way to gather audience data, it might run afoul of privacy and consumer protection regulations. If you haven't shown someone a privacy agreement or terms of service, you shouldn't log demographic information about them. Ask them to interact with your signage using their smartphone, though, and audience measurement becomes much simpler.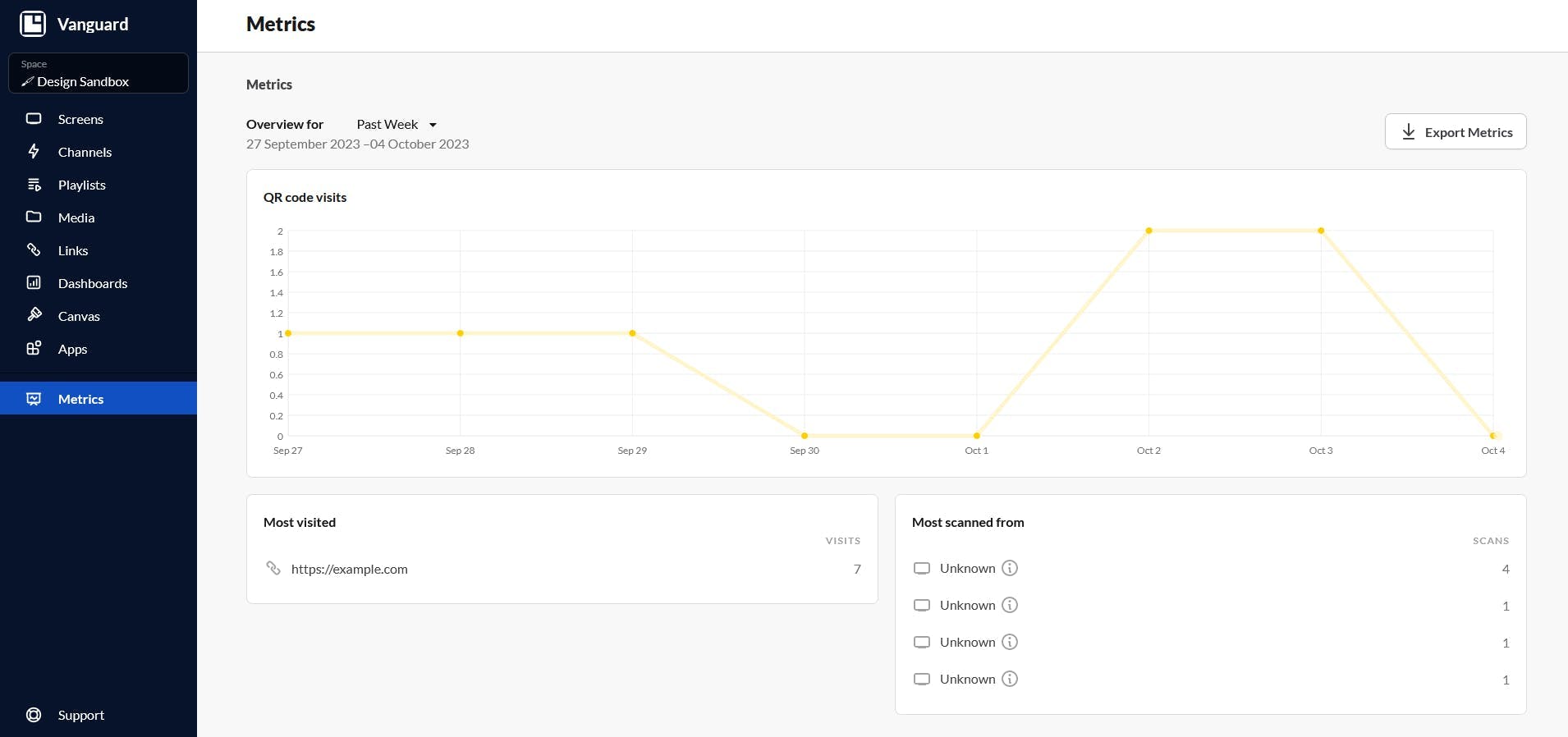 QR codes, for example, can link to your website, social media profiles, or app download page. There are tons of ways to track audience data using QR codes. On the hardware front, Bluetooth beacons are small devices that send notifications to nearby smartphones with certain apps installed. Both approaches will help you gather data to inform your content efforts.  
Or your signage might invite users to post their own content to your screens via a form, which would gather demographic data from their device while running their submission through an AI content filter. Anytime you have a link, QR code, form, or other online resource that's only accessible via digital signage, there's an opportunity to track who opens it.
Defining your audience the old-fashioned way
Hardware and software tools should always be accompanied by human observations and instincts when sussing out who is and isn't eyeing your screens. Maybe your audience doesn't want to be tracked and avoids scanning your QR code or uses a privacy-focused web browser. Maybe people have their hands full when they see your screens. You need to factor them into the equation as well.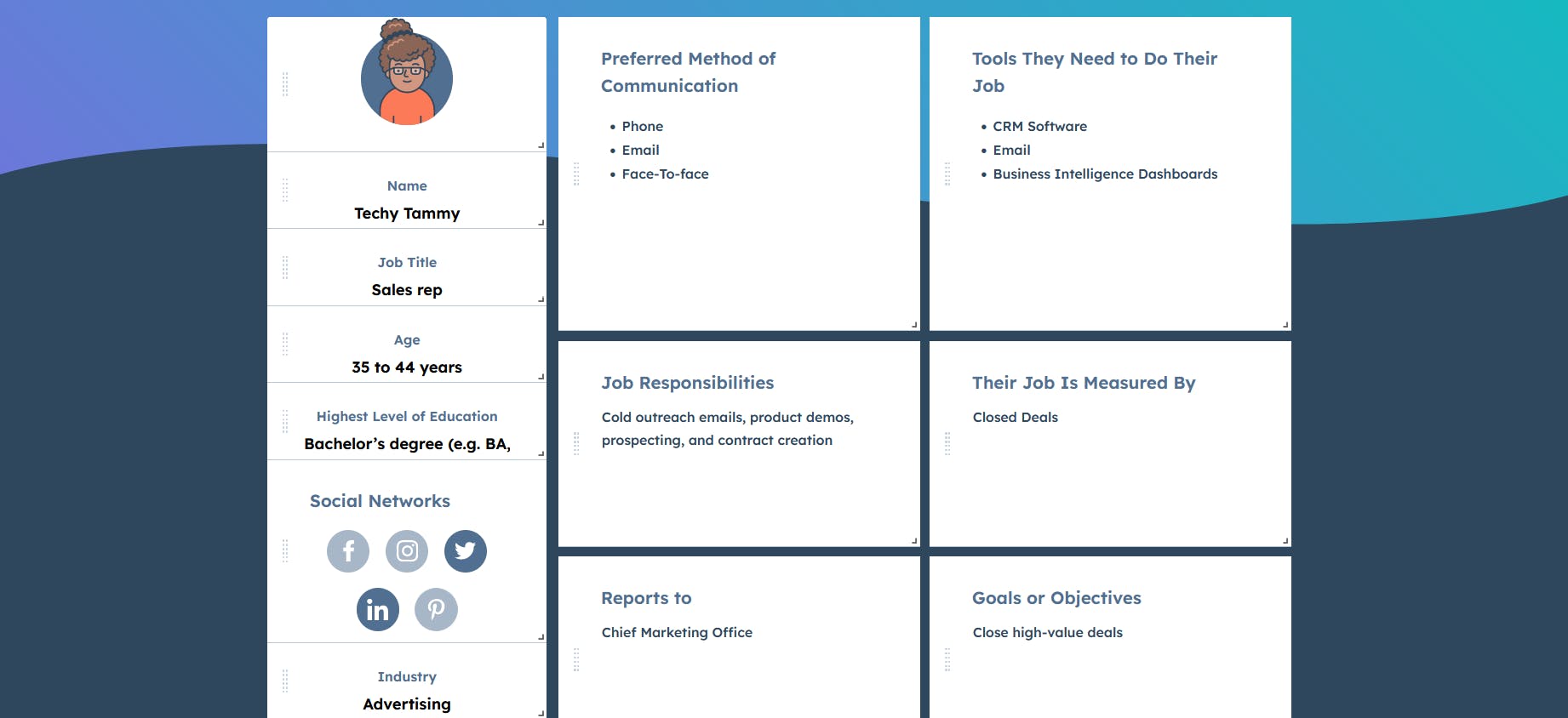 Image credit: Make My Persona - HubSpot
Creating buyer personas based on your ideal audience is a great place to start. Tools like Hubspot's Make My Persona walk you through the process step by step and spit out a PDF to save or print for your monthly review. You might also want to regularly revisit questions like:
Do our audience demographics change based on the time of day or year?
What are the top three struggles our audience faces?
On average, how much time do people spend looking at our signage as they walk by?
How does our audience compare to our closest competitor's audience?
Do videos and animations get more or less attention than static visuals?
Make sure that you involve the right people when answering these questions. A receptionist or a cashier, for example, might be the most knowledgeable person in the whole company about who pays the most attention to your signage.
How to design digital signage content based on audience data
Some design principles are universal. Most people's eyes scan digital signage content in the same "F pattern." High-contrast, low-text images are easier to read and retain. Play by those rules, and your content will be better for everyone. But how can you niche way down to speak to your audience with language and visuals that communicate you're one of them?
Knowing what your audience dislikes can be more helpful than knowing what they like. Seek out online communities with dislike signals (e.g., Reddit's downvotes and YouTube's thumbs-down button) that are popular with your target demographic. They're basically cheat sheets of what to avoid. What you find there might help you build AI chatbot prompts for generating messaging that appeals to your audience. A gym, for instance, could set up an automation that automatically grabs popular fitness questions from Quora, feeds them to ChatGPT with instructions about language to include and/or avoid in the answer, and posts the output to digital signage.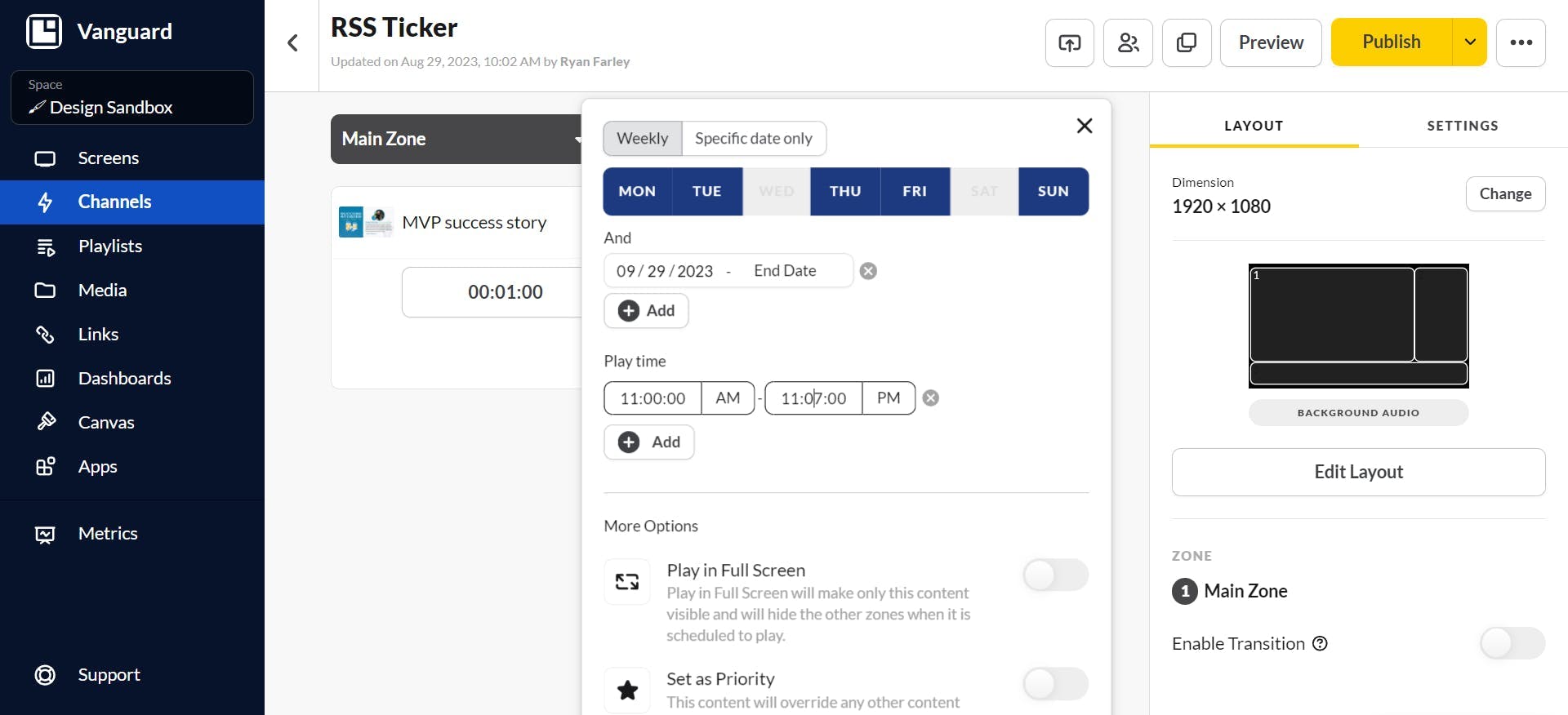 Imagine your morning and afternoon crowds are polar opposites: Wildly different age ranges and interests. You'd want to create and schedule playlists for each audience. Or take things a bit further and develop event-based triggers for digital signage. In an office or event setting, for instance, pre-programmed content might get interrupted by a calendar notification that uses ScreenCloud's GraphQL API to change playlists out for an industry trade show.
If you're smart about it, you could set up signage that reacts to audience actions in real time. Like a craft brewery with screens that show the most popular taps based on data from a point-of-sale system or a live leaderboard for an office competition. Just remember that content automation shouldn't be a set-it-and-forget-it solution. You'll still want to periodically check in on how it's performing and make adjustments as necessary.
How to delight your digital signage audience by tracking evolving interests
You can keep your audience happy by producing content similar to what they've liked in the past. But to truly impress them and build your reputation, try getting out in front of emerging trends. Try to be the source of new conversations and ideas for your audience. While it takes a bit of luck, you can do a few things to stay ahead of the game.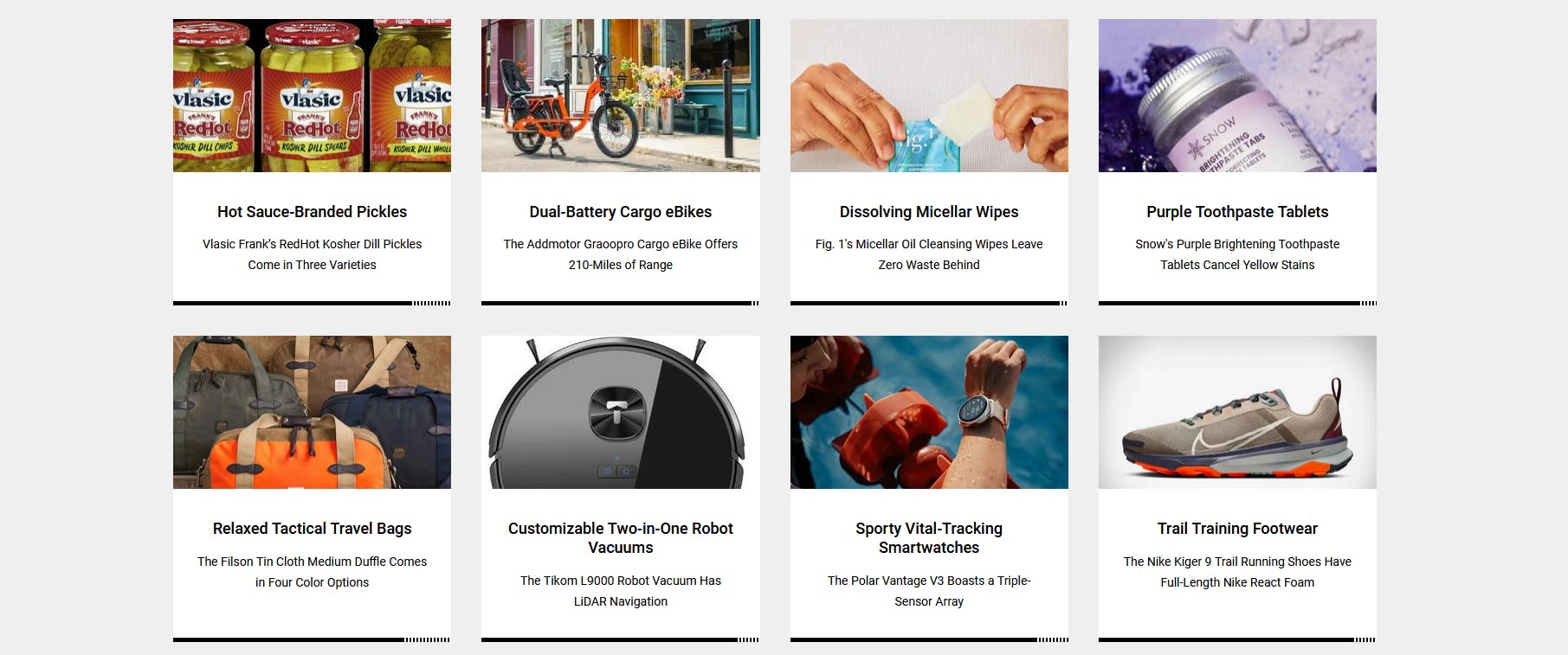 Platforms like Exploding Topics and Trend Hunter monitor increasingly popular topics on social media and from search engine keyword tools. If you can't keep tabs on them week to week, make it a point to look over new trends during a monthly check-in. And while you're at it, see what your competitors are showing to their audiences. When a competitor picks up on something big, you shouldn't be far behind.
Here's an idea: Ask your audience to tell you about what's popping up on their radar. You might post a survey link on your digital signage, giving people a chance to comment on what they're following and upvote or downvote other submissions. Then, you and your audience could view the results as animated, automatically updated graphs. You give them the chance to lead the conversation and get even more audience data to improve your content.
Grow your audience size and engagement with ScreenCloud
With the right tools at your disposal, digital signage gets more interesting as time goes on. You'll learn more about who you're creating content for. You'll get more comfortable with automating your screens and playlists. You'll accomplish more meaningful work in less time. 
Head to the ScreenCloud University page for more info about content management, or sign up for a free 14-day trial today to start experimenting!
Ready to get your organization connected?
Connect your first screen today with our 14-day free trial
innovation