Database apps are the ultimate DIY tool. They're almost any business app you want in a box – everything you need to build a custom CRM, project tracker, or POS system. In the '90's, that would have been Microsoft Access. Today, that's Airtable, the versatile database that deftly morphs from table to timeline to Trello-lookalike in a click.
When your team needs a new piece of software—a CRM, a project management app, an editorial calendar, an inventory tracking system, or anything else that'd take data in, and safeguard it for when you need it—you could pick an off-the-shelf tool. Or, with Airtable, you could instead build the perfect tool for your team, using forms, databases, and visualizations to build a CRUD app.
Now, you just need to go one step further and build an Airtable dashboard so everyone in your company can share in your database-powered insights. You can then share a link so everyone in your company can see what's happening in real time—or turn your Airtable dashboard into digital signage so everyone in your company can see the most important stats at a glance. First you need to build the dashboard, but if you already have that, skip to our advice for putting Airtable on a TV screen.
How to build an Airtable dashboard

Airtable looks reasonably good at first—but it's still hard to tell what's going on at a glance
It's always been fairly easy to make your Airtable database look nice. The default table layouts have enough padding and contrast that you can quickly scan through the text and numbers. Add some filters to hide less important data, and anyone can scan through and see what's going on. It's better than a spreadsheet, at least.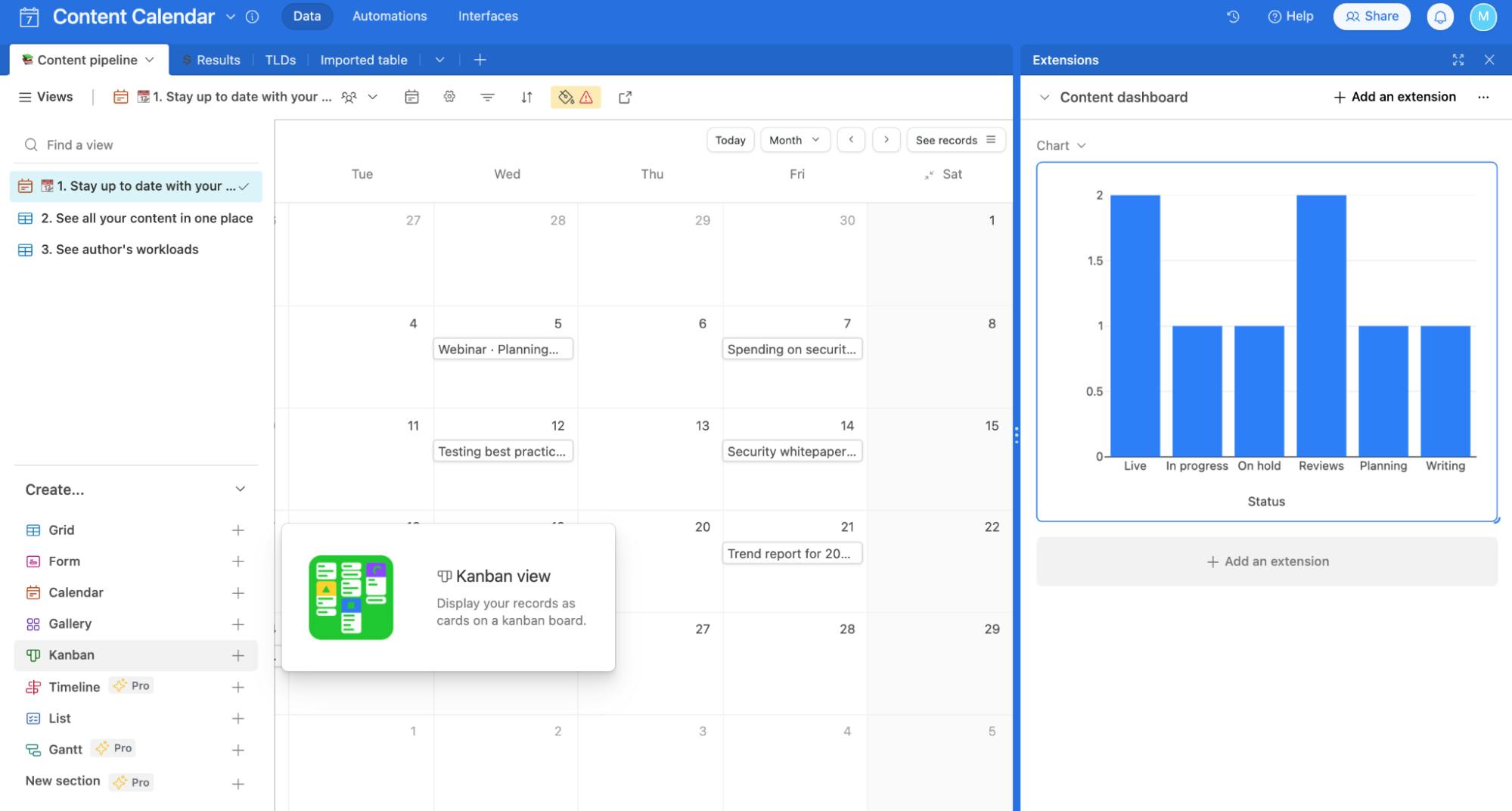 Airtable views showcase your data in new ways. Extensions help you visualize it.
What you want, though, is a way for people to see what's happening at a glance. Airtable's other views are one good option. The default spreadsheet-style table view is called a Grid in Airtable. It's the core way you'll browse your data, but is far from the only way to view it in Airtable. You can utilize a Calendar to see items organized by date (perfect for an editorial schedule or client meeting list), a Gallery view to showcase more visual data (perhaps a product database), or a Kanban or Timeline (Gantt chart) view to visualize project progress.
Or, add an Extension to visualize your data. Airtable's built-in Graph extension is best for that. Select any table and data field, and Airtable will automatically graph it to see, say, sales over time or project success metrics. Another great option is the Summary extension, which shows one single value—total sales, or total new customers this month, say—extracted from your data.
Then you can share what you've built with your team. You can invite anyone to join Airtable and collaborate on your databases. Or, you can share only the specifics. If they just need a peek at what's going on, you can share a link to that specific view, or copy an embed code (click `< >` beside the Airtable link, to copy it) and add that database view to your website.
A single-view share won't include widgets, though; to share them, you'll need to share your full database. If you do share your full database, first make sure you're only sharing it with people who should have access to your data. Additionally, put the view with the widgets as the first tab in your database and the first view in the sidebar; drag-and-drop to get it in place. That ensures it'll be the foremost page your team sees when they open your shared link.
Automatically build a dashboard with Interfaces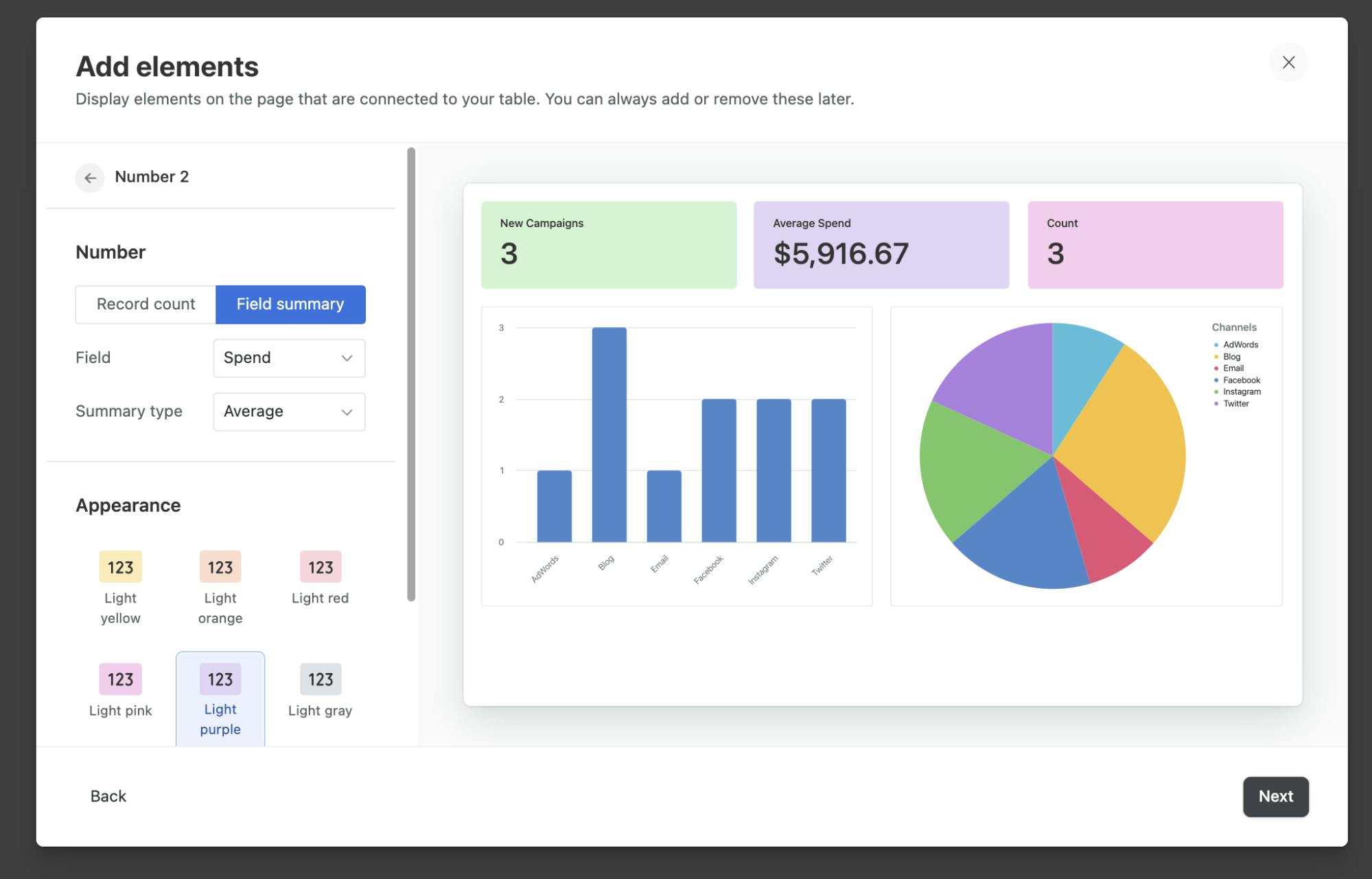 Airtable Interfaces will create a dashboard from your data, automatically.
The better option is Airtable Interfaces. This tool automatically builds a number-and-graph-based dashboard for your data. It doesn't include as many sharing options, but it does help turn your data into a dashboard in a few clicks.
Add a new Interface, select the database table to use, and Airtable will automatically add three summaries and two graphs. You can customize each, selecting the data you want for the summaries, and the data, styles, and color scheme you want for the graphs. You can also add labels for each item, so your team will know what the numbers mean.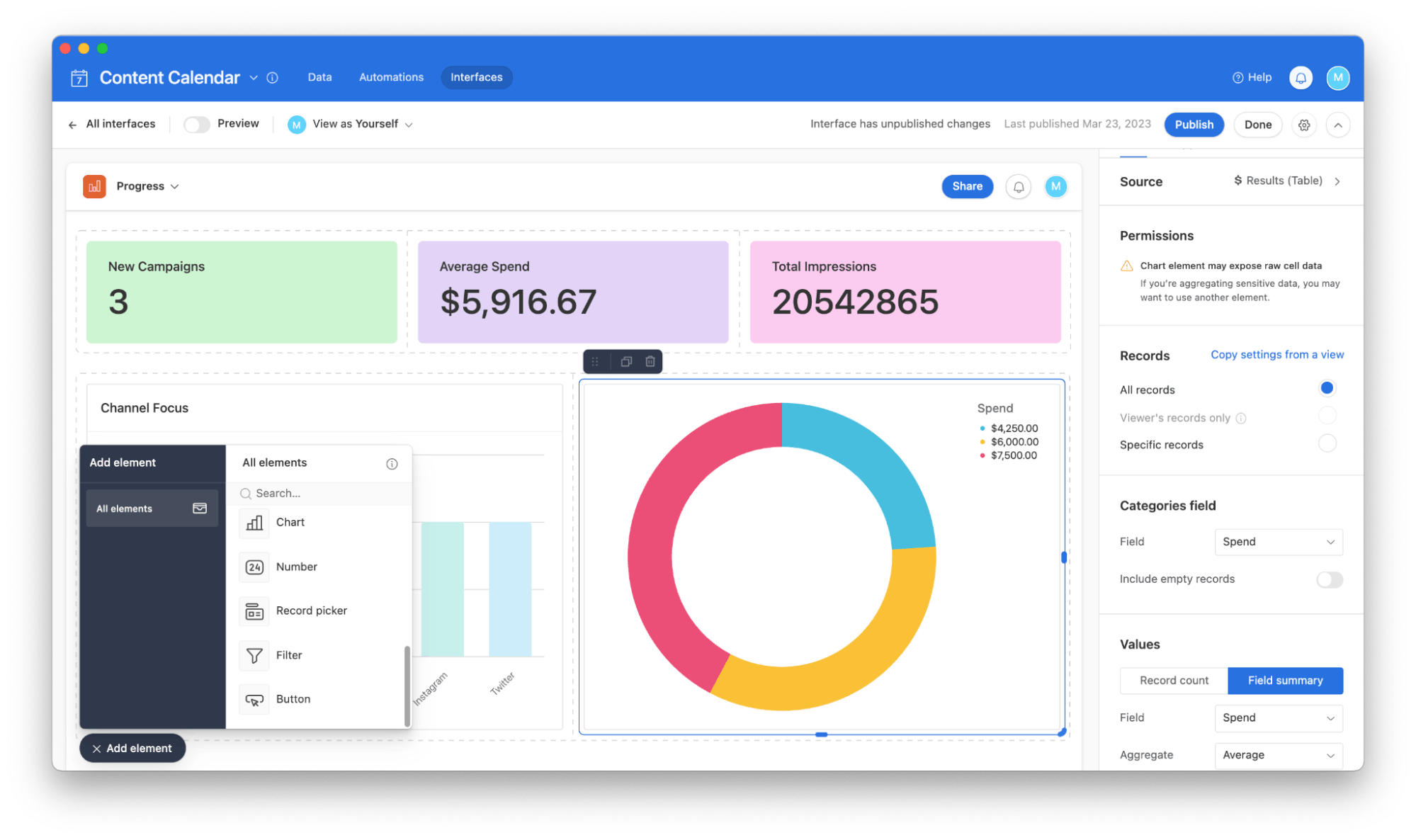 With the Airtable Interface builder, you can build any dashboard you'd like
Airtable does the heavy lifting for you. Odds are, the premade dashboard it comes up with will be 90% of the way there. Or, you can tweak things on your own, adding extra widgets or removing default ones to make as detailed or lightweight a dashboard as you want.
Then all you have to do is share it. Interfaces can't be embedded, but you can share a link with anyone to view the database. They'll need to sign in to an Airtable account, but once they do, they'll see your featured numbers and charts, along with anything else you added to your dashboard—and nothing else.
How to present your Airtable Dashboard
Now that you've built out a streamlined database with widgets, or a full Airtable Interface, it's time to share it with your team. Send your team invite links, or consider embedding it in your site or, perhaps, in a Notion dashboard for digital signage or other places your team works. A better option is to make it a part of your next presentation.
Interfaces are especially good for this. They're full-screen, show only the featured data and graphs, and hide all the messiness. Better yet, if a new sale comes in or some other metric changes in Airtable, it'll show up live while you're presenting. Airtable can only display one Interface at a time, so if you want to show multiple interfaces, the best option might be to open each interface in a separate browser tab, and use that to navigate between your data-powered slides during your talk.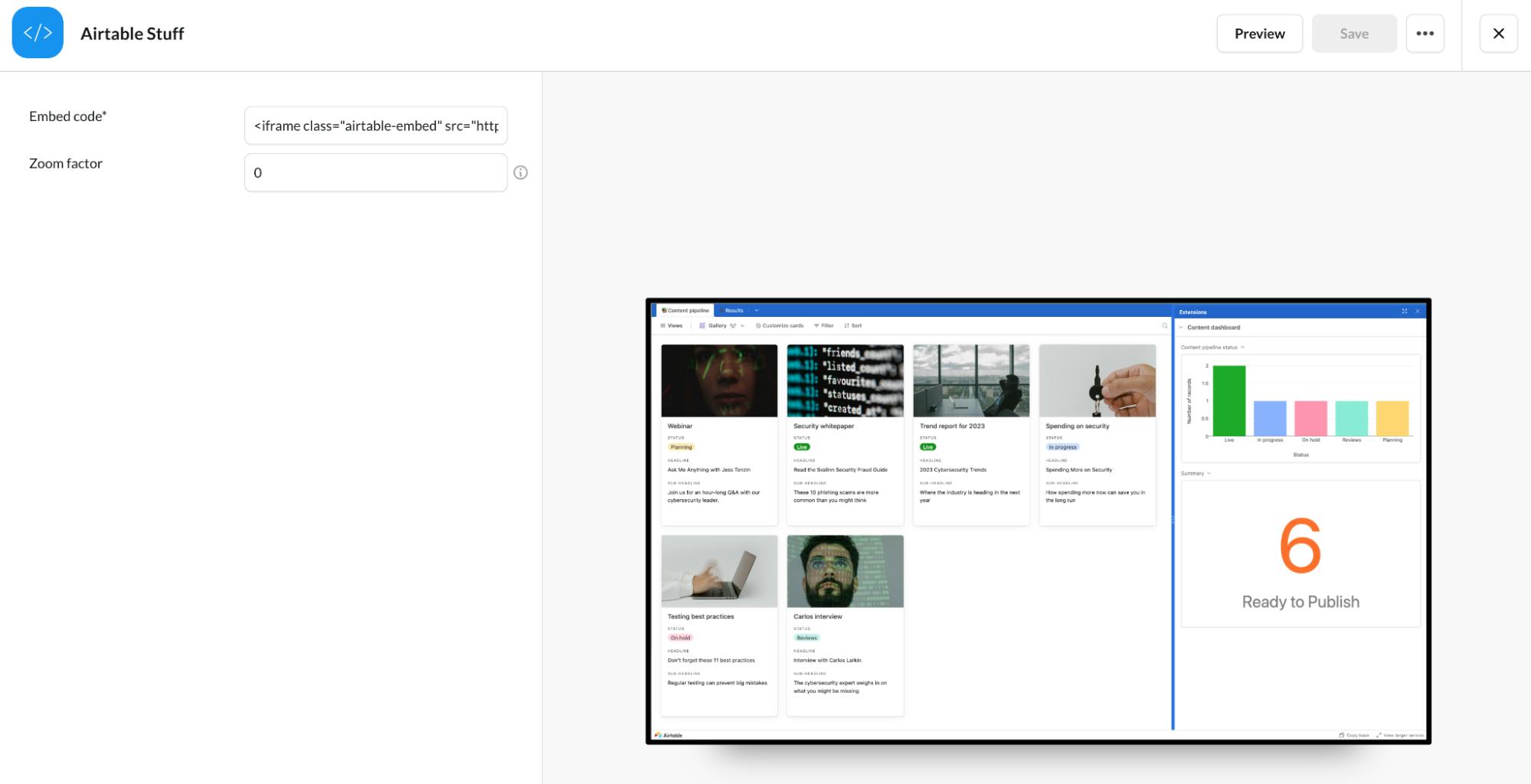 Use ScreenCloud Embeds to showcase a single database view, complete with widgets
An even better way to use Airtable widgets and Interfaces is on your company's digital signage. You can use Airtable to power a TV in your office that shows your team exactly what's happening in your company—your total sales, average customer happiness, days left in a project sprint, graphs of your traffic sources, and more—on the big screen.
ScreenCloud's cloud signage software makes that easy. You've got two options with ScreenCloud to get Airtable on your TV. First, embeds. If you want to showcase a full database view, set that view as the first that opens when you view your database, then copy the embed code for the entire database (in Airtable, click Share, choose Share Publically, then click the `<>` button to get the embed code) and add it to ScreenCloud's Embed app.
For the highest visibility, use Airtable's Media view to showcase your data with its larger card size. Calendars and Kanban boards can work as well; tables are difficult to read at a distance. Then, add widgets for the easiest-to-view summary of your data. You can easily see two Airtable widgets at once on a TV—a third widget will get cut off, so best to focus on the top two.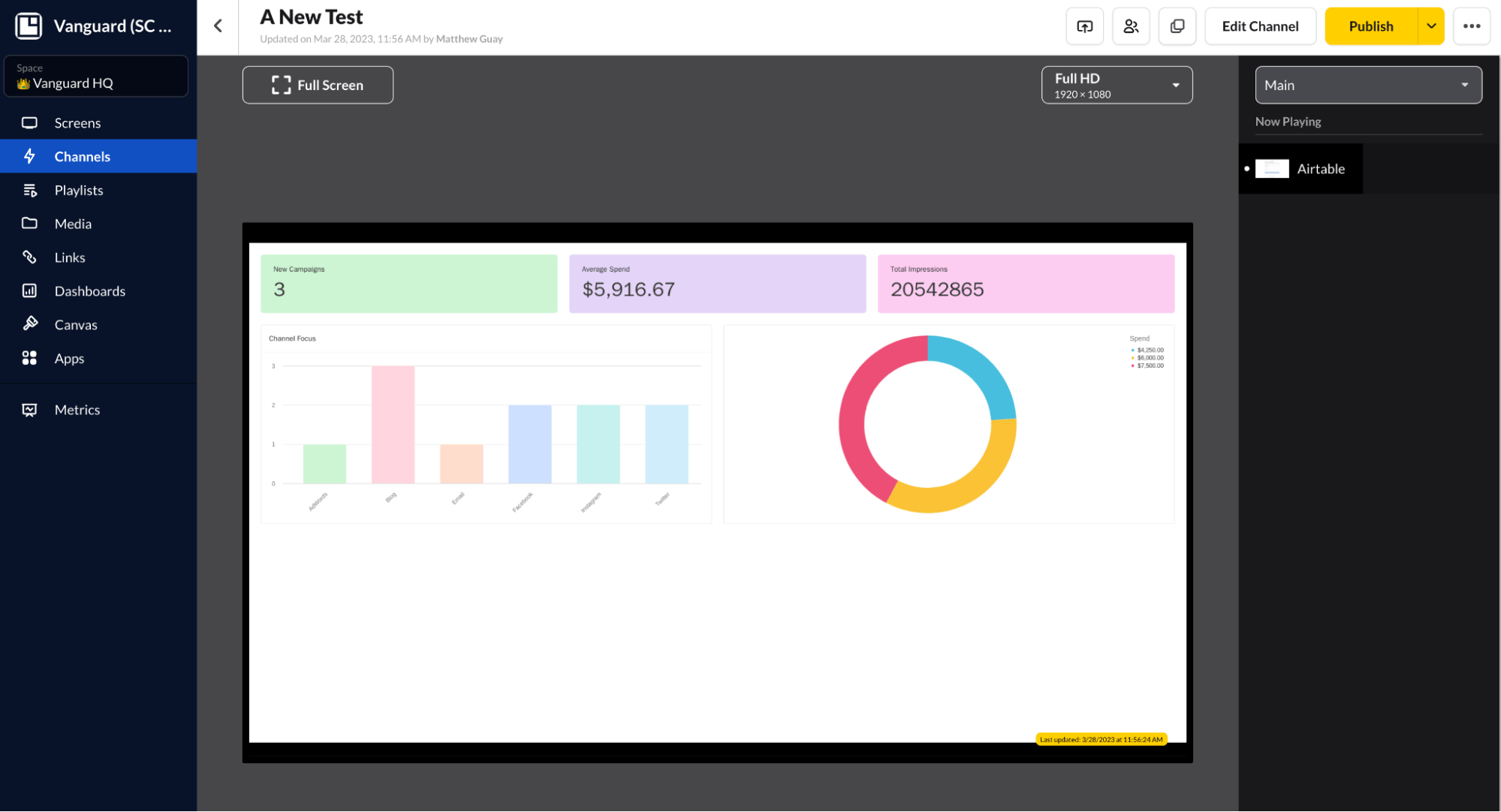 ScreenCloud Dashboards can show a full Airtable Interface, or a single widget.
Or, for a more customized dashboard TV, use ScreenCloud Dashboards toshow anything from any website on your screens—including an Airtable Interface. The best way to use ScreenCloud Dashboards with Airtable is by using Google Auth. Follow ScreenCloud's tips to set up your Google Account for ScreenCloud, then log in to Airtable with your Google account. Copy the link to your Interface, enter it in ScreenCloud Dashboards, then log into Airtable in the popover using Google Auth (you could create a new Airtable plus Google Workspace account just for ScreenCloud to view this Interface, if you'd like, to restrict what's shared). Then, move your mouse around the screen, and click on either the white background to share the full Interface, or click a single widget you want to showcase, and save your Dashboard.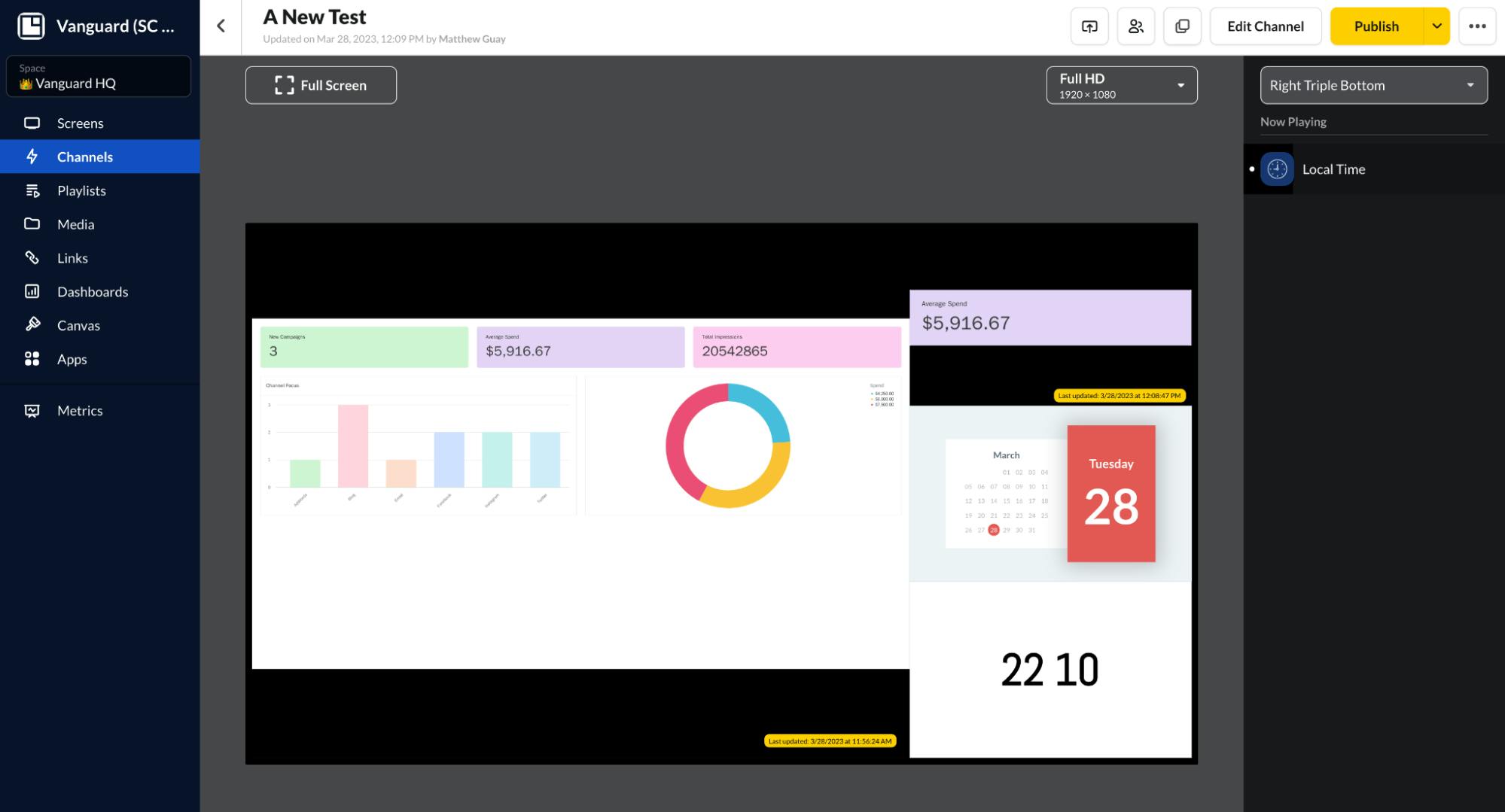 A multi-widget ScreenCloud Channel lets you showcase a full Airtable Interface (on the left) or a single widget (on the top right).
Airtable Interfaces can showcase three values and four graphs at once on your digital signage—though the lower graphs may be cut off a bit. Or, you can select any single graph or value from your Interface to add it to your screens individually. In ScreenCloud Channels, then, you can make a multi-widget screen that showcases a single graph or number from Airtable, along with the other data you're sharing with your team.
Either way, you won't have to worry about your messy database. You'll have all of your data safe, and summarized down to make sense to everyone in your company.
Do you live and breathe by an app that isn't included in ScreenCloud's list of integrations? Not a problem. You can connect just about any dashboard, database, or program to your digital signage with ScreenCloud. Sign up for a free trial today and give it a shot.