Publish content to your screens directly from Microsoft Teams
Learn More


The ultimate guide to generating ad revenue with 4G digital signage
Rideshare drivers, food truck owners, tour bus operators, and more can easily create and manage spaces that advertisers love.
A minute of someone's attention can be worth anywhere from 3 cents to 30. Doesn't sound like much, really. Unless you're a rideshare driver working 500 minutes per day. Or the organizer of a farmer's market with 500 visitors per weekend. Then, those rates look pretty enticing. A company like Vugo can take care of hardware and content management for you, and you're looking at an extra $250 per month in take-home pay. 
But why pay the middleman when you could 2x the revenue by doing everything yourself? Buy your own tablet or TV, install ScreenCloud, and work with local advertisers directly. It's not nearly as crazy as it sounds. Let's break it down.
Choosing the right 4G hardware for digital signage
Any screen that runs off Android, FireOS, or iOS is compatible with ScreenCloud, software that turns your device into digital signage. Your cheapest option would be a tiny Amazon Fire HD 7 for $50 or less. A FireOS device with a larger screen or a tablet from Samsung – like the A7 Lite – are going to deliver a far better viewing experience for a slightly higher $150 budget. 
An iPad will get the job done, but they're more expensive, and Apple's mobile operating system struggles in certain situations (outlined in the 'offline signage' section below). For around the same price as an iPad, you could get a commercial-grade device that runs Windows, like the Elo 15-inch or Fusion5's Windows 11 tablet. 
If you're in a fixed outdoor location, you're totally fine with almost any TV or large screen that's compatible with Firesticks, Chromecasts, or media players like the Station P1 Pro. You just need a way to connect the screen to 4G.
Some Windows tablets and FireOS devices don't come with a SIM card slot. One option is to turn on your smartphone's mobile hotspot to share its data connection with your digital signage screen. Good enough for a test run, maybe, but in the long run, that will put an incredible amount of wear and tear on your smartphone. If you're based in the United States, T-Mobile's mobile hotspot device is a good choice if you're already a customer, or go with a no-SIM contract-free device like RoamWiFi's mobile hotspot router.
Finally, depending on your use case, you might need a mount. Uber drivers and tour bus operators might need a basic headrest tablet mount and possibly a power bank or external battery with enough juice to ensure your screen (and possibly a hotspot device) stays above 50% for a full shift. At the end of the day, though, all you need is a screen that's connected to the internet and compatible with the ScreenCloud player.
Sync advertising content to your digital signage device
You can get images, videos, and app widgets added to your screen in a matter of minutes. First, sign up for a free 14-day ScreenCloud trial, log in from a desktop or laptop, and click New Screen in the upper right corner of the dashboard. Then, install the ScreenCloud Player on your tablet or TV, open it, and enter the pairing code on your computer.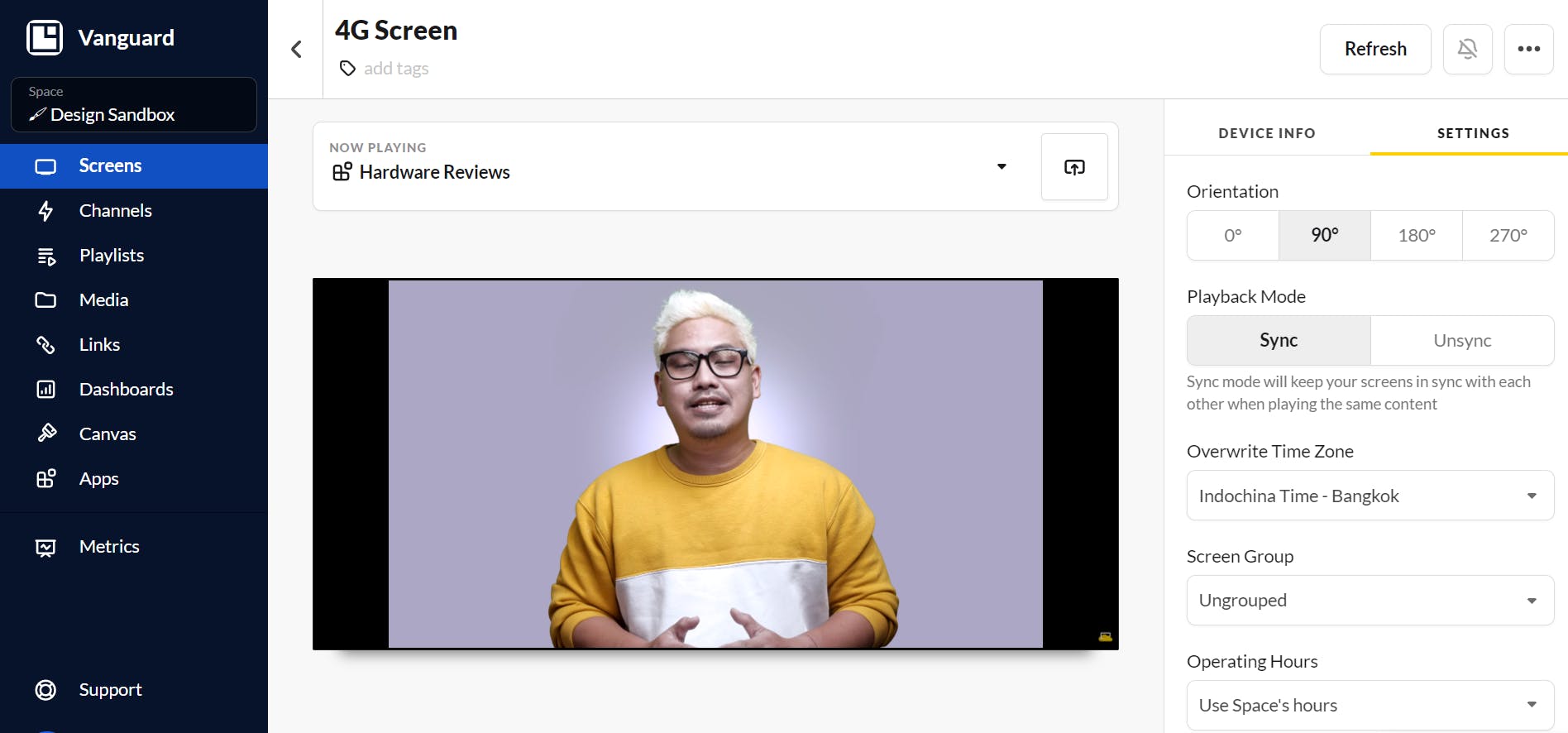 On your desktop or laptop, in the Screens tab, you should see your mobile device as the only connected screen. Click on it to open the playback settings window. You can change the orientation to 0° or 180° for portrait views, set operating hours, and choose whether you want 4k videos to be automatically compressed to 1080p or play in their original resolution. There's also a Location field that will come in handy when adding a weather widget to your screen.
Before diving into app widgets, practice adding a basic, static image to your screen. You have two options here: upload an existing image file in the Media tab or use Canvas, the built-in design editor to create one from scratch. Once the image is added to ScreenCloud, click the three horizontal dots next to it and select Set to screen. Tick the checkbox next to your advertising screen and hit Confirm. While static images will cover basic advertising use cases, there's a lot more you can do.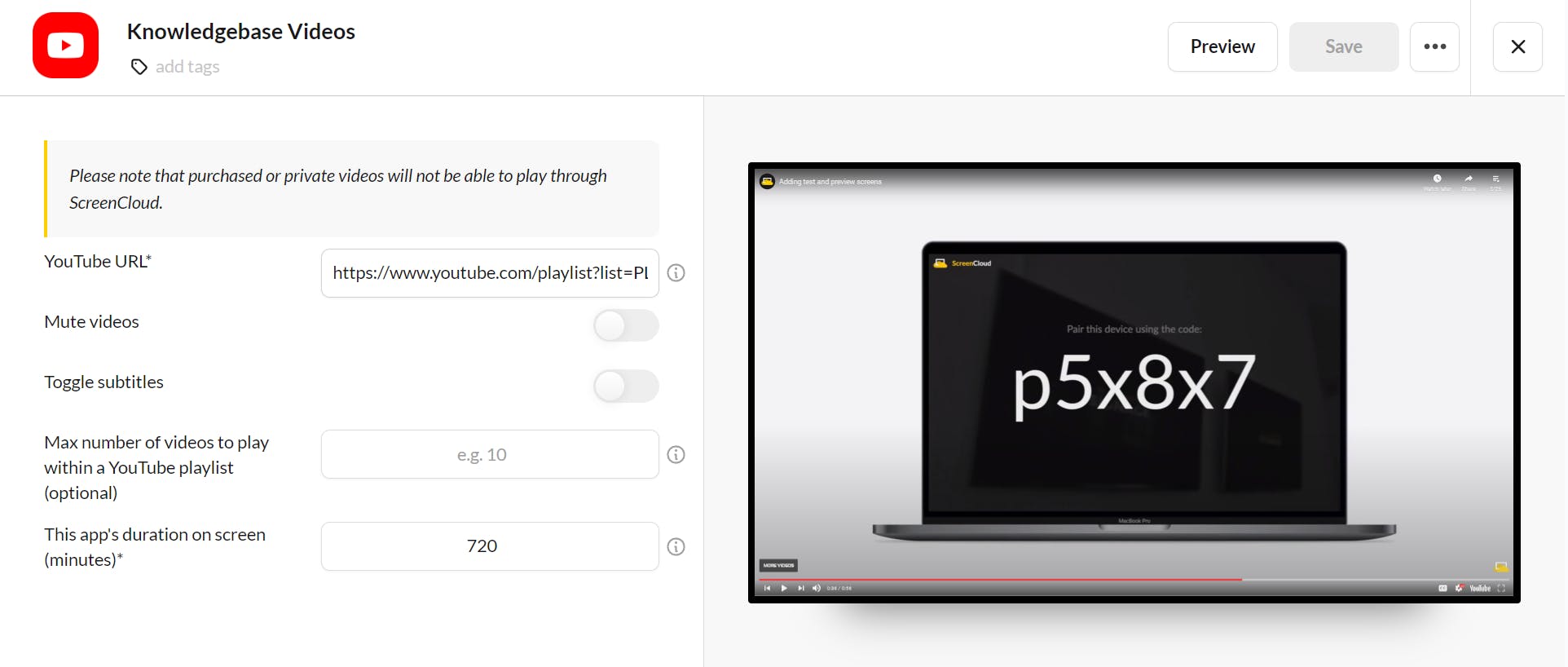 Now, let's say you want to upload an advertiser's video to anything from a mobile billboard to a tablet. Here, again, the Media tab will do the trick, or a YouTube integration. Head over to the Apps tab in the dashboard and search for the YouTube app. Click New Instance, paste the YouTube link into the URL field, and add it to a screen or playlist. 
Other popular apps for digital signage on the move are Google Traffic, Flight Schedules, and Transportation Schedules. If you're stationary, like, say, a food truck owner, Instagram, Yelp, and Sports News might be a better fit. All those look great as full-screen content. Other apps, like Weather, are better suited as widgets on pages that are broken up into multi-zone layouts.
Create Channels with multiple apps per page to hold people's attention
Let's be honest, people don't like watching ads. And advertisers don't like buying ad space where no one is looking. Partitioning or "zoning" your screen so it includes a mixture of entertaining, informational, and sponsored content will dramatically increase dwell time.
From the ScreenCloud dashboard, click on the Channels tab and click New Channel in the upper right corner of the screen. Give it a name, pick your screen orientation, and select Create. Then, hit the Edit Layout button in the right-hand sidebar to choose a design that makes sense for your use case. Edit what a zone shows by clicking it from the screen diagram in the right-hand sidebar, followed by the Add Content button in the center of the dashboard.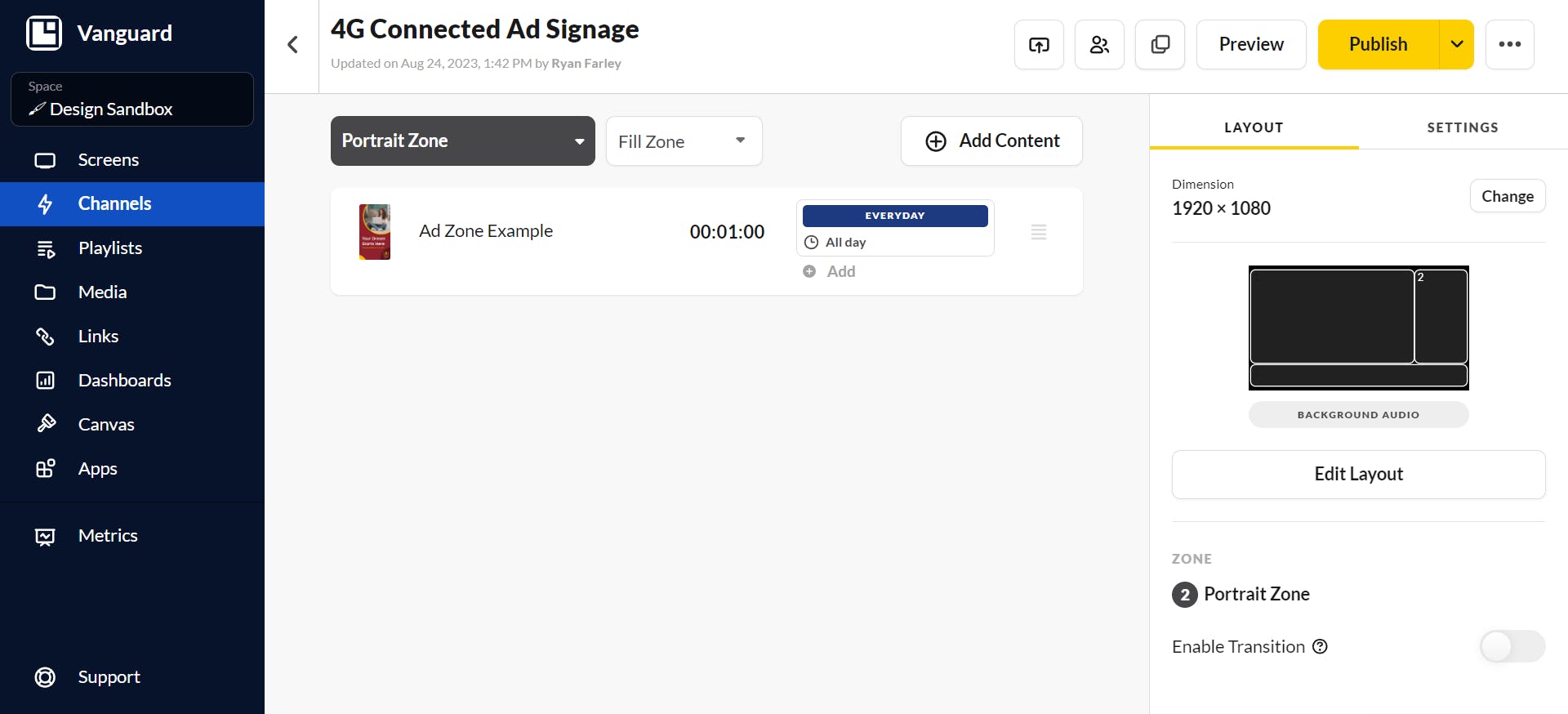 For example, with the 3 Zones layout, you could put a Live News video in the Main Zone, a scrolling Weather updates in the Ticker zone, and an advertiser image in the Portrait Zone. Definitely more engaging than a full-screen ad but we can do even better.
You probably want more than one advertiser to pay for space on your screen. So, you need a way for content to rotate on and off of the display. Adding this functionality is a piece of cake. Open the Playlists tab from the ScreenCloud dashboard, hit the New Playlist button, and then click and drag uploaded media and app instances from the right-hand sidebar. Drag items up and down to reorder them, open the settings menu to set each item's duration, and click Publish when your playlist is ready. 
Create a Channel, put an advertising playlist in one zone and a playlist without any sponsored content in another zone. You've got yourself a screen that people actually want to watch, and advertisers are willing to pay a premium for. If you follow a few best practices, the 4G connection should be almost indistinguishable from WiFi.
Playback and speed comparison: Digital signage over WiFi vs 4G 
ScreenCloud does a lot of work in the background to make sure that your content plays as smoothly as possible. So, it's hard to make an apples-to-apples comparison. Regardless of whether you're connected to WiFi or 4G, the app is always trying to get ahead of schedule, downloading images, videos, and data to your device before they play. 
If you're connected to WiFi for long enough, your device will download everything before you even pull out of the driveway. Upload content to the ScreenCloud app while your device is on a 4G, and everything will still work as expected, just a bit slower, depending on your connection speed.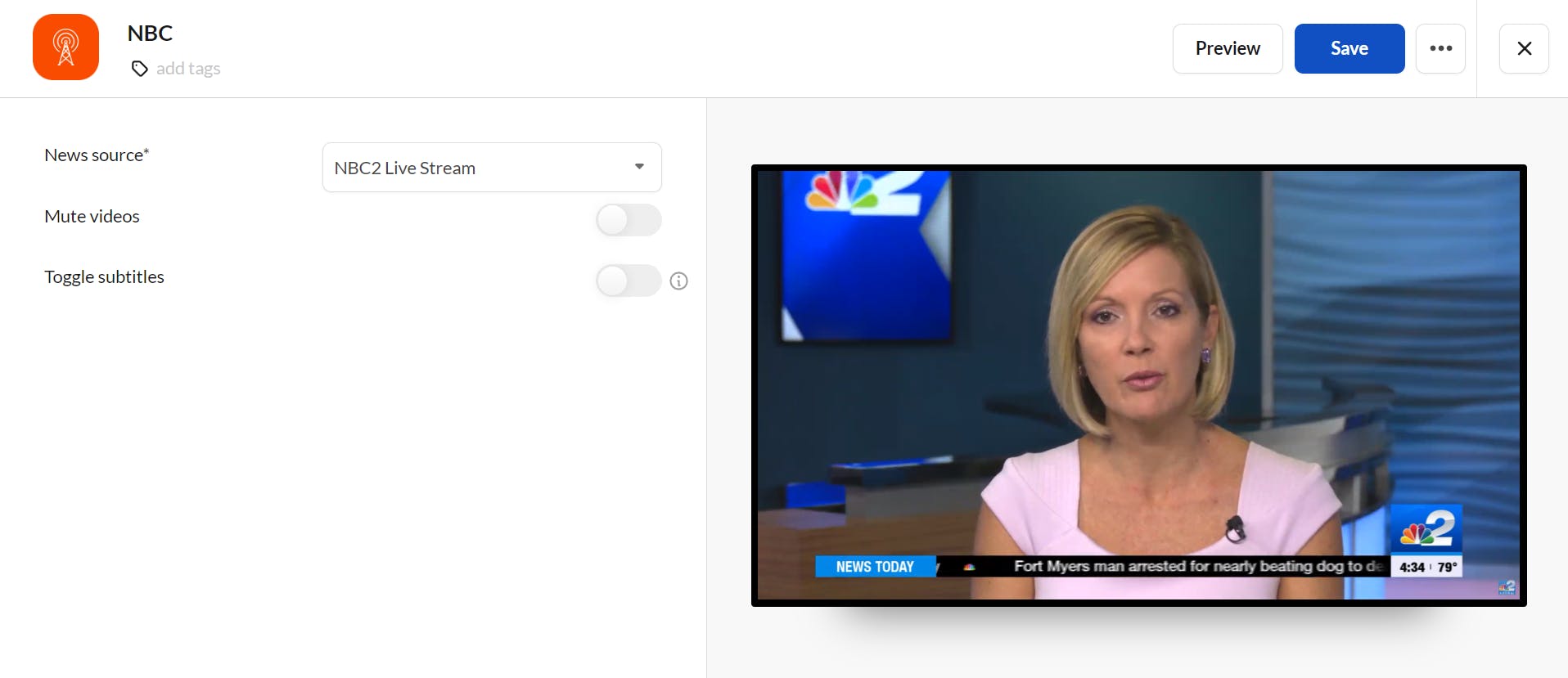 In fact, as long as you aren't trying to run Live News, YouTube Live, or the Links apps, it's possible to put an Android or FireOS device in offline mode and display preloaded content for up to 24 hours (at which point, time-bound apps like Weather and Date App will have issues). Apple devices unfortunately don't work in offline mode. 
Assuming you download everything you can on a WiFi connection in advance and then display it next to a live stream video like CNN, you're looking at around 300mb per hour of data or 2.4gb for an eight-hour rideshare shift. One way to cut down on data consumption without ditching live content completely is by creating zone schedules in a channel. 
Maybe you want to only show live stream videos during peak hours or charge more to display ads during an outdoor event's most popular performer. To set that up, open the zone with that content and click the Every day, adding any days of the week and time windows you'd like. But it's far from the only way to automate your screens and delight advertisers.
Advanced features that advertisers love
One of the things that makes intermediary services like Vugo and Vengo so popular is that they have a different incentive structure than screen owners. It's in their best interest to collect evidence that content is being played as expected and provide that to advertisers. With ScreenCloud, you can provide that same peace of mind without the middleman.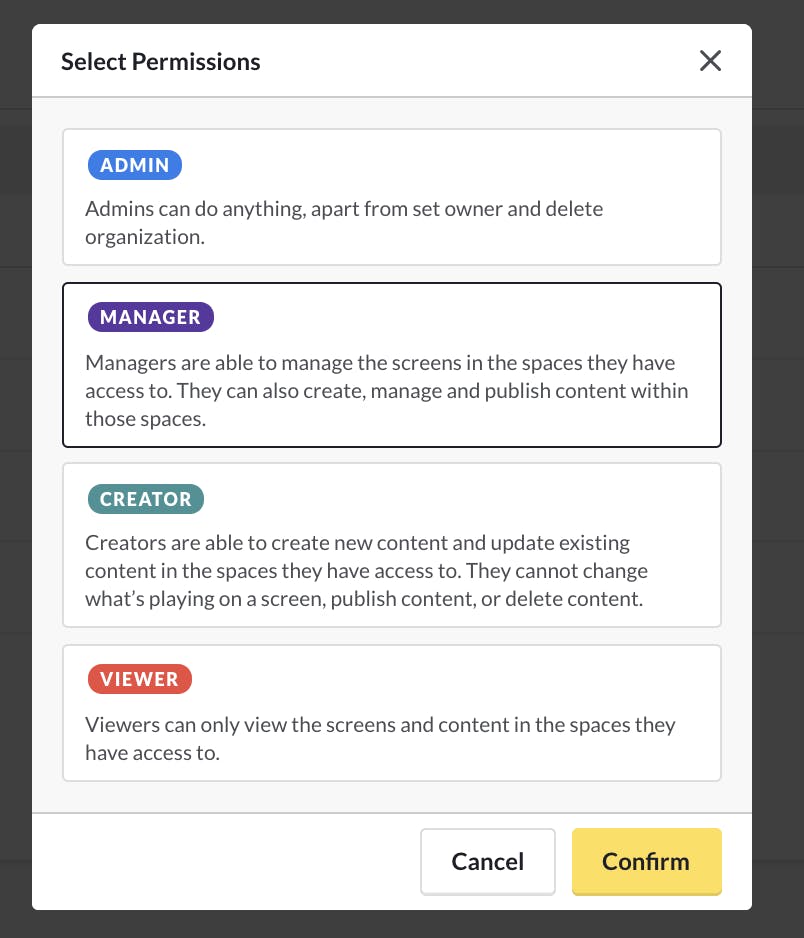 With the People, Groups, and Spaces features, you have the ability to set granular permissions that give advertisers access to ScreenCloud so they can upload new images and videos and view what's currently playing on your screens. Alternatively, if you or someone you know has a bit of technical know-how, you could easily create an automation for advertisers to upload a new image or video without opening the ScreenCloud app at all.
Another use case would be using the takeScreenshotByScreenId GraphQL mutation to automatically take a screenshot every 20 minutes of what your digital signage player is showing. Or, if you wanted to get really in the weeds, you might set up conditional content that shows specific images or videos when certain weather conditions are met. A local clothing store would surely pay a much higher rate if you could promise that when it rains, your signage will switch to their wet weather catalog or commercial.  
Build 4G-friendly signage that makes everyone happy
We've spent nearly a decade turning ScreenCloud into one of the most flexible, customizable digital signage platforms available. It's compatible with virtually any screen you can buy and displays everything from a basic ad created in Canva to multi-zone channels that automatically update based on certain triggers.
Grab a free 14-day trial, set up some content for a 4G-connected screen, and see how customers respond. It might just be your ticket to an extra $5,000 in revenue per year.
Ready to get your organization connected?
Connect your first screen today with our 14-day free trial
articles