As we've grown at ScreenCloud we've tried out various project management tools that help our team to communicate and collaborate better. And like many organizations, there are a few that have stuck. Right now, our go to project management tool stack includes:
Trello - for managing the content calendars of our marketing teams, our product roadmap and workflows like releasing a new app into our App Store.
Jira - used mainly by our projects and apps teams, Jira helps us stay on top of the many different projects occurring within different branches of the product.
ProdPad - championed by our Product Manager Nor, ProdPad helps keep us organized as we launch the new ScreenCloud this year.
The beauty is that these tools are low cost to entry and easy to use at any level. You can see projects at a glance, share ideas with the entire team and track progress.
Of course, the only downside of Project Management tools (and we're all guilty of this) is that you have to remember to log in to see what's going on. These tools are also focused on managing projects, not analyzing them. So what if you want to up-level your agile team to not only track progress but to measure it too?
Enter digital signage project management dashboards.
By sharing your project management tool data to your digital signage screens you can create dashboards that let anyone see, at a glance, how your team is doing. This takes information from one-to-one to one-to-many displays.
Here, we'll walk you through how to share your project management tools on screens, to create project dashboards that measure success.
How to create a multi-project management dashboard
If you want to create a single dashboard that combines data from multiple third party tools like Jira, Trello or Pivotal Tracker, a visualization tool like Screenful will help.
Screenful integrates with the most commonly used task management tools to create visual dashboards and automated reports that can easily be shared with others. Using Screenful you can combine data from tools such as Trello, Jira, GitHub, Pivotal Tracker, Asana, GitLab and more. This is great for say, a Jira reporting dashboard, or a visual display of your Trello roadmap.
Here's how to set up Screenful on your digital signage screens
1. Set up a Screenful account
Head to the Screenful sign up page and set up an account (taking advantage of the 21-day free trial).
Please note: Screenful is separate from ScreenCloud and is a third-party service. This service may require a paid plan to use their dashboard service or share public dashboard URLs, you can learn more about their pricing here.
2. Add your data sources
Choose from one of the Screenful integrations to gain access to your boards.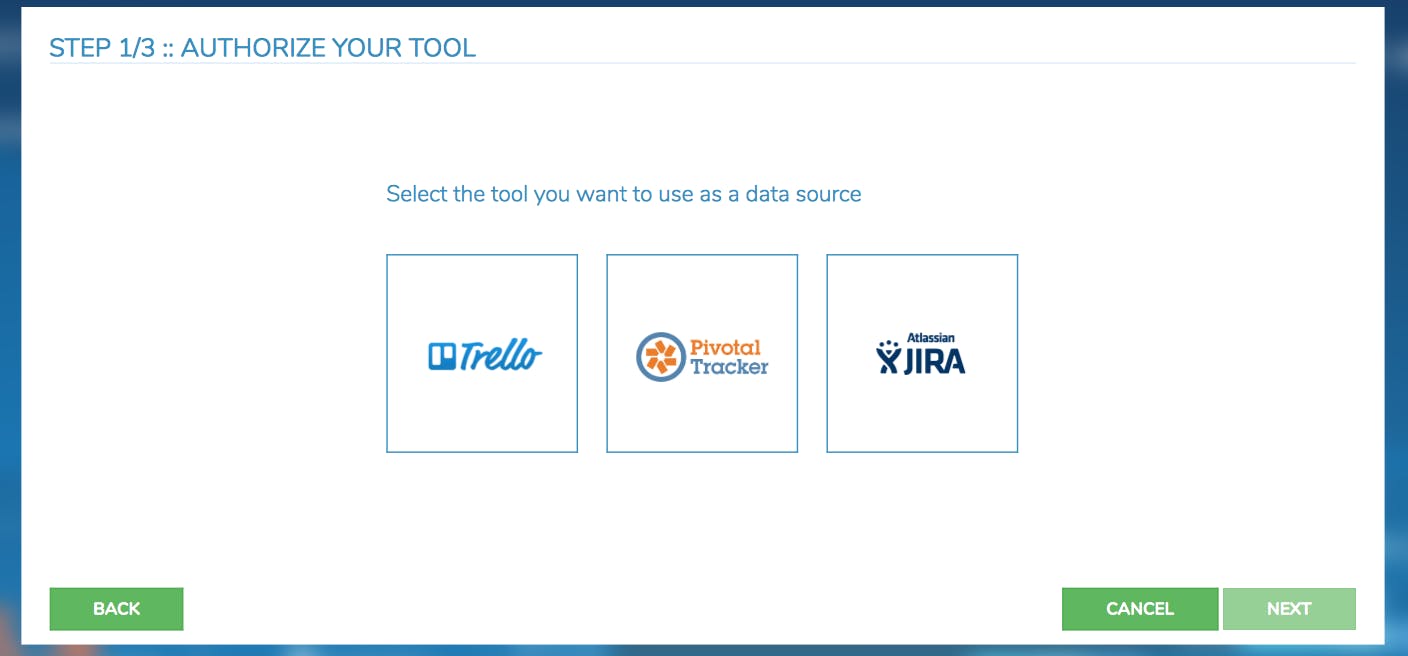 3. Choose the information you want to track
From progress boards, to roadmaps, projects and work coming up - anything you like really. Select the boards you wish to track and drop them into the appropriate stage.
4. Set it up on the big screen!
Once you have all of your information set up into a visual dashboard grab the URL of the dashboard, then head over to your ScreenCloud account and use the "Add Web Site" button on your content page to add the dashboard to your playlist. It literally took us minutes between setting up a Screenful account and having the progress boards live in our office.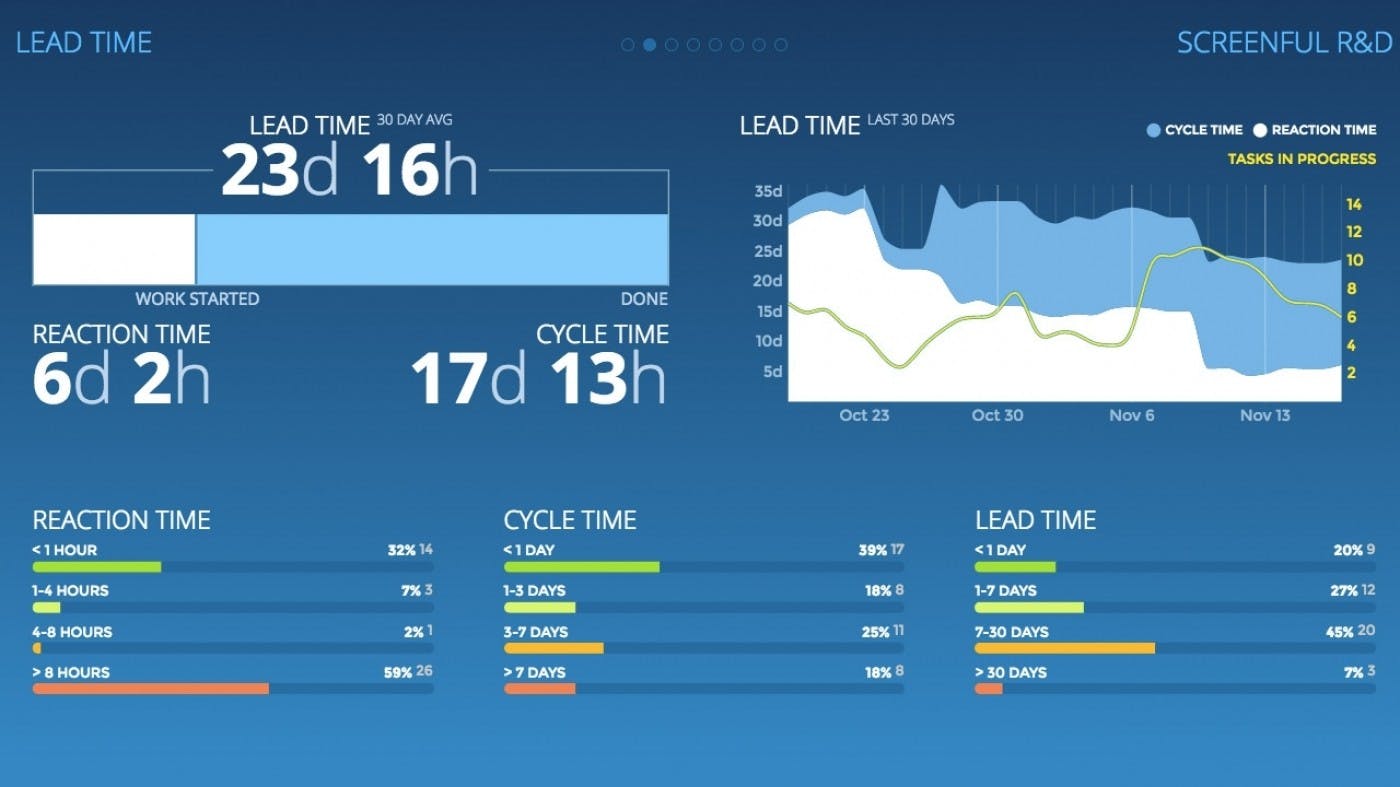 That's it! All of your team's progress set up on screen, ready for the entire office to peruse. No technical details, no custom-coding or sifting through data to collate reports and visualizations.
Of course, Screenful is great if 1) You have budget to add a new tool to your stack and 2) you're using the tools it supports, like Trello, Asana and so on. Now let's talk about some of the other tools currently out there.
PS. Have a tool you want to share that we don't support yet? Let us know on hello@screencloud.com.
Creating a Microsoft Power Bi project management dashboard
If you already use Microsoft Power Bi to create your project management dashboard you can easily take that information and share it to your digital signage screens using the Microsoft Power Bi ScreenCloud app.
To do this, you'll need a published report page that you can add as a URL to ScreenCloud. Very soon we'll be adding the ability to access your Microsoft Power Bi dashboards from behind a login, so that they can stay secure. Watch this space!
You can also use this guide from Microsoft which will help you to create a project visualization dashboard that shows your project's no. of days and whether this is on track, plus the time between your project approval and the actual start date.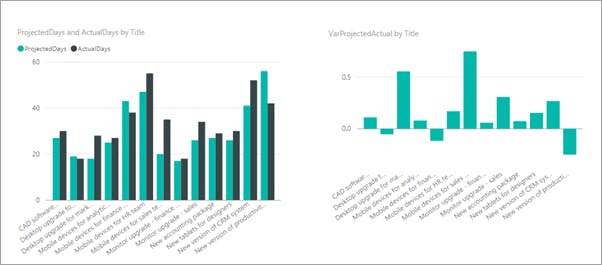 Using Excel to create a project status dashboard
When it comes to taking your Excel spreadsheet data and creating a project dashboard, it's easy to visualize your Excel data using a dashboard visualization tool.
One of the tools we use extensively at ScreenCloud to turn data into dashboards is Geckoboard. In fact, we wrote this guide all about the different types of dashboards you can create using the tool.
If you have your project status data plugged within an Excel sheet, it's really easy to start visualizing this by sharing it to Geckoboard.
Here's how it works.
How to visualize Excel data using Geckoboard
1. Set up a Geckoboard account
Visit geckoboard.com and start a free trial or log into your Geckoboard account.
2. Create your project status Excel sheet
Now, create an Excel spreadsheet either in Excel or by using a Google spreadsheet to capture your project status. Here's a simple version we created that shows a six-week cycle and allows each team to log their progression status at the end of the week, to show progress towards the finished project.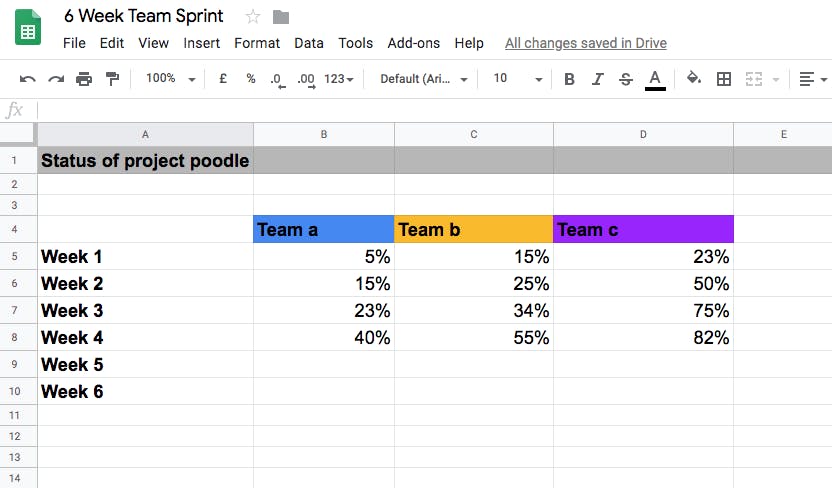 3. Connect your Excel sheet to Geckoboard
Within Geckoboard select "Dashboards" and "Create New Dashboard".
Now select "Add new Widget" and you'll have the option to connect a datasource. Select "Spreadsheets" and either upload your Excel spreadsheet, or connect your Google account to load a Google spreadsheet.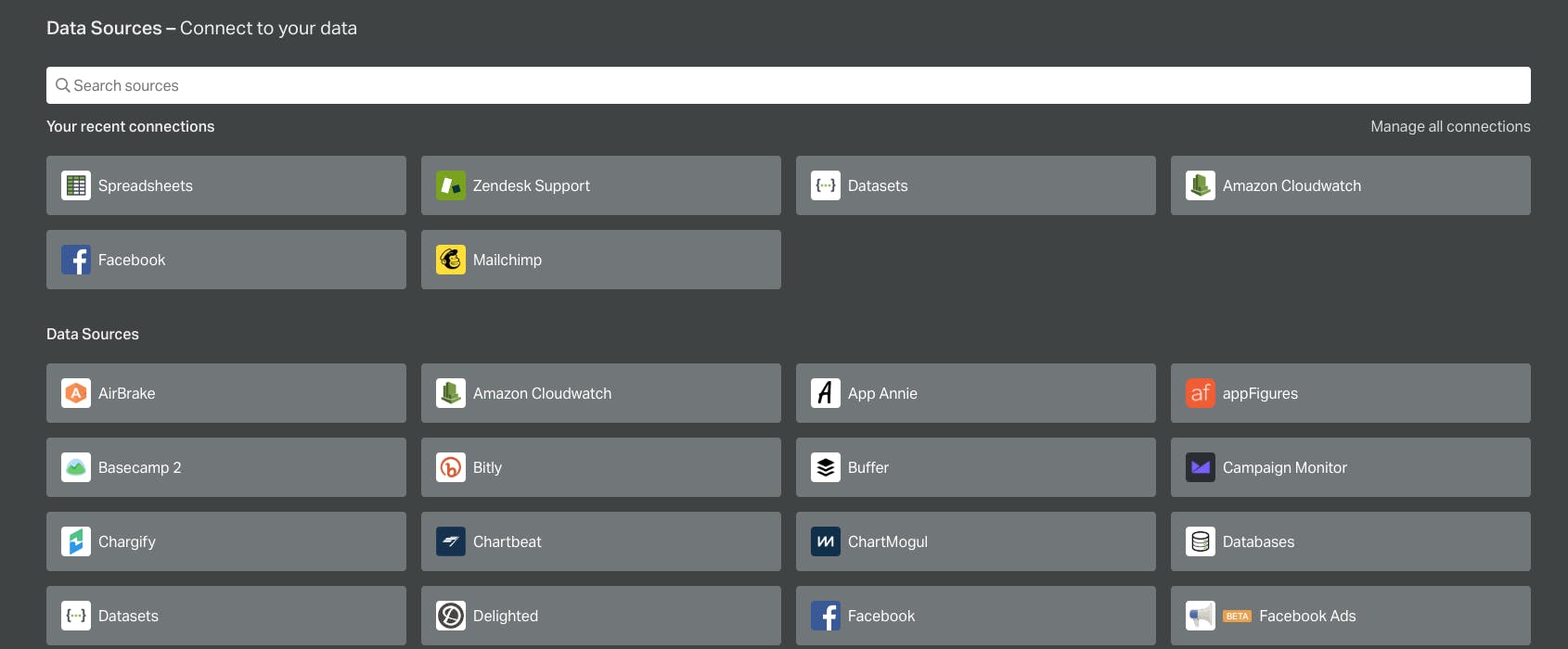 4. Create your data visualization
Now that your Excel spreadsheet is connected you can begin creating your data visualization. This includes:
Choosing which type of visualization to create such as a bar chart, or line graph
Selecting your X-axis
Choosing which data values to include
Customizing the color of your visualization and the dashboard title
Here's how our settings look:

5. Save and preview
When you're happy with your visualization, hit "Save" and you'll be taken to your dashboard. Here, you can change the size and customize the appearance of your project status dashboard.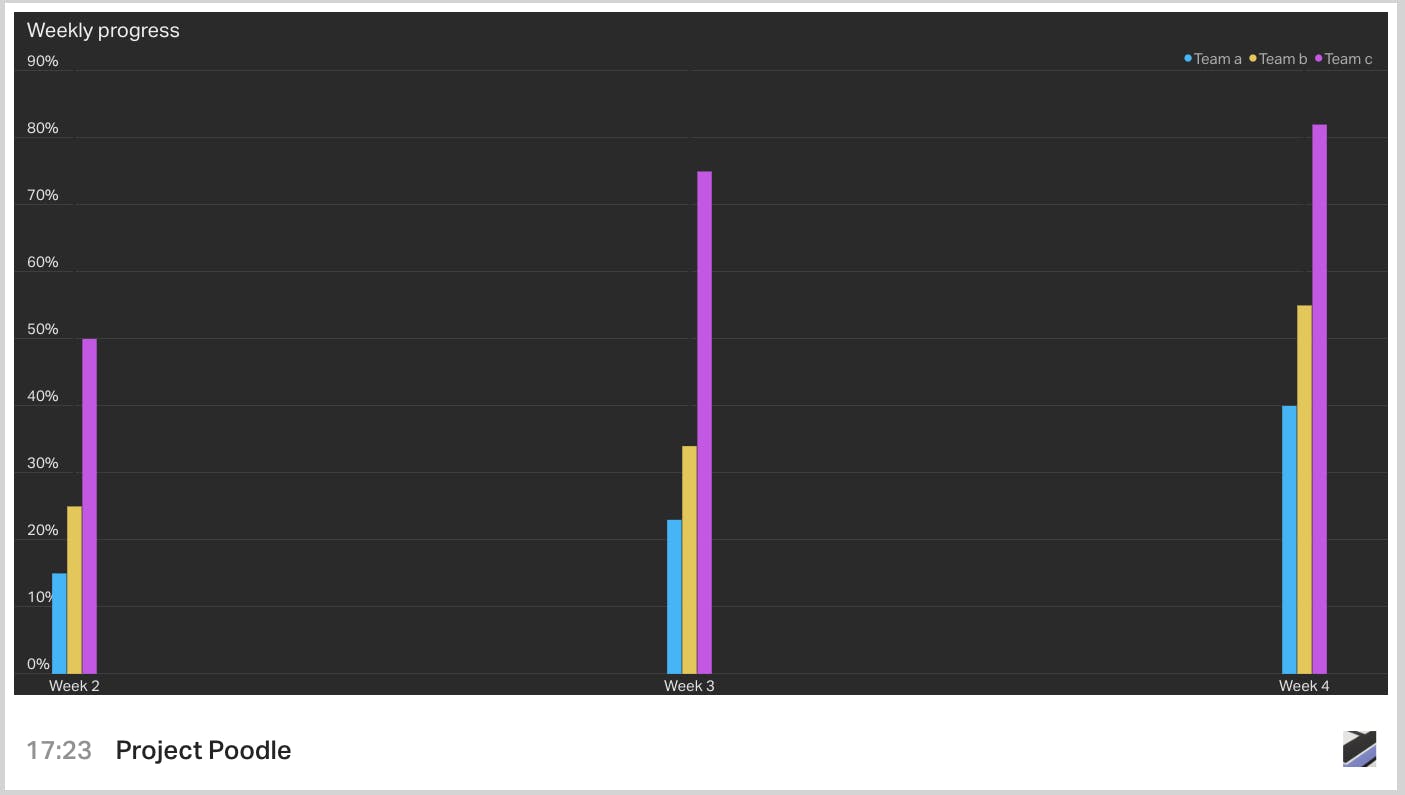 6. Add to ScreenCloud
When you're happy with your dashboard, click "Share" and "Create share link".
Copy the link that's shown and add it to the Geckoboard app in ScreenCloud in the field where it says "Dashboard link".
Any time your team updates their progress, it'll update on screen.
Designing a project countdown
If you have an important project that's about to come to an end, you can also create a countdown on your digital signage screens using Countdown Timer app. Once you plug in the deadline it'll update each day, giving you a real time commentary of how many days, and even hours and minutes, you have left until a project needs to go live.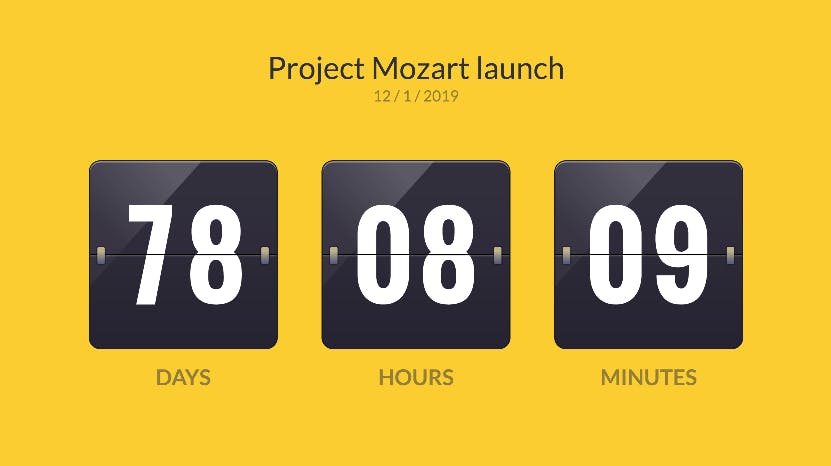 Did you know that Apple once used code names like "Mozart" and "Capone" for its project launches?
Get started with project management and ScreenCloud
To try out any of these methods for project management data visualization on your digital signage screens start a free trial today at screencloud.com/getstarted.