Publish content to your screens directly from Microsoft Teams
Learn More


How to use digital signage dashboards for manufacturing
The manufacturing industry should love business intelligence data dashboards as much as we do. Here we explain why.
From scrawling chalk numbers on the floor to complex Excel spreadsheets, finding ways to monitor production in a manufacturing setting has always been the bane of efficiency's life. It used to be that you could only know the previous day's output the day after it happened. Not exactly great for on-the-spot operational decisions. 
An intelligent manufacturing software solution
Imagine then the ability to show a real-time visual representation of the manufacturing process, giving visibility into operational performance for an entire organization to understand data across the demand chain. With a manufacturing dashboard, data's power lay in the valuable insights it offers for immediate tangible action. Think of it like an all-seeing, all-powerful invisible floor manager (albeit one you can turn off).
But with data being continuously produced at each stage, there is every opportunity for it to become too complex and siloed due to security fears; ultimately, it loses its power and sits with people who don't know how to interpret it. Which is where business intelligence tools like Tableau and Power BI come in.
Manufacturing & Data: A match (quickly and efficiently) made in heaven?
In Dan Murray's whitepaper on "How to Become a Data-Driven Manufacturing Organization", he sets out five ways to implement change for manufacturing companies to make the most out of using data and BI tools:
Address a clear need
Start with a small project
Work with a small team
Learn best practices
Utilize experience to avoid mistakes
Viewed out of context, these changes seem simple (and obvious) enough. But when viewed against real-world case studies within the industry, it highlights how important data – and its accessibility – is. 
A (short) example:
A manufacturing company that produced press-moulded parts for the automotive industry heavily invested in new presses, believing that they would reduce overall scrap rate – and therefore increase profit margins.
Investment was made on an assumed scrap rate that turned out to be incorrect, but as no data was being collected from the machines it was hard to tell where in the process it was failing.
They then began to collect detailed data from the output of 5 presses. After trying to (slowly) analyze this data manually on complex spreadsheets in the back office, they then switched to a business intelligence tool and a manufacturing analytics dashboard. This collected the data and presented it in a visual manner. It could also be shared with the team on the floor. One week of analyzing this data was reduced to minutes. 
The team could then pinpoint where in the process the new machines were failing (turns out the pressure was too high), and ultimately scrap rates dropped to below the original assumption. Continual improvements were also made by ongoing analysis.
Moral of the story: assumption without data is an expensive game (and, show the data to the people who can do something about it).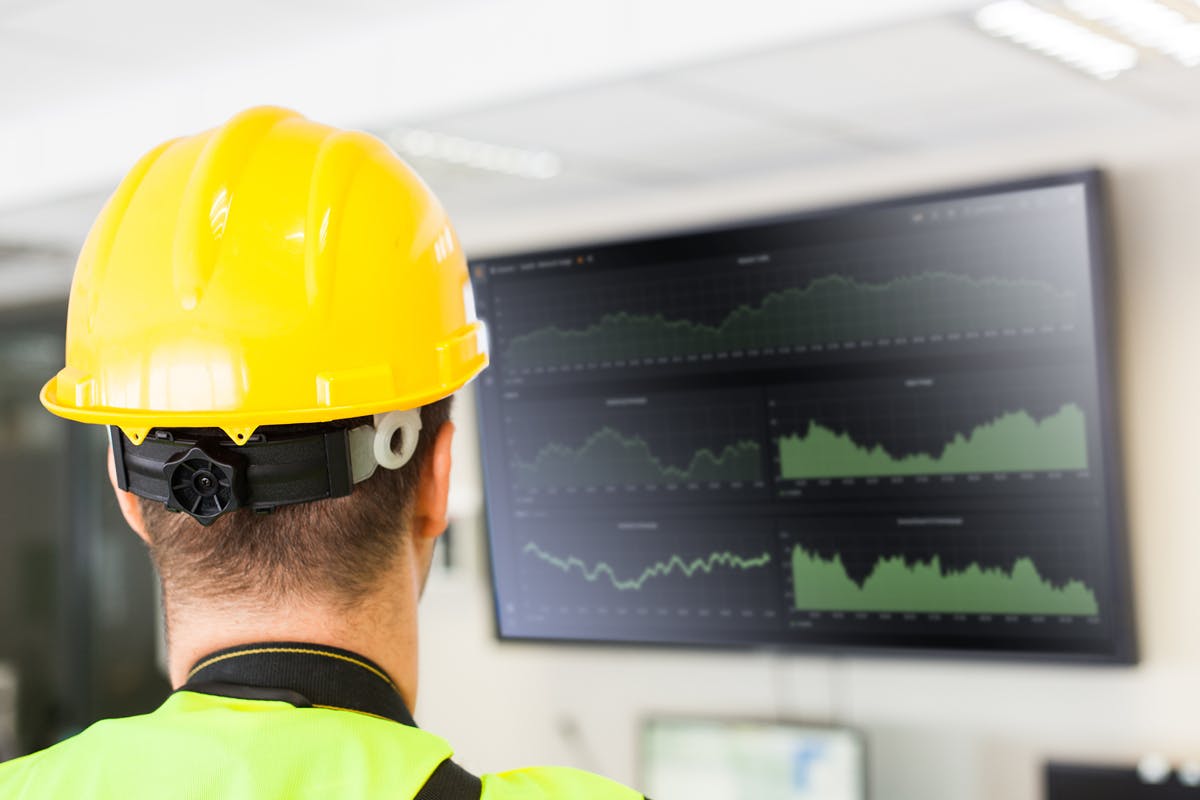 Tableau Manufacturing dashboards
We've written about the benefits of Tableau dashboards before and how its BI software allows for simple visualization of complex data. Which is why it's such a great tool for driving efficiency within manufacturing; Tableau is all about monitoring and optimizing for quick and effective operational decisions.
It's no understatement when we say that efficiency is king for profitable manufacturing. As is streamlining and productivity. Which is why spending time staring at complex Big Data essentially diminishes the need for the data in the first place; if you can't act upon it immediately, is there really any point? 
See a problem, fix it. Spot an opportunity, capitalize on it. 
Put those visualizations up on a dashboard for all to see and you have empowered everyone within your business – including deskless workers – to make data-driven decisions. As Tableau themselves say: "turn real-time data into just-in-time insights".
Tableau benefits on a manufacturing dashboard
Depending upon the metrics you wish to analyze and report on will determine the kind of conclusions you can draw from the data; you don't know what you don't know, but you also don't know what you need to know until you know it (you can quote us on that one). 
Respond to alerts:
Identify problems on the production line before they cause delay. Set job-specific parameters and get alerted as soon as outliers are detected. 
Predict bottlenecks and streamline:
Monitor every stage of the production process and its completion status to predict where bottlenecks might occur. Analyze historic metrics to forecast potential delays in the process too. Over time, acting on this data will help streamline the whole thing. 
Insert late / emergency orders:
See where you have bandwidth within both your sales and production lifecycle to determine whether you say yes or no to a last-minute order. 
Empower and motivate:
Data shouldn't just live in the back office computers. Connect everyone within the business with an effective BI digital signage strategy and share relevant data to empower every team to make data-driven decisions. Giving the power of visibility to deskless workers is a great motivator. 
Types of Manufacturing Dashboards
Manufacturing Snapshot Dashboard
Get a birds-eye view of your entire operation, from forecasted revenue to production down time. Spot trends in items returned or address outliers to further streamline operations. Creating a manufacturing dashboard that brings together all of your data sources can help quickly address business and production health.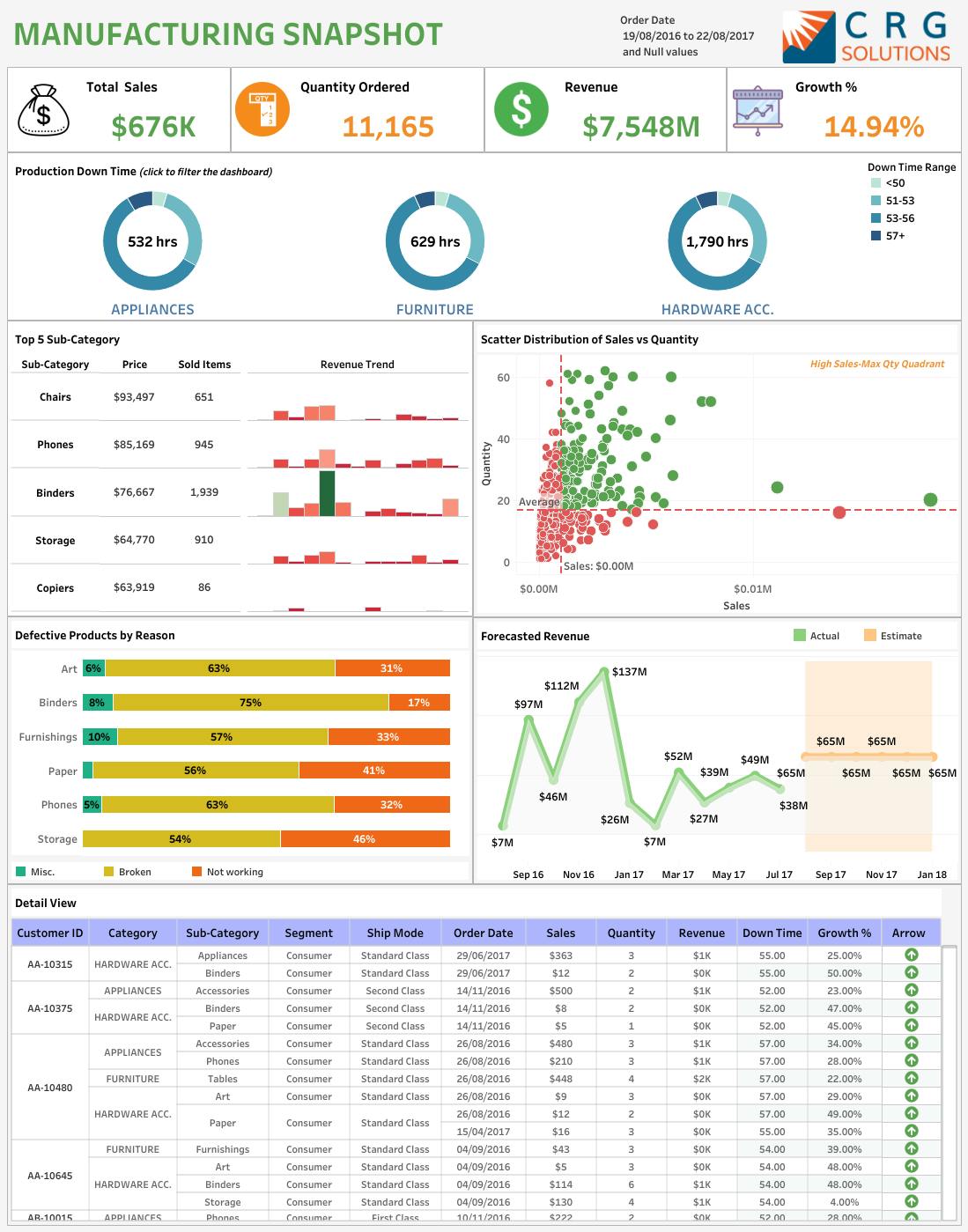 Production KPI Dashboard
Keep on top of production KPIs by setting job-specific parameters for your KPI metrics. Monitor real-time data like hourly waste production to make immediate decisions for immediate impact.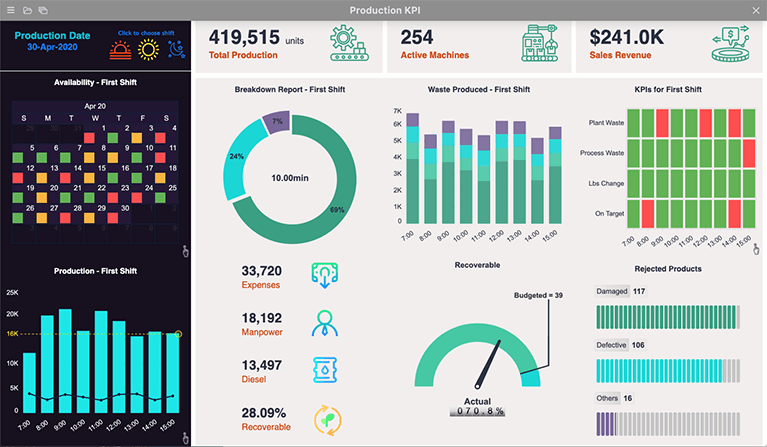 Production Management Dashboard
Predict delays, spot bottlenecks or see where you could fit in last minute orders with a production management dashboard. Also keep an eye on cost to sales ratio of each product and spot money-saving opportunities. Monitoring production time by product will also allow you to fit production time around your order schedule.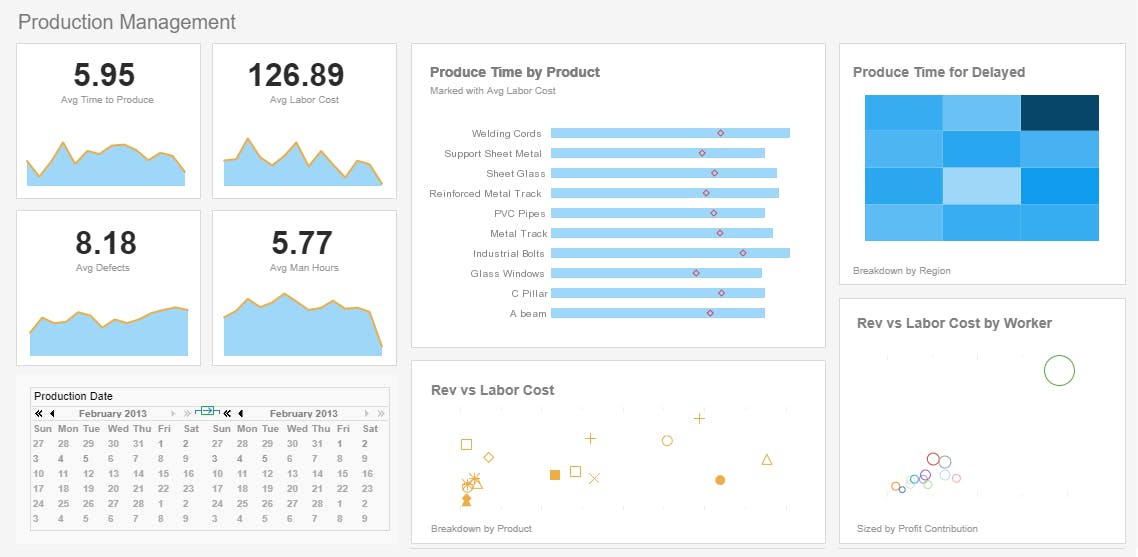 ScreenCloud Dashboards & Manufacturing  
Issues with scalability, cost, ongoing IT support and security have always been cited as reasons why digital dashboards have not been used within the manufacturing industry. Whatever way you look at it, showing secure dashboards on screens is a bit of a technical nightmare. 
But what if there was an easier way of connecting the back office to the manufacturing floor?
ScreenCloud have spent the past two years building and developing ScreenCloud Dashboards – one of the most secure, scalable and affordable options in the industry. But digital signage dashboards don't just have to be about showing real-time complex data in a digestible format. 
Internal Communications, Manufacturing and Dashboards 
They can also be used to increase employee engagement. We've written loads on the topic, but the key points are:
Connect:
Connect all your employees, wherever they are. ScreenCloud's CMS can be controlled from one computer, but push out branded and relevant content to any screen in any location – even if they're spread across different continents.
Engage:
Celebrate the little wins. Wish happy birthdays and work anniversaries. Show pictures from your staff party. Engage and empower your team to make those personal connections. Make your workforce feel part of one company.
Broadcast:
No matter how hard we try, it's impossible to be in more than one place at once. But shift workers and remote teams shouldn't miss out on important meetings, so broadcast them instead to any screen in any location. Ensure that important safety announcements, socials or company updates get seen by everyone.
Request a demo
If you'd like to see how ScreenCloud Dashboards can help accelerate your manufacturing business, simply request a demo and we can show you how it all works. If you'd rather launch straight in, you can also play about with a 14-day free trial (no credit card details required).
Thanks Clayton Cardinalli on Unsplash for the header image!
Ready to get your organization connected?
Connect your first screen today with our 14-day free trial
articles