Screens. The cause of yoga, Headspace subscriptions and mindfulness everywhere. We're addicted you see. We can barely get through a minute, (a whole minute, remember how long that felt in the 90s?), without picking up a screen and giving it our fullest attention.
Here's the thing; you may think you know all of the screens that are around you but turns out there are now oh so many. An infiltration if you will, of screens that are going way beyond the iPhone and laptop in your bag.
Disclaimer: this makes it sound kind of sinister, we actually think shared screens are a very good idea. We just think it's funny when we stop and take stock of just how many screens there are lurking around us or when a screen, set for so much success, becomes victim of a lack of strategy.
So without further ado: how many of these screens can you see in your office?
1. The Lowly iPad
The lowly iPad was a screen that was once the screen of all screens albeit, a small one. A bit like Icarus, it was promised for great things that well… kind of never materialized. Now it sits, dusty in a drawer. Until someone's kid comes into the office and it becomes a perfect canvas for YouTube. (There might be a better use for it).
2. The Humble PC Monitor
The humble PC monitor is a screen that's most likely to become the brainchild of someone in the office, who wants to put something on a screen. Perhaps the latest marketing metrics, perhaps customer info pulled from a CRM. It gets propped up on the end of a desk somewhere (because the humble PC monitor is very no thrills), and despite not being the most show-off screens, it works. It gets dusty sure, but every now and again someone stops by and comments on something shown on that screen and the humble PC monitor sits, content in the knowledge that its job here is done. We even have our own humble PC monitor at ScreenCloud: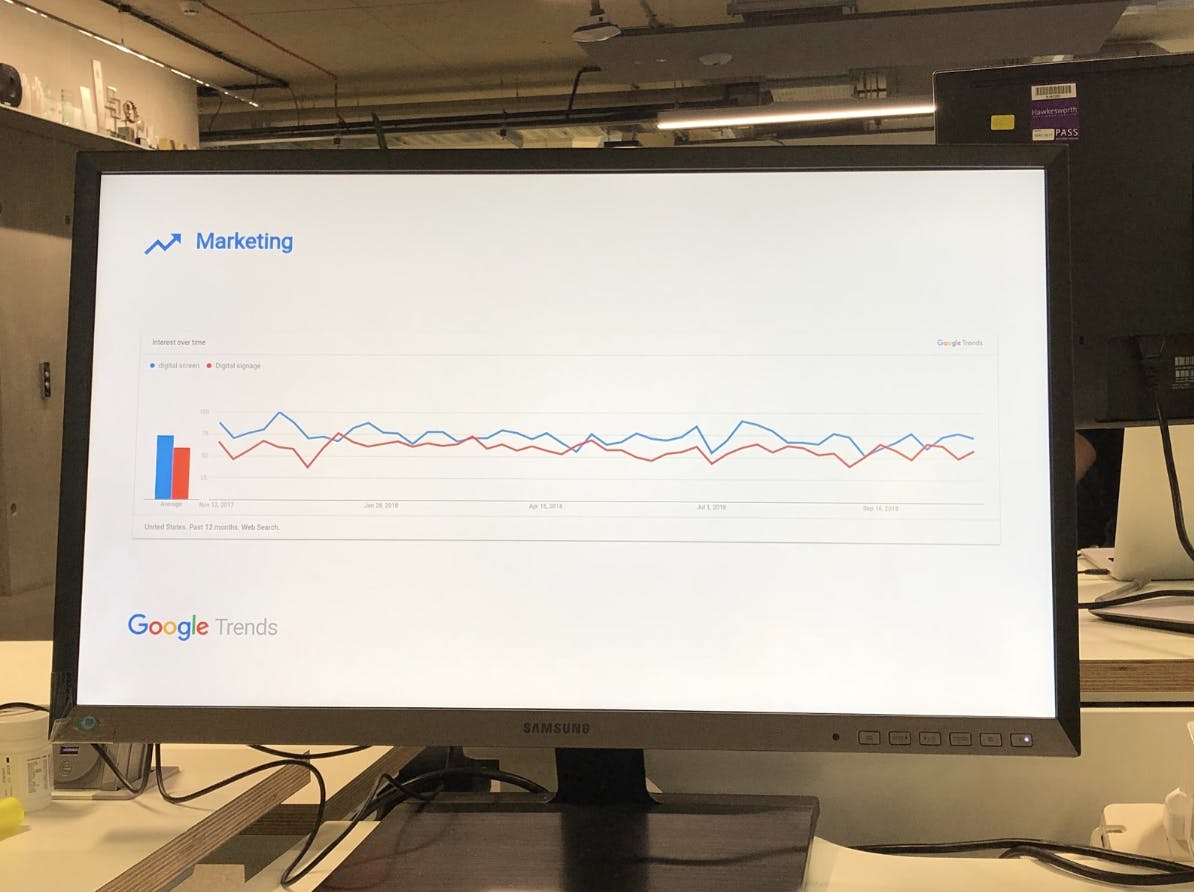 3. The Queen Bee Wall Screen
This queen bee wall screen is the one that gets the worst rap amongst its screen friends. Simply, because it's takes pleasure in creating sucks-to-be-you moments. This is the screen that highlights in big shiny details, who's top of the leaderboard in sales that month. It also shows who is off target, the team that didn't finish their project and the website traffic that's down 50% on last month. The queen bee wall screen is a fickle master of destiny and, a bit like Instagram, it can make or break your day depending on what goes on up there. The best thing about the queen bee wall screen is watching how quickly it goes from someone's best friend, to something they want to turn off, because "it doesn't mean anything anyway". Beware the queen bee wall screen.
4. The Look-at-me Screen
If, in some Beauty and the Beast-esque twist, someone took a Salesperson and turned them into a screen, it would be the look-at-me screen. Noted by its characteristic parade of good information. It's often completely censored and may even err on the border of fake news. Where do you find it? Positioned where important people like clients, investors and board members might see it. This is often in a lobby or reception, where the screen's only job is to show off just how amazing that company is. For that reason, it's full of the good stuff. Amazing company growth! Sunny weather ahead! Employee of the month! A ray of sunshine in an otherwise, realistic, world.
5. The Forgotten Screen
Bought over a decade ago, this hybrid 55" TV/PC screen felt like it had such great potential: it would be used to broadcast the World Cup, hooked up to show Powerpoint presentations in all their animated glory, as well as displaying company stats and news. Until none of that ever happened. Once the football finished, nobody knew what to do with it. And given that it was one of the last TVs not to have HDMI, it never played nicely with the new laptops. But it cost a lot of money so nobody felt that they could just sling it out. Now it sits gathering dust at the back of the stationary cupboard. Also known as the saddest screen in the world.
Often found outside a cafeteria, the digital menu screen is the source of most trepidation and gossip. Just like the cafeteria staff knew it would be. It's the most talked about, the most noticed and the most checked screen of the office. Why? Because it announces lunch. And as we all know, choosing what we're going to have for lunch is the reason most of us turn up for work.
The best prank the digital menu screen likes to play, is leaving it as late as possible pre-lunch to reveal what's on the menu. Dealing in a playlist of seeming indistinct information like how to make avocado on toast (breakfast was hours ago) or a photo of a flat white. Sometimes, even flirting with tomorrow's lunch menu. Just to get the heart rates up. Before the digital menu screen finally releases details of today's lunch and all is forgotten, as it once again becomes everyone's favourite screen.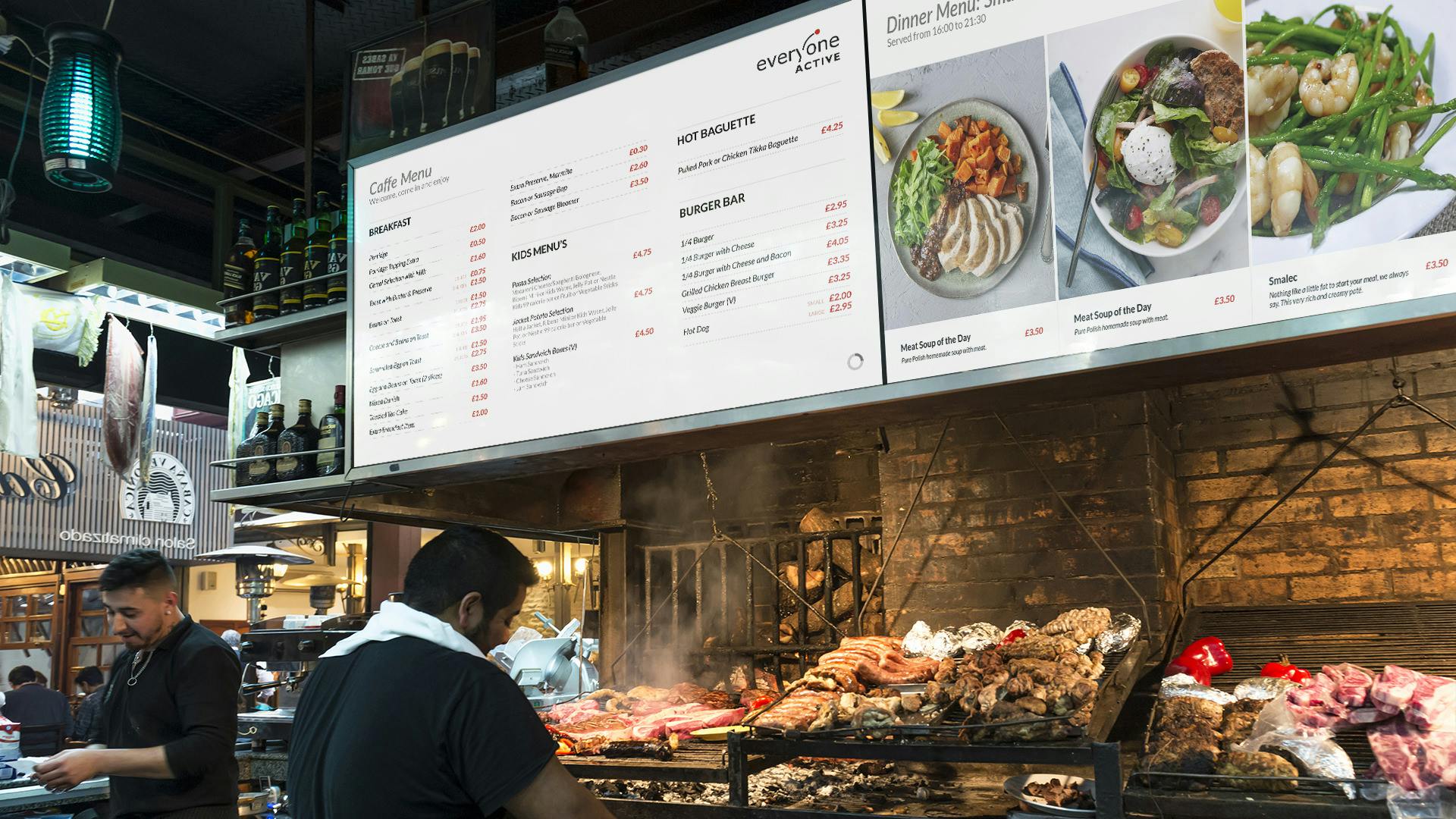 7. The Muted Lobby Screen
Another screen with great potential. This is the screen that sits in the lobby; the king of screens! Or… perhaps not. Whilst there was once a day where someone cool dreamed of creating awesome lobby digital signage, the reality is so very, very different. The screen got put up, sure but then no one knew what to put on it. First up was a series of bad static pics looping endlessly on a USB stick. Next there were some videos, but someone complained about the noise and the copyright. Now the lobby screen sits on the wall showing muted cable news. A warning if you will, for digital signage strategies everywhere.
8. The Meeting Room Door Screen
We've spoken in detail about the type of people you see outside a meeting room, but what about the type of screen that sits on the wall? For any company that's been brave enough to embrace better meetings by using the meeting room door screen, you'll know that this one is a master of organization. No longer are there queues outside the meeting room door, awkward cranings of the neck to see who might be in there. The meeting room door screen is proud to show who might be using the meeting room at any one time and it's a stickler for keeping to schedule. Go a minute over, and it'll have no trouble shaming you by displaying who's meant to be inside the meeting room, when actually they're waiting pretty angrily outside.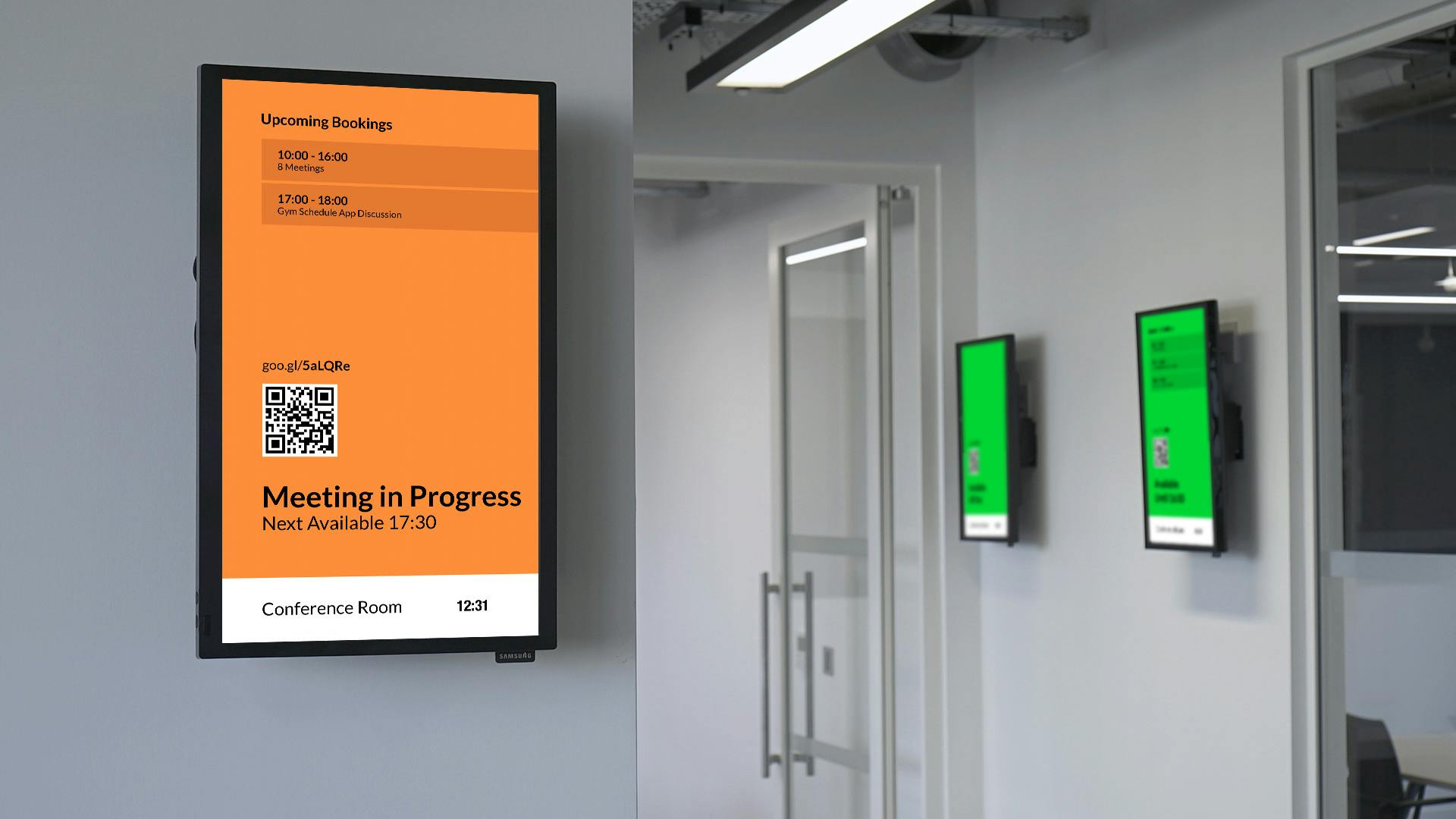 9. The Mighty Videowall
Next on our list, the mighty videowall. The Beyoncé of screens. So special that it isn't just a single screen, oh no, but is often made up of four, six or even nine screens. Because just like a shot of patrón, why have one when you can have six? The videowall is majestic in its offering. Sometimes it will offer one image, spread across all six screens so that you can see every pore in magnificent detail. Then it might split out and suddenly be showing you six different pieces of content across each screen. A feast for the eyes, some might say. Just make sure you limit your videowall screen time. Once you start looking, you may not be able to stop.
Where can you find it? In receptions, lobbies and Hollister stores everywhere.
10. The Non-Touch Touchscreen
A gentle enigma, is the non-touch office touchscreen. This screen originated as a ploy for an expensive touch-enabled screen that would be "the future" of the way people in offices communicated. The words "Minority Report" were thrown around and before finance knew it, thousands had been invested in a six-point multitouch screen that had been all the rage at CES that year. Apart from no one knew how to create, or set up, touchscreen content. So now the touchscreen sits on the wall, being used as a regular TV screen, without any of its touch-enabled glory. Just don't tell finance.
If you love screens as much as we do (or you have a desire to see more), set up your digital signage strategy with ScreenCloud. There's actually a ton of useful benefits to be had (and you get first dibs on the digital menu screen).