Publish content to your screens directly from Microsoft Teams
Learn More


What Workplaces of the Future Will Look Like
No matter how hard we try, we can't escape the future. And because we can't escape it, it affects every part of our lives. Including the workplace.
Talking about the future – and the future of the workplace – feels a bit like guessing the gender of a yet-to-be-conceived child; we don't really know what it is because it hasn't happened yet. But, like with utilizing data to spot patterns and ultimately make data-driven predictions (read more about our love of business intelligence dashboards here), we can prepare ourselves to an extent for what is to come.
What is the future of the workplace?
You don't need a crystal ball for this one. Over the past year we've already kind of lived the future of what the workplace was slowly evolving to be: connected, informed, modern and adaptable. And the more we have gotten used to this "new way of working", the more we have realized how vital these fundamentals are to create the smart workplace of the future. 
At the centre of it all is this: technology.
Redefining the physical workplace
Rewatching films from the 1980/90s and seeing nothing but pen, paper and the odd typewriter on the desk seems so alien. But then came an explosion of digital transformation. Landlines were replaced by mobile phones (decreasing in size while increasing in function year-on-year). Typewriters were replaced by desktop-computers-replaced-by laptops. To keep up with the competition, the workplace has had to evolve. After all, evolution = survival of the fittest.
We've already looked at affordable ways offices can make their environment smarter using IoT-led devices. So it doesn't seem odd that the new standard for the workplace will be to leverage smart, connected technology that will improve building performance. Just like the smart meters in our homes, or the power saving tech of Eco-mode in our cars, offices are set to follow.
Some of the ways the physical work space will change to facilitate the future could include:
Smart lighting and heating, based on employee movement and use of space
A network that tracks power use and uses algorithms to improve efficiency
Meeting rooms that set automatic schedules and indicate which rooms are free (and for how long)
While we can't predict the future, data and trends (and a little bit of foresight) suggest that we will see the physical workspace of the future becoming smarter through the use of IoT-enabled devices and smarter systems. Artificial Intelligence [AI] is sure to have some effect too (robots making coffee anyone?). We're already seeing individual work spaces becoming much more fluid too – if you've ever worked in a co-working space you'll already have seen a glimpse of this. And we're already seeing the rise of workspace-based intelligence that affects how much power we use and how sustainable our spaces are. After all, we spend more time at work than we do at home. 
The rise of digital signage for better communication
COVID-19 has forever changed the way we approach communication at work; it has led to a rise in technology being a greater enabler of effective communication methods (although, we still have to suffer through meetings that could have been an email). 

One futuristic office already utilizing digital technology, at R/GA London. 
Digital signage has become a major player in this. 
It's an evolving discipline. From our industry insight and conversation with our customers, use of digital signage screens reach only about 20% of their full potential. They are so much more than glorified PowerPoint presentations on TVs. 
According to current research, as many as 74% of employees miss out on important information, while only 46% open and read internal comms emails. But, up to 98% of employees can recall at least one piece of content shown on an office screen. 
With the right strategy and with carefully curated screen content, sustained audiovisual awareness can break through the noise so that your message gets 100% attention for 100% impact.
Better communication for... better communication
Office screens don't just have to show the weather, the time or news feeds. They also don't need to be limited to the office. Digital signage screens can be used, for example, to create a social media wall to drive home company culture and connect your employees across multiple locations. You can also announce work anniversaries and birthdays to better personal interaction. Broadcast live all-company meetings or important messages like your own company TV channel. And make all of this accessible from anywhere with embeddable channels and custom integrations.
Workspaces that work for their workers
Improving workspaces shouldn't just benefit the company. They also need to work better for employees. Again, technology and digital signage screens are our friends here.
TransitScreen is an app which pinpoints the travel options around you and creates a board of real time information based on what's going on outside. It tells you your train times, metros, tubes, buses and taxis. It also tells you about car share options, bike shares and anything else that may be relevant in the local area. Push this to a screen in a communal area of the office, and workers can effectively plan their journeys.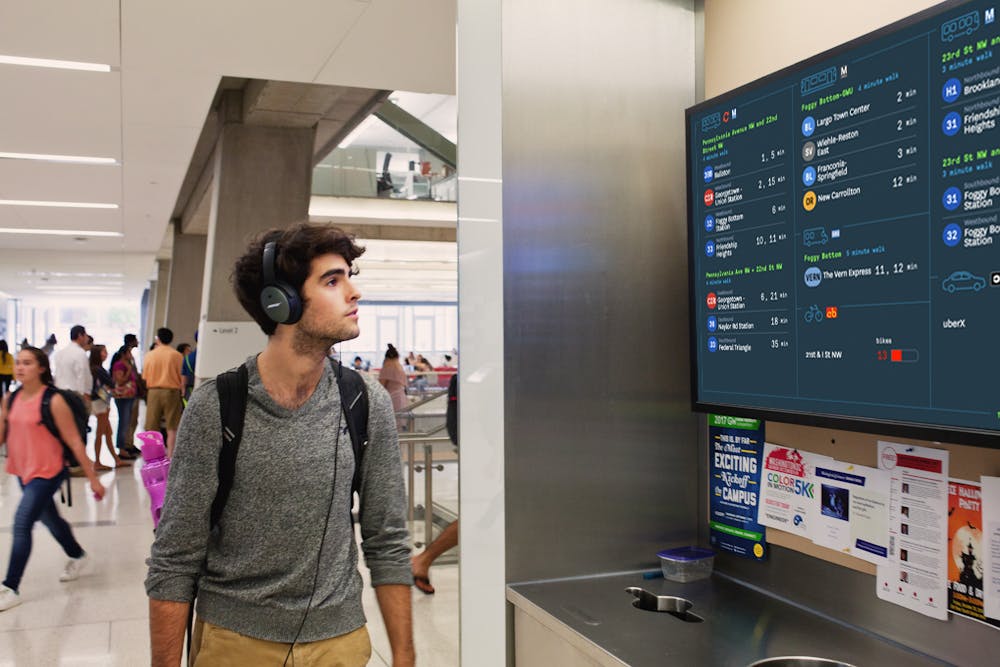 Workplaces of the future don't just need to facilitate fixed office tenants either. Work spaces are becoming increasingly fluid in their use, both during and outside of office hours. The shared environment of a workplace will mean that it could turn from an office in the day, to a party venue, event space or pop-up dining venue in the evening. This requires coordination and logistics, all of which can be made easier with an effective digital signage strategy; use a countdown timer for room closure, use screens as way finding tools or create a social media wall with tools like Walls.io to view real-time event posts and employee content on a social wall.
Invisible tech for visible results
The future of the workspace is one where the tech is present but not obvious. Beacons (small, tiny sensors that communicate with other devices), ambient screens (which fade away into the walls when not in use) and lighting sensors are all a part of this.
R/GA London employs a beacon-led system which allows new employees to familiarize themselves with their surroundings using a mobile app. The app provides information like floorpans and specific spaces, like what art is on the walls for an effective and dynamic onboarding experience.
Empower employees with digital signage
Placing the power of technology in the hands of employees is an effective way of integrating them within the office space itself. It can be as simple as adding screens outside rooms that allow you to check-in, rebook spaces and find the next available room without having to check in every single one.
Embedded technology, meeting room digital signage, mobile apps; they all remove this process by keeping an eye on the building space for you. 
Try it for free
If you'd like to see how digital signage can boost employee engagement and create dynamic workplaces of the future, try ScreenCloud for free. Our 14-day free trial requires no credit card details, and you don't even need to have a screen. Make sure to accept marketing communications for best practices, industry insights and digital signage tips and tricks.
Ready to get your organization connected?
Connect your first screen today with our 14-day free trial
workplace