Connected spaces are not only making our offices look better, no siree, they're incredibly adept at making them work better too.
The implications this has for your internal structures and departments is huge. The nature of connected spaces will virtually change the way each and every department in the company functions.
In this post we dip into how smarter, more connected spaces will transform the standard human resources function in the future.
The Connected Space and HR Departments
If your HR department could engineer a few smart products and systems to do their job for them it wouldn't only reduce workload it would also reduce the stickiness of some of those human-to-human interactions. 
Smart employee check ins
Smart logging of employees would allow a system of sensors, tracked either by employee smartphone or another smart device such as a smartwatch or RFID band, to monitor employee activity. This would give HR a valuable insight into the movement of its employees, including when they were in the building and when they weren't.
All sounds a little Big Brother-esque doesn't it? Forget the traditional connotations of the eye in the sky. What if this smart sensor system was used to aid HR and the employees they serve and not just keep tabs on their whereabouts?
Increasingly, company culture revolves around trusting employees to make their own decisions on when and how they work. The connected space actually facilitates that, not only enabling them to work from anywhere but saving the time they may have previously spent checking in and providing visibility of their whereabouts. 
A 2012 study undertaken by PWC, found that worker collaboration and new technologies were the top two most important contributing factors to a happier workforce. Within a connected workspace, the technologies available not only facilitate better information sharing, through smartphone apps, beacons, digital screens and IoT-led smart objects, but they also ensure that the workplace is a 'digital' environment, to attract a digital generation.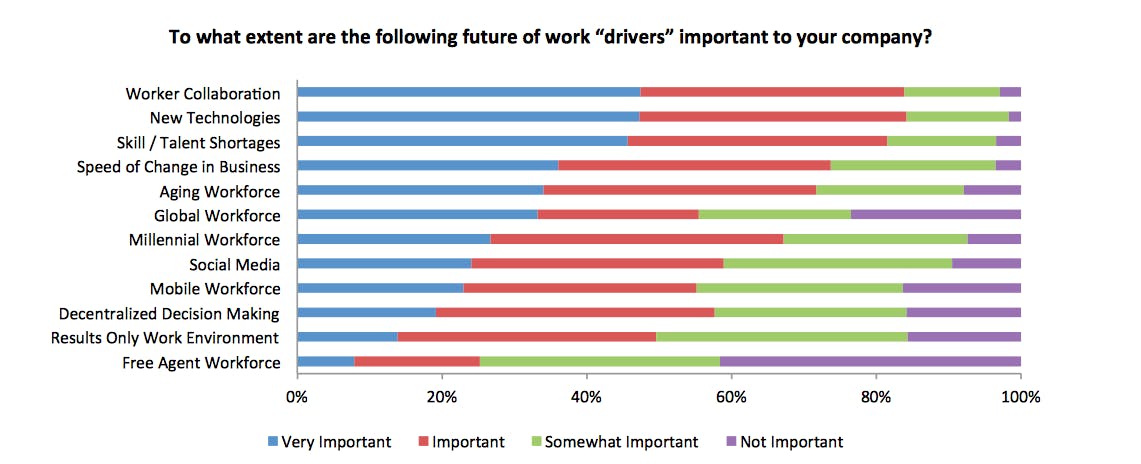 Better security and optimization 
In the connected space any employee can be located instantly in case of emergency. The HR department also has up to date metrics on who's in the building at any one time. If data is an issue, anonymous cards or wristbands can be adopted that don't give the exact location of a specific employee, but at least give numbers on how many people are in a space at any one time.
Secondly, the type of work space that is listening, is the type of work space that can be optimized. If HR can see who is using what area and when, they can make more informed decisions about the needs of their employees. 
According to experts, the HR department of the future is one that favors specialization over a generalized, one-size fits all approach to workforce management. With a connected workspace that can adapt to its employees, this type of personalized approach becomes the norm. 
Healthier employees
The same devices could also enable HR to implement a health-based reward system that indicates to the employee when they're due a break, fresh air or just a stand and stretch. Smart vending machines and coffee makers could provide data on the type and amount of snacks or drinks provided to employees throughout the day.
Say your IT team make healthy choices between 9am and 12pm, yet end up buying junk later in the day. To HR, this could correlate with a slump in productivity, or highlight that IT need regular breaks in their afternoon work schedule to remain at their peak.
The connected space would make suggested improvements for the type and duration of the work day, leading to increased productivity and happier staff. 
Improved onboarding
One of the fundamental responsibilities of HR, the onboarding process, can often fall short. From slow onboarding, to a lack of integration in the company culture and initiation with other staff members.
Take a smart app that's linked to the connected space and that could be provided to all employees on their first day. This app could help employees to navigate their surroundings and provide useful information about different offices, areas, or services in an unobtrusive way. 
Then take this further. What if the same app could be used to increase matchmaking and networking? Perhaps it gives an indication as an employee enters a room, of who is present and what they represent. It could help facilitate networking between staff members and departments, a bit like what you'd use within a tradeshow setting, and make that onboarding process more human for new employees.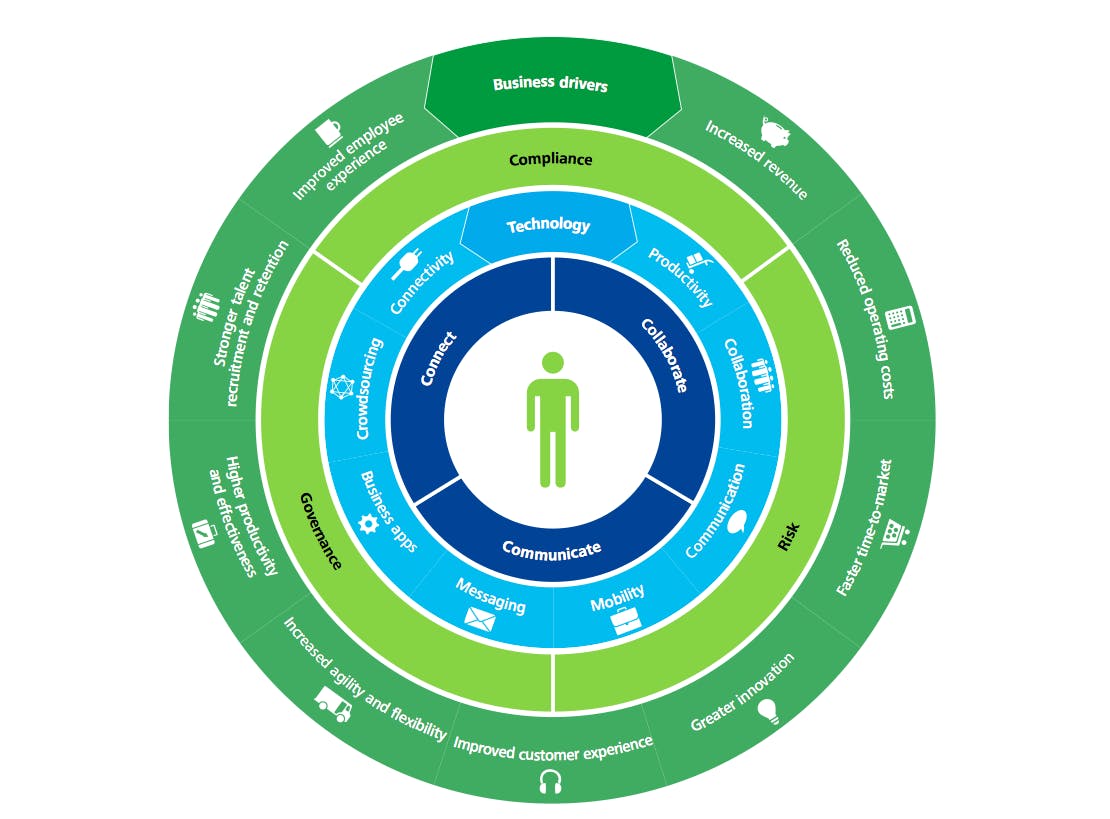 An insight into the digital workforce. Source: Deloitte.
The app could even allow employees to provide feedback, such as rating a meeting room, a workshop or a presentation as they leave, allowing HR to optimize the experience for future employees. 
Automated office systems and setups
One of the most well-known HR policies of all time is Netflix's. When Netflix first publicized their HR policy it caused a stir. Perks such as unlimited holiday time and staff-managed expenses were certainly not the norm.
Now, many companies implement and encourage similar policies which lends the question; how has this affected HR?
Utilizing the connected space is another way to ensure organizations can adapt and meet new policies. With a smart tracking system, it would be very easy to see which employees (if any) are abusing an unlimited holiday policy. 
Using smart systems such as digital signage screens, managers can also take on more of the autonomy of managing their teams. Think how little HR would need to even get involved if managers had the ability to track progress, sales figures, organizational workflows and more on the screens around them?
Think how much easier it would be to sign off holiday if the holiday or 'HR' room was shared on Slack, then thrown up onto a digital screen, in the office. Not only would it lend itself to better and quicker processes, it would also make transparency and autonomy much easier for managers and staff members to own. 
The Connected Space and its Transformation of Traditional HR
Within the narrative surrounding the connected space there's so much hype around the jobs it will replace and eradicate. Yet with the right mindset, it simply enhances the roles already there. A digital screen or a smart sensor will never replace the job of HR when an employee is struggling, or when a win needs to be celebrated.
What it can do, is take away and autotomize all of the small, time-consuming jobs that really can be done better by machines than people. Giving HR its own smart, connected space that works harder and makes everyone's jobs just that bit more enjoyable.