Editor's note: Updated July 2021
Digital signage is everywhere. You've probably come across it at some point today without even realizing it. In this guide we'll explain what digital signage is,  the different types and how to use it yourself.
What is digital signage?
At its simplest, digital signage is content shown on screens. Depending on the audience, content and placement of those screens, this determines what 'kind' of digital signage it is. 
Historically, digital signage has been used primarily for advertisement, e.g. billboards. Yet there is so much untapped potential; screens have more to offer than just being a glorified digital poster.
What is a screen?
When we refer to a 'screen', this can be anything from a TV to a hand-held device (iPad / smartphone) to a kiosk. Essentially, a screen is anything that can show content.
In order for a screen to show content it has to be 'smart'. A smart screen is one that has connectivity capabilities via an internet connection. This can be achieved on nearly any screen by plugging in the correct hardware, although a majority of modern screens already have these capabilities built in. 
The reason why a screen needs to be smart is in order to download software (like ScreenCloud), and so that updates made on CMS systems like ScreenCloud can be shown on that screen in real-time.
What is an example of digital signage?
Aside from the obvious advertisement use, digital signage is an incredibly flexible tool that can empower businesses, employees and customers.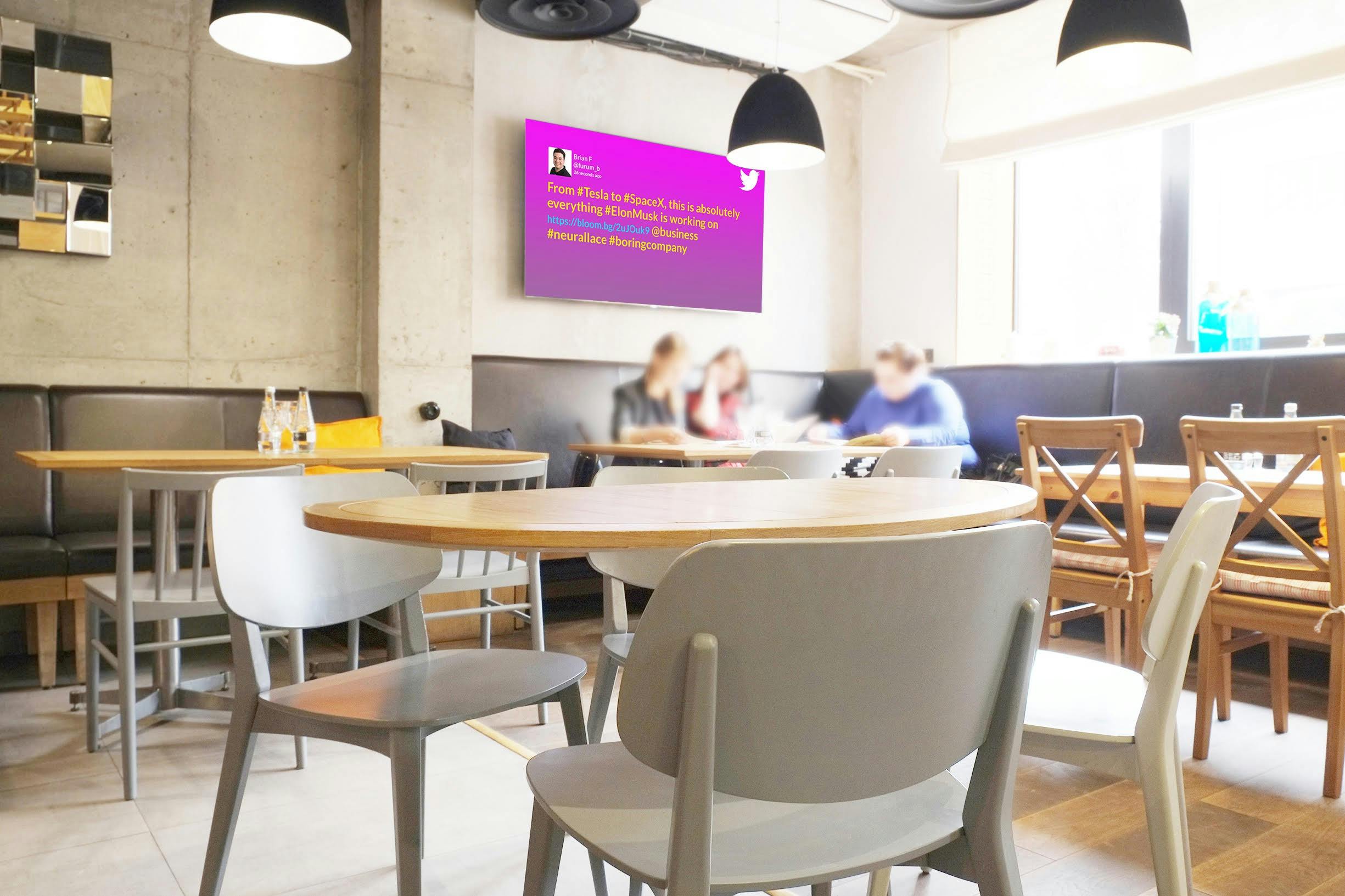 Digital signage within the workplace
A solid content strategy can see screens drive engagement and productivity within the workplace; it is the ultimate tool for employee engagement and internal comms. 
Used in this setting, a great benefit of digital signage is that it prompts connections between employees. This can be on a personal level – showing birthday and work anniversary  announcements – or professional  – securely sharing business-critical data dashboards. 
For more on how you can use digital signage in employee communications, click here.
Consumer-facing digital signage
When it comes to consumer-facing digital signage, this is where screens can become a powerful marketing and sales tool.
Within a retail environment, digital signage can be used to promote products, strengthen your brand reputation and educate customers. It can also be used to increase 'dwell time' within store; according to a recent study, digital displays can increase purchase amount by c. 29.5% while making customers spend 30% more time in store. More importantly, 44% of shoppers admitted to digital signage influencing their purchases.  
For sales, screens can be used to securely show business data such as sales analytics and stock levels. With this data usually only seen by a few people (and usually siloed away within IT), features like ScreenCloud Dashboards allow you to get business-critical information in front of teams who can then make data-driven decisions.
Other digital signage uses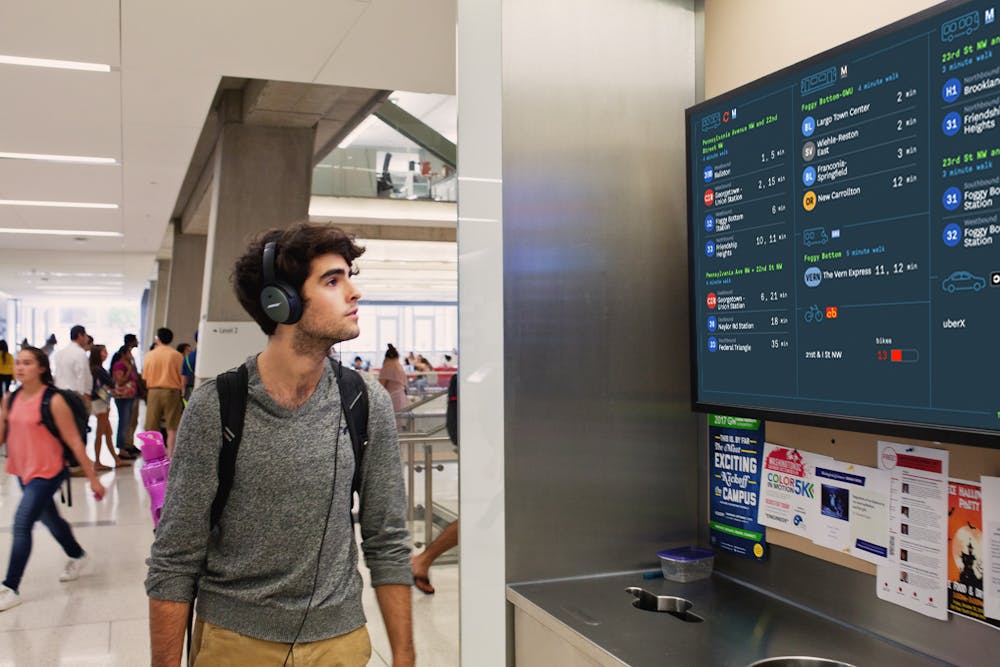 What do you need to set up digital signage?
As mentioned above, a key element of setting up digital signage is: a smart screen. 
1. How to set up a screen for digital signage with ScreenCloud
2. Hardware
If your screen doesn't have internet connectivity, then you'll need to plug in a hardware device like an Amazon Fire 4K TV Stick. There are plenty of options to choose from, and your choice depends on how many screens you want to connect, and other elements like remote device management. 
Take a look at our hardware page, or if you'd like to speak with an expert, request a demo to chat through the best option for your business needs.  
3. Digital signage software
There is a good variety of digital signage software options on the market, but with ScreenCloud you can download it directly from the app or Google Play store. Have a look at our features here, or, try out a 14-day free trial. 
4. A content management system (CMS)
ScreenCloud has an in-built CMS system to help you design and set your content to screens. It's been designed for anyone to use, not just IT professionals. With apps like Canvas, you don't even need to be a designer to create on-brand posters or digital menu boards. 
5. Content
Digital signage can only be as good as the content you show on it. Showing the right message to the right audience at the right time can have a massive and measurable impact for your business. For content inspiration, check out this guide.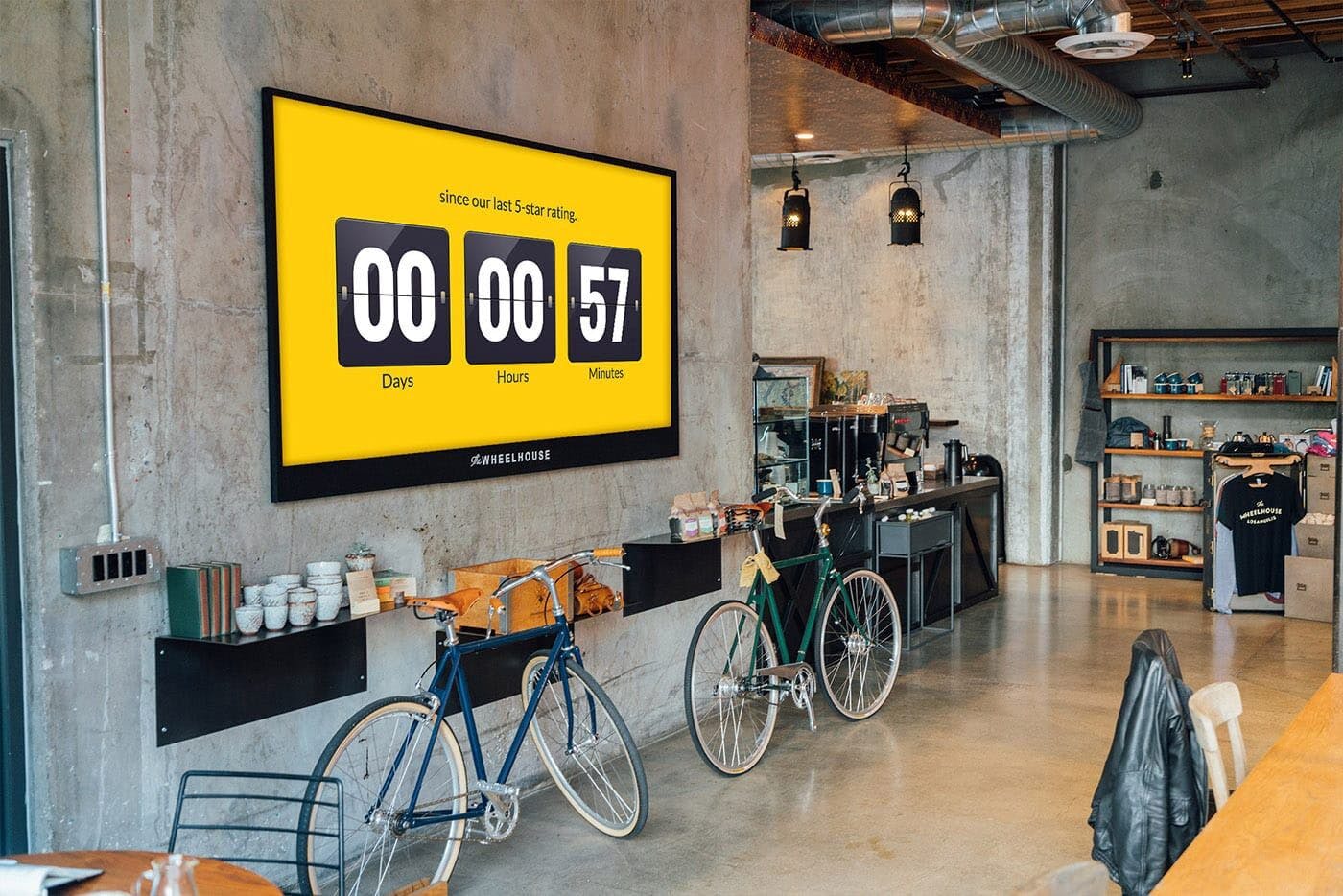 The different types of digital signage
Digital signage is an incredibly flexible tool. Here are some of the various ways you can show it. 
1. Traditional screen + USB, laptop or DVD player digital signage
Traditionally, digital signage involves a screen and something to power it from - usually a DVD player or USB stick. You load the USB up with images and videos, or burn them to your DVD, step round the back of the screen, plug it in and configure using your remote (and a lot of swearing). Then you're ready to go!
Then there's the regular laptop or PC. These are configured with content, plugged into the screen and then hidden behind a wall or desk, powering the screen with content. 
These methods are bulky and do not lend themselves to scalability, easy content management – and most importantly – they are not secure methods to show business-sensitive content.
2. Digital signage media players
Digital signage media players or "signage" players, are often used to give the screen the connectivity it needs to show content.
For example, a regular TV monitor which isn't connected to the internet can use a media player like an Amazon Fire TV Stick 4K or a Chromecast with Google TV to make it "smart". These media players are consumer-led hardware, which means they can be bought on Amazon or in most hardware stores. They're also small and light, which makes them easier to hide behind a screen than a DVD player or laptop.
There are also specialist media players that signage companies will custom build, but these are specially designed for commercial use and are often more expensive and can be bulkier. These media players are pricier than your average consumer device because they come with an array of business features and have a lot more processing power that are not available on your average devices. Commercial media players are designed to operate for long periods of time and because of this have longer warranty contracts.
For large businesses whose use of digital signage is critical to their operations, it's easy to use consumer hardware that you may have available, we believe it's more worth it in the long run to use commercial grade devices, as the investment is worth it in exchange for the long-term benefits. Commercial grade devices like our ScreenCloud OS media player, are built with higher quality materials to protect the device and provide heat management, and with better specs to help stream high demanding digital signage applications commonly seen in airport terminals, control rooms, or retail stores. They can also be used to provide security as their software is locked down and not easily taken advantage of.
When considering which device you want to use for your business, ask yourself - how long do I want to display content as this will determine whether you'll need a consumer or commercial grade media player. Secondly, access what your business needs - if you want to deploy numerous devices, perhaps a commercial grade device is better for you. If you only require simple digital signage usage, a consumer grade device will be enough. If you need more help selecting the right media player for your regular TV check out our guide on the best media player options on a budget. 
3. Cloud-based digital signage
Cloud-based digital signage is a system that provides digital signage without the need for any physical hardware. This means that any screen connected to the internet can access content via the cloud and be played on any screen without need of a device being plugged in. 
This saves on cost and can be managed remotely.
The main benefit of cloud-based digital signage is that you don't have to be anywhere near the screen in question to change its content. This is great for last minute stock change, emergency announcements, and managing screens across multiple locations.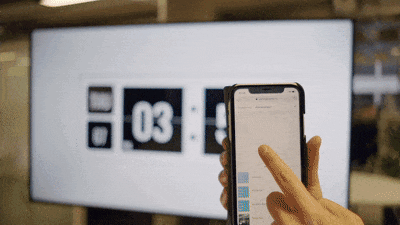 How to set up digital signage with ScreenCloud
In the guide below, we'll explain how you could set up digital signage using any screen you own and ScreenCloud.
1. Choose your hardware
ScreenCloud is hardware agnostic, meaning it can run on any hardware (and any screen). There are two main ways you can use ScreenCloud: 
An Android TV + the ScreenCloud app
If you already have a smart Android TV, you can use the ScreenCloud Android Player app which you can download from the Google Play Store. 
A standard (non-smart) TV screen + cheap media device + the ScreenCloud app
If you don't have a smart Android TV, then you can use any screen you have (even non-smart ones), adding a $40 Amazon Fire TV Stick 4K or an $50 Chromecast with Google TV to help make the screen smart. Once installed, you can download the ScreenCloud app from the Amazon App Store (if using the Fire TV Stick) or the Google Play Store (if using a Chromecast with Google TV). 
This means that you can make use of screens you've already got hanging around, or you can buy smart ones that have everything you need already included.
2. Pair your screen(s)
Once you've downloaded ScreenCloud, you'll need to sign up for a free trial and then pair your screen(s) with your account:
3. Choose your content
Upload existing content
ScreenCloud allows you to upload your files from wherever they're saved. We also support a majority of file types including jpeg, gif, png, and svg, PDFs, powerpoints and Office/iWorks formats to make uploading your content easier.
Even after you've uploaded your content, you can download it again (and any content updated within ScreenCloud) should you need.
The App Store
In our App Store we have more than 80 apps that will help you to get different content onto your digital screens.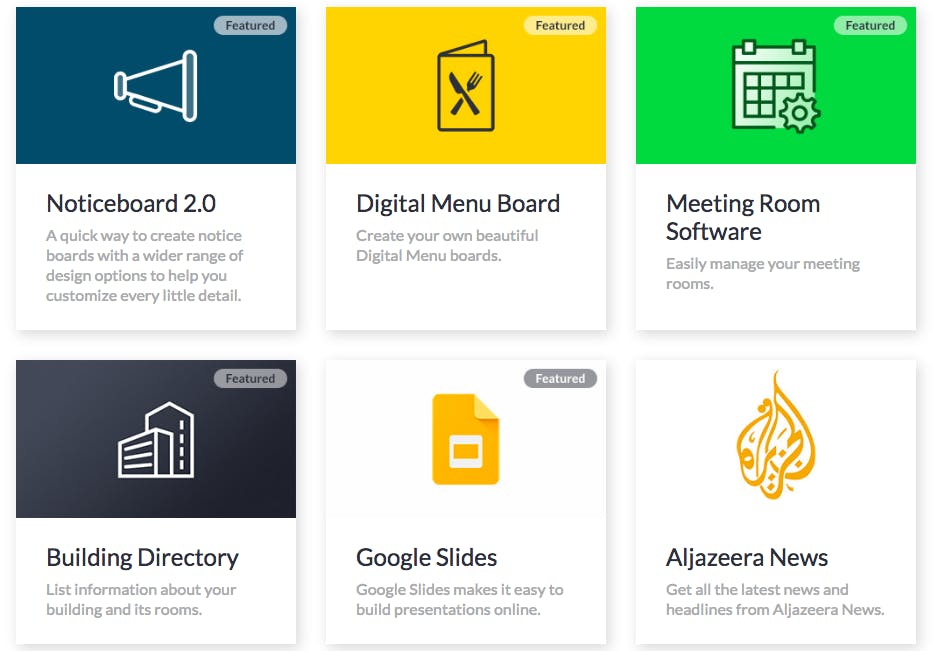 Different types of content includes:
A benefit of ScreenCloud is that you can change this content at any time, and changes will be reflected on your screen in real-time. There is no need to download, edit, reupload and push content to make a change, everything can be done directly within ScreenCloud.
You can also make bulk changes so that the content changes on all of your screens from one edit.
4. Schedule the right content for the right time
If you're running a time-sensitive or seasonal promotion, upload the content once and then set a time/date when you'd like it to show/expire.
This also works well for restaurants and digital menu boards; schedule your breakfast content to show at the right time, and have timely promotions run throughout the day
Playlists help you to organize what shows when. If you need a guide to creating the perfect playlist, head here. Once your content is uploaded, you can add it to a playlist and set the order in which it shows and how long it shows for.
Once you've decided on the best playlist for each of your screens, it's time to create a customized schedule for when it will show.
https://screencloud-2.wistia.com/medias/b1vlppone8
Digital signage FAQs
What is a digital signage content management system (CMS)?
A content management system (CMS) within digital signage is an organizational tool that helps you to manage all of your content. This could be a place to store images, videos and PDFs, as well as organize them into Playlists or Channels to show on your digital screens.
What is "digital signage Software as a Service"?
Software as a Service, often referred to as "SaaS", is a type of model where the software and data are hosted online and available through a web browser or app. This type of software is offered for free or for purchase by a vendor or brand, but remains the property of that company, for use or lease by the customer. Popular SaaS tools are used in digital signage (ScreenCloud is a SaaS tool!) as a way of managing content and putting it onto a screen.
What is a Smart TV?
Sometimes called "connected TVs", a Smart TV denotes any television that can be connected to the Internet. Smart TV's (a phrase coined by manufacturers such as LG and Samsung) have become popular within the home as they allow you access to streaming services such as Netflix and movie rental services as well as internet music stations, YouTube and web browsers.
What is a tickertape?
This is a type of text-based content that usually runs in a specific area of your screen - for example along the bottom. The content scrolls, sometimes on a loop and can deliver text-based information such as news and headlines, or perhaps a Twitter feed.
Try out ScreenCloud for free
See whether ScreenCloud is for you with our 14-day free trial (no credit card required), or request a demo to a custom look at how we can work with your business.