Publish content to your screens directly from Microsoft Teams
Learn More


Playbooks
The Ultimate Guide to Digital Signage Playlists
Learn the most efficient tips, tricks, and operational management for your digital signage Playlists.
In the digital technology space, the time:innovation ratio is at its highest influence; the more time that passes, the more innovative digital solutions become. Based on past trends, the digital tech space will continue on an exponential growth pathway, the use of AI will expand for solving complex problems and digital signage will elevate its impact for providing diversified options to convey critical information  – from anywhere in the world. 
Why is this so significant?  Change and transformation is happening ever more frequently in the wake of increasing digital communications. The fact is, there is an essence of time in managing operations, resources, and return on investments (ROI) which is crucial for businesses and individuals alike.
With ScreenCloud, you have the ability to set content on your screens using a handful of options, but highlighting the use of digital signage Playlists is key to unlocking flexible potential in your content operations strategy – and saving time where available.
Overview of a digital signage Playlist
If you're new to ScreenCloud: 
"Playlists" are simply used to organize your content and play everything in the order that you want to see it. You can organize pieces of content, apps, and media from your ScreenCloud account into a Playlist. Once assigned to your screen, the Playlist will run on a loop based on the order and timing of the content you've set up.  
Playlists can be used independently, but also collaboratively by assigning multiple Playlists to play in a Channel; think of it like TV scheduling.
Why use a Playlist for organizing content
A primary benefit to using Playlists is content organization. Instead of the time-consuming scheduling of content one-by-one you can use Playlists to bucket, group, and collect content.
For example, Richard and Stephanie work for a corporate marketing firm that has offices around the globe. These employees are planning a global company-wide social event for their locations. Both employees have connected screens that they manage for each of these locations - but each location is unique in respect to time zones, safety protocols, events, and day-to-day activities for the socials. 
Richard and Stephanie can create Playlists to manage and collate content according to categories, topics, locations and socials. Whether the team is managing large numbers of files to upload, dashboards, or want to show social media apps, like Social Feed for Facebook, the possibilities are endless for how you can choose to organize your Playlists productively. 
How to use Playlists for scheduling
With ScreenCloud, you can use the Channels feature which functions similarly to a TV channel. This gives you the ability to group and organize content in a meaningful way by theme, usage, department, topic, or any other way you'd like. Using Channels you can schedule Playlists of content that you have collected and combined. 
Playlists are essential in streamlining resource and time management for your digital signage programming. Instead of using Channels to schedule individual pieces of content or media, you can add multiple Playlists into any number of Channels. 
For example, Channels can be categorized (similarly to Playlists) however you'd like. They can be used to target specific content across various needs and requirements. In the screenshot below, there are a number of different use cases, such as "Corporate Comms".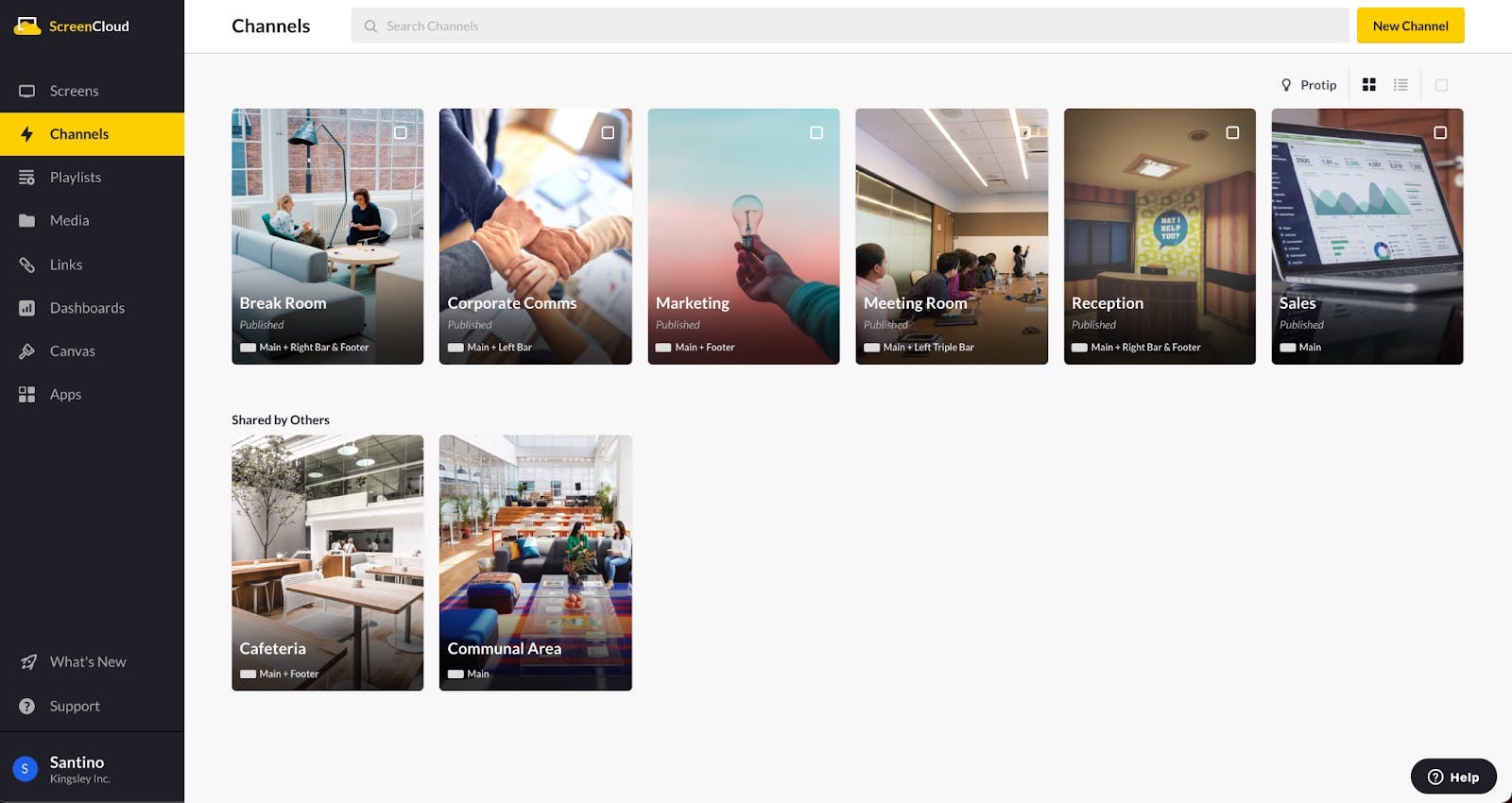 Within the "Corporate Comms" Channel, you can add as many Playlists for grouped content as you'd like to schedule for any time.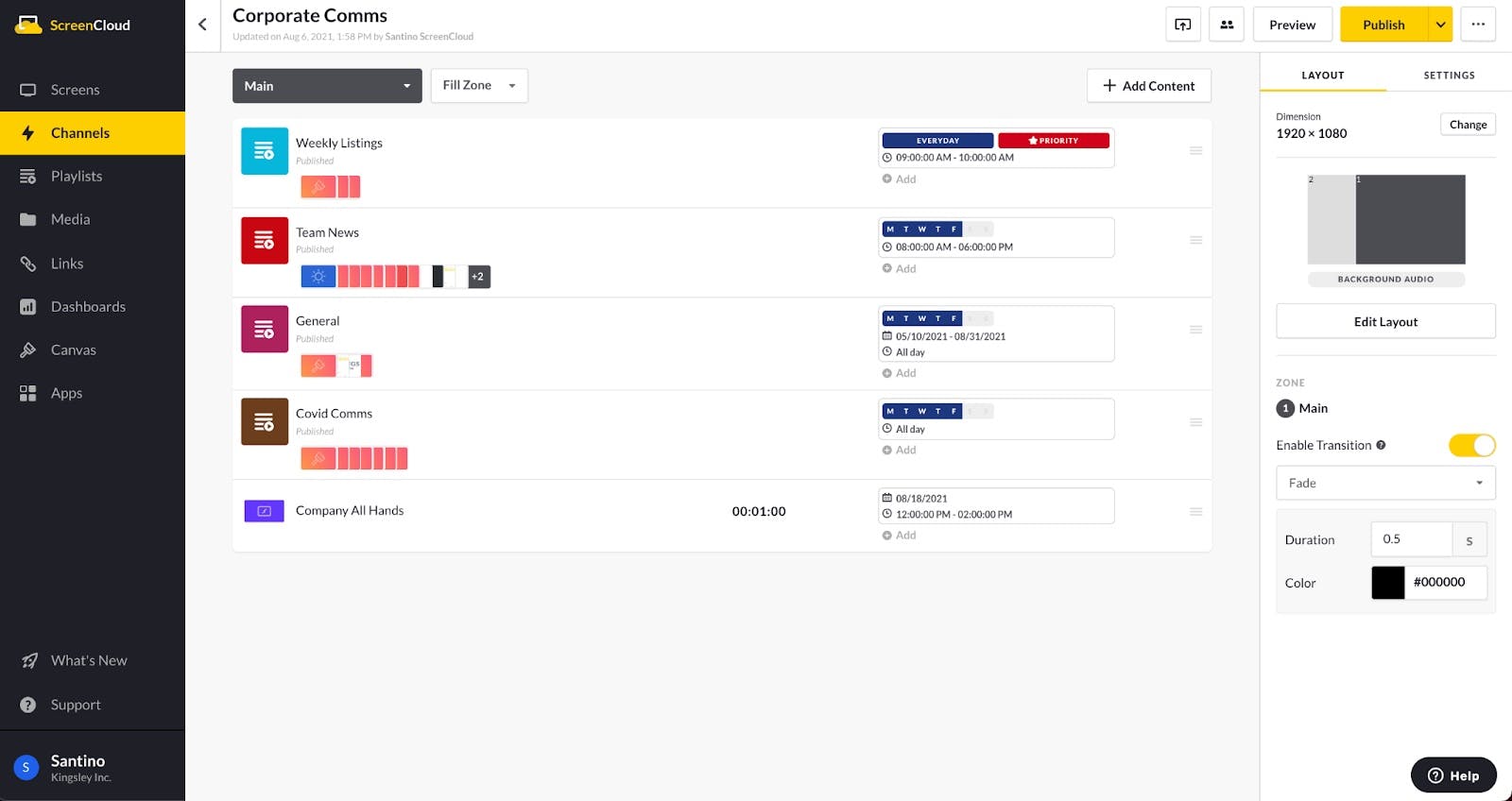 This allows anyone using digital signage the ability to think and act ahead of the curve - strategizing a collection of content to amplify your key messages  using Playlists.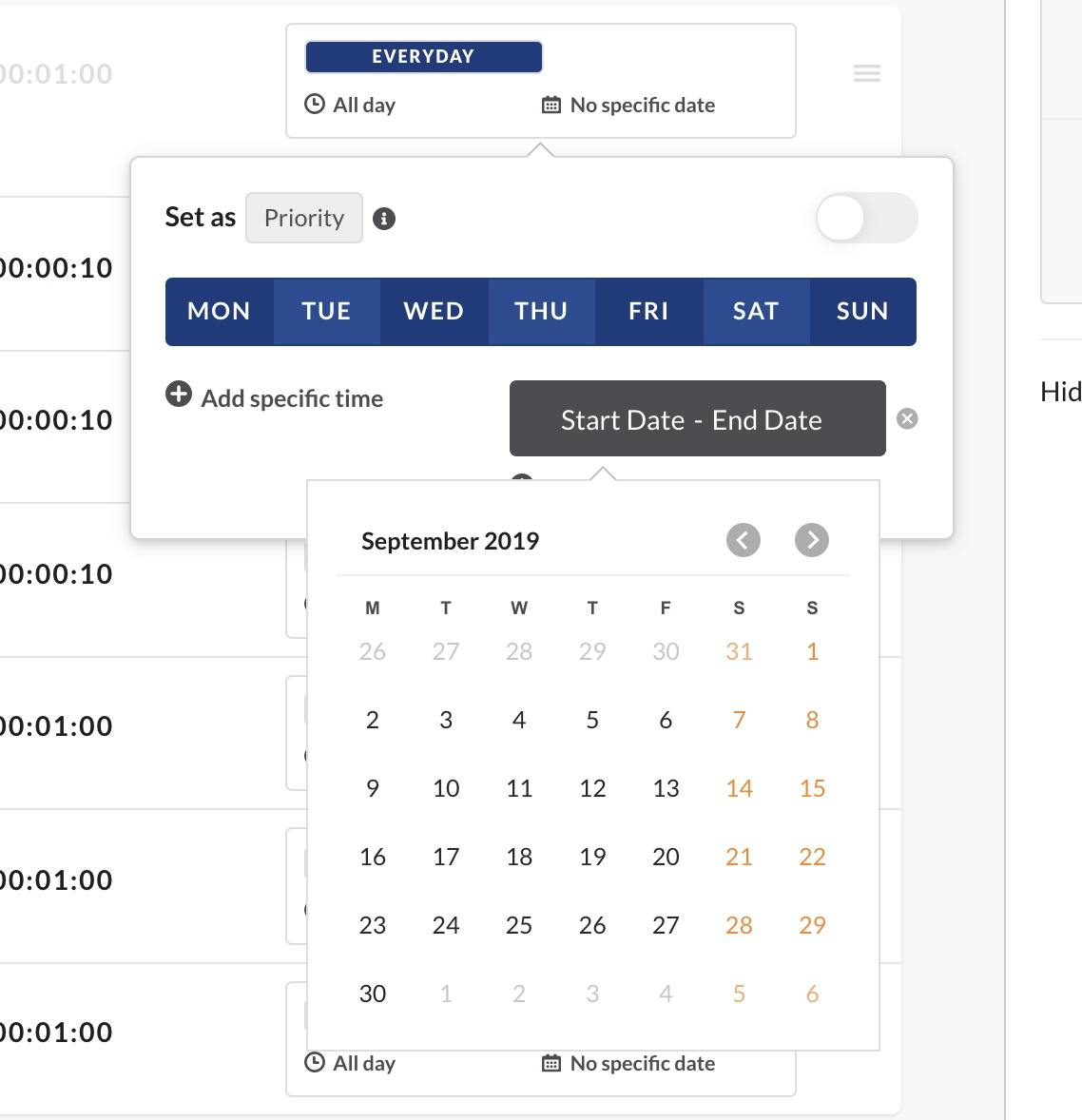 Best practices for strategizing Playlists
Strategizing your Playlists depends on your organizational or personal goals for using digital signage. 
i) Review your digital signage goals
What are some common reasons as to "why" you're using a digital signage platform? Here are a handful of examples below:
Globally manage updates to anywhere that has a screen, PC, or display
Showcase user-generated content and utilize cost-effective content creation
Environmentally friendly facilitation of communication - go green and paperless
Display class schedules, agendas, and course curriculums
Resolve challenges in barriers of remote-working communication or distance-learning
Coordinate food menus, items, or merchandise with ease of online technology
Drive increased engagement for employees, teams, and build morale
Drive ROI, sales, and advertisements with branded content creations
Assess inventory management, stock, and resources visible to key stakeholders
Data visualization - KPIs, dashboards, and successes in customer satisfaction
Broadcast travel statuses, emergencies, or critical messaging to takeover displays
Get a touch of inspiration from our case studies and industries using digital signage.
ii) Brainstorm your key topics
Next, list your key topics. Are you using digital signage to display emergency messaging or social information for employees and colleagues? Or are you wanting customer-facing content like promotions and event countdowns? The best strategies outline, journey map, and visualize topics in relation to your goals. 
For example, a Playlist topic could be "Team News" which has a goal of both globally managing updates to any teams worldwide and resolving barriers of remote-working. This Playlist is curated and crafted with team-related content only - such as birthdays, using native apps like ScreenCloud Engage to inspire sharing photos, work anniversaries, and more. 
iii) Explore your Playlist options
There's a number of ways you can improve and enhance the way Playlists can be used within ScreenCloud, such as: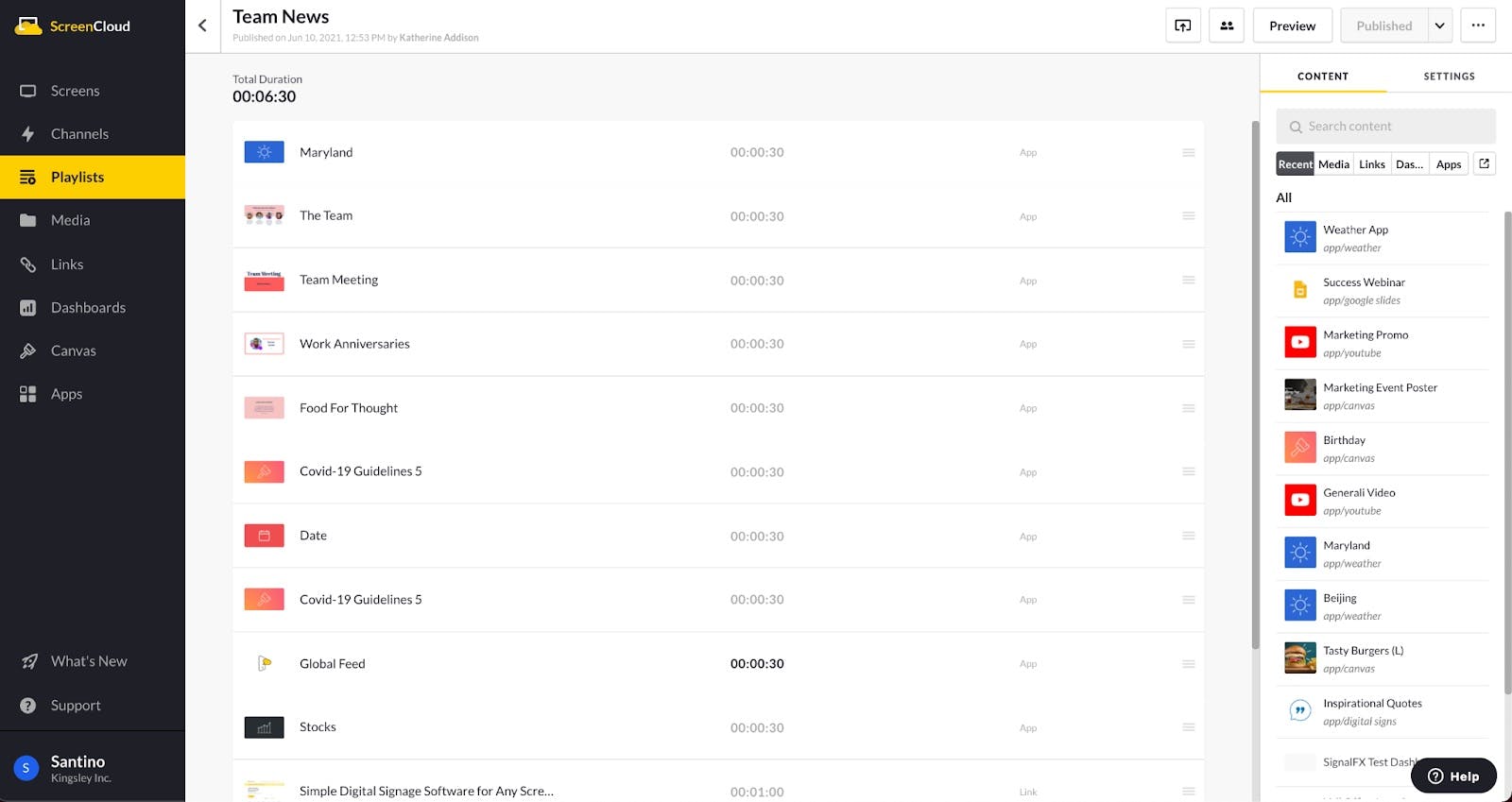 iv) Preview and experiment with your digital signage
Make sure to preview, review, and see how your Playlists display on your live screens.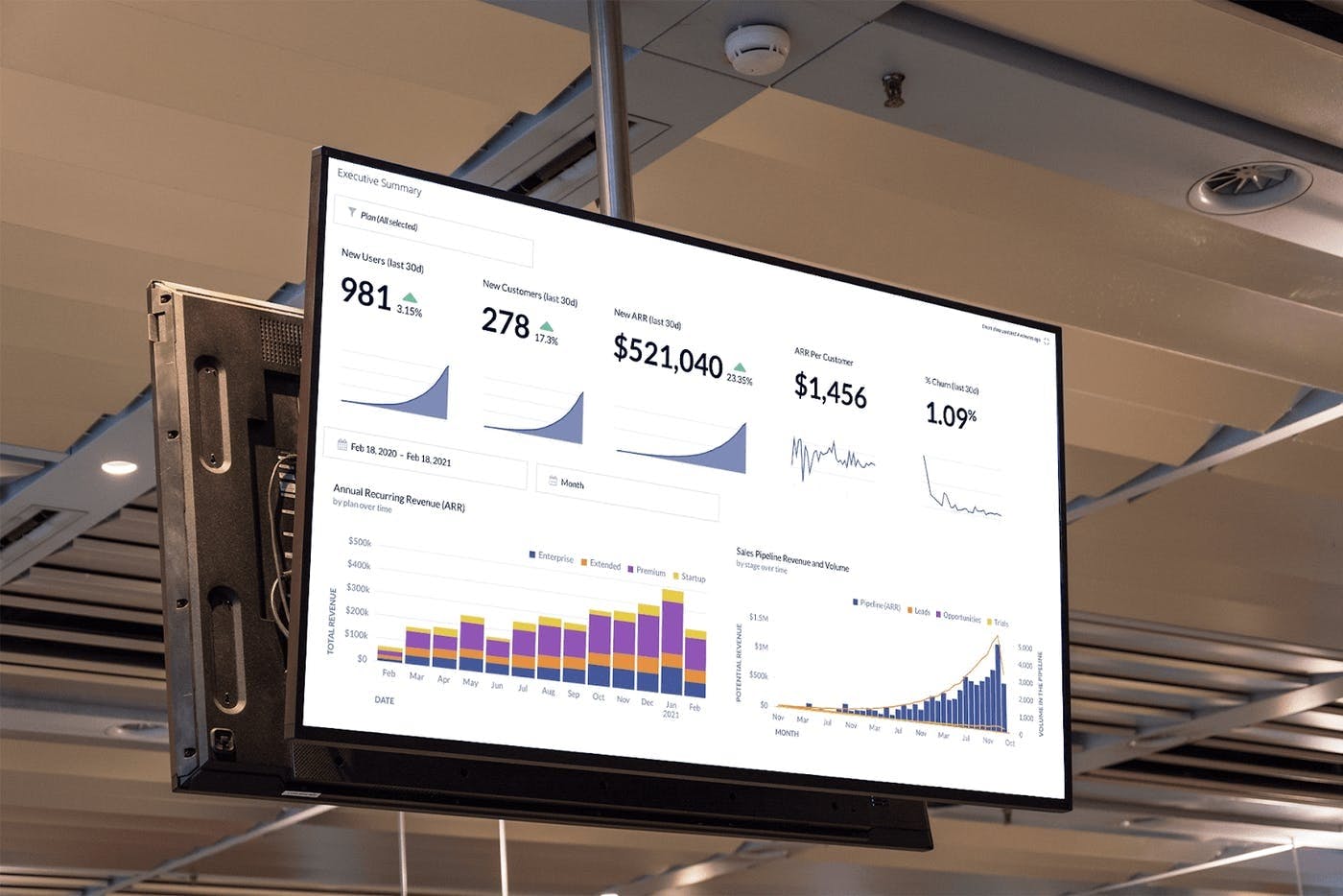 Try ScreenCloud for free today
Timing isn't the main thing, it's the only thing
If you're looking to maximize your time and communications strategy, then get started with a 14-day free trial or request a demo with a member of our expert digital signage team. 
Santino is ScreenCloud's Support Ops Lead, writing content ranging from how-tos, problem solving, solutions, and app guides for our digital signage community.
Ready to get your organization connected?
Connect your first screen today with our 14-day free trial
blog