One of the things we love about digital signage is that it levels the playing field. Social media, PPC, online advertising - they've all become pay to play platforms where often, coverage is a direct output of budget.
With digital signage, the setup cost and the roll out depends on the number of screens you employ, not the number of other companies you're competing against.
It's a tool that can be set up by anyone and here's the thing - advantages like quick decision-making and knowing all of the regulars in small businesses can have a big effect.
So much so, that you might even say it's one marketing ploy where small businesses have the advantage. 
Here are a couple of key benefits:
Versatile
Think of a business goal you have today. Higher sales? More engaged employees? Better service? Digital signage can help solve almost any small business goal. The technology is simple but how you roll it out and what content you use is completely personalized. 
Adaptable
When you print brochures or set up a new website, it can be difficult to adapt and change in response to your business. With digital signage, changes can be made as quickly as you can think them. 
Highly engaging
When people see a screen they watch it. Studies show we're completely fixated on screens as a medium. Which figures, considering we're a generation glued to our devices. This makes it a highly engaging medium that once set up, does the job for you without needing any maintenance other than a content refresh every now and again. 
Affordable
We've gone on and on about this like a broken record but digital signage is seriously affordable. Take our software ScreenCloud Signage (not that we want to blow our own trumpet) but 1. It can be used on any screen and 2. It's $20 per screen, per month. You don't need a mass rollout or hundreds of screens - why not just use one and see how it goes? 
Now you know the benefits, here's our guide on how to make digital signage work for your small business.
1. How will you get buy in?
Convince and convert is perhaps your first foray in digital signage. It's not a medium most are familiar with. If it is, they might not think much of it. So many screens have been left sitting blank or with the same content on loop that can you really blame anyone for thinking it's a waste of time?
If you need approval from the bosses that be, your first step is to get buy in.
Think about what you already have that you can use - any old screens laying around? Use our hardware selector tool to see what you could do with them. 
You may even want to create a digital signage business plan. Noting down what your objectives are and the vision for the screens, who they'll target and specific business goals as well as how you'll measure them.
Or perhaps you need to get buy in from staff. The business owners we speak to are fired up to set up their digital screens but worried about maintaining them. 
Ensuring staff understand how the screens work will help ensure they stay relevant and that content can adapt with your business. If you're in a restaurant, you want staff to be able to change your digital menus. If you're in an office, you may like marketing to control the screens and what content they show. 
Think about how staff can buy into digital signage as a project and take ownership of it as a medium, which will help ease some of the initial pressure. 
2. What do you need to get setup?
In short, digital signage requires three things:
A screen that's connected to the internet
A piece of digital signage software
Somewhere to manage the digital signage software (i.e. from a laptop or a PC)
To set this up, check out what screens you have or want to order and ensure that they're 'smart'. (Hint, our hardware selector tool is the best for this job). Next, search and download 'ScreenCloud' from the App Store on your screen.
Thirdly, setup an account at https://screencloud.com - we recommend doing this on your PC or laptop but a phone or tablet will work too if need be. Next, pair the screen to your account.
Now your screens are running digital signage and you can begin choosing what to show, and when, from wherever you are and whatever device you're using, simply by logging into your ScreenCloud account.
Simple no? Watch this tutorial if you need any help. 
3. Who is your audience and what do they want?
Before you choose what content to show, let's pause for a second.
It's totally tempting to just throw up the easiest content you have in reach - social media, images and so on.
But it's important to tie your objectives in with the needs of your audience. Here's the thing; in B2C digital signage needs to serve your customers. In B2B, it needs to serve your clients, your stakeholders or your staff members.
Say you're a quick-service restaurant and your goal is to reduce perceived wait time. How could you do that through digital signage? Well, perhaps you can use the highly-visible displays to update customers on how long their food or table will be.

This benefits the customer because it stops them getting bored, allows them to feel in control of their experience and it makes their perceived wait time seem shorter.
New scenario: what if you're a store looking to increase visibility of your products? Perhaps you show images of your new products on the screen. Does this serve your audience and their goals? Probably not.
Yet with a few tweaks, it could. 
Perhaps you don't show the products, you show where the customer can find the products. Now they can find what they need more quickly. Or you show an exclusive offer, or the countdown to your seasonal sale. Now they save money. Perhaps you even offer a discount if they follow you on Twitter or tell a friend. You get a referral and they get more bang for their buck.
What you want and what your audience wants isn't too dissimilar, you just have to think of a way to tie the two together. 
4. How will you create content?
Don't sweat this step - without any marketing or design resource we guarantee you can easily create great content for your small business.
When we talk about content this could be:
Slides - presentations, showreels or slides that are used as the basis for special offers, digital menus or promotions.
Videos - digital signage is pretty close to TV so video is often a great way to go - either owned video or video streamed from a channel such as YouTube or Vimeo. You could also use a live news stream or similar. 
Social media - dashboards and live feeds from your tweets or Facebook page (all made to look perfect on your digital screen).
Company information - project processes, health and safety information, Trello boards, Slack conversations - whatever company info you want to share, you can bet there's a simple way to get it up onto your screen. 
When it comes to the nuts and bolts, there are three obvious ways of finding what content you can use and getting it up on screen.
Content you already own
What's already in the locker? Do you have any videos, images or presentations which are pretty up to date? ScreenCloud supports many file types including jpeg, gif, png, and svg, PDFs and Office/iWorks formats to make uploading content easy.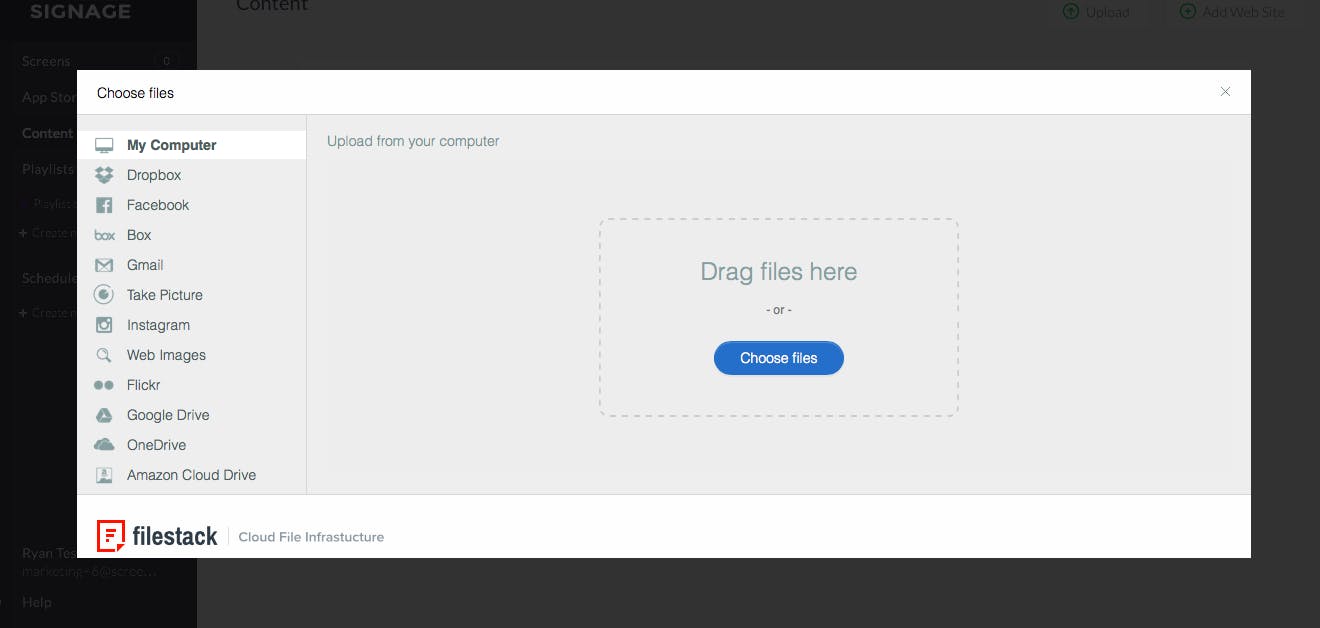 You can also import directly from Dropbox or your Google docs. 
Content you can easily create
Perhaps you want a digital menu board, a quick promotion or you're keen to jump on a trend like Pokémon GO to get people buying in.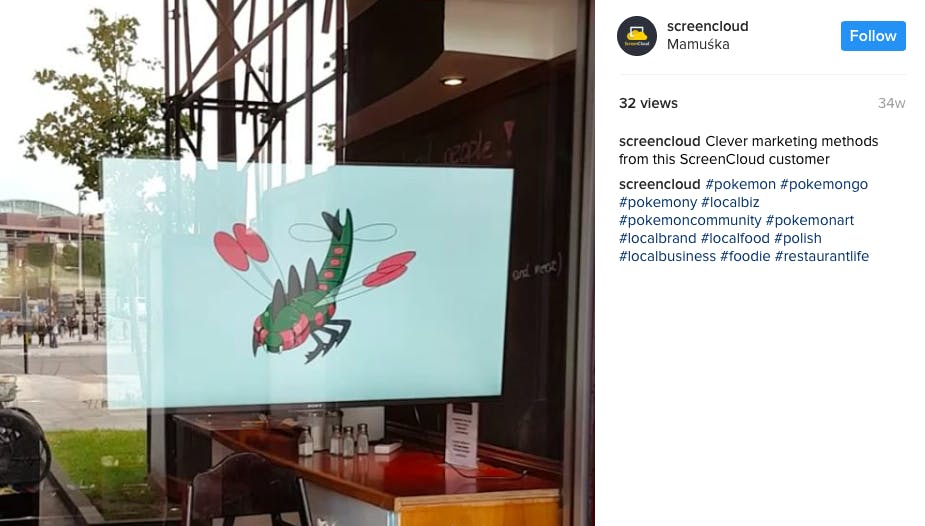 The App Store is full of tools just waiting to make this happen.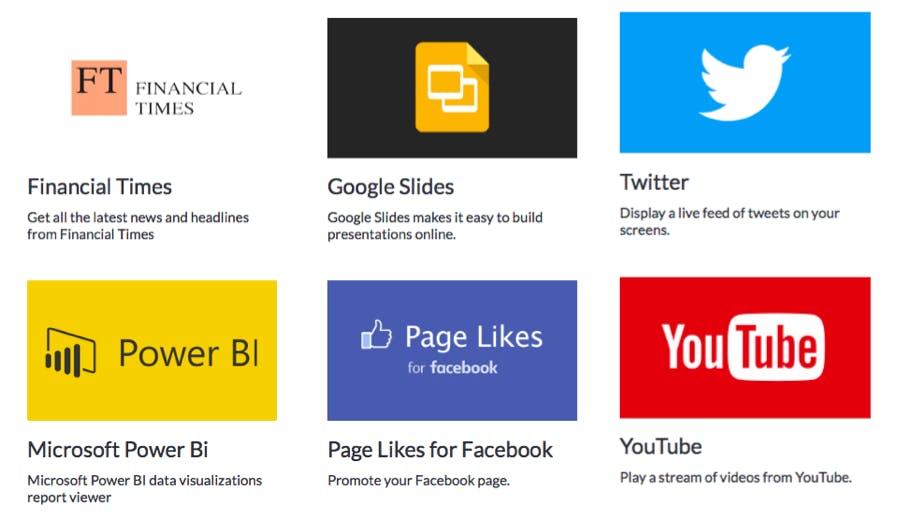 Here, you can set up digital menu boards, noticeboards, dashboards and data visualizations as well as importing content through Google spreadsheets and Google Slides. 
Need a simple text or sign? Check out these apps and content creation tools. 
Content that's created for you
Then you have content where you don't have to lift a finger. For example, take the Gallery for Instagram app. Plug in your user handle or hashtag and it will turn the results into a beautiful scrolling wall.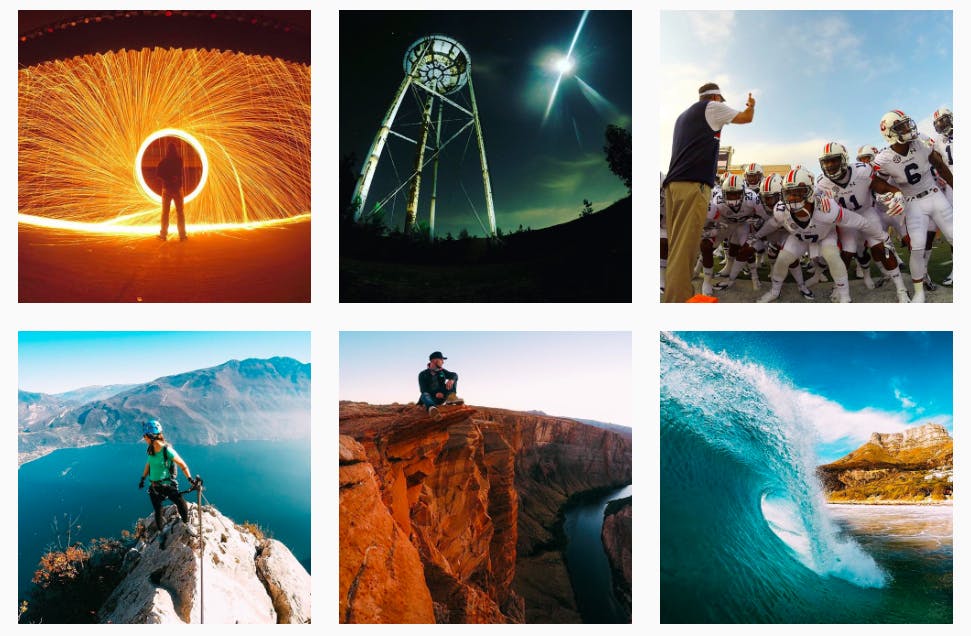 We have different apps for Twitter, Facebook and Instagram as well as social media dashboards and user-generated social media content. 
And that's just one discipline. You can also use the App Store to create digital menu boards and digital signage displays that share info from your company documents, presentations or tools such as Slack and Trello.
If you want to think your content through from a strategic position, check out the comprehensive guide to digital signage content strategy. 
5. Who will manage your displays and when?
This is crucial in a small business where roles and responsibilities are often divvied out across a select few. 
In some small businesses we work with, the CEO or business owner has the idea, then it gets passed to marketing or IT to implement.
This will depend on your business model but in truth, digital signage management can go to anyone who gets your business and your goals. We've seen displays managed by teachers, HR assistants, office managers, Chefs and store staff.
Digital signage isn't super technical and there are a ton of tools that help with the hard bits, like creating content, so it really is a job that anyone can do. 
You may also want to come up with a system for when your displays get updated. This could be weekly, monthly, quarterly or seasonal. It may be that you have five pieces of 'fixed' content and you add a new slide, image or graphic here or there when you have something to shout about.
Putting these guidelines in place at the start ensures your displays don't get put into a 'set it and forget it' mindset which defeats the object of having them in the first place!
6. How will you know if your digital signage displays work? 
You don't need a strict KPI structure to ensure your digital screens are working. Many of the effects you'll notice yourself. For example, customers complaining less about wait times, more positive Yelp reviews or higher interest in specific products.
You can also create return on objectives which will help measure what you're doing against top line goals for your organization. This might include higher customer satisfaction, more engaged employees or faster response times on social media.
Setting goals gives everyone a benchmark to work towards and will increase morale within a small business.  
It's our belief that digital signage is a seriously underutilized marketing method and one that will only grow in importance over the next few years. If you're reading this, we're guessing you agree! Try our 14-day free trial and see just how easy it is to get started.