Publish content to your screens directly from Microsoft Teams
Learn More


Playbooks
The Small Business Guide to Digital Signage
We've drilled into how small businesses can use digital signage more effectively. Here's the fruit of our labor!
Updated August 2023
Around the time that we launched ScreenCloud, it wasn't uncommon to see a $1,200 price tag on a 46-inch flat-screen TV. Today it's under $300 – even after persistent inflation. Screens are so cheap nowadays that even small businesses tend to have a few just lying around unused. But just because your TV is old enough to remember a world before Donald Trump was president doesn't mean you can't put it to good use. 
Digital signage software like ScreenCloud streamlines the process of creating and displaying employee engagement and internal communications content, regardless of whether it's for a small professional services company or a microbrewery. Plug a $40 Firestick into any screen – new or old – connect it to your wifi, and start syncing app data and playlists from your desktop. From there, the sky's the limit. Here are some examples:
Display real-time data from apps you already use
Think of a business goal you have today. Higher sales? More engaged employees? Better NPS score than yesterday? With digital signage, you don't need technical skills to connect company calendars, Slack channels, and KPI dashboards to your screens. 
Build custom dashboards and automations
If your office does have a jack-of-all-trades IT person, though, you can create content that rivals that of large enterprises. You can moderate user-generated content with AI, send messages to your signage with Siri voice commands, or automatically create personalized welcome messages for office visitors. All you need is digital signage software that includes a tool like ScreenCloud's Playgrounds.
Engage employees and clients with fresh content
People can't help but pay attention to vibrant and animated content. Studies show people are naturally drawn to screens as a medium. Connect a breakroom screen to a social media feed or give staff a way to upload photos to office screens, and you'll have a neverending stream of conversation starters and interesting content. 
Increase ROI on HR efforts
Digital signage pays for itself by increasing information retention and recall. Is workplace safety a primary concern? Virtual bulletin boards ensure important messages are always front and center. Need to distill company updates into bite-sized announcements? You can automate the whole process and push information to as many screens as you'd like.
Once you feel confident that cloud-based signage is the right move for your small business, it's time to spread the good word.
1. How to get buy-in for digital signage
Convince and convert is perhaps your first foray into digital signage. Even if virtually everyone has seen this type of content before, most people haven't given much thought to implementing it for their specific use case. 
If you have old screens lying around, use our hardware selector tool to show the powers that be that they can be put to better use.
You may even want to create a digital signage business plan. Note down your objectives and the vision for the screens, who they'll target, and specific business goals, as well as how you'll measure them.
Or perhaps you need to get buy-in from staff. Sure, the business owner is fired up about screens for internal communications, but it's people further down the chain who need to maintain them. 
Sign up for a free ScreenCloud trial and have relevant employees play around with the platform and gather feedback about content management. If you're in a restaurant, you want staff to be able to change your digital menus. If you're in an office, you might want to set up some basic gamification on screens to create a company culture that rewards learning and improvement.
Think about how staff can buy into digital signage as a project and take ownership of it as a medium, which will help ease some initial pressure. 
2. What you'll need for small business digital signage
All you need to start creating eye-catching playlists and channels for your office signage is a screen that's connected to the internet, an app for managing the content remotely, and a laptop or  PC for uploading and syncing content.
You don't even need a "smart TV." A low-cost USB stick is enough to get almost any screen connected to wifi. From there, it's just a matter of finding a digital signage player in whichever app store makes the most sense for you.
Create a ScreenCloud account on the computer you'll use to manage content, log in, and pair the screen to your account. Then, from the app dashboard, you can begin choosing what to show and when, from wherever you are and whatever device you're using, simply by logging into your ScreenCloud account. Here's a video walkthrough of the whole process. 
3. Deciding who your target audience is
Before you choose what content to show, let's pause for a second. It's tempting to throw up the easiest content you have in reach - social media, images, and the usual suspects. But we'd recommend pausing and reflecting first. 
If your small business operates in an office setting, your target audience likely includes employees and office visitors. As such, consider their unique interests and needs. Maybe your sales team already tracks performance in a database, and they want to connect Airtable to a screen in their section of the office. 
In fact, almost any app you already use can work with ScreenCloud. And anything you can put on digital signage, you can automate, showing exactly what your team needs to know, when they need it. 
On the other hand, if you're a B2C company with a brick-and-mortar location, you'll goals will be very different. Whether that's creating a feed from an Instagram hashtag or promoting products with branded imagery, or an event countdown timer. 
With a better understanding of your audience's wants, needs, and interests, you dramatically increase the value of digital signage. Call a meeting with colleagues to brainstorm ideas, put them in writing, share them with management, anything that will boost the long-term effectiveness of your screens.
4. Creating content that captivates viewers
Don't sweat this step - anyone can quickly and easily create professional-looking content –  no marketing or design experience required.
When we talk about content, this could be Google Slides or PowerPoint presentations, uploaded video files or YouTube playlists, Notion dashboards, and even content that you automatically scrape from websites. Whatever it is, content tends to fall into one of three categories.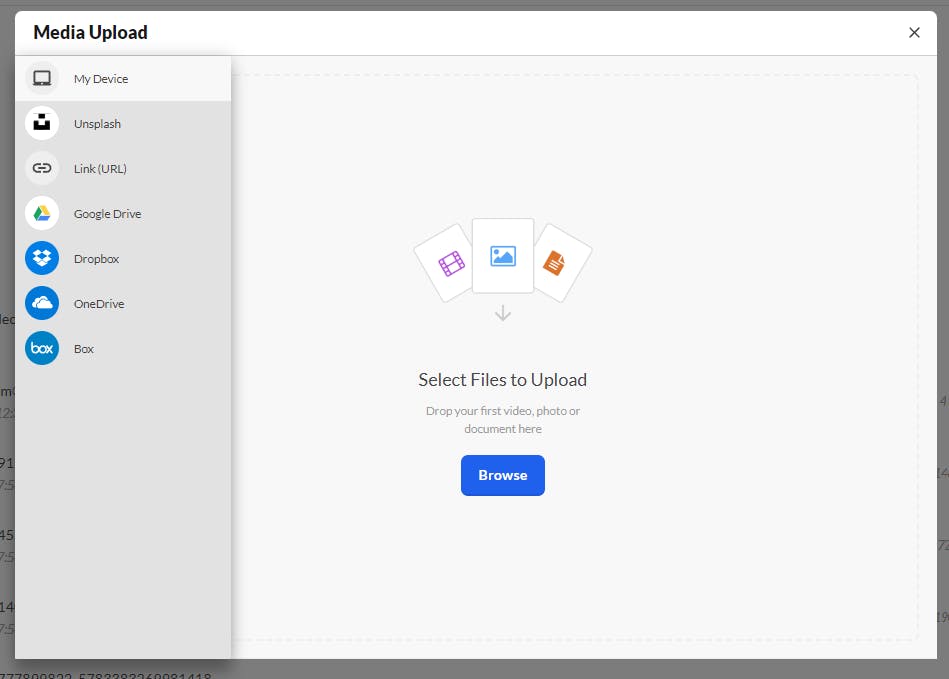 Content you already own
What's already in the locker? Do you have any videos, images, or presentations that are ready to go, with no updates necessary? ScreenCloud supports dozens of file types, including JPEGs, GIFs, PNGs, and SVGs, PDFs, and Office/iWorks formats to make uploading content easy.
You can also import directly from Dropbox or your Google Drive.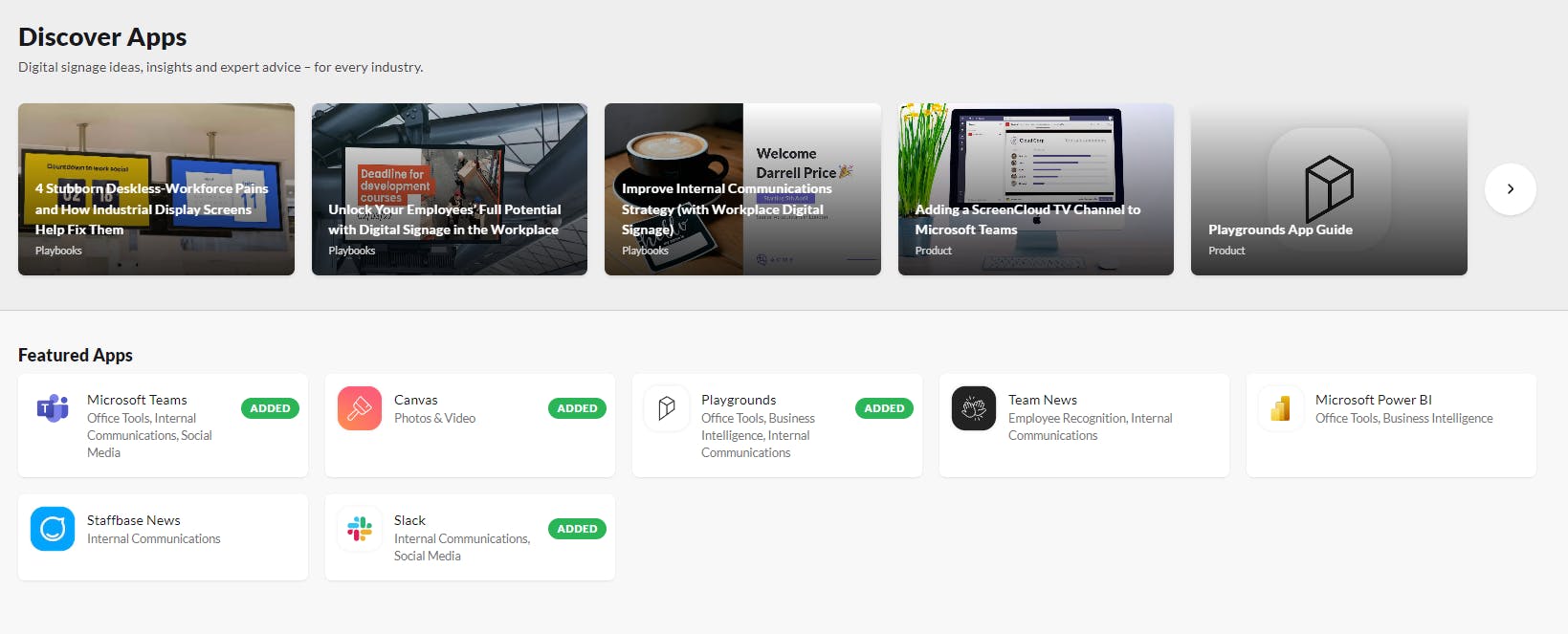 Content you can easily create
Perhaps you want a digital menu board, a quick promotion, or you're keen to jump on the latest TikTok trend. The always-growing ScreenCloud App Store is full of tools to help. Here, you can set up digital menu boards, noticeboards, dashboards, and data visualizations, as well as import content from Google spreadsheets and Google Slides.
Want to create some simple animated charts? Check out our guide to Chart.js for digital signage.
Here, you can set up digital menu boards, noticeboards, dashboards, and data visualizations, as well as import content through Google spreadsheets and Google Slides. 
Need a simple text or sign? Check out these apps and content-creation tools.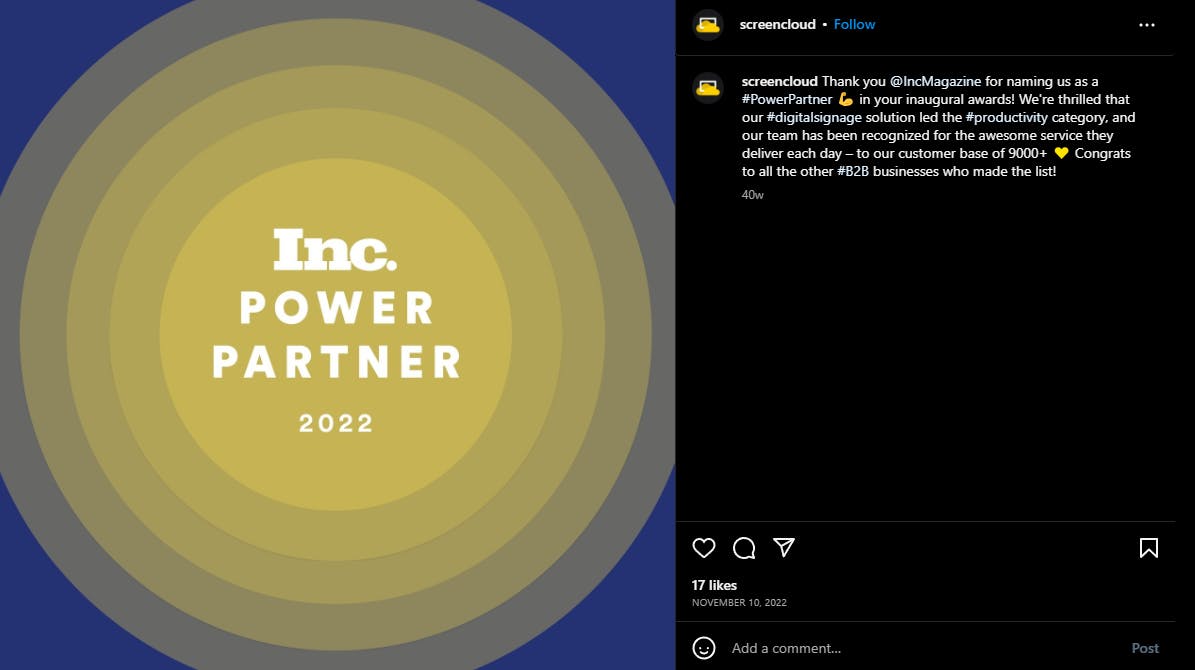 Content that's created for you
Then you have content where you don't have to lift a finger. For example, take the Gallery for Instagram app. Plug in your user handle or hashtag, and it will turn the results into a beautiful scrolling wall.
You can also create digital menu boards, weather and traffic updates, news updates, and YouTube livestreams. If the options start to feel overwhelming, take a step back and consider things from a broader, big-picture perspective with our comprehensive guide to digital signage content strategy. 
5. Putting people in charge of content management
This is crucial in a small business where roles and responsibilities are often divvied up across a select few. In some small businesses we work with, the CEO or business owner has the idea and passes it to a marketing or IT department for implementation.
This will depend on your business model, but ultimately, digital signage management can go to anyone with a firm grasp of your business and goals. We've seen displays managed by teachers, HR assistants, office managers, chefs, and cashiers.
Digital signage can be as simple or as technical as you'd like. Want to create branded images in a drag-and-drop imaged editor? Canvas can do that. Want to control your signs with GraphQL mutations? No problem. 
Of course, the who is only part of the equation. You also need to come up with a schedule for when and how often that person updates your screens. This could be weekly, monthly, quarterly, or seasonal. It may be that you have five pieces of 'fixed' content, and you add a new slide, image, or graphic here or there when you have something to shout about.
Putting these guidelines in place at the start ensures your displays don't get put into a 'set it and forget it's a mindset that defeats the object of having them in the first place!
6. Measuring digital signage effectiveness
You don't need a strict KPI structure to ensure your digital screens are creating value. Many of the effects you'll notice yourself. For example, fewer customer complaints about wait times, more positive Yelp reviews, or higher conversion rates from products that appear on screens.
You can also create return on objectives which will help measure what you're doing against top-line goals for your organization. This might include higher customer satisfaction, more engaged employees, or faster response times on social media.
Setting goals gives everyone a benchmark to work towards and will increase morale within a small business.  
Even today, when screens and software are cheap, digital signage is a seriously underutilized channel –especially for small businesses. Try our 14-day free trial and see just how easy it is to get started.
Ready to get your organization connected?
Connect your first screen today with our 14-day free trial
ideas