There are many ways to make communication with your church members (new and existing) easier. A few years back, churches were setting up websites and other digital presences in order to connect better with new and potential members. Then it was all about social media, getting under the noses of members as they browsed Facebook or Twitter. Nowadays, the technology on everyone's minds is digital signage.
What is this and does your church need it? Well, we see it like this; if you want to communicate better, in a more cost-effective and sustainable way that will attract and retain attention then the answer is yes.
Digital signage at its most basic is content on screens and TV monitors that you use within your physical landscape to share and collate information. Digital signage can be a mixture of social media feeds, image galleries and digital noticeboards aimed at giving up-to-the-minute information and advice to your congregation. In fact, it can be anything you want! Which is why it's so incredibly useful.
A second beauty spot is that unlike static signs, digital signage feeds are always up-to-date and be changed as and when needed. Tailored to who's visiting or what sermon is taking place at that time and able to be pivoted or flipped with a moment's notice.
Previously we spoke about how digital signage marketing can be used to attract and retain church members and why it's important..
In this post, we'll look at the churches who are actually using it and why it's such an effective strategy to share and discover information.
Digital signage for news, updates and community guidance at First Baptist Greenville
If you're still in two minds about whether your church is 'modern' enough to have its own digital signage display perhaps this will change your mind. First Baptist Greenville, a North Carolina church founded back in 1831, has recently deployed its first digital signage display.
First Baptist Greenville is a champion of inclusion and also recognizes that its congregation, like most of today's world, is pretty tech savvy. To get them on board with notices and communication, it implemented a digital signage channel. This church digital signage network is said to share:
Announcements and news
Details of church events such as service times and mid-week opportunities
Community events information
New member photos and member milestones such as birthdays, anniversaries, and childbirth
The network of screens and TV monitors is placed in high footfall areas throughout the church, as well as the gym and recreational center to provide health tips and motivational messaging. What a great way to make congregation members spend more time not only at the church, but in the gym too!
Like any digital signage network, this becomes a more cost-effective way to share information (no more printing out of notices or flyers) but it also shows the congregation that First Baptist Greenville is willing to adapt to what its members today want - rather than what they wanted back in the 19th-century when it was built. 
Faith Community Bible Church is one of our customers here at ScreenCloud, a relatively new congregation (2003 onwards) that recently implemented a great digital signage display.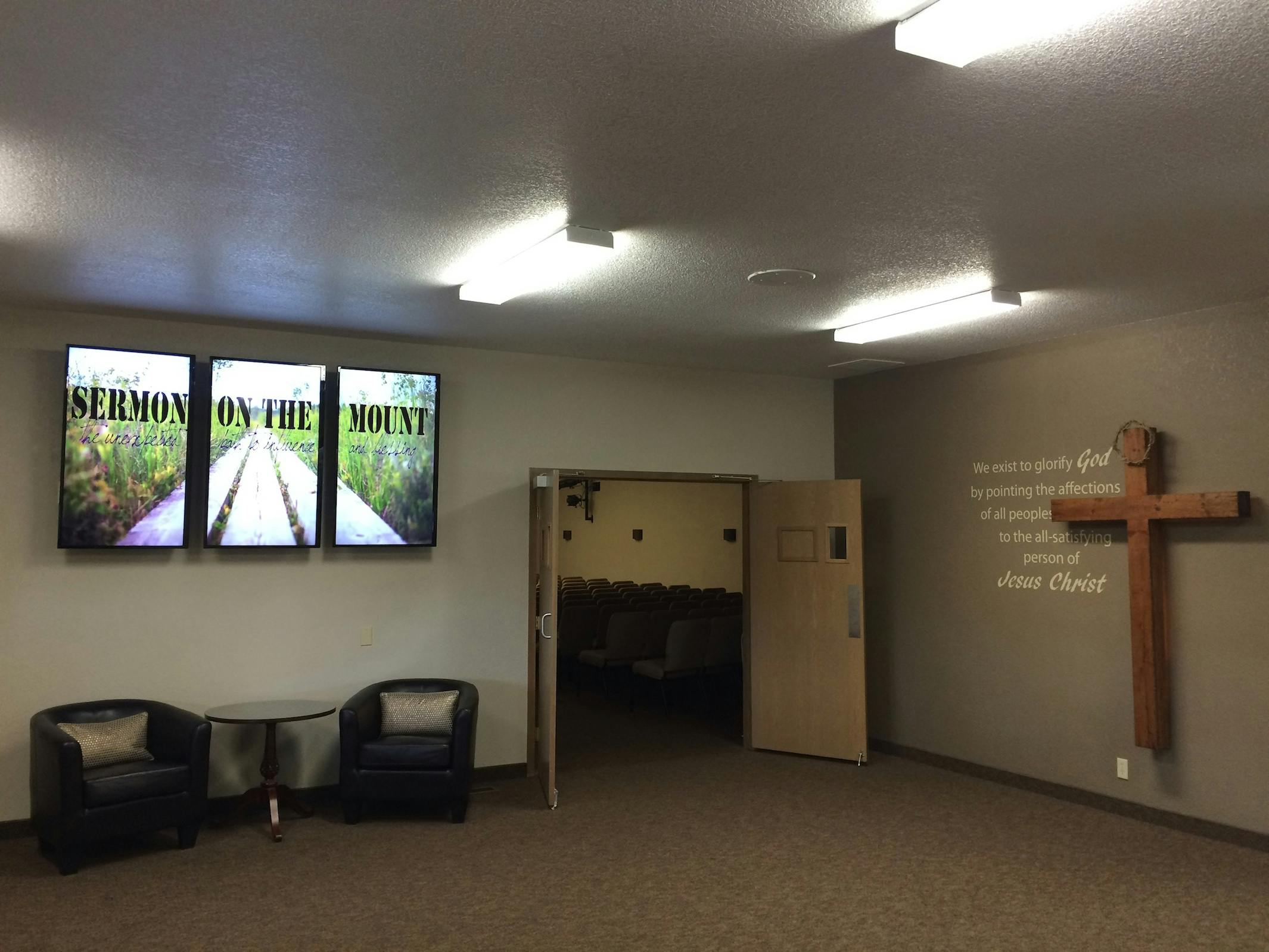 Faith Community Bible Church needed to display information about upcoming events and the current sermon series in a way that was beautiful and appealing. Static signs could have done this sure, but screens not only create a better ambience but also communicate the information in what they believe is a more appealing way!
You can spot in the images above and below, how they use multiple screens to create a split image poster regarding upcoming events or charitable initiatives.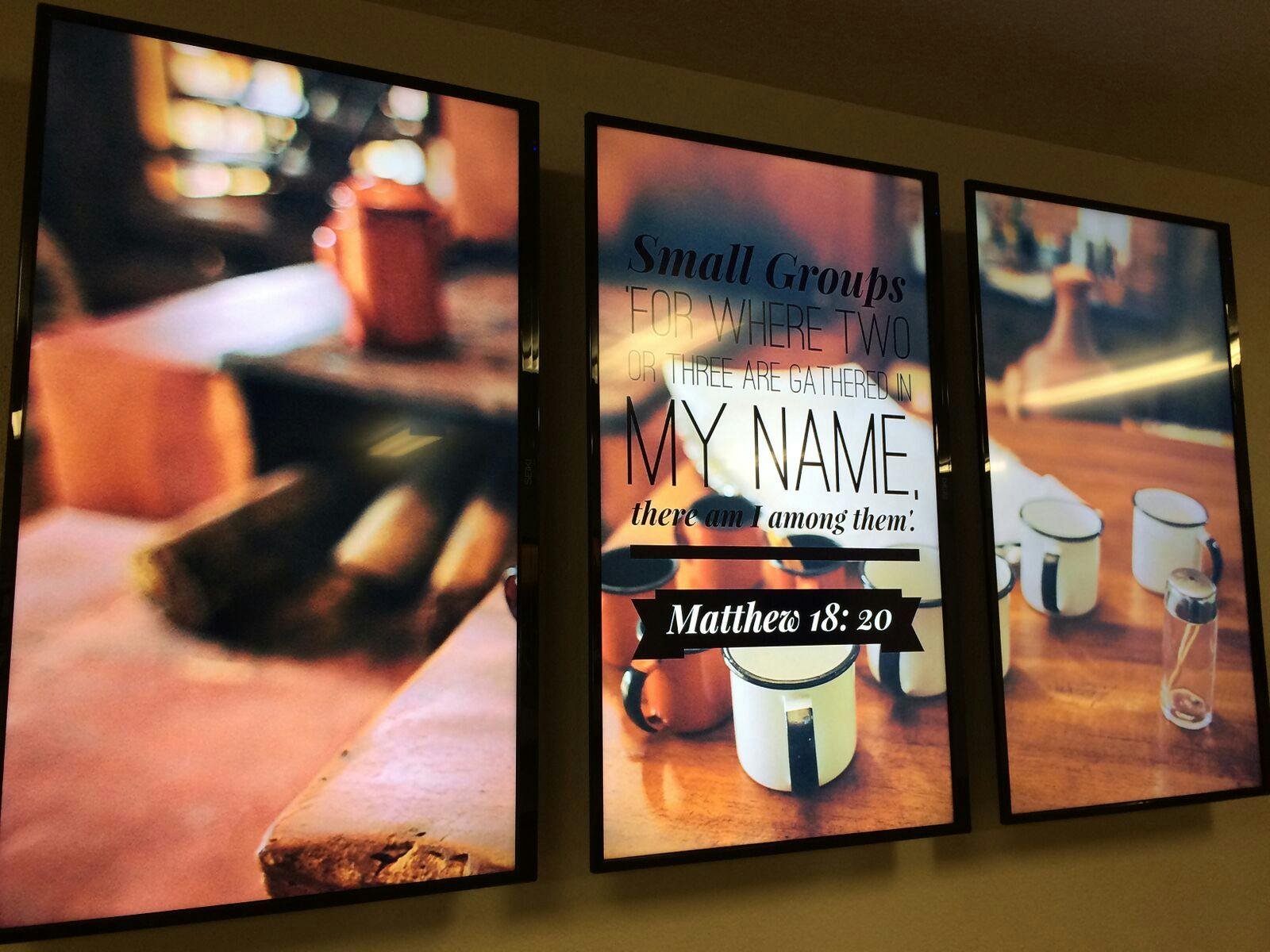 Using our content management system which is managed internally, these guys change their images weekly, creating regular posters for sermons and other events.
We feel that this is a true case study to show how digital signage doesn't have to be complicated or led by someone technical. With the right system and a little creatively, it's easy to get all of your information up onto screens in an aesthetic that's pleasing on the eye.
You can gather posts from the church's social media profiles, as well as pictures or videos that members of your community post on social media tagged with your hashtag, all in one unified feed that you can display on a digital signage.
What better to transmit a sense of belonging than a feed full of photos with emotive captions from your community and posts from your profile? Take The Church Without Walls, for example. 
This church in Houston uses their social wall to promote virtual bible study groups, highlight church members' achievements, post inspirational bible verses, share footage of services, and so much more. The wall collects content from both the church's social media profiles and community members, which instantly creates a feeling of community and tells the story of a congregation that sticks together.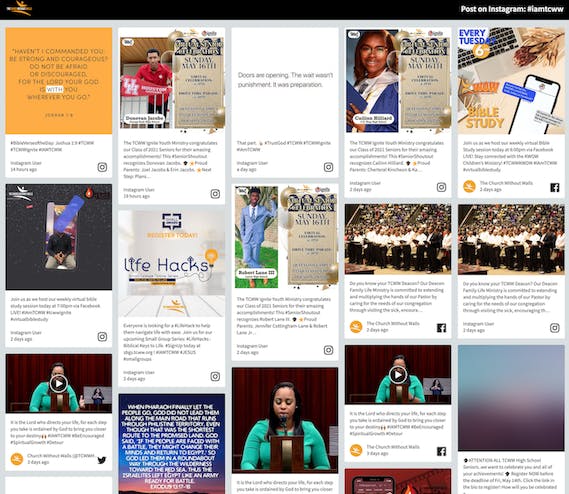 The Church Without Walls encourages people to use the hashtag #iamtcww on Instagram, Twitter and Facebook to be featured on the community's social wall powered by Walls.io. 
Church digital signage displays to facilitate learning at Legacy Church
We came across Legacy Church in a case study online and were impressed by their digital signage efforts as well as how many different use cases they had implemented. 
Legacy Church, based in Albuquerque, New Mexico implemented 60 individual screen displays throughout its campus as a multi-screen video wall for the foyer that could livestream sermons to guests on arrival.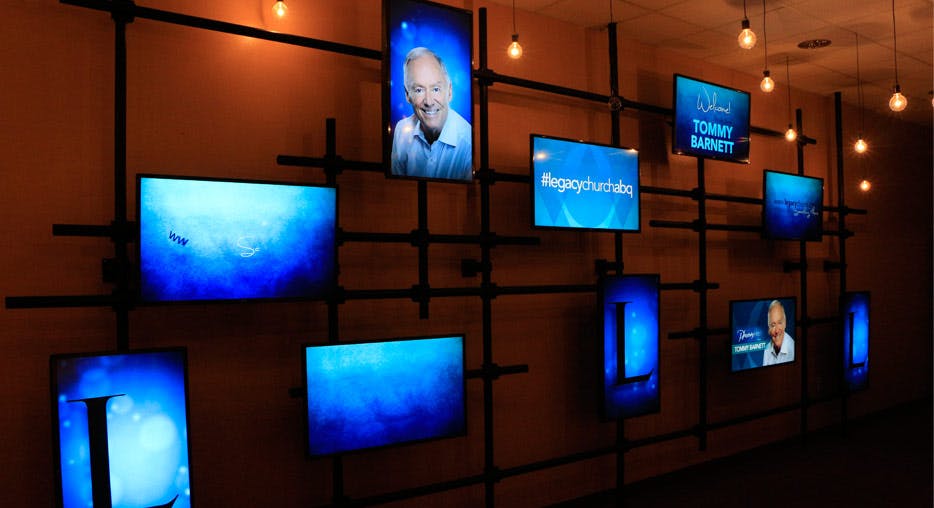 Many of the digital screens at Legacy Church support its classroom programme, with a screen outside each room that provides class details, instructor names and graphics specific to that class and lesson. This alleviates the need for staff who are solely positioned to hand out paper leaflets. The content is also setup on a schedule so that it updates itself in time with lesson plans. 
Digital signage 'prayer experiences' at Crossroads Church
As well as your 'standard' digital signage display used in churches to display information, updates and social media feeds, you also have those who really push the boundaries on what can be achieved.
Enter Crossroads Church, located across Ohio and Kentucky who used digital signage in order to showcase the 'power of prayer'. This is an art installation that was setup across a series of rooms, using digital signage through screens and projection to create different environments to help communicate prayer information.
The difference between this use of digital signage and traditional displays, is that it has been setup to create an immersive 'experience', where stories are brought to life and told to the audience. Yet unlike other experiences which need to employ actors, sets and so on, this one is made up of digital screens.
Key church takeaways:
Digital signage helps many churches old and new, to implement communication networks that connect better with audiences
The content shown on the screens need not be complicated - posters, image galleries and noticeboards all work great!
Using apps like those in the ScreenCloud App Store ensure that you don't have to be a designer or content specialist - let apps create the content for you!
To setup your own digital signage church display we offer a 14-day free trial of our digital signage cloud-based software. We also offer a 25% discount for all non-profit organizations. Visit https://screencloud.com to get started.