Publish content to your screens directly from Microsoft Teams
Learn More


The ScreenCloud Guide to Church LED Video Walls
Should your church buy larger TVs for your auditorium, or build a full LED video wall? Here's everything you need to know about building video walls for your place of worship
We come to church, in part, to disconnect from our daily lives and connect with those around us in our community. Phones silenced, ears open.
Screens, though, are an inescapable part of modern life—at places of worship as much as in the rest of our lives. They're the first thing your congregation sees as they walk in the auditorium and one of the last things they'll notice before leaving their seats. Welcome messages before the service, song lyrics and scripture readings during the service, and reminders about upcoming events at the close. They can help focus everyone's attention and tie the service together.
Your church needs signage that simplifies your AV team's jobs and makes your content legible from every seat—without screens going to sleep or showing HDMI signal issues during your service.
The benefits of video walls at church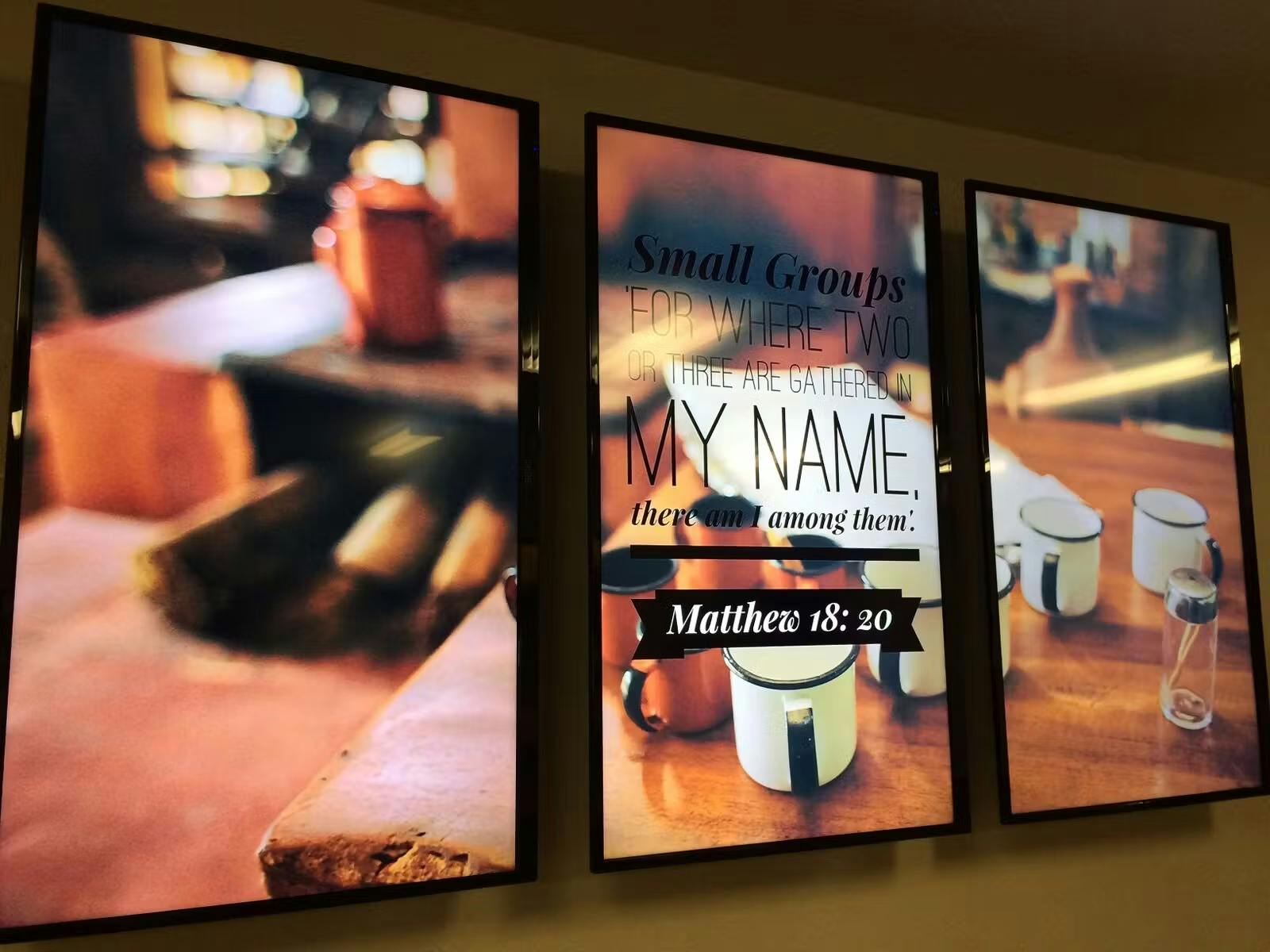 Churches began using the earliest signage decades ago, starting with overhead projectors and transparencies for song lyrics, and slideshows to share mission and outreach details or add story details to a sermon. Digital projectors were a drop-in replacement but came with their downsides. Projectors require a dark room, and their low contrast rates and washed out projections can make them a less-than-perfect solution for churches. Plus, you don't want your projector bulb to go out during a service.
Video walls are the next best option. From a simple TV on either side of the pulpit to stage-width LED video walls, with today's tech you can incorporate visual effects and the written word into services to enhance the message and engage your audience.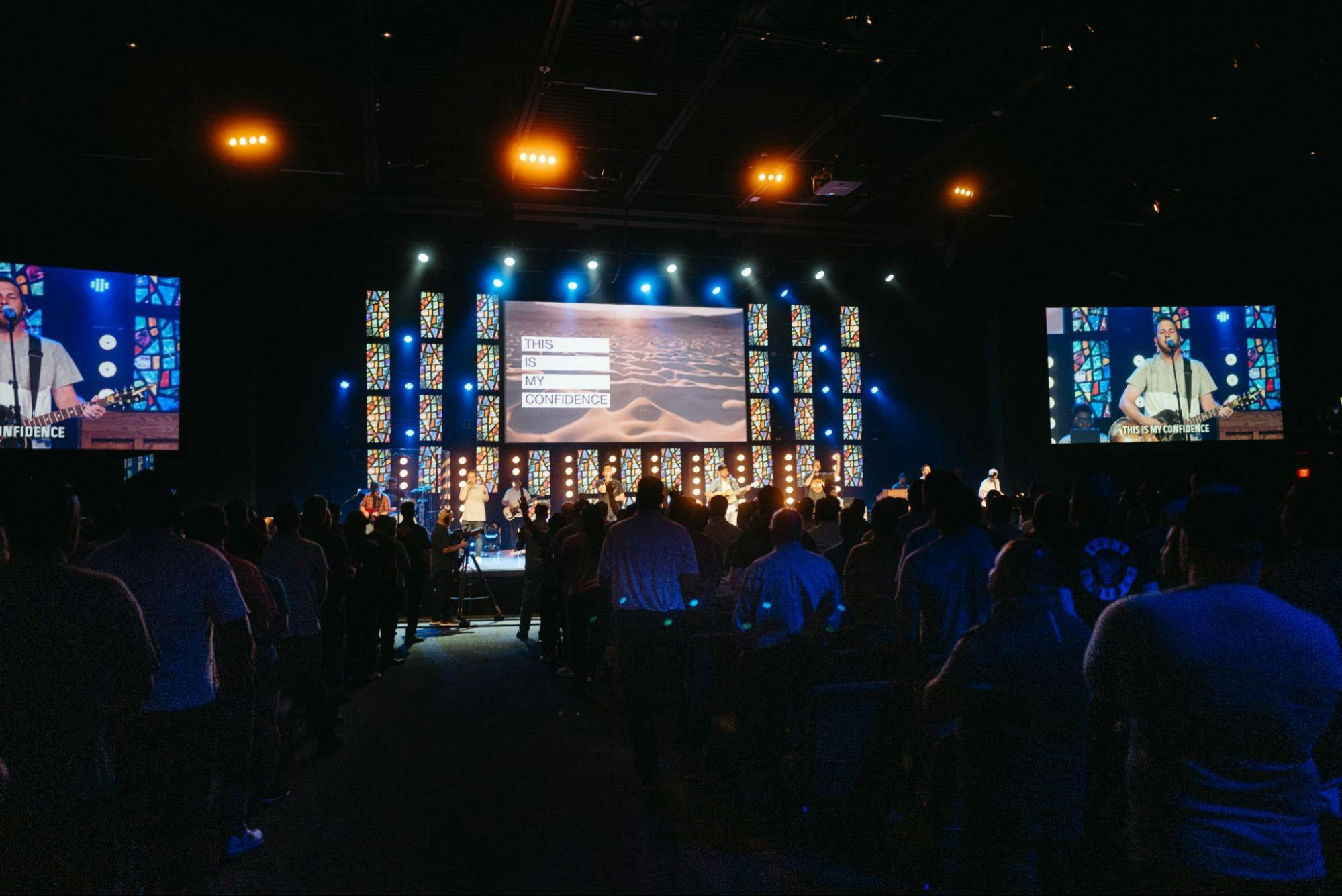 Your church likely wants to add a video wall for lyrics and presentations, but the greatest value digital signage brings to a church versus standard projectors may come before and after the service. You can welcome visitors with event-specific greetings, with scheduled content in your signage software. 
You could show today's date, weather, and upcoming events—or even turn your video wall into an advent calendar—with details that will make your congregation want to check the screens. And you can show donation info, social media info, or volunteer opportunities after the service, for a final call to serve. Those and more popular ways to use digital signage in church can help your worship team make the most of your investment.
And the benefits can go beyond the auditorium, with smaller signage throughout your house of worship. "Digital signage has just taken our campus to the next level in terms of aesthetics, communication, and professionalism," North Valley Baptist Schools media advisor Leslee Hussin shared. No more last-minute connecting laptops via HDMI cables—a video wall is what can make your church more professional, and your pre-service time less stressful.
The best digital signage options for churches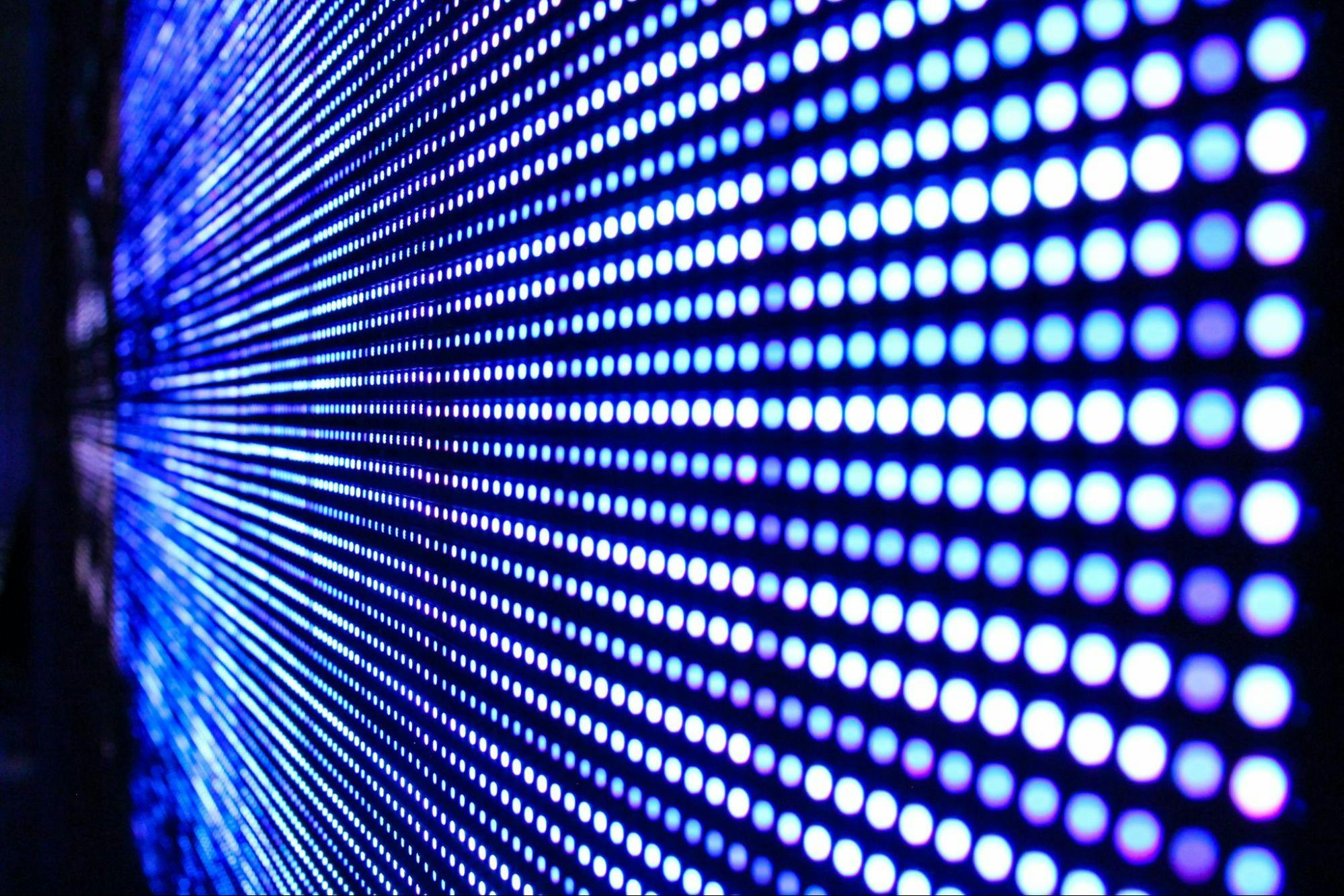 The best signage for your church can be as unique as your ministry. Church signage comes in all shapes and sizes. Legacy Church linked 60+ screens together into unique signage, while Faith Community Bible Church turned three vertical TVs into signage that shares sermon takeaways in the lobby. 
When you're taking the time to build out custom signage for your church, you can plan around limitations and create something that fits your congregation and auditorium's needs.
First, think about ideal screen size. How large of a screen does your church auditorium need? Live Design recommends using the rule of six to determine screen size: Measure the distance between your screen and the rearmost seat in your auditorium, and divide by six. A 3 foot or 1 meter tall screen should be easily visible by people 18 feet or 6 meters away. Level 3 recommends the 150:1 rule: If text on your screen is 1 inch tall, it should be visible by people 150 inches away. That could mean a smaller screen would work in a larger meeting room, as long as you use a large font size and, perhaps, only show one line of lyrics at a time.
Then, you need to choose between TVs or LED displays. Your ideal screen size helps determine which type of screen is best for your church. Typically, TV displays are best for up to around 100" screens, while LED video walls are better for larger screens.
TVs are the easiest option, but only work for smaller auditoriums. Among the professional TV displays we recommend, Sony BZ-series TVs max out at 85" (or around 43" tall), while Samsung's QHB-series TVs go up to 75" (or around 37" tall). Using the rule of six, that would be easily visible around 18 feet away. You could add more TVs, and put four together for an overall height of 86", though there would be a visible bezel line between the screens, and you would need a video controller without the plug-and-play simplicity of a single TV.
For larger screens, an LED video wall is typically a better option. You can fit together seamless LED panels to build as large of a church LED wall as you need. LED panels don't have bezels, so there will be no gap between each video panel section. You can also build a more creative video wall with LED panels, for a curved backdrop or a sectional display. They're more complicated to set up, and will require professional installation and controller equipment, but will give the best viewing experience for the largest auditoriums.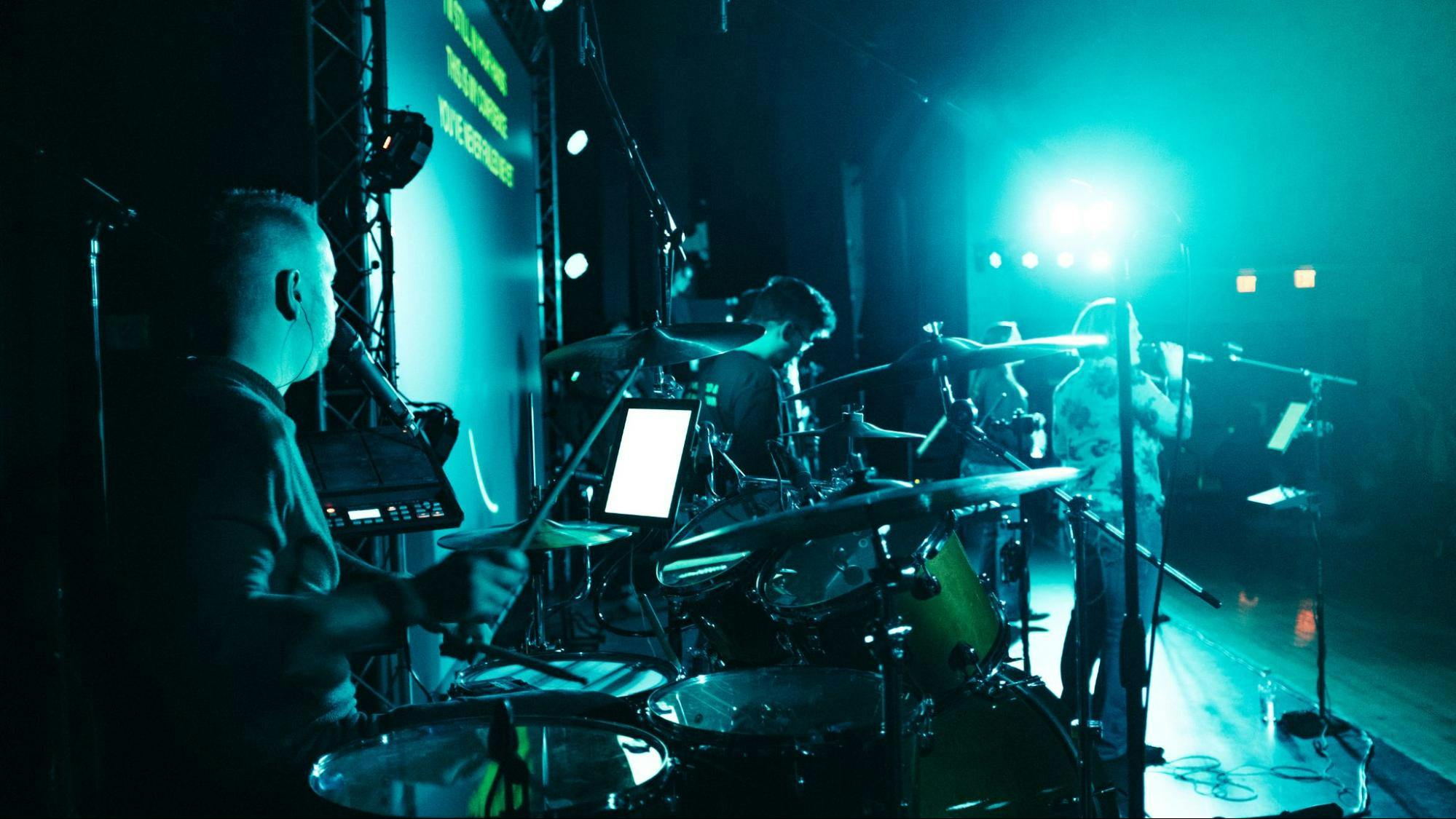 A few more factors to keep in mind when choosing between TV displays and LED video walls:
Brightness: TVs typically max out at around 1000 nits of brightness in HDR mode, and often run at only 300-500 nits. That's plenty for a dim room, but TVs can be hard to read—and reflective—with bright natural lighting or spotlights. LED video walls are not reflective, and can run up to 3,500 or or more nits, enough for outdoor environments.
Viewing Distance: While large screens are great for those in the back, keep your front row audience in mind as well. LED video walls use individual LED bulbs with 2-4mm gaps (or pixel pitch) between them. Have at least 12 feet between your screens and the frontmost viewers—more for LED panes with wider pixel pitch. Or, consider using TVs instead if there's not enough space between the platform and audience.
Controllers and Content: TVs seem the easiest to use. Just plug in an HDMI cable or use built-in Android TV apps and Chromecast to stream content. If you have more than one screen, though, you'll need a dedicated computer to power your video wall. LED video walls are the same. They require receiving cards to control the screens, as they don't have built-in HDMI ports.
Budget: A consumer-grade 85" TV might cost only $1,200, while a professional-grade 75" Samsung QBB TV might cost $2,300 or so. LED video panels start at $600 or so per 1.5' square pane, plus controllers and additional hardware. LED Nation offers a six-pane, 137" LED video wall for $8,395, while Elation Lighting mentions a minimum recommended budget of $50,000, depending on size and image quality.
Installation: A building maintenance team or local TV installers could hang a couple of 85" TVs, if needed. LED video walls will require professional installation, though. With each pane weighing as much as 62 pounds (30kg), you'll want a professional rigger who has installed signage before.
LED video walls are a great option for your church—they just need a bit more care and consideration than a TV would require. 
TVs can also be a great option to add additional signage to your classrooms or lobby, for directional signage and announcements before and after services.
What to think about when buying an LED video wall for your church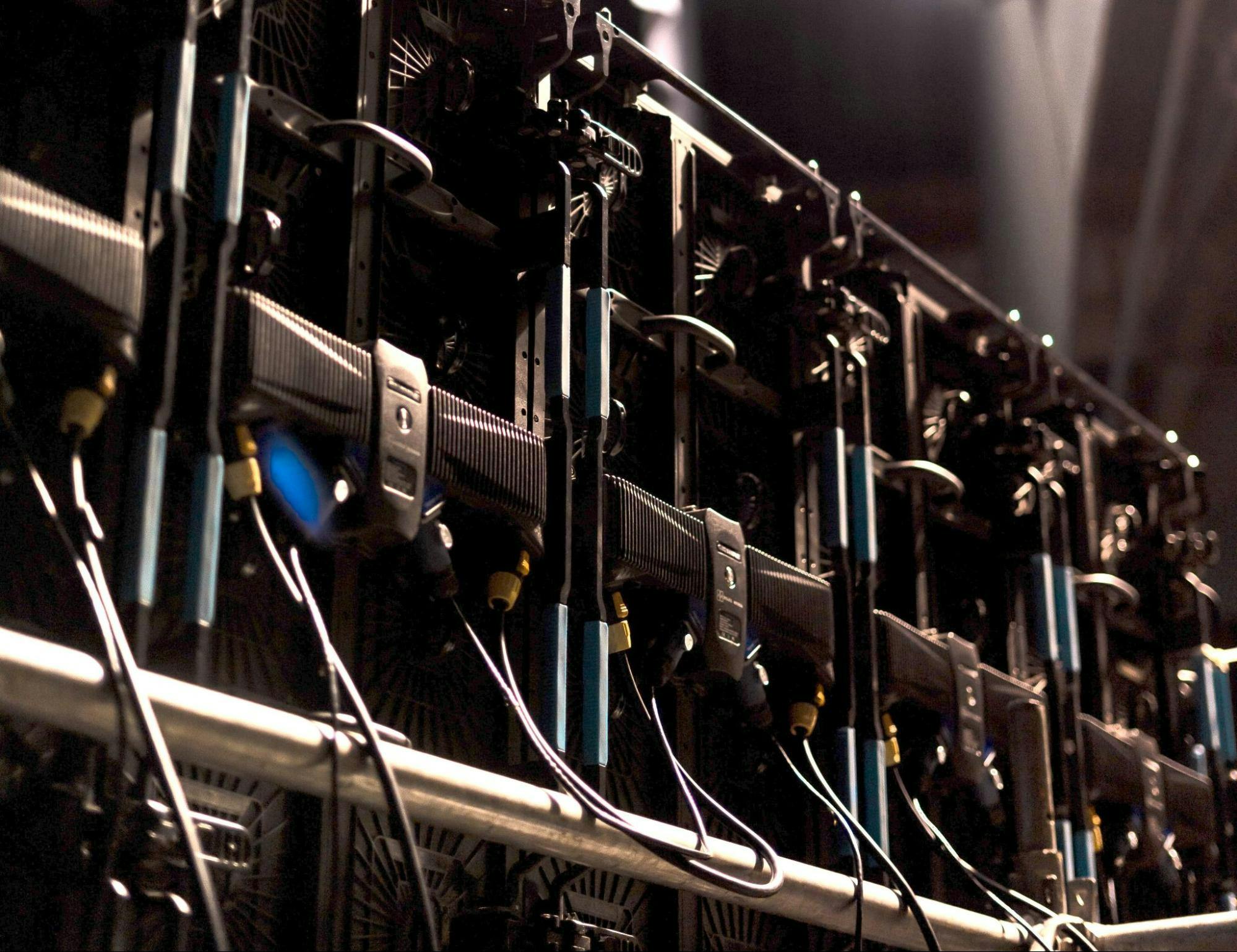 If an LED video wall is what your church auditorium needs, there are a few more things to think about.
Pixel pitch—or the distance between the LEDs on your panels—will make the greatest difference in both cost and quality. The smaller the pixel pitch, the higher the cost. Ideally, try to get LED panes with 3mm or less pixel pitch, for viewing distances of under 10 feet. They're best for videoed and live-streamed services. Wider pixel pitch will show up as moray effect in videos.
Brightness is another consideration. LED panes tend to be much brighter than your average TV screen—too bright, perhaps, for a dark auditorium. You can often dim the screen, which extends the LED panel lifespan as well (from their average default life of 50-100k hours). Experiment to find what feels dim enough to not overpower the platform and front pews while still being visible in the back of the auditorium.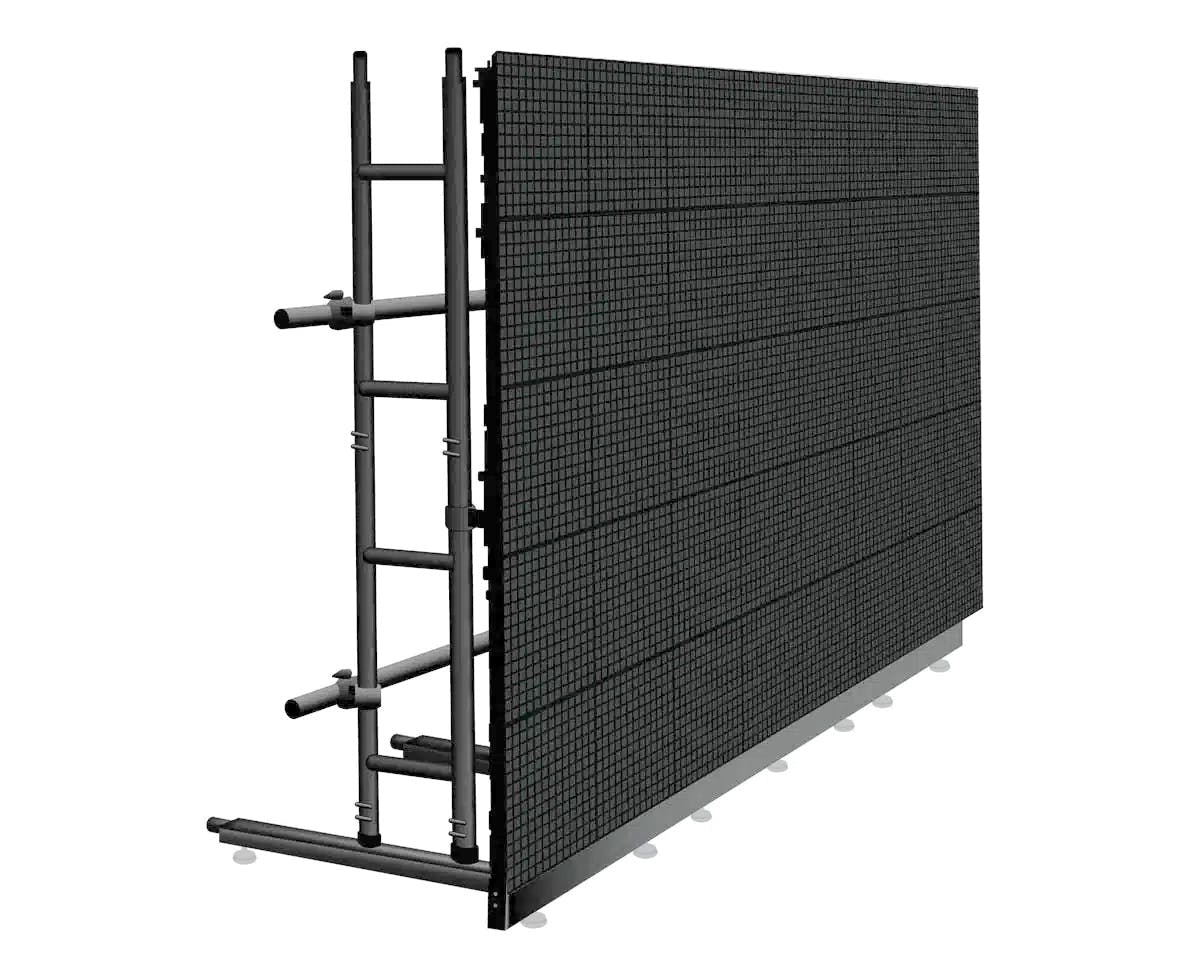 Finally, you'll need all the hardware to pull your LED video wall together. You could order individual LED tiles, but will also need equipment to connect, hang, and control the LEDs. LED Nation's basic setup, for example, includes six LED tiles, a video processor to convert HDMI signals for LEDs, a sending card to send video signals to the LED screens, CAT6 cabling to connect the screens, along with hanging bars, power adapters, and more.
Your best option is to find a local LED video wall installer to purchase and set up your LED wall system—and perhaps supplement that with individual TV displays for other uses around your campus.
Or, if you decide to build your church video wall with multiple TVs, check out our guide to setting up a video wall, complete with graphics card recommendations to split your video across all of the displays.
With your screens and the hardware to send videos to them in place, you'll then need a media player to stream slides, videos, song lyrics, and more to your signage. Individual TVs may include Google TV, and you could install the ScreenCloud app to turn the TVs into signage directly. A PC-powered TV video wall could run ScreenCloud's Windows app. Or, with an LED video wall, you can use the $95 ScreenCloud OS device for dedicated hardware to stream 4k video to your screens.
Bring your church video wall to life with software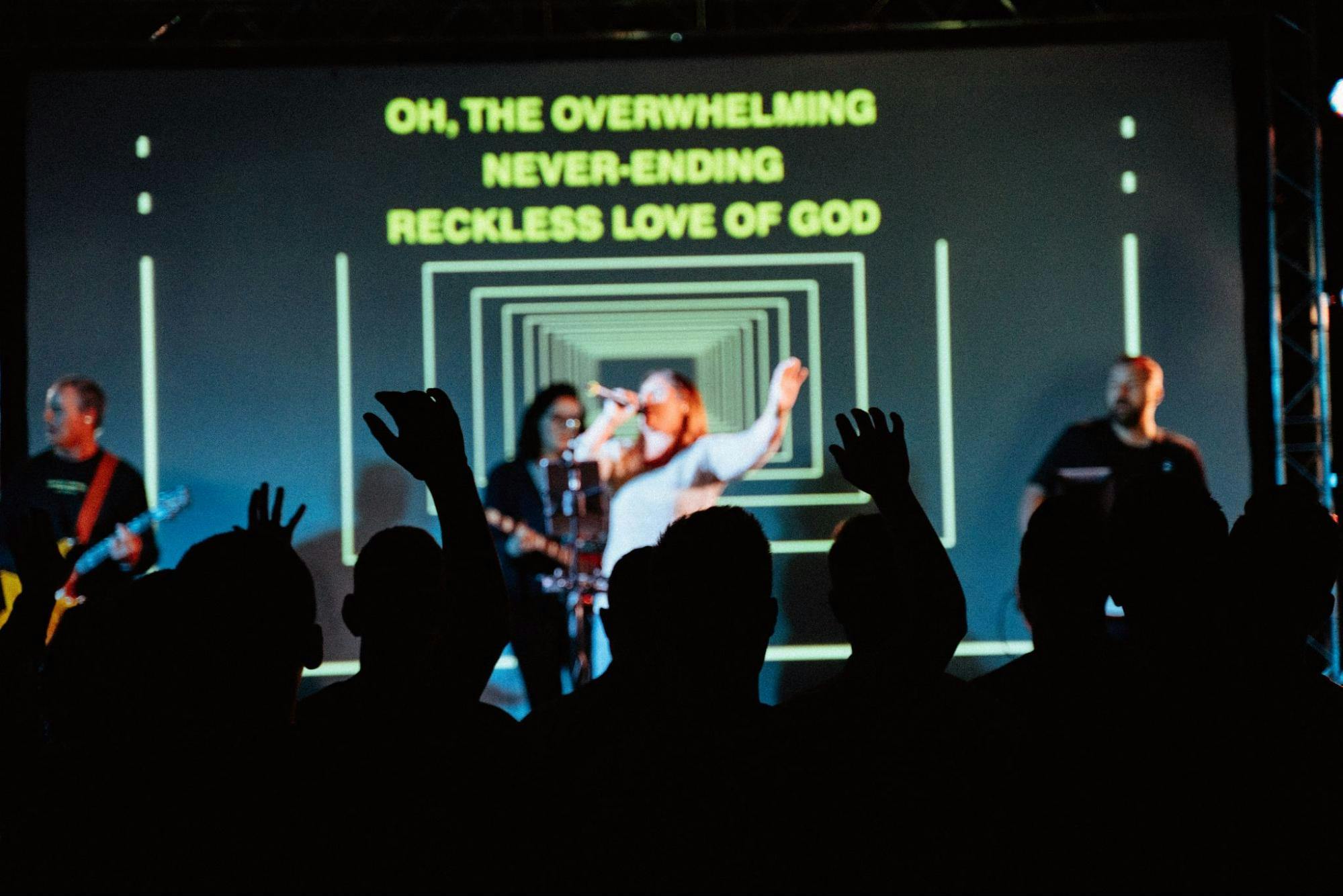 A screen alone is little more than an expensive black rectangle. It's the content, the songs and slides and storytelling that will let the signage make your services come alive.
Long gone are the days of printing songs on transparencies or throwing together a quick PowerPoint. Today's digital signage software lets you schedule and stream software to your church's video wall, without worrying about notifications popping up or your laptop going to sleep halfway through the message.
ScreenCloud, for example, is built for your signage's entire lifespan—not just during the service. That's why Faith Community Bible Church uses ScreenCloud, not only to show info during services, but to share updates in the lobby throughout the week. "We enjoy the ambiance that the screens create," said Pastor Jason Wolin.
Take events, for example. Instead of printing out bulletins and flyers, you can connect your leadership team's Google Calendar directly to ScreenCloud to show upcoming church events. Or you could use ScreenCloud's Canvas App to create slides about upcoming events. That's how Pflugerville Community Church increased event attendance by 75% with their video wall. "When I asked most people how they heard or where they got their information from," said church event coordinator Alisha Hall, "overwhelmingly we had people saying they saw the new signage."
You can even use social media on church signage to pull in praise and prayer requests from your congregation, paired with AI to automatically moderate posts before putting them on the big screen. Or your worship team could use Siri or Google Assistant to update your digital signage on the go during a service.
Then, during the service, ScreenCloud can play PowerPoint and Google Slides presentations. Or, your media team can cast any streaming media from any OBS video stream to your digital signage to show live lyrics, pre-recorded videos, or even Zoom calls to include guest speakers into your service.
It all starts with your church's video wall. Once you've added it to your auditorium, sign up for a free ScreenCloud trial, and make your new digital signage a core part of your church.
Image Credits: LED panel backs photo by Ben Tofan, LED wall close-up by Justin Lane, worship signage and header photos by Daniel Lee, and band and singing photos by Keegan Henman via Unsplash.
Ready to get your organization connected?
Connect your first screen today with our 14-day free trial
ideas