The power of an incredible digital signage playlist. It shows content at the right time. It speaks to the right audience. It ensures that you don't show beer with breakfast, or anything that doesn't speak directly to your target audience. Like all good marketing, it ensures personalization. 
The worlds of your employees, clients and customers are brimming over with noise, ads and stuff that they don't really want to see. Cutting through requires stealth. 
When it comes to creating awesome digital displays, playlists make the difference between really great marketing and marketing that's mediocre. Between content that connects the audience on a deeper level and content that gets passed without a second thought.
In this guide, we'll lead you through the steps needed to optimize your digital signage playlists for optimal effect. Helping you to segment, set up and choose what content to show and when.
Persona your audiences
Ever met a company that only has a single target audience? Me either. When it comes to digital signage your audience should be segmented by day, time, interest and the products or services you wish to sell.
Don't underestimate the importance of this. 
37% of consumers buy more from retailers who personalize the shopping experience across channels. One third of marketers also state personalization as the most critical challenge now and in the future of marketing. The biggest challenge? Gaining insight quickly enough (40%), having enough data (39%), and inaccurate data (38%). 
In an offline situation (where your digital signage will sit) this becomes slightly easier. You know the types of customers, clients or potential employees who walk through your doors at any one time. 
If not, here are three questions that will help get the cogs turning:
Are all of my customers from the same cohort or do they differ depending on time and day of the week?
If they aren't, which categories can they fall under? In business this might be clients, potential clients, employees and interviewees. In B2C environments perhaps it's more demographical - teenagers, parents, families or business people. 
What do they want with me? Are they there to browse or to buy? Will they be making an instant decision or will they need to come back? Thinking about buyer intent is essential to all industries. 
Playlist personalization in a real use case
Our awesome customer Mamuska, a Polish kitchen and bar, recently did this exact exercise. 
Here's a diagram of what they found: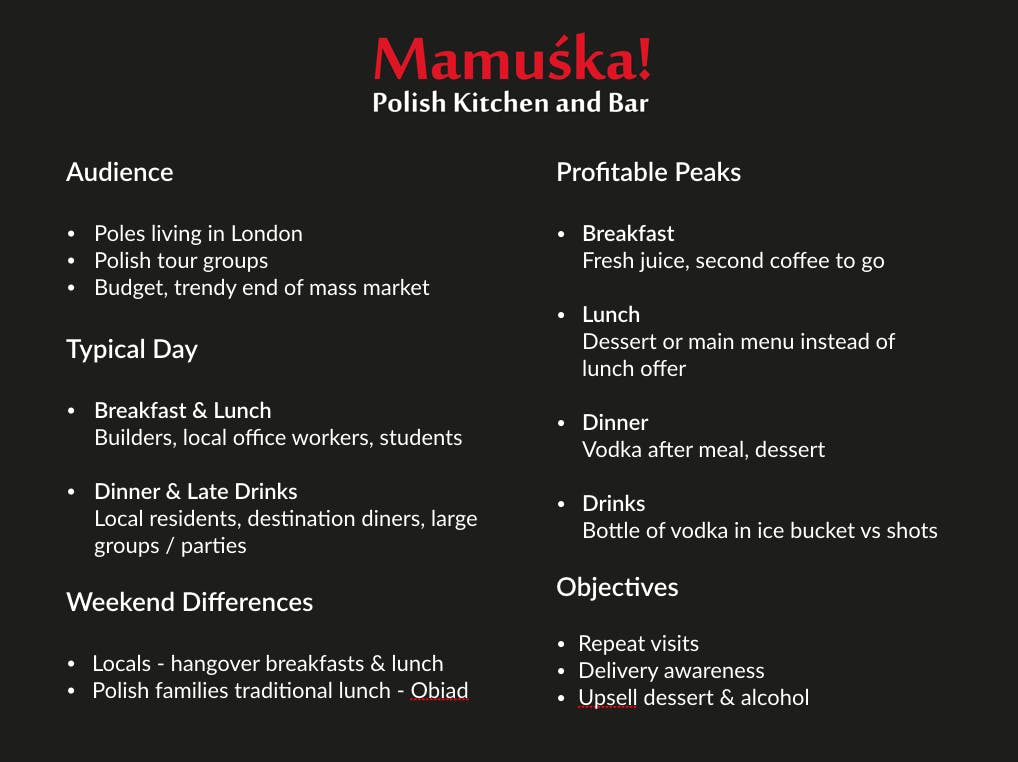 As you can see, there are a ton of different ways Mamuska can cut through their audience. From the type of customer, through to the time they visit and the motives behind it - are they stopping to grab a coffee or sitting down to a traditional family lunch?
From this, Mamuska has been able to individualize each and every screen they own. They have external screens showing menus, company news and hero products (objective two achieved - their customers now know they deliver). Their internal screens showcase delicious desserts and videos of their premium vodka - upselling the products without them having to mention it. They also know how and when to integrate live entertainment  such as Polish football and X Factor, because they know when that audience is likely to be nearby.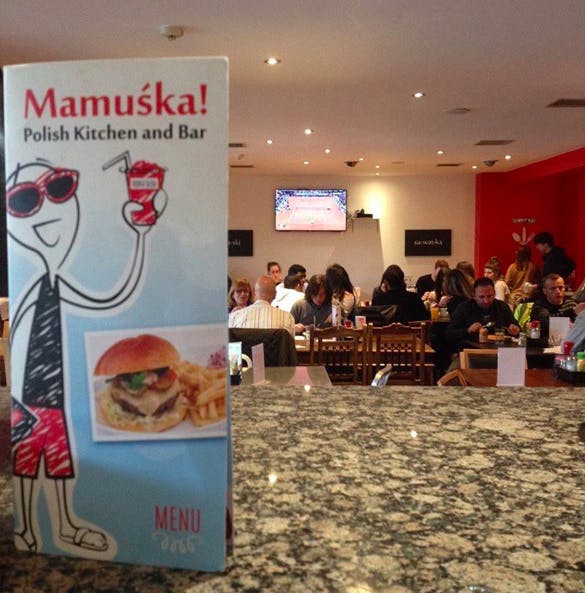 When it gets late, the likelihood of them catching diners is slim, so they switch their content (using a predefined playlist and schedule) to tell people what drinks and late-night snacks they have available.
All in all, an excellent case study in how to really dig-deep into your audience and set up your content for success. 
Create content
What are great playlists made of? Great content. Here's a little known secret to modern day digital signage: it's actually pretty easy to create amazing content for screens.
Firstly, you have content you already own in the form of images, videos, presentations and dashboards. Wouldn't it be great if you could just upload this into your playlist? Well, guess what, you can! Uploading content to a digital signage CMS such as ScreenCloud is easy - as easy as uploading an image to Facebook or adding one to Dropbox in fact. If you don't believe us, give our free trial a go and see for yourself.
But uploading content is only half of the story. The key attribute of any digital signage system is that the content is adaptable and easy to edit. So that when you need to delete a couple of slides from a presentation you can. From anywhere. Even if you're a million miles away from the screen.
As well as the content you already own you also have the option of digital signage apps. Enter the ScreenCloud App Store. 
A ton of useful tools, ready and waiting for you to use.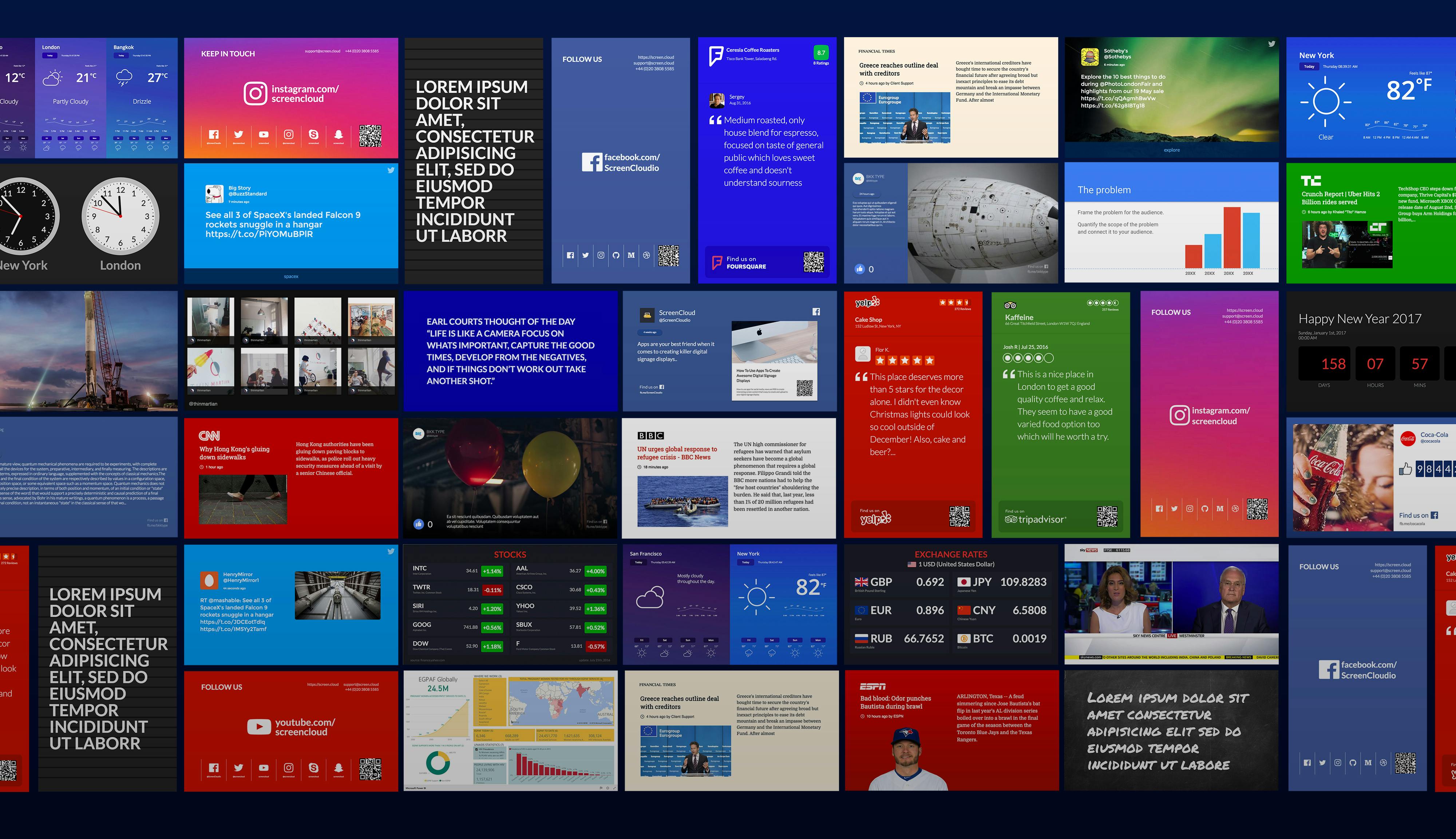 The beauty of the ScreenCloud App Store is that it takes away any time or resource needed to create content. No design or marketing programs here! Simply choose your tool (social media, dashboard, meeting room software, news, world clock, weather), choose your settings and you're ready to add to your playlist.
If you need help selecting or setting up, check out our post on how to use digital signage apps to create awesome displays. 
It really couldn't be more simple! 
The Optimal Playlist Format
I'd like to give you the magic formula for playlists, really I would. But unfortunately it does require a little test, measure and reiteration to find. This will differ between industry and audience persona too. 
For example, if the person viewing your screen is going to be there for an hour, you need far more than 10 minutes of content. If they're only going to catch a glimpse then you may want to keep your messages short, sweet and on repeat. Also, what works for one audience may not necessarily work for another - for example, children get bored much more quickly than adults!
We recently exhibited at a tradeshow and spent many hours debating over the best way to show content and how it should be positioned for the people we would meet on the booth. We knew that some would walk by, give us a look and leave. Others would stand and chat for a while and some may have a specific use case for us to demo.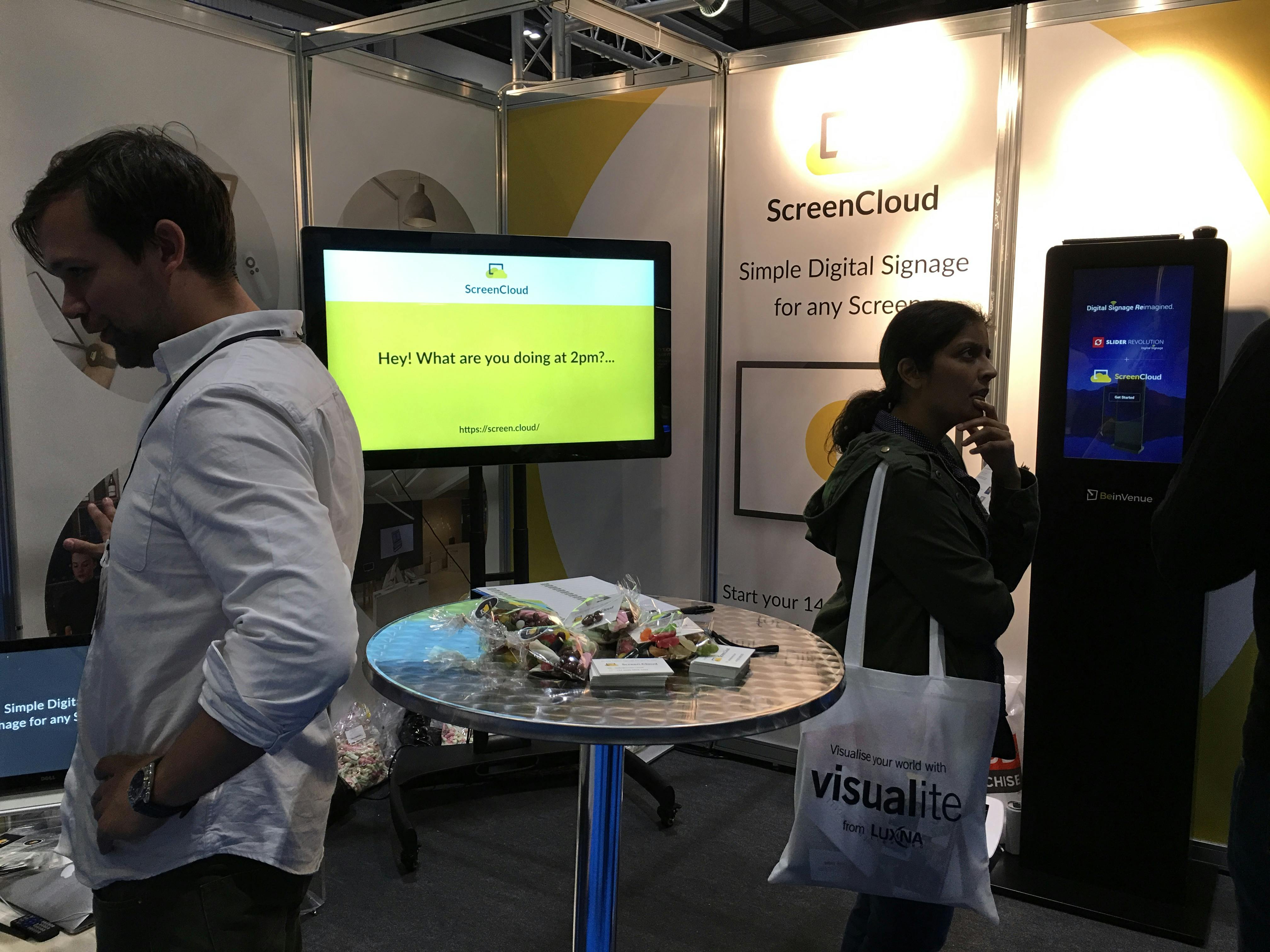 In response, we created five playlists of nearly 30 items, each showing for 7-8 seconds. This didn't take long at all! Particularly as we could duplicate the playlist and then make changes as we went.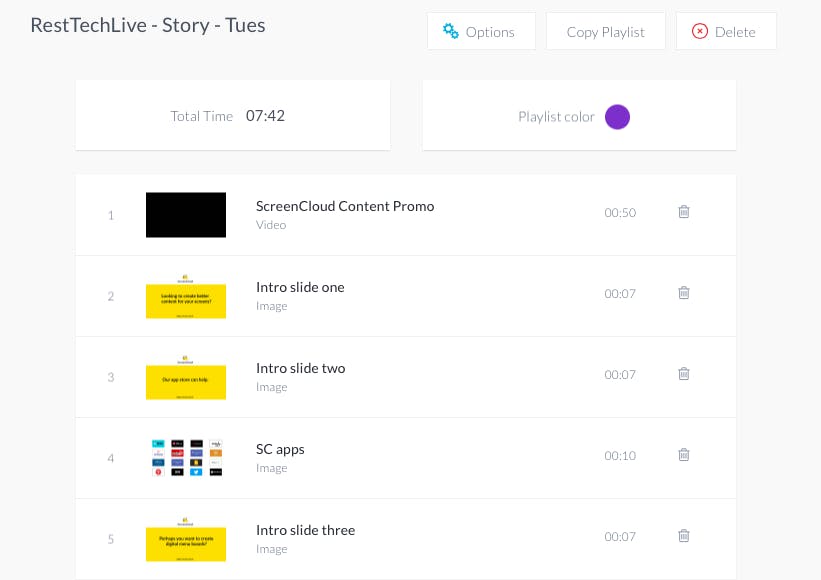 This 7-8 second viewing time of each piece of content felt natural when we checked the playlist back. It was enough time to scan the message but not too long that we got bored watching.
Top tip: if you don't have a screen to hand you can use your PC to review your playlists by choosing 'screen preview' from the ScreenCloud 'screen' section.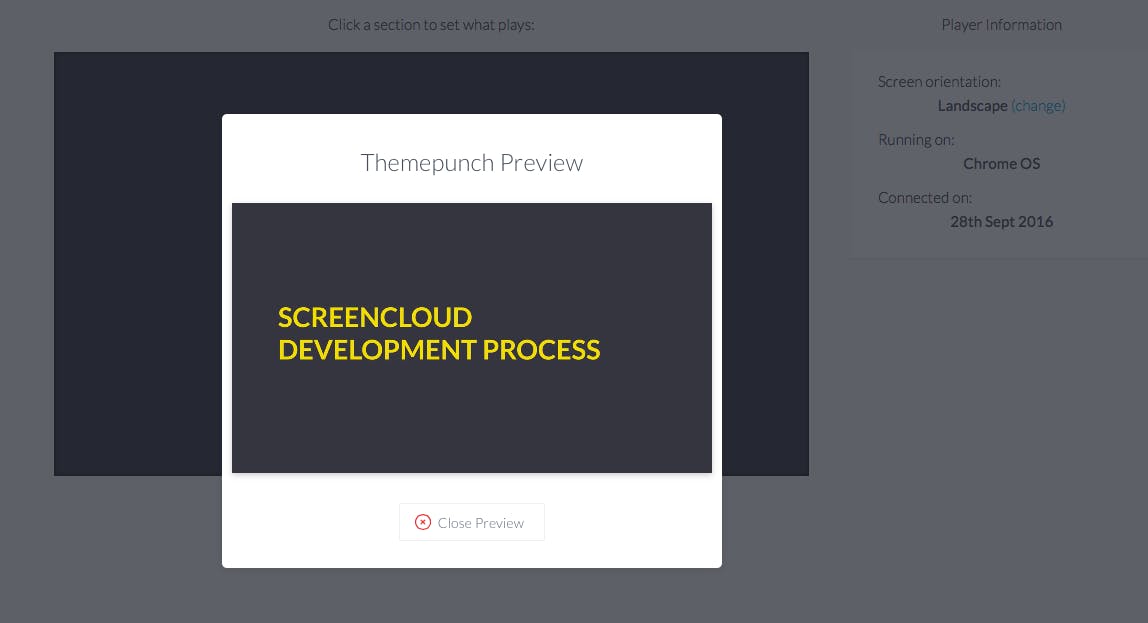 We managed to show many different pieces of content in our playlist and we used slides created in Picmonkey to anchor this together. For example, introducing our App Store feature, then moving on to the next slide showing what it could do. This created a story and synced together the content seamlessly - regardless of whether our audience was there for 10 minutes or 10 seconds. 
We then repeated the playlist throughout the day using our scheduling tool.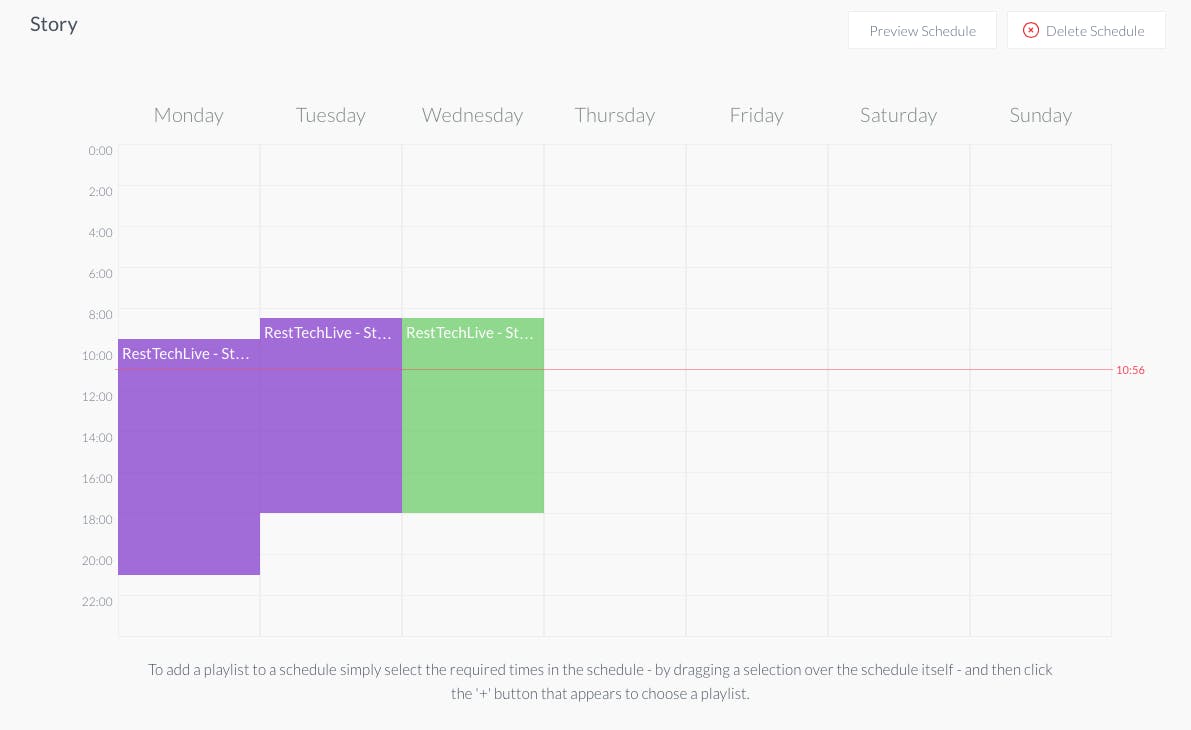 We also ensured that the playlist showing was relevant to time of day and the real time activities going on. This meant one playlist for AM, welcoming people to the show, showing breakfast menus (it was a show aimed at restaurateurs) and reminding attendees that we would be giving a presentation at 2pm. Then another for the afternoon, providing messaging consistent with the rest of the day. Once the presentation was over, we swapped to a playlist without the presentation slides, but it would have been just as easy to log in and delete them too. 
Lastly, we had a playlist full of great case studies and demo content ready to wow our audience with what we could do. 
This is just one example of a playlist and schedule that worked really, really well for our audience showing how a little thought (and a lot of testing) really does go a long way.
Going the extra mile…
Once you have all of the above nailed (and it won't take long) here's a little tip that will upgrade your playlists and scheduling to digital signage 2.0.
A/B tests
With your digital signage you can create A/B tests for calls-to-action, images, videos and wording just like you would on the web.  
For example, why not use a promotion code that's slightly different on two different slides and alternate them. Then, when your customers use the promo code, you can determine which slide was more effective. This is a great way to improve your digital signage displays as time goes on. 
And we're all about being the very best you can be. 
Creating the right content at the right time, for the right audience
This is all simple marketing practice when you get into it, but with digital signage it really can make all the difference. You'd be forgiven for thinking that creating playlists and personalizing content is difficult but that's where ScreenCloud really excels. It's made for you, by people like you who have spent far too long becoming frustrated with antiquated digital signage platforms.
We'd love for you to experience it. Sign up to our 14-day free trial and get started today.