Publish content to your screens directly from Microsoft Teams
Learn More


ScreenCloud is a great tool for sending any content to any screen. And if you want to send content to multiple screens, across multiple locations that's easy too. But what if you want to send content to a video wall setup, where more than one screen makes up a single display?
In this guide we'll talk you through how to use ScreenCloud with video wall displays and everything you need to know.
What is a video wall?
A video wall is a group of screens, or displays, put together to create one large screen. Even though multiple screens make up the display, content can be used either separately across each monitor, or as one big picture, by splitting content across individual screens.
Why use a digital signage video wall?
Video walls are often used in digital signage when the user wants to create a larger display. This might be to garner more attention, to allow a bigger audience to interact with the screen (as shown in the Lenovo use case below), or to allow more room for content displays such as text, presentations or diagrams.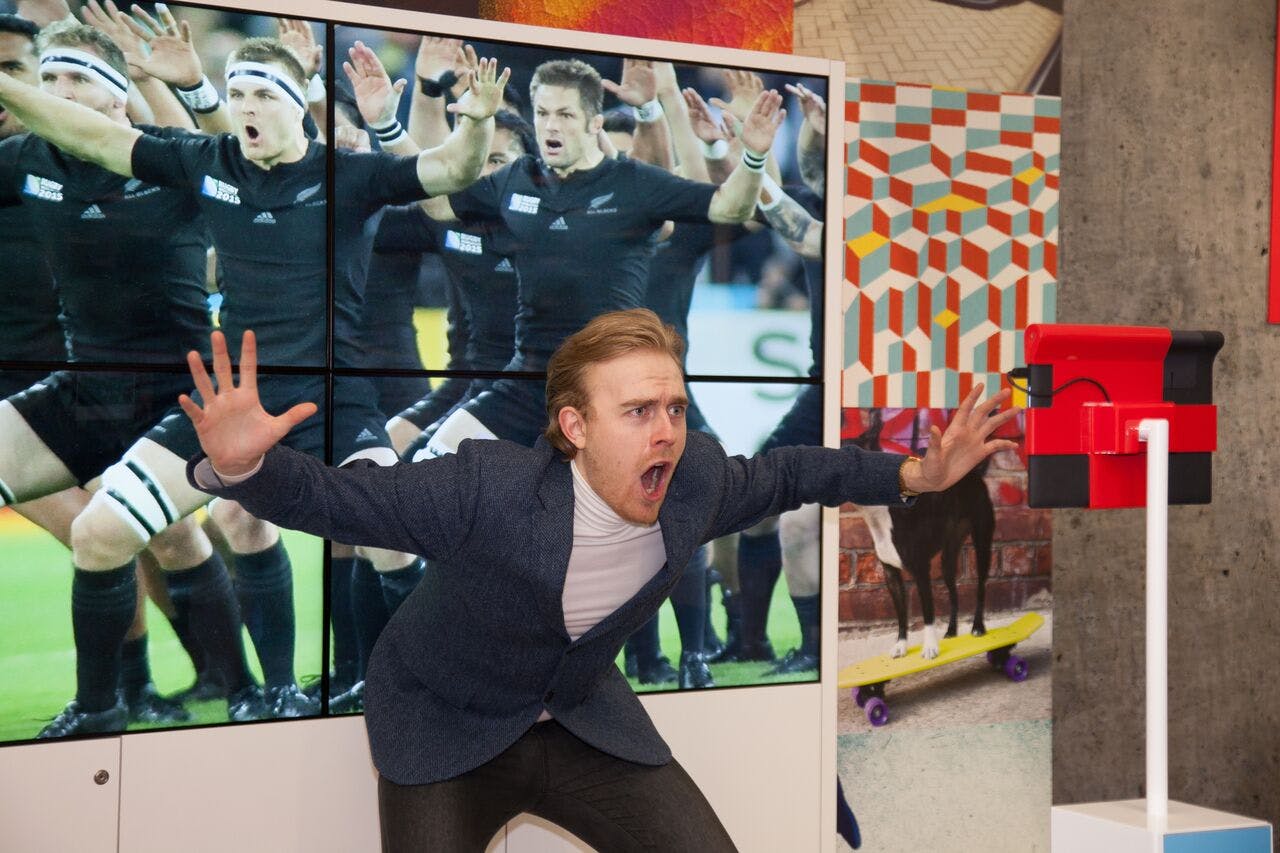 Video wall digital signage use cases
Video walls can be used for a variety of use cases, including events, within retail, corporate offices, receptions, restaurants or more. Basically, anywhere you might implement a single screen, providing you have room, could also be used as a multi-screen video wall display.
Setting up your video wall with ScreenCloud
For a more in-depth guide on how to set up a video wall for digital signage, check out our knowledge base article here.
Right now, ScreenCloud does not synchronize perfectly between individual devices. This means, for a multi-screen video wall, it's not possible to simply pair each screen with ScreenCloud and set the same schedule to play. Doing so, could result in a fraction of a second difference due to the variances in individual device's internal clocks.
Therefore, if you want different content to play across each screen within your video wall, you can use ScreenCloud without any other system required. Simply pair each screen to your ScreenCloud account and set your content to screen to determine what plays in which area.
However, if you want the same content to play as one image, just split into individual screen displays, you need a little extra help.
First, you would need to add a PC to your display with an AMD Eyefinity graphics card or the Nvidia equivalent. This would allow the Operating System to see multiple displays as if they were one. These graphics cards also have multiple (4-6) DisplayPort outputs, so that no HDMI splitting is needed.
Examples of cards you might use are:
The AMD FirePro 4100
The AMD FirePro 600
The Nvidia Quadro p600
The Nvidia Quadro p1000
The Nvidia Quadro p2000
The benefit of this method is that you would only need one ScreenCloud license to run all of your screens, as they are viewed as one by the operating system. By loading ScreenCloud on the PC, you will then be able to load one set of content, like a Channel or Playlist and split the content to play across multiple screens simultaneously within a video wall formation.
How to set up a two up to four screen video wall with ScreenCloud
For customers with video wall setup for up to four displays, we recommend Intel NUCs, as they are easily purchasable and Intel has good documentation on how to set them up. For four displays, Intel recommends the Intel NUC12WSKi5 Pro, NUC12WSKi7 Pro, or the NUC12SNKi7 Pro which you can get it from our partner Simply NUC.
Please note: Currently, ScreenCloud's multiple display functionalities are only available on Windows-based media players that support multiple display outputs in collage mode; i.e. extended desktop mode. The displays also must be in symmetrical layouts, meaning you can only use your screens properly if they are either all side by side or fully stacked on top of each other. For example, with a setup of 3 screens, unfortunately, you will not be able to have a pyramid-like setup with 2 displays on the top and 1 on the bottom, as ScreenCloud will not be able to make that custom layout of available space usable. However, what you can do is place all the 3 displays side by side.
Below, are the 3 steps needed to get an Intel NUC powering two up to six displays to work properly with ScreenCloud. Check out our article on how to set up a video wall for digital signage here.
1. Check here and make sure the Intel NUC you want to use supports your desired number of displays.
For example, when we've chosen an Intel NUC 12 Pro we navigated to Intel's page Multiple Displays for Intel® NUC 12 Pro [Kit/Mini PC] NUC12WS[x][x] and we chose the Three Display setup via the HDMI port for one screen and 2 screens through the USB-C port.
2. Install the Intel Graphics Control Panel app, as you'll need to use this to configure your multiple displays.

Click here on Intels How to Install the Intel® Graphics Control Panel guide to begin downloading the Intel Graphics Control Panel. Your graphics control panel will vary according to your device.
3. Once you have connected your displays they will show in the Intel Graphic Control Panel app. In the Intel Graphics Control Panel, enter into the "Multiple Displays Setting", then navigate to "select displays"and enable the "Collage" settings. Next select "apply" and confirm the settings so that both displays will act as one continuous display.
4. Now that your single desktop screen has been spread across your group of video wall monitors, go to our ScreenCloud Software page and download the latest version of the Windows app.
5. Once you have finished downloading the ScreenCloud player app, your screen should look like this:

6. Once you have used the pairing code to add the screen to your account, you should get a view of a screen preview that has the exact ratio of your video wall. Here, with the screen specifications on the right, we can see that the dimensions are 5760x1080 px.
How to set up a four, up to twenty-four, screen video wall with ScreenCloud
For something much larger, from a four-screen video wall, up to a twenty-four-screen video wall display, we recommend using iBase PCs. You can see their digital signage media players (PCs) here. With iBase we recommend getting support from their sales and support teams more directly as setting up such a huge display can be complex.
Video Wall Controllers for Digital Signage
Video wall controllers are a great alternative means to display content to multiple screens - if your device does not already have this capability built-in, such as with an iBase or Intel Nuc.
A video wall controller is a device that takes a single input and outputs it to multiple displays, creating a large, high-impact visual experience for your audience. Some of the advanced features of these controllers are automatic calibration, edge blending, image rotation, and tools for managing content. Video wall controllers also give you a more creative and dynamic way to show your content, like putting it in a grid or spreading it across a curved or oddly shaped display.
Some of the video wall controllers we recommend for digital signage are from the companies ISEEVY and J-Tech Digital. To learn more about video wall controllers and to get detailed recommendations, check out this article here.
For further support setting up your video wall, contact our team on support@screencloud.com.
Ready to get your organization connected?
Connect your first screen today with our 14-day free trial
product