Below is an excerpt from our full guide to Corporate Communication Tools, including HR, Employee Engagement and Central Communication tools. Head here to download the full guide for free..
Our organizations are hubs of information. If you use Slack, a seriously popular communication app, then did you also know that you can get analytics on how many messages are sent? It's kinda scary to look at, especially when you realize that just at ScreenCloud, we send around 60,000 messages each month.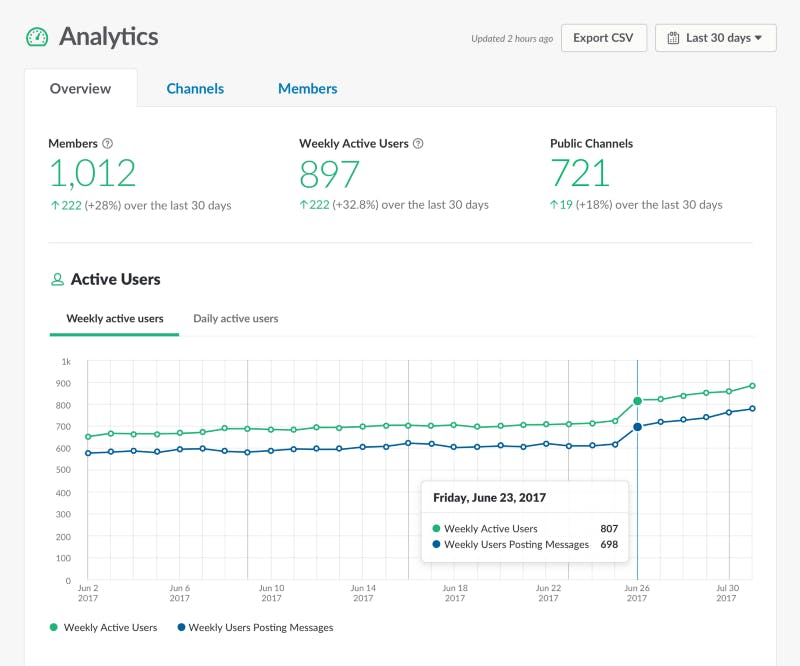 A screenshot of Slack's Analytics dashboard.
The even scarier thing? That's just Slack. Don't forget about all of the other data points, some of them probably even more crucial, telling us about our product metrics, our customers, our team, our budget…. the list goes on.
So you recognize the scenario: you have lots of data and information within your company. The difficulty, is getting this data seen.
Employees forget to check the company intranet, information is siloed to one department and teams just don't have time to open more emails. We know it well. That's why tools that help to surface data and information easily serve an important purpose in the modern workplace.
The importance of information sharing in the workplace
Here are some of the reasons why it's so important to share information cohesively in the workplace:
Reduce silos
If information is only available to specific employees, or teams, then not all decisions made are equal. At the very least, all teams need access to the same information, even if they choose not to seek it out. This ensures that everyone is on the same page, at all times.
Increase staff productivity
Colleagues who have access to all of the same resources are able to make better, faster and more accurate decisions. Teams are able to work together cohesively and this helps the organization to stay ahead of competitors. Teams that are aligned with key company information likes goals and north star metrics, are able to work towards them more efficiently.
Improve staff engagement
Employee engagement is a key aim for organizations. Without access to the right information, employees get confused about how their efforts align with the company goals. It can also leave them at a disadvantage if they're acting without full information.
Drive with data
Regularly sharing information with employees helps them to make decisions that are driven by data. Organizations that understand, and use, their data tend to be more successful and having this information available is the first step.
Surfacing data and information can seem intimidating to those who aren't used to joining up their systems. The modern day tool that effectively serves up data and information is:
Easy to use - so data isn't left siloed in one team or place
Able to update in real time
Highly visible for all teams
Motivating and rewarding to see and absorb
Updated and optimized automatically
Accessible - and not just for high-level projects
Now you understand the purpose behind surfacing information and data, let's look at some tools which may help surface information in the workplace, and that meet the criteria we've laid out above.
1. ScreenCloud
Our digital signage tool ScreenCloud is what we like to call an "information radiator". It takes information from multiple sources (your Slack channels, Google Slides, image galleries etc) and makes it easy to display that information through TV screens. These screens can live in offices, stores, restaurants or team rooms, anywhere you like really. ScreenCloud's cloud-based software means information can be updated or changed with a click, and business teams are no longer shouting into an ether without being heard.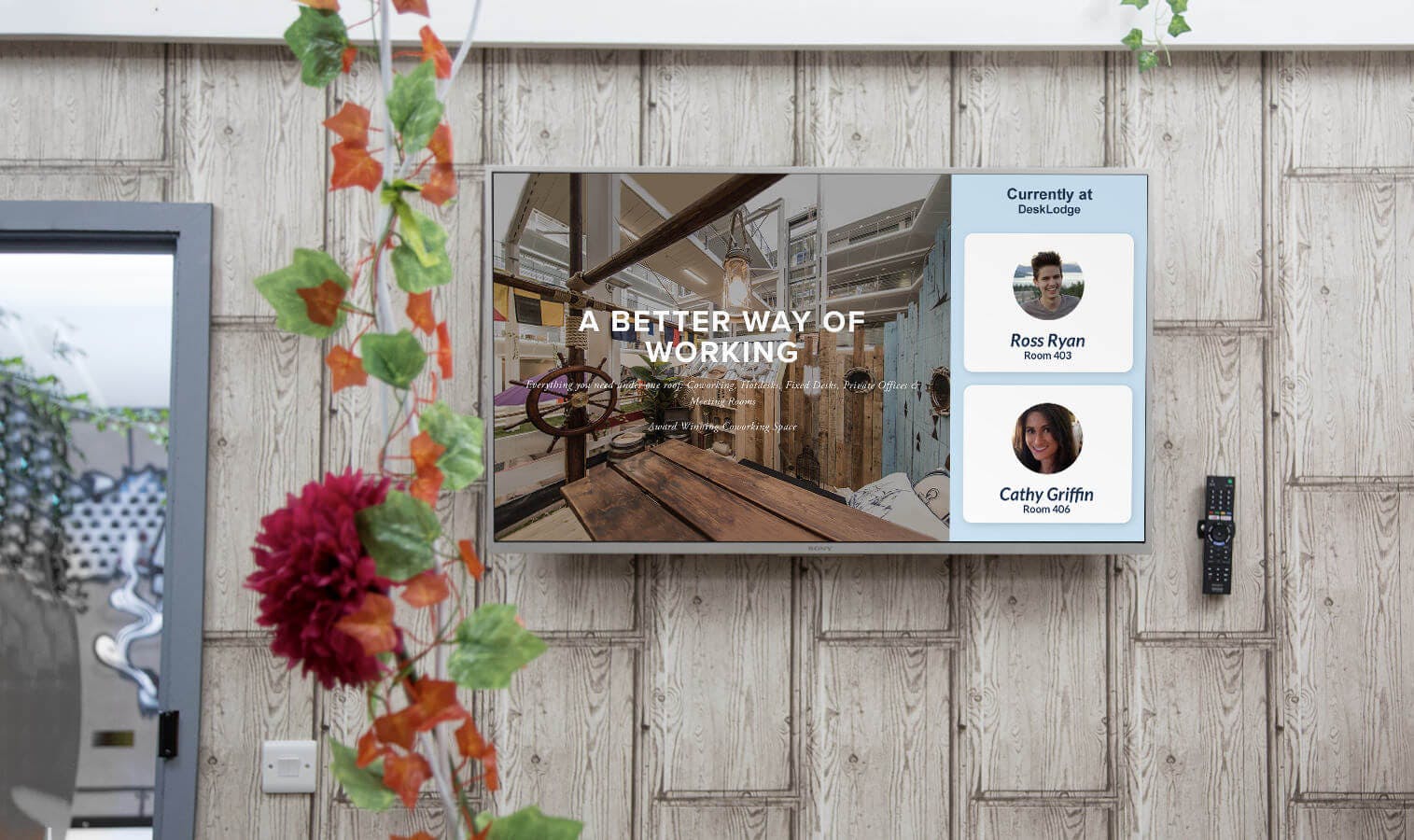 Desklodge use digital screens to connect coworkers within its working space.
Three core functions include:
70+ app integrations to take information from where it already lives
Users & teams - allowing different access to different screens
Smart-scheduling for specific content to show on certain days
Best for: creating information radiators for organizations focused on improving internal communication
Feature we like: Pre-designed apps take content and make them design-ready, meaning anyone, from HR to Marketing, gets to create beautiful content and display it on screen, with no design or technical experience required.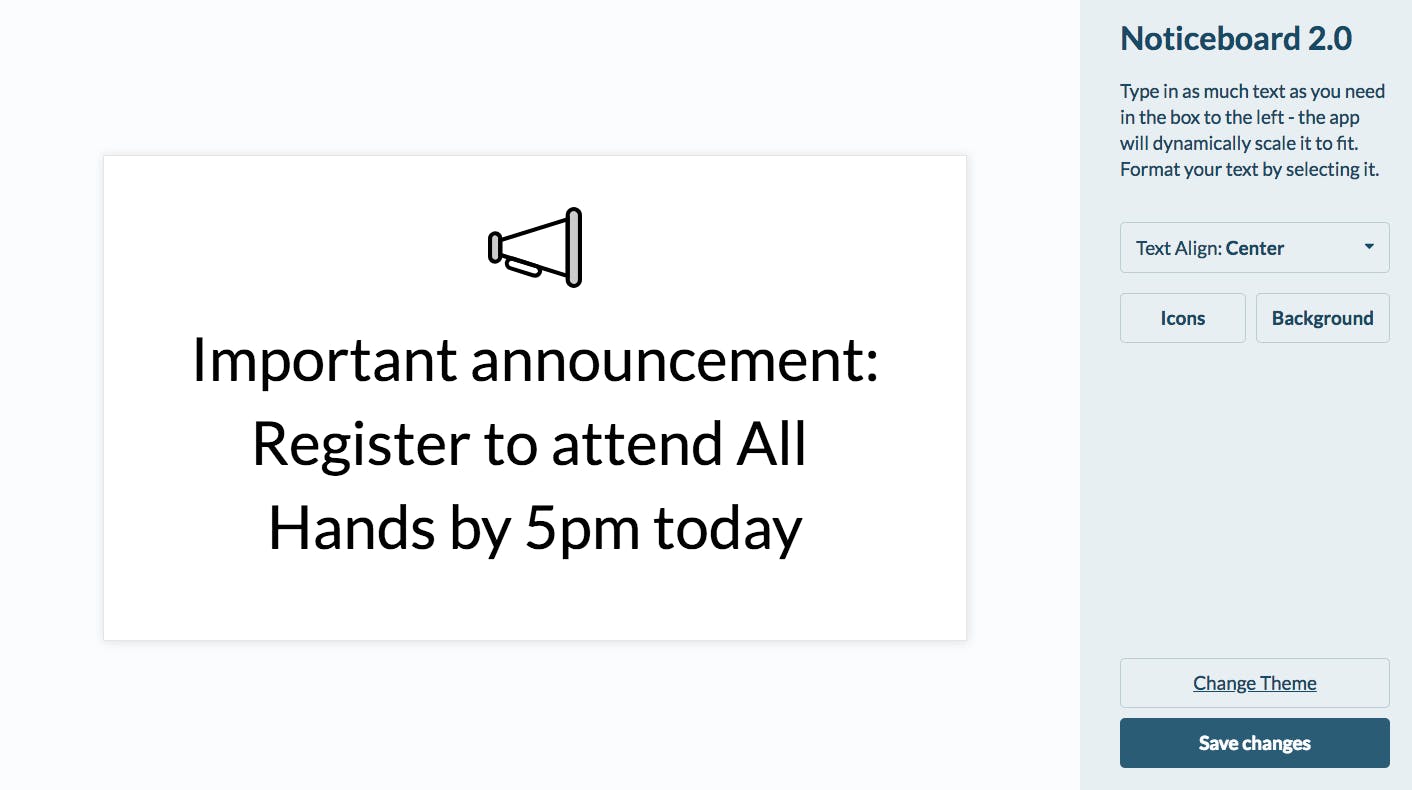 2. Geckoboard
Geckoboard is a tool for creating business dashboards, helping teams to focus on the important stuff. When data is visualized, as it is with Geckoboard, it's much easier for organizations to stay focused on what's important. At ScreenCloud we built a Geckoboard integration to ensure Geckoboard dashboards can be surfaced on digital signage screens, making them extra visible.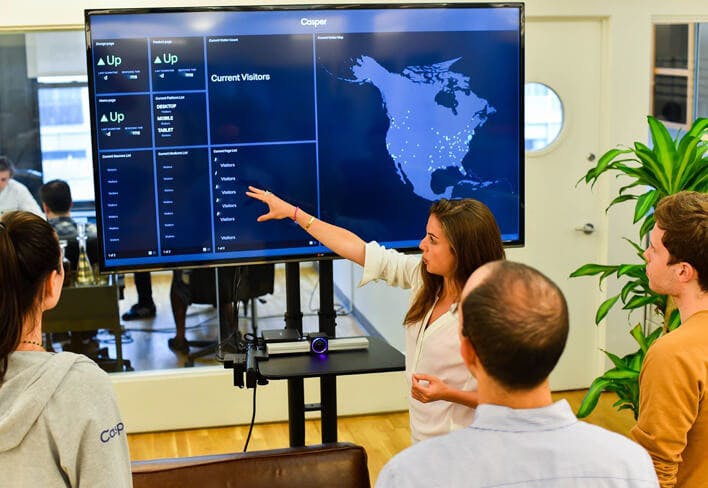 Three core functions include:
60+ pre-built integrations to pull in data from sources like Google Analytics, Facebook ads and Mailchimp
Spreadsheet integration
Free pre-designed templates
Best for: visualizing important metrics, particularly around marketing or SaaS sales
Feature we like: As well as having pre-built integrations, Geckoboard also allows you to create dataset integrations, to take data from where it lives in third-party or in-house systems and visualize it within a dashboard.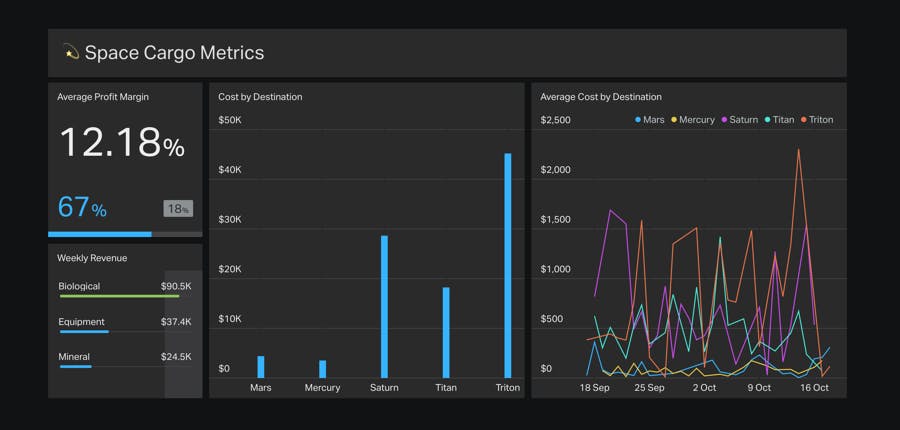 3. Google Slides
If you want to share information with colleagues easily, or present something important within a meeting, Google Slides is one of the easiest tools out there to use. Perhaps not ground-breaking, but it's certainly helped us many a time at ScreenCloud to break down the communication barrier and get information out there.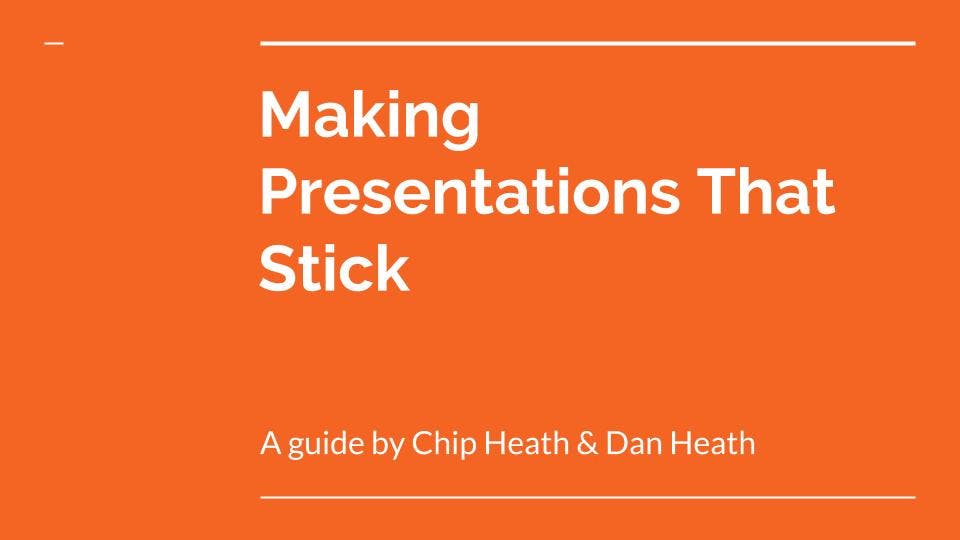 Three core functions include:
Templates for popular formats and reports
Easy to update, automatically saves
Can be shared across teams, to digital screens or via email
Best for: creating quick-win displays of information to share with entire teams.
Feature we like: if you're prepping your Google Slides document for a big presentation one feature we love is the Voice type speaker notes tool. Head to Tools > Voice type speaker notes and you'll see the mic icon appear. Once you hit "record" (and give permission for Google Docs to access your mic) anything you say will automatically be recorded in the notes part of your presentation. Helping to lock down those all-important first run throughs.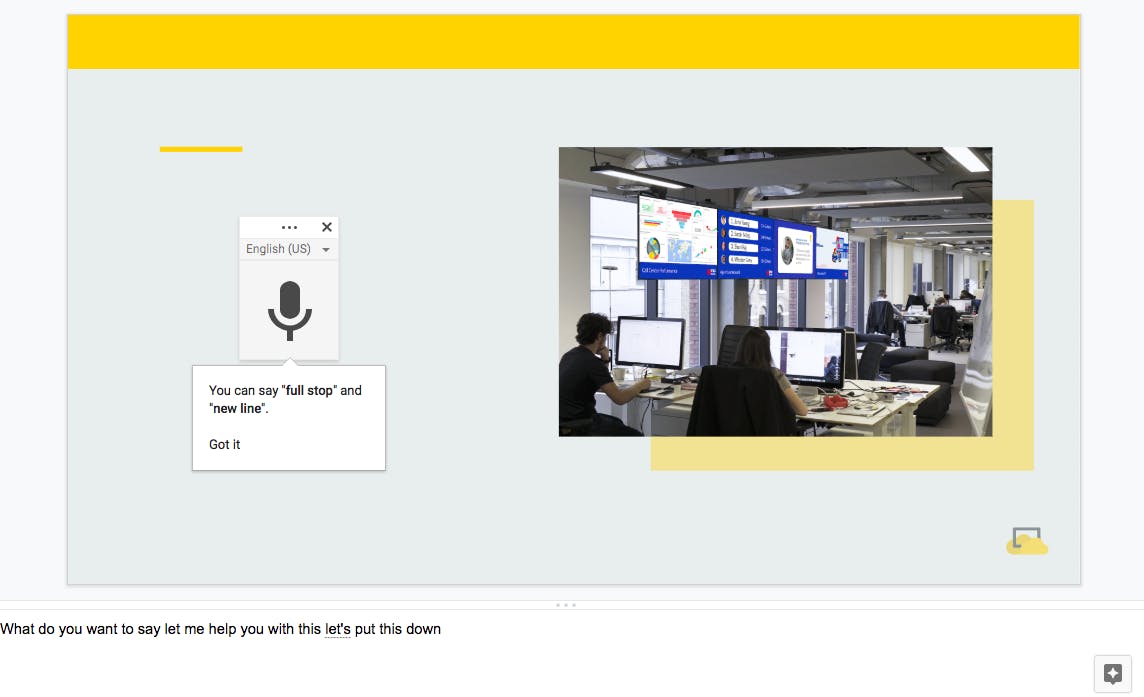 4. Google Data Studio
Google Data Studio is one of the easiest tools out there to take data (particularly from Google products like Google Analytics, Adwords and YouTube) to create dashboards and beautiful reports with. We use it a lot in the ScreenCloud office as a way of creating automated reports, which update automatically and show us the progress of our marketing campaigns, like PPC ads or organic search around key terms. Best of all, it's free!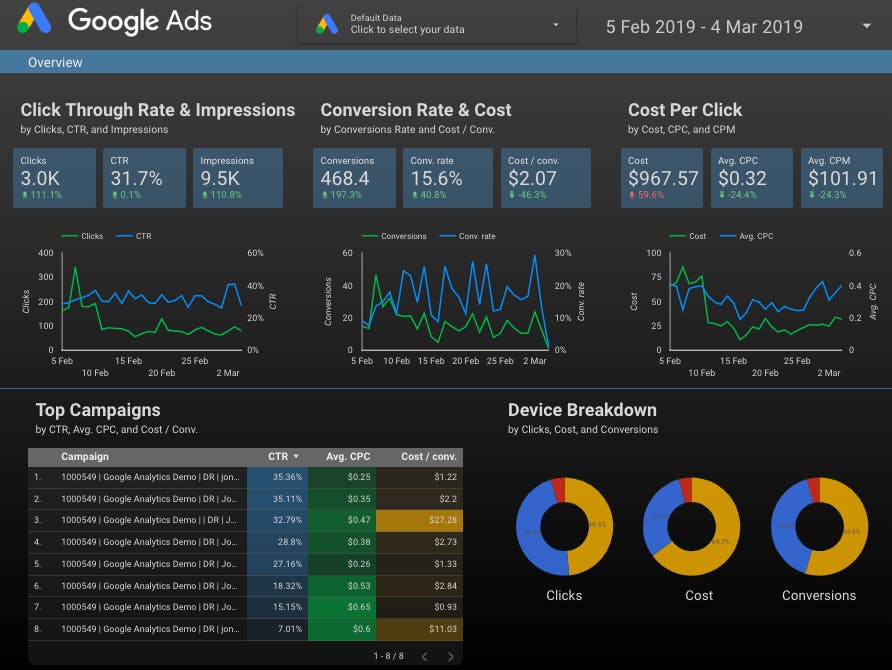 Three core functions include:
150 pre-built data connectors like Google Ads Manager and YouTube Analytics
Easy ways to build charts and dashboards
Templates for easy report building
Best for: teams who want to track their data easily and for free
Feature we like: Google Data Studio is one of the easiest tools we've come across for making dashboards that look good and are easy to understand. Perfect for displaying via digital screens, on a computer in your office or to pull up in meetings as a point of discussion (without having to manually trawl through data).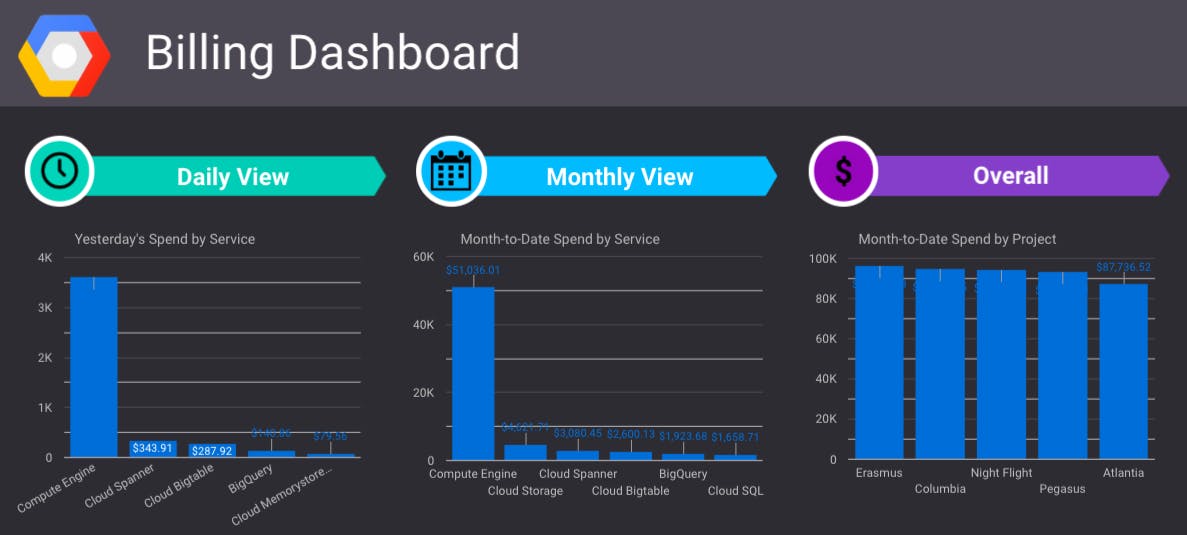 5. Just 3 things
Just3Things is a platform that helps organizations to set company-wide goals and to organize cross-departmental teams to attack them. Think of it as a way of grabbing one person from Marketing, one from Sales and one from Development, and bringing them together to work on a project. It also gives projects a framework and provides easy visibility for other teams.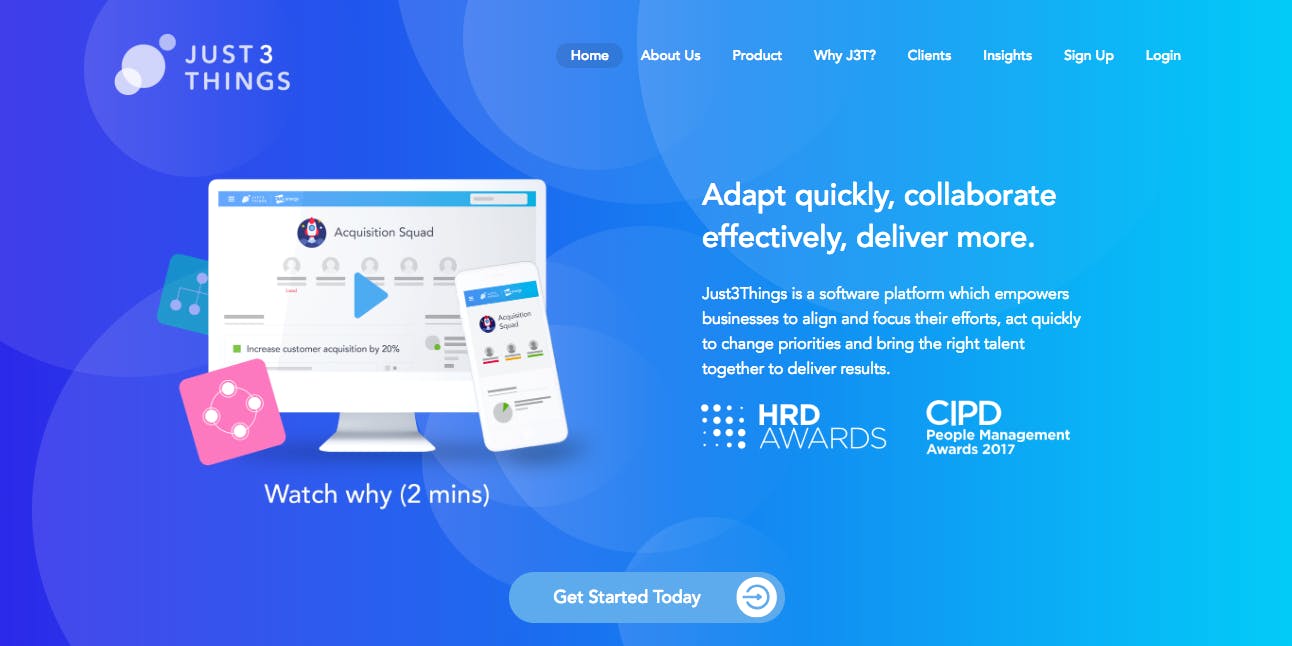 Three core functions include:
Set and update company goals
Track progress with dashboards
Organize inter-departmental teams
Best for: incubating specific employees into teams
Feature we like: In large enterprises, the ability to set-up sub teams to work on a specific project or problem is a great way of staying agile and encouraging innovation. Just3Things gives you the ability to organize this with software.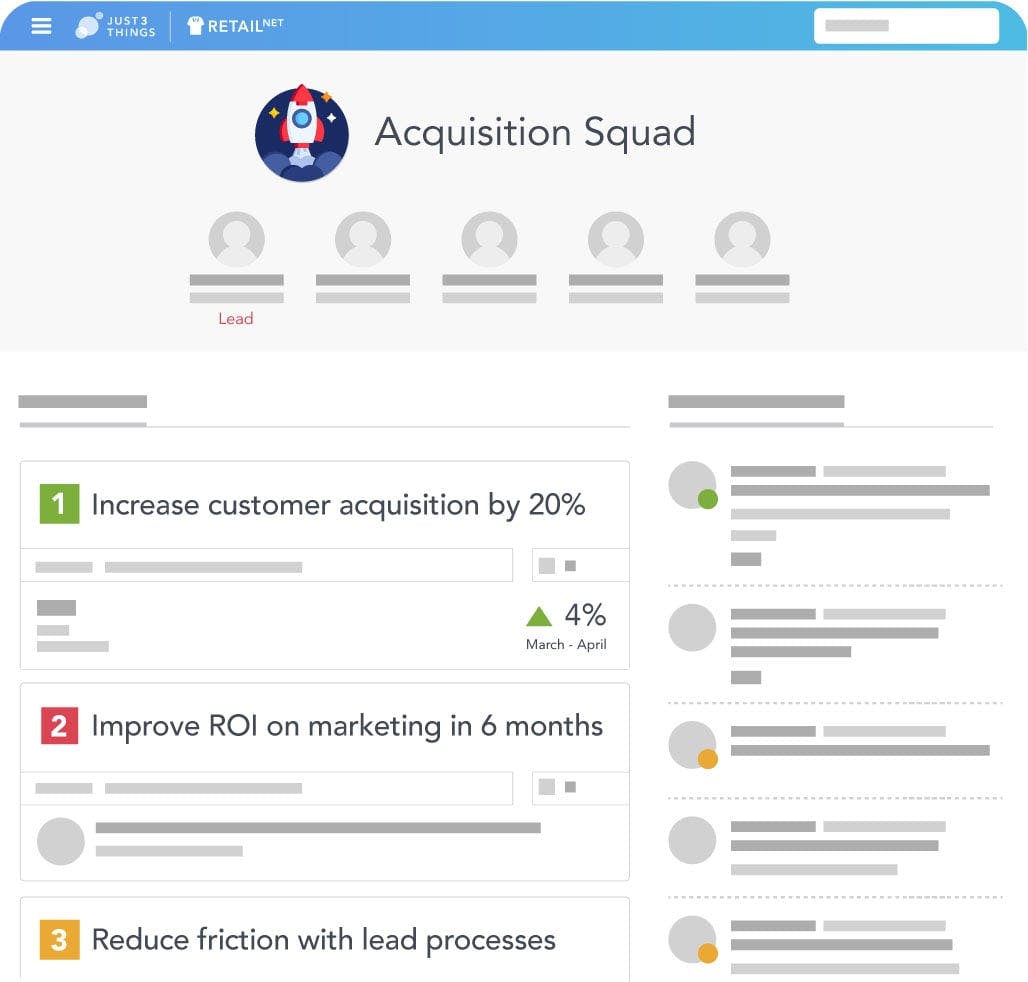 Did you know we wrote a full guide about corporate communication tools? That's right, helping you to determine which HR, communication and employee engagement tools you actually need - and which ones you don't.