Publish content to your screens directly from Microsoft Teams
Learn More


The Guide to Good Internal PR
Internal PR is the bridge between ambivalence and certainty. Here's how to do it well.
Do you want your employees to know you for tequila shots and inappropriately timed Run-DMC parties? No? Then you, and most definitely Adam Neumann, should probably consider putting together an internal PR plan.  
In today's hyper-connected world bursting with news and an uncontrollable, constant flow of information, nobody would question the need for a company to have an external PR strategy. But in the (paraphrased) words of Richard Branson, "If you take care of your employees, they'll take care of your business", which means internal PR is more important than ever.
In this guide, we're going to look into what internal PR is, why it's so important, and what channels you can use to make it easier and more effective. At ScreenCloud, we've put a lot of effort into our internal PR and want to share some ideas, tools, and inspiration with anyone out there wanting to improve. 
What is internal public relations?
If internal communications is how you communicate the good, the bad, and the ugly to your employees, internal PR is the practices and campaigns designed to help employees not just like your company, but to love it, so as that they may then tell other people how great it is. Which can lead to:
More peer-to-peer referrals, which can increase new-hire retention by as much as 78%
Greater loyalty, and subsequently retention, from current employees
A high EPS (employee promoter score)
A network of brand champions who may share news of the company on social media and through word of mouth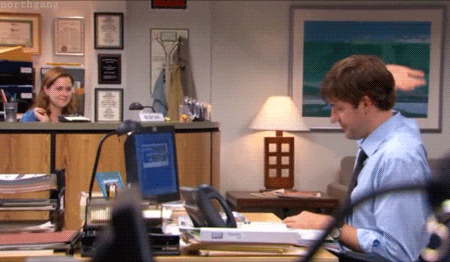 Why is internal PR important?
The people 
The purpose of internal PR is to promote the company to the employees and to drive engagement – the emotional commitment to an organization and its goals. And the way to succeed with that is to know your audience really well. This work begins with what we like to call "People Marketing", which is when HR uses the principles of marketing to promote the business in order to attract like minded, potential employees. 
Once you've attracted talented people who fit in with your culture, you want to hold onto them and that's where internal PR is your friend. Research has shown that employees who are committed are more engaged. Which means, not only are engaged employees happier, more engaged and therefore more productive, but it also means that they effectively become people marketers by recommending their company as a great place to work, attracting more talent.  
The story
At ScreenCloud, we like to think of joining the company like going on a journey. You arrive at the airport, go through the onboarding, and take flight through the (screen)clouds! When you eventually land at your new destination, you leave us with your rucksack full of useful experiences and tools. We want to make our employee experience a journey of discovery that takes someone to their next job while equipping them along the way.   
Storytelling is a vital component of internal PR and is a very powerful tool that creates connections between people and ideas and ultimately inspires people to unite behind a cause or a goal.   
The motivation
Every generation from Generation X onwards has been more and more demanding when it comes to internal communication. Millennials and Gen Z-ers are particularly keen on giving and receiving feedback but, really, doesn't every employee, no matter the generation, want to feel valued and heard and intimately understand the goals they're asked to work towards? 
Well executed internal PR equips employees with the tools they need to succeed at their jobs and helps them feel intrinsically motivated while doing so. Give people the "why", a purpose, and they'll be naturally excited to get stuck into the "what" and the "how".    
ScreenCloud's internal PR playbook 
Internal PR can take many different forms and use many different channels. At ScreenCloud, these are the cornerstones of our internal PR playbook:
Brand messaging 
It's easy to get caught up in trying to communicate your brand strategy to your customers, but what about your employees? Our internal brand communication promotes the core culture, identity, values, principles and ways that our organization works. This means that we actually have a set of tone of voice guidelines that our HR and People team use when communicating with any employee.
One example is that we use the well-known phrase "TL;DR" (too long didn't read) in many of our employee letters to help them jump to a sentence summarizing what the letter is about. We're sensitive about how we use this, but it does reinforce who we are as a company and what we hold important, like our employees' time.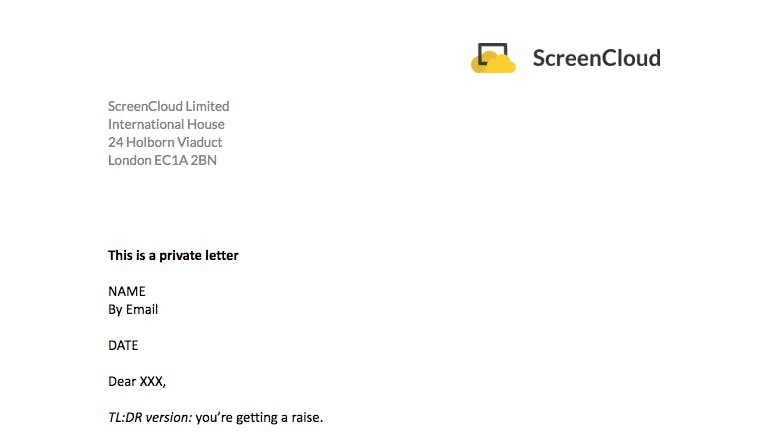 Leadership communication
It's crucial that the voice of our leadership is heard regularly in our organization to help everyone feel like we're on a collective journey and part of something important. Our leadership are regularly given the opportunity to share business strategy overviews, progress reports, news, wins and losses, and general observations, using various channels and platforms.
This is really a kind of "internal marketing" and a great way of keeping our employees informed on the vision of the management to get them behind our company's purpose and vision. 
Culture communication
Being intrinsically motivated and having a purpose at work is important, but so is company culture. A job is so much more pleasant when you like the personalities around you so why wouldn't it be important to like the company's "personality" too? 
Internal PR helps nurture our workplace culture by boosting morale with things like social events communication, messages of encouragement, and recognition of company-wide successes like winning awards.    
Employee celebration
And those awards are not won by companies but by people. Whether it's reaching a huge milestone after many months or years of hard work, or getting a promotion, or simply going the extra mile to help out a work colleague in the day-to-day, it's something worth bringing attention to. Apart from the obvious joys of celebrating someone's success, it's also a way of strengthening our supportive and collaborative working culture.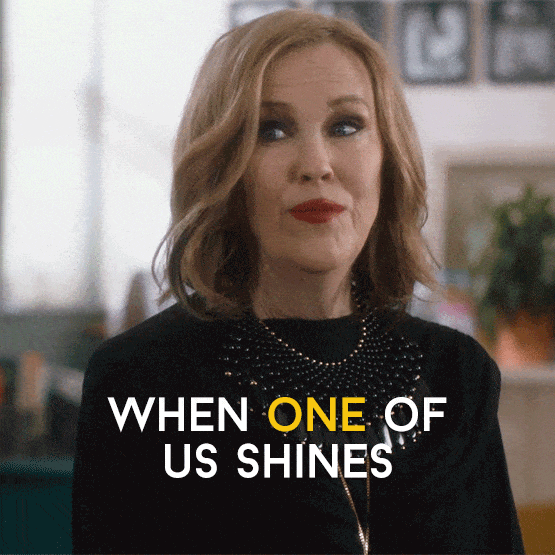 Practical examples of internal PR activities
At ScreenCloud, we're constantly working on our internal PR practices by reviewing our existing communication tools stack and improving the existing ones by taking feedback from the team. Here's our current internal PR calendar of activities:
Daily internal PR
At the time of writing, ScreenCloud consists of almost 80 employees distributed across four locations – L.A., Belfast, London, and Bangkok. This creates a huge need for effective electronic communication channels, and email just isn't good enough. Daily peer-to-peer communication via internal social networking tools is much quicker. At ScreenCloud, we've chosen Slack to fill this need. But even here, if used incorrectly, there can be a lot of noise and information might get lost in all the different Slack channels. That's why we nominated a team member to be the gatekeeper of best-practice, and she's also written a "Slack Law & Order" document for help and guidance.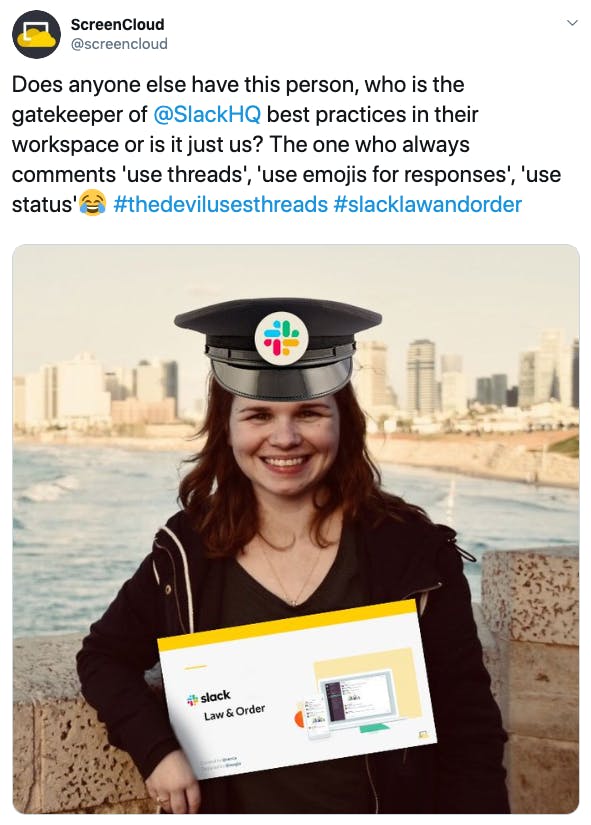 Unsurprisingly, we also use digital signage across all our offices. Our ScreenCloud-powered screens are on all day every day, allowing people to engage with the information in a non-disruptive way throughout the working day. We call it "ScreenCloud TV". It's a place where we can beam out top line company figures and team-specific figures (depending on the screen's location), announce when we've reached a milestone, celebrate upcoming birthdays and collate a slideshow of the best bits that have been shared on Slack that week.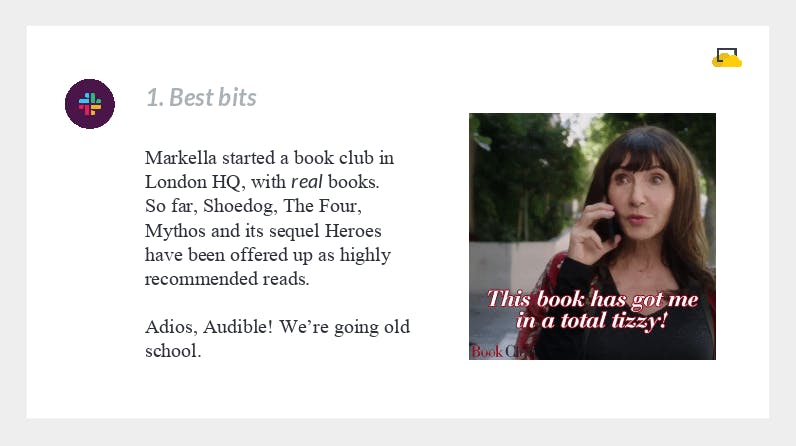 The ScreenCloud platform also allows us to create channels for each team, who can tweak the content on their screens to make it hyper-relevant to them. 
Our ultimate goal with ScreenCloud TV content is to rally people together and give them a feel-good factor through a combination of entertainment and information. 
Bi-weekly internal PR
As well as being great software-building people, our team are also pretty interesting outside of work and we want to cultivate the feeling that ScreenCloud support's multi-faceted lives and side projects. One of the activities, which has been great for our internal PR, is our company podcast Behind the Screens. Released every two weeks, it features two of our founders, David and Mark, and sometimes guests. 
When we first created Behind the Screens we thought it would be most interesting to other startups but actually, it's become one of the key sources of PR for existing and potential employees. Almost every person we interview for a new role at ScreenCloud mentions the podcast, and that makes it worth its weight as far more than just a marketing tool. 
Weekly internal PR
One of our company values is transparency. One way we work towards this is through the weekly founder's roundup videos that our three founders post on Slack. These give everyone in the company financial, technical and commercial updates. By sharing it like this, it means it's not disrupting anyone's day because you can watch it when it suits you. You can also add emoji reactions, leave comments and questions, or discuss what you've seen immediately below the video.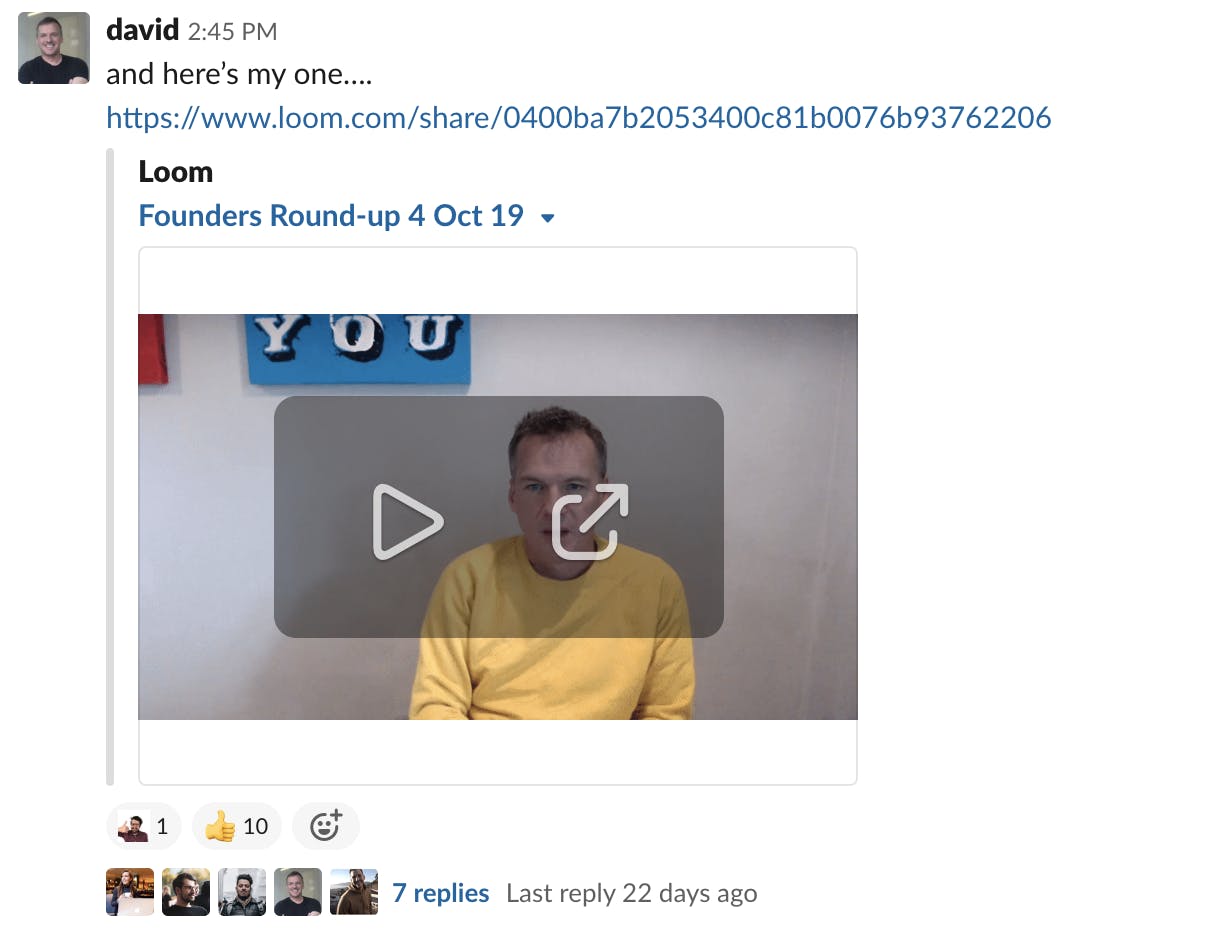 We also love to celebrate and praise each other's hard work. Team members use a tool called 15Five to keep track of OKRs, weekly personal task management, self-reviews and more. We also use it to recognize when one of our colleagues has been awesome. You can give a virtual high-five either privately or publicly. In the latter case, it shows up on our #team-praise Slack channel.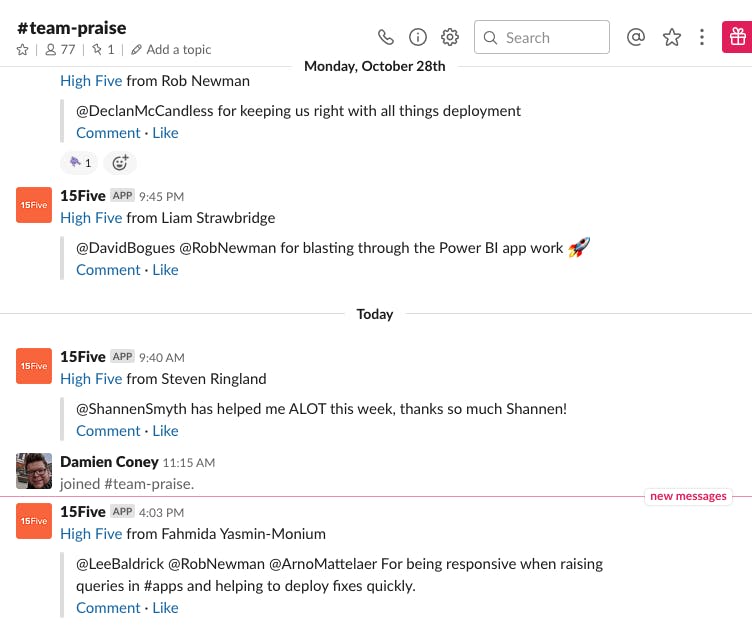 Monthly internal PR
ScreenCloud aims to be transparent not just with employees and investors but also with our customers and anyone else out there who is interested. For this purpose, we give a monthly update on Medium, where we reflect on what's been happening and what we've learned, as well as talk about the ongoing journey of the company, the product and the teams. Medium is also where we publish ScreenCloud Journey, a space for knowledge sharing both for the benefit of employees and an external audience. As well as informing our employees, it's naturally also key that we PR what the company's up to and share this with our ScreenCloud investors, which we do by means of a monthly investor update newsletter.
But it can't be all work and no play, so we've set up a Culture Club consisting of employee representatives who gather ideas for team socials then organize afternoon or evening outings for anyone who wants to join in. So far, the Culture Club has taken people to everything from inflataparks to cricket grounds, and quite a few bars.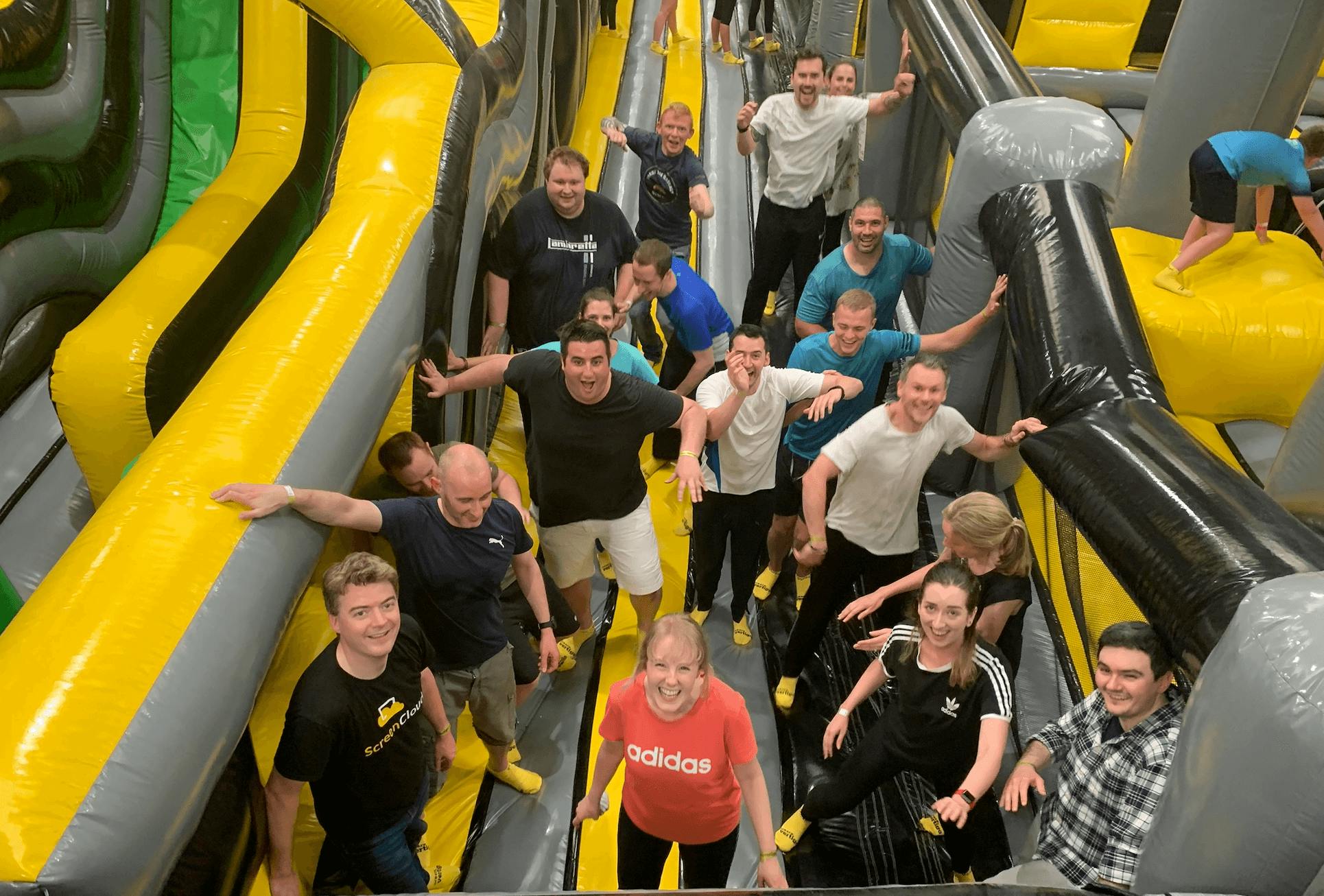 But when you're spread across several continents, team bonding experiences aren't always possible between everyone in the company. To offer an opportunity for people from different offices to get to know each other, we use Donut to set up monthly meetings between two random colleagues who can enjoy an online chat – donuts optional. Photos of the meetups are often shared on Slack or on ScreenCloud TV.  
Ad hoc internal PR
It's easy to write up a list of pretty words and call them your "company values" but a lot harder to actually live them. ScreenCloud's official company values – trusting, transparent unconventional, brave and integrity – are a formalization of the values of our founders, who try to bring attention to them whenever opportunity arises. Recently, our founder Mark wrote an article for World Mental Health Day, challenging the idea that founders with too many hobbies slow down company growth. And our founder David wrote an article for UK National Inclusion Week about what ScreenCloud is doing to become a more inclusive workplace.  
In summary, we're working hard to ensure our internal marketing is just as good as our external marketing. We want people to feel proud to work at ScreenCloud and if they decide to tell a friend, family member, or ex-colleague about the company, then we'll consider that a nod towards a job well done. How much stake do you hold in internal PR? We'd love to hear from other companies who are trying the same, or different, tactics. Feel free to reach out to us with feedback on hello@screencloud.com or on Twitter.
Want to keep up with the latest news and studies on all things internal communications? Sign up to From Corporate, our monthly newsletter roundup of articles and insights.
Thanks to Elliot Sloman on Unsplash for the cover photo – we love your work!
Ready to get your organization connected?
Connect your first screen today with our 14-day free trial
workplace