How well does your company communicate? It may surprise you that more than half of offices claim to use digital signage in their communications strategy.
When we think of digital signage we often think of commercial messaging and advertising, but the principles behind the communication remain the same regardless of audience: slick messaging, a digital signpost. A visual dashboard that can be used to convey any message - and changed as easily as you might change a slide in a presentation or a Facebook profile picture.
The way we consume and look for content has changed. What employees look for from their company is different now too.
David Grossman, a communications expert, sums this up perfectly when he says: "Employees don't need to know everything, but they do need to know the "WHAT" and the "WHY."
Without these two crucial pieces of information your employees are set adrift.
Good communications anchor them in, helping them to see the company mission and to live it.
Of course, internal communication strategies are only worth the effort if your employees are actually seeing them. Enter digital signage.
Newsletters, portals, social media groups; all effective ways of communicating internally. But your employees have to choose to go and read all of those things. That's why we like content that's given on digital screens - everyone gets to see it and they make your office look great :-)
With the ScreenCloud CMS it's super simple to add and edit playlists, schedules and presentations. So when you need to remove a slide or change an image it's as simple as slipping it out and adding in something new.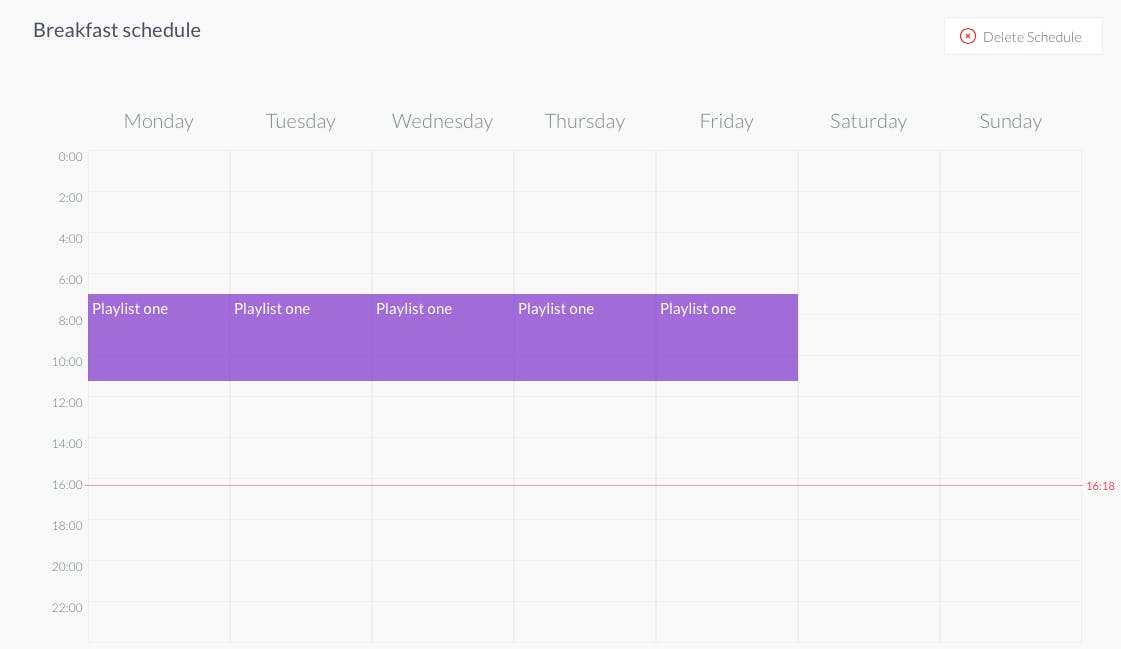 Gone are the days of out-of-date showreels and content that you'd be embarrassed for stakeholders to see if they popped in.
Here, we give you five examples of great digital signage content - all of which, you can add in minutes by using the ScreenCloud App Store. Helping you to use digital technologies to communicate better - and have some fun along the way.
5 Company Digital Signage Examples
1. Meeting room signage
Don't let the meeting room become a thorn in your office foot! We know how precious it is and how tetchy we can get when someone disregards whichever booking system we've employed. 
A visual sign in tablet or screen form makes it clear what's going on and when. Setting up digital screens to showcase meeting room bookings will ease internal communications. 
Read more about the benefits of digital signage meeting room organization in this guide.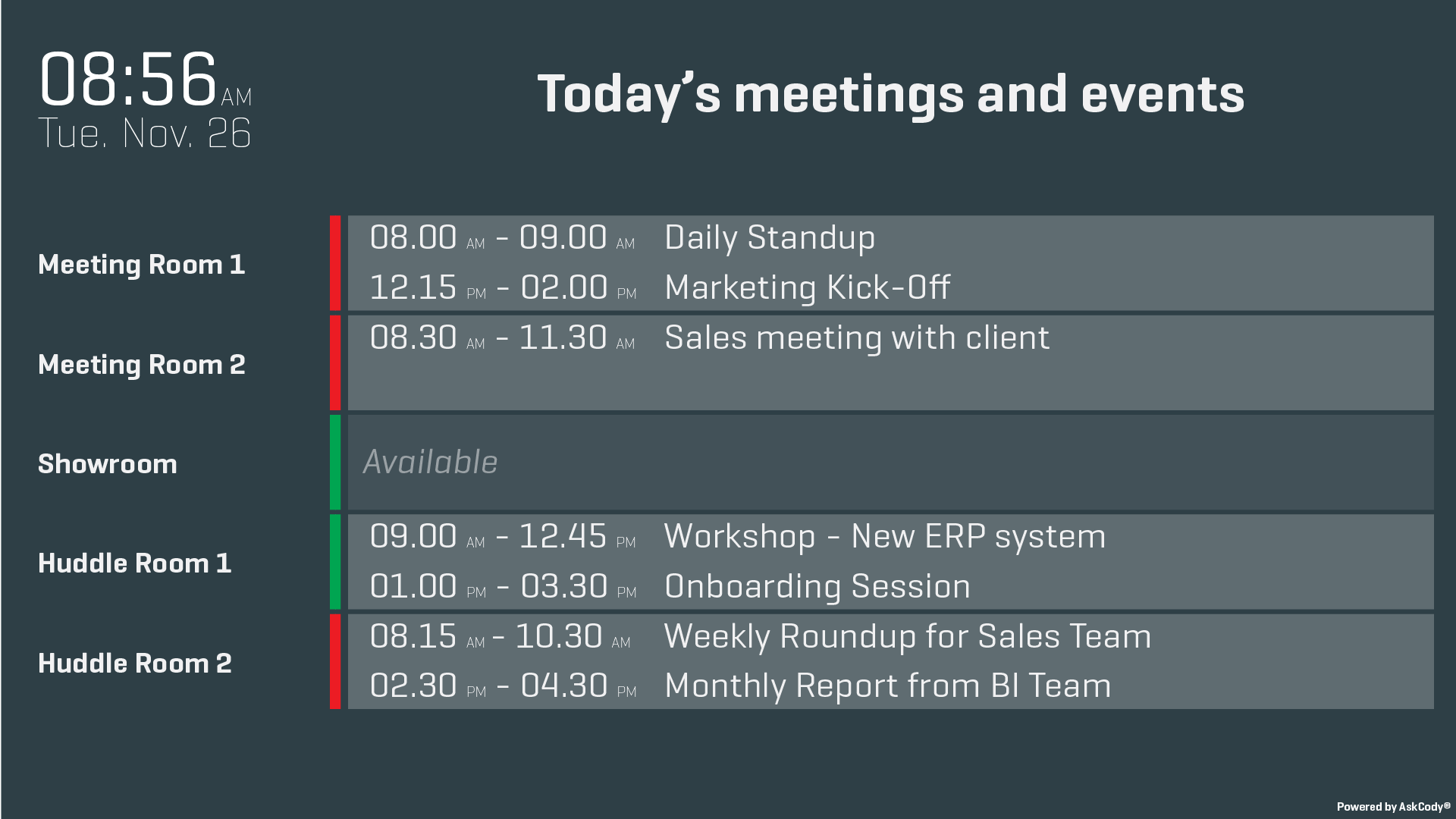 2. Company dashboards
At ScreenCloud we've built our own internal data dashboard that focuses on just the important numbers for our business. It's updated automatically each day and generates graphs which track our progress against our forecasts.
This is a key piece of content for our team. How can they care about the numbers if they can't see them?
It also helps us celebrate each time that MRR creeps up and what better way to stay focused then having this up in the office for everyone to see?
These types of wins should be celebrated often and a digital signage dashboard could be the quickest way to do this. If you need help setting one up you can use Microsoft Power Bi in our App Store to do the heavy lifting. 
A dashboard doesn't have to be boring statistics either. You can create a dashboard of anything you like! From who's top of the baked goods chart, to gamified sales targets or even a goods deed dashboard where employees can anonymously submit acts of goodness completed by colleagues.
3. Social media feeds
Company updates are all very well, but remember to mix up your content and take advantage of how exciting and personalized digital signage can be. They say social media managers are the people closest to your customers. Well why not help everyone get that close?
Social media feeds displayed on screen allow faster reactions and a team that's more tuned in to how the brand is being perceived outside of the office walls. 
You can also use one of our partners such as TINT or Strea.ma to create a social media dashboard that hooks you up with one visual that shows Instagram, Facebook, Twitter and more.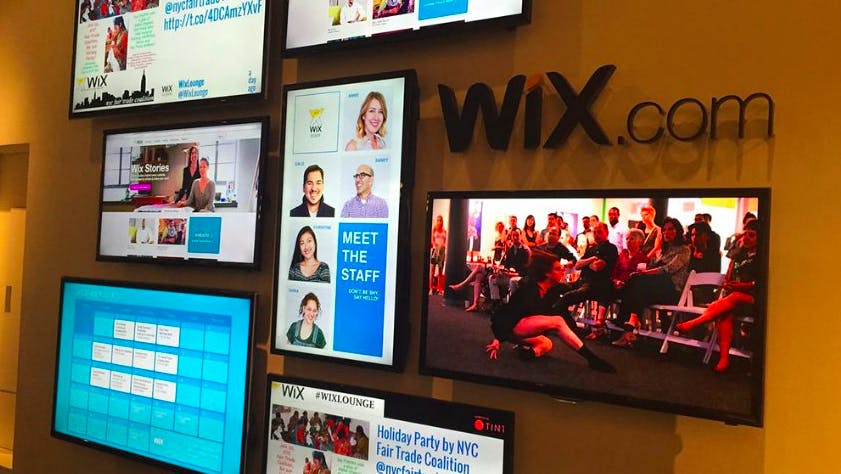 You could even use it to track trends in your industry, hashtags, users and creative themes. 
4. World events
News, stocks, currency - all are a great office talking point. The office environment can often feel disconnected from what's going on outside and bringing this information in, will keep everyone engaged with world events. 
This is also 'safe' content. So if you're holding an event or opening your doors to the public and you don't want to share private company data, you can switch your screens to a playlist of world events and keep the important stuff private!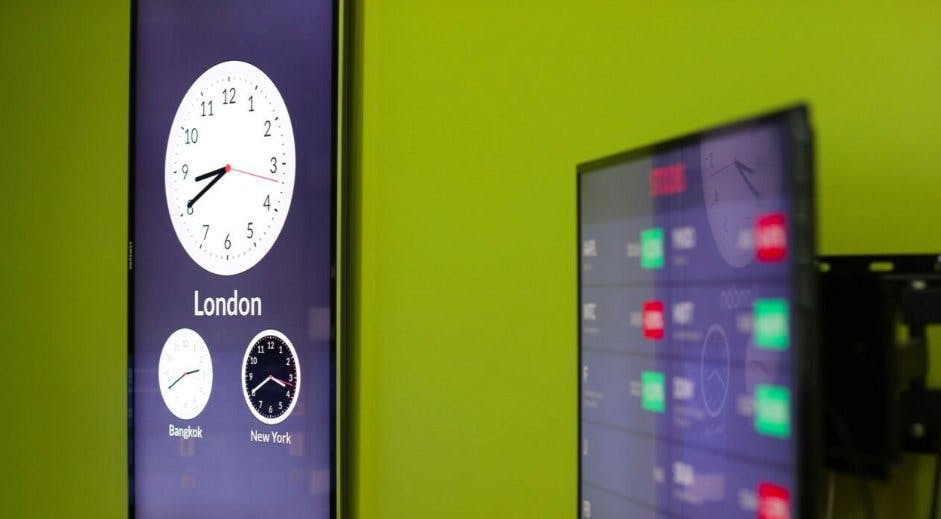 5. Noticeboards 
A study from McKinsey Global Institute discovered that productivity improves by 20-25% in organizations where employees feel connected. That's huge.  
One of the way employees can feel more connected is through their input. How can you do this, you may ask. Asking an employee to submit a newsletter or blogpost might be too much - but a simple notice? That's going to take seconds. 
In the ScreenCloud App Store our noticeboard app does just that. Simply add text, choose the theme and within seconds, you have a digital noticeboard that you can add to your playlist.
This works really, really well for happy birthdays, invites out to lunch, celebrations, quirky anecdotes and even gentle reminders. 
You could even set up an 'ideas board' and allow employees to send in their ideas, written as a chalkboard message - a very nice way of letting everyone have their say to build more conversation within your office space. 
Corporate communications for multiple offices
Have more than one office? Well you won't need more than one strategy. One of ScreenCloud's endearing attributes is that it allows you to setup screens from any location into the same account and schedule them within playlists and schedules, from wherever you are. 
This allows you to have different content for different offices, all joined up under one network. 
So perhaps the sales figures and social feeds will differ, but the central themes and notices can remain the same. Making the communications you show, personalized to your employee audience, wherever they might be working. 
Digital signage and the workplace
Digital signage is a single tool that solves a multitude of potential problems. Improving communication, sharing information and helping employees get to the all important what and why of your organization. 
Give it a go today - we offer a 14-day free trial to help you do just that at https://screencloud.com/signage.