Digital transformation is all about taking something that was once manual and making it digital. Primarily, this is to save time and money. 
Bulletin boards have long been a staple of offices and schools for posting announcements. But often these notices don't live up to their name, going unnoticed amongst the hundreds of other messages. This also leaves them at risk of expiry. 
Utilizing digital signage for content impact can therefore be a source of truth. And an easy-to-manage digital bulletin board. 
Benefits of using a digital bulletin board
Using digital signage as a digital bulletin board has many benefits, including:
Environmentally friendly
Cost effective
Highly visual
Scalable
Flexible
How to make a digital bulletin board
Here's how you can quickly and easily set up a digital bulletin board using any kind of smart screen and ScreenCloud.
1. Set up your ScreenCloud account
To create a digital bulletin board using digital signage, you'll need some digital signage software – like ScreenCloud. And as you're here, you might as well sign up for the 14-day free trial.
While you can experiment with ScreenCloud Studio without a screen, when it comes to implementing a digital bulletin board, you will need one.
While you can compare different hardware types here, the quickest and easiest approach is:  
a) An Android TV + the ScreenCloud app
If you already have a smart Android TV, you can use the ScreenCloud Android Player app which you can download from the Google Play Store. That's it! All of the hardware you need and you're ready to go.
b) A standard (non-smart) TV screen + cheap media device + the ScreenCloud app
If you don't have a smart Android TV, then you can use any screen you have (even non-smart ones), adding a $40 Amazon Fire TV Stick 4K or a Chromecast with Google TV to help make the screen smart. Once installed, you can download the ScreenCloud app from the Amazon App Store (if using the Fire TV Stick) or the Google Play Store (if using Chromecast).
If you already purchased one of our Station P1 Pro devices, there is no need to navigate to the app store as ScreenCloud's software already comes pre-installed and will boot up once your device powers on. The only step you need to do is configure your network settings using a ScreenCloud OS provisioning USB flash drive.
This means that you can make use of a screen you already have, or choose to buy a new one.
2. Choose what messages to share
Digital signage is only as effective as the content you show on it. So making it easy to create and share this content is important. 
Canvas
Canvas is one of the most used apps within ScreenCloud. Think of it like a simple Photoshop. Canvas allows anyone within the business – not just your designer – to create on-brand content like posters or notices. OK, so you may want a designer to set up your branded templates first, but then it's a simple case of drag and drop. 
For time-sensitive content like events, you can schedule when you want this content to appear/disappear within your Playlist. You can also make updates directly within Canvas and show new information instantly across all of your screens.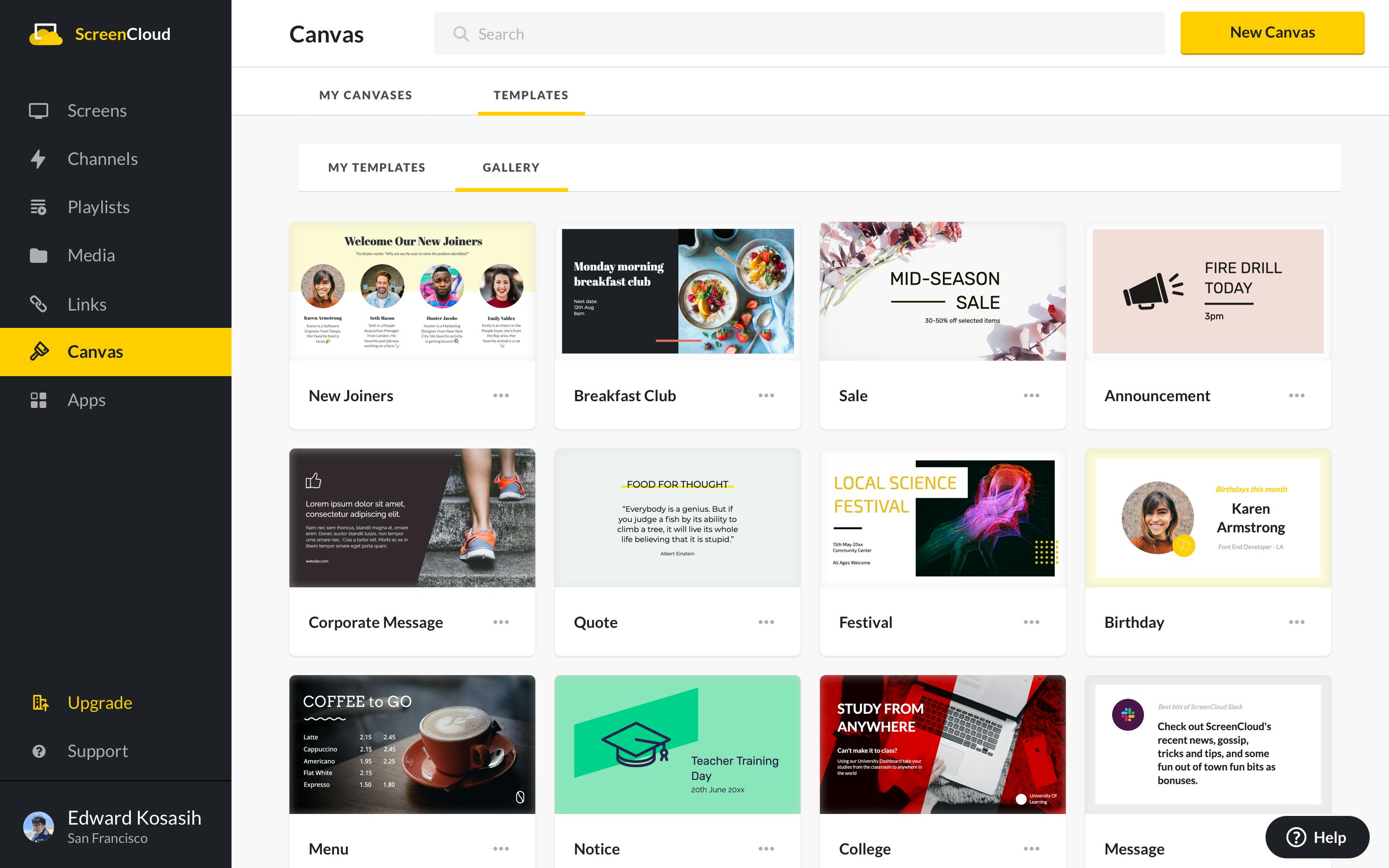 Google Slides app
The Google Slides app allows you to take any slide you have and add it to your screen. The benefit of using Google Slides is that, like Canvas, it's an online tool. This means you can create a series of messages like staff announcements, and then when you need to make a change you simply open the Google Slides file and edit it online.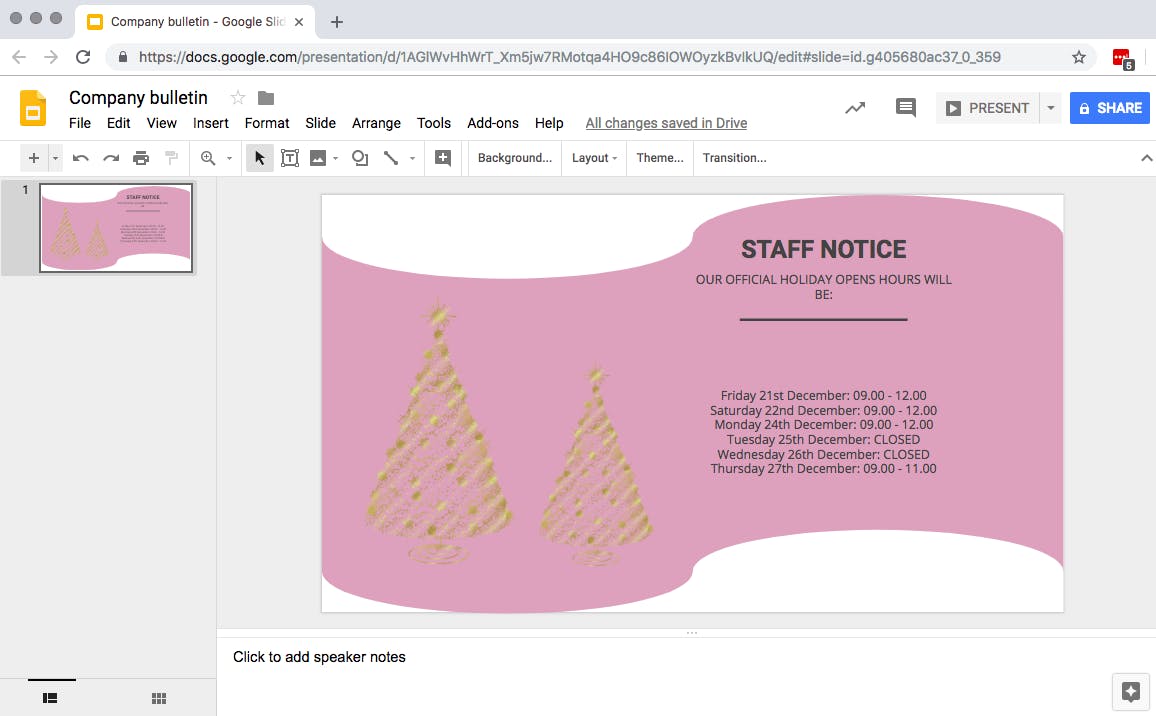 Check out our 30+ free Google Slides templates bundle here.
Your own graphics
Sometimes it might be easier to upload your own graphic as a PDF, PNG or JPEG. You can add any of those files using the media file uploader.
Noticeboard app
If you want an easy way to create messages that follow a simple text + background format, Noticeboard app can help.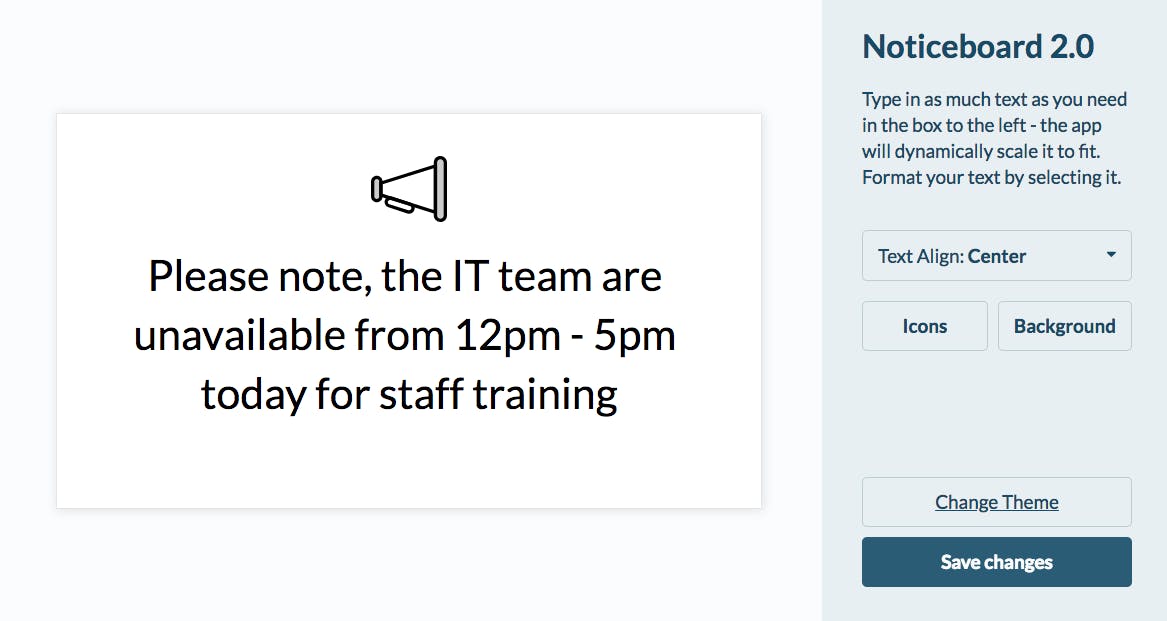 This gives you an easy way to create bulletins to "stick" onto your board and you can create as many different ones as you like. What's more, you can also brand up each notice in your own colors by creating a custom theme.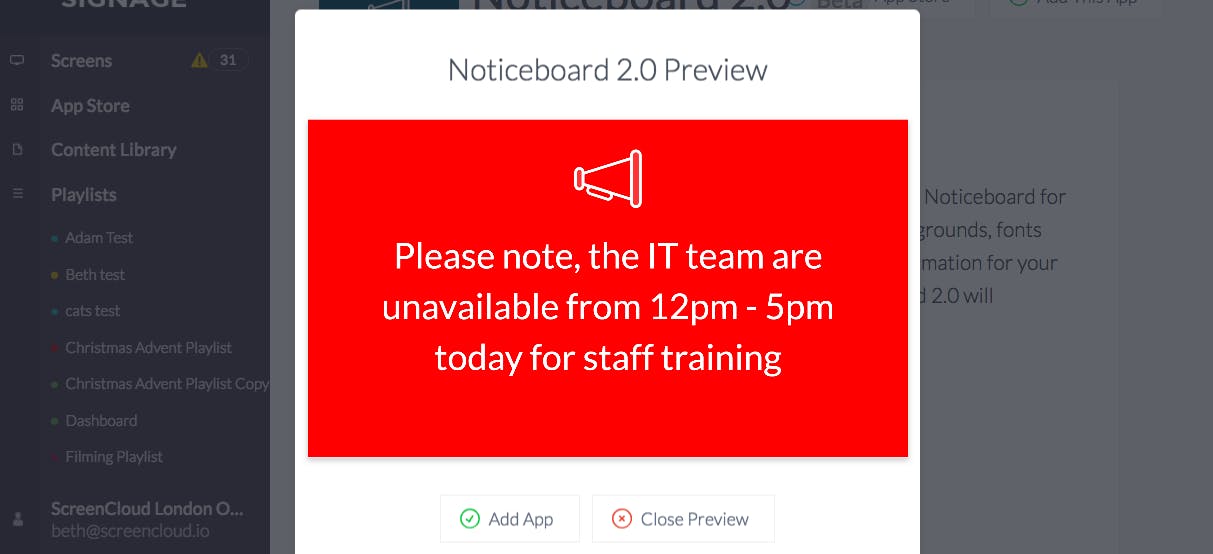 3. Create your digital bulletin board
Once you have your content ready, add it to a Playlist. This is just like how you would create a compilation album: add your content in the order that you want it shown, schedule the times that you want it shown and also the duration. As it's all drag and drop you can easily add/remove content.
You can also create thematic Playlists to show on different screens in different locations at different times. However granular you want to get, ScreenCloud has the flexibility.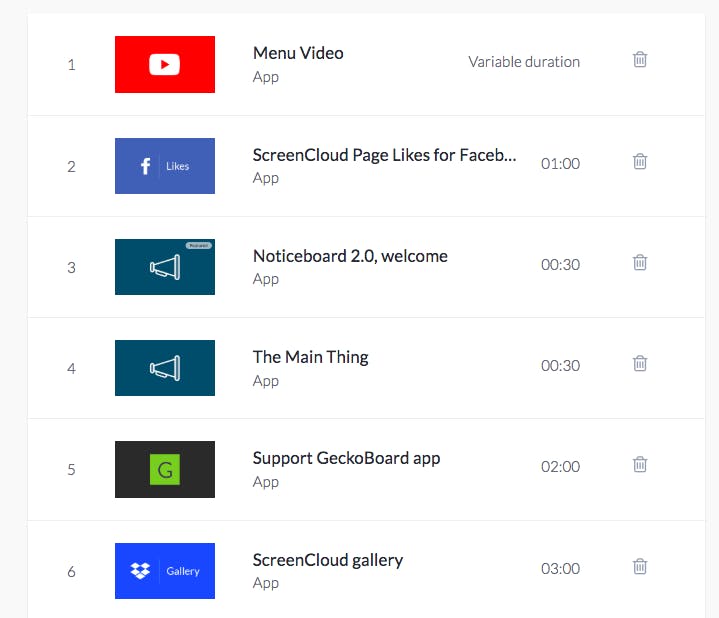 Between those announcements, you may want to add other ambient content like YouTube videos, updates on the weather, world news or departmental Twitter feeds.
To get started with your own digital signage solution give our free trial a go today, you could have your new digital bulletin board set up in minutes!