Publish content to your screens directly from Microsoft Teams
Learn More


How (And Why) to Make a Digital Bulletin Board
It's time the humble office announcement board went digital. Give your important internal communications the impact they deserve with digital signage.
Bulletin boards have long been a staple of offices and schools for posting announcements. But often, these notices don't live up to their name. They go unnoticed as more and more messages pile up and organization goes out the window. 
A digital bulletin board is more effective and easier to manage than its analog counterpart. Here's what we mean.
Benefits of using a digital bulletin board
Physical bulletin boards require time and effort to change, which risks wasting resources and broadcasting outdated information. If you think the amount of time spent is negligible, think again: just look at Ricoh UK Products Limited, who saved 65 weeks of labor per year just by switching from manual creation of paper-based reports to digital signage.
With 70% of organizations implementing digital transformation strategies, it's important that yours isn't behind the competition. Putting announcements, notices, and bulletins up on a communal screen isn't exactly a risky project. The setup costs and requirements are straightforward and the benefits alleviate several pain points that schools, offices, and healthcare facilities often face.
Digital bulletin boards are:
Environmentally friendly
Cost-effective
Memorable
Easier to update and manage in real-time
Scalable
Flexible
Your benefits are only as good as the technology you choose; therefore, you need to select a tool that aligns with your goals and needs to avoid your strategy falling short of its full potential.
How to make a digital bulletin board
Creating a notice board could be as simple as mounting a TV screen where anyone can see it and plugging in a USB drive that has videos and images stored on it. Passable, and certainly cheap, but far from polished and professional. Player controls will pop up every time a video starts from the beginning and updating files on a thumb drive isn't much better than cleaning up an analog board. 
There are some freemium digital signage apps, but they often lack important features. A paid digital signage app with all the features is the best ROI for organizations that want to take internal communications seriously. 
With ScreenCloud's 14-day free trial, you can try cloud-based digital signage, as long as you have a smart TV, Chromecast, or Amazon Fire Stick laying around. 
Here's how you can quickly and easily set up a digital bulletin board using any kind of smart screen and ScreenCloud.
1. Set up your ScreenCloud account
First, log into your ScreenCloud account and click New Screen in the upper right corner. It'll ask you to type in a 6-character pairing code, which will be displayed on a TV or screen that has the ScreenCloud app running on it, such as:
a) An Android TV + the ScreenCloud app
If you already have a smart Android TV, you can use the ScreenCloud Android Player app which you can download from the Google Play Store. That's it! Your TV is all the hardware you need, and you're ready to go.
b) A standard (non-smart) TV screen + cheap media device + the ScreenCloud app
If you don't have a smart Android TV, then you can use any screen you have (even non-smart ones), adding a $40 Amazon Fire TV Stick 4K or a Chromecast with Google TV to help make the screen smart. Once installed, you can download the ScreenCloud app from the Amazon App Store (if using the Fire TV Stick) or the Google Play Store (if using Chromecast).
If you already purchased one of our Station P1 Pro devices, there is no need to navigate to the app store as ScreenCloud's software already comes pre-installed and will boot up once your device powers on. The only step you need to do is configure your network settings using a ScreenCloud OS provisioning USB flash drive.
After you've got a screen connected, you need to add apps and integrations to your account. These will help you optimize what you want to display for digital signage purposes.
2. Choose what messages to share
Digital signage is only as effective as the content you show on it. So making it easy to create and share this content is important. ScreenCloud comes with several integrations for managing content as well as some features to help you display content from any app on your digital signage. Here are some of the best apps for creating digital announcement boards:
Canvas
Canvas is one of the most popular ScreenCloud apps. Think of it like a simpler version of Photoshop. Canvas allows anyone within the business – not just your designer – to create on-brand content like posters or notices. Or, you may want a designer to set up your branded templates first, and then it's a simple case of drag and drop to customize the design later.
For time-sensitive content like events, you can schedule when you want this content to appear/disappear within your Playlist. You can also make updates directly within Canvas and show new information instantly across all of your screens.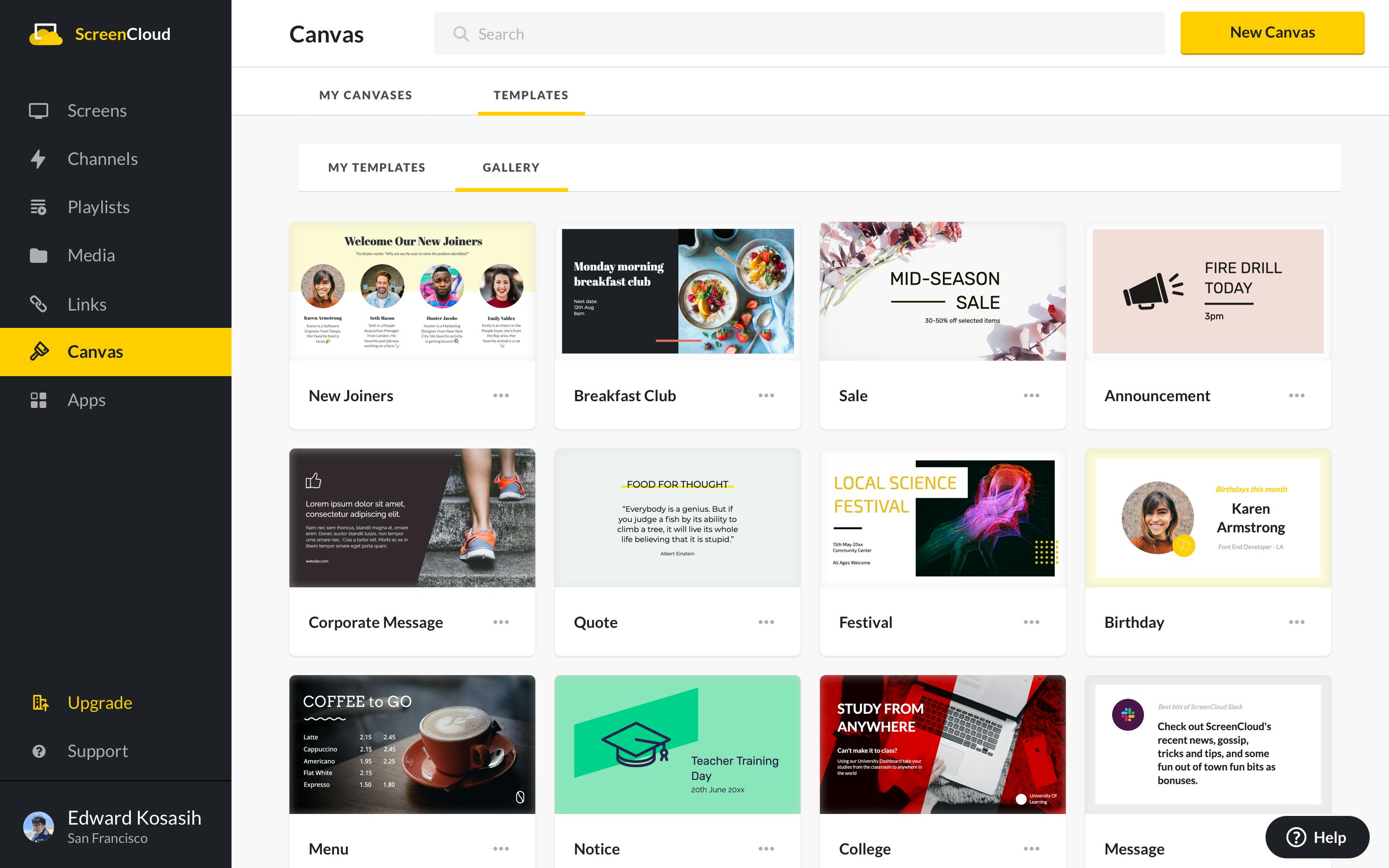 Google Slides app
The Google Slides app allows you to take any slide you have and add it to your screen. The benefit of using Google Slides is that, like Canvas, it's an online tool. This means you can create a series of messages like staff announcements, and then when you need to make a change you simply open the Google Slides file and edit it online.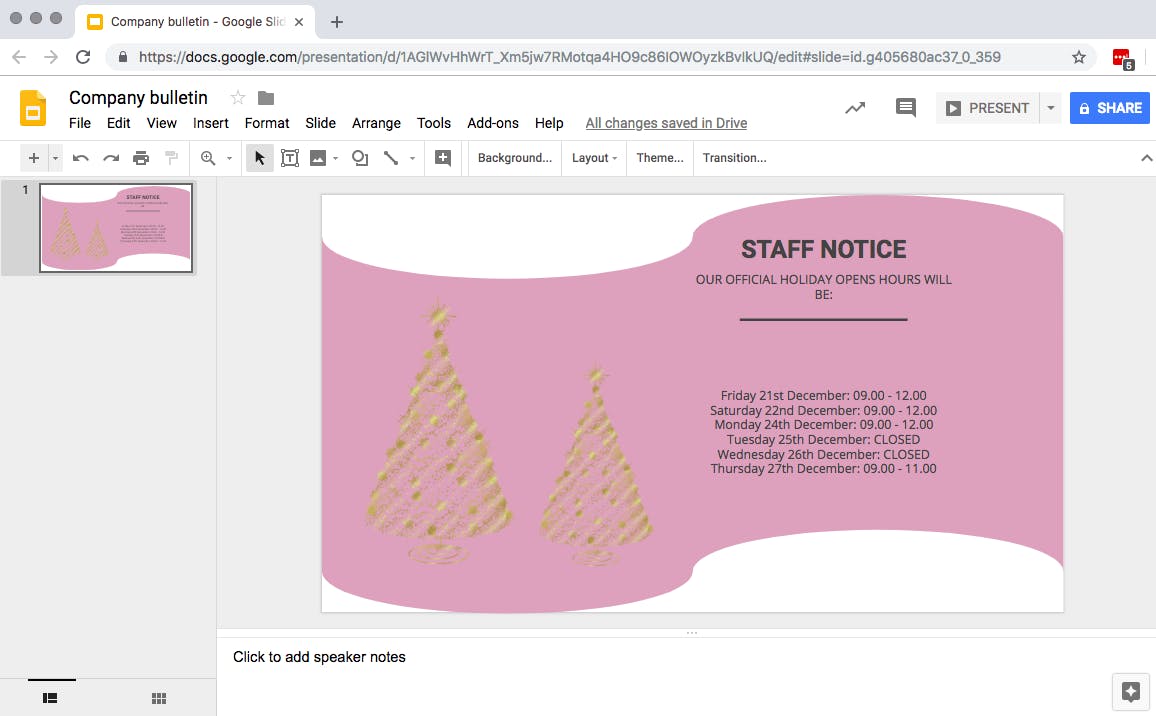 Check out our 30+ free Google Slides templates bundle here.
Use the media file uploader to show image files
Sometimes it might be easier to upload your own graphics as a PDF, PNG or JPEG. You can add any of those files using the media file uploader. Just keep in mind that ScreenCloud does not currently support GIFs and animations. It does, however, have an easy workaround for displaying Canva images and animations on your digital signage.
Noticeboard app
The Noticeboard 2.0 app is a convenient solution for creating basic text signs with customized backgrounds. You can easily add, style, and arrange text with various formatting options. There are no limitations on the amount of text, as the app dynamically scales the board to fit the screen. Users can choose from pre-designed themes or throw in some stock icons to create their own.
3. Create your digital bulletin board
Once you have your content ready, add it to a Playlist. This is just like how you would create a compilation album: add your content in the order that you want it shown, schedule the times that you want it shown and also the duration. As it's all drag and drop you can easily add/remove content.
You can also create thematic Playlists to show on different screens in different locations at different times. However granular you want to get, ScreenCloud has the flexibility.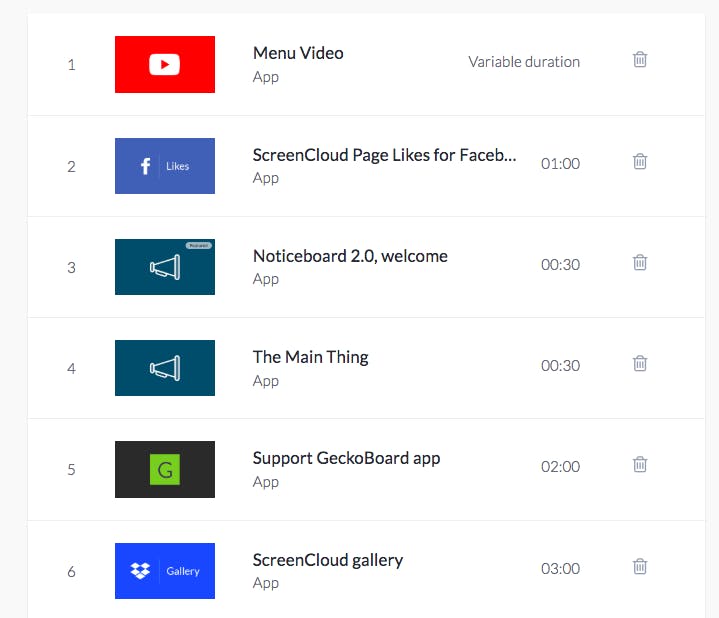 Between those announcements, you may want to add other ambient content like YouTube videos, updates on the weather, world news or departmental Twitter feeds. If that sounds like a lot to learn, our training page breaks everything down into quick video tutorials.
Digital bulletin board ideas and examples
With so much freedom, it can be hard to figure out what to create. We've seen our fair share of digital signage successes and understand what works well and what doesn't. If you're looking for some inspiration, we have plenty to give.
Digital announcement boards for schools:
Upcoming Events: Announcements about school plays, concerts, sports events, parent-teacher meetings, or field trips.
Exam Schedules: Posting exam dates, times, and locations to keep students informed.
Important Deadlines: Reminders for assignment submissions, application deadlines, or registration dates.
Club or Organization Updates: Sharing information about club meetings, activities, or recruitment.
Safety Reminders: Bulletins regarding school safety procedures, emergency protocols, or weather-related announcements.
Celebrations and Achievements: Recognizing student achievements, birthdays, or special accomplishments.
School Rules and Policies: Displaying reminders about dress codes, behavior guidelines, or code of conduct.
Digital bulletin boards for offices:
Meeting Announcements: Sharing details about upcoming meetings, including date, time, location, and agenda.
Policy Updates: Informing employees about changes to company policies, procedures, or benefits.
Employee Recognition: Recognizing outstanding employee performance, work anniversaries, or birthdays.
Training and Development Opportunities: Promoting workshops, seminars, or training sessions to enhance employee skills.
Office Events: Announcing office parties, team-building activities, or charitable events.
Health and Wellness Tips: Providing information about fitness challenges, stress management techniques, or healthy habits.
IT Notices: Alerting employees about IT maintenance, system upgrades, or network outages.
Digital notice boards for healthcare facilities:
Patient Education Materials: Sharing health-related information, such as disease prevention tips, medication guidelines, or lifestyle recommendations.
Health Campaigns: Promoting vaccination drives, awareness campaigns, or health screening programs.
Staff Updates: Communicating schedule changes, shifts, or training sessions for healthcare professionals.
Visitor Guidelines: Displaying information about visiting hours, visitor restrictions, or safety protocols.
Emergency Alerts: Providing instructions during emergencies, such as evacuation procedures or contact information during crisis situations.
Support Groups or Counseling Services: Announcing support group meetings, mental health services, or counseling sessions available to patients and their families.
Of course, if you already have a virtual bulletin board set up in an app like Notion, you can simply connect that as-is to ScreenCloud. Once you feel like you have the hang of things, you can start expanding to other types of content, like KPI dashboards, schedule/calendar integrations, and user-submitted content.
About ScreenCloud
ScreenCloud helps teams in 9,000+ organizations around the world communicate with those who matter most, using the screens on their walls and the content already in their systems. 
ScreenCloud's digital signage can inform employees on corporate information like social media feeds, data visualizations, emergency alerts, and live broadcasts – or even simply the news, sports scores and weather. 
Sign up for a free demo and see how digital signage can work for you today.
Ready to get your organization connected?
Connect your first screen today with our 14-day free trial
ideas