You could say that retaining employees is as important as maintaining a good profit line. Which is why employee engagement is becoming a major focus for most businesses and organizations. After all, what is a business without their employees? 
At the heart of employee engagement is internal communications. It can be a very powerful tool, especially when you find creative ways of giving that content impact.
But how can you cut through the noise when ways of communicating are increasing as much as our own attention spans decrease? 
Below, we've condensed seven examples for companies who want to improve communication and get creative with their internal messaging.
7 Creative Ways to Communicate Information to Employees
1. Video content
Studies suggest that we now spend one day every week online checking content from our smartphones. Not only that, the average person's thumb apparently travels around 52 miles per year just from scrolling through social media. This constant feed of information means that it's harder than ever for content to stand out. 
But video is still one of the most popular, and most effective, mediums through which to impart information. It feels easier to sit and watch a video than read an article.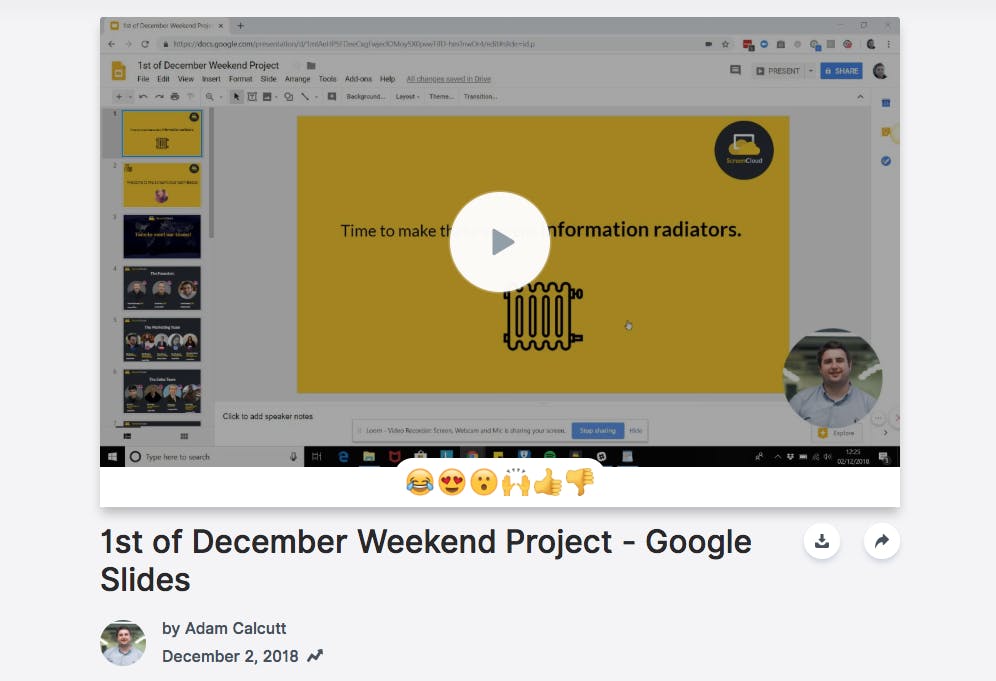 One tool we use for screen recordings to share what we've been working on is Loom.
Video "meetings"
We're no strangers to communicating with remote employees. In fact we wrote a guide on it. As an office made up of three international hubs, we've had to figure out ways to get important and informative messages across without timezones standing in our way.
So we use tools like Loom. 
Loom lets us share ideas, show examples and present product run-throughs without having to put together a long document of screenshots and complicated written instructions. Simply film yourself talking through a presentation / screen share, and send it out. 
We also use our own ScreenCloud Broadcast to host live-streams of company-wide meetings, or our popular AMA ("ask-me-anything") sessions where our CEO answers questions live from across the business. This is a great way to engage employees and help them feel connected to a business. 
2. Bookend meetings
We like to start and end our weeks with department-specific meetings; the first is to set the intentions for the week, and the second is to discuss what has been accomplished. Often this is enough to mitigate the need for any additional meetings during the week, leaving more time to focus on the job at hand.
For remote workers, or those in a different time zone, again, video is a great format for sharing important information. We tend to film and share a quick summary of what's been said. 
3. Digital noticeboards
While we go into much more detail about digital bulletin boards here, a digital noticeboard is a great way to keep employees engaged. As part of the same study around digital smartphone use, 54% of people admitted they interrupted face-to-face conversions in order to look at their phone and 43% admitted to spending too much time online. We are therefore naturally drawn to looking at screens for information, making them an effective medium for communication. 
Communicating with employees through digital screens around the office places an onus on passive content consumption. It doesn't require any manual "checking". 
The bonus of course, is that digital screens can be pioneered, or shared, by any department. They can be used to connect customer service data studios, important notices from HR, stats from marketing or broadcast takeovers from the CEO.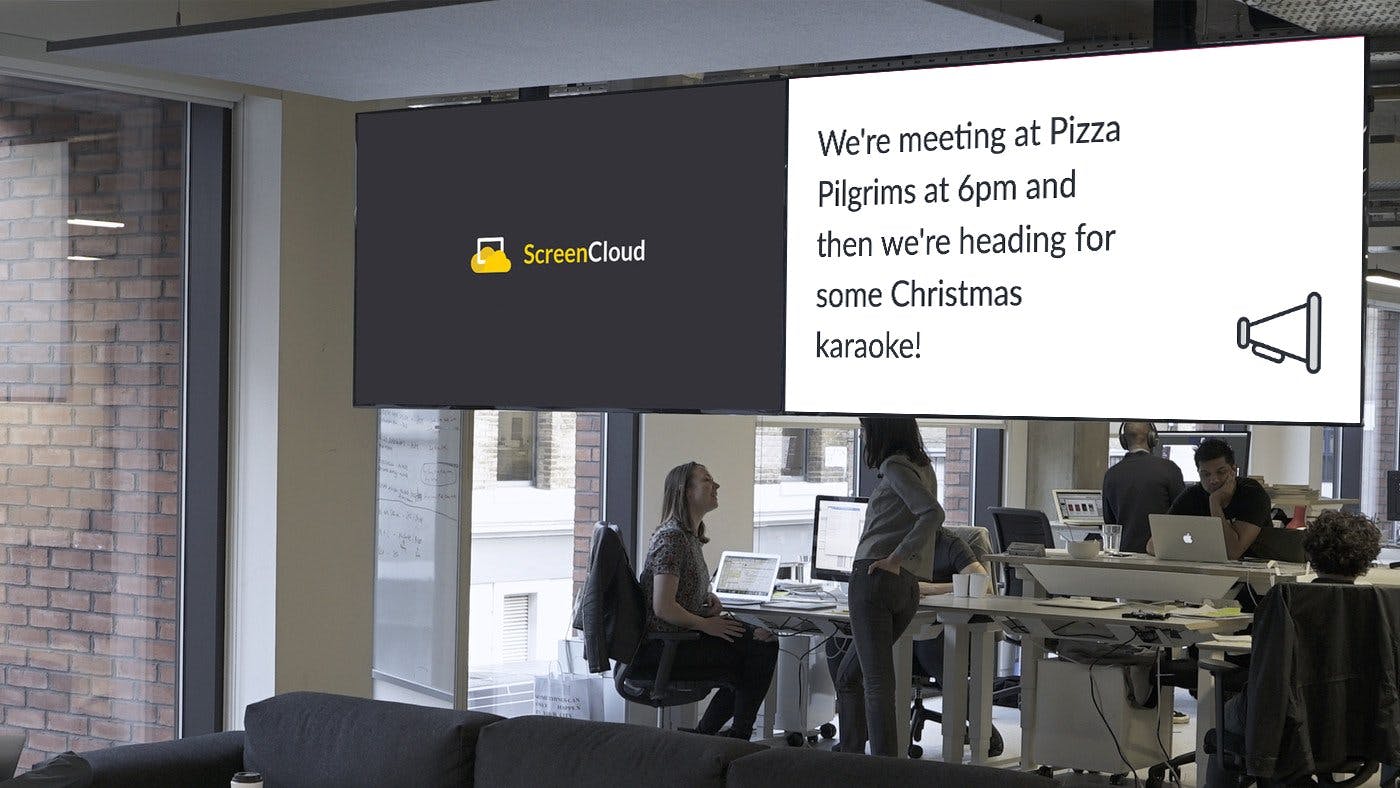 4. Teaser campaigns
We often think about teaser campaigns in advertising. They build hype. But why not implement the same strategy for internal communications? 
An internal teaser campaign can be great for building excitement when communicating new ideas, launches or rebrands to employees. Sometimes this information is siloed and hidden from a wider audience, but teaser campaigns can help everyone feel involved. It can also lead to potential cross-departmental collaboration.
One way of doing this is to use our integrated Countdown Timer app, or by scheduling announcements made in Canvas.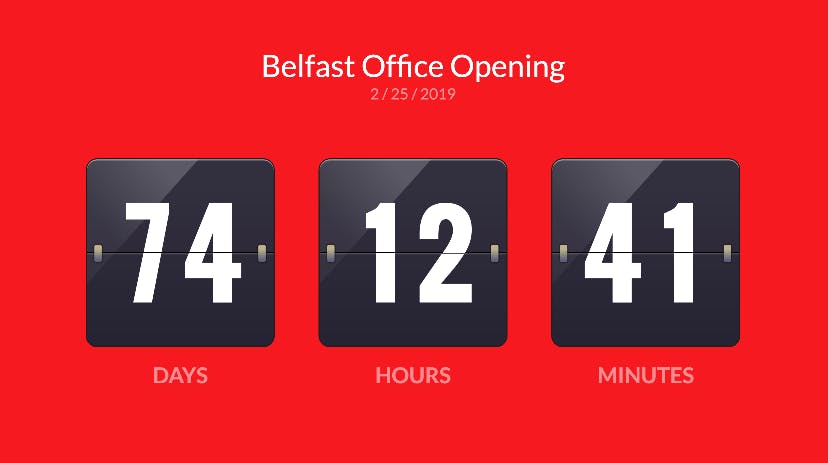 We created this using our Countdown Timer app.
5. Turning information into gaming
Many of us have employee information at our fingertips (or stored in a company HR system at least) but not many companies use that information to build better employee communications,
One example we used was asking every ScreenCloud team member to come up with "two truths and one lie" about themselves, which were posted on a weekly basis to our Slack channel.

The team could then use Simple Poll to make their guess on which one was the lie and at the end of the week, the team member could reveal the lie, and therefore some interesting stuff about themselves to the rest of the team.
With any employee system or intranet, turning data into gaming is a great way to get employees communicating with each other more. One example could be asking new employees to fill in their top three most interesting jobs, and getting employees to guess which job belongs to which person.
6. Employee-led content
It's one thing to consider how to communicate information down to employees, but what about the way employees communicate back? Letting employees lead with their own communications gives a voice to everyone in the company, and will likely surface thoughts, feelings and ideas that marry great work. Stats from the 2014 Edelman Trust Barometer suggest that 52% of consumers trust an "average" employee more than the CEO, and it's likely employee-to-employee marketing will have much of the same effect.
Some companies support "Lunch and Learn" sessions where one employee presents to others in the room. This might be someone from HR presenting on a topic like company culture, or someone in a marketing role sharing what's new in social media. The idea of a Lunch and Learn is that employees want to give up their lunch break in order to receive free, interesting information (so save the numbers for the formal company meeting).
In a fast-moving company, like at social media agency Be Born Social, these learning sessions, or "Creative time" sessions as they call them, are essential to success.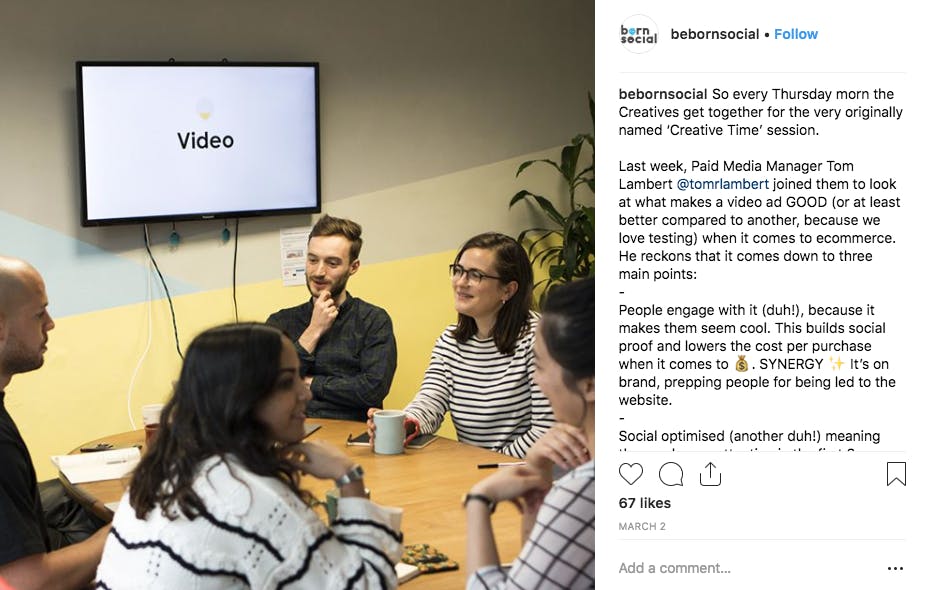 7. The un-blog company blog
Another approach taken by modern companies is to use the company blog, or internal intranet, as a place to communicate more than just new policies. HR software company Charlie HR is one example of a company taking the "un-blog" approach to share content and ideas with not just employees, but also customers.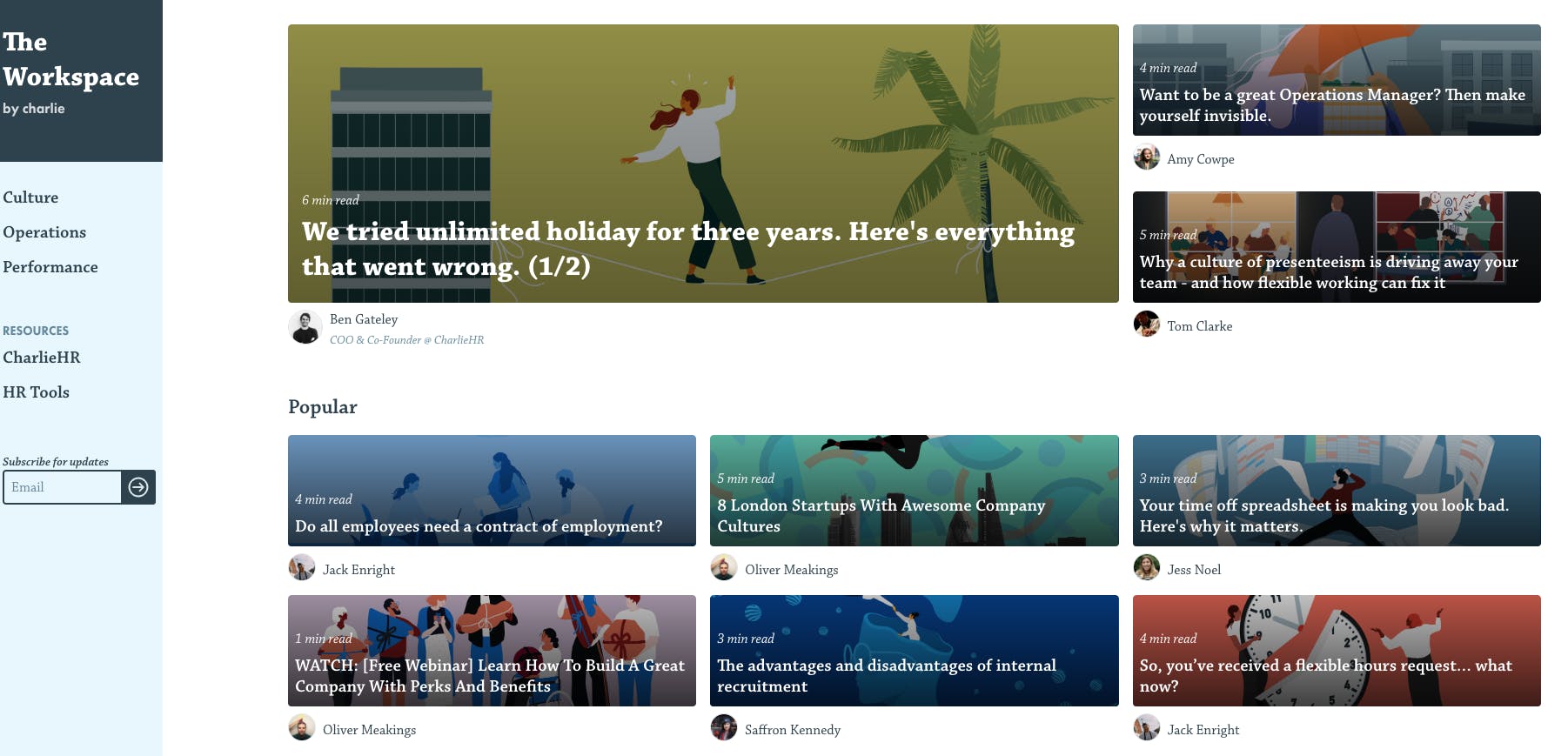 The un-blog has a few different characteristics:
Bios - unlike the traditional company blog where posts are anonymous and strictly for SEO, the un-blog lets staff members come to the forefront and own their ideas.
Jumping between ideas - the format of the un-blog rarely follows a chronological format. It's designed to surface ideas, related topics, and other pieces of content that the reader can lose themselves in.
Open conversation - unlike the traditional company blog, which often reads more like a press release, the un-blog is designed to air the good, the bad, and the ugly. The things that went wrong and the wins.
While much of the un-blog is outward-facing it also communicates something to employees, saying: we trust you to write our content and own what we're building in the world. This provides a sense of ownership and helps employees to feel like they have a strong position in driving the ship.
It's a good reminder that communicating with employees often isn't about sending an email or writing a notice. It's embedded in the messages given out from the company and the ways in which they, themselves, are enabled to communicate.
For more ideas on communicating better in your office, check out our monthly The Connected Company newsletter.