No matter how large or small the company, you can bet they all share some difficulty when it comes to communication. Which seems kinda odd when you think that it's language and communication which, by nature, makes us human.
Paul Cohen, who manages the DARPA program on teaching computers to speak, says "Human communication feels so natural that we don't notice how much mental work it requires". We also often fail to recognize the difference between speech and communication. The former being how we share a message, the latter being something that goes far beyond words alone, including gestures, facial expressions, physical contact and, in today's digital world, a whole other spectrum of "communication" methods.
When it comes to how a company communicates with its staff, the type and methods of communication become even more important. Unlike a one-to-one conversation, a company's communication strategy is one-to-many. Sharing information to the masses, and yet helping individuals to connect to that information, isn't easy.
When we think about how we communicate at ScreenCloud there's a pyramid of methods, including:
Slack messaging - our fundamental means of communicating on a day-to-day basis.
Email - used for involving others outside of direct employees.
Calls - used for groups, or to discuss a specific topic.
Meetings - happening in our hubs when there's more than one team member.
All Hands - our monthly meeting where each of the Founders, and often other team members, present on an idea or topic.
Investor Update - a monthly email newsletter.
Company Meetup - as we discuss here, this year we held our first ScreenCloud Together all company conference.
Digital screens - being a digital signage company, it seems pretty obvious that we also use the screens in our offices to communicate data, metrics, customer feedback and workflows.
At this point in time, we're a team of around 40. As we grow, there will be even more challenges around communicating on a wider scale. It's also interesting to note that all of these methods are solely for communicating internally. They don't consider how we communicate externally with our customers.
Which is why we thought it would be interesting to see how other companies communicate internally and what tools and practices they use.
How Companies Communicate Internally
Buffer's Slack communication commandments
Social media scheduling tool Buffer, is a company well-known for having a positive company culture. Being fully distributed, building culture has always been important. In fact, communication is one of Buffer's key values; to "Communicate with clarity".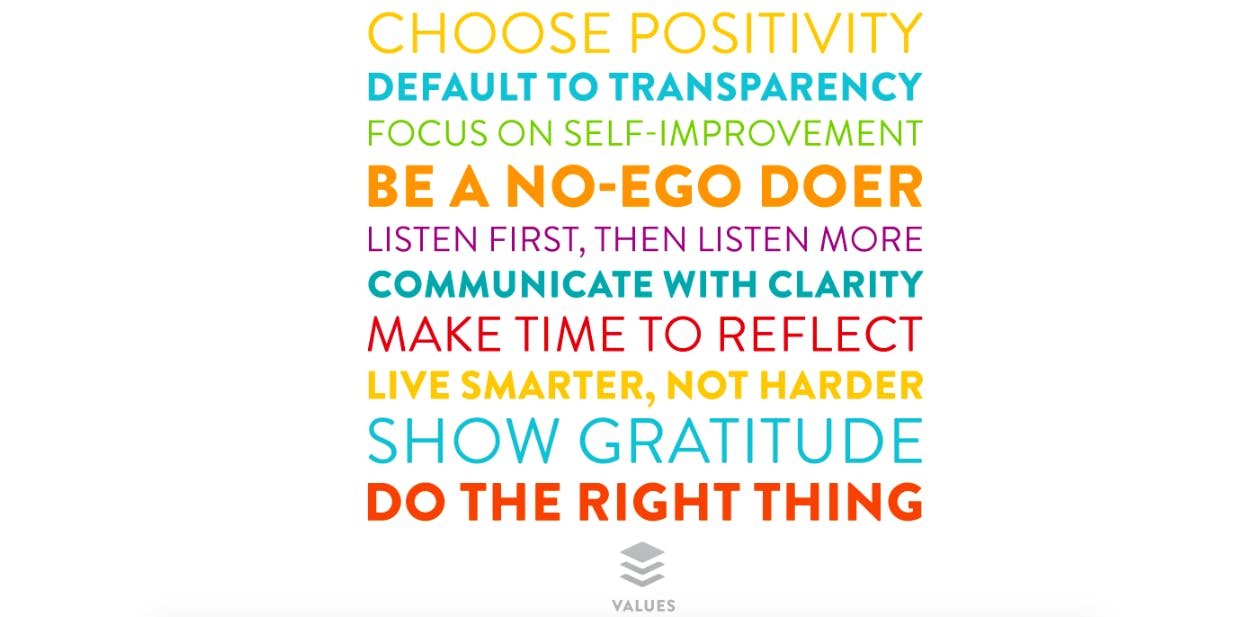 We'd even go so far as to say 5 out of 10 of Buffer's key values all relate to internal communication in some way, for example "Default to transparency" and "Choose positivity". Buffer also created "The 10 Slack Commandments". As a fully remote team, Slack is their main portal of communication, but they recognized that the "live" nature of Slack messages meant employees were struggling to switch off.
To protect employee free time (and sanity), they decided to establish common communication etiquette when using Slack, that the whole company could adhere to. This included rules such as "You're responsible for managing your downtime" and best practice guides for using Slack notification tools such as @channel (which notifies everyone in that Slack channel) and @here (which only notifies those online at that time).
Creating communication boundaries and clear guidelines of what to communicate and when, is a great rule of thumb, especially when digital channels are your bread and butter of communication.
Desklodge's coworking screen communications
We often think about internal communication as limited to employees, but with workspaces becoming more fluid, and many different companies often working under the same roof, the model has changed.
Desklodge is a series of creative coworking spaces throughout the UK that aims to build community between its members. As well as letting coworkers share the same space, Desklodge also wants them to be able to share values, projects and make valuable connections.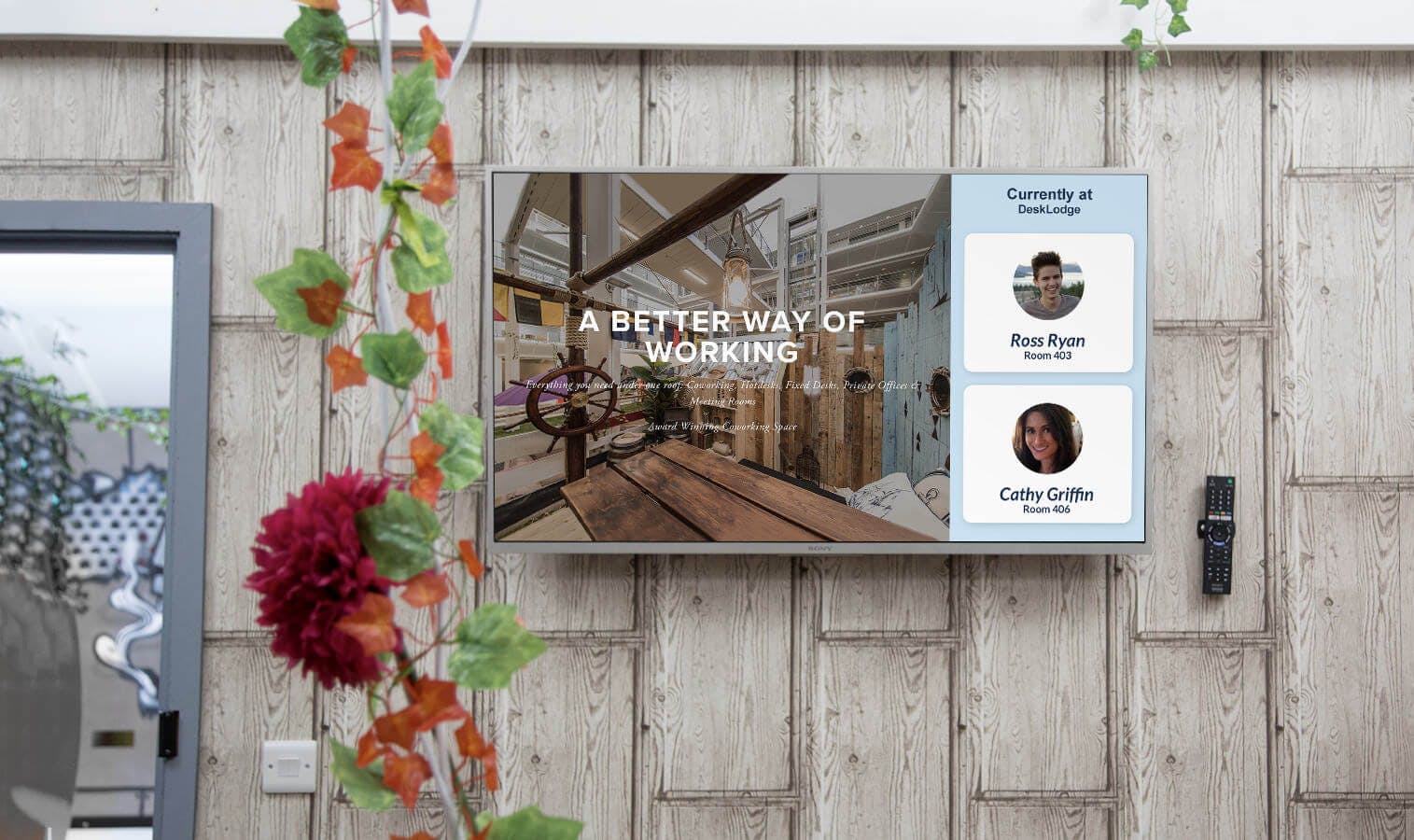 They do this firstly through their own community software that shows everything from who's in the building (a rarity in coworking spaces), to what they're working on and even their tweets. Knowing who else is working in the building is one of the first steps to easy communication and is something that many single-company offices probably don't consider.
The software works a bit like a digital message board - coworkers can post job ads, messages, videos and anything else that will help them make a potential connection with another coworker. All of the information is also shared across digital screens in hotpoints such as by the kettle, where Desklodge can guarantee a high footfall.
In-N-Out Burger's "Open Door" policy
One company that realizes how good internal communication is key to not just the employee experience, but also to the customer one, is In-N-Out Burger. The chain of fast food restaurants is consistently up there in the "Top companies to work for" and on Glassdoor, 91% of reviewers would recommend working there to a friend.
As well as a series of company perks, the way In-N-Out Burger has fostered communication is also a great case study for good internal communications. Lynsi Snyder, whose grandparents founded In-N-Out Burger contributes their high level of employee engagement to a "servant leadership style". This includes an "Open Door Policy" allowing any employee, regardless of position, to raise a query or concern, and have the authority to escalate it if no resolution is found. Even so far as to take it to the In-N-Out Burger president.
Now we're talking.
The Zappos Culture Book
Zappos is well known in startup folklore as being the company that embraced the idea of "company culture" to surprise and delight its customers, from sending flowers to customers who had suffered foot-related injuries, to buying shoes from a rival store because they'd run out of stock.
Less publicized, is their approach to internal communication which starts with the Zappos Culture Book. Rather than a few hundred pages of corporate spiel, the Zappos Culture Book lets other employees say what culture means to them.

Alongside this insight into the culture, the recruitment process at Zappos is extremely slow, often taking months for a new hire to officially start. As well as interviews, potential employees also make office visits, spend time with existing employees and attend company events, before they have to decide whether Zappos is the right fit for their own personal culture.
Nokia's employee blog hub
As well as improving the internal communication flow from management down to employees, many successful internal communication policies begin by fostering communication between employees.
Nokia has a series of three tools; VideoHub, BlogHub and Infopedia which are solely for employee communication. BlogHub allows employees to create their own communities and helps employees to find conversations relevant to them, whether that's with a colleague already in their team, or an employee they've never crossed paths with.
The BlogHub uses a search engine tool to help surface information and the blog style means employees can dip in and out when they want to, rather than having an inbox filled with emails that they're never going to get to read.
Future methods of internal communication
As well as the idea of company guidelines, books and blogs we, like many, believe that the future gap between internal communication and external communication (i.e. marketing) will begin to close. At this point, we'll start to see many traditional methods of advertising, pivot inwards, to face internal audiences. Some of those we expect to see include:
Internal company podcast - a way to connect regularly with employees and allow them to passively consume company content while commuting or even exercising.
Digital signage - as we've seen first hand, using digital signage for internal communication is an effective way to surface information that's truly relevant to employees, in their physical environment. Fitting into the "push" mechanism of sending information out to staff members, without them having to request or actively seek it.
Events and workshops - as more companies adopt a fully, or partly, remote model, meeting up and organizing face-to-face methods of communication will become key. Whether that's monthly, yearly or more sporadic, ensuring the face-to-face element of communication isn't lost.

What trends do you foresee in the future of communication? Is your company nailing its internal communications? We'd love to hear from you - @screencloud.