Publish content to your screens directly from Microsoft Teams
Learn More


Four Takeaways We're Still Thinking About from UNLEASH America
ScreenCloud had the privilege of being a Diamond Sponsor for UNLEASH America, the international festival of HR. After some time to process, a few things stood out regarding HR tech, leadership and the future of organizational communication with AI. Read our blog and learn the four things we won't forget from UNLEASH.
As a Diamond Sponsor of UNLEASH America, ScreenCloud had the chance to get an in-depth look at what makes the human resources world go round. Whether it's new technology, automation or organization, there was one theme that held steady above all: upgrades to the employee experience across all industries are needed and possible, just with the right tools.
Keep reading for our top four takeaways from the international festival of HR and what we're doing to implement them in the near future.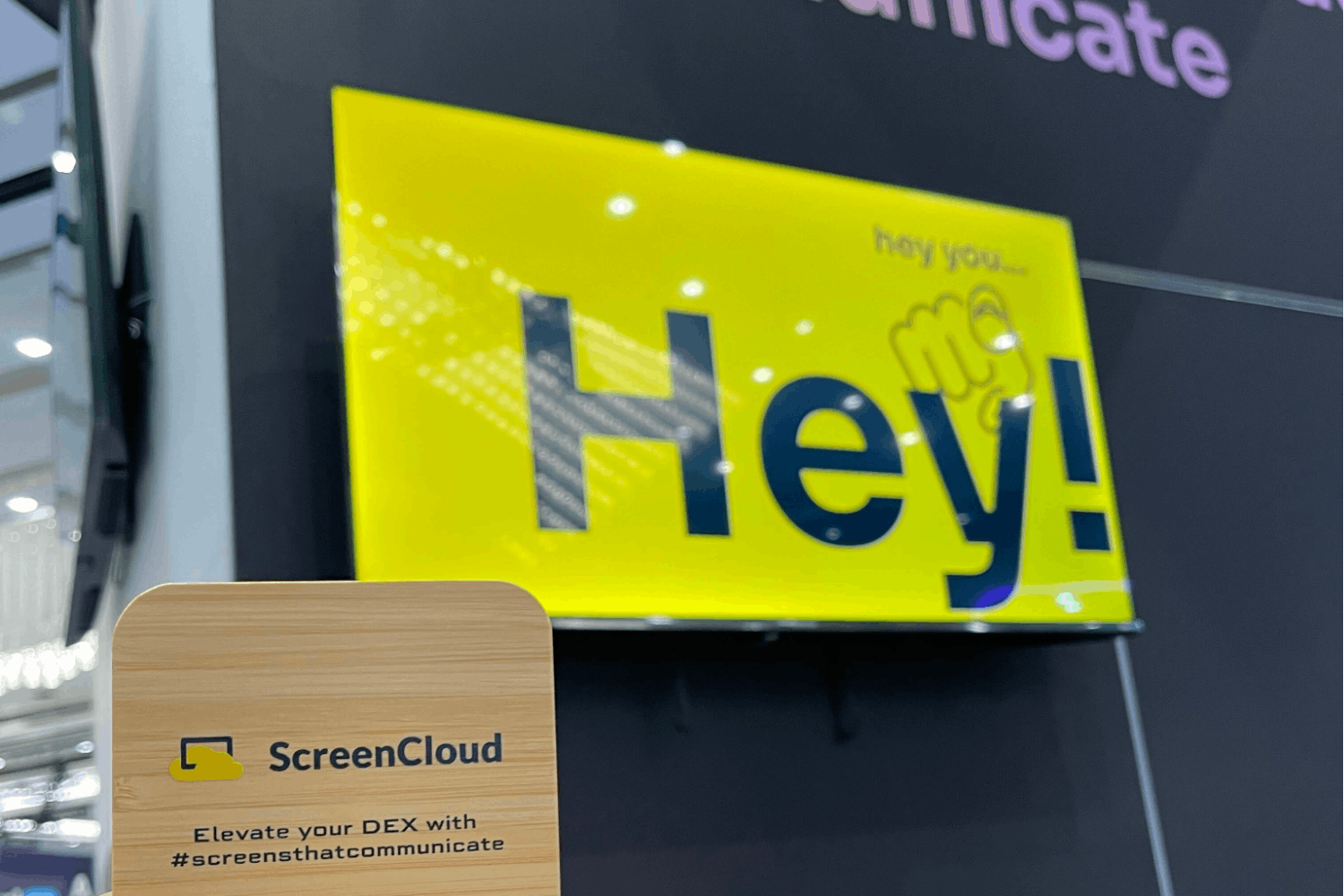 It's never too late for an established company to learn new tricks
As our invited guests, we had an idea of what Werner Enterprises, Midwest-based transportation company, would be presenting: how they drove employee-first thinking through talent acquisition, retention and recognition via digital signage.
Interested in learning more? Check out the Werner Enterprises presentation.
However, we were ecstatic to hear their change management case study, where the leader in transportation and logistics shifted their employees from traditional desk-based phones to Zoom Phones, a cloud-based phone service.
At first, employees pushed back. The old method worked just fine — if it's not broken, why change it? The increase in productivity didn't make the entire digital transformation worth it to employees.
Until Werner Enterprises made it cool to digitize. By putting a comedic spin on the Zoom logo into Agent 007, the moniker for pop culture character James Bond, and promoting the new initiative with employee-facing screens. employees were quickly jumping onboard with the transfer.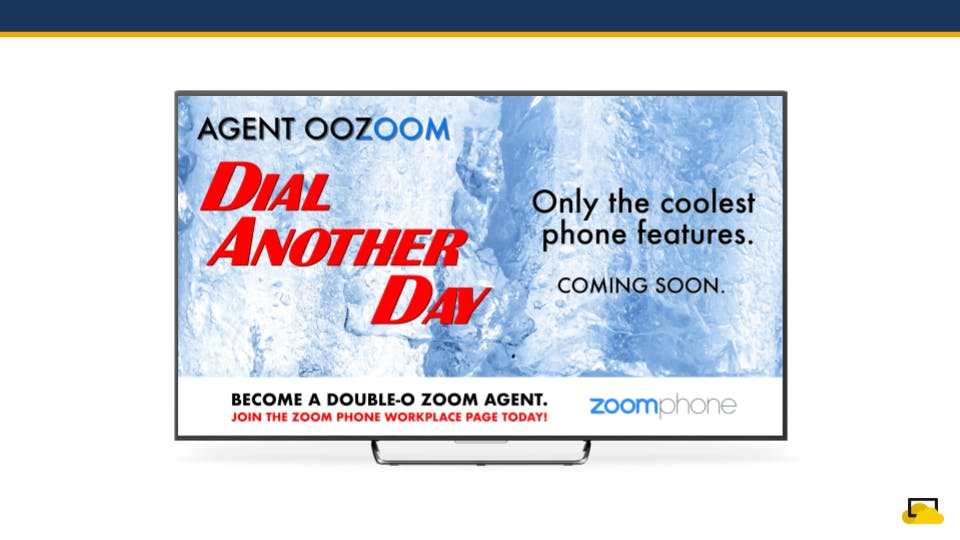 A real-use example of how digital signage helped digital transformation initiatives.
It just goes to show that even through a little employee pushback, if you're able to strike a chord and relate to your employees, it's never too late to try something new.
The rise of AI
The talk of the town was the surge of artificial intelligence tools on the market, such as OpenAI's ChatGPT, Google's Bard and AI integration in search engines and software. Although the initial narrative of AI tools evoked worries of job displacement, the UNLEASH conference demonstrated that AI and humans are here to stay.
People shouldn't be scared of innovative tech — on the contrary, if they embrace it, it's more likely that AI will simply make people's jobs easier, not redundant.
The primary goal of incorporating AI into HR tools is to streamline administrative functions such as recruitment, candidate assessments and employee onboarding. By automating these tasks, HR professionals will be able to concentrate on aligning broader organizational strategies with the 'big picture' of the HR world rather than operational details.
When it comes to HR tech and AI, we may be biased, but our CEO Mark McDermott is an expert. In his presentation on the power of employee-facing screens, he demonstrated our digital signage solution with an AI chat box, where informational displays (weather, latest news and even translation!) were created within just a few minutes, giving the user freedom to move onto their next task.
Want to know more about using AI to create engaging digital signage? Check out our CEO's full presentation.
Employee experience vs. employee expression
In an insightful presentation by Greg Roche, VP of Compensation at UnitedHealth Group, titled 'When Surveys Lie', the gap between employee experience and employee expression was emphasized. While many organizations are implementing employee experience apps to survey their workforce in the name of measuring employee engagement, no survey is going to be able to capture how an employee truly feels if they don't feel safe to speak sincerely.
"If your company culture will not allow someone to say 'I'm at the line', there's not an engagement survey that can help you."
Greg Roche
VP of Compensation, UnitedHealth Group
By creating a space where employees are encouraged to present feedback and air out their frustrations, Roche believes it'll be more likely that managers will connect with their employees to better talk them down from the line. 
"If everyone feels like they can say that to their coworkers, boss, teams, it will help start conversations that help people step back from the line."
Greg Roche
VP of Compensation, UnitedHealth Group
Measures of employee engagement are not useful or reliable if companies don't create spaces where honest employee expression can happen. This doesn't mean employee engagement tools should go away; as all levels of the organization collectively assume responsibility for the overall employee experience and foster a cultural shift that promotes openness, these tools can thrive.
The 4 R's framework
In Economists Talk: Unleashing America's Talent Marketplace, a team of economists went over the four R's of HR:
Reskill: Reskilling and upskilling have brought more opportunities to jobs that have previously been made redundant.
Redesign: In redesigning the retention and recruitment process, organizations need to start asking candidates what they want.
Recruit: Although it may sound contradicting, by lowering the volume of postings and instead channeling energy into higher quality postings, they're more likely to gain worthwhile candidates. 
Retain: Retaining workers has historically required flexibility, and it's more true than ever now. With the remote job postings peaking in key industries, organizations must be prepared to offer competitive benefits to keep their talent.
With the news of massive layoffs and the overall tightening of wallets due to economic shifts, the labor market may be shocked, but is still going strong. If HR leaders stick to strengthening their four R's, then they'll be able to proactively respond to the shifting dynamics of the labor market, even in the face of economic uncertainties.
ScreenCloud for HR
ScreenCloud is an award-winning digital signage solution that creates connected workplaces and workforces with employee-facing 'screens that communicate'. We help HR teams in 9,000+ organizations around the globe consumerize and elevate their digital employee experiences. 
ScreenCloud's user-friendly, cloud-based CMS includes 70+ free apps, 150+ editable templates and thousands of integrations that make it simple to automate and scale internal communications that drive ROI. Introduce new joiners, celebrate milestones and achievements, display real-time dashboards, livestream meetings and webinars, and get business-critical updates and announcements to the right people at the right time.
Ready to get your organization connected?
Connect your first screen today with our 14-day free trial
blog