Publish content to your screens directly from Microsoft Teams
Learn More


At ScreenCloud, we champion our digital signage solution as the most reliable, effective, and engaging way to communicate company-wide and at scale. We are ecstatic to join the over 2,000 HR thought leaders and decision-makers who collaborate annually at UNLEASH America as a Diamond Sponsor.

Not only is UNLEASH America the place to be for established HR professionals, but it also encourages startups and scaleups while showcasing breakthrough technologies that can change the face of HR. UNLEASH gathers buyers from over 2,000 leading employers on its conference floors annually, impacting over 12 million employees and adding an astounding $18 million to the global economy.
With an opportunity to put our screens in front of the biggest audience of HR, ScreenCloud plans on taking our audience every step of the way. This is the first blog in our series, Road to UNLEASH, to discuss the landscape of HR as we head to the most influential festival for industry leaders. 
ScreenCloud at UNLEASH America
Even though our digital signage can speak for itself, we'll have experts at our walk-through experience booth to make sure the signs maximize their impact when you see them in action. There's no better place, besides your own workplace, for us to show you the ease, scalability, and necessity of digital signage.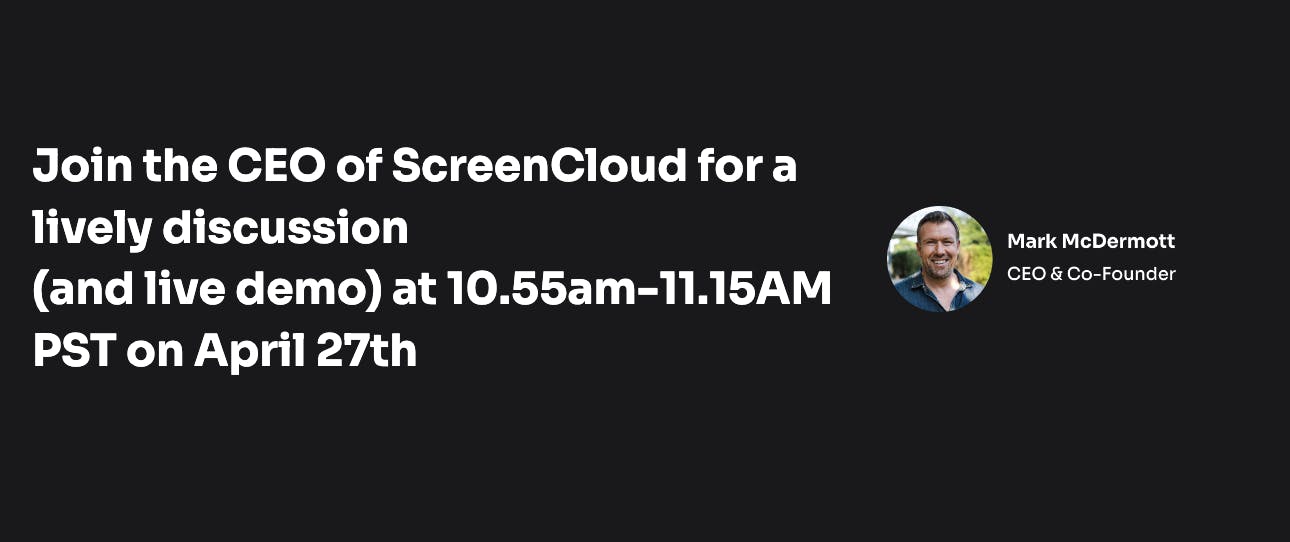 Mark McDermott, ScreenCloud's CEO, will also be hosting a discussion and product demo so you can see how digital signage enables you to share impactful content in real-time within your organization. If you've ever thought that digital signage was best suited for customers, Mark is here to show you that screens have their own place in your internal comms techstack.
We're also featuring an extra special guest (take a guess; they're a leader in the transportation sector) for a live case study. Hear straight from the source how digital signage has ensured that their employee communications stays engaging, efficient, and effective.
HR: Then and Now
Whether you call it HR, human resources, talent acquisition, people and culture, or all of the above, it's obvious that the world of human resources has been shocked and revamped since 2020. 
Before the pandemic pushed the move to remote work, HR was traditionally seen as rule regulators and enforcers. However, HR is now recognized as another pivotal role in ensuring employee success. 
By being intertwined with business continuity and the true source of working practices, the department has cemented itself as the central system of an organization. When organizations scrambled to move to remote work, HR began ramping up investments and training in remote work and making employee well-being a priority. 
Now that offices with remote or flexible work are becoming more common, HR is responsible for making sure the future of work comes seamlessly to not only the overall organization but also individual employees.
"One of the lessons of the pandemic is that we have to put the 'human' back into human resources."
Brian Kropp
Chief of Research, Gartner
Why UNLEASH?
Even if you don't know about UNLEASH, the technology on its floors certainly already affects you.
Workhuman, BetterUp, indeed, and UKG (just to name a few!) are all by our side in being Diamond Sponsors for UNLEASH America. The biggest companies in HR are there to scope out the latest products and services, all to better the employee experience.
Why is technology so important to HR? The numbers don't lie: the industry needs a change. 
Eight out of ten workers are deskless, with their jobs requiring them to regularly be away from digital devices. With 37% of deskless workers at risk of leaving within the next six months, technology enables HR in creating an informative, engaging, and improved employee experience.
For 78% of deskless workers, technology is an important factor when choosing a job; deskless workers are 50% more likely to stay when they're empowered with sufficient technology. 
UNLEASH is the place where HR and internal comms professionals find services, products, and people to help advance their roles and elevate their employee experience. Whether it's doing product walk-throughs or networking opportunities, UNLEASH is the place to be if you want to get ahead of the curve and implement groundbreaking, streamlined tech into your workplace.
Ready to get your organization connected?
Connect your first screen today with our 14-day free trial
blog