Publish content to your screens directly from Microsoft Teams
Learn More


Playbooks
How to create a Grafana dashboard and share it securely with your team
Whether you know them as BI or data dashboards the principle remains the same: dynamic data visualization is an essential weapon in any team's productivity arsenal.
Many businesses shy away from displaying their business-critical dashboards on "public" (i.e. inner-office) screens. This is due to one major reason:
Security.
The issue of security is critical, and it remains one of the main reasons why BI dashboards aren't getting seen by the teams that need them most. And while there are some businesses that have hacked ways to make screens secure, being buried under a pile of wires just isn't scalable. Or pretty.
While simply connecting a laptop to a screen via a cable – or loading up a device to plug into a TV – might have worked in the past, if you've been tasked with showing business-sensitive data on a screen then you'll understand the logistical nightmare of trying to keep that data safe. And that's before you've even taken scaling this up across multiple screens in multiple locations into consideration. 
Finding a scalable and flexible digital signage solution – that is also highly secure – is a bit like trying to find your perfect partner. Hold the flowers...
With ScreenCloud's latest product – Dashboards – creating a secure, scalable and flexible digital dashboard couldn't be easier. (You can send us those flowers if you like.)
For a detailed Dashboards set up guide, click here. 
Grafana and ScreenCloud Secure Dashboards
Grafana is one of a suite of powerful business intelligence tools (like Tableau and Splunk) that seamlessly integrates with ScreenCloud's new secure Dashboards digital signage software. This allows your Grafana dashboard, and all the data stored within, to be shown on a screen without the need to create a public URL or decrypt encrypted credentials.
With ScreenCloud pushing all encryption to the Cloud using a unique key and IAM role, there is no longer the risk of data being copied from a plug-in device (or that device being walked off with), or network traffic being intercepted. It is one of the most secure ways to show any data on any screen. Which is why we use it in our own offices.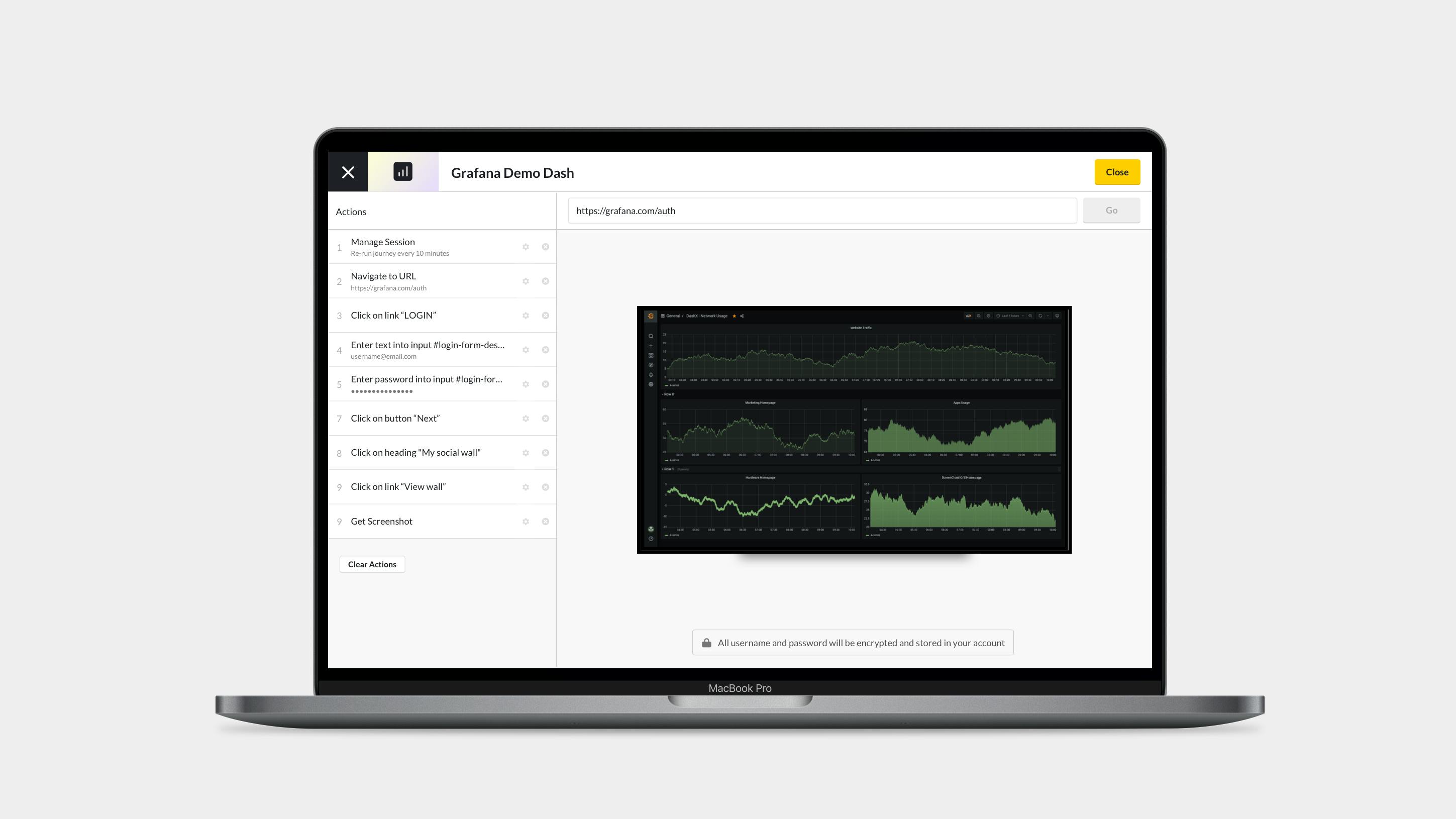 What can Grafana do?
Put simply, Grafana is a data visualization tool that integrates with applications like Graphite or Prometheus for metrics collection and storage. Put even simpler than that, Grafana pictorially shows your team's tangible efforts allowing for on-the-spot, data-driven, decisions without the need to squint at mass data sets. It basically allows you to visualize, drill down, alert on and explore all metrics regardless of where they're stored. 
Grafana's key features
Visualize your data: It's one thing to have data available, but it's another to understand it. The beauty of Grafana lies in its visualization options, like histograms and geomaps. These can all be fully customized to make monitoring key metrics as easy as possible.
Alerting: With the alert functionality, negative data trends can be spotted before they cause serious issue. By defining alert rules, Grafana will continuously evaluate your metrics and alert you via notification systems like Slack and OpsGenie should those rules be broken. 
Mixed data sources: Should your team need to digest a lot of different data, you can combine mixed data sources all within one graph visual, like comparing different time ranges or queries in a split view.
Dynamic drilldown: After creating dynamic and reusable dashboard templates, you can explore your metrics via ad-hoc queries and dynamic drilldown.
Annotations: Add annotations and tags to recognize recurring patterns within your data and run analysis for detailed reporting. 
Customize: You can use data source plugins like Jira, Datadog and Google Sheets to communicate and return data in a format that Grafana understands. This will allow you to use data from any of your existing dashboards. Coupled with app and panel plugins, you can create custom monitoring and visualization options for easier data analysis. You can also go one step further than that and build your own plugins using the Grafana Plugins Platform. 
Best practices when creating a Grafana dashboard
Set the goal for your dashboard
What is your Grafana dashboard trying to achieve? What insights are most important to your team? Once you have set the purpose for your dashboard – like sales, KPIs or web analytics – figure out the logical progression of your data and exactly what needs to be pulled in order to achieve those goals.


Only show what's necessary
By keeping your dashboard reports simple and to the point, it will allow for quick data-driven decision making and a reduction in cognitive load; the more obvious the graph, the quicker it is to interpret and act upon it. 


Stay consistent 
If you're showing multiple dashboards, keep the views consistent and set template parameters. Show data that is easy to cross-reference and navigate using tags, dashboard links or data links. Using a dashboard list panel can also show a customizable view based on tag searches. Again, you want to keep it as easy as possible for your team to immediately derive benefit from what they're seeing. 


Keep it secure
Think of your data like piles of cash; it's highly desirable and prone to theft, so you want to limit access to it. Keeping that data safe while sharing it on "public" screens has been – historically – a tech-heavy and time-consuming process with numerous security flaws. ScreenCloud's innovative approach to secure Dashboards can show this business-critical data to everyone that needs to see it, while keeping it totally secure with high-security remote screen-sharing.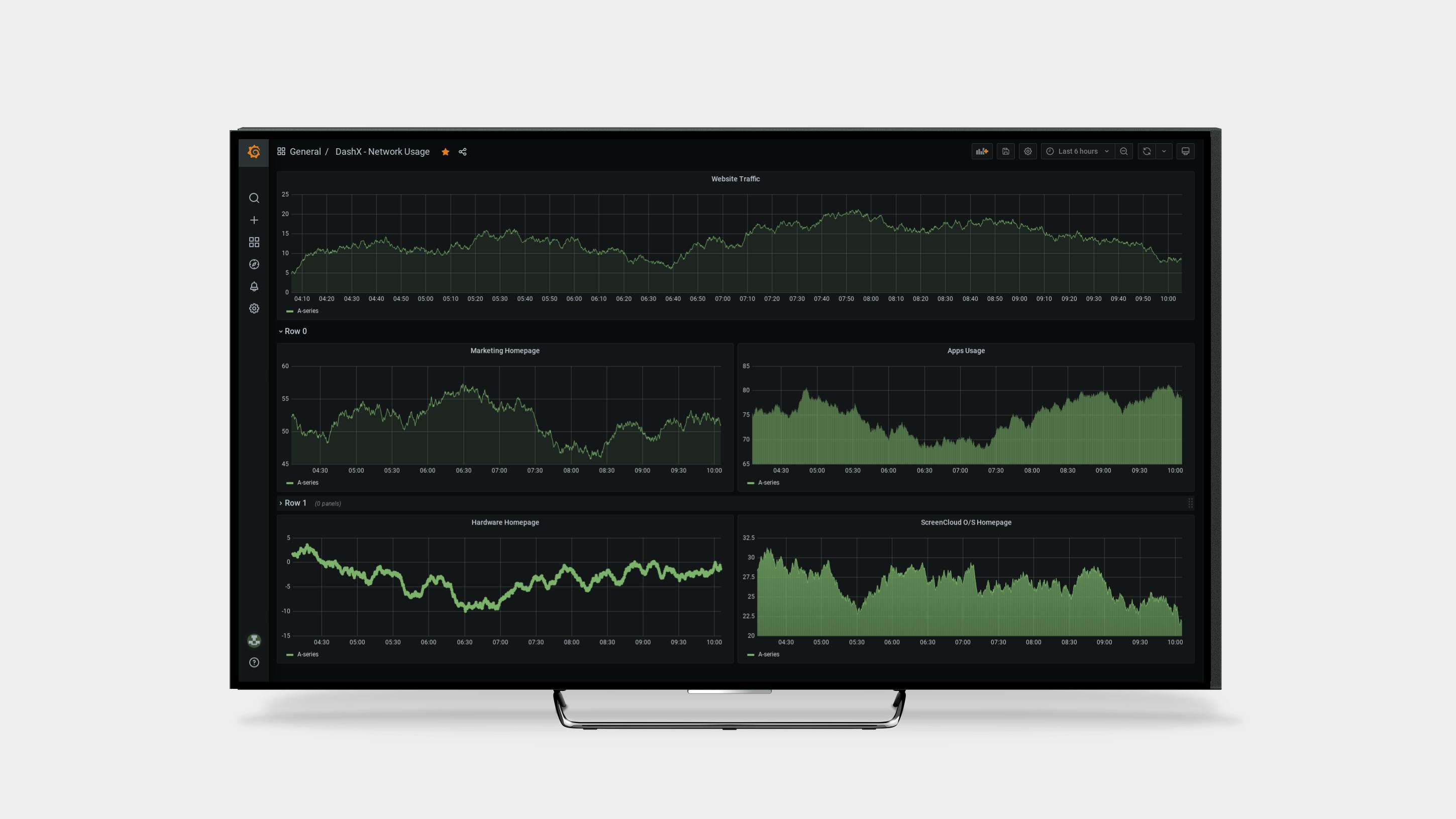 Best practices for using Grafana and ScreenCloud Dashboards
Allow incognito mode
Your browser stores information in Cookies and Local Storage; it allows you to automatically log into websites, remember items you've looked at recently, and even keep your theme preferences. All this makes your browsing experience much simpler.

The service ScreenCloud has created to display your content relies heavily on your journey having been recorded on a clean slate. So, rather than asking you to delete all your browsing history for a particular site, you can simply allow the ScreenCloud Dashboard Recorder to run in incognito mode.


Service account
We've gone the extra mile to make sure that all your sensitive data is completely secure. As an extra precaution, however, we highly recommend using a 'least privileged' service account when setting up your dashboards.


Start at the end
It is often the case that you can navigate directly to your target dashboard's URL. This will ask you to log in, and you'll subsequently be redirected back to your destination. This is both the quickest and most reliable journey you can make in ScreenCloud Dashboards as it cuts out needless actions.


Search
Many dashboard providers offer search capabilities. Instead of clicking through multiple menus, it is quicker and more reliable to search for exactly the content you want to display. We recommend typing in the full name of the content you're hoping to display, as partial search terms may return more items.
Grafana dashboard examples
Scientific data monitoring
Grid Computing Centre Karlsruhe (GridKa) is the home of the Large Hadron Collider, and they just so happen to visualize their data on a public GridKa Grafana dashboard. This powerful data tool shows how Grafana visualizes everything from cluster utilization to system metrics for its experiments.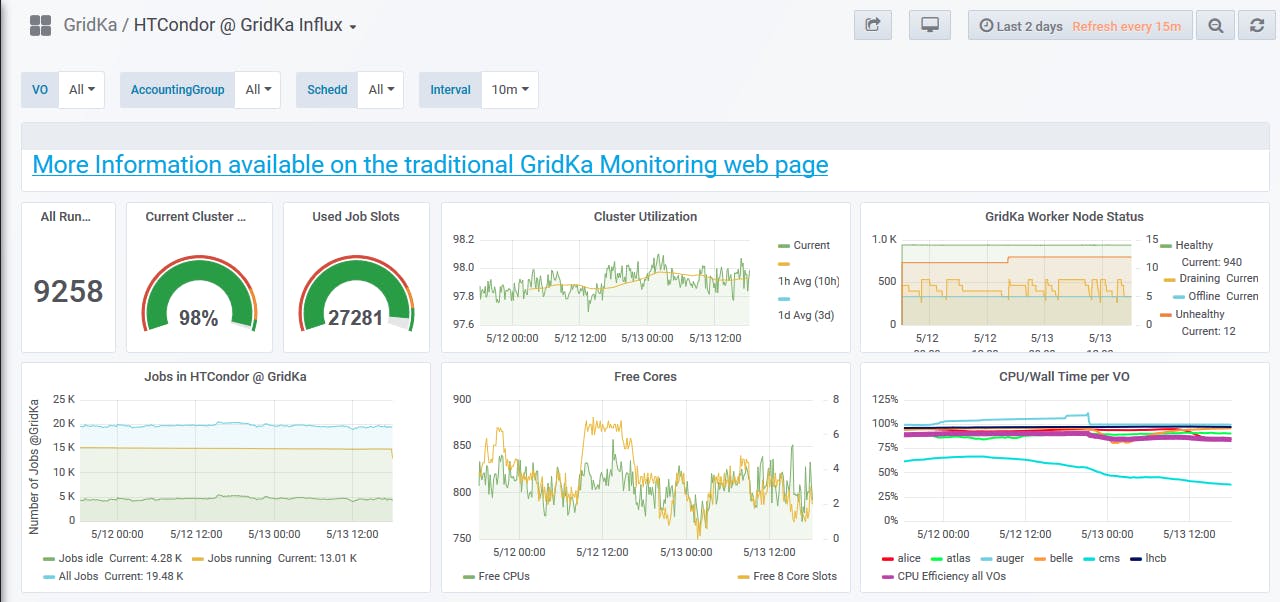 Grafana and Zabbix Plugin
Grafana can also visualize complicated data from Zabbix using a plugin to ease monitoring your IT infrastructure. This makes it easy to spot issues with system load time, nginx requests and overall server performance to keep a finger on the pulse of overall server health.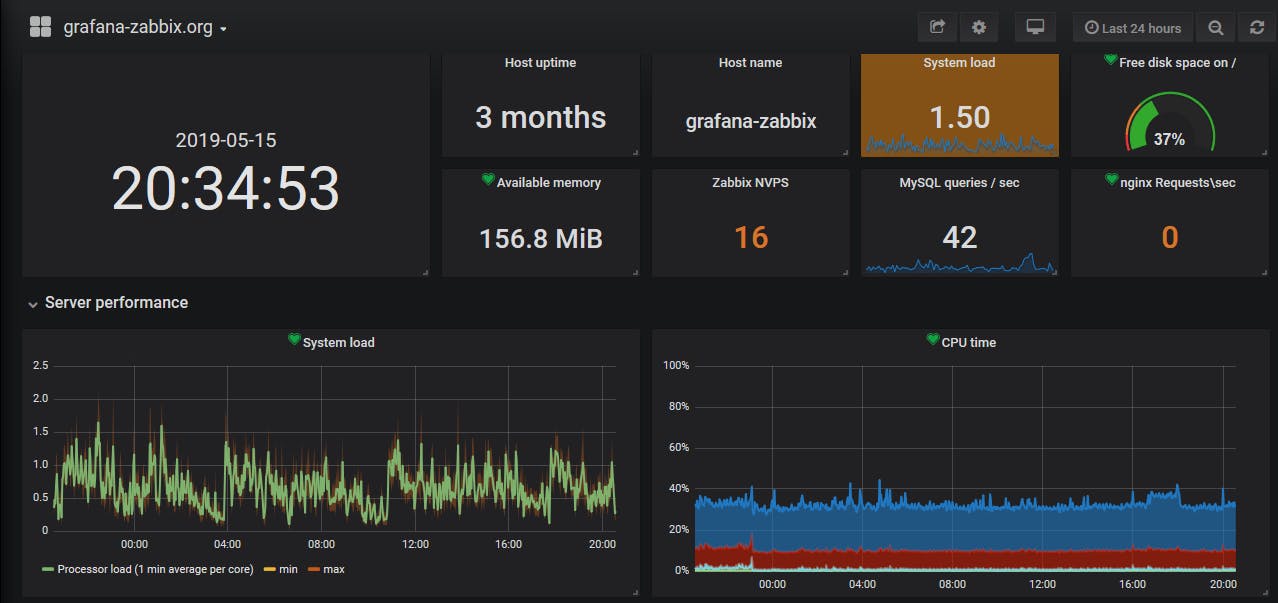 Grafana and ScreenCloud walkthrough
Founders' Insight
When it comes to sharing Business Information within any organization, there is a tension between the value of transparency and the need for security. A better informed workforce is a more productive workforce, and a more productive workforce directly impacts the bottom line. But opening the door to your company's most critical data will always be a compromise too far if it means that there is a danger that it could be open to abuse. When we looked at what others in the industry were doing and realized that it wasn't anywhere near what we would describe as 'secure', we knew we had to completely rethink the way data was handled for displaying on screens. ScreenCloud's Dashboard feature is the most secure solution available because anything less is simply not good enough for our customers who need to share their data and sleep at night.
Try for free
With a 14-day free trial (with no need to enter credit card details... or even have a screen), there's no excuse not to see if ScreenCloud Dashboards can help you foster a data-driven work culture.
Ready to get your organization connected?
Connect your first screen today with our 14-day free trial
blog