Publish content to your screens directly from Microsoft Teams
Learn More


Playbooks
How Microsoft Power BI Works (and how it works with ScreenCloud Dashboards)
Like it or loathe it (*spoiler alert: we love it), data – and the ability to understand it– is inextricably linked to productivity and all its residual benefits; little wonder that it's also known as business intelligence (BI) then.
This is probably why Microsoft, a company so synonymous with both productivity and data, has created one of the best BI software tools on the market: Power BI. Couple that with one of the most secure digital signage softwares on the market and… well, that's pure (business) intelligence. 
We've written a lot about dashboards recently– from our deep dives into other BI tools like Grafana and Tableau, to our overview of business intelligence dashboard uses – mainly because we're still riding on that wave of excitement from our ScreenCloud Dashboards launch earlier this year.
But, ScreenCloud and Power BI go way back; we've offered it as a built-in app to use directly within your ScreenCloud for a while, but now we offer it with added flexibility and security. 
(If you want to get down into the details of how it all works and how to set up ScreenCloud Dashboards, click here). 
What can Power BI do, and why should I care? 
Power BI wants to make building a data-driven culture easy, where everyone has access to, and can understand, business-critical data. Knowledge is power and all that. They call it bridging "the gap between data and decision making". And as Microsoft has such a wide range of other products – like Teams, for example – collaborating and communicating on this data in a familiar environment  is made even easier.
Like the other BI tools ScreenCloud Dashboards seamlessly integrates with, it's all about visualization. If you can see what's going on in a clear, structured way then you can gain a deeper insight of what's going on within your business. Think of it like opening up a bag of M&Ms; it's easier to see which color you have more of once you've sorted everything into groups. 
Some of our favorite Power BI features include:
AppSource:
Find every kind of visual you could imagine to make your complex data more compelling. And if you can't, then you can build your own to integrate with Power BI and your data. 
AI-powered answers:
Make your data work for you by asking it questions – even using conversational language. Ask to see the most common data patterns, outliers or even just the total number of something shown as a percentage e.g. "show the total number of sales in a pie chart from 2020". This also allows for non-data scientists to build machine learning models and gain deeper insights from both structured and unstructured data. 
Excel integration:
Power BI and Excel work hand-in-hand. You can connect Excel queries, reports and data models to Power BI Dashboards.
Connect multiple data sources:
Power BI can also scale up unifying all of your data sources by connecting them all in one dashboard – and even in one visualization. Big data becomes less complex and easier to analyze.
Real-time analytics:
Set your Power BI dashboard to refresh with what's going on in real-time for immediate data-driven decision making capabilities. 
Collaborate in the cloud:
Data can be shared and reports can be collaborated upon across your organization in the cloud, and via other Microsoft integrations like Teams and Excel.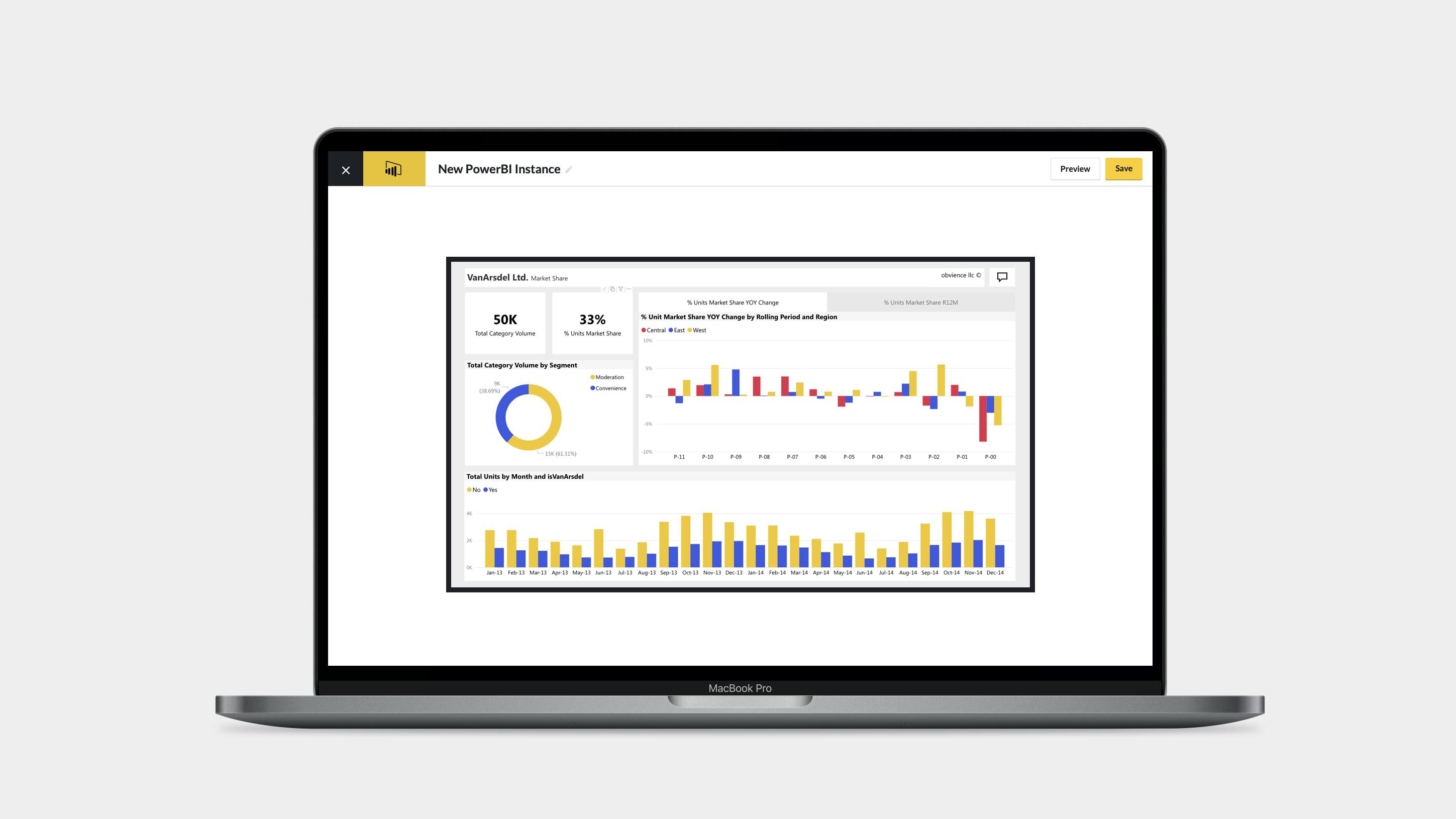 How to set up a Microsoft Power BI Dashboard with ScreenCloud Dashboards
While we go into much more detail on this here, ScreenCloud have a Microsoft Power BI app that you can download directly into your ScreenCloud account. This makes sharing your sensitive data even easier – and even more secure. 
After creating a Power BI report (Microsoft give a brilliant overview of how to do this):

Connect with our team to activate Microsoft PowerBI: using Microsoft PowerBI is an enterprise premium add-on feature, which is an additional cost to your ScreenCloud subscription. You can get in touch with our team by clicking here.
Set up your Microsoft PowerBI Dashboard: once your account is activated, log into your ScreenCloud account to start adding your password-protected sites. 
i) Visit the "Apps" section of your account. Click on "App Store".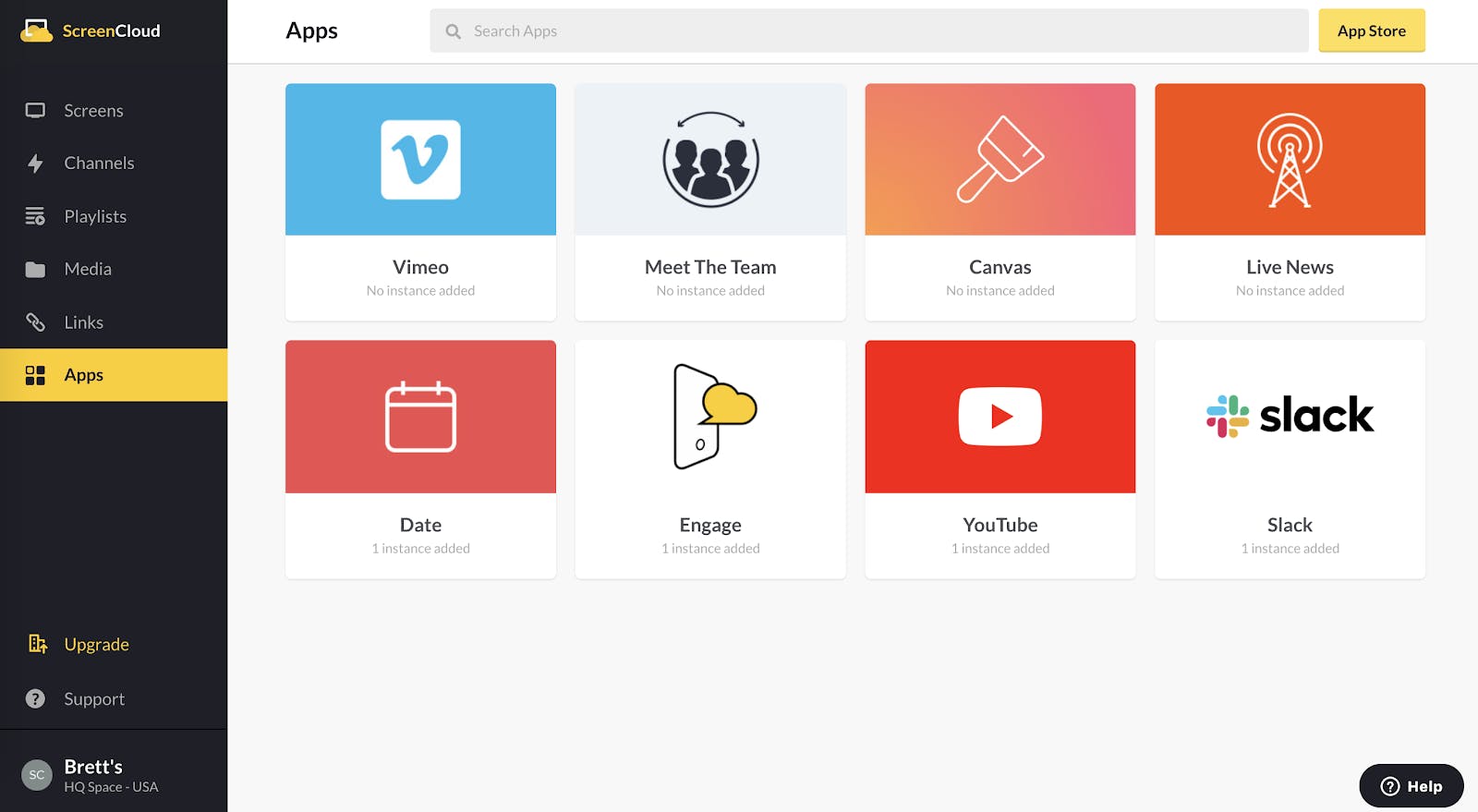 ii) Search for "Microsoft PowerBI", then select and click "Install App".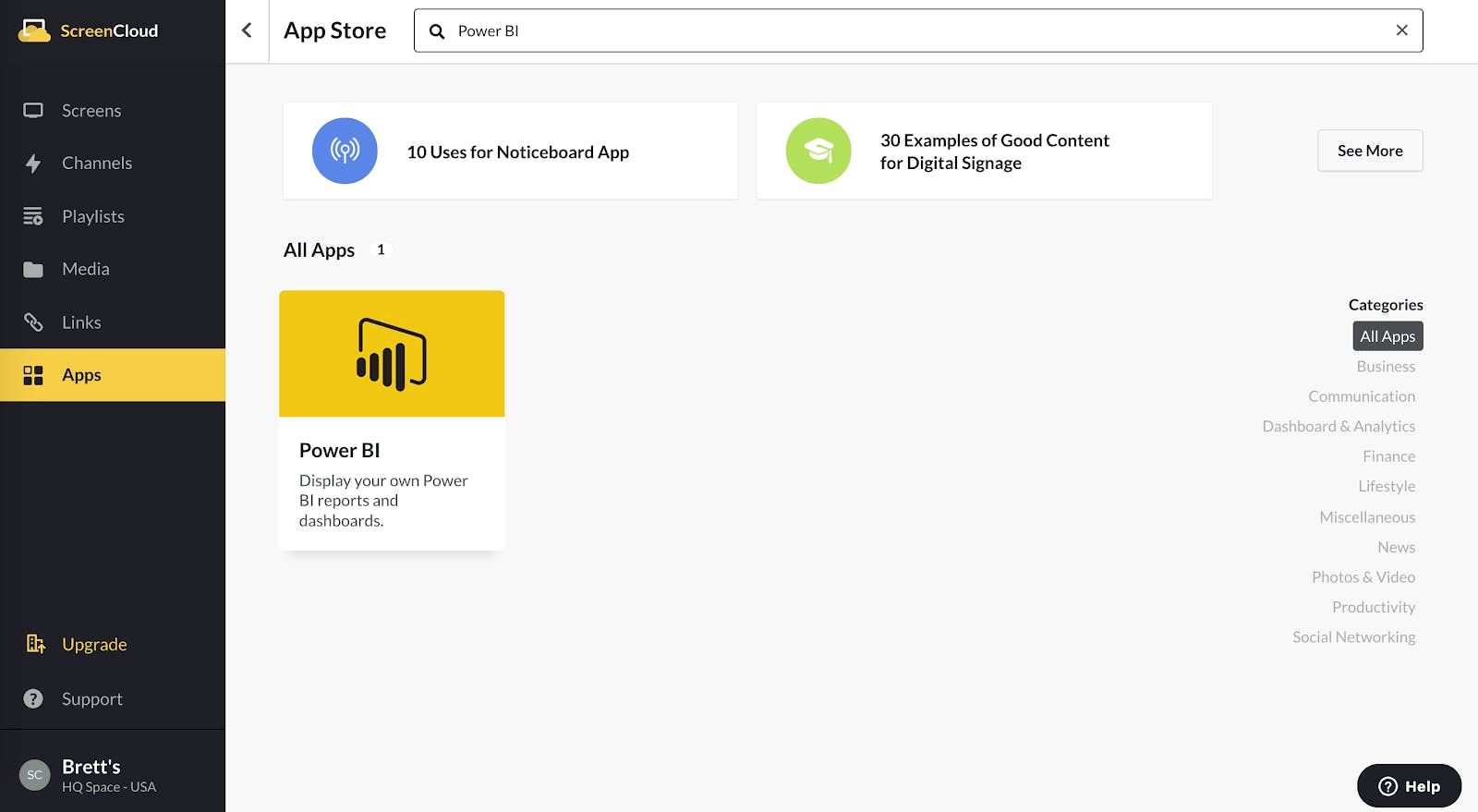 iii) Sign in to your Microsoft Power BI account and select "Add Account". Add a name to your social account, and then click "Add Credentials" to prompt the sign-in page from Microsoft.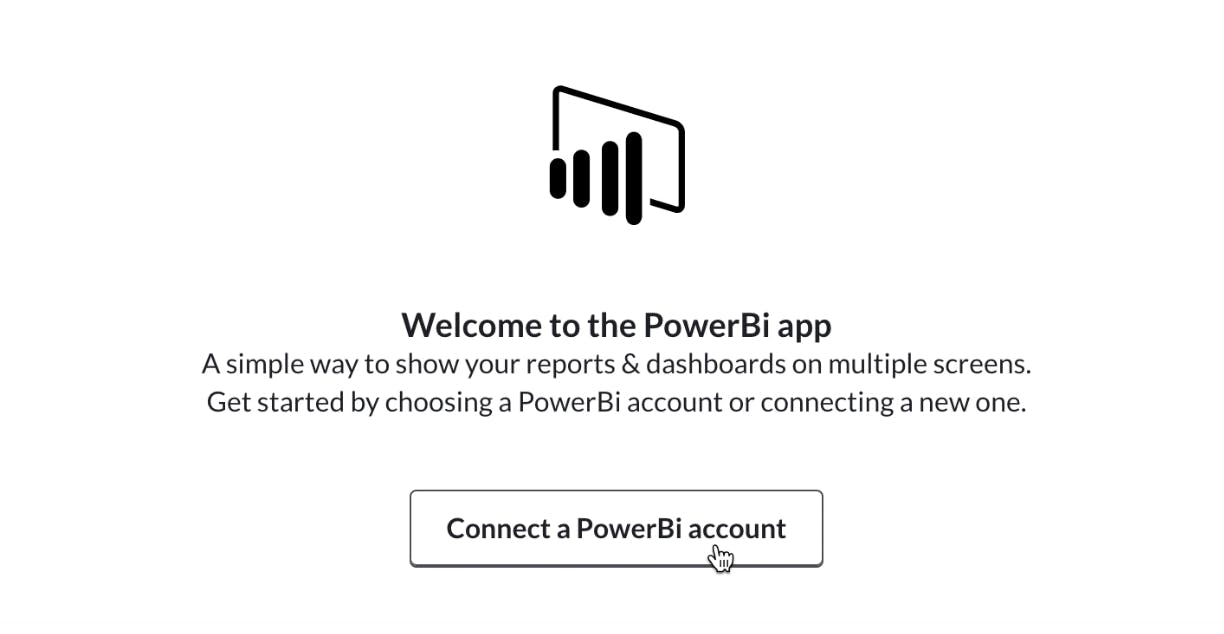 iv) Sign in to your Microsoft account and the system will confirm your Microsoft Power BI account has been added into ScreenCloud. Click "Add Account" once you're done to verify the connection.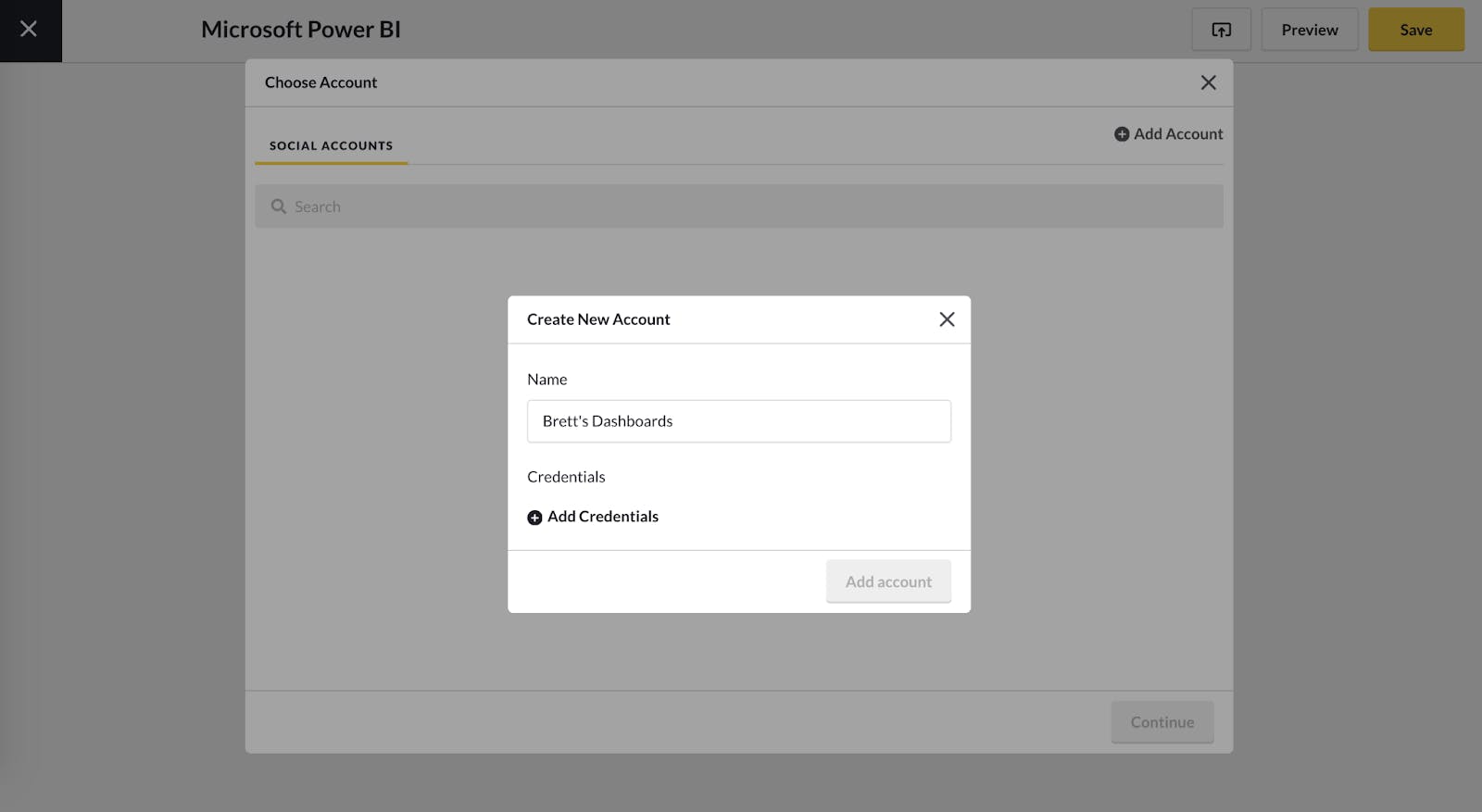 vi) Once complete, you will receive a notification that the credentials are stored. Now you can toggle between reports and dashboards to display from your account.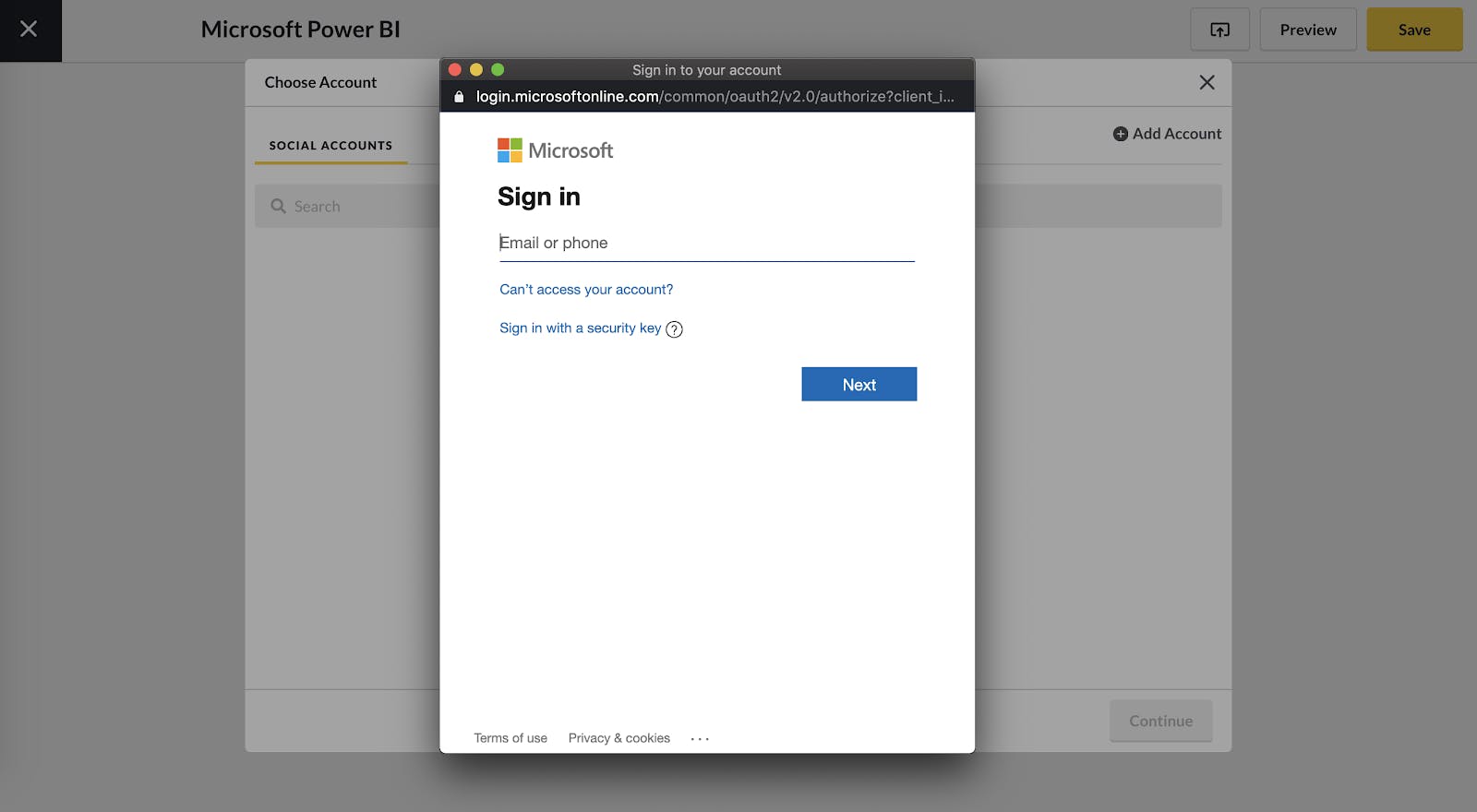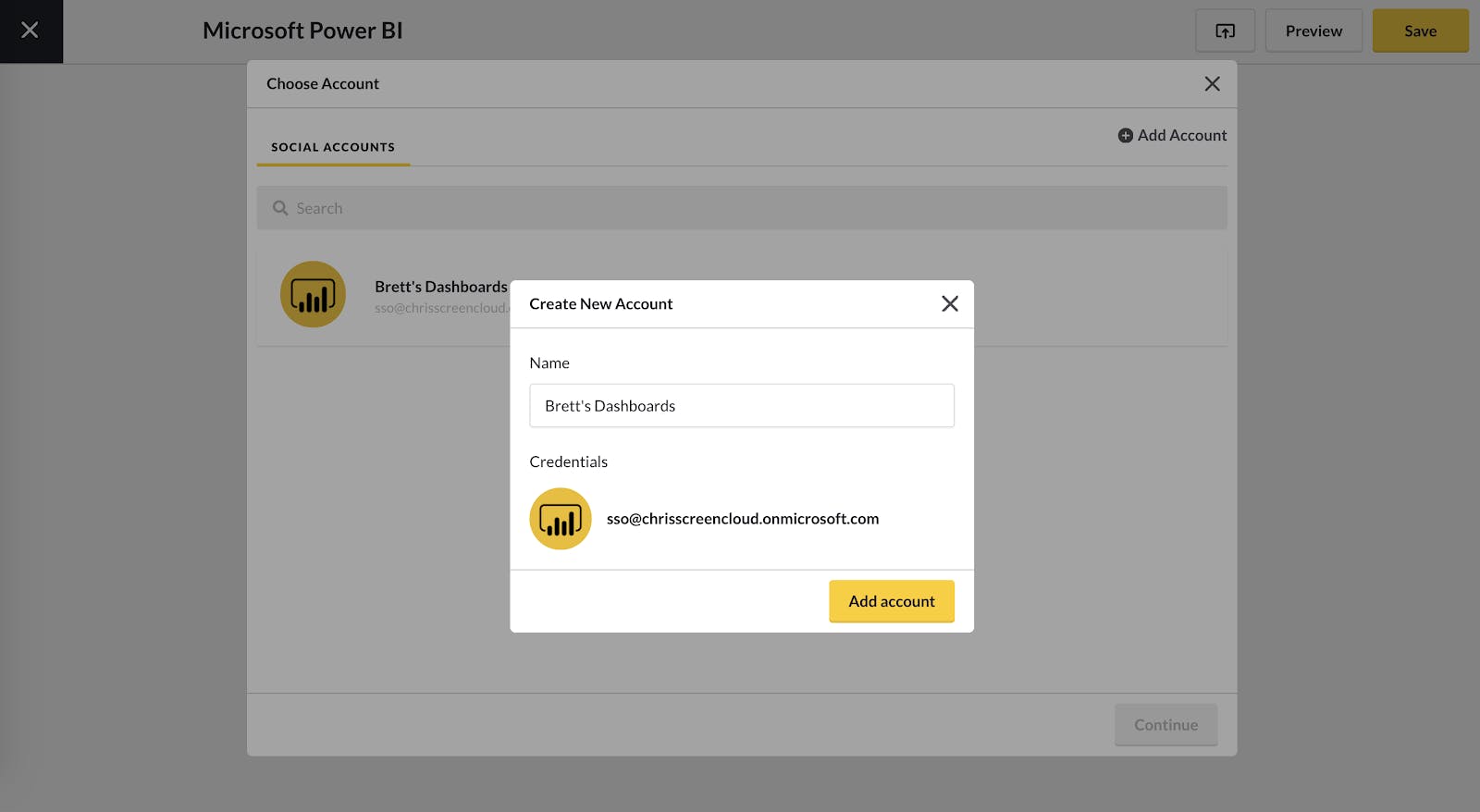 Power BI Dashboard examples
HR Analytics Power BI Dashboard
Using Power BI for HR analytics allows for a bird's-eye view of an entire organization's HR set-up. Drill down into attrition rates, the employee satisfaction index and even patterns in resignation reasons.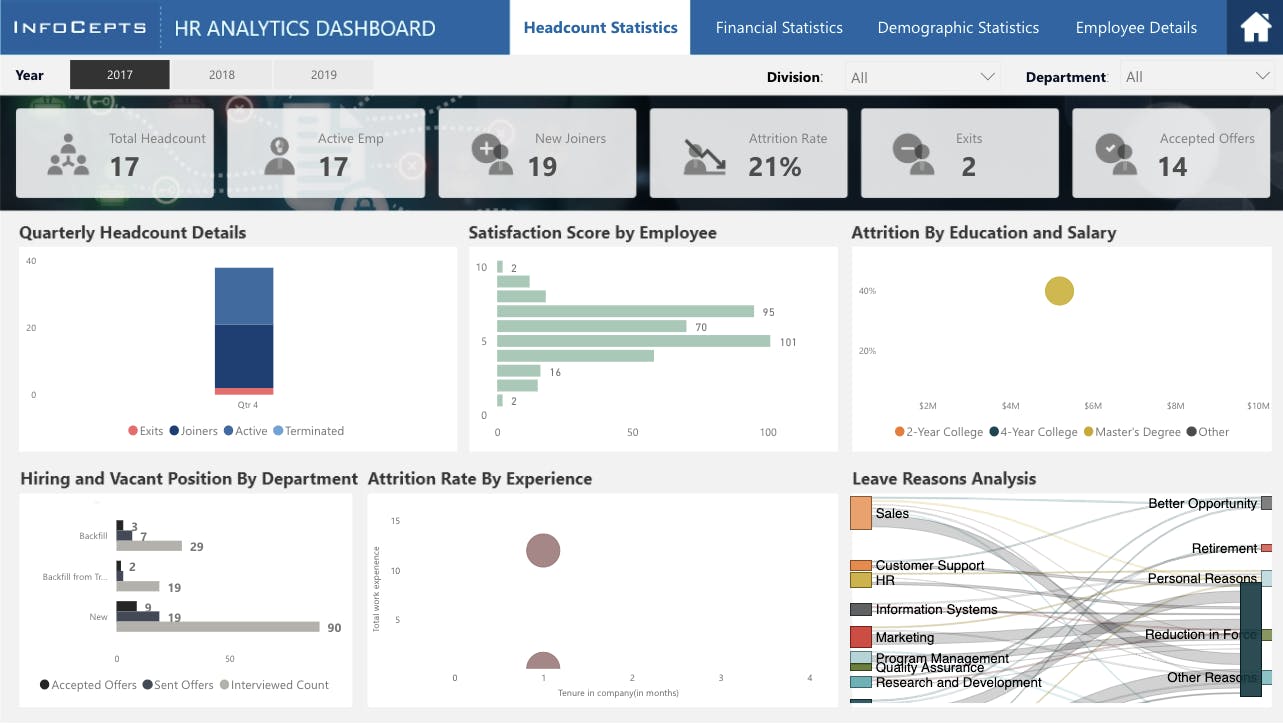 Supply Chain and Inventory Power BI Dashboard
Connect Power BI with your inventory and sales data to predict best-selling products to fuel marketing decisions, and act upon declining stock before you run out for ultimate control.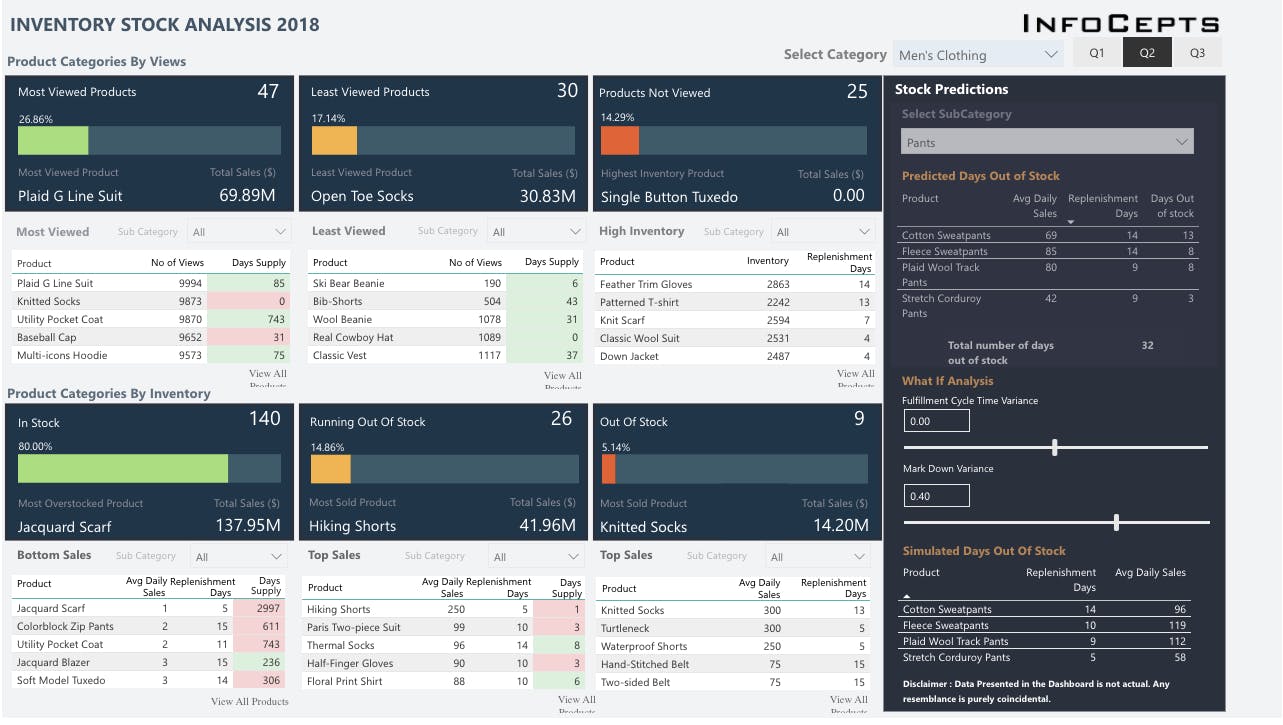 Power BI Sales Report Dashboard
Analyzing sales data that provides actionable insights not only promotes growth, but can also indicate where money is being lost. Utilizing different views and data visualizations makes it easier for teams to spot areas that need attention. Share this dashboard securely across teams in multiple-locations, and let the power of collaboration come to the fore.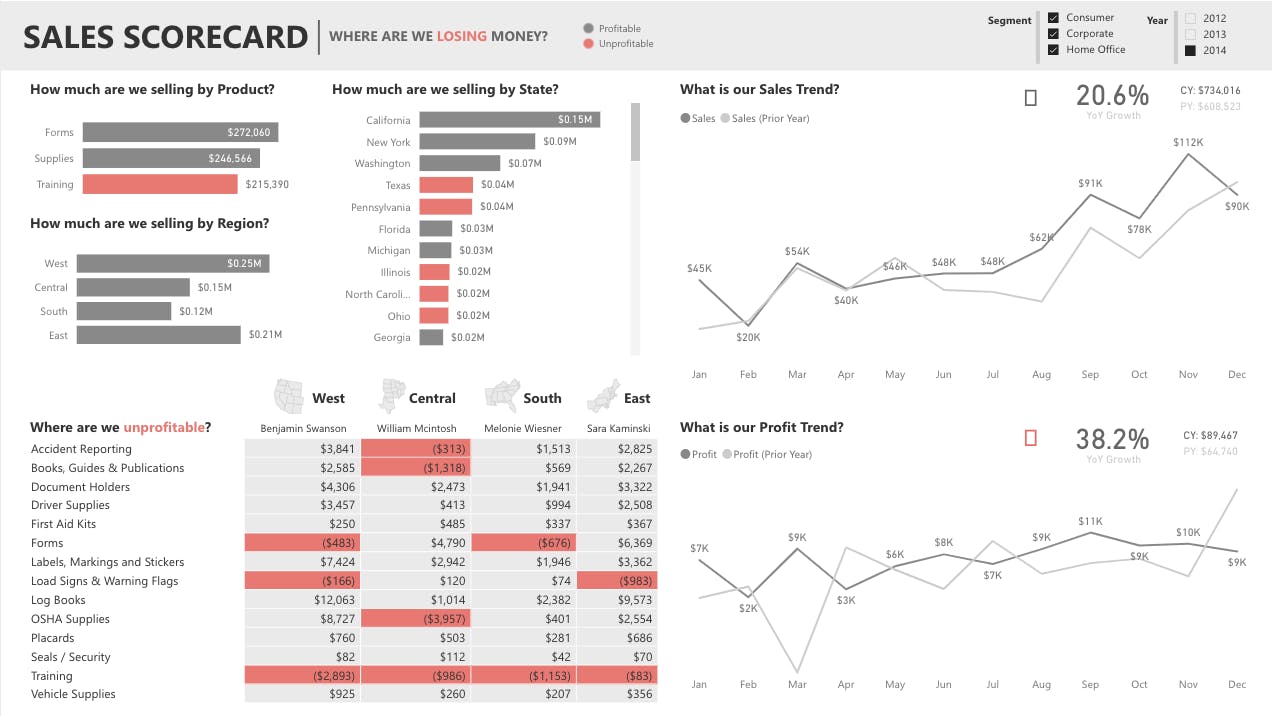 Marketing Power BI Dashboard
Data is essential to any marketing campaign and strategy. Visualizing data across campaigns can provide unparalleled insight into what's working, and what's not. By seeing the entire funnel, data-driven decisions can be made where they can make the biggest impact.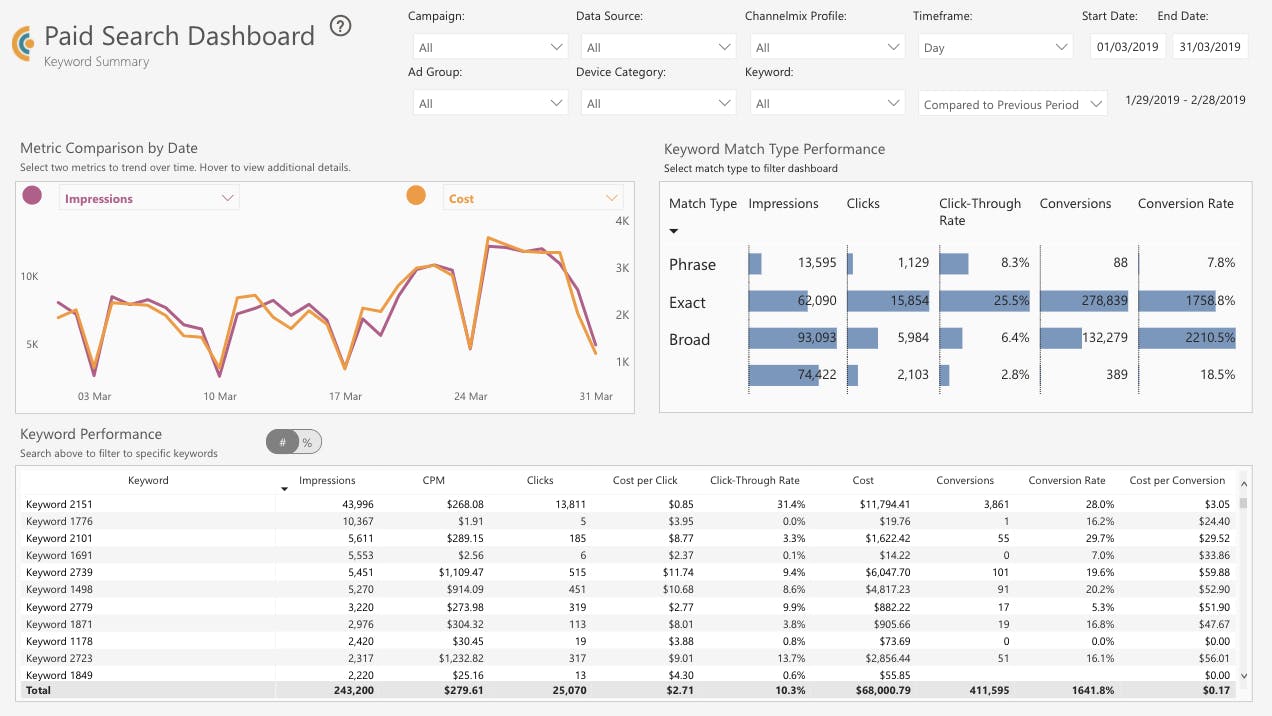 ScreenCloud and Power BI walkthrough
Founders' Insight
When it comes to sharing Business Information within any organization, there is a tension between the value of transparency and the need for security. A better informed workforce is a more productive workforce, and a more productive workforce directly impacts the bottom line. But opening the door to your company's most critical data will always be a compromise too far if it means that there is a danger that it could be open to abuse. When we looked at what others in the industry were doing and realized that it wasn't anywhere near what we would describe as 'secure', we knew we had to completely rethink the way data was handled for displaying on screens. ScreenCloud's Dashboard feature is the most secure solution available because anything less is simply not good enough for our customers who need to share their data and sleep at night.
Try for free
With a 14-day free trial (with no need to enter credit card details... or even have a screen), there's no excuse not to see if ScreenCloud Dashboards can help you foster a data-driven work culture.
Ready to get your organization connected?
Connect your first screen today with our 14-day free trial
blog