Publish content to your screens directly from Microsoft Teams
Learn More


Things To Know Before Zoning Your Digital Signage
Zoning is here! With it comes this super useful post on how to create zoned screens that still provide an awesome experience.
Zoning is where a digital signage display is divided into multiple sections all showing different types of content. This could be a weather display in one corner of the screen, a news feed in another, with a Twitter feed running as ticker tape along the bottom. 
It's likely that you've seen this type of screen setup running multiple times. It's a highly popular choice as it allows multiple information to show at once, increasing the opportunity for branding and advertising.
In this post we want to discuss what you need to know to make your zoned displays look great. As we all know, there are plenty of bad examples of how-not-to-do-digital-signage in the world. Zoning can make bad displays horribly easily, as they give content control outside of tried and tested formats. But our aim at ScreenCloud is to empower, so we're reluctant to refuse our customers anything they think they can utilize for better digital signage displays. We just want to make sure you have the right education and knowledge at hand to make really great looking displays - zoned or otherwise :-)
Designing a great looking digital signage zoned screen
The reason why many digital signage software companies don't offer zoning is because it ends up leaving the user with hundreds of different options. You may think that more choice can only be a good thing but actually, setting up an interface that looks and feels good is time-consuming. Without a background in graphic design and UI, it can be hard to understand what should go where and how the overall visual appearance looks to the user. 
Our clever designers are experts in putting together visual hierarchies that work, ensuring that the information isn't too dense for a user to understand and that it maximizes on layout. 
With zoning, these important decisions are placed in your hands! We give you the template and it's down to you to ensure it looks great and that the content is balanced. Here are some examples of what the dimensions look like on a standard Full HD screen: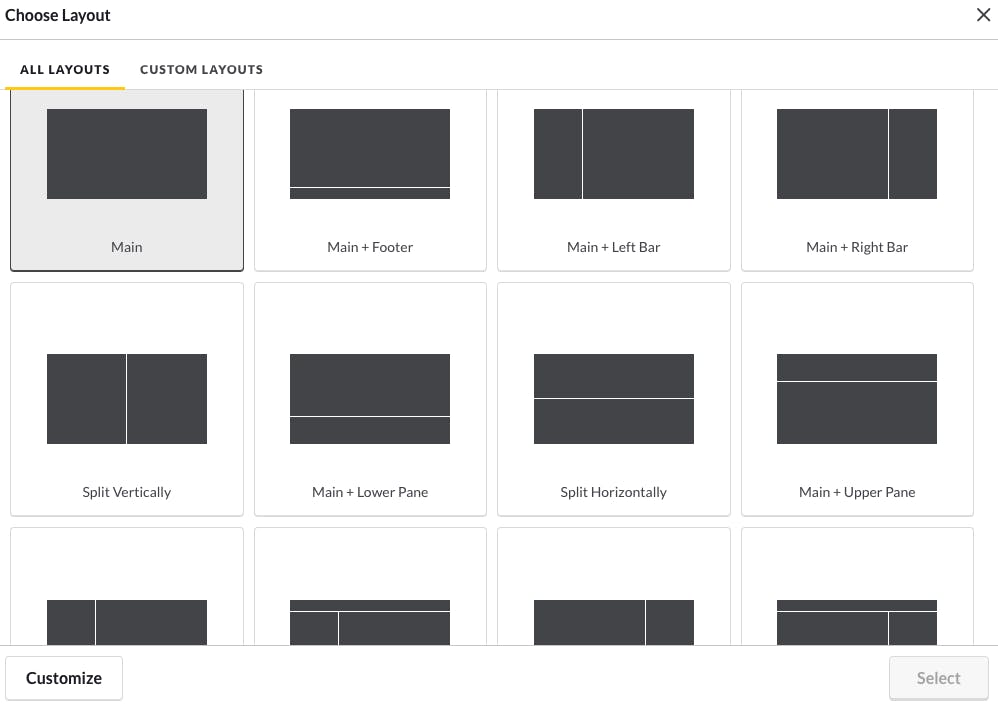 With that in mind, here are our top three tips for ensuring your digital signage display looks as awesome as possible when split into zones. 
1.Create a hero zone
As with all design, less is usually more. The last thing you want is to bombard your viewer with five different zones which all have in-depth, noisy information in. This type of design is very newsroom-esque and can overwhelm in most environments - let alone within a busy store, office or reception. If you think of it as a journey, you want to draw attention to your hero zone, captivate for a moment or two then let them take in the information around it (perhaps a weather feed or traffic update in the sidebar), then read along to find your Twitter feed or news update running in the ticker tape along the bottom or top of the screen. 
In our ScreenCloud template (as shown below) we create this for you!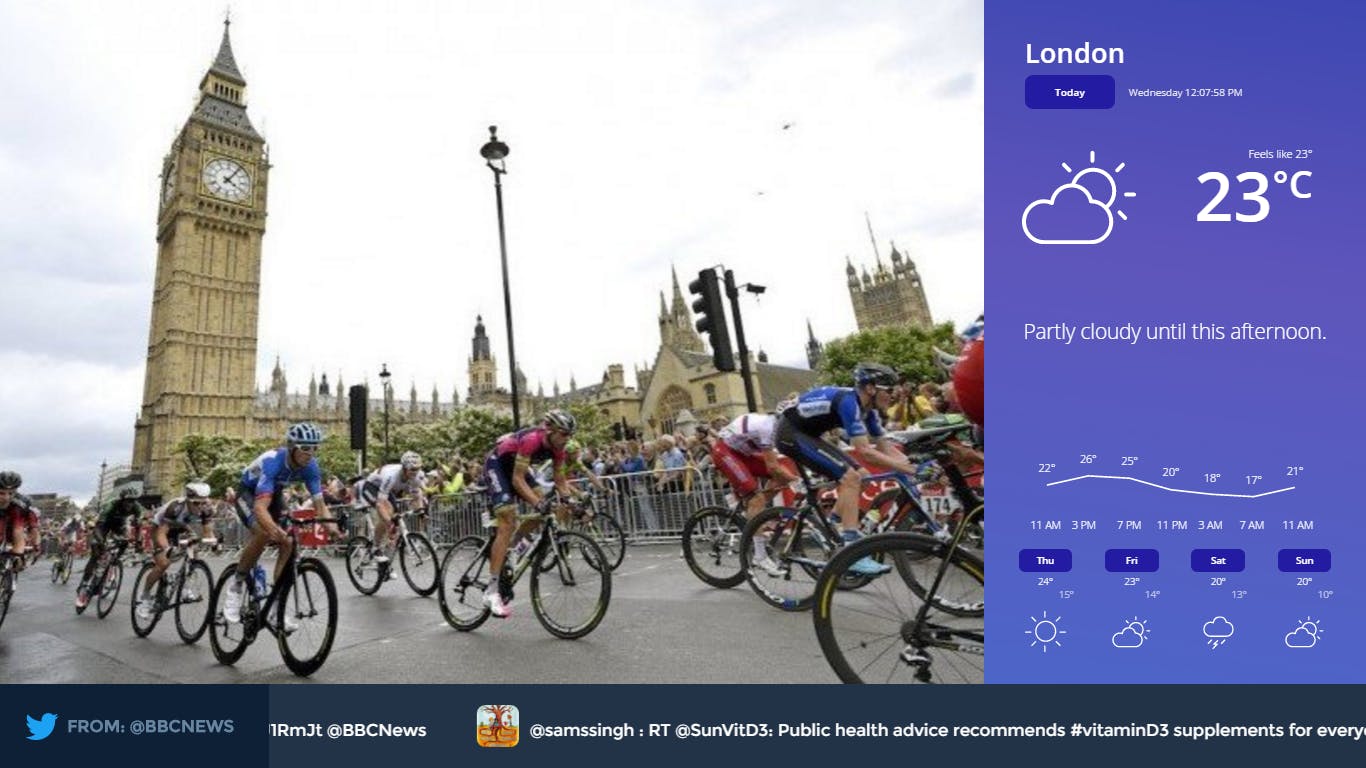 Using a ready-made content template such as this gives you the flexibility to choose which content to show but takes away some of the issues when thinking about spacing and layout. Leaving you to focus on what you show, rather than where you show it.
2. Design content that compliments
With three zones of content it can be quite a lot to take in so it's important to ensure that your content zones compliment each other. As you can see from the image above, a video plus a static newsfeed, along with Twitter updates, works well together. There's something visual, something occurring in real time and static information that's truly useful.
In the ScreenCloud App Store you'll find a wealth of apps that you can use for one, or both sections of the screen. From social media hubs, through to world clocks, social media follow dashboards, news feeds and more. 
3. Check your sizing, spacing and schedules
Regardless of the size of your screen, zoning reduces the surface area that your content can show in. Now while we'll take care of the hard work (resizing content from fullscreen to the area of the specific zone) you do have to consider how this will affect visibility and spacing. 
For example, a website with teeny-tiny writing might look okay when shown on your full 46" screen but when you take this down into just the sidebar, some of the effect may be lost. 
Similarly, if you have two types of content playing at the same time (perhaps a video on one side and a presentation on the other) the viewer is going to be flicking between both, not really taking in the messaging of either.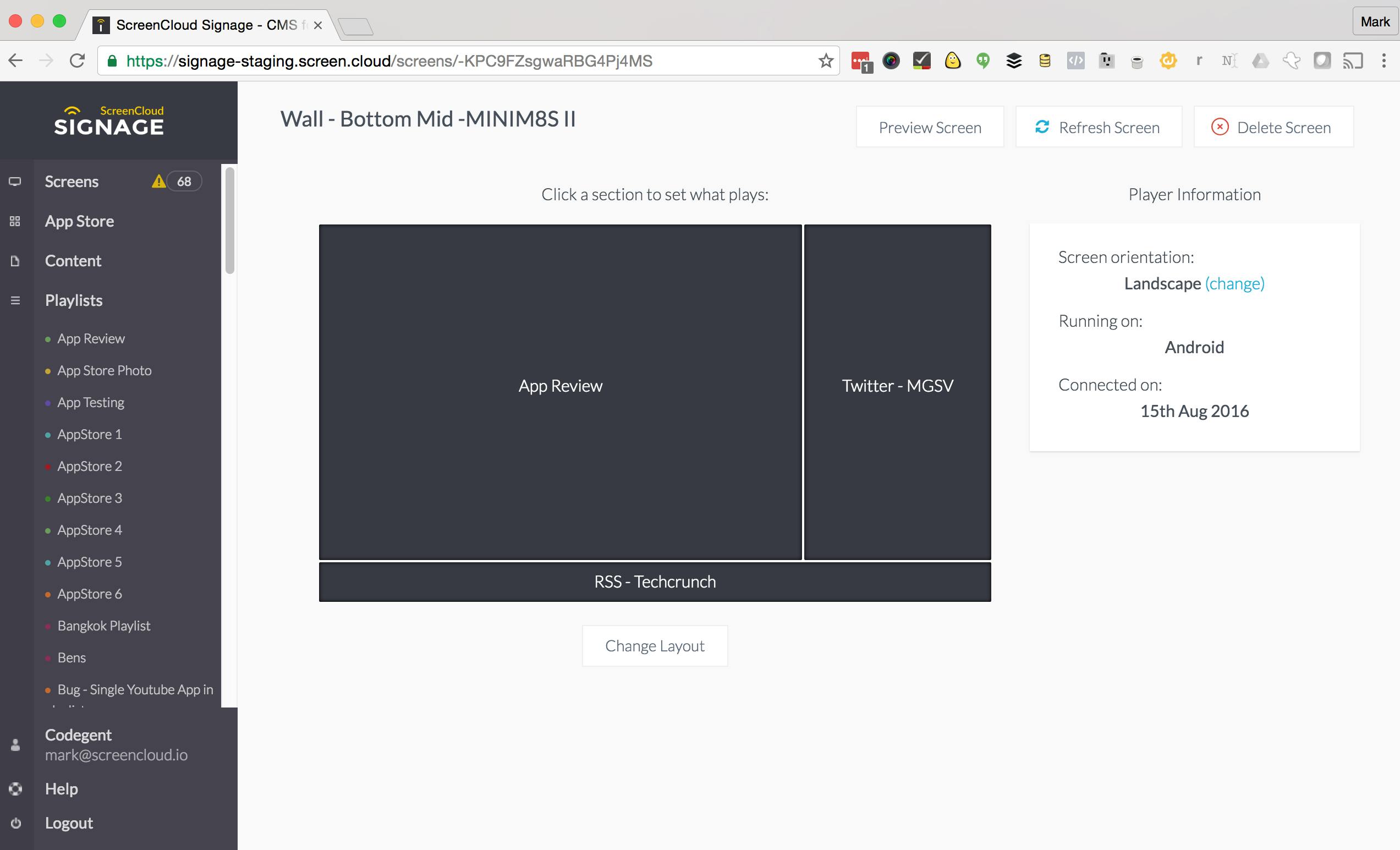 4. Remember that not one size fits all
One of the technical constraints of any zonal digital signage platform is that some devices won't support multiple videos playing at once on screen. Although, this is undoubtedly a good thing as two videos playing at once = noisy and distracting. 
You'll also find that some apps won't be compatible with your ticker tape (which works best with social media, news and RSS) or with the sidebar format. But with social media apps, news, video and images just some of the options available, they'll still be plenty to choose from.
Lastly, zoning won't work on old Chromecast 2013 models as it isn't powerful enough to support it. Instead, the Amazon Fire TV Stick 4K and the new Chromecast with Google TV are great alternatives. 
These devices are good options for basic digital signage use cases, but if you're looking to expand your digital signage fleet and/or are in need of a device that has additional security and commercial grade components making it built to last after extensive use, we suggest taking a look at our ScreenCloud OS device, the Station P1 Pro. We think the extra investment is worth it in the long run.
How To Setup Zoning in ScreenCloud
Use our simple guide to learn how to supercharge your screen from normal to zoning within ScreenCloud Signage.
1. Navigate to your screens
Choose 'screens' from the sidebar and you'll see a list of all of the screens you have added. Find the screen you want to add zoning to and hit 'screen options'. 

2. Edit your layout
Once you're in screen options you'll be able to see which layout your screen is set to using the right-hand panel (landscape or portrait) and also change the layout by choosing the 'Change Layout' button underneath.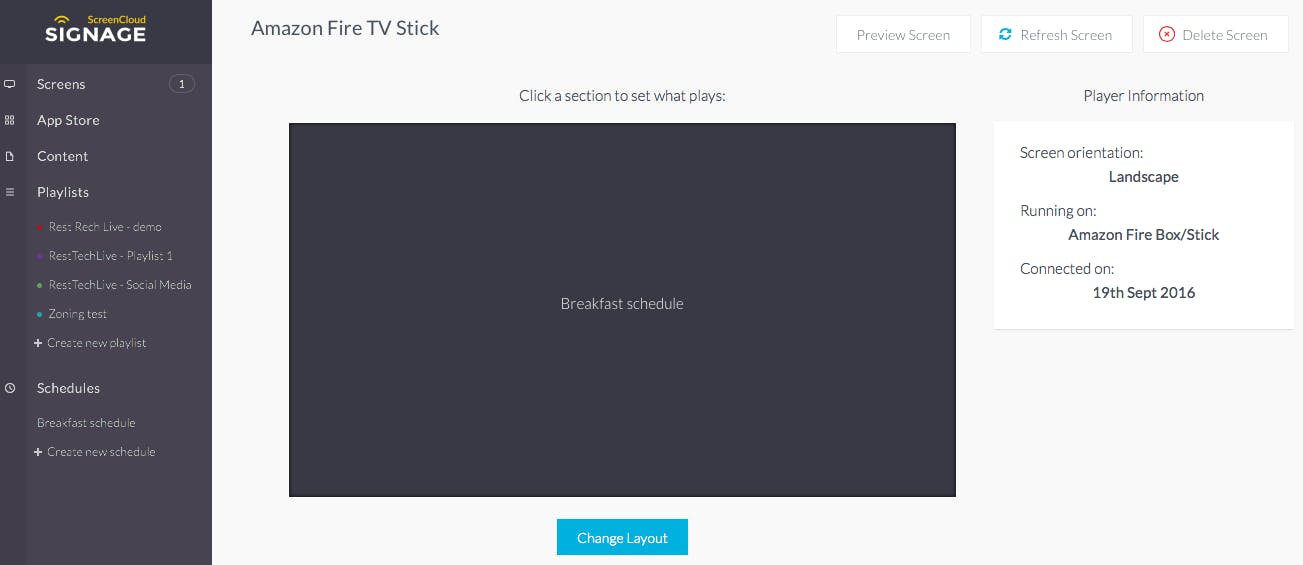 3. Choose your zoning layout
Once you've hit 'Change Layout' you'll see a selection of options. Choose which one you want to go for and you can begin adding content to each individual section.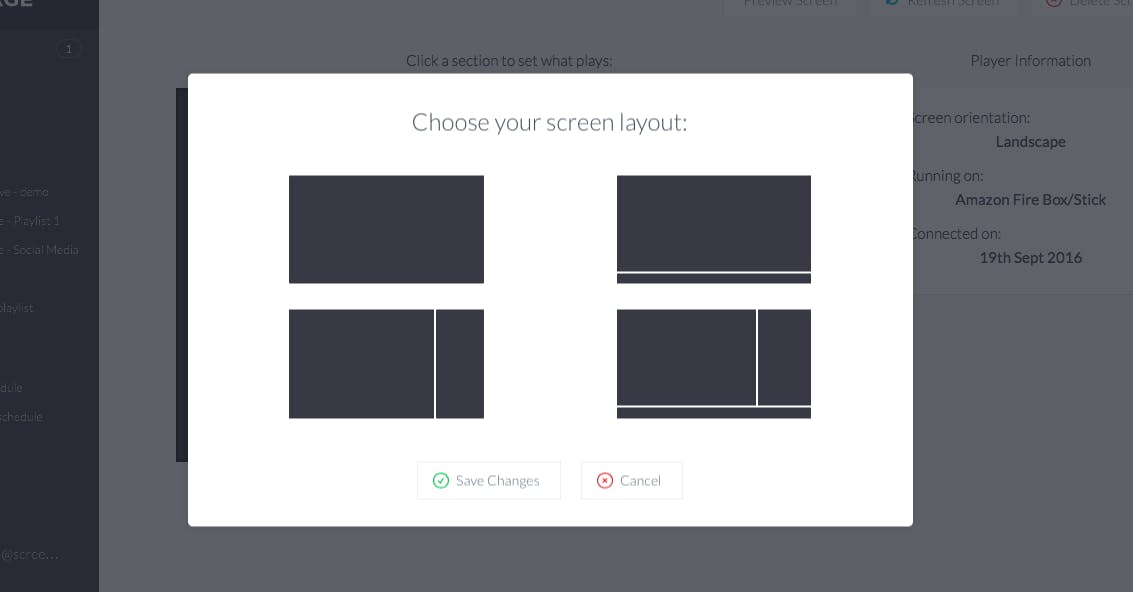 4. Add content
Now you can dedicate specific content to each section of the screen. If you went for the three-part zonal display, you'll see that by clicking on each area it gives you a list of options available. These options will be pulled from the content you have already uploaded and the apps you have already set up. If you haven't uploaded any content or you want to create a new app or piece of content, you can select the blue text that says 'Click me if you would prefer to create a new app.'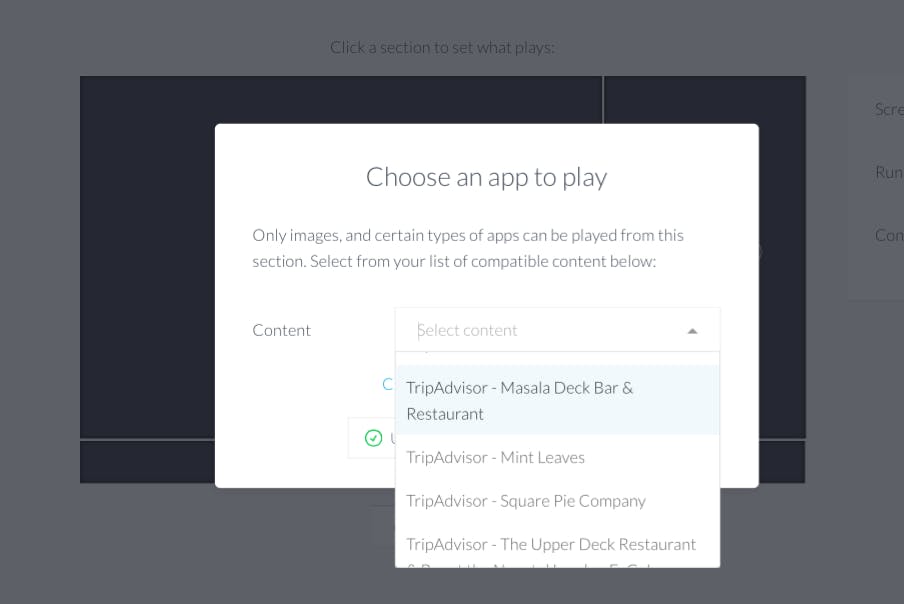 In terms of the content you can choose, in the sidebar you can add apps such as Tripadvisor, Yelp, BBC News, currency, weather or social media feeds such as Twitter and Facebook. In the ticker tape, you can add your own content or apps such as news feeds, RSS and Twitter. Once you've set up your content for each section, hit 'Preview screen' to get a taste of what your zoned display may look like. Then, once you're happy, you're ready to begin showing it on the big screen!
Will you give digital signage zoning a go?
In conclusion, there's nothing wrong with zoning a screen per se. Even on our personal computers we're used to seeing content 'zoned' and split up into sections. The difficulty is creating zoned screen content that looks just as good as full screen content. Considering the look, feel, user journey and ultimately, how easy it communicates your messaging.
But if we can keep educating our users in how to create digital signage displays that use zoning AND look great they'll be more awesome zoned displays out in the world. Hopefully encouraging more providers and users to feel empowered enough to use them. 
Sign up for your free trial of ScreenCloud today and give it a try. 
Ready to get your organization connected?
Connect your first screen today with our 14-day free trial
innovation