Publish content to your screens directly from Microsoft Teams
Learn More


10 Thanksgiving Content Ideas for Your Digital Signage
Flip the switch - it's time to turn the Thanksgiving lights on.
Unlike Christmas, Thanksgiving is bookended by two pretty normal weeks, which makes it the ideal candidate for pushing out marketing materials and addressing your audience who may all be feeling the holiday vibes.
Which leads us into; what's the best way to really make the most of the potential Thanksgiving content ideas?
We've all done that thing where we've realized it's about to be Black Friday (the day following Thanksgiving) and have kicked into action with a last minute sales push. But isn't that a little rushed for what could effectively be, the biggest holiday of the yearly calendar?
In this post we want to focus on how you can easily create some Thanksgiving content (and we mean really easily), push it onto your digital signage screens and make the most of the joyous occasion.
All of the below ideas can be implemented in under 15 minutes, and when you think of it like that, it's kind of a no brainer!
Thanksgiving Content Ideas for Your Digital Signage
1. Countdown to Thanksgiving
First up; the easiest way to build Thanksgiving anticipation. A countdown to the big day itself. This is exactly the kind of purpose our Countdown Timer app was created for.
To set this up, select Countdown Timer in the ScreenCloud App Store and plug in the date you want to countdown to (pretty easy in this case).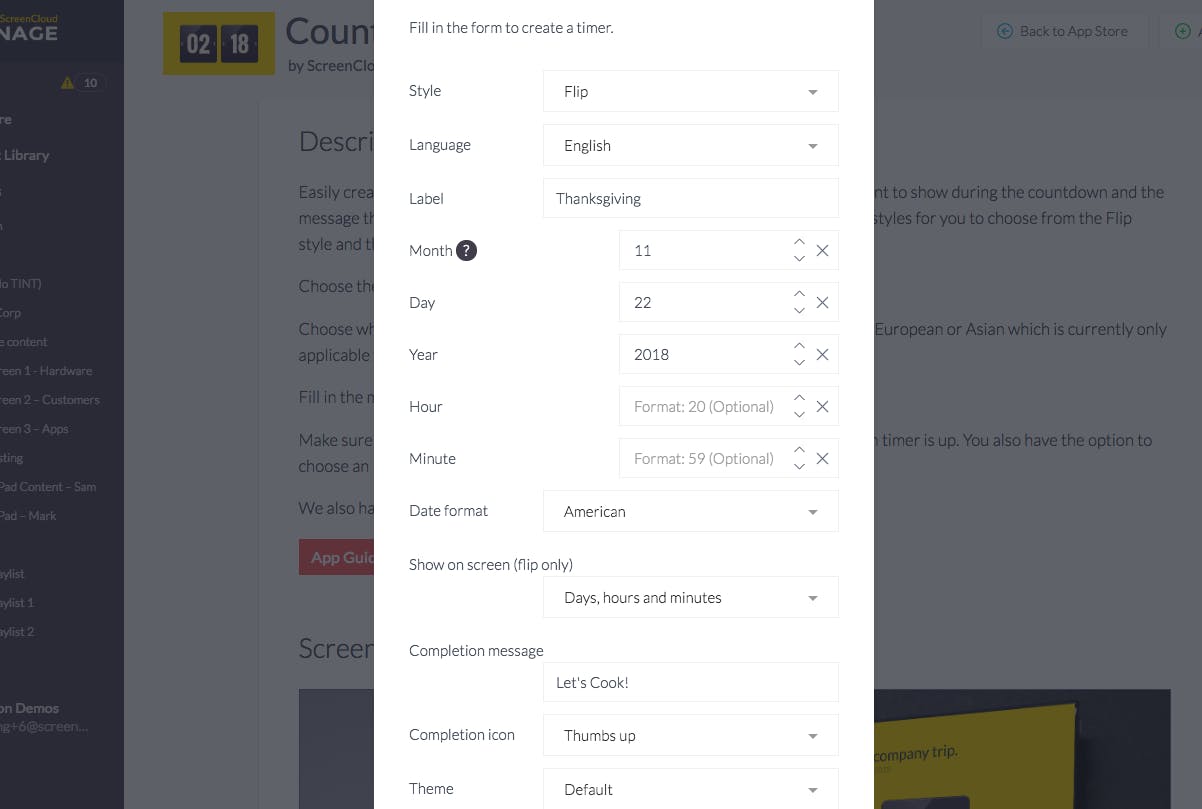 Once all of the information's in, you get a pretty nifty display showing off how many days left until your big sale, your Thanksgiving party or even just a staff holiday. When you're in an office, this is going to help everyone feel that holiday spirit. On the other hand, if you're working in retail or somewhere where Thanksgiving means busy, this is a great way to keep your campaigns front and center of mind.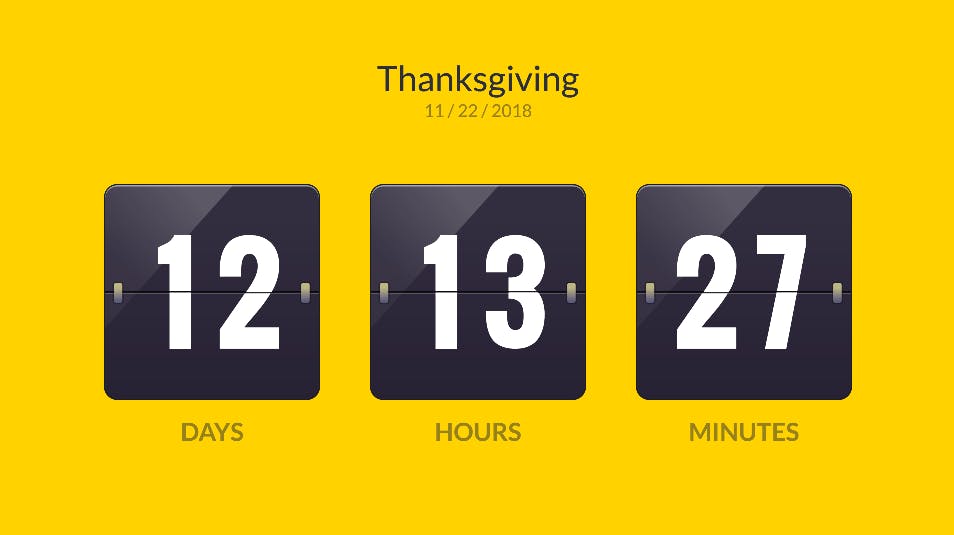 2. Thanksgiving polls
Do you go for mashed or roasted potatoes in your Thanksgiving dinner? Cranberry sauce or gravy? Something that's pretty fun in the lead-up to Thanksgiving is to create some polls or quizzes around Thanksgiving traditions.
Using food is a great way to get everyone involved, we all have to eat after all. But you can get as creative as you like. Maybe you'd rather poll family traditions, eating in vs eating out, favorite activities to give thanks or anything else that's going to add some human interest to your content.
Next; how to set this up and get it on screen. First, you'll need some kind of polling tool.
One we like at ScreenCloud is Poll Everywhere. This is because it collects live responses and shares them in a pre-created graph, so you don't have to do any manual data sorting.

Poll Everywhere works with Google Slides, so you can easily set up a poll inside a set of Slides and then share it to your screen using the ScreenCloud Google Slides app.   
3. Black Friday promotions
There's a mixed reception to Black Friday in recent years; from a number of stores deciding not to open on Black Friday at all, in order to reinforce it as a "family" holiday, to the other extreme with brands like Target posting a 47-page dossier of Black Friday promotions.
Regardless of where you sit, Black Friday is pretty hard to ignore.
If you are planning on setting up a special promotion or discount, Noticeboard app is a great tool to share this promotion to your digital screen. With no design experience needed you can easily create graphics for the items or discounts on offer and easily display them around your store, or even better - to the world outside.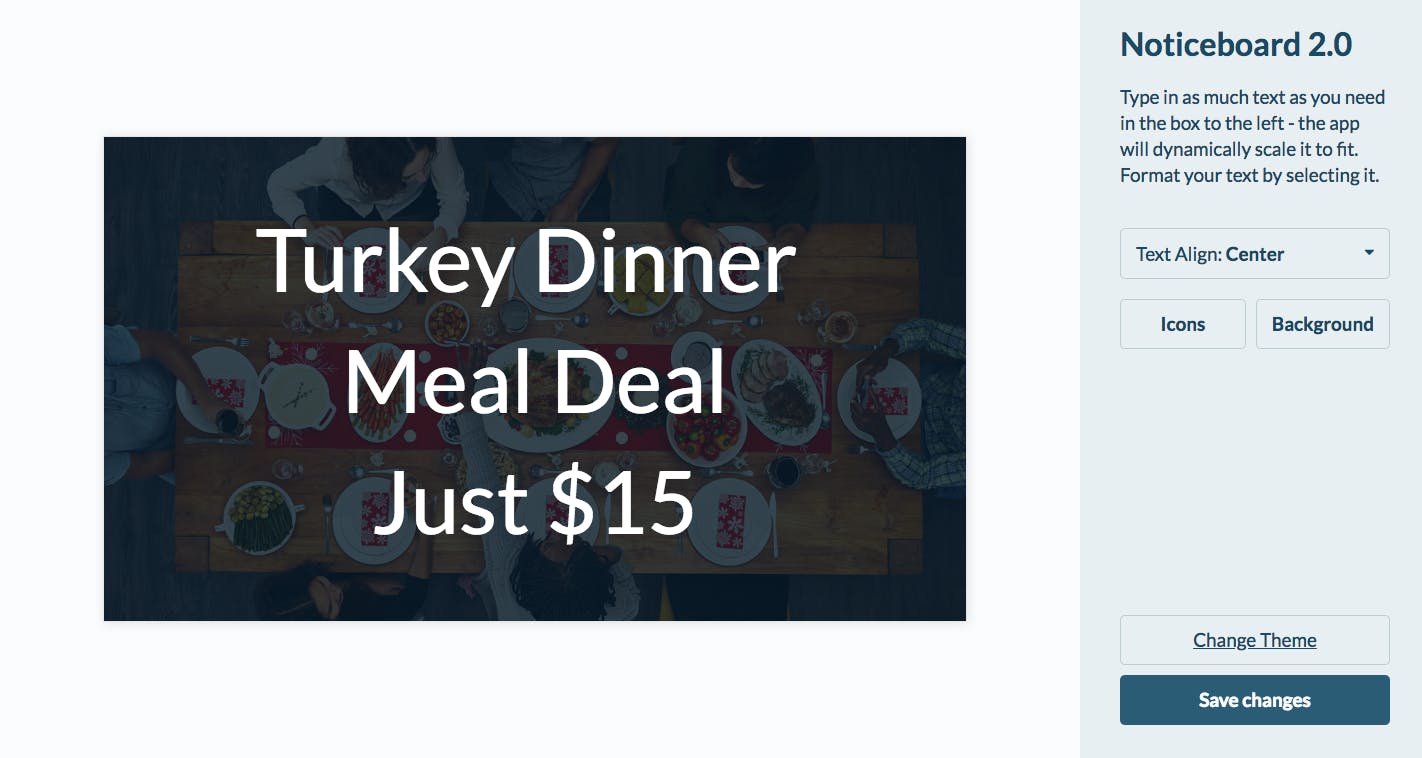 When thinking about sharing promotions, less is always more. This may include:
Using visual images over text
Adding iconography to replace text
Using brightly coloured backgrounds to attract attention
Check out our digital signage design tips if you need more help coming up with a compelling design.
4. Thanksgiving recipes
If one of your key Thanksgiving campaign metrics is increasing dwell time or capturing attention in a fairly crowded space, sharing informative content like Thanksgiving recipes, could be the way to go.
Educational content gives ideas to passersby, customers and staff and could even feature as part of a competition to crowdsource ideas or share "secret" recipes.
There are many different ways you can get your recipes on screen, from using your favorite design tool, to adding ingredients and method lists on Noticeboard app and even using videos of staff, or customers, creating a recipe from scratch.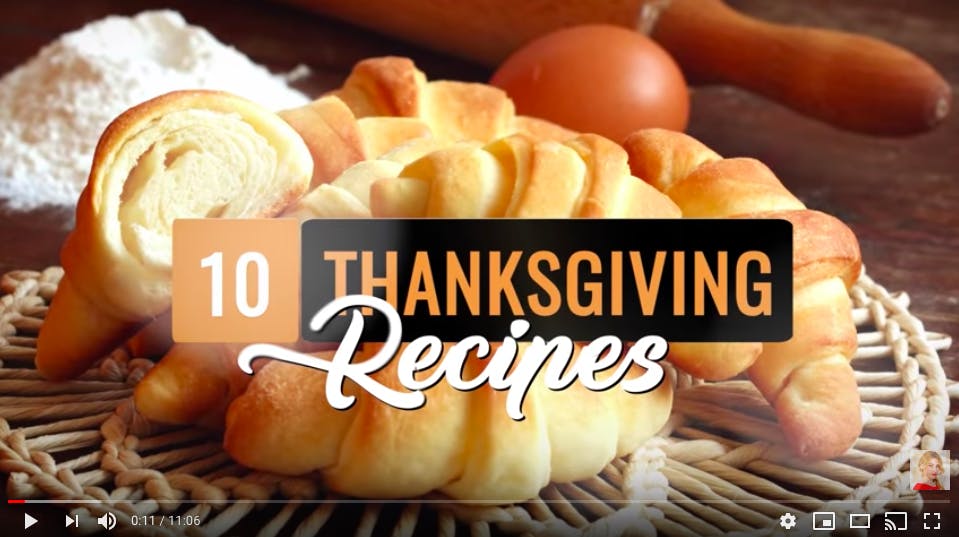 Source: Home Cooking Adventure
5. Thanksgiving digital menu displays
Between October and December there are a lot of marketing campaigns to feature around key dates. From Halloween, all the way through Thanksgiving and Christmas, it can feel like the need for physical materials to adapt quickly is an ongoing problem.
Online communications, and what you show on your digital signage screens, are an easier problem to solve.
One of the ways we love to encourage customers to stay on the money, is by sharing digital menu board displays of seasonal items or produce.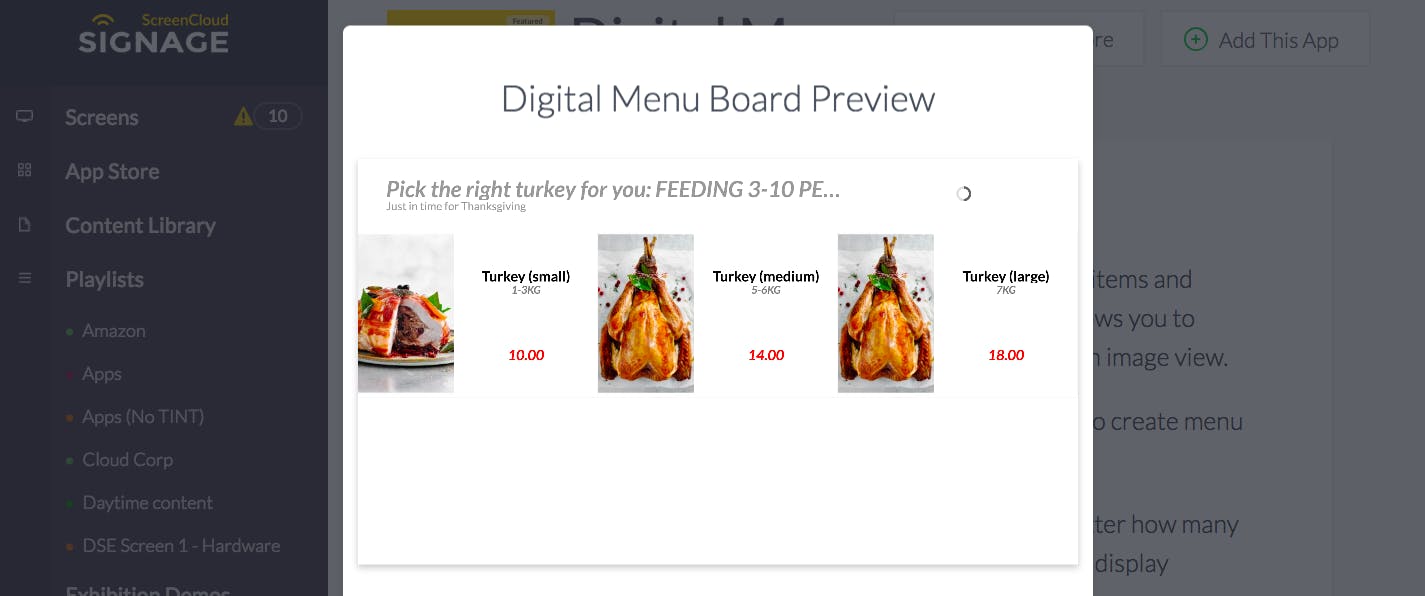 Mitchell's Deli is a perfect example of a company that uses digital menu boards to push short-dated items so that they "sell out" before they out-date.
Digital Menu Board is an app you can use to create menus of Thanksgiving items so that pre and during the holidays, you're selling more of the stuff you may have over-ordered, or got in especially to suit the occasion.
It's unlikely many will be shopping for turkey and pie in the week following Thanksgiving, so digital menu boards help you to get things out while they're still hot.
6. History of Thanksgiving
How many students, customers or staff truly understand the meaning of Thanksgiving? Whether you're more of a traditionalist or you want to bring a modern twist to the proceedings, digital signage screens are a great way to let your message cut through in a sea of noise.
Use Google Slides app (or these free templates) to tell a story about the history of Thanksgiving in your company (how does your team celebrate? When was your first Thanksgiving as a company?) and easily share the message on screen. Making things personal is a great way to take your brand's traditions and apply them to the holiday.
7. Holiday dates
Want to know one of the most Googled phrases over Thanksgiving? "Opening times". Yup, you guessed it, with all the holiday dates flying around people get really confused about what's open and when.
This makes holiday dates a great content idea for your digital signage screens, and an easy one to apply. All you need is the opening and closure times, an app like Digital Noticeboard and it's never been easier to help everyone know exactly when you'll be open for business.
8. User-generated Thanksgiving content
As well as telling customers information, it's even better to involve them. We've spoken in depth about how user-generated content creates engaging digital signage displays and Thanksgiving is the perfect time to get everyone involved.
So how exactly can you do it? Here are a few ideas:
Social media is one of the easiest ways to collect and share content from your audience. Most people are already using the channel, which makes the barrier to entry low. You can also collect answers by using a specific hashtag and share them on screen, using an app such as Instagram Gallery.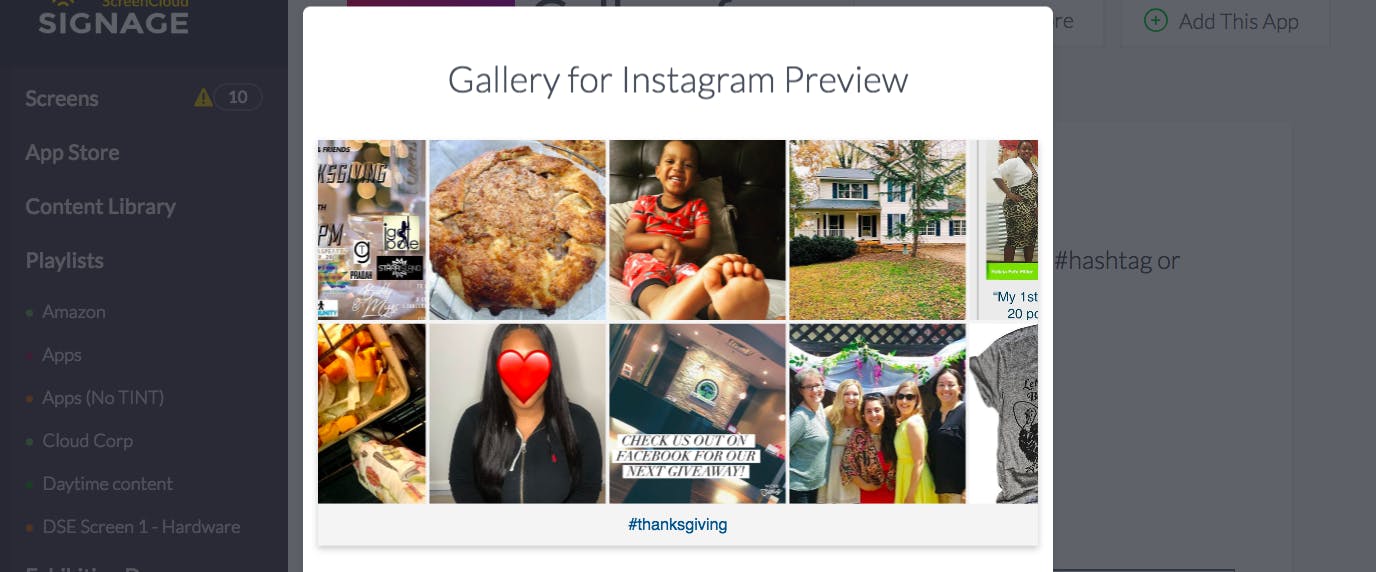 To spread good feeling why not create a "Thank you" wall, where staff or customers can submit a public thank you to a team or family member? This is as easy as submitting photos to a Dropbox Gallery folder, or even uploading them manually as JPEGs or PNGs. A great way to spread gratitude and remind everyone what the holiday is all about.
Content created by students or staff
Our Education customers often spend little time creating content. Why? Because they have a whole host of content creators that do it for them, namely their students. There's no reason why the marketing or IT department in your organization has to be the only team creating content.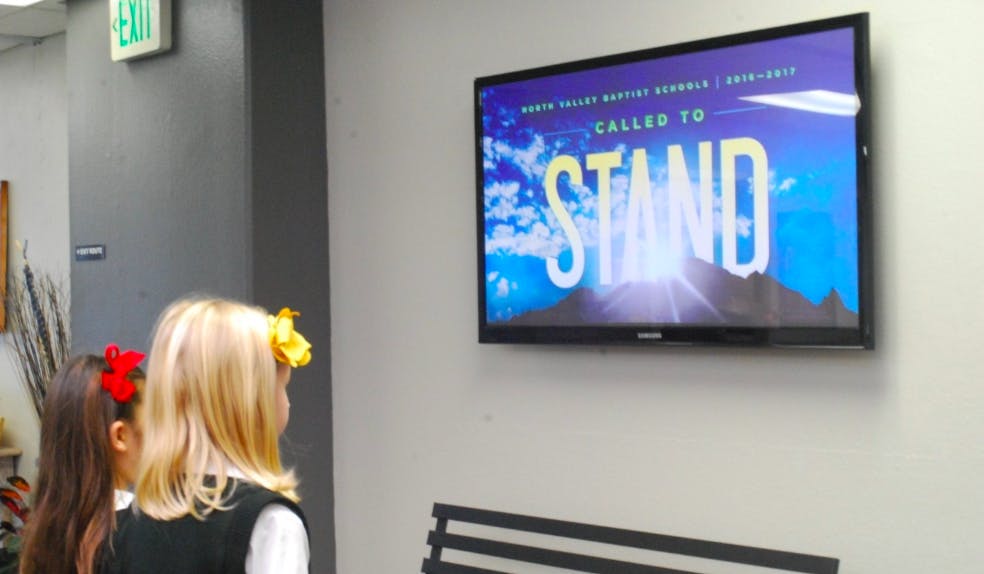 Especially around Thanksgiving, when craft and activities are rife, why not hand over the content reins to students or staff and allow them to wow you with their content prowess?
9. Thanksgiving fundraisers
When Hurricane Florence was about to hit the coast, Burn Boot Camp owner Stephanie Drew, added a quick message to her digital signage gym screen. She asked people to text in their name if they wanted to receive emergency update messages. Within hours, 50 people had signed up.
This shows the power of screens when it comes to getting people to act. If you're looking to raise money around Thanksgiving, adding a notice to your digital screens is a great way to promote action.
10. Competitions
With all of the expense surrounding Thanksgiving sometimes it's nice to give something away for free. Digital screens are the ideal place to share competitions and get people interested in what they can win.
One tip when running Thanksgiving competitions is to keep the entry criteria as easy as possible. The last thing you want is for participants to forget what they need to do the moment they walk away.
You could easily tie a competition element into your social media (double win as not only will people see the physical message, they'll also see the online one) and use that as the vehicle through which to get entries.
One NFP that does this really well is Feeding South Florida, a charity initiative aimed at helping to end domestic hunger relief.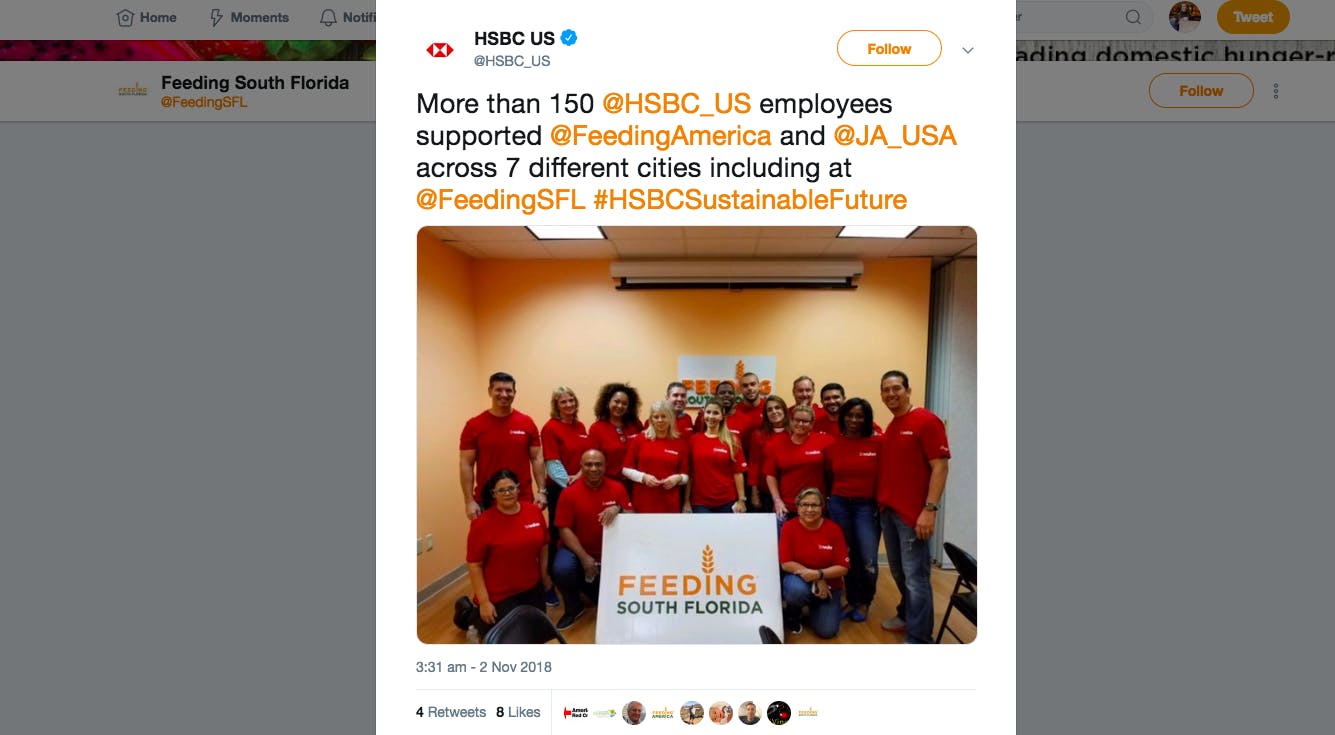 By promoting their "Thanksgiving Food Frenzy" they receive hundreds of social media posts, sub-competitions and badges that help to spread the crucial message and help others to get involved.
Will you be implementing any of these ideas on your Thanksgiving digital signage displays? Share them with us @ScreenCloud and we'll repost our favorites!
Ready to get your organization connected?
Connect your first screen today with our 14-day free trial
ideas