For most technology startups being lean is the aim of the game. That's why tools that have a free tier or are cheap like Slack, Trello and Gmail often get bought in during those early weeks, and tend to last the duration.
Which is why digital signage, created for any screen you have laying around, and at a $20 per month price point, is a great way to increase communication, engage employees and help everyone to keep an eye on the stuff that's important. Because any tool which can cut out the noise and help startup employees to drill down on what's important, can only be a good thing right?
In this guide we're going to share five cool ways for your technology startup to use digital signage. That's the content you put up on any screen you have in your office or coworking space, FYI see our guide here for more setup tips.
1. Focus on the key metrics
Startups are pretty adept at managing their data. That's because ticking over on any milestone is a great way to encourage investment and gain press. But just because you have tons of data, doesn't mean it's all created equal. The metrics that matter most to your startup should be the ones that get the most limelight.
Enter your digital signage screen.
A great big screen over your bank of desks is a good way to get your key metrics seen by all of the team. For example, we use Geckoboard to create a dashboard that just shows these three key metrics:
MRR
Conversion rate
Churn rate
They get played on our company digital signage channel, ScreenCloud TV, twice per day, every weekday. This means that all of our team have the chance to manually look up the KPIs, they see them in Slack and digital signage gives them 10 more opportunities to see those key stats throughout the week.
When everyone is focused on the key metrics, it makes it much easier to move the needle towards them. Whether this is decreasing churn or improving your MRR ensuring the key metrics get seen, is what matters most.
2. Engage remote team members
Technology startups are renowned for hiring remote talent. When it comes to onboarding remote workers however, they face the same challenges as every other industry. Ensuring that remote workers feel like part of the team, that they aren't removed from important decisions or affected by information silos.
Digital signage is a communication tool that can help. A company TV channel helps keep remote workers engaged, offering a window into what's happening elsewhere. Sure you can send remote employees Slack messages, they can go through all of your HR processes and have access to the company intranet. Unfortunately this doesn't mean that they'll retain what's there, or that they'll even look.
The key benefit with a company TV channel is that you can choose to surface information that's important, wherever your employees are. This could be on an iPad on their desk, or by plugging into their regular TV. It's a lot more engaging than a bland company email too.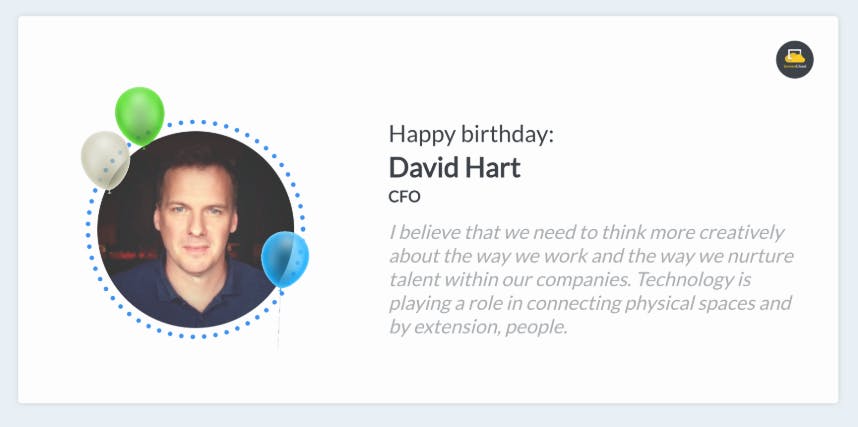 On the flip side, digital signage helps your team to get to know their fellow employees. At ScreenCloud we use Meet the Team app to surface exactly who our team members are and where they're located. This gives everyone the chance the meet the person behind the avatar, when doing that in person may be difficult.
3. Meet other startups
Synonymous with tech startups are the words "coworking space". If you can't afford your own real estate, and let's face it, who can, then pitching up alongside a bunch of other technology startups is a good way to go. The best thing about working in coworking spaces? The ability to meet other companies with ease.
Smart coworking spaces use digital signage as a way of introducing members to other companies, no awkward "networking" sessions required. This is free advertising for the startups that work there, whether they need an intro, a skill swap, a beta list or anything else that another coworking startup might be able to help with.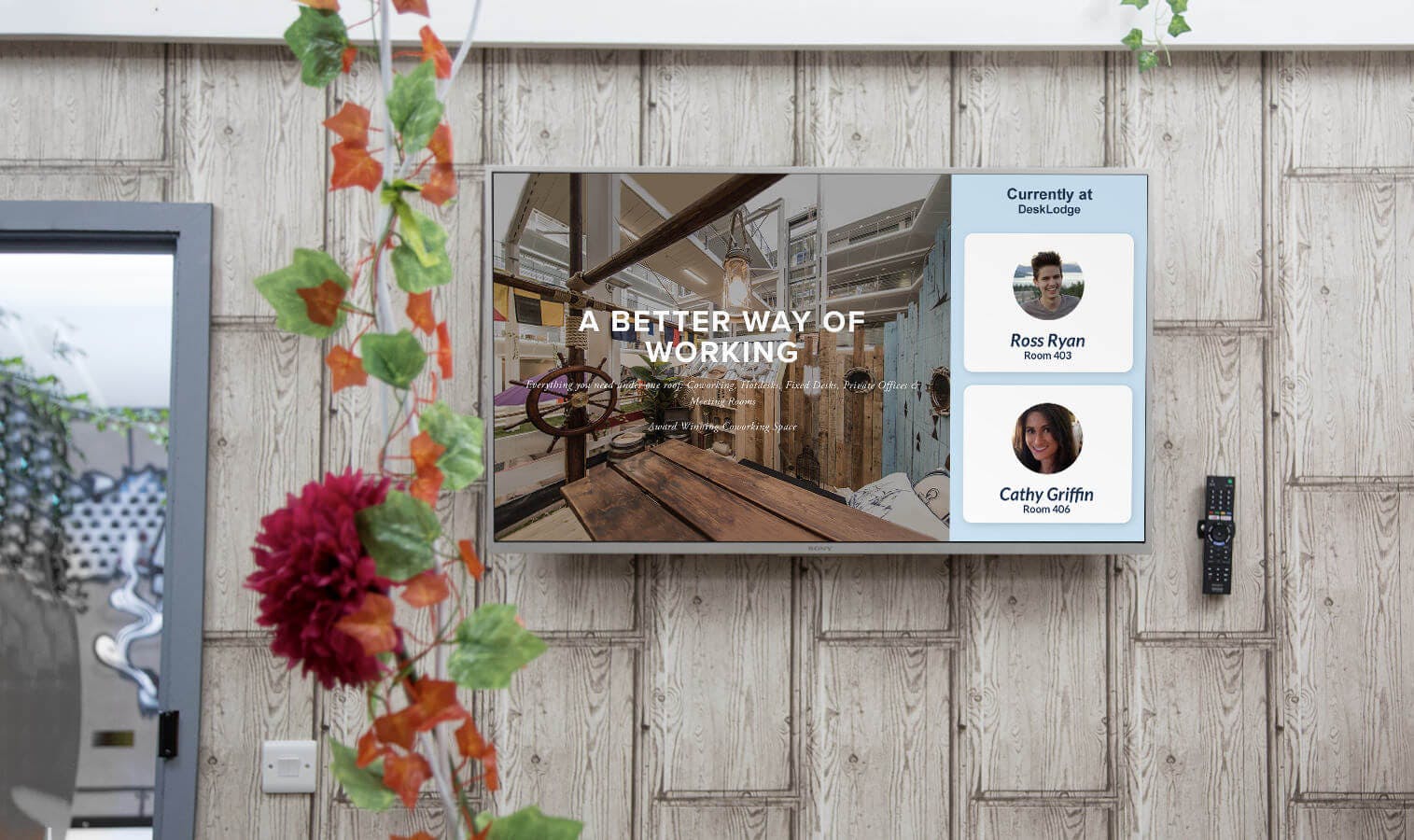 Top tip: Check out coworking space Desklodge for an example of the magic in action
4. Visualize product roadmapping
If your startup uses Trello, or another project management tool, to stay on top of your product roadmap or individual sprints, then getting this up onto your digital signage is a quick win for greater visibility.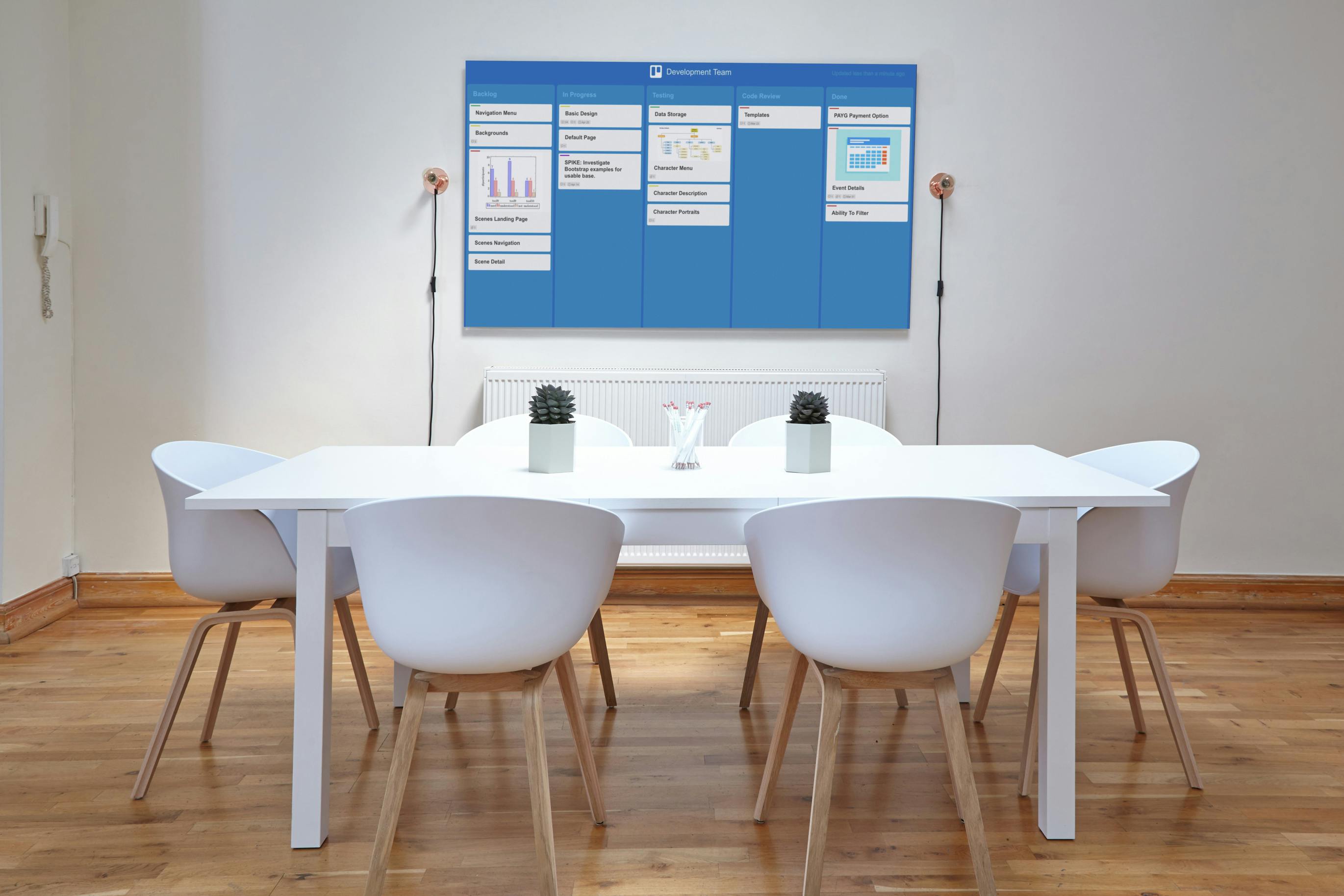 Not only can it be used as an active member of your morning standup meetings, it gives at-a-glance information on what everyone should be focusing on. Which means no more excuses for product tangents and people working on their favorite projects with no accountability.
5. Share the company vision
Although sharing metrics are really important, there's plenty more to your company DNA than just the numbers. At ScreenCloud we use our internal digital signage channel to reinforce the key messages and themes that get brought up in our company All Hands, or at our yearly company get together. When a team submits what they've been working on via a Google Slides document, we can add this to screen simply by sharing the document.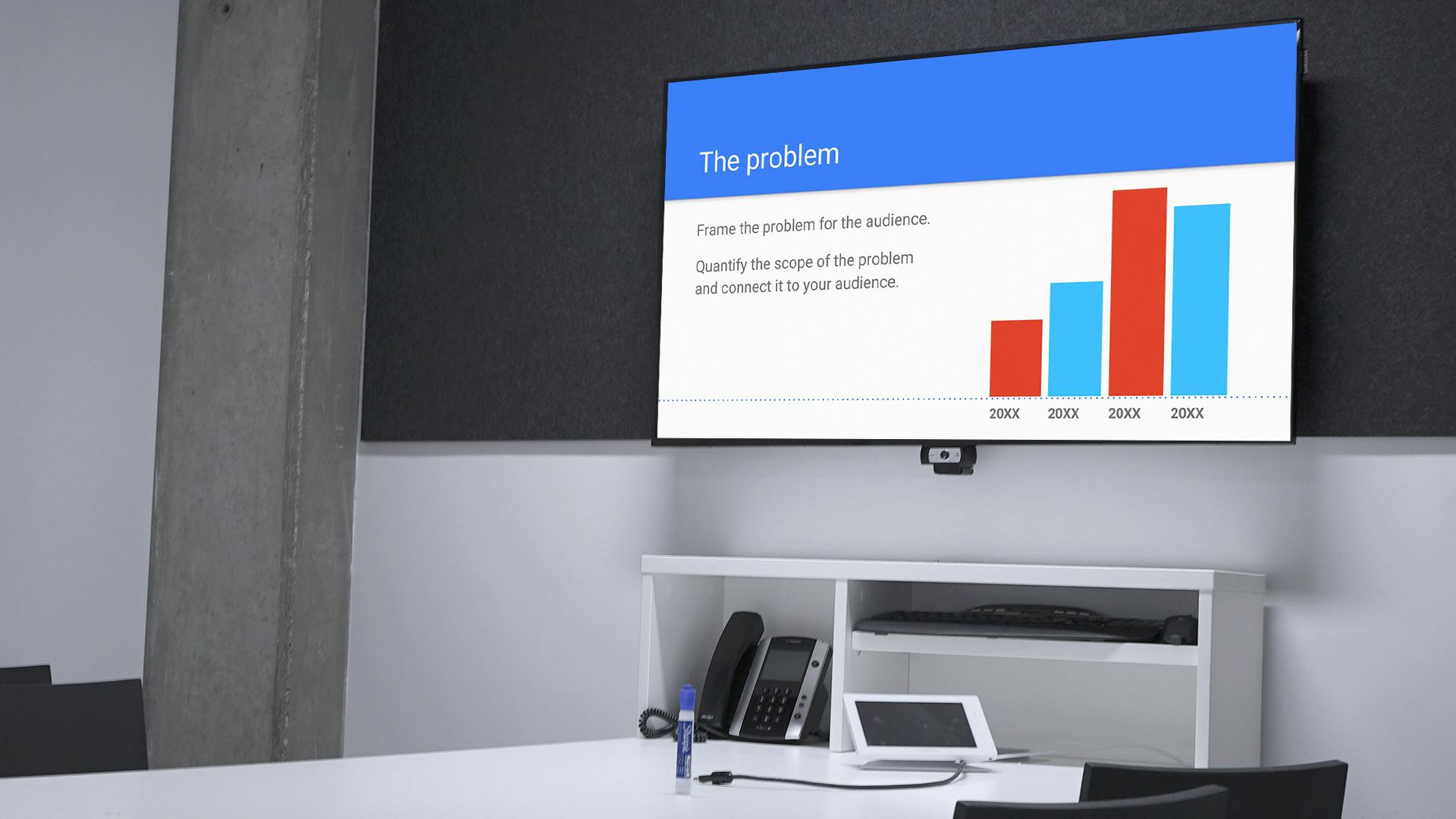 This means that every person in the team gets to see the presentation around five times over a two-week period, helping with greater information retention than if they'd simply seen it once.
If you're looking to get started with digital signage for your technology startup, get a 14-day free trial of ScreenCloud at screencloud.com/getstarted.