So you think you've got a great digital signage campaign. The screens are up and running, you've finally filled in that blank, black space up on the wall. You may even have created some new content and something that's going to entice your audience in to find out more. 
Unfortunately, this is one of the easiest ways to get on track to catching a little thing we like to call "set it and forget it syndrome." So many of us create a stunning digital signage display, get it live on screen and then….forget all about it.
This is the quickest way to bore your audience, lose engagement and guarantee that people will eventually stop looking at that screen. 
In a world full of noise, where we have 20 different marketing channels to choose from at any one time, you have to have a big picture strategy for your digital signage campaign. More importantly, you have to stick to it. 
That's why we've come up with this list of 10 seriously important ingredients that every digital signage campaign should have. 
1. An opener
This is fairly relative, given that not every person passing by your digital signage screen is going to see it start from the top of the playlist. However, chances are they're going to see the "opener" at some point (if you follow best practice for the length of your playlist).
Even if it's not at the beginning of their viewing experience, a good opener will ensure that the playlist follows logic and that they can see that it has a start and an end point. As humans, we look to make sense of content, and visuals and a strong opener, followed by secondary content, will help to do this.
A good opener could be:
An introduction to your company ethos and who you are.
An introductory slide to the rest of your content - see an example we used below for a tradeshow booth display.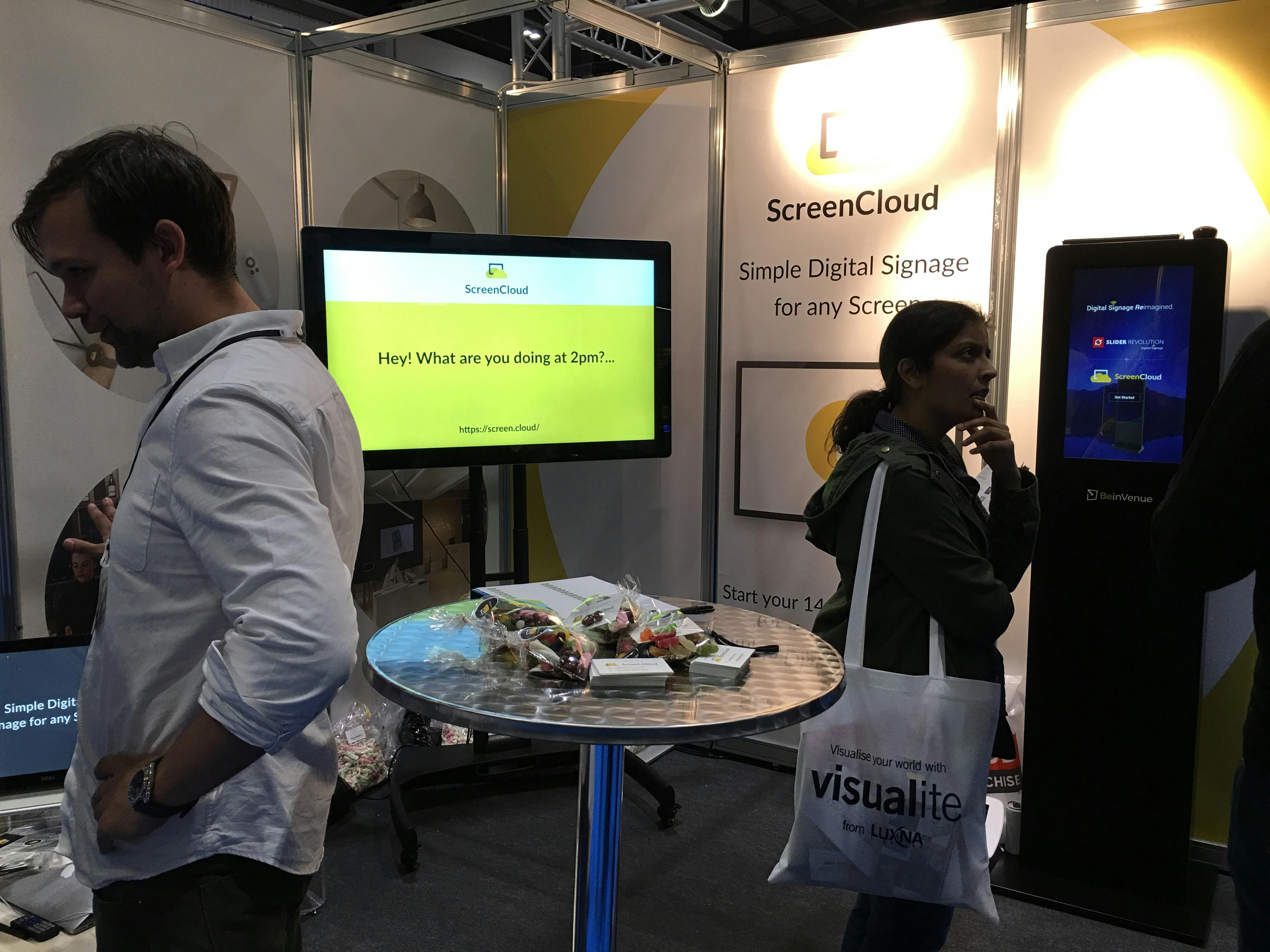 Something persuasive, helping your customer to make a decision or take immediate action, such as a time-limited offer.
Useful content: a digital menu board, pricing information, directions or something which is going to make a lightbulb ping, indicating that the content shown on screen is worth a watch.
Content that is eye-catching - something bright, a video with motion, a song or noise - anything which will grab that initial attention!
2. A specific length
Keep your content to six or seven pieces and ensure each is played for a short period of time (so as to alleviate boredom). Don't forget - your digital signage experience is not the same as watching TV. Sure, they both take place on screen, but it's unlikely your visitor is watching in a relaxed state with nothing else on their mind.
Digital signage is often a glance medium, taken in amongst many other things, so brevity is often important. 
3. Six pieces of content
We've found that generally speaking, studies point towards six pieces of content as the ideal digital signage playlist format. Often, this comes down to testing. You may find that six pieces isn't enough for your office playlist (which is being viewed day in and day out), but that for your store window, it's perfect.
This also depends on the content being shown. If you're using social media apps, which update every few minutes, you may not need as much content variation because from a technical viewpoint, the content is refreshing all the time. 
4. A story or narrative to hook them all together
One of the biggest errors we see companies make with their digital signage is randomly hooking together different pieces of content and expecting it to gel and be visually appealing to their audience.
Think of your digital signage playlist as a TV show or a live news feed. Rather than adding content at random, this provides a structure.
If we think of a live news feed, the structure is:
Open with the big story
Follow up with 2-3 semi-important stories
Mix up the format: an interview, live feed, video footage or similar
A signing-off story: sometimes this is lighthearted or humorous 
On top of the structure, you have a set of "rules" about each piece of content, such as always starting with an introduction and including any calls to action towards the end.
Using this narrative will help your digital signage content to flow more effectively. Perhaps you have the opener followed by two pieces of company news, then a social media feed, a live news update and then a special offer, competition or some user generated content from your audience. 
5. Really great copy 
Copy on screen should be clear, simple and effective. Persuasive language helps entice your viewer to read on or find out more. Action words and verbs make them take action. 
Choose a single message for each slide or piece of content and choose the five or six words you use for that copy carefully. If you are using longer copy, slightly extend the time that piece of digital content plays so viewers have enough time to read it.
6. Amazing images
Digital signage is a visual medium, so the images you use can make or break your success. One color is never superior over another and actually, a digital sign that uses on brand colors and fonts will often look more cohesive and therefore be more attention grabbing than a sign that uses color for the sake of grabbing attention. 
The screens we view digital signage on are also often larger than our PCs, laptops or mobiles, so ensure any images you add are high-quality enough to be stretched out to a larger size. Where possible, resize any background images to 1920 x 1080 pixels, which will ensure the correct dimensions for a landscape screen. 
You can also use contrast between the background image and a foreground image or piece of text in order to highlight what you want the viewer to see. 
7. Calls to action
A call to action comes at the end of your playlist or at the bottom of a piece of content and should incite the audience to act. Use a verb (e.g. sign up, join, like, share, review) and be crystal clear on what you want the viewer to do next. If you're giving them an offer or web address, make the information as easy to retain as possible. 
8. A road test
Before implementing your digital signage campaign, an essential ingredient to success is to road test your content. Within ScreenCloud Signage, we offer a preview function that allows you to watch your playlist from start to finish.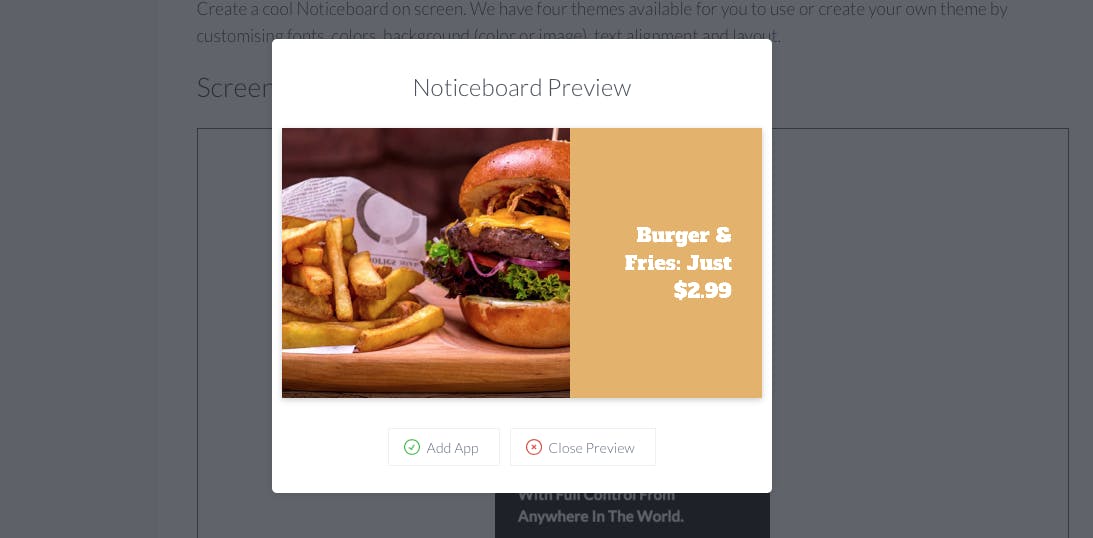 You could also pop your display up onto the screen and watch it once through to ensure you haven't missed any images that are too small or pieces of text that are too hard to read. 
9. Tracking
Once your campaign is ready to go, take a couple of minutes to think about how you will track your success. For some, having digital screens up and sharing content is enough. This will undoubtedly lead to brand awareness; studies show the positive effects of digital signage on brand perception, customer buying behavior, and peer-to-peer referrals.
If you do want to track something more concrete, you could use a unique offer code in your call to action or a web page link that isn't visible from any other medium.
10. An expiry date
The last step and yet one of the most important! Set an expiry date on your digital signage campaign. This could be in a month, three months, or even a year's time; just ensure that once setup, you don't leave the same content on repeat.
The likelihood is that once your displays are up, you'll get a ton of comments from staff members or customers on what's showing and what they'd like to see more of. The benefit of cloud-based digital signage systems is that there's no limit on how often you can change the content or add more.
Your digital screens are like a chalkboard that can be washed off and re-written any time you like. So make sure you make the most of them!
So how did you rack up? Were all of the ingredients ready and waiting in your campaign? We'd love to hear what you think, including anything that you think should be added. Let us know on Twitter @screencloud. 
If you need help getting started with your digital signage campaigns, then start our free trial today at https://signage.screen.cloud.