There's a great quote by author Philip Pullman that reads '"After nourishment, shelter and companionship, stories are the thing we need most in the world." 
Funnily enough, many of the studies around the effect of storytelling on our wellbeing back this up. A study in Science magazine found that reading literature helps us become more emphatic and better equipped to understand and support the thoughts of others. A storytelling programme used within a hospice environment also found many benefits for patients and their families, including an increased sense of wellbeing, reduced depression and  improved/preserved self-identity.
In modern day storytelling, digital screens have become the new campfires that we once sat around to share stories. How often do you go out for dinner and everyone is fixated on their phones. Or you sit in an office, huddled around a desk, checking out something funny on a colleague's screen? 
Digital signage screens have the same purpose as campfires, they just provide a new medium through which to tell stories. Both in physicality, given that they're often located in the focal point of the room where everyone can see them and also in the way we use them. In shop advertising displays, offices, lobbies, restaurants and bars, we're used to gathering round the screen. Whether this is to catch a game, check out the news or read more about a product or company. 
So how can you use your digital screen 'campfire' and the power of storytelling, to make better connections with your audience?
Let's take a look. 
Create a story journey
When we tell a story to our friends, or even give a presentation, we build it up into a journey. You don't say 'I went here and X happened'. You say, 'I woke up, I felt like this, I was thinking about this and about to do that'. Put simply, you build the event into a story and the story into a journey. This helps to bring your listener in and make them invested in the outcome. In digital signage (and any marketing) the same applies.
One way to do this is to plan your digital signage content by using one of the many popular storytelling techniques often used in brand content and presentations. One of these is the term coined by Nancy Duarte, called 'Sparklines'. This is where the 'ideal' reality and the current reality are created as one narrative, in order to compare what is, to what could be.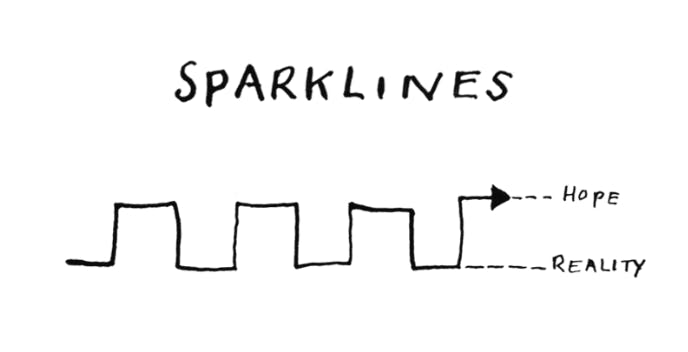 By showing your audience what the current situation is, compared to what your product, service or idea could make the situation, is a great way to add a firm narrative to the thing you are trying to sell. For another great example of how to do this in presentation form (which can be added to your screen using our Google Slides app) check this article out. 
Map the content path
Often in digital signage we hit a 'set it and forget it' mindset. This is where content is added to the screen but with no real strategy or structure. When this happens, there is no clear content path or story and it can be difficult for viewers to really 'get' what's going on.
As easy as it is to add new content to a digital signage CMS like ScreenCloud, it also means that content can be added without much thought.
Say your boss asks you to put your latest price list live and you add it to your playlist. All of a sudden, the price list is sandwiched between an Instagram gallery and an advertising video. Where's the consistency there?
Much better to map the content path, decide on what goes where and then get it organized so that the screen content is consistent, whether the viewer is watching for 10 seconds or 10 minutes.
One way to do this is through a tool like Trello. By adding content and splitting it into sections, either by time or theme, you'll be able to get a clear view of your story and how it will pan out. 

Show patterns
One of the beauties of digital signage is that you can mix mediums. As you can see from our App Store, there are ways to add images, video, social media feeds, presentations, dashboards, news feeds, videos, RSS and more. 
However, there still needs to be a clear or consistent pattern which anchors all of your individual stories together. Humans are designed to see patterns - we find them even when there aren't any. A study by psychologists found that when students were asked to search for images in television static they found stock patterns again and again - even though there weren't any. 
In your content, people are going to look for patterns. If you can help them to find them, this will ensure that your content makes sense and that your audience feels good while watching it. 
One way you can do this is to 'anchor' each piece of content with an introductory image or slide, just like you would a series of blogposts. 
We did this recently in an event setting and it worked great! The bright yellow background helped our key slides to stand out, so that the rest of the content was anchored to our core message and the story we were trying to tell.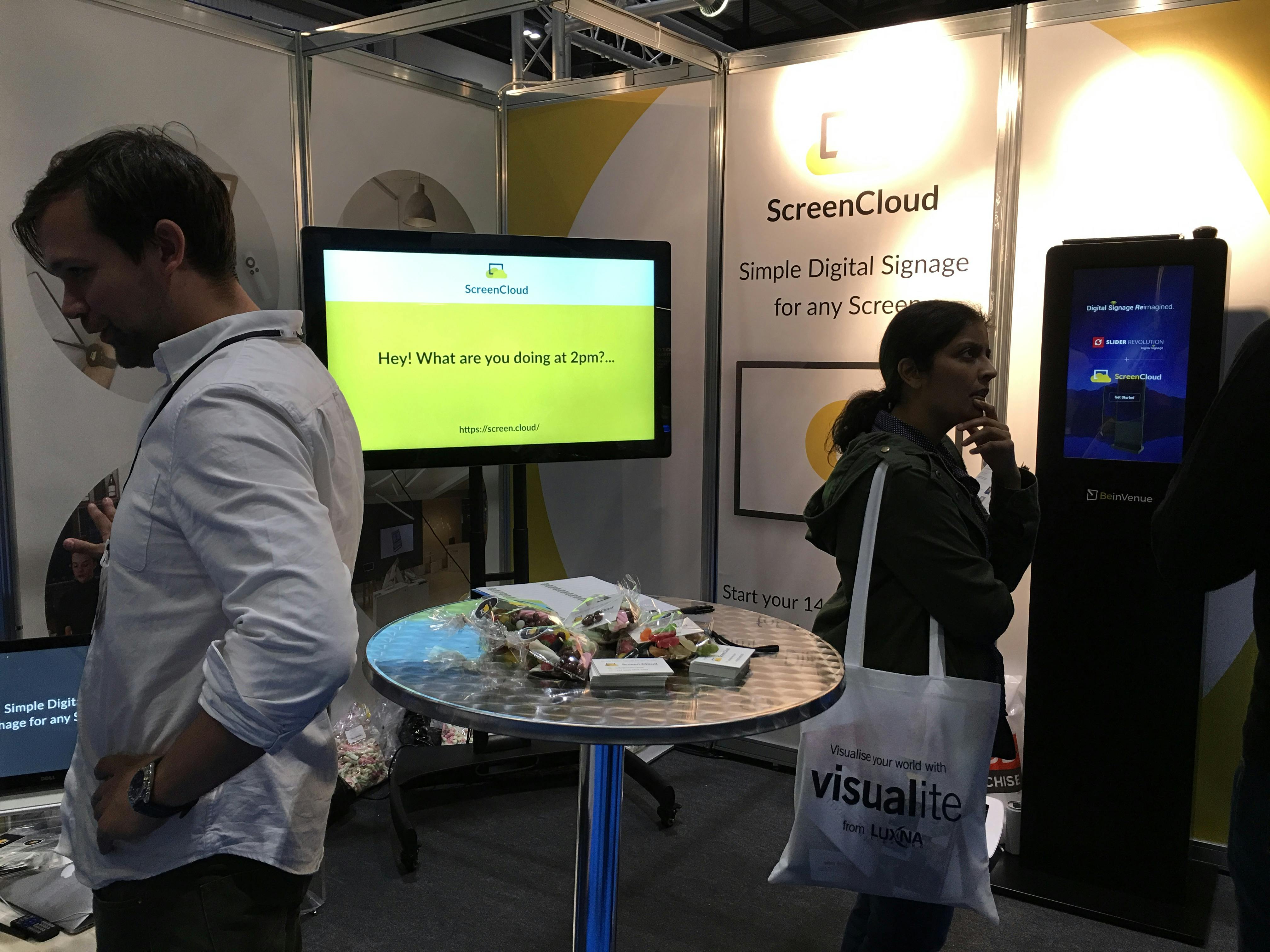 FYI - these slides were created in PicMonkey and took less than a minute each once we'd fixed the template. Super simple and yet seriously effective. 
Gather the stories that need to be told
Surprisingly, the stories you tell may not be your own. Or even your brand's for that matter.
As we've discussed in the past, user-generated-content through the form of customer stories, testimonials and videos are powerful ways to collate authentic content. 
Allowing your customers to craft your story helps in a few key ways:
Content is more effective as it is customer-led, rather than brand-led
The stories shown can change rapidly and this makes it easy for the viewer to find ones they resonate with
Customer stories are likely to use everyday language, not marketing jargon or business language, making them more relatable
It's automated - using social media apps means you get a steady stream of relevant content without you doing a thing
It offers feedback and helps you to refine future messaging and ideas
Just take the food companies who are always giving their customers chances to vote and become part of the decision-making experience on new flavors and products. This is a story of what their customers want - not what their brand has decided. This gives the power to the customer and helps them craft their own story with the brand through the flavor they choose and their reason for choosing it.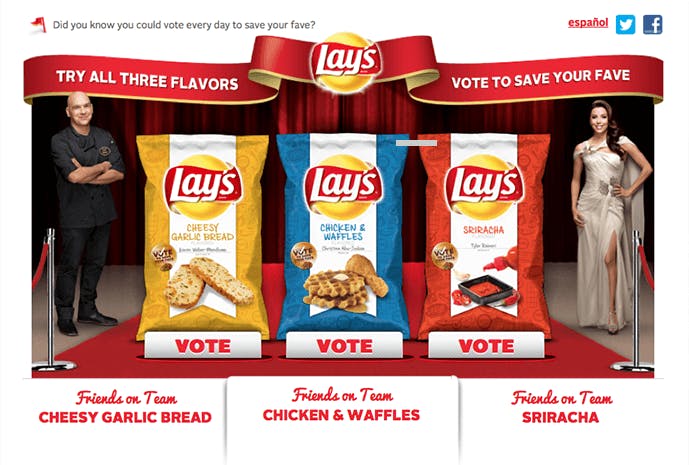 UK fashion-brand Missguided uses the '#babesofmissguided' hashtag so that brand fans can send in images of the clothes from wherever they are and whatever they're doing, making them a part of the story rather than passive shoppers.
Our customer North Valley Baptist Schools lets its students get involved with the digital signage content creation process. Students from media and graphic classes are tasked with deciding on the content that gets shown on screen and with designing it too. Now isn't that a much nicer story to tell?
Setting up your digital screen campfire
Hopefully you're now brimming with ideas, ready to tell your story to the world. To get your stories setup on the digital signage screens you have (or might be wanting to invest in) head to https://screencloud.com and try out our 14-day free trial.