You know what's always a great feeling? When someone says something nice about your business online. The power of the internet is so widespread that a great review can make you feel as fantastic as a bad review can make you feel terrible. Social media gives you a direct inroad to your customers, and guess what? You're not the only one. Social proof across social media, review sites and online testimonials gives your potential customers the chance to check you out before they arrive or book.
It can also feed important social proof to your current customers (thereby reinforcing that yes, you are the best), your employees, stakeholders and just anyone passing by.
So, you already have a great digital signage screen up on the wall, but how do you show off the wealth of social proof you've acquired? In this guide, we show you five ways to share social proof on your digital signage screens.
Most businesses today use social media. But have you embraced the power of physical social media walls yet? With ScreenCloud, it's so simple to get a great-looking social media wall up in your store, restaurant or office. When you do this, the hard work is done for you.
Your customers are already saying great things about you online, so why not show them off and encourage other visitors to do the same? Here are a few ways to use our social media apps to harness the full potential of social proof from your feeds:
Twitter search app
The ScreenCloud Twitter search app is made for surfacing all of the nice things people have said about you on Twitter. The app allows you to show a live stream of tweets, pulled from a specific account, phrase or word. So, for example, we could put @screencloud into the Twitter search app and our digital screen would show all of the tweets that have been sent mentioning our Twitter account @screencloud.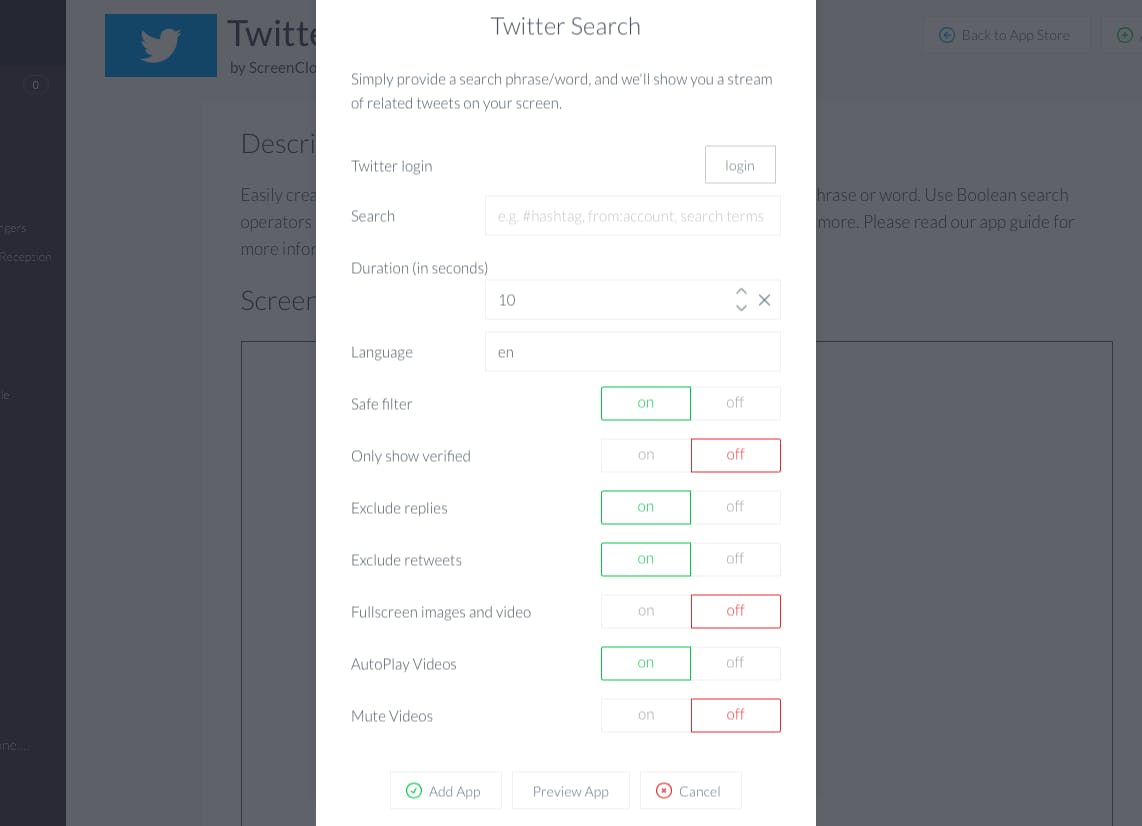 You can also exclude users, add multiple handles (e.g., search for "@screencloud" OR "ScreenCloud") and drill down into the tweets that you want to show.
This takes the focus away from general tweets in the feed and tweets that are specific social proof about your brand.
Instagram
Gallery for Instagram pulls your latest Insta posts (or those created by others) into a scrolling grid for your digital signage screens.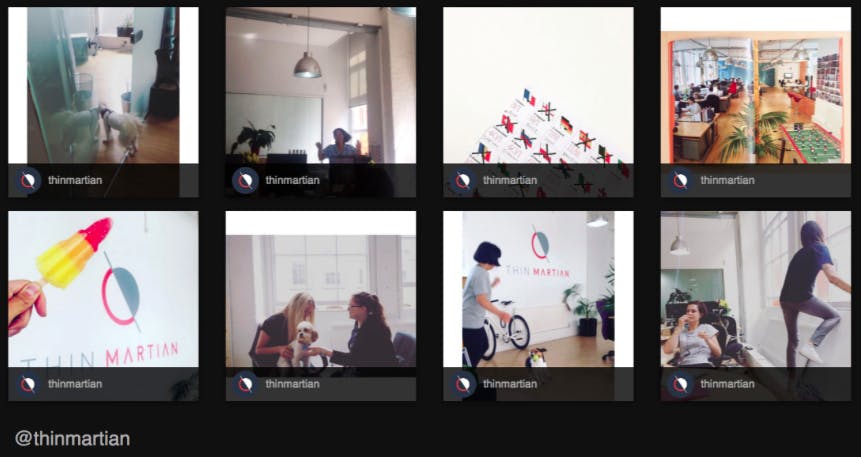 Visual social proof really gets under the skin of what you have to offer. If your customer has a great dessert and shares it on social media, Instagram plus digital signage allows you to put that up where everyone can see it.
Similar to the Twitter search app, Gallery for Instagram allows you to select a user, phrase or hashtag. So you could create a hashtag competition for customers to tag you in their best shot and voilà—a whole bundle of social proof to display on your digital screens.
Facebook
The Social Feed for Facebook app does exactly what it says: all of your most important Facebook posts sent to your digital signage screen. This is super useful for social proof, as you can share customer reviews, comments and case studies as Facebook posts to engage your audience both online and in your store or restaurant.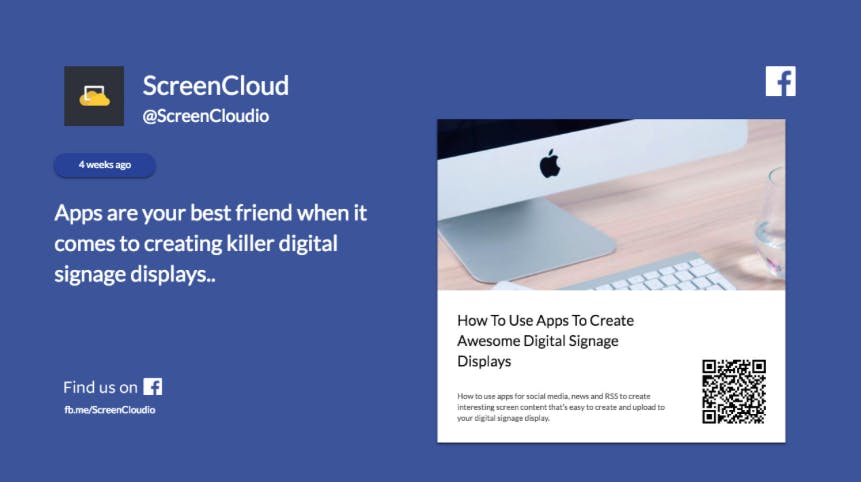 The information can contain a mix of text and images and best of all, it fills the screen with bitesize chunks that just beg to be remembered.
2. Reviews on TripAdvisor and Yelp
If you're a local business, a presence on review sites such as TripAdvisor and Yelp is imperative. But did you know that those reviews don't only have to stay within the confines of Google? Our TripAdvisor app allows you to pull all of your best reviews and share them on your digital screens where everyone can see them.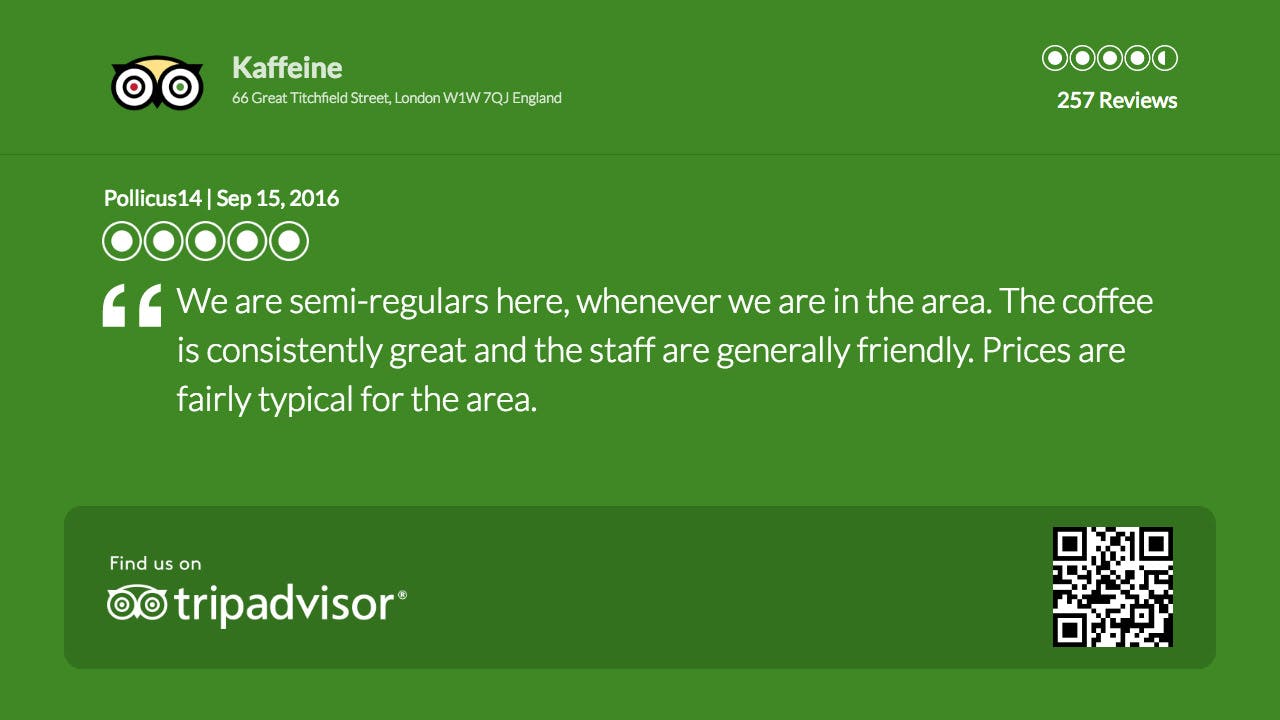 Pop in your TripAdvisor URL and choose your rating filter (you can choose from 3+ stars and above, 4+, or 5+) and that's it. All of your top customer testimonials present on your screen for everyone to absorb.
The same goes for Yelp too, which is great for businesses of any shape or size.
3. Foursquare
How many of your customers check in using Foursquare? The app is a great way to share information about places and sights you're at, in the moment. This creates great material for social proof, where your current guests, as well as past ones, can share details with those about to visit.
To share your Foursquare page to your digital signage screens, just add your Foursquare page URL to the ScreenCloud Foursquare app. You can also choose which ratings to show, so that your very best reviews will surface top for all to see.
4. Follow us app
There's a reason why our Follow us app is one of our most used apps to date. Follow us allows you to share your social accounts and details. While this doesn't directly pull in social updates, it does allow your customers to very quickly find you online and begin sharing more feedback.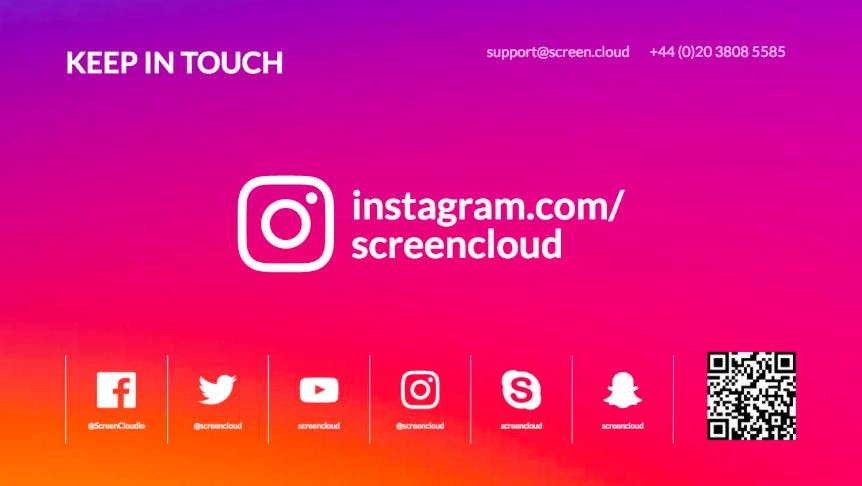 What's great is that it doesn't limit you to one social account. With Follow us, you can add details of everything from Facebook pages and Twitter handles to Snapchat usernames and YouTube channels.
This caters to audiences of all demographics, giving them easy access to the channel that matters most to them. This also cements your authority as a company invested in their social media presence, and if you're invested, then why wouldn't your customers be too?
5. Customer testimonials and case studies
As much as we love social media and review channels, you can't beat the power of a good old-fashioned case study. Testimonials and customer proof pulls words, thoughts and feelings directly from the mouths of your customers and shares them with others.
There are a few ways to share powerful customer social proof to your screens, including:
Add a website
Any case study that's up on your site can be added to a ScreenCloud playlist simple by choosing the "Add Web Site" button within your ScreenCloud content library.
Pull in YouTube videos
Social proof is far more effective when there's a visual element to go with it. If you've managed to catch your customers on tape talking about how great you are, pop the video up on YouTube then add it to ScreenCloud using the YouTube app.
Create a testimonial visual
Digital screens are a huge pull of attention and you can maximize on this by creating one knock-out visual that customers are keen to read. Our Noticeboard app, or any design tool that allows you to add text and images, is a great way to create a visual testimonial.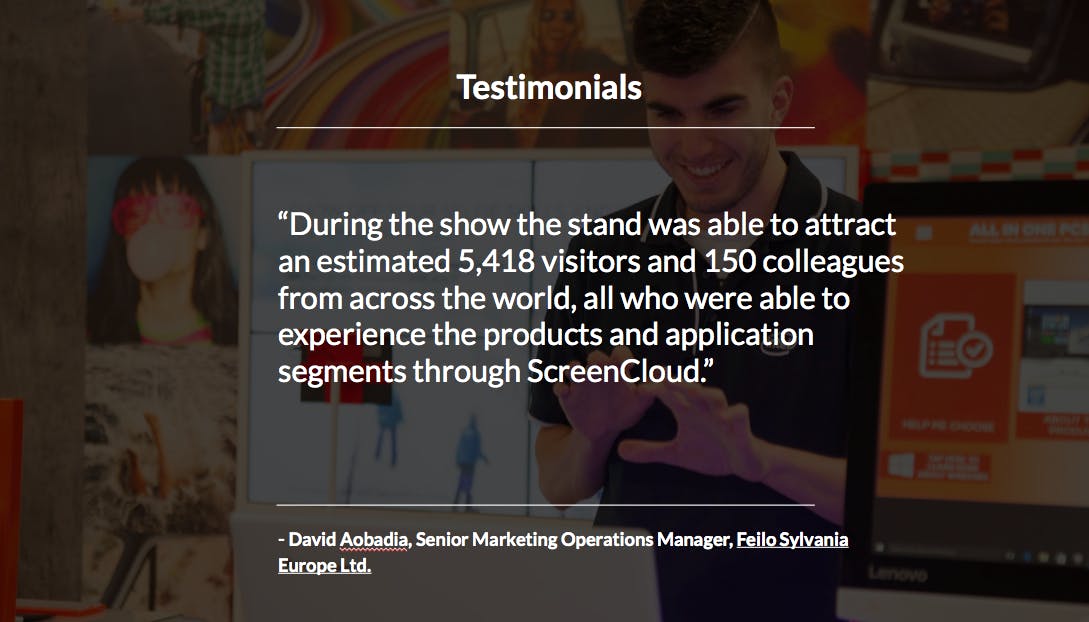 When people say nice things about you, they deserve to be shared. Getting social proof up onto your digital screens is simple and yet seriously satisfying. Make it happen today—head to https://screencloud.com.