Publish content to your screens directly from Microsoft Teams
Learn More


How to Make Simple Digital Signage Text Content and Signs
Sometimes simple content is best. In this guide we give you four easy ways to create your own simple but effective content.
At ScreenCloud we've written quite a few best practice guidelines on how to create the best digital signage content. 
You want to know the best practice guideline for playlists? We wrote this. You want to know how to get videos, social media and images onto any screen? We have you covered. If you want to improve what your audience does when it sees your screen we have 10 tips for better digital signage call-to-actions. Need help writing better copy? Then head here.
But you know what we get asked more than anything? What's the simplest and best way to create really good, yet simple, digital signage text and sign content? In this guide, we give you four of the easiest ways to create really simple digital signage text content and signs.
1. Noticeboard App
If we don't sing it loudly enough, when you sign up for ScreenCloud you get a handy extra. Access to our entire App Store, containing apps that help you put together your best content yet. From digital menu boards, to meeting room signage, social media walls and more.
Enter Noticeboard, one of our killer apps that is always riding the most used charts. Noticeboard app allows you to create really simple (or complex if you prefer) notices, signs and text content that can be easily displayed on your digital signage screens. With Noticeboard you can:
Choose from a variety of different templates including 'neon', 'chalkboard' and more
Change font, text color and positioning 
Create your own templates by uploading custom images, as backgrounds or overlays
This allows you to create stunning displays like this one: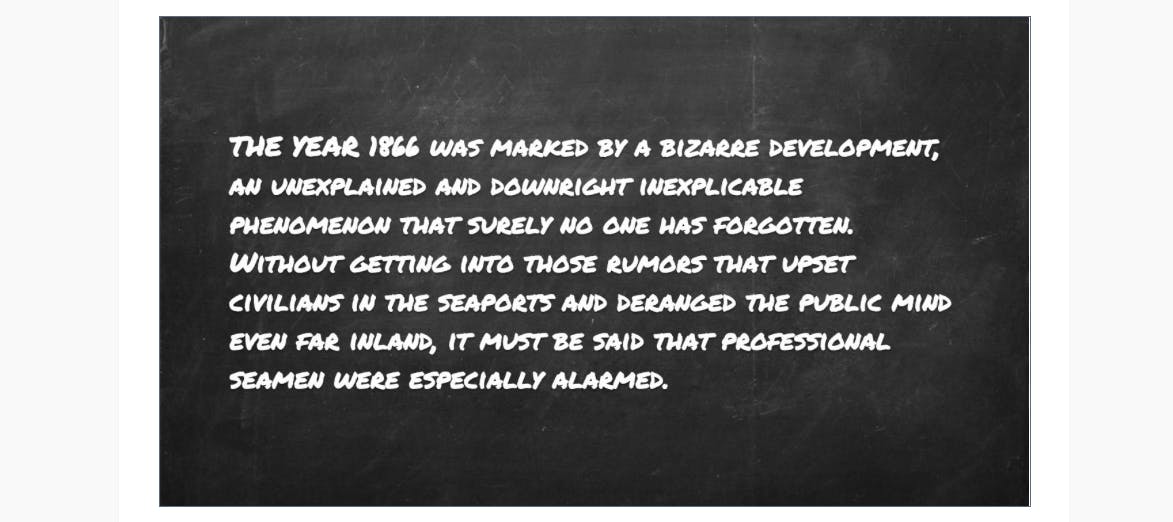 It can also be used to create slides that break up a digital signage playlist, helping to infuse your content with guidance for your audience. In a tradeshow setting this is invaluable.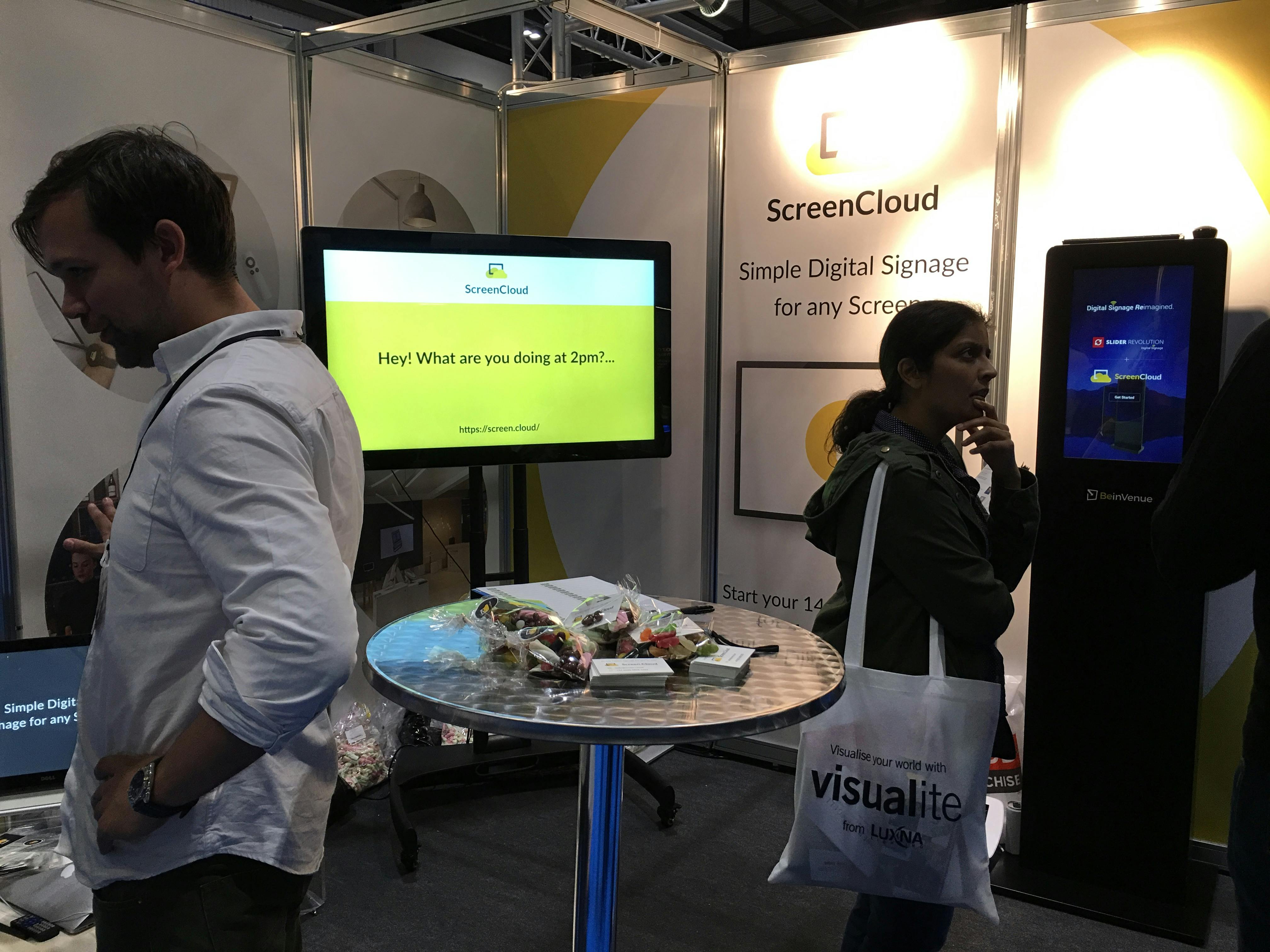 In fact, it can be used to create such a wide range of content, from client testimonials, to specials boards, wall quotes, meeting room schedules and more, that it really is one of the simplest ways to create text and sign content for your digital screens. 
Give it a try here.
2. Image creation tools 
If you're looking to create a simple background-plus-text image, then Noticeboard is ideal and probably the quickest way to create content that can be loaded directly into your digital signage playlist.
However, if you have a piece of content in mind, with multiple images, a complex or custom design, then you may wish to go beyond and adopt an image creation tool. If you're a Photoshop or InDesign wizz, of course this is easy.
You create your file, convert it to a JPEG, PDF or PNG, and you can upload it to ScreenCloud with the click of a button.
If not, you have free image creation tools such as Canva and PicMonkey that are personal favorites of ours when creating really simple text and image-based content.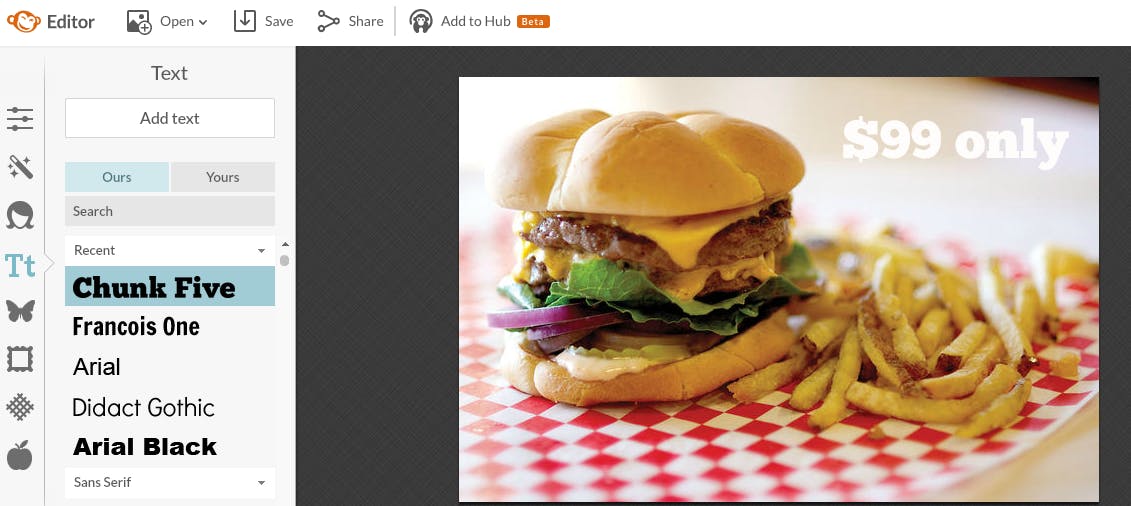 Using these tools you can upload multiple images, add overlays and backgrounds, enter text and change font, positioning and size and then download as a JPEG or PNG of your choosing.
Just like with any image creation tool, uploading your finished piece of art to ScreenCloud is simple. 
Select 'Content Library' from the menu on the left hand side, then 'Upload' and you'll have the option to upload your content from your library or a source such as Dropbox or iCloud.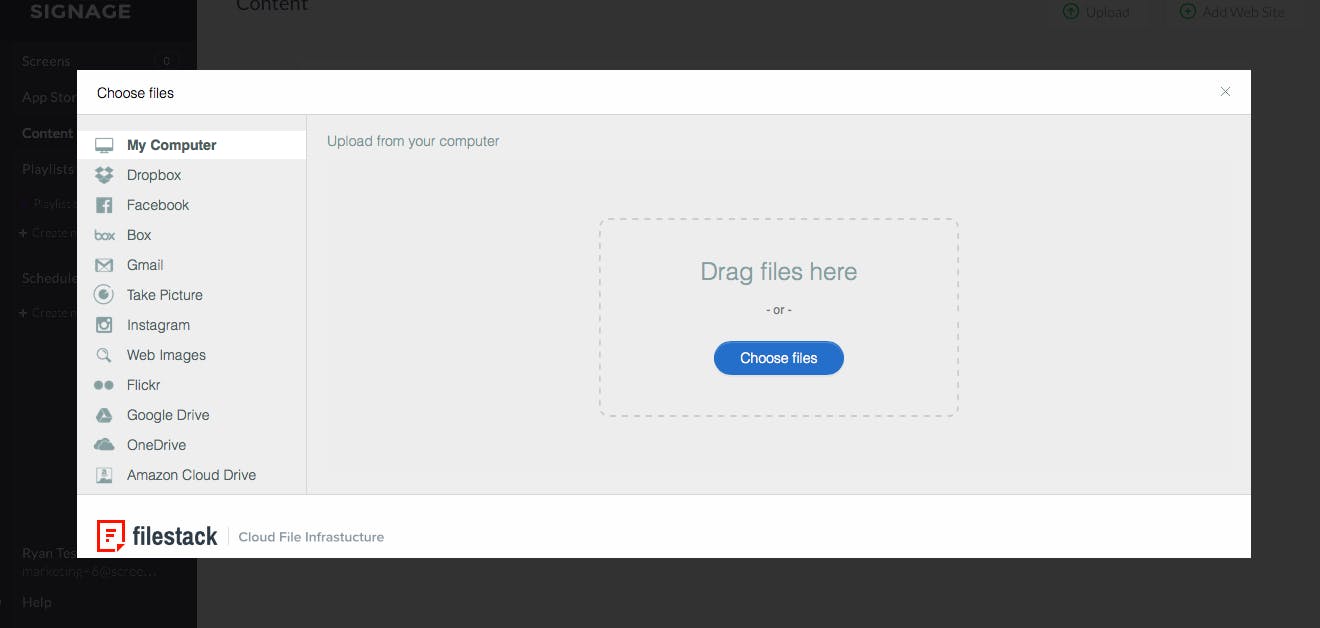 Simple when you know the answer right?
Top tip: When it comes to creating the perfect sized digital signage content, the classic dimensions for a landscape screen are 1920 x 1080 pixels. On a portrait screen it's 1920 x 1080 pixels. When you setup a Canva or PicMonkey template you can usually type these in, ensuring your content is the perfect dimensions for showing on screen once downloaded. 
3. Digital signage design templates
If you'd rather leave the design skills to someone else, you can make creating text content and signs even easier by using a pre-created digital signage design template.
Finding the right template, depends on what you're looking to create.
As we mentioned above, for simple text and images, Noticeboard is a great option. If you're looking to create a digital menu board, an app like DSMenu has hundreds of templates for you to choose from, that would suit coffee bars, bistros, burger joints and more. 
There are also tools such as Placeit which offer templates allowing you to pop your image into a mock-up of a screen, tablet or PC. 
For more content templates and free apps check out our guide on 43 free tools that help marketers become designers.
4. Content tools you already know and use
As well as image creation tools there are probably many tools you use each day to create simple text and graph content. Whether you use the classic Microsoft suite of Word, Excel and Powerpoint, or have swapped to Google Drive, Documents and Sheets, all of these content creators can be added to your digital displays.
Numbers
If you'd like to display simple number work, you have a few options. First, you could convert your Excel spreadsheet or Google Sheet into a PDF. This can be uploaded using the ScreenCloud content library. 
If you'd like your numbers to upload live, as you change them, your best option is to use the Google Sheets app. By publishing your Sheet so that it is live, you can edit the information as you please and it will update on the big screen for you, without needing to re-upload the file. This is great for budget sheets, statistics and metrics tracking.
If you'd like a more visual display of your data, then a dashboard such as Screenful or Klipfolio could be the way to go. 
Words
ScreenCloud supports PDFs and Office/iWorks formats so any word documents can be uploaded direct into the content library. Just remember that for a landscape screen, you're going to want to flip the layout to landscape in your word document to ensure everything looks as it should. 
Presentations
Presentations take up so much time and creative space that they're often the perfect candidate for text and image based digital signage content. These can be uploaded directly as a file or PDF from your desktop, or if you want to make live updates, use Google Slides. The Google Slides app also allows you to set the time and duration for each slide, so that it runs like a real presentation for your audience. 
We hope this guide has given you new ideas for content creation tools that make simple text content easy. To start adding your awesome content to digital signage playlists head to https://screencloud.com. 
Ready to get your organization connected?
Connect your first screen today with our 14-day free trial
ideas