If you have ever been tasked with getting data up onto a screen, especially when real-time data dashboards are requested, then you'll know how manual and time-consuming it is. 
And that's before you've even taken security into consideration. 
This question of security is a big one. Data is as critical as cash, and just as susceptible to theft. Which is why so many businesses are hesitant to grant access to – and indeed show – their invisible goldmine. 
OK, so there are workarounds; most BI systems like Tableau can spin up a dashboard into a URL, albeit a public one which in and of itself is a security risk. You could also take the approach of loading up a data dashboard onto a physical plug-in device. But again, there is a risk of this data being compromised – or the device being walked off with.
Whatever way you look at it, showing secure dashboards on screens is a bit of a technical nightmare (and what if you need to scale across teams, screens and locations?). The use of business-critical data dashboards are therefore being limited, and often not seen by those whose work would directly benefit. 
Which is why ScreenCloud have spent the past two years building and developing ScreenCloud Dashboards – one of the most secure, scalable and affordable options in the industry. After all, a data-driven team is a productive one.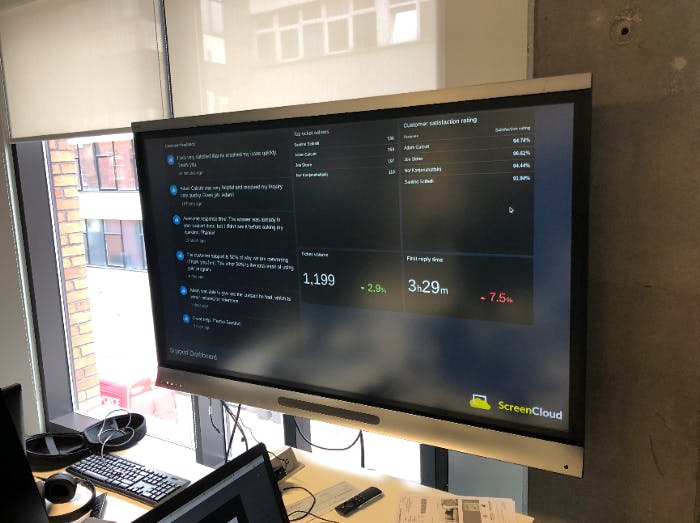 How to create a secure digital signage dashboard
At ScreenCloud we already integrate with tools such as Geckoboard and Google Data Studio. These allow organizations to show multiple combinations of data on their digital signage screens. Yet while these tools are OK for those companies whose livelihoods don't depend on their data being stolen, the downside is that you still have to make the data URL public in order to share it onto your signage screens. For those with highly-sensitive BI dashboards, this method is a no no.
But companies who wish to harness the power of data shouldn't lose out on all the dashboard fun. ScreenCloud's secure data dashboard product removes the issue of public URLs with a fundamentally different approach; integrating with a fully-supported business intelligence tool like Grafana, our digital signage software allows your Grafana dashboard – and all the data stored within – to be shown on a screen without the need to create a public URL or decrypt encrypted credentials from a shared login. The software pushes all encryption to the Cloud using a unique key and IAM role. (Still with us?)
For a detailed Dashboards set up guide, click here.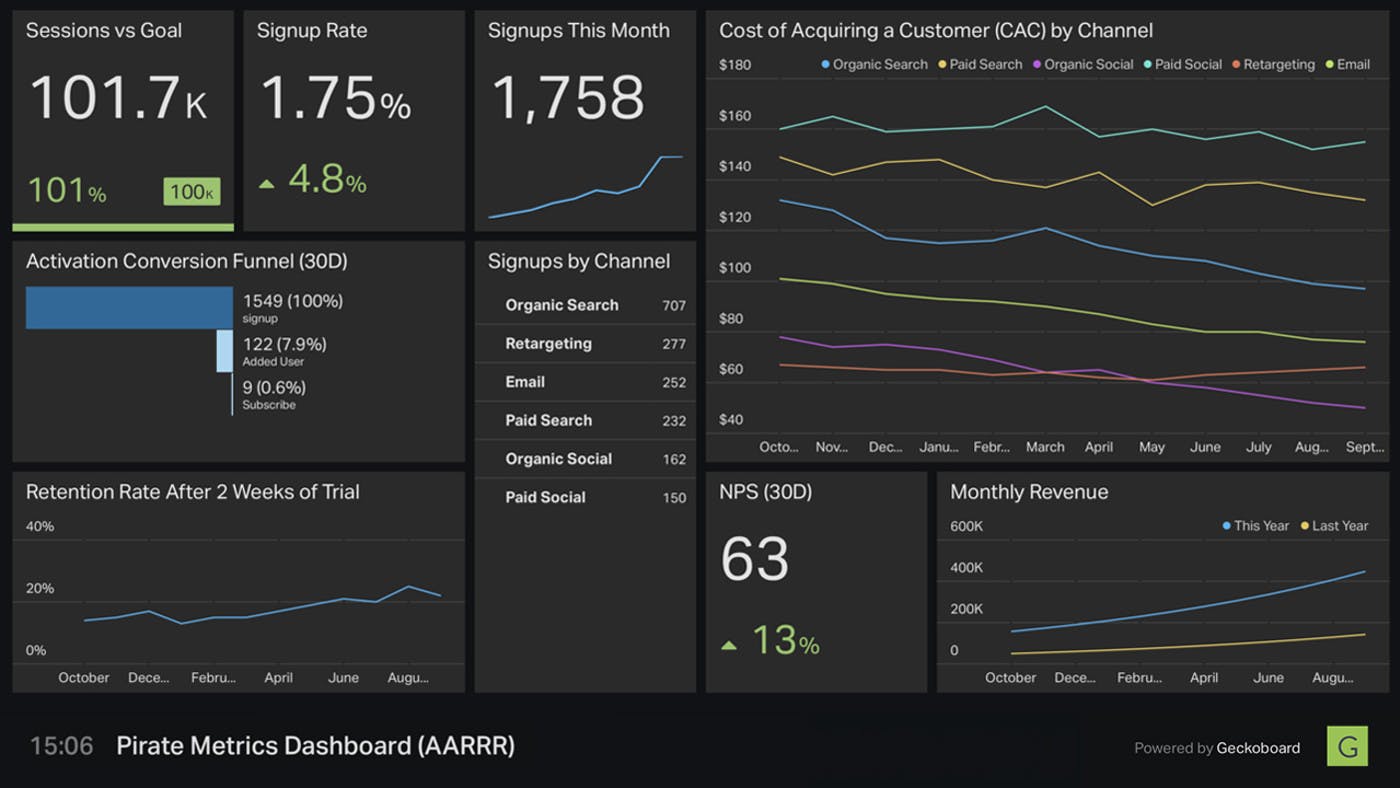 Some BI Dashboard integrations
Some of the dashboards we're working with include:
Splunk is an ideal tool for monitoring your systems and processes. It's like always having a finger on the pulse of your business health. Many of our customers implement SignalFX within their control rooms and offices to tell them when a critical issue needs addressing.
Tableau allows for sophisticated data visualization, which means you can easily transfer stacks of data to digital signage dashboards. This visualization allows for immediate and easy analysis for real-time, data-driven decisions.
With the advent of our secure Dashboards, it is now possible to showcase Power BI data visualizations through stored and encrypted credentials via the Power BI integrated app. You no longer have to make your Power BI dashboards public in order to show them on your screens.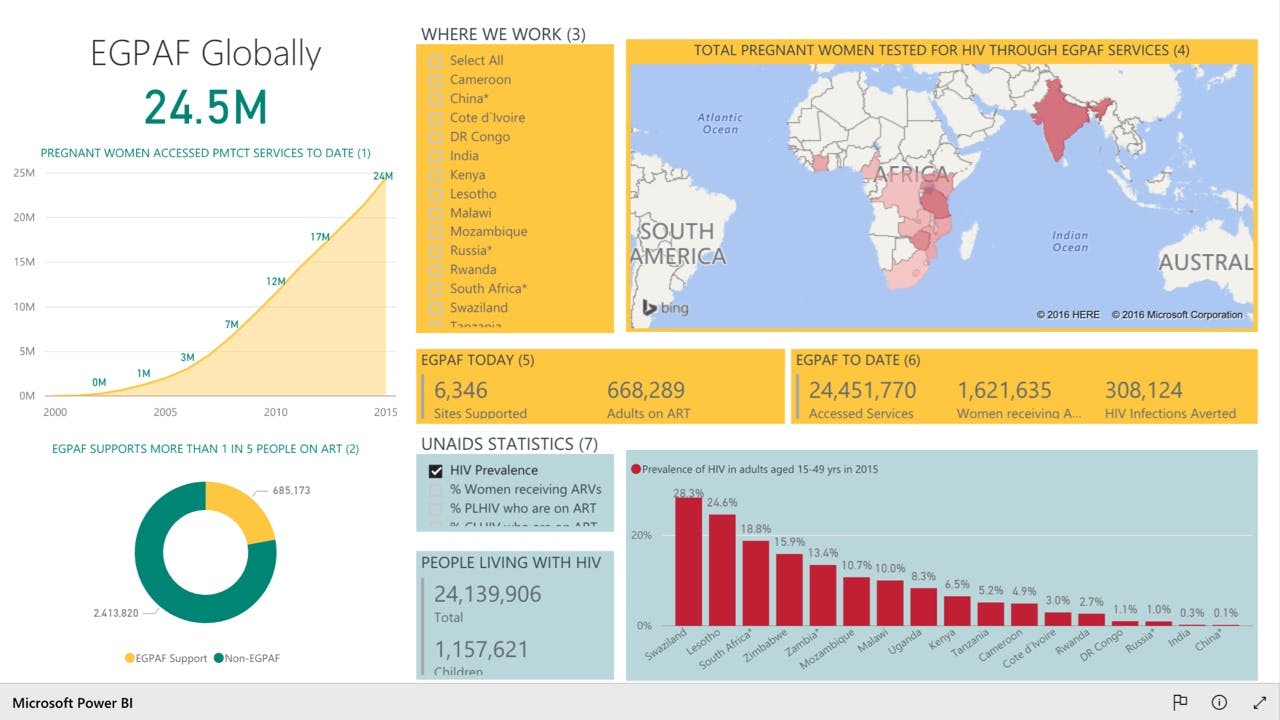 Grafana is another powerful data visualization tool that integrates with applications like Graphite or Prometheus for metrics collection and storage. It allows you to visualize, drill down, alert on and explore all metrics regardless of where they're stored.
ChartIO
Chartio – and new partner Atlassian – keep companies informed through their intuitive dashboards for data visualization and collaboration. Over the past 10 years more than 10.5 million charts have been created; they must be doing something right. Now with Atlassian they plan on delivering cross-product analytics and visualization so now every team within the business can benefit from seeing BI dashboards.
These are just some of the tools we're either looking to support at ScreenCloud, or are already supporting for customers. If you're interested in finding out more, contact our team.
Types of digital signage dashboards
At ScreenCloud we practice what we preach. We have several screens around our hubs, dedicated to dashboards that monitor our system health and productivity across multiple areas. For us, it's important to keep on top of our data as it happens, across our global locations. But we also like to take inspiration from our customers who have created innovative ways of sharing data to achieve real business results. 
Here are some good examples of dashboards we've seen in use:
Associate performance display dashboards
Associate performance displays are often used in manufacturing settings, like warehouses and factories to drive productivity. They take real-time metrics that track associate performance  and visualize them against other associates, departments or locations. This highlights goals and targets and the visual nature of sharing this data on digital signage dashboards. Tasks  become gamified, associates are able to challenge each other or work to rise in rankings, and visual dashboards can also highlight to floor managers employees that might be struggling and needing additional support.
Sales data dashboard
We've seen many organizations go from being reliant on printed and out of date sales figures, to digital dashboards showing real-time metrics. Having the latest information available enables sales teams to work more efficiently, and to see their sales figures against expected targets or other locations. Some organizations even merge data from CRM systems like Salesfore, Pipedrive and Marketo to drive more sales by showing leaderboards of sales targets, conversations and meetings booked.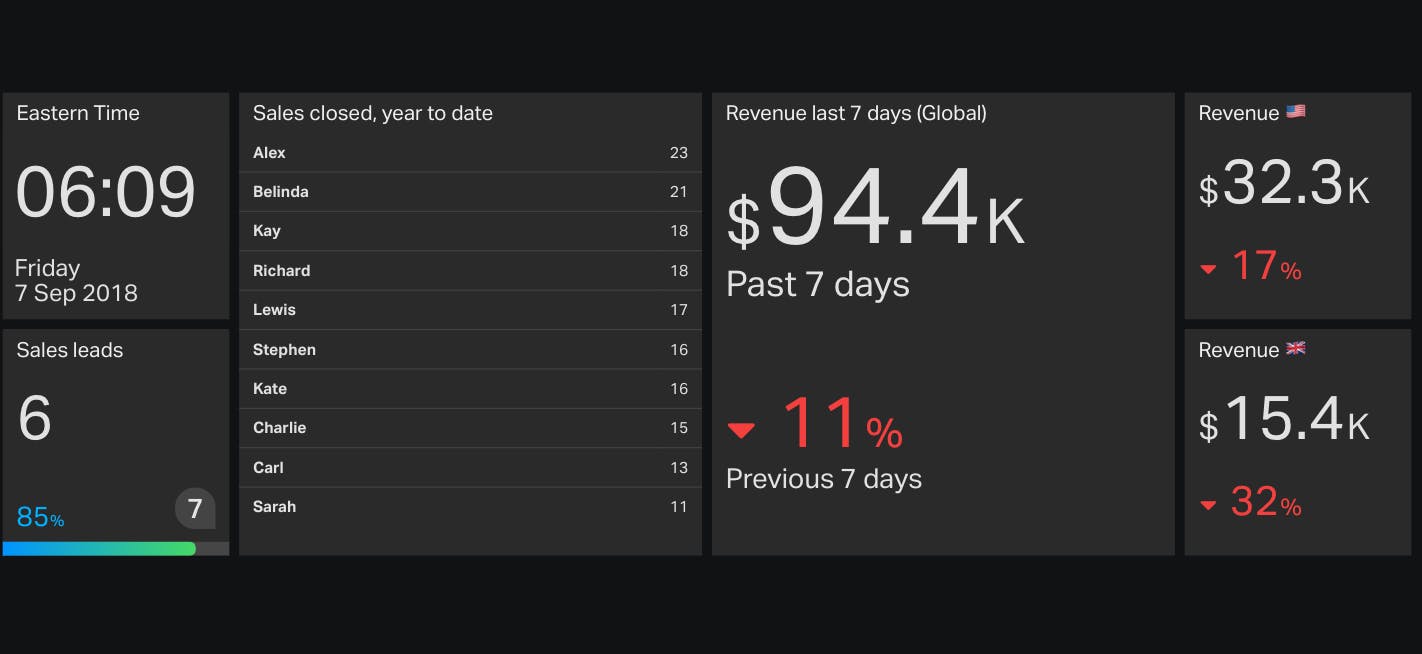 KPI dashboards
KPIs are all well and good when discussed in team meetings, but keeping track of your progress tends to tail off until you realize you've not hit them. Tools like Chartio (which we use here at ScreenCloud)  provide accurate, real-time data visualization that can keep all teams within an organisztion on track.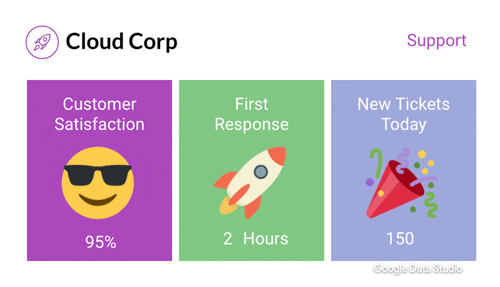 Customer feedback dashboard
Proving that data dashboards aren't just about the numbers, collating and sharing customer feedback is a great way to make employees feel part of the journey and buy into the brand story. Sharing customer feedback or rating scores as a data visualization will boost customer service teams and encourage them to hit those target scores. 
You can see how we created this and various other dashboards in this guide to Google Data Studio.
Website analytics dashboard
It's so easy to integrate data from an analytics platform like Google Analytics and add it to a visualization tool like Data Studio to share your web analytics. This can help Marketing teams to make data-driven decisions when it comes to content, and it shows the wider organization how many visitors, sessions and conversions your website is having at any one time.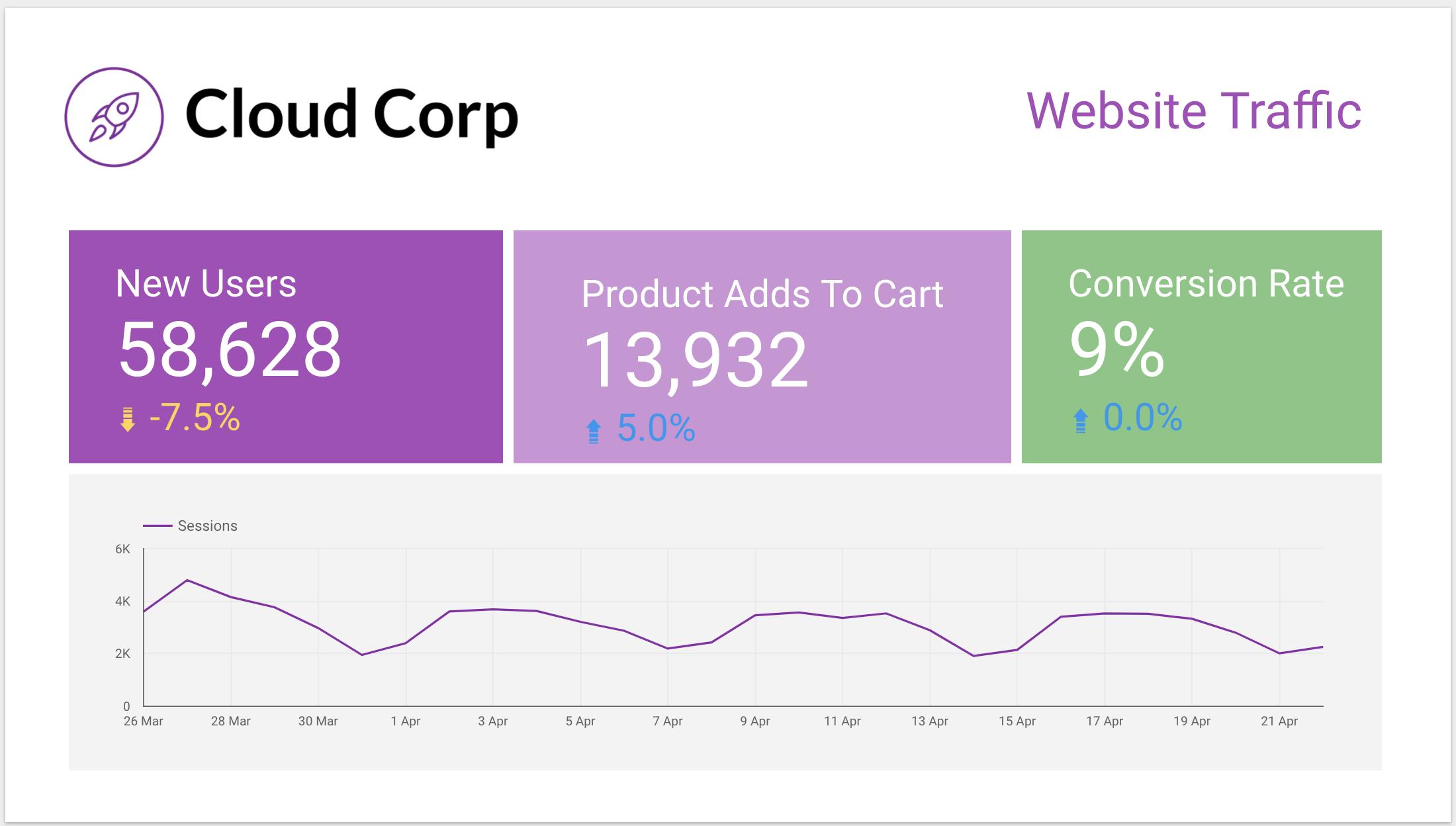 Benefits of secure data digital dashboards
They keep everything in one place
Dashboards keep all of your data in one place – something that can be difficult when companies grow and process overrides logic. In the ScreenCloud office we have a dashboard which pulls in snippets of the most important information like MRR, customer account value, churn and NPS score for the entire team to see.
Surface business-critical information
Dashboards help different teams – like Sales, Marketing, Finance, IT or Operations – to view business-critical data that is usually hidden beneath systems and silos. This allows for real-time data-driven decisions to be made instantly, by those whose work  can have immediate impact.
Share real-time information
Dashboards are great as an ultimate source of truth as they're automated to pull in the very latest datasets. This means that an employee can glance up at the screens around them, see a dashboard and know instantly whether the company is on target or not. It's great for keeping a finger on the overall health of a company. We see this used a lot in warehouse environments, allowing on-the-ground teams to make real-time decisions that affect productivity and fulfillment rates.
Set up a secure Dashboard with ScreenCloud
Try it for free
"When we first rolled out the screens, our initial output for one department was 90 items per hour. Within four months of having the screens out and pushing out individual performance metrics, we were able to double that, and at this point we've tripled it." 
- Analytics Operation Manager, Major e-Commerce brand
ScreenCloud Secure Dashboards is one of the most secure, scalable and affordable options in the industry when it comes to putting your data up on screens. We'd love to show you how it works and what it can do for you. Request a demo or sign up for a 14-day free trial (no commitment, no credit card details required).