Publish content to your screens directly from Microsoft Teams
Learn More


How to Create Secure Digital Signage Dashboards
Keeping digital signage dashboards visible, yet secure, can be tricky. Here's how we're helping customers to do it with ScreenCloud.
Updated 2023
Any time you send sensitive information from one device to another, the risk of the wrong person viewing it goes up. And that's just as true for company sales data as it is for credit card information or healthcare records. Virtually every type of company data is valuable and, as such, needs to be protected. It's no wonder that so many businesses are hesitant to grant access to – and in the case of digital signage, show a room full of people – what's in the books.
You could avoid the issue entirely simply by being selective about what you put up on the screen. For example, if you wanted to display a single field from an HR app but were worried about putting other, more sensitive information at risk, ScreenCloud Playgrounds and webhooks would do the trick.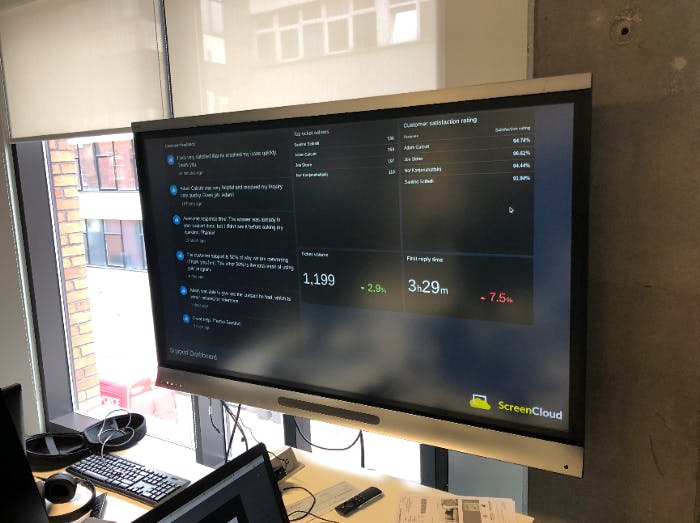 How to create a secure digital signage dashboard
ScreenCloud has native integrations for tools such as Geckoboard and Google's Looker Studio. These integrations allow you to create custom dashboards that consolidate data from multiple apps and display them on digital signage screens. They're fantastic apps. But they do have some security risks. If you want to show one of their dashboards on an office screen, for example, you have to make a public URL that anyone can access. That's a huge risk to take with business intelligence data. One you can easily avoid.
ScreenCloud Dashboards lets you connect to a data analysis and visualization tool like Grafana, select entire dashboards or individual widgets, and arrange them on a digital signage screen – without worrying about a public URL or unencrypted login credentials.
Instead, Dashboards pushes all encryption to the cloud using a unique key and IAM role.  Or, in simpler terms, your login credentials never leave our secure cloud environment (which maintains several compliance certifications) and are never stored on the devices playing your digital signage content.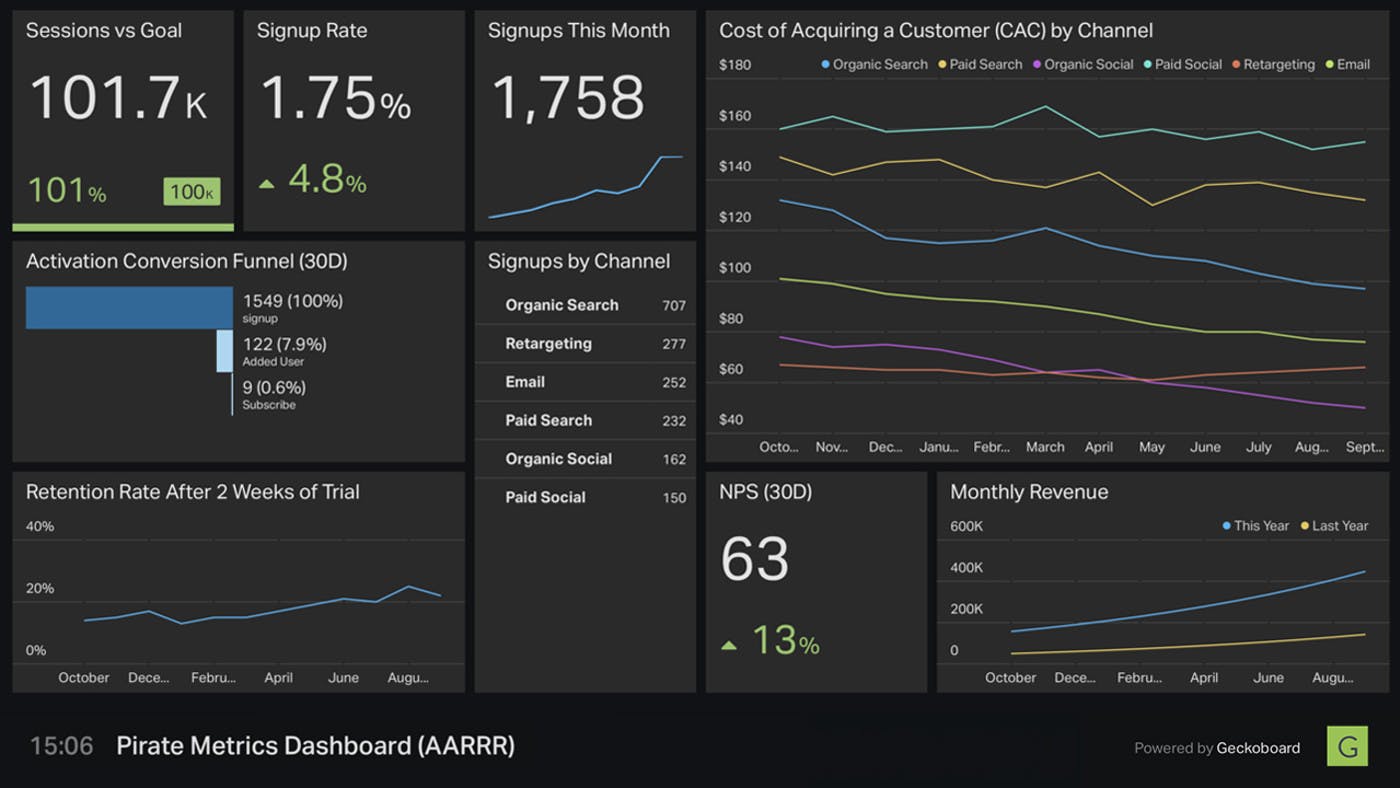 Securely fetch data from popular business intelligence tools
If you've already invested time and money into a BI tool, you can probably connect it and your existing reports to digital signage. Our Dashboards feature works with some of the best apps around, and the list is always growing. Here are the top five:
Arguably the first massively successful cloud-based CRM, Salesforce is a go-to tool for tracking sales and marketing data. You can combine and consolidate reports however you like to reveal versatile and valuable insights. 
Splunk is an ideal tool for monitoring your systems and processes. It's like always having a finger on the pulse of your business health. Many of our customers implement SignalFX within their control rooms and offices to tell them when a critical issue needs addressing.
With its drag-and-drop interface, Tableau helps you create sophisticated data visualizations that look great on digital signage dashboards. Consolidate all of your data sources into a single, real-time report that everyone can see.
We love Microsoft's business intelligence platform. And thanks to Dashboards, you can securely showcase Power BI data visualizations without relying on problematic or questionable public URLs.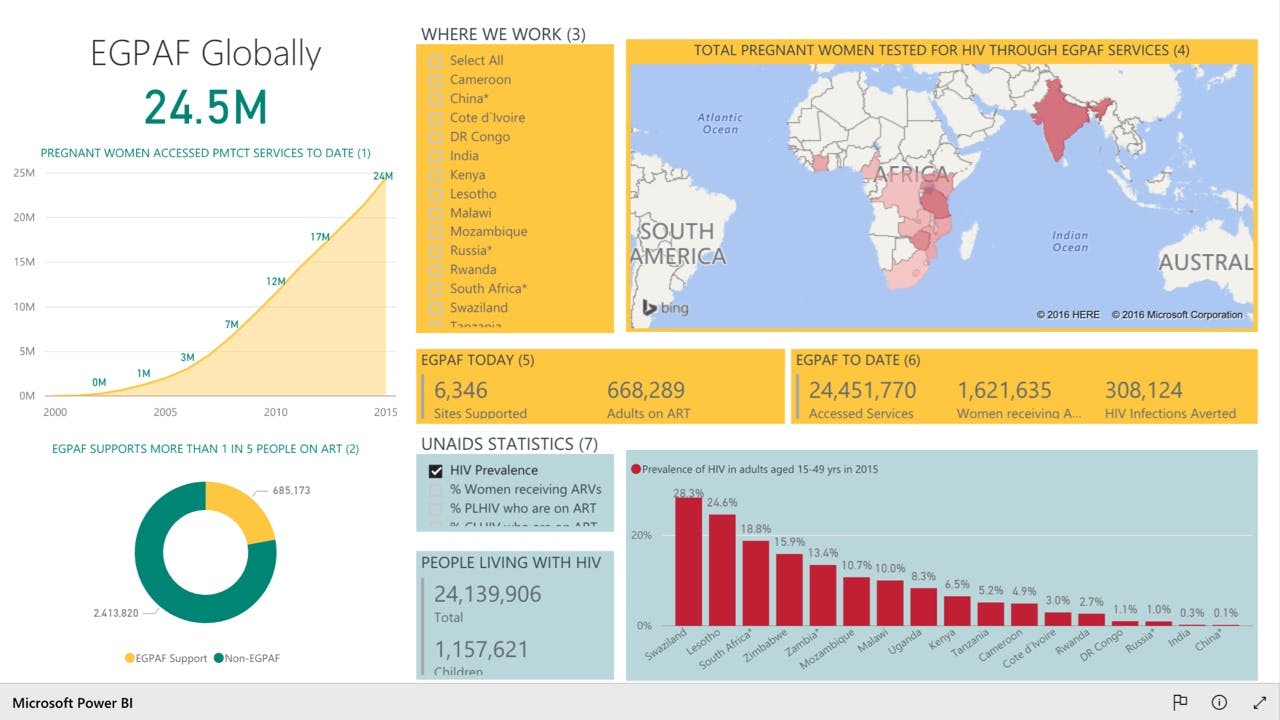 Grafana is another powerful data visualization tool that integrates with applications like Graphite or Prometheus for metrics collection and storage. It allows you to visualize, drill down, alert on, and explore all metrics regardless of where they're stored.
 These are just some of the tools that are currently supported by ScreenCloud Dashboards. But we're always looking to add more. If you want to ask about or suggest an integration, contact our team.
Types of digital signage dashboards
We practice what we preach, with dozens of screens running across our global locations. Some show dashboards that monitor system health, and others track cross-team productivity. On top of that, we're constantly talking to customers who have implemented their own innovative ideas for sharing goal-oriented data. The most reliable and useful applications of Dashboards include:
Employee performance display dashboards
Associate performance displays are often used to drive productivity in manufacturing and deskless settings, like warehouses and factories. They typically track real-time metrics to highlight goals and targets. Managers can use these dashboards to gamify the workplace and help floor managers recognize and address issues or bottlenecks proactively.
Sales data dashboard
By giving your team live, up-to-the-minute information, they can adapt and course correct quickly and efficiently. Closed deals are celebrated immediately, and satellite offices are never out of the loop. Some organizations even merge data from CRM systems like Salesforce, Pipedrive, and Marketo to build department leaderboards based on hitting sales targets, booking calls, or just qualifying leads.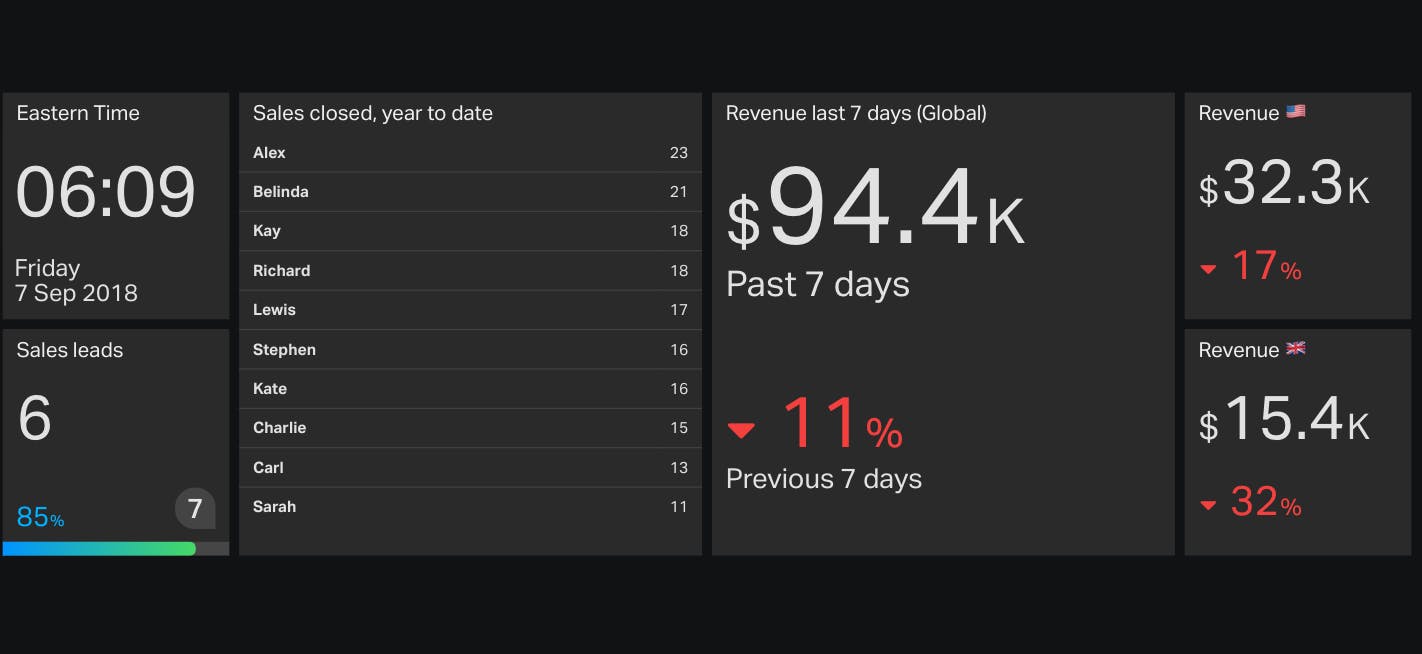 KPI dashboards
Key performance indicators are all well and good on paper. But they're considerably more impactful when they're up on a big screen for everyone can see, all day, every day. Whether your dashboard showcases customer satisfaction rates, website traffic numbers, or employee health and wellness data, KPI dashboards ensure that your team stays focused on what matters.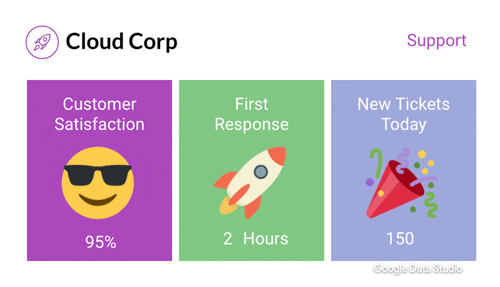 Customer feedback dashboard
Sometimes truly understanding customer feedback is about more than a KPI on a screen. You need to show customer photos, testimonials, and social media posts to connect employees to the value of their work and the company's journey. Or maybe you feel that support team data is best represented by emojis – whatever works best for your company and culture (but if it's emojis you want, check out our guide to Google Data Studio).
Website analytics dashboard
It's so easy to integrate data from an analytics platform like Google Analytics and add it to a visualization tool like Looker Studio to share your web analytics. This can help Marketing teams to make data-driven decisions when it comes to content, and it shows the wider organization your website's visitors, user sessions, and conversions.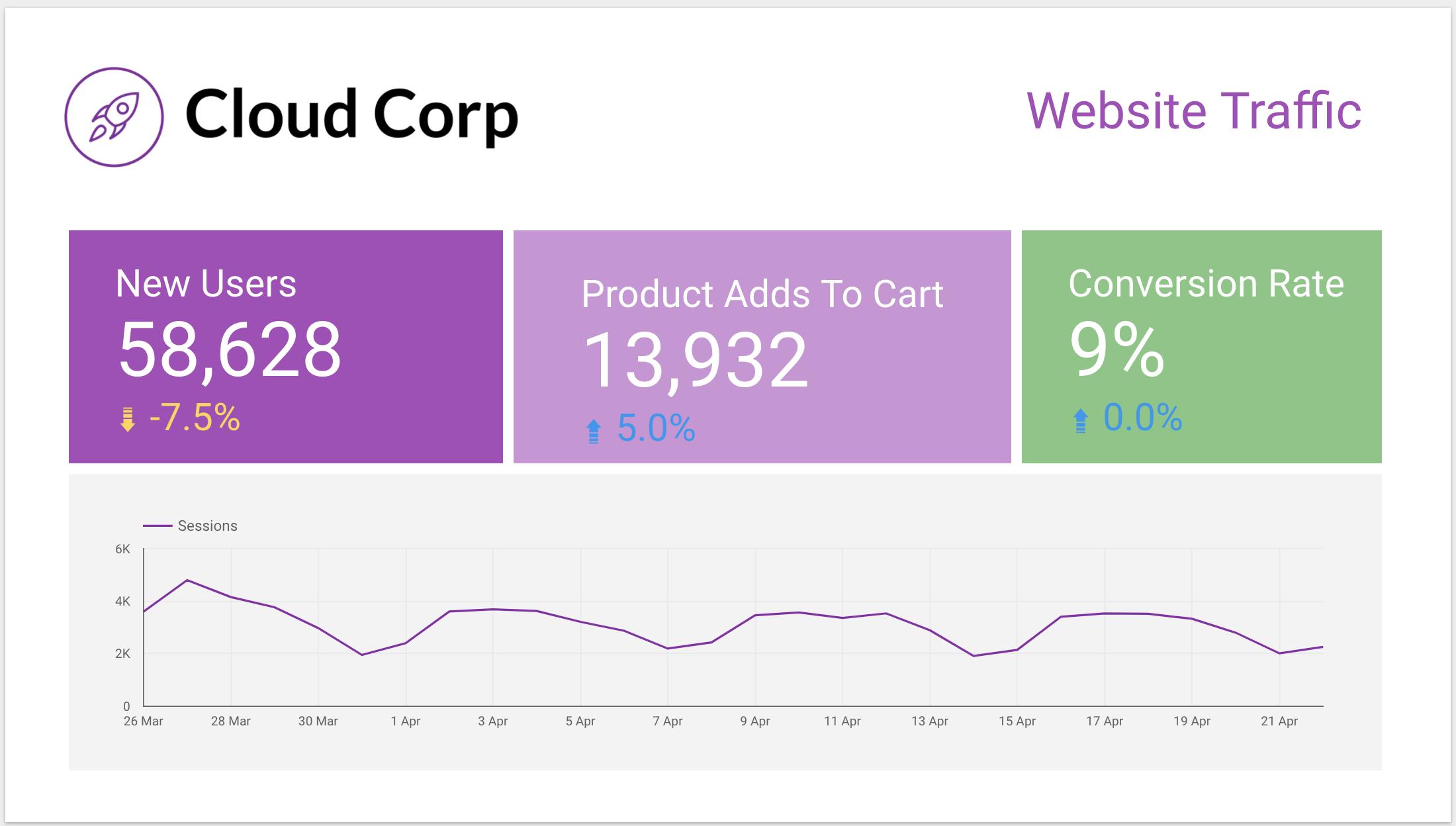 Benefits of displaying data-driven dashboards on digital signage 
Organized and consolidated information
Dashboards keep all of your data in one place – something that can be difficult to manage as the number of company apps and metrics is constantly growing. In ScreenCloud offices, we make sure there is always a dashboard that pulls in snippets of the most important information like MRR, customer account value, churn, and NPS score for the entire team to see.
Increased data visibility
Dashboards help different departments – including Sales, Marketing, Finance, IT, and Operations – surface business-critical data that would otherwise get lost in team-specific systems and silos. This improves cross-team collaboration and communication so decision-makers can act swiftly and confidently.
Real-time information sharing
Dashboards that sync to live data are the ultimate source of truth. Anyone can quickly glance up at the screen and instantly know whether a project or even the whole company is hitting its targets. Whether it's in an office or warehouse setting, allowing on-the-ground teams to make real-time decisions is key to boosting productivity and fulfillment rates.
Set up a secure Dashboard with ScreenCloud
Try ScreenCloud Dashboards for free
This feature is included on all Pro and Enterprise plans. If you want to see Dashboards in action, book a demo with one of our experts or watch the feature walkthrough on our YouTube channel. It could be the best investment you make all year:
"When we first rolled out the screens, our initial output for one department was 90 items per hour. Within four months of having the screens out and pushing out individual performance metrics, we were able to double that, and at this point, we've tripled it." 
- Analytics Operation Manager, Major e-Commerce brand
Ready to get your organization connected?
Connect your first screen today with our 14-day free trial
ideas