Want more engagement for your content? Try using a QR code with your digital signage.
QR codes provide employees, customers, and/or visitors quick and easy access to information when they need it, like training materials or safety notices. They can also offer customers exclusive deals or promotions, all through a unique QR code.
QR codes can be especially useful for businesses with deskless workers. When an employee is away from their desk, the only digital devices they have (if they even have one) are usually compact, like their phone. Instead of making employees, or any type of audience, jump through multiple hoops receiving and searching for your content, a QR code makes access as simple as opening your device, scanning the code, and being brought straight to the page they need.
Benefits of Using QR Codes With ScreenCloud for Your Business
The ultimate benefit of using QR codes is that it increases engagement, no matter if your audience is your customers or your colleagues.
For customers, QR codes are generally used to provide exclusive deals or promotions, or directly routing to your company's social media pages or website instead of awkwardly having your customers copy it down.
For employees, QR codes can extend communication to employees without desks by providing a means to easy access to important internal documents, training materials, or notices that would usually have a delay.
Another benefit is that you can track engagement and measure the effectiveness of your digital signage by monitoring QR code scans and clicks. You can always change where the code leads depending on audience interest.
Generate QR Codes With ScreenCloud
There's three ways you can generate QR codes to help your business with ScreenCloud: using Links within Studio, the Ask a Question app, or Canvas. Pro members can also track their QR code analytics with ScreenCloud's Metrics feature in Studio.
Links
Within Studio, you can easily generate a QR code when setting up a new link using the Links feature. After creating this, users can simply scan the code and instantly pull up your webpage on their phones, increasing the convenience of accessing your webpage.
To set up a QR code with Links, first log into your ScreenCloud account and navigate to the "Links" section in the left side menu. After typing in your URL address, select the "display QR code" button.
Ask a Question App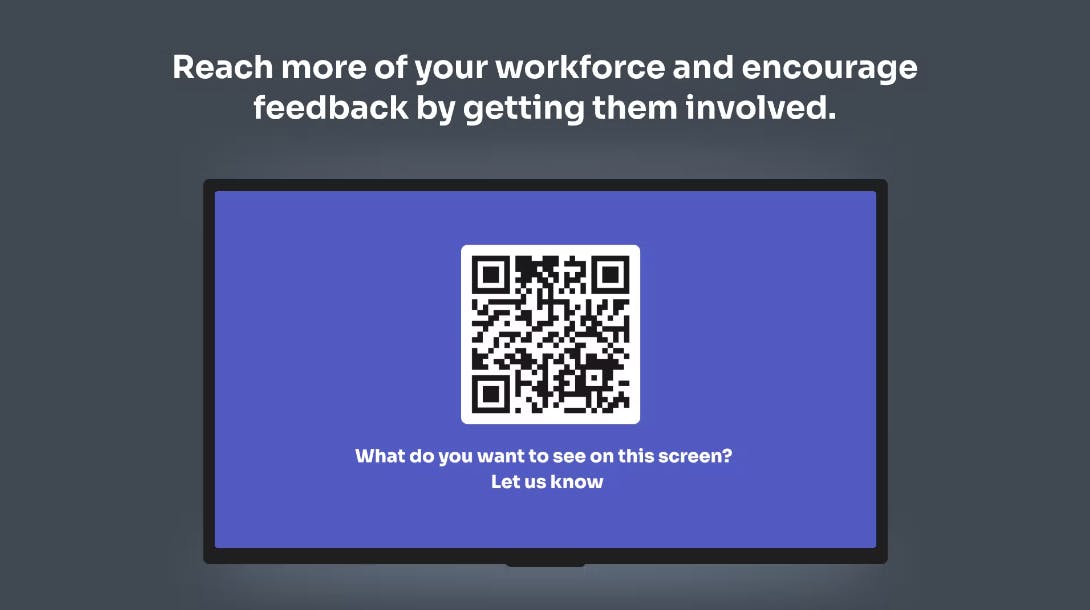 With our Ask a Question app, you can easily gather feedback from customers or employees. The app offers easy-to-access questionnaires, surveys, polls, and webforms from employers to employees, and the best part is that the results are sent directly to your email.
This app is particularly useful for deskless employees who may not have access to email or other traditional feedback channels. Whether it's for collecting feedback on a new product, service, or an ongoing project, the Ask a Question app offers a quick and efficient way to connect with employees and customers across the organization.
Canvas
Our Canvas app now includes a convenient QR code generator, eliminating the need for users to create a QR code separately and then integrate it into their designs. With this new feature, users can easily add a QR code to their Canvas design directly, making the design process hassle-free and more streamlined.
Metrics Tracking for Pro Members
With ScreenCloud's Metrics tracking, you can easily monitor the performance of your screens.
What kind of QR codes are supported by Studio-tracked Metrics?
Email: the scan leads to email a certain address.
URL: the scan leads to open a specific website.
You can gain insight on the number of scans and clicks per QR code across various apps, allowing you to not only see which screens are performing best in which location, but also which apps are getting more engagement, helping you make data-driven decisions based on real-time insights.
Seeing the boundless amount of apps that are compatible with Studio Metrics, it is a valuable tool for any business looking to improve communication and engagement.
Check out the apps you can monitor with Studio Metrics:
Note: The QR code metrics feature is only part of the Pro or Enterprise pricing plan. Please contact your customer success manager if this feature isn't already available in your account, or contact our support team at support@screencloud.com if you wish to upgrade your pricing plan.
About ScreenCloud
ScreenCloud helps teams in 9,000+ organizations around the world communicate with those who matter most, using the screens on their walls and the content already in their systems. 
ScreenCloud's digital signage can inform employees on corporate information like social media feeds, data visualizations, emergency alerts, and live broadcasts – or even simply the news, sports scores and weather. 
Sign up for a free demo and see how digital signage can work for you today.