Publish content to your screens directly from Microsoft Teams
Learn More


How to create, track, and optimize QR codes for digital signage
They're more convenient for users and, when set up correctly, tell you a lot about your audience.
Did you know that one of the early uses of QR codes was scannable tombstones? Or that most QR codes can have up to 30% of their image damaged before they're unscannable? They're so much more interesting and versatile than "square barcodes." For anyone who wants to engage employees or streamline customer interactions, QR codes are an invaluable tool.
Nearly every modern smartphone has a QR code scanner in its quick-access menu. Users can swipe down, tap the shortcut, and scan a link without making a single keystroke. Many camera apps, including the built-in iPhone camera, recognize and scan QR codes automatically. That means businesses can put QR codes anywhere and know their customers can scan them: On a small sticker on restaurant tables that links to a menu, or a scannable image on a stadium screen that opens a pre-filled email or WhatsApp message. 
There are dozens of QR code generators, each with its own set of features and target users. So, even if your original plan was to create a basic link to your social media profile, it's worth learning about what else you could do with a QR code.
How to create a basic or advanced QR code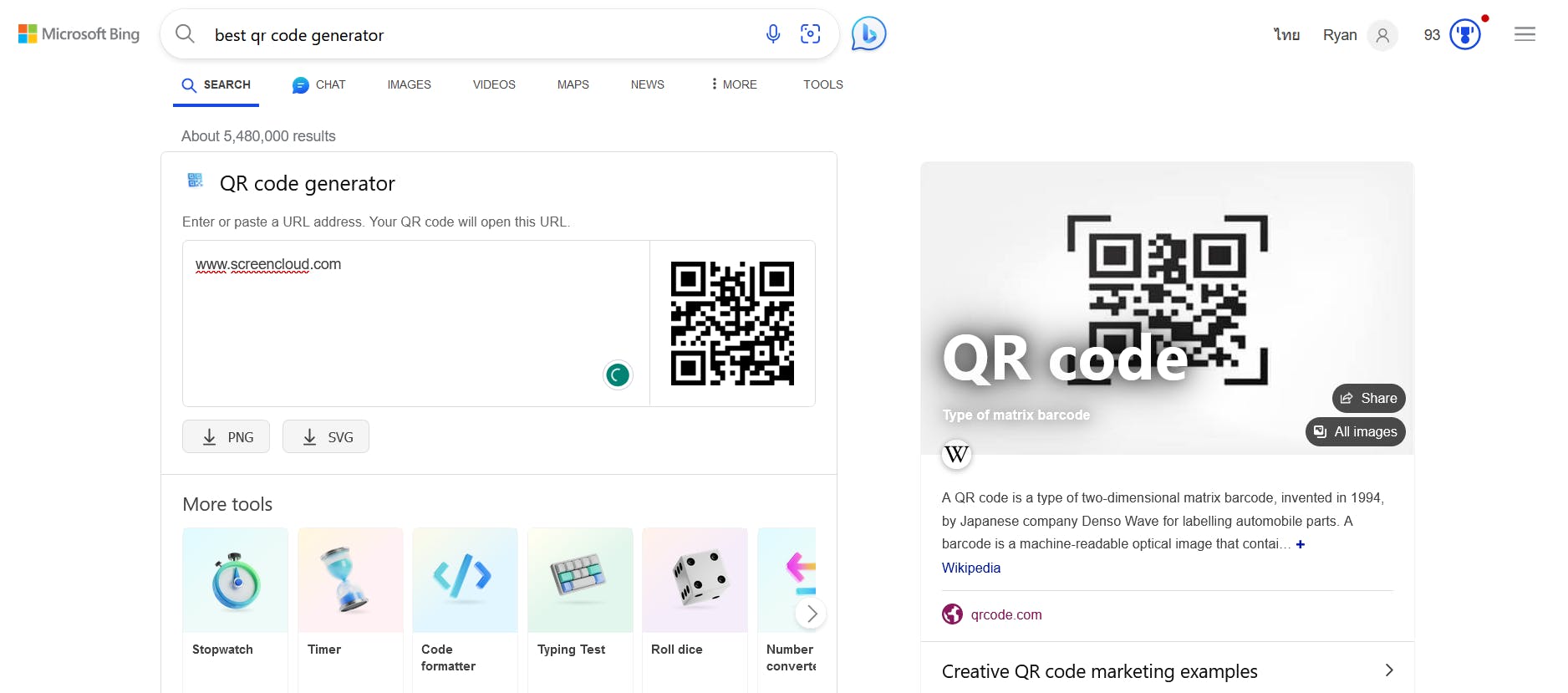 Arguably, the easiest way to make a basic QR code is through Bing. Search for "best QR code generator" – weirdly, it doesn't appear for any other search, including "Bing QR code generator" – paste your link into the text box and download the image by clicking PNG or SVG. Another simple option is built into the Chrome browser: Open any webpage, click the Share button, and you can create and download a QR code of that link. It's easy, but it does include the Chrome dinosaur in the middle.
But there are also free options that generate more customized QR codes. QR Code Monkey, for example, lets you link to pre-filled email messages, Wi-Fi logins, and calendar events with options to add your logo, brand colors, and other design elements. If you want a QR code for contactless menus or a basic Google slides presentation, Bing or QR Code Monkey will work in a pinch.
For more advanced features, tools like Beaconstac have even more valuable features, like associating your QR code with a retargeting ad campaign. Anyone who scans your code will see advertisements for your company on Facebook and Google Display Network websites. 
Beaconstac also lets you update where a QR code leads without updating the image itself. Imagine you'd printed 10,000 brochures and then changed your website domain. Would you rather reprint them or change the QR code's destination URL?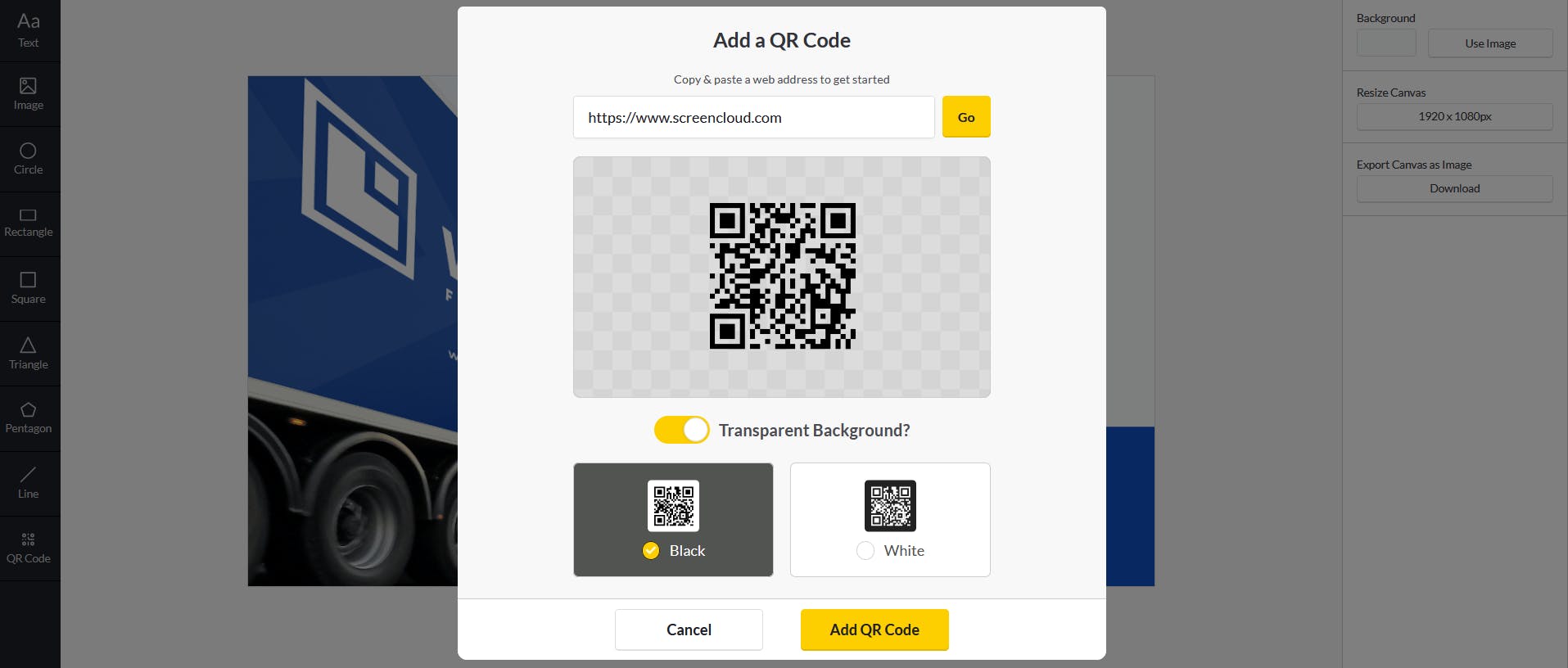 One of the most common places to display QR codes is on digital signage. A breakroom screen might link to an employee satisfaction survey, or a building directory might offer a lunch promotion for a nearby restaurant. And, as is often the case with software, a QR code generator baked directly into your digital signage app will typically be more cost-effective and convenient than a third-party solution. 
With ScreenCloud, there are three ways to create and display QR codes. You can display a live view of a website and add a QR code overlay with the Links feature. Another option is using the Ask a Question app to automatically generate a slide and QR code based on a short question and a URL or email address. Finally, Canvas, ScreenCloud's built-in drag-and-drop image designer, lets you generate scannable codes and place them anywhere on the canvas.
Displaying QR codes on your digital signage increases the likelihood that customers and employees will take the next step. After Chick-fil-A added scannable codes to digital signage linked to their mobile app, downloads increased by 14%. Increased engagement alone is worth the investment. But you can squeeze even more ROI from each code by adding basic tracking functionality.
How to track when and where people scan your QR code
If your QR code links to a regular URL, adding something like `?location=buildingentryway` to the end will highlight it in platforms like Google Analytics or Bitly. Every scan would log that location parameter, as well as the time and date, to reveal trends in traffic and usage. 
Then, for email QR codes, you might add `?bcc=buildingentryway@company.com` after the mailto: address to accomplish the same thing (e.g., messages in that
Tracking QR codes this way across a fleet of digital signage screens would be pretty tedious, though, requiring you to create a new QR code for each display location. You'd have to track each code manually and recreate and repost every QR code to update any of the links or their location parameters.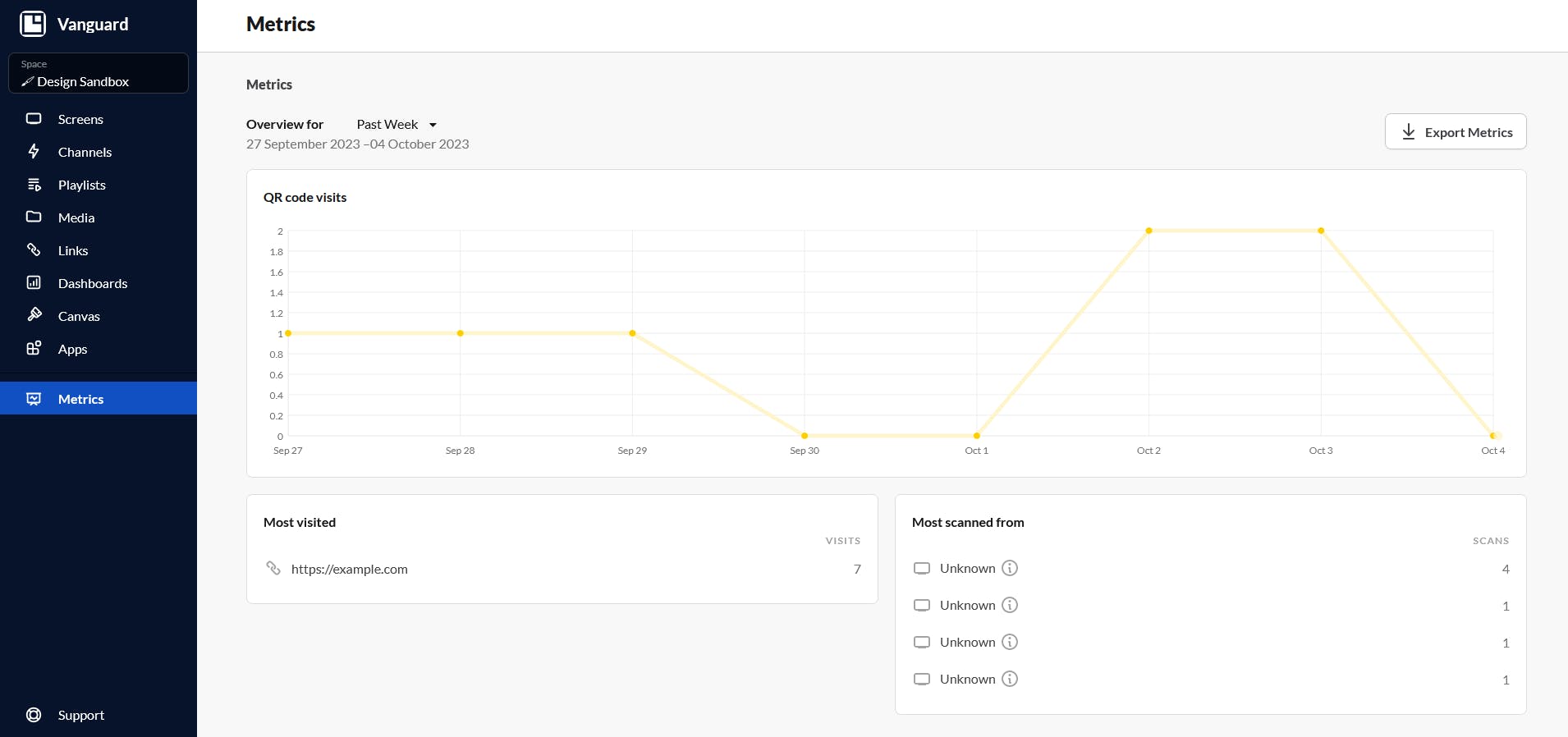 ScreenCloud not only lets you create QR codes inside the app, it also logs every time someone scans one. This is a great way to see which screens, channels, playlists, or apps perform best. Helping you make data-driven decisions based on real-time insights.
Examples of how to use QR code analytics
So you know when and where people point their phone cameras at your digital signage. Now what? You can use that information to improve content delivery in several ways. Here are a few examples:
A/B testing calls to action: Whether you're asking customers to leave a review or inviting employees to suggest company improvements, create two variations of the text and a QR code for each. They'll both link to the same resource, but you'll be able to see which one is more popular.

Identifying time-based preferences: If your QR code links to employee training videos and most engagement happens in the morning, that's a good time to send reminders in other channels (e.g., email, Slack, etc.). For restaurant signage, where most people scan a link to a Facebook page in the afternoon, you might want to add that QR code to more slides or post to social media more often during those hours.

Adapting to location-specific trends: When a QR code is visible in two places, but most tracked engagement only happens in one, something needs to change. Experiment with other types of content to learn more about what people are most likely to scan at each location. You might find that links to videos work better in waiting areas, or that links to app downloads perform best on screens close to bathrooms.
QR code tracking is a powerful tool. It's easy to get carried away, slapping scannable codes on every bit of unused screen real estate. That can do more harm than good, though. Ugly, distracting, or overwhelming use of QR codes will frustrate users and might encourage them to pay less attention to all of your content, regardless of whether or not it's scannable. There are several tricks to avoid that.
5 Design tips for digital signage QR codes
When your only goal is to get people to look at your content, design considerations are pretty straightforward: make it as easy to understand as possible, adding visual flair in ways that don't impact clarity. Asking someone to scan a QR code adds an extra layer of complexity. The content's purpose is still priority number one, but now you need to account for how accessible the QR code is before considering any design flourishes.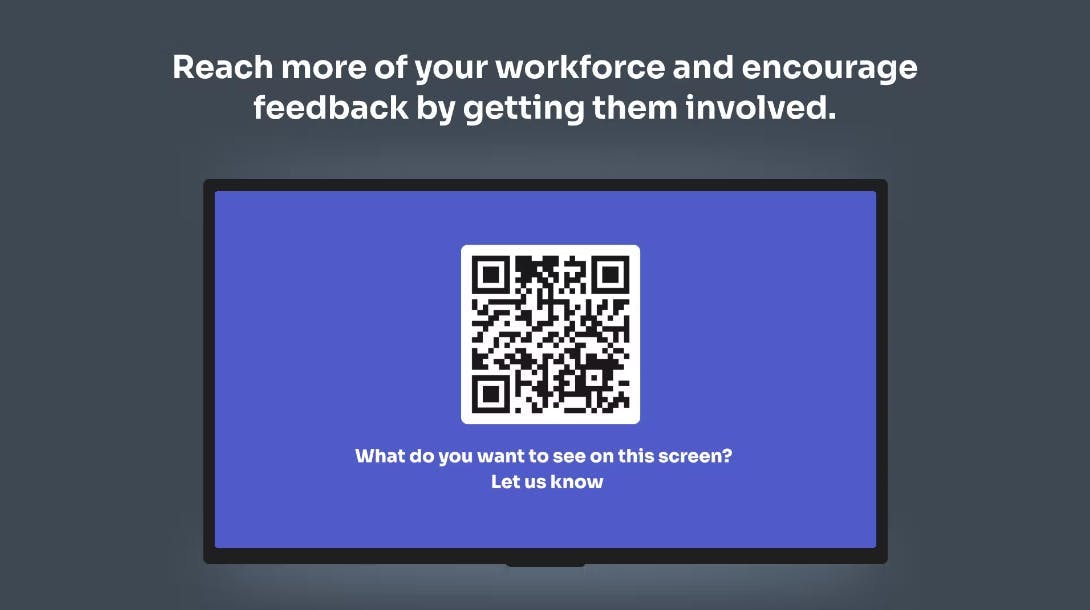 Place QR codes near the center of your slides
Positioning is everything in design. When you put a QR code in the bottom corner of a screen, away from the rest of your content, you de-emphasize its importance and decrease its visibility. That's fine for nice-to-have QR codes like a link to a website that's already up on your digital signage. But if clickthrough rates are an important performance indicator (e.g., for placing an order or liking a social media page), put the code front and center.
Pick a size that works for everyone in the room
The whole point of a QR code is to make it easier to interact with your content. So when someone sees a QR code and tries to scan it only to realize that they're too far away, you might be better off not including it at all. Run a few experiments, trying to scan from various vantage points using older phones, dim lighting, and any other circumstance that might come up in day-to-day interactions.
Use only one QR code per slide
Rule number five of Jakob Nielsen's 10 Heuristics for User Interface Design says the "best designs carefully prevent problems from occurring." A common problem with some QR scanners is that when there are two visible codes, the scanner will load whichever it recognizes first. Apple's iPhones don't do this, but even so, you're still asking users to scan through the slide, process the information hierarchy, and make a choice. Clickthrough rates will be significantly higher if your content naturally pushes viewers toward a single QR code.

Leave it on the screen for at least 30 seconds
Taking your phone out of your pocket, unlocking it, opening the QR code scanner, and pointing it at a screen takes 10-15 seconds. If there's only one or two lines of text and a scannable code on the slide, leave it up for at least 30 seconds. Add five seconds for each additional line of text or image so people have enough time to process what's on the slide and scan it.
Use clear instructions and offer alternative routes
Every digital signage QR code should clearly state what happens after scanning it and, ideally, how to accomplish the same thing another way. Beyond reducing the cognitive load necessary to process the content, extra context and detail proactively address several common issues. 
Some people worry that QR codes mask unsafe links or privacy intrusions. Others may not know how to use the scanner on their phone. It doesn't matter how much better minimalist designs look if they get less engagement than their more detailed counterparts.
Build digital signage that people want to interact with
Employees and customers are drawn to big screens. They can't help but look. QR codes are one of the best ways to convert that attention into valuable, productive actions. Asking for a review or a social media follow is an excellent place to start, but there's so much more you can do with ScreenCloud and QR codes: live feeds of user-generated content moderated by AI, workplace gamification, internal communication dashboards, or any two-way communication that deserves a spot on a big screen.
ScreenCloud has some of the best QR code creation and tracking tools of any digital signage app. Sign up for a free 14-day trial today and see what you can create with them!
Ready to get your organization connected?
Connect your first screen today with our 14-day free trial
blog