In every office there's a secret meeting room battle going on. 
The reason? Lack of organizational capabilities. Meeting room bookings can be a minefield - just ask your poor receptionist or office manager! People forget to look at the calendar, they see that the room's empty so they think it's free and once inside, it can be difficult for anyone else to work out who's next without interruption.
This wastes time and space. In co-spaces and rented offices in particular, renting rooms can be a key revenue stream. Anything that helps you to book them out more effectively could save you thousands. 
Luckily, there is an answer. Meeting scheduling digital signage. Here are some of the benefits that come with implementing a digital display solution that provides all of the information you and your team may need.
1. Daily meeting activity overview
By using a system like our partner app AskCody, you can nail down your daily meeting room activity. With its simple booking system integrated with your Microsoft Exchange, Outlook or Google Apps for Business accounts, you get a clear overview of who's using the conference rooms, when the meeting pods will be free and how long until you can get a shot at the boardroom.
Pair this with digital signage (the screens or tablets outside of your meeting rooms) and you have a handy way to take this out of reception and into the office.
The key benefit of using AskCody and pairing it with digital signage means that meeting room schedules are visible. This eases communication, so that anyone can look at what's going on without harassing someone for a log in or answer. 
Digital screens are also pretty nifty in that they update instantly. Room booking cancellation? It can be up on the screen in seconds, ensuring that the space isn't wasted.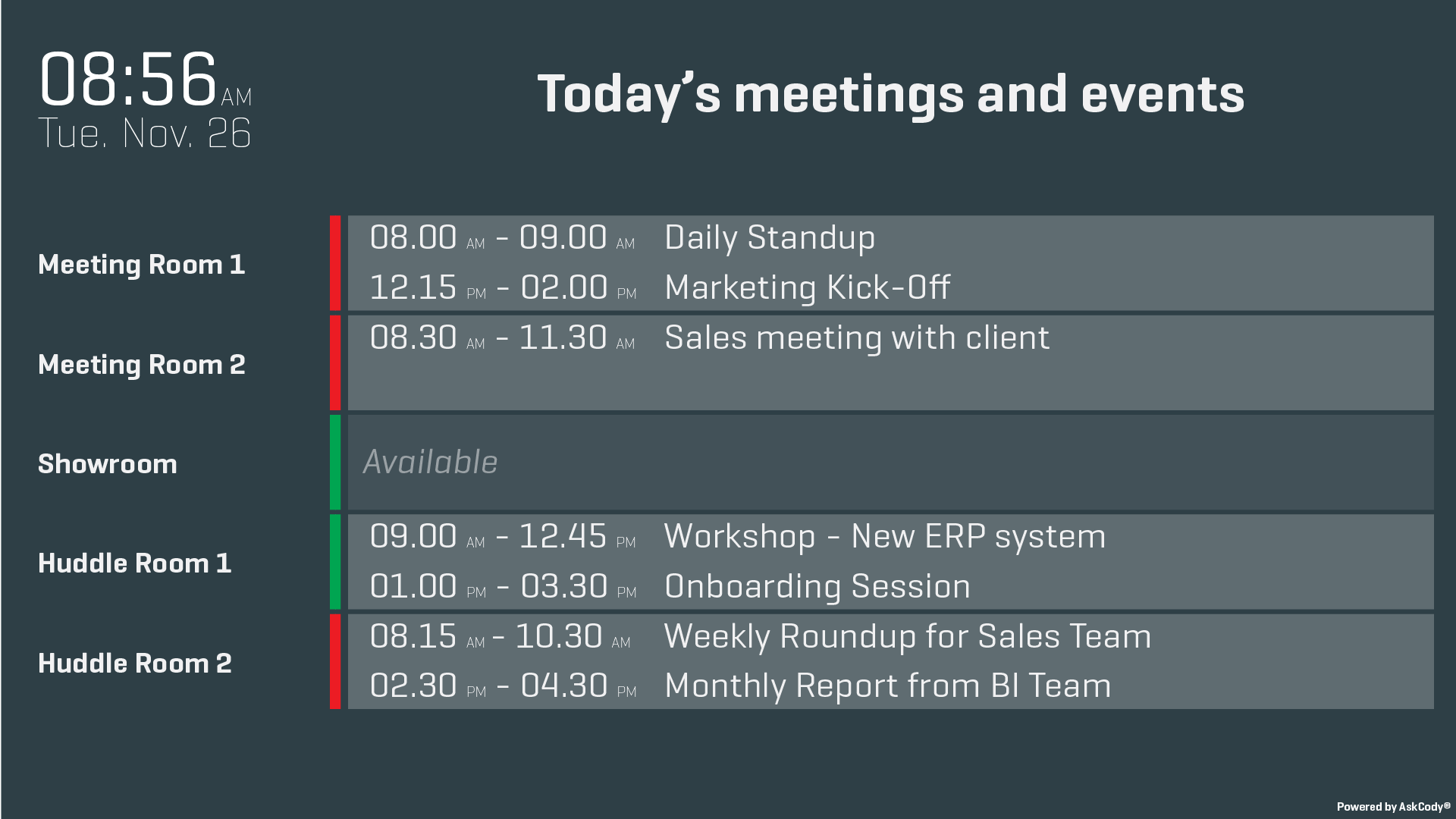 2. Easily viewable
The AskCody designs can combine all meetings and events with customizable headings into a UI that any design team would be proud of! 
This provides everyone and each room, with one complete overview of the day's meeting activities. You also have the option to separate by individual meeting room, or compile into one clear overview that can show the entire floor or building.
When it looks this good, there's no excuse for booking confusion. 
3. Visitor check-in and safety 
Let us tell you a secret. In some of the most high-tech companies in the world, the reception desk still make you sign in with pen and paper. While we like the antiquity, sometimes we do wonder if there's a better way.
Primarily, because one guest book can get lost. Writing can be difficult to decipher and if you're at the other end of the building and want to see who's checked in; you're going to be faced with quite a long walk.
Cue the AskCody Guest Registration suite which makes a great first impression. On a slick touchscreen, your visitor can check themselves in, then sit back and wait while the person receiving them gets an automated SMS or email. Magic! If you don't have the budget for reception staff, this could be your answer. 
In terms of safety, it creates a log of who's in the building which can be accessed from anywhere. 
4. Managed from the Cloud 
AskCody can be managed from any desktop or laptop computer. You connect the AskCody platform to your Exchange, Office 365 or Google Apps account in seconds, and meetings are automatically displayed and available. So if you need to change a meeting booking, add a visitor or update your wayfinding content you don't have to be beside the screen in question to do it. Just log in to the AskCody Management portal from any device and manage it in the blink of an eye.
With the AskCody platform being cloud based, deployment and implementation are done fast and smooth. Paired with ScreenCloud, AskCody digital signage software connected to your Outlook or Google Calendar becomes even better! This allows you to take care of all your screen content from the beach, should the need occur. 
5. Wayfinding and welcomes 
Digital signage has become one of the easiest and most productive ways to direct people around your building. Static signs have long been falling out of fashion. Why? Because they're expensive and they mess up the paint job.
Digital screens are a much simpler and more efficient way to create signage and in the long-run, often end up being much cheaper too. 
The AskCody WayFinder can be uploaded to your digital signage touchscreen or a tablet, creating an interactive way for visitors (and staff) to find their way about. It can also be used to welcome guests and direct employees to a one-off event or meeting taking place at that specific moment. 
When you have better wayfinding and welcomes, you find you have more punctual staff and visitors. Simples! Wanna know what the best part is? The WayFinder also integrates with your Outlook and Google Calendar, making the wayfinding experience dynamic. When meetings are rescheduled and relocated, the WayFinder is updated instantly.
To get started with setting up your digital signage screens and connecting them to your AskCody account set up a free trial at screen.cloud/signage.