Publish content to your screens directly from Microsoft Teams
Learn More


Free Independence Day Digital Signage Templates
When we say Fourth of July, you say Free Templates. Fourth of July…..
Something we notice a lot at ScreenCloud is the difference in occasions between the UK, the US and other locations. How Easter in the UK needs a four-day weekend, two-weeks off school and a vast amount of chocolate, whereas in the US it gets a day and one Creme Egg (made with Hersheys, not Cadbury's chocolate a big difference apparently, if you're a super Creme Egg fan).
Then you have 4th of July. If you're in the UK or Europe, you may be forgiven for thinking this is just another summer's day. No siree. In the US, the Fourth of July (first difference: it gets a capital F), otherwise known as "Independence Day", is big.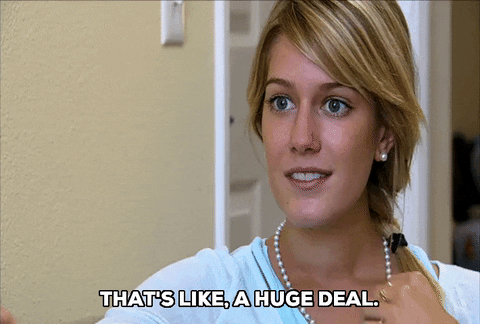 Why? Because it's the day that The Continental Congress declared the thirteen American colonies free of the British monarch. Way back in 1776, when America became free, and an occasion we still celebrate today.
So of course, it's a date to mark on your calendar and this includes making sure your digital signage displays are in on the action.
To help you get into the spirit, we've created a series of free digital signage templates here which you can access, copy and edit to make Independence Day signs and notices for your digital signage screens. No attribution needed.
Google Slides app is a great way to create quick notices and add them to your screens. Like an inspirational quote for the occasion: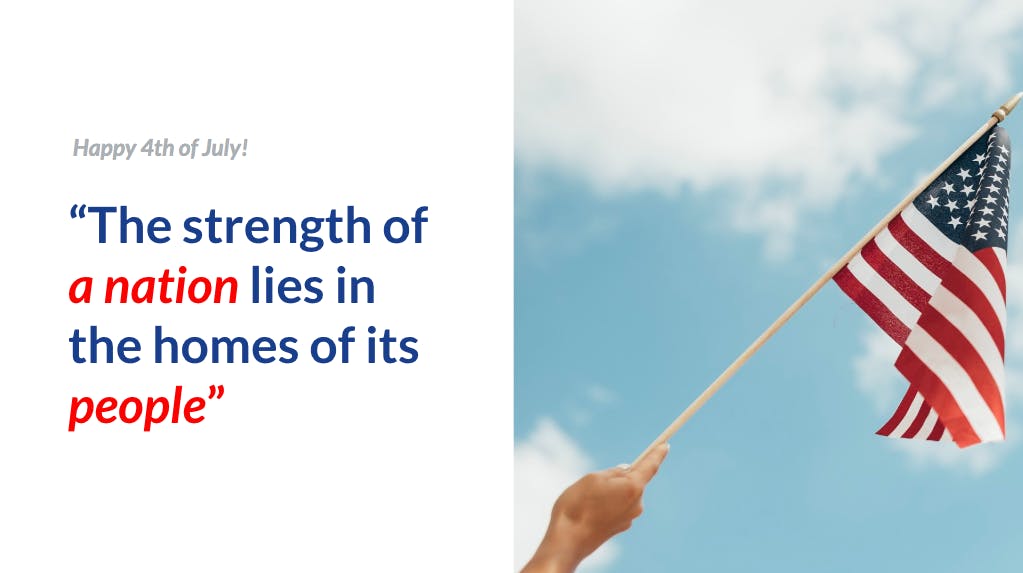 A notice or digital sign to wish your customers, or staff members, a happy 4th of July: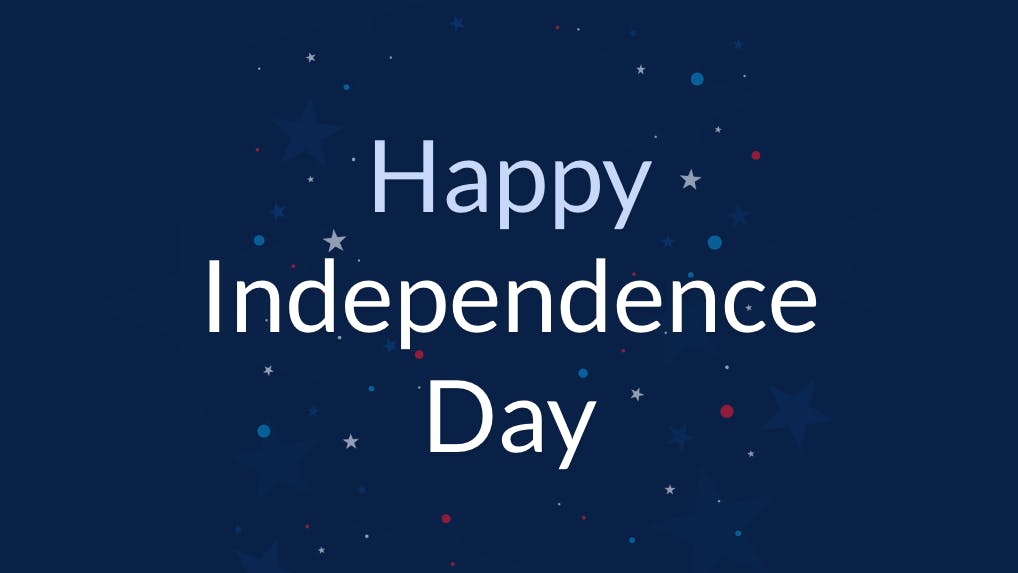 Even a special Independence Day offer, like a discount or promotion code: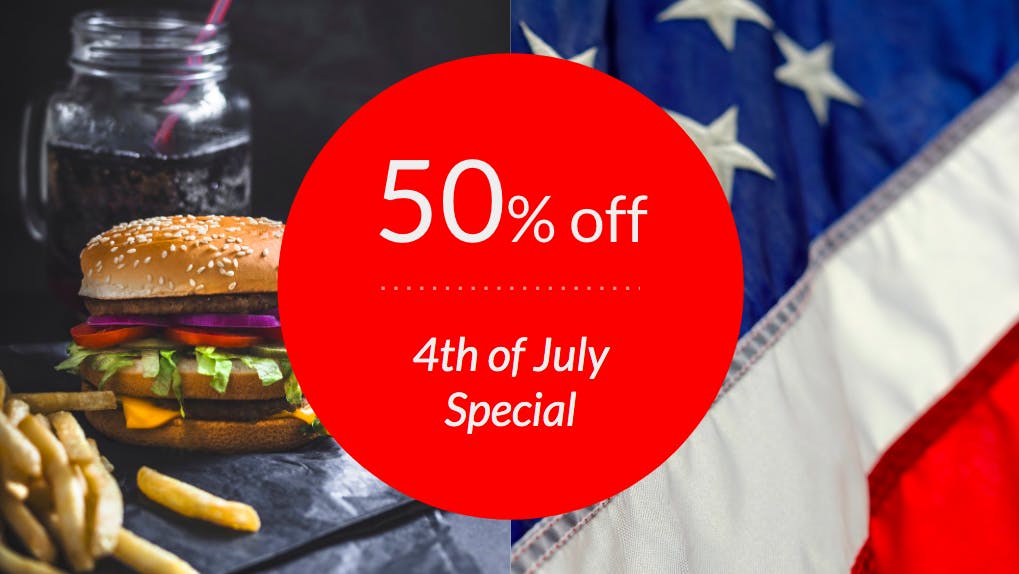 You can access all of the free Independence Day digital signage templates here.
Important note: To edit and add to your digital screens select File > Make a Copy. This will create your own copy of the templates where you can edit the design and remove or add any other slides you need (otherwise, anyone accessing our templates will be able to see your edits - oops!).
Inspiration for Independence Day campaigns in 2019
Of course, we all put these marketing opportunities in our calendar but when it comes to it, just what should you be doing to jump on the trend? Rather than just adding another voice to the noise, it's worth hunting down the opportunities that will resonate most with your audience. Here, we look at a few trends around the 4th of July that might help spark a big idea for your industry, or audience:
1. Food offers
According to the annual Independence Day survey released by the National Retail Federation and Prosper Insight & Analytics, Americans are expected to spend $6.9 billion on food for Fourth of July activities. Particularly, cookouts and picnics, which is great if you're in the market for a little BBQ food. Want to know what most Americans will be tucking into on the occasion? According to this Nielsen study, beef, shrimp, berries and tomatoes. Just not together of course.
2. Travel
13% of Americans are expecting to celebrate Independence Day with some travel involved. As we all know, travelling can be stressful. Train delays, packed subway journeys, arguments with Google Maps. How can you ease the burden? First up: entertainment. Use your marketing to make people laugh as they arrive at yet another gas station. Create Fourth of July puzzles, quizzes and statistics that the whole family can get involved with. Help staff members to prep by providing live travel updates to your office screens.
3. Feeling patriotic
According to the same study, 27% of Americans plan to purchase additional patriotic 4th of July merchandise this year.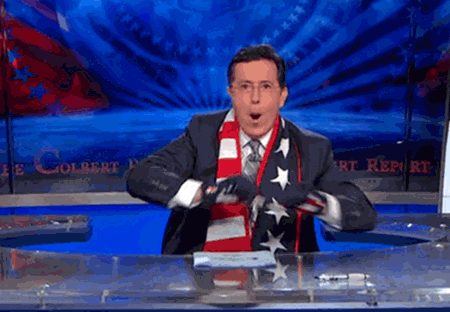 We're thinking T-shirts. Stickers. INFLATABLE POOL FLOATS. Okay, that may be a step too far, but branded Independence Day clothing and swag could be a great, cheap way to get in on the action.
4. Events and celebrations
Fourth of July parades are a key moment in the roster of events. According to studies, 12% of Americans head to one. This means sponsorship opportunities in the plenty, whether it's creating a float, branding some banners or just turning up in staff t-shirts to volunteer with drinks and cookies. And while Fourth of July is characterized by a single date, why not create an event in the lead up? An open film screening, a patriotic costume competition (yes, there's nothing more hilarious than seeing your CEO do the Statue of Liberty) or even something more intimate, like a celebratory dinner or lunch. All of which, are spirit-raising activities.
5. Community
If you didn't post your Fourth of July event on Instagram, did it even really happen? While most events happen in person, a lot of the community around the Fourth of July happens on our favorite social media channels. That's a lot of real estate for you to provide sponsorship, inspirational quotes, photos of your team members, company celebrations and campaigns for your audience to engage with.
Our free Independence Day digital signage templates are all yours
Access the free Independence Day digital signage templates here and remember - we'd love to see (and share) what y'all do with them so be sure to send us pics or tag us @screencloud on Twitter or Instagram.
Ready to get your organization connected?
Connect your first screen today with our 14-day free trial
ideas