The number of screens around us is growing and how we use them is changing. Remember when your only screen was the TV? Then mobile web browsing overtook desktop for the first time. As we've mentioned once or twice, we expect digital signage, the idea of using the big screens around us to extend the screen experience, to be next.
We're extremely excited about its potential and with that in mind, here are six examples of how digital signage is becoming so much bigger than just screen advertising alone. 
Digital signage and the senses
You may think you don't need screens which can also give out scents, but maybe you do?
Japanese telecommunications company NTT has taken digital signage and launched a version with added aroma-emitting devices. The idea is to strengthen the communications of their online fragrance division by allowing digital advertising screens to emit 'mood-heightening' aromas. 
These screens, strategically placed, allow the level and type of fragrance to be adjusted depending on the area it is enabled in. They believe that these aromas increase the chance of viewers noticing the sign and remembering the product advertised, which when you own a fragrance business that's solely online, is really kind of genius. 
This idea of sensory experiences has been a big one in events and 'experiential' installations and it seems natural that it will soon move into our everyday experiences, paired with digital screens. 
Digital signage and corporate communication
PwC had over 2000 employees when they decided to relocate their offices to Dublin. The question (which many of us face in corporate comms) was; how do we keep employees up to date with the latest information in these new offices?
They could have used the company intranet sure, or maybe the mobile devices that all employees were equipped with. But both of those options either required something on the part of the user (i.e. logging into the intranet), or disrupted the viewer's day rather than becoming part of it.
So instead, PwC decided to install 29 digital signs in high footfall locations throughout the 22,000 sq ft office complex. That way, staff were kept in the know of new information and updates as they walked to lunch or between meetings. Visitors to the office and potential clients also got a look in, allowing them to view the company strategy and policy through the digital screens which were placed in lobbies and other busy areas. 
For a long time, corporates have been looking for a better way to infuse that all important "company culture" and improve the way they interact with staff. Maybe through digital signage they've found it?
Digital signage and interaction
This is not so much a trend of the future, as one that our clients (and many others) are already using. 
Feilo Sylvania used digital signage at the Light + Building tradeshow this year, to help display content to visitors to the booth. Rather than leave it there, they then took the virtual showroom on offer and installed it in their physical locations throughout Europe. 
See it explained in more detail here:
This transforms the standard experience (being shown content within a showroom from a digital display) and allows viewers to think more about what their experience would be with that product or service.
Interactive screens and technology is not new, but using it for better communications and experiences will be something we'll see more of in the future. 
Proximity marketing and digital signage
If you need a hint to where digital signage is heading, your best bet is to look at retail. They were one of the first industries to add large digital signage displays to shop windows and to understand the power of using these displays for more than just advertising.
Burberry for example (one of the first retail brands to embrace social media) have mirrors that double as digital signage agents throughout their flagship London store. The mirrors show advertising content but also react to the items the shoppers pick out in front of them. Walk past one of these mirrors with a top, skirt or trench coat and the RFID-enabled screen will trigger catwalk footage of the item you hold. So neat.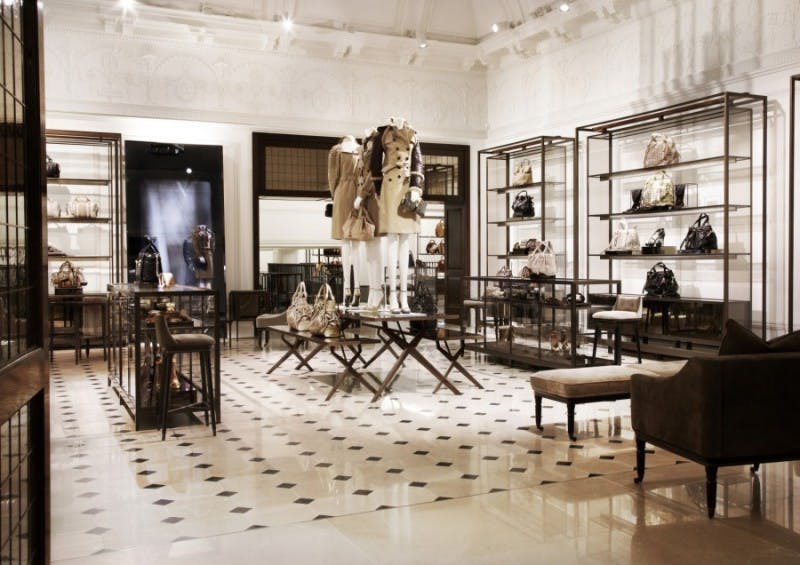 This is similar to the use of beacons. Integrating beacons with digital signage lets the signage screen reach out to a second screen, the customer's smartphone, and deploy (hopefully) relevant messaging and tools. 
Here's an example; you walk past Target and as you pass the shop window you get a notification on your phone. It offers you a URL, which you follow to get a 10% off code for shopping in Target. But wait, the catch! It's for today only. Likelihood is, you step inside the store. You know, just to see if there is anything you might need.
As well as providing value to the customer (hopefully the number one aim of all signage displays) this is also a powerful tracking message for brands. Brand Diageo used beacon technology as part of its out-of-home campaign with Pimms to track how many people were around various transport hubs during rush hour in London. How did it do it? By counting the number of smartphones in the area using beacons installed in nearby pubs. 
From this, it then checked which pubs were full and changed the transport advertising accordingly, sending anyone above capacity to a different area.
Digital signage and facial recognition
In 2013 Tesco were reportedly rolling out a huge batch of screens equipped with facial recognition technology. Did they do it? We couldn't find any evidence to suggest they had, but perhaps that's down to the panic that ensued (how many donuts we buy at the till is our business).
The idea is that checkout screens in supermarkets and gas stations scan the faces of customers to determine age and gender. From this, the screen can then show more targeted advertising displays. Herein lies the super thin boundary between helping customers to see stuff they're actually interested in and not encroaching on privacy and consent. 
If you knew you were being scanned each time you walked into a store would you still go? Perhaps not. But you only have to search "facial recognition technology and digital signage" in Google to see just how many companies are now offering it. Some like Sightcorp even claim to be able to track ethnicity, facial expressions and sentiment. 
Technology which tracks sentiment is an interesting idea and could help businesses to monitor the reactions of their customers.
At a 2014 TED talk session in Amsterdam a 'Mood Sensing' experience using screens measured the real time audience response to each TEDx talk, which are renowned for being emotive. The information was then categorized by gender and age and shown back to the audience. 
How long until we see this as standard?
Digital signage and education
Did we save our favorite until last? 
Possibly.
While maybe not the most 'innovative' digital signage use in the world, we're excited about the use of digital signage in education. Education is traditionally an area which misses out on technology because of low budgets and weighty implementation processes. 
But when it does get the chance to use technology; schools, colleges and universities are a great example of how to do it right!
One of our customer's Merchant Taylors' spent eight years trying to find the right digital signage company to fit its budget and limitations! But when it found one (humble brag: us) the digital signage strategy they implemented was strategically perfect and targeted to location, viewer and time of day.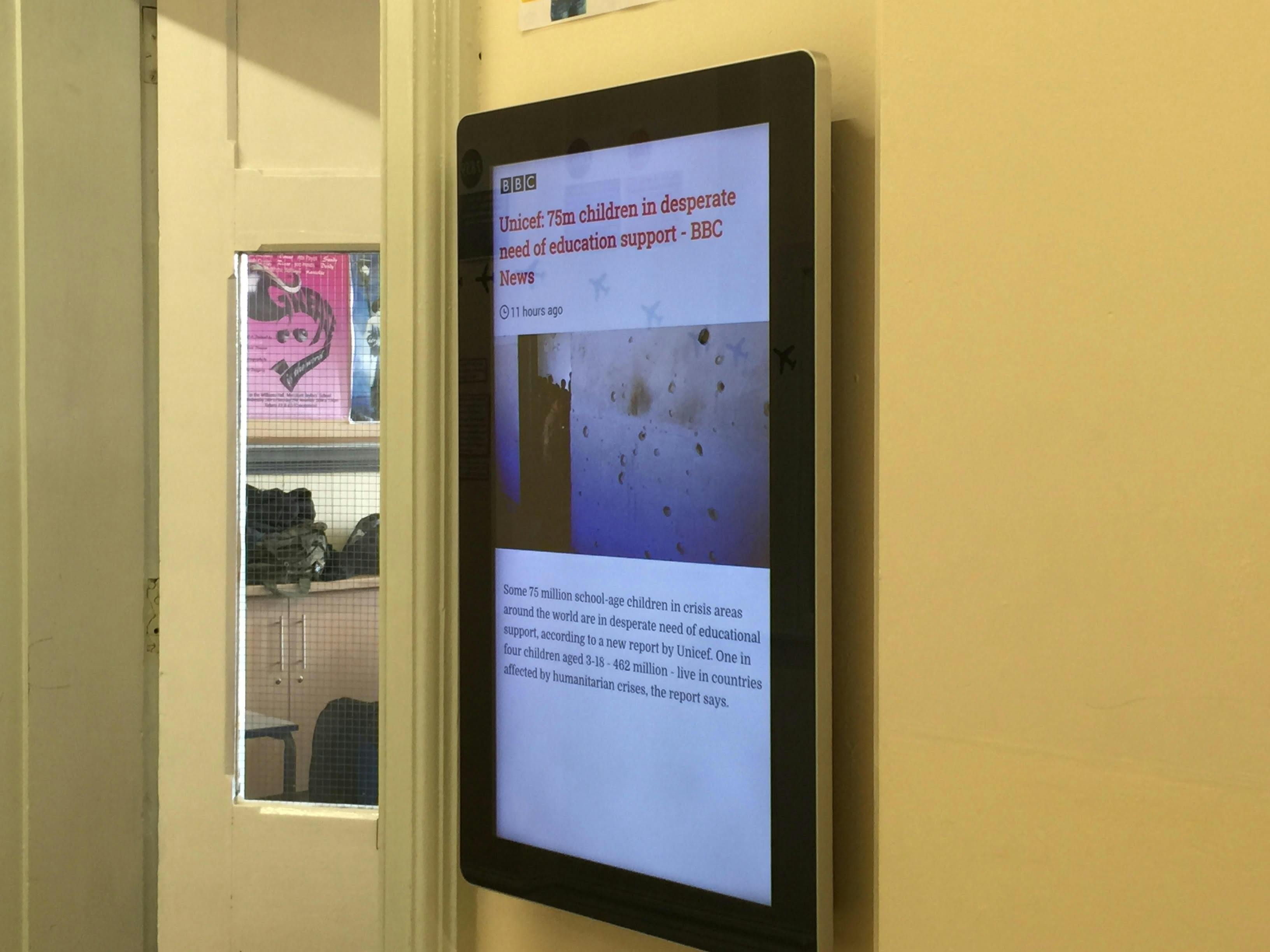 They use digital signage to show Economics students live feeds of current exchange rates, stocks and news from the Financial Times, CNN and BBC. These real time events are discussed in lessons and now students can improve their knowledge just by viewing the content on the screens, delivered as they walk to lessons.
Similarly, the school uses different social media feeds for different classes and year groups, then displays them on screens outside lessons. These feeds are updated by the teacher of those lessons sending a tweet (from wherever they are) and the students can automatically see lesson times, room changes and class notes just by viewing the screens. 
Other colleges, use digital signage to connect multiple campuses and even to create digital signage scavenger hunts that welcome Freshman and get them used to their surroundings. 
In education, where process often gets in the way of innovation, these simple displays are revolutionizing what information can be shown and shared.
A final note
Digital signage looks great and studies prove that it works. But it's changing all the time.
What started out as mere TV monitors showing ads has evolved into a core component of a sound marketing strategy. Every day, we're excited by the new uses we see and how our customers are extending the boundaries of what can be done. 
Maybe you're next?
For a 14-day trial of the easiest digital signage software platform you've ever used (no contracts, no commitment) sign up for our free trial.