Content creation. Unless you're a graphic designer, it can be a phrase that's said with dread. Yet an increasing amount of marketers, CEOs and customer service representatives are faced with creating content for online and offline channels. If you're asked to create content for your digital screens, this can pose even more of a problem. What size should it be, what format? Where do I get images from, how can I get it up onto the screen when I'm done?
Stop. Have a green tea or something stronger.
Creating content for digital screen displays is just as easy as creating for the web or social media. With the seven free tools below, ScreenCloud and a TV screen, you can be powered up in minutes. Here's our pick of the bunch and how to use them to create the optimal digital signage display:
1. Canva - creating presentations
Best for: brochures, presentations, tenders and slide decks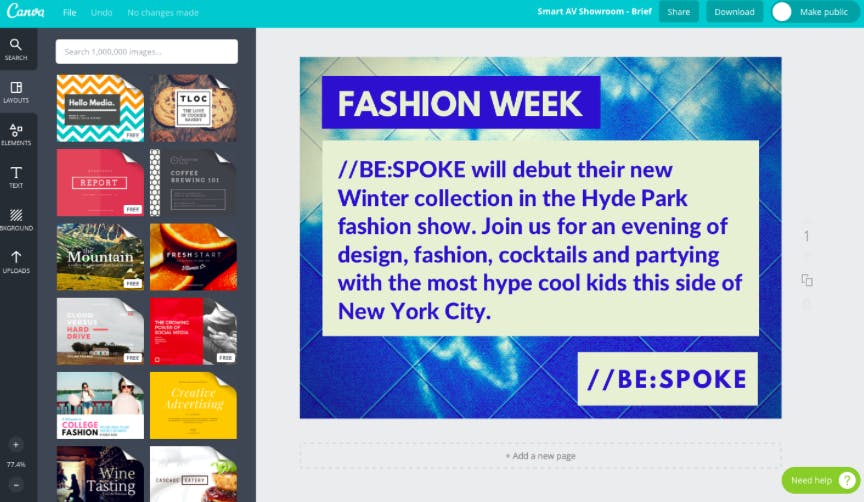 Canva is the Netflix of slidedeck creation tools. Forget InDesign, Powerpoint or anything else masquerading as a content creation tool. Canva is slick, intuitive and comes with a host of designs, templates and cool tools that allow you to get going on impressive presentation decks, brochures and social media content. As well as brochures, PDFs and showreels. Here are a few reasons why it's ideal for creating digital screen content:
2. PicMonkey - editing images
Best for: images, collages, social media headers, customer testimonials, menu displays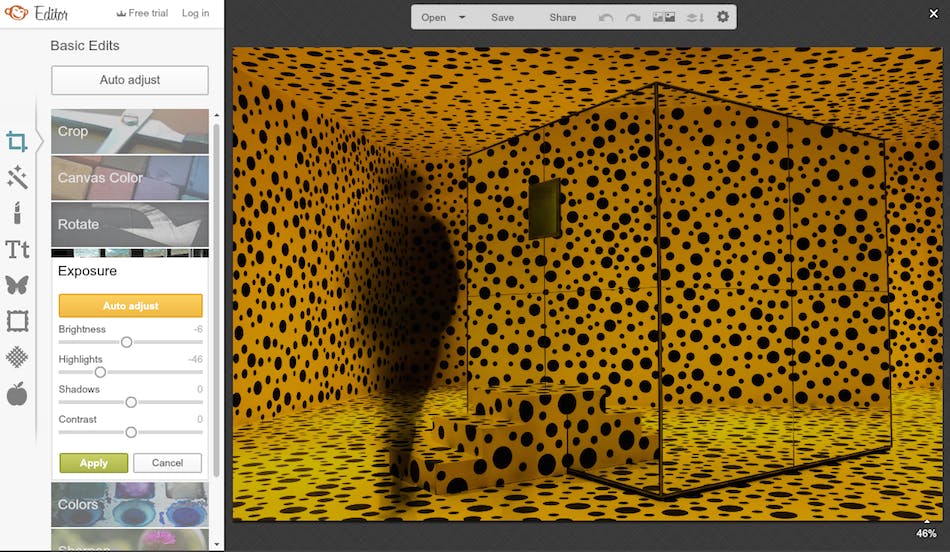 PicMonkey is a popular online photo editor used by bloggers, marketers and anyone looking to create fast, good-looking images. The best thing about PicMonkey is that it lets you do image editing and design without downloading any type of software. Here are a few of its most endearing features:
3. Font libraries
Best for: digital posters, menu boards and adverts

It's likely you'll already have branded fonts to use within displays, but digital signage can sometimes call for a new variation. Text used on screen often needs to be bigger, more widely spaced or within a different formation for it to work.
A couple of free font options where you can source new font designs for your projects include:
4. Hubspot's free Infographic templates
Best for: statistic displays, reports, presentations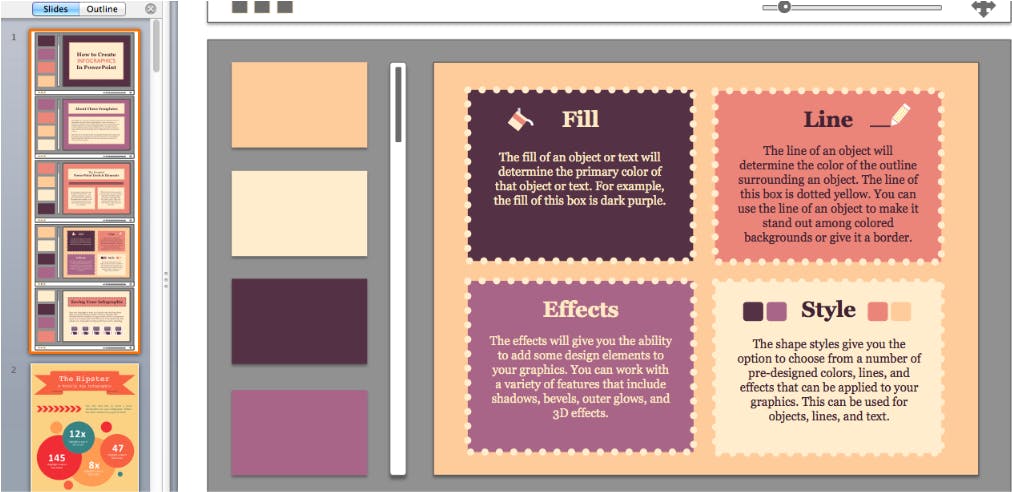 Infographics are great ways to display information that could otherwise be fairly droll. Save hours of design time by using Hubspot's 15 free infographic template downloads. Not only are they beautifully designed but they also come with a handy guide on choosing colour schemes, selecting a style and the best practice for using an infographic template. The files are downloadable in either PowerPoint or InDesign, so you can begin editing in either programme instantly, then save as an image to finish up and voila! You have a lovely looking infographic ready for your screen display. Just be aware that these templates come in portrait mode, so you may want to play around with the dimensions or flip them on their side if you're working with a screen in landscape.
5. Stock images and video libraries
Best for: menu boards, adverts, images and video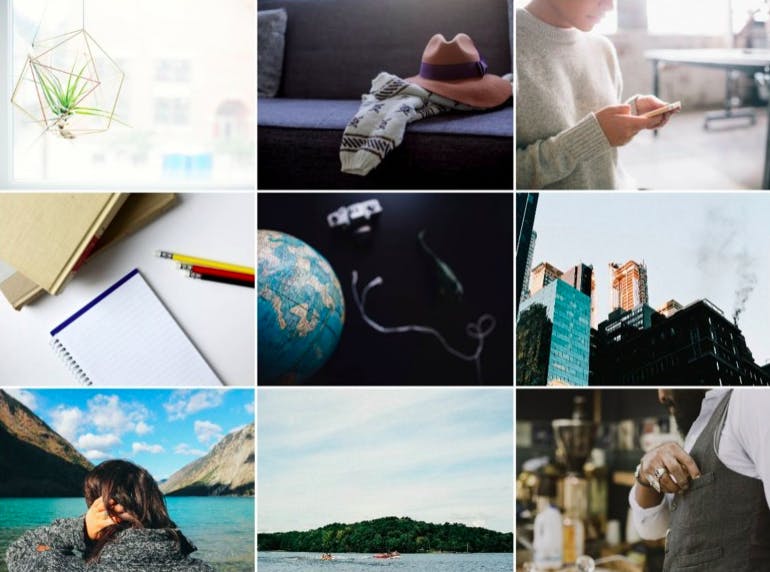 To get your content up quickly it can be useful to have a pool of stock image and video sites that you can quickly collate content from. The benefit being, that you can source high-quality images that work well within a screen format and that are of professional quality.
A couple of our favorite image and video stock sites include:
6. Placeit - creating branded collateral
Best for: creating demonstrations, slidedecks, product shots and testimonials
Placeit is a great tool if you're looking to add your own branding to a stock image or something that's been taken by a member of the team. Unless you're a designer, led by designer tools, manually customising an image to blend with an image you've already had, or have sourced from a stock site, can be difficult. Placeit allows you to upload your images and screenshots into a stock photo template. For example, allowing you to add a screenshot of your CRM to a stock photo of a PC or allowing you to add a dashboard or shot of your video player onto a screen that's mounted on a wall. The images available span from mobiles and tablets, through to laptops and desktops, in a variety of situations and settings so there really is something for everyone.
7. Design Seeds - choosing color schemes
Best for: overall themes, dashboards, customer testimonials, menu boards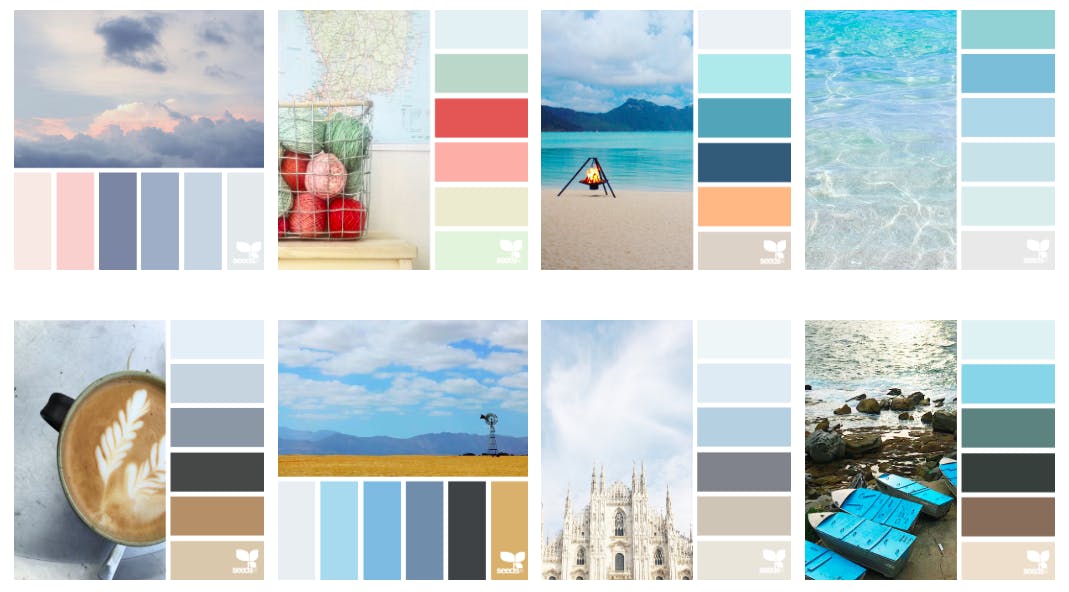 As we mentioned in this post, choosing an appropriate color scheme for your digital sign display can be difficult. Different rules apply to digital screens, than print or even most online content. This can make it hard to create a color scheme that's eye catching but not garish, on-brand but still easy on the eye. That's where Design Seeds comes in. Design Seeds is a website that provides hundreds of variations of color palettes which work well together. The format of the site shows the color scheme with a photograph and six color strips to match, allowing you to see what might work for your own website, images or screen content. The images are personally curated by the owner and can be anything from an image of a bird, to a street or aeroplane. Once you've selected a color palette, you can gain access to each color's HEX code by hovering over the color strip. If you need further inspiration, check out their Pinterest board - it turns everyday items into color palettes in a beautiful way.
So there you have it. Seven great, easy-to-use tools that turn marketers into designers and standard digital screen content into excellent digital screen content. Once you've had a play, use our free trial of ScreenCloud to get your fresh new content up onto your screens