One of the trickiest parts of digital signage is knowing where to start. You want a great design, something impressive, yet useful and you might not have a huge advertising budget to blow on it. In this post, we look at digital signage designs from some of the biggest brands in the world, focusing on messaging, design and inspiration that can be used by anyone. 
Digital Signage Design Simplicity
When many of us begin planning our digital signage content, we seem to think that more is more. You have an instance to grab your audience's attention and you want to show unique products and launches, content from advertising partners, social media, train times, weather - the list goes on.
But often, some of the best digital signage design inspiration comes from the power of simplicity.
Take Apple. Simple and intuitive design is part of its brand DNA. The digital signage displays in-store are no different. Take the huge LED wall in Dubai, the 6K wall within One World Trade Center and the screens positioned cleverly in the flagship NYC store. 
All are used for incredibly simple content display showing product videos and animation.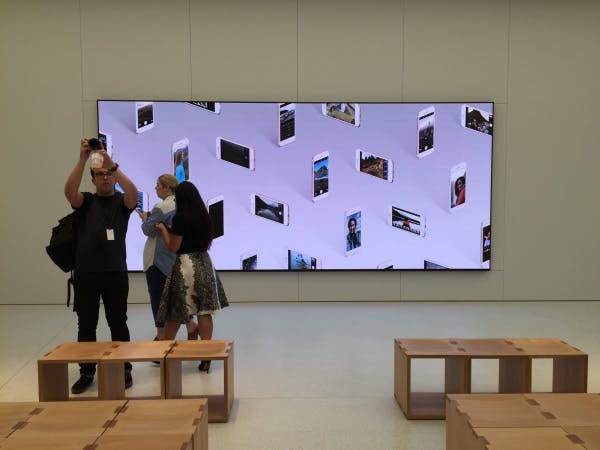 Herein lies the secret; Apple's digital signage displays have been created to add to the ambience. Apple don't expect the audience to sit and watch these screens when there are far more interesting products they can touch in front them. The content is ambient, it's 'background noise' in every sense. 
Digital Signage Design and Purpose
One of our favorite digital signage use cases to date is a company we worked with who were using digital signage to provide health and psychological benefits to patients in a children's hospital. 
Accademia uses video art and digital signage to improve patient welfare in hospitals such as the Chelsea and Westminster Hospital in London. Their installations are designed to either distract patients or inspire calm through the use of a new video art form they call "Living Photography."
You can see an example of a hospital project titled 'The Zoo' in action here. 
This shows how art, design and digital technology can be brought together to provide purpose, not just an ambient display. 
Another great example of digital signage displays designed for purpose are those used in schools and colleges. We all know how schools are criticized for their lack of 'real world' experience or information that students can take with them when they leave. Merchant Taylors', a ScreenCloud customer, use displays designed with real world information to help students perform better in classes and to better illustrate abstract concepts.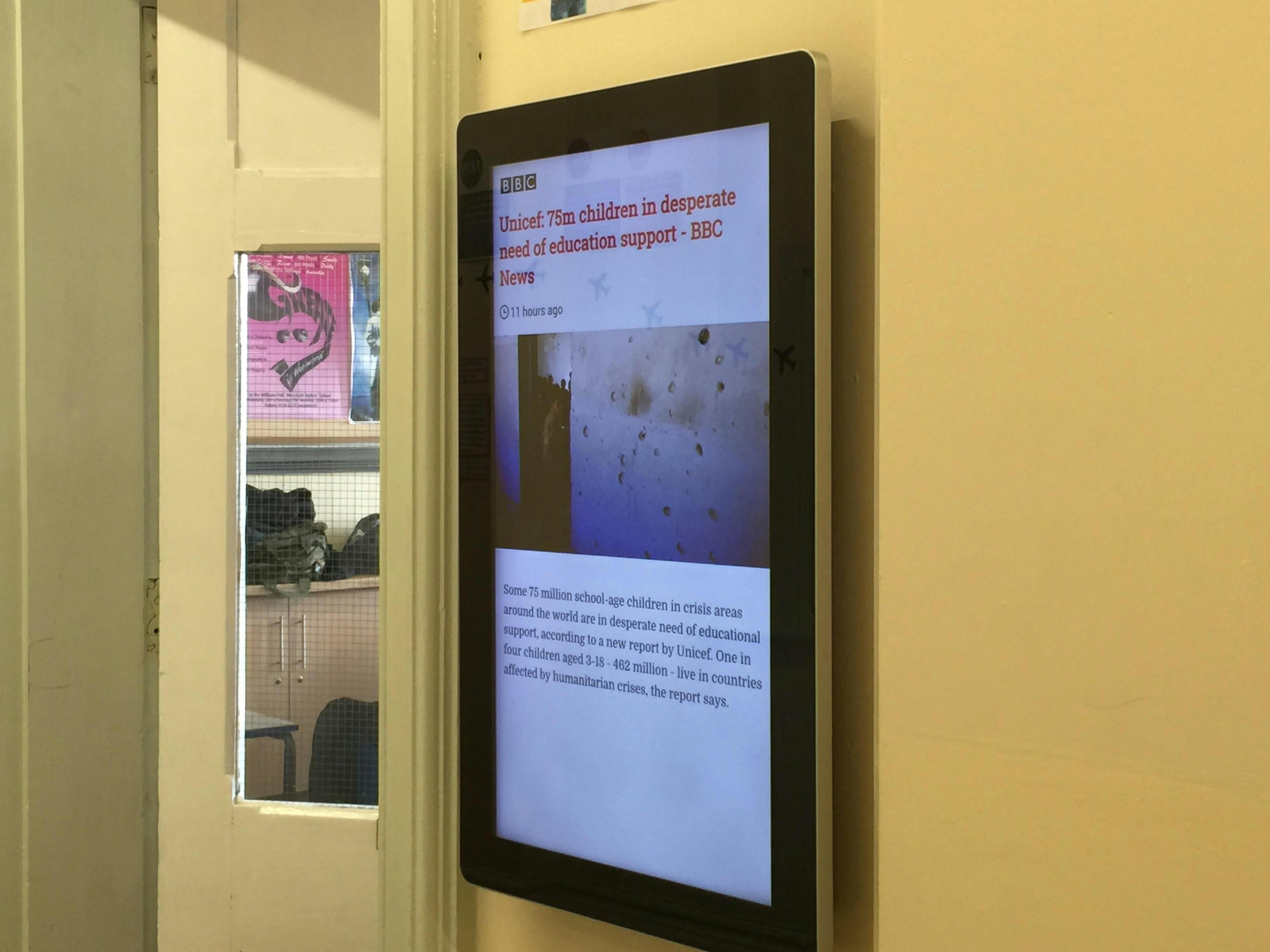 By displaying economical information, news, currency and stock rates, students arrive at lessons better prepared with real information on the state of markets throughout the world. 
Data Visualization and Digital Signage
One trend that Sixteen:Nine alerted us to was data visualization and the process of using digital signage to break down big data and make it more accessible to viewers.
This would be an interesting use case for offices, internal communications, factory floors and educational departments within schools.
Often, we see a spreadsheet and the last thing we do is picture it up on a digital screen. Yet the meaning of the data, which can be created in a visual design, is actually incredibly interesting. 
The key driver of course, is how easy it is to load up a spreadsheet and turn it into a visual display. Google Slides, Powerpoint and dashboards such as those in our App Store, allow you to easily plug in data and watch it transform into something more visual.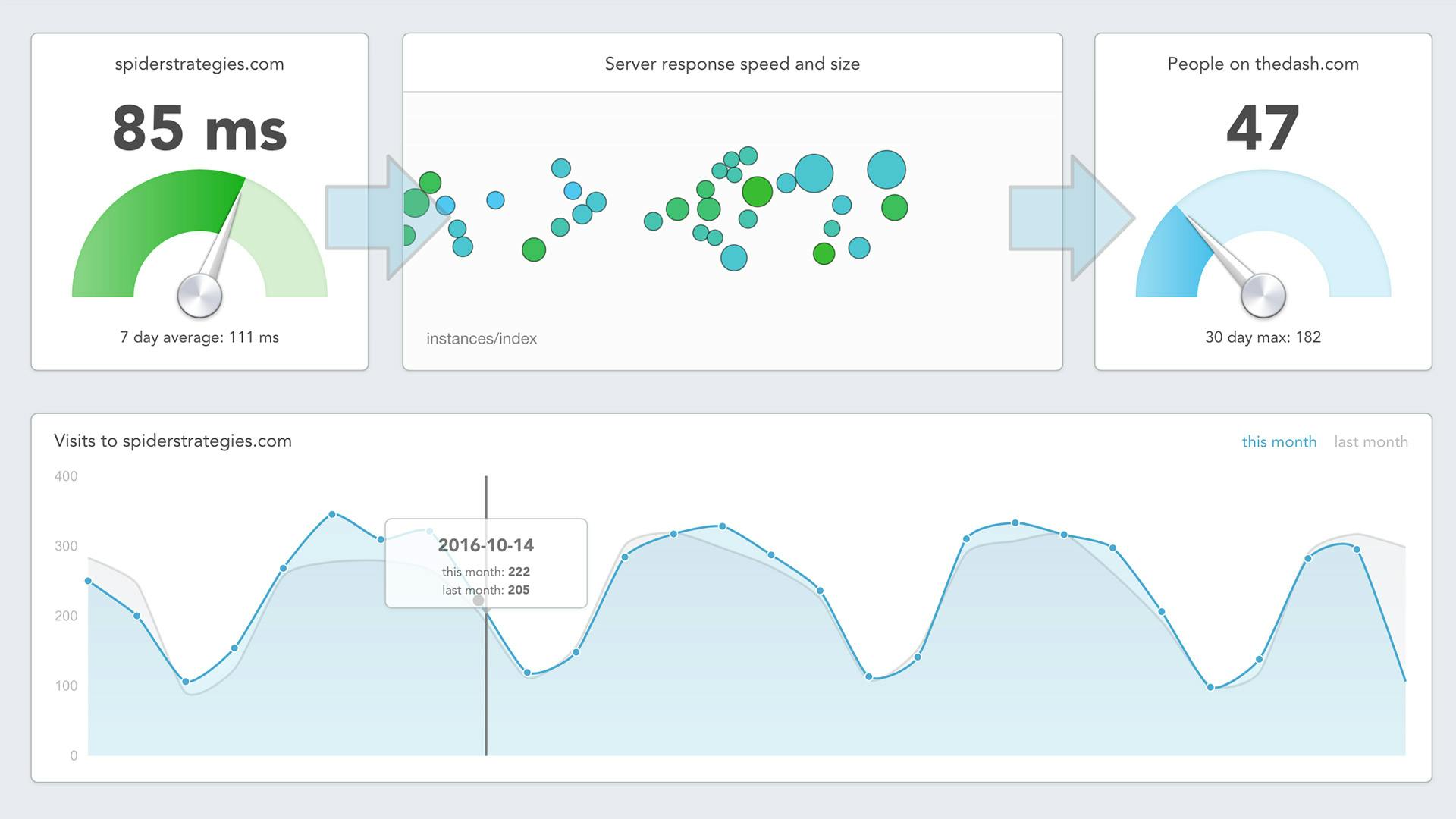 Take this example from our app partner Dash above, which takes simple data such as web visits, server speed and performance and translates it into a visual, easy-to-read display. 
Part of the appeal of digital signage is that the content is a glance medium. With data visualization, you can move away from static advertising content and begin crafting a design that goes in deep on your business metrics. 
Digital Signage Design and Experience
There is perhaps no better case in point of great digital signage design than the new dynamic digital signage display installed in New York's Westfield shopping centre. This digital signage design is purely about experience.
It utilizes pretty standard advertising content from stores in the centre as well as brands such as Ford, but the content has quite obviously been created to enhance experience.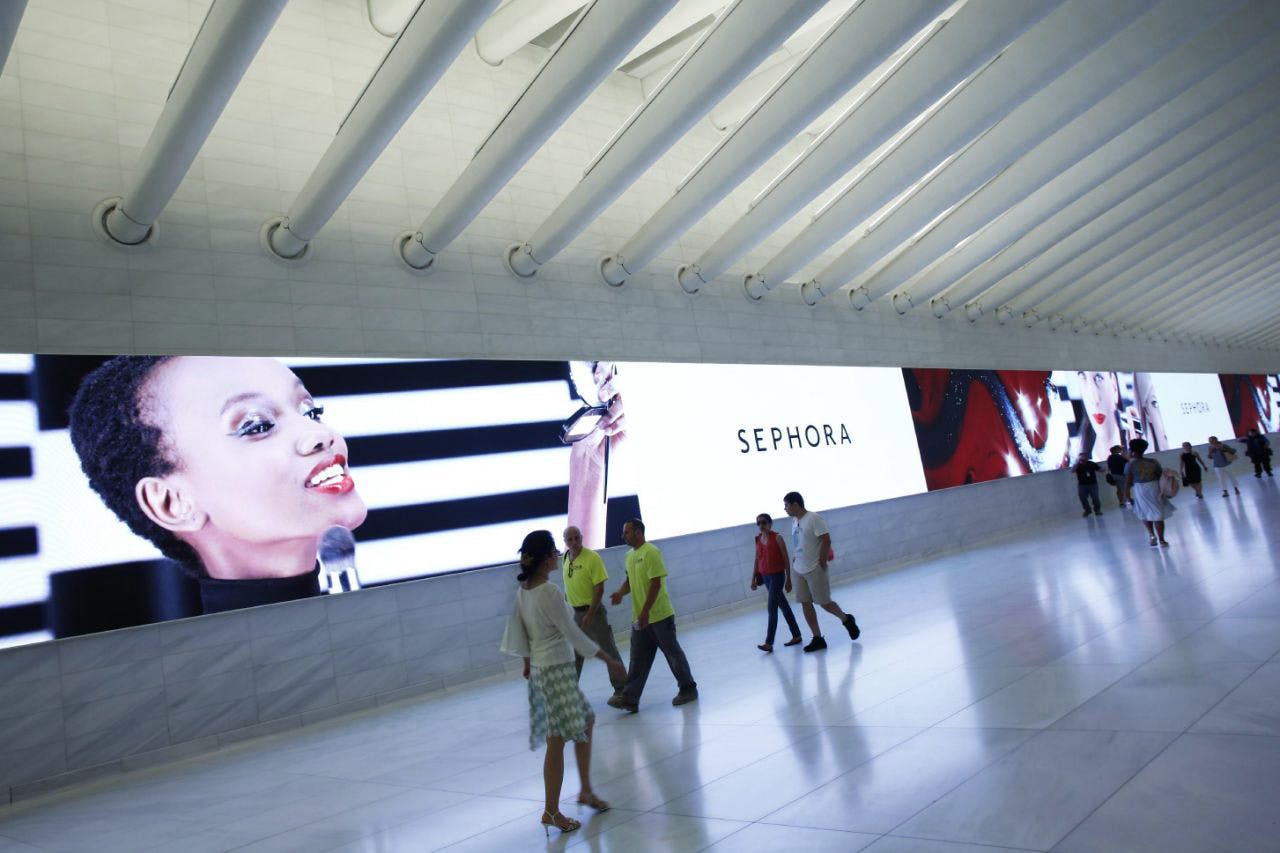 The ads, which span across the 15-million pixel wall, are simple in design yet create a futuristic experience. One ad from Ford, as shown in the video below, follows the passersby and creates motion that attracts the eye as they walk to their shopping destination. 
Another good example is Disney. As you might expect, their digital signage networks although smaller than Westfield's, are similarly used to enhance experience. Customer-side, in the Orlando resort, twelve screens are setup to talk to guests and provide useful information. These screens have up-to-the-minute feeds on rooms available, weather (grab a poncho) and special offers. Employee-side, the screens stream safety videos, news alerts and important updates.
At Disney, as at Westfield WTC one, the screens are used to create experience, whether that's for sheer entertainment or as a way of creating a more fluid customer journey. 
Digital signage and clever advertising
Some of the best digital signage design inspiration comes from advertising and social media campaigns. Take Airbnb's 'Live here' campaign where they show off beautiful spots in a really enticing, visual medium.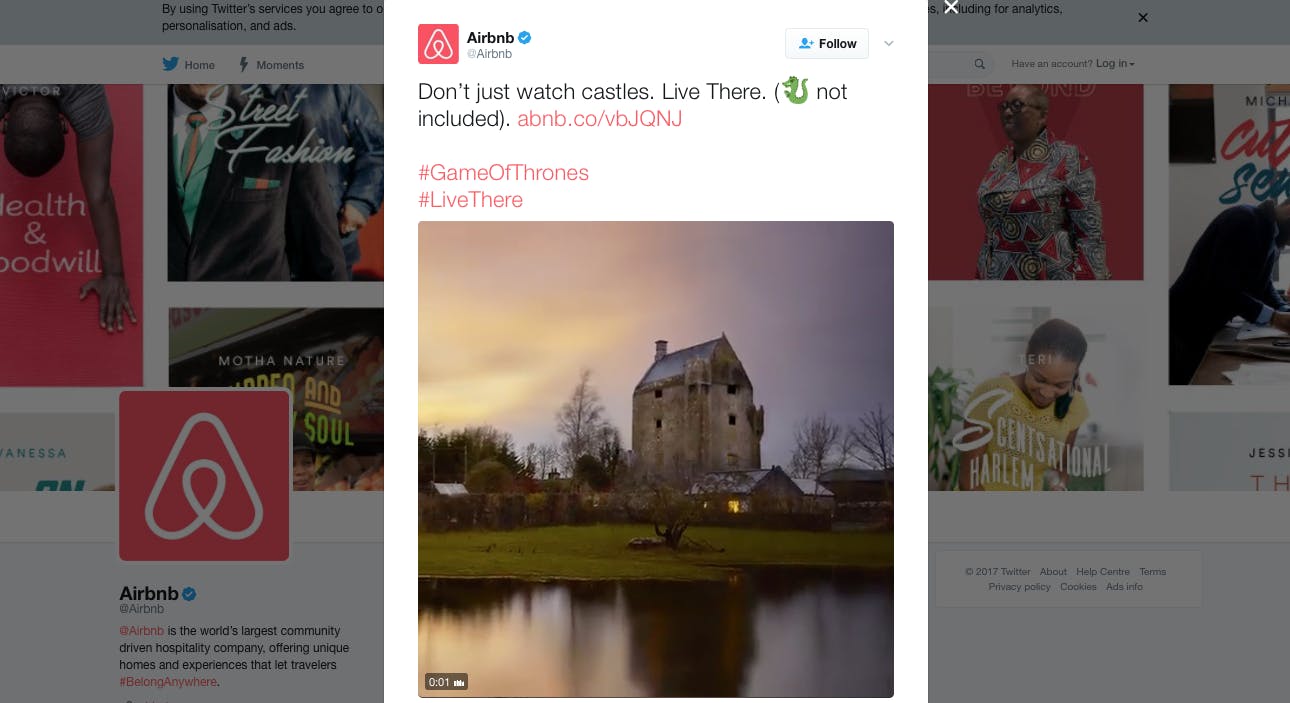 Now imagine this type of advert used in digital signage. The motion would easily catch the eye, the aesthetic, creating a feel of 'wanderlust', would be fairly universal - who wouldn't want to live in a castle after all?
Then you have the call to action, which could be transcribed using a digital screen, or beacon-led smartphone prompt, to allow the user to book the property, or explore it further for a future trip. 
The 'Live here' campaign pulls on so many of our human instincts for travel and experience, visually connecting with an area and really feeling what it might be like to live or travel there.
On a digital screen, this type of design would be magnified and is just one example of how digital signage creatives can be simple yet highly effective. 
Another example is the digital signage anti-smoking advert that 'coughed' if someone was smoking nearby. Despite receiving some backlash for its obtrusive advertising method, the advert certainly drew attention to its key message; the effects of smoking. 
At the very least, it would make smokers stop and question a habit-led action that they might often give no thought to, which is after all, the purpose of advertising right? 
Digital signage design inspiration - where we come in
We get it, all of these ideas sound great but it can be a little daunting knowing where to get started. Here's the thing; all of these ideas are attainable for digital signage makers of any size. Maybe start with an app and let it create the content for you, then grow on what you show and when.
For example: an app like Dash is great for that initial dashboard, a social media wall can be thrown up in seconds with SocialHUB and a visualization of your company workflow has never been more easy than with the Trello app. 
We think there should be no limit on creativity in digital signage, whether it's used in a school, store, theme park, hotel or restaurant. App Stores and other tools that make design easy can be a great place to start. 
Sign up for a free trial that includes all of our apps at https://screencloud.com.