If you're wondering what goes into good digital signage content creation, chances are, you've seen lots of bad examples. Screens stuck on the same news loop, out of date images which are too low res, or worse - the blue screen of death.
Like any other marketing medium, the screen is only the vehicle. If you don't have good content to show on it well, you might as well leave it turned off. It's the same as putting a post on Facebook full of spelling mistakes and broken links; it's not Facebook's fault if the content isn't any good.
So in this guide, we want to take you through everything you need to know about good content creation. Where to find content, ideas for when you're stuck and examples of content done really well.
Digital signage content creation
To start with, how do you create digital signage content? This depends on what you want to show. A good digital signage tool like ScreenCloud will edit any content you upload to the optimal size for your display. Which means you can upload images, videos, presentations and web links and it will all be repurposed into the right size and resolution for your screen.
If you're creating graphics, or something fancy like a digital menu board, you're best to stick to a 16:9 ratio for landscape displays and a 9:16 ratio for portrait. To create a graphic for this in a design tool, set your pixel count to 1920 x 1080 or 1080 x 1920, which will ensure everything is in the right ratio for your screen.
If you don't have the resource to create your own content and you don't have any good content already in your locker, you can use the ScreenCloud App Store. Here, there's no excuse not to create great content. With more than 50 "plug and play" apps to choose from, completely free with your account, you can easily setup a playlist that will impress your audience. The apps allow you to pull in your social media feeds (saving time by repurposing content you already have), add news feeds from the biggest sources around the world, create dashboards and send content such as Trello cards and Slack rooms direct to your digital screens.
What's not to like? Have a play.
Digital signage content ideas
The content you choose all depends on the type of problem you are trying to solve. You can take a look at our guide on creating content strategies here, otherwise here are a few examples:
1. Increase positive brand awareness
If you want people to share more brand love, some of the content sources you could look at include:
Social media feeds
Customer testimonial graphics
Dashboards of sales or customer happiness statistics
Images of charity works
Company videos
Messages for social good (for example, helping support a local missing persons or foodbank cause asking for public support)
2. Improve internal communications
If you want to make your employees buy into what you do, you could include:
Company dashboards
Trello boards
Slack communications
Company images
Health & safety videos
Announcements
Intranets or company wikis
3. Upsell items
For a store or restaurant that wants to sell more and raise awareness of products with customers, try:
Digital menu boards
Signs close to the point of purchase which upsell items
Special offers
Images of products in use
Price reductions or comparisons with other stores (or online)
Happy customer images
Testimonials and reviews of products or menu items
4. Make customers linger longer
To get everyone wanting to visit, and staying for longer, you could use:
News feeds and world events
Blogs and RSS
Ambient video content
Live travel information
Social media feeds
Competitions and gamification
5. Have fun with your content
If your mission is to get customers or employees engaged through fun, dynamic content, here's what you could play with:
Social media dashboards
"Fun" company announcements
Staff news and updates
YouTube video playlists - organized in relevance to time of day and day of week
Specific news sites
Images and video content
Digital signage content examples
Here, we want to walk you through five case studies where the digital signage content creator was able to nail their signage and content.
Digital signage for a restaurant and bar
Our customer Mamuśka! had a few key aims for their digital signage displays:
Show menu items easily
Post information on speciality menu items
Push specific products at specific times
Upsell desserts and alcohol
Ensure repeat custom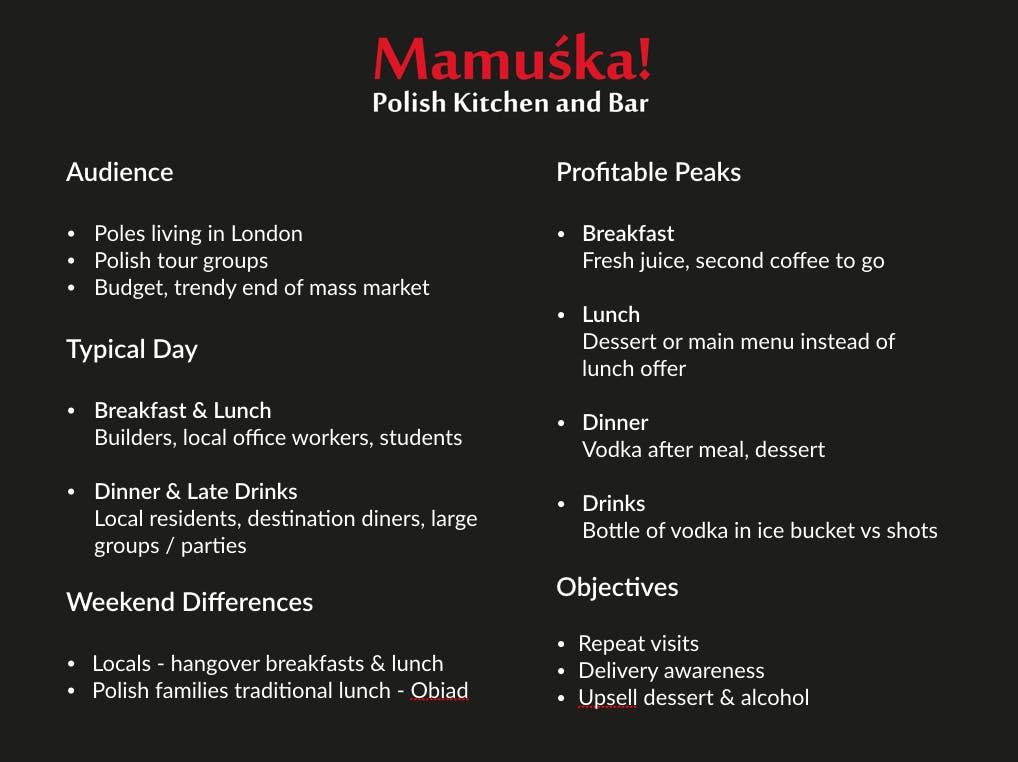 As a result, they created a digital signage playlist with digital menu boards, to easily show menu items and rapidly changing produce. As well as full menus, they also used individual menu graphics (using a template) to push information and therefore upsell speciality items.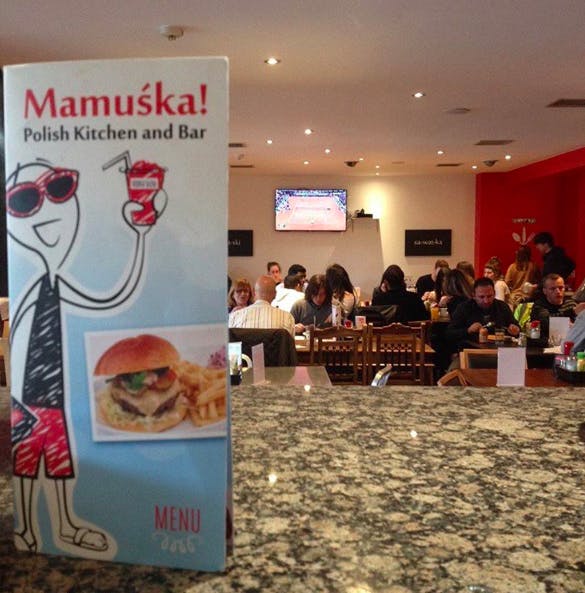 Upselling desserts and alcohol became easy using images of each product and special offers (also timing alcohol announcements to only play out in the evening or weekend). They also announced special features such as a delivery service and their Polish heritage, to ensure repeat custom within a specific audience.
Digital signage for a school or college
Merchant Taylors' is a family of schools in the UK who were aiming to:
Easily share content that updates automatically
Keep students informed - both of school news and wider world news
Allow departments to share specific content
Upsell services to the wider public to create revenue streams
As a result, the school used apps from the ScreenCloud App Store to create Twitter, Facebook, news and RSS feeds so that the content would automatically update. Specific departments were able to manage specific screens, to share general news that could spark debates, departmental social media feeds and information such as currency rates and world clocks.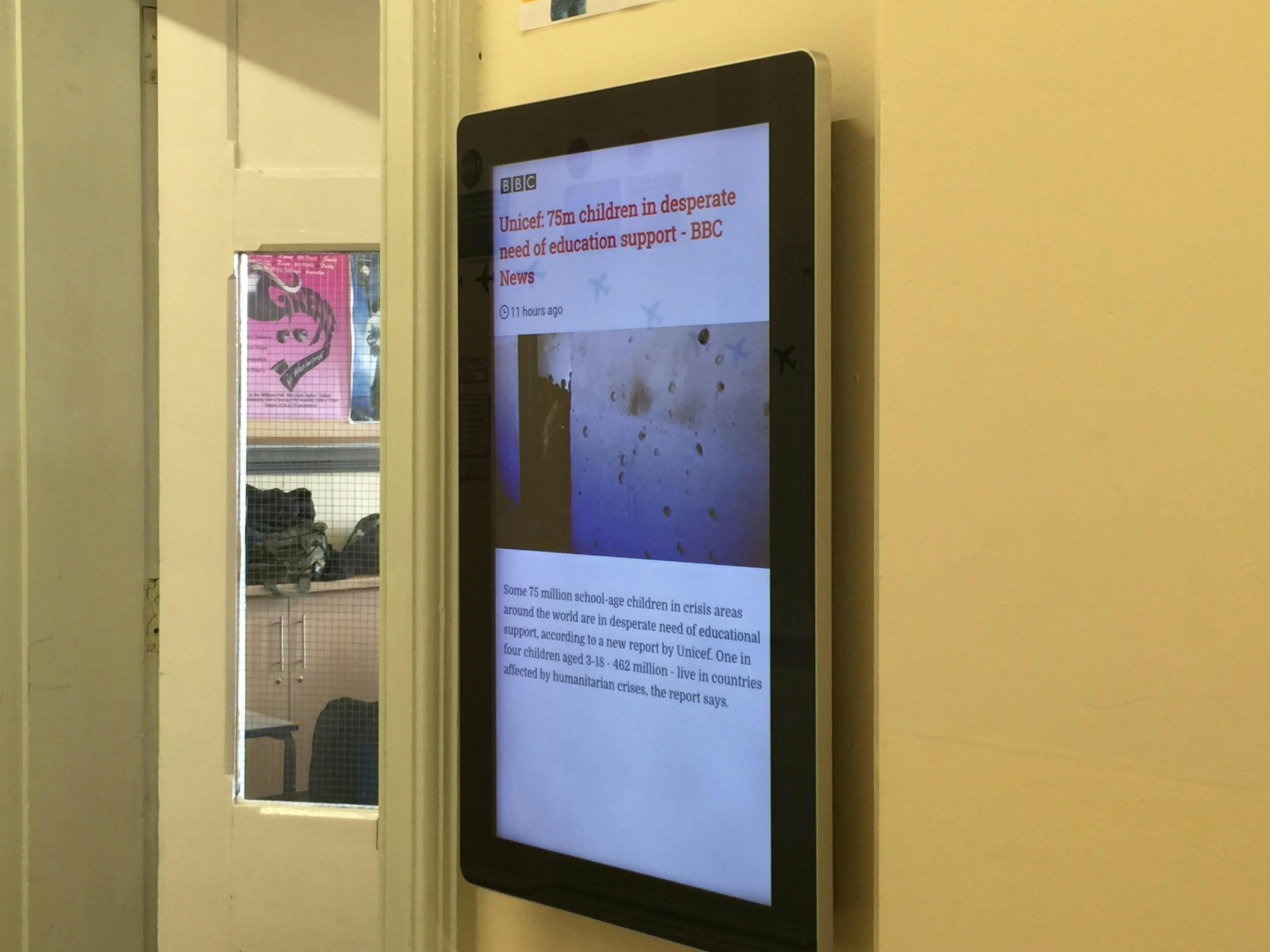 Other screens, were used to share school news and information and public-facing screens were used to promote the rental of the sports centre, helping to create more revenue.
Digital signage for a church or place of worship
Faith Community Bible Church wanted to implement digital signage with a few key aims:
Display information about upcoming events and the current sermon series
Create ambience in static waiting areas
Share charitable initiatives to improve public perception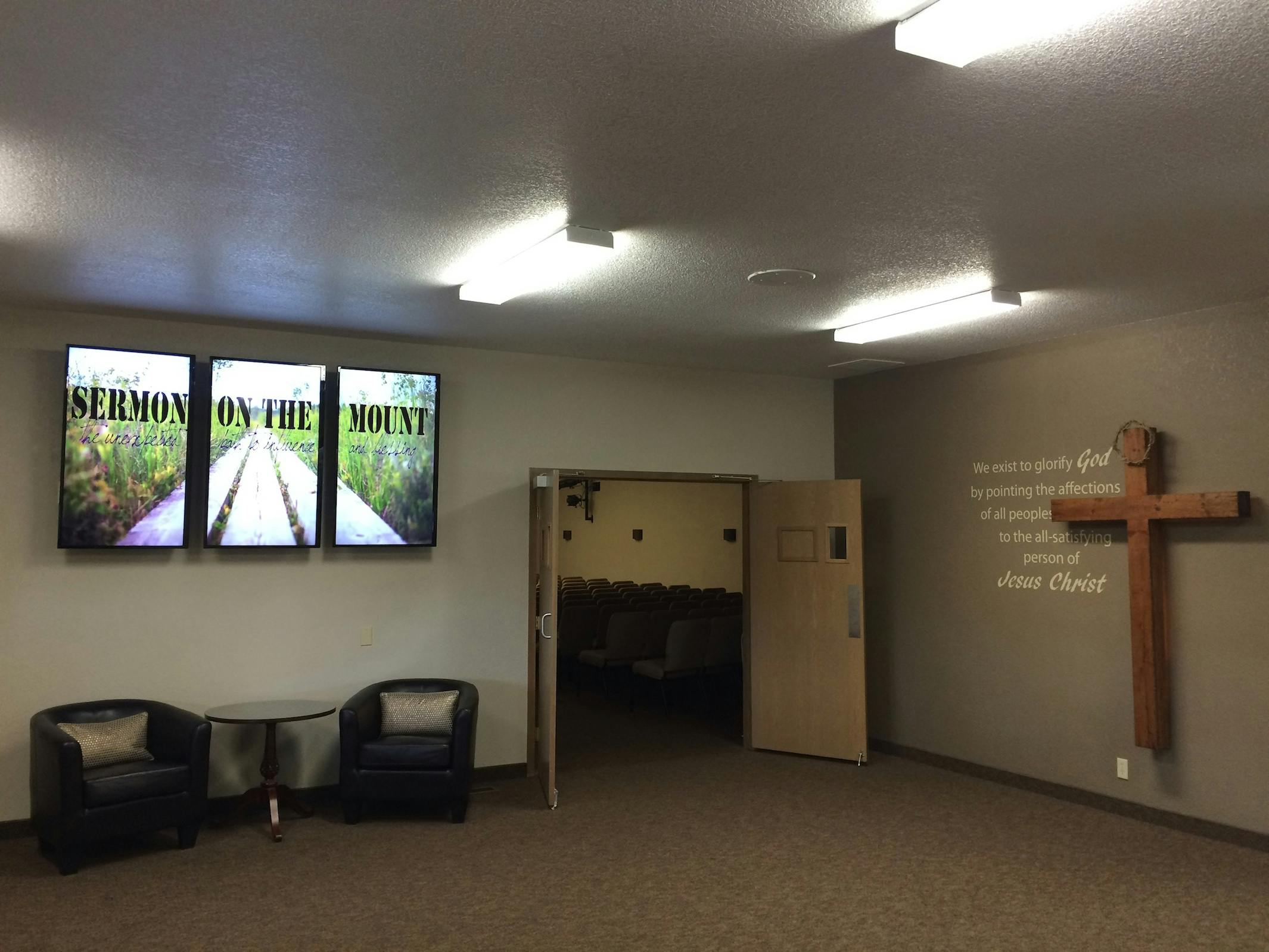 Their playlists as a result, were kept simple but extremely visual. They used multiple screens to create a split image poster regarding upcoming events or charitable initiatives.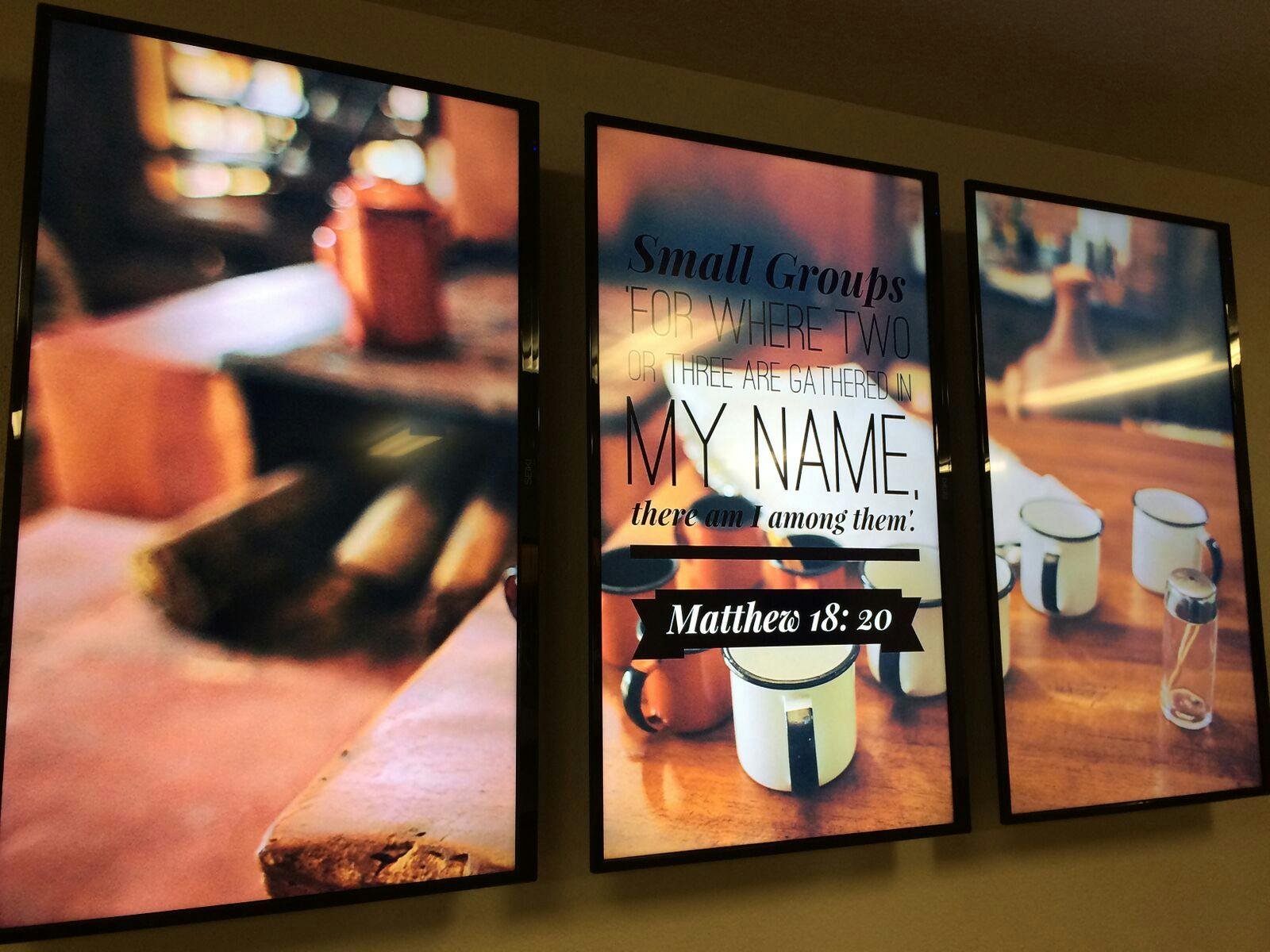 Secondly, they rotated images and posters weekly to promote timely sermons and events.
Digital signage at an event or tradeshow
When ScreenCloud recently exhibited at a tradeshow we knew we needed to put our digital signage skills to the test. Our aims were:
Hook passersby into the stand and our services
Encourage visitors to attend our speaking sessions
Show off our various features - including our App Store and easy to use signage platform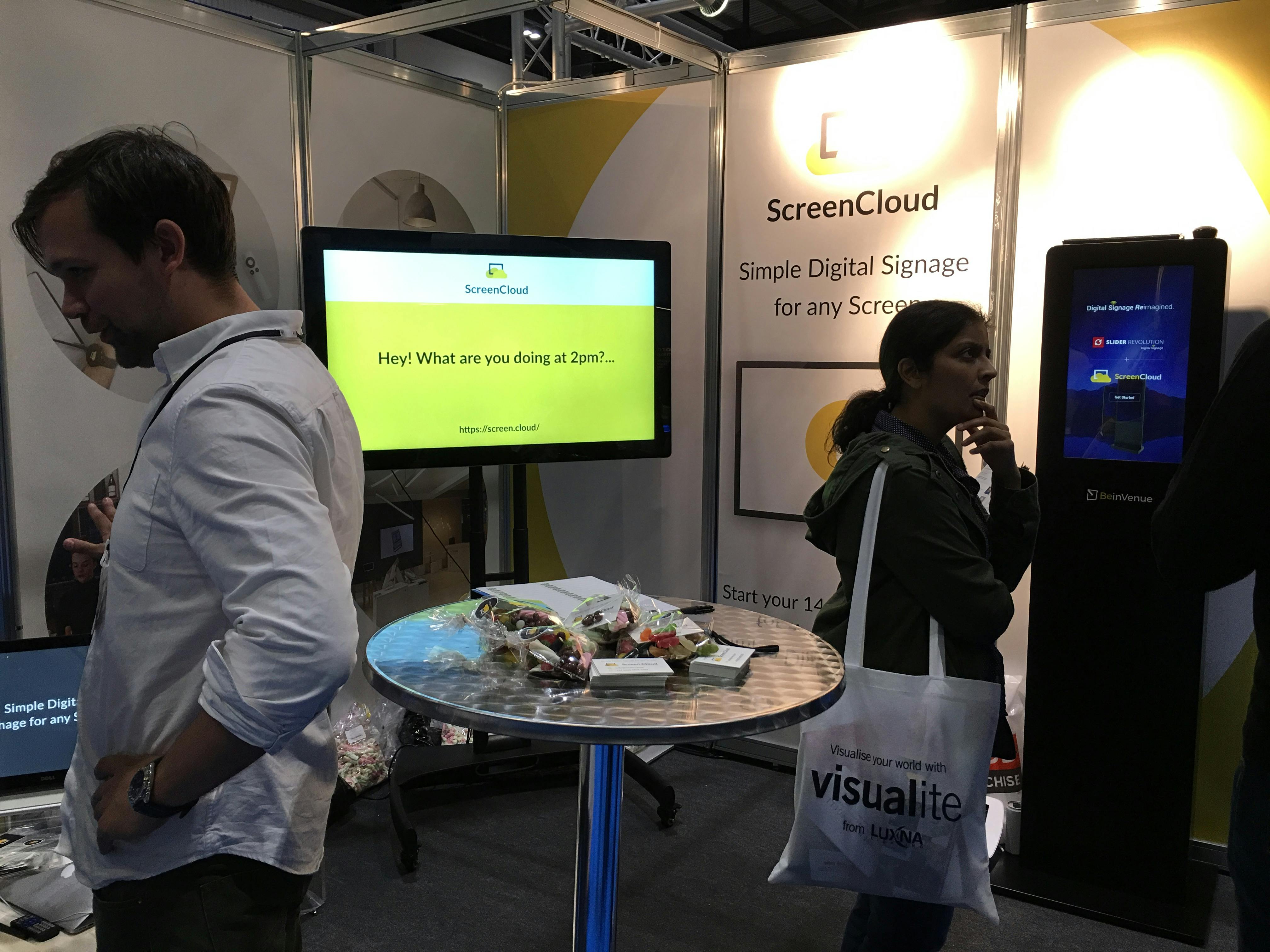 In response, we created five playlists of nearly 30 items, each showing for 7-8 seconds.
We showed multiple pieces of content in our playlist and used slides created in Picmonkey to anchor this together. For example, introducing our App Store feature, then moving on to the next slide showing what it could do. This created a story and synced together the content seamlessly - regardless of whether our audience was there for 10 minutes or 10 seconds.
We then repeated the playlist throughout the day using our scheduling tool.
We also ensured that the playlist showing was relevant to time of day and the real-time activities going on. This meant one playlist for AM, welcoming people to the show, showing breakfast menus (it was a show aimed at restaurateurs) and reminding attendees that we would be giving a presentation at 2pm. Then another for the afternoon, providing messaging consistent with the rest of the day. Once the presentation was over, we swapped to a playlist without the presentation slides, but it would have been just as easy to log in and delete them too.
Lastly, we had a playlist full of great case studies and demo content ready to wow our audience with what we could do.
Digital signage for corporate communications
Thin Martian, a London-based agency, wanted to create a digital signage network that could:
Use content as a means for communication and meeting management
Connect with clients through great content
Share internal wins, news and celebrations

As a result, they created a series of images and video reels in house to share internal news, case studies and client wins. They complemented this with "evergreen" apps from the ScreenCloud App Store, using Twitter, YouTube, TechCrunch and BBC News. Now, when there's a birthday or new starter, they quickly add an image to celebrate and share the news with the office.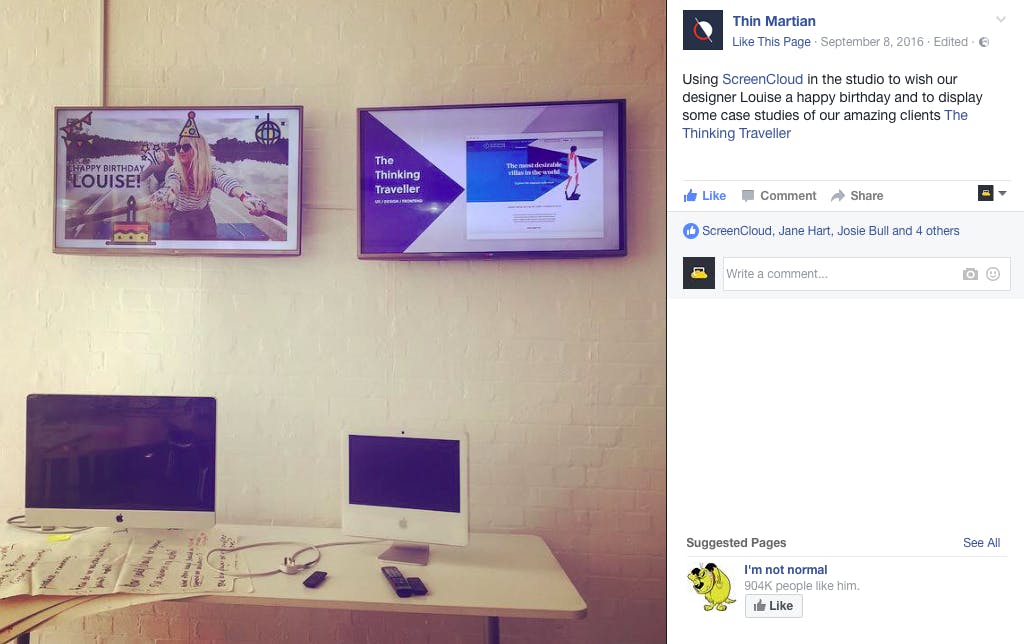 Screens are also used as the focal point for meetings, as a Trello board or Google doc can be added to the playlist as and when needed.
Good digital signage content: a sensecheck
Read these bullet points to ensure your digital signage content is fit for purpose at all times:
Does your content abide by the fundamental digital signage design rules?
Is your content optimized for portrait vs landscape formatting?
Will your audience be interested in this content?
How does the timing work out - is there enough time to be engaged but not bored?
How long has your content been showing? Is it time for a change?
Is the content shown relevant to this audience, at this specific time and day?
Is your content "on brand" using the correct colors, fonts and formats?
Can you add content that updates automatically and will always be relevant?
Are you using high-quality images and videos which don't pixelate?
Does this content make sense in the context it sits?
Conclusion
The medium may not be the message, but great digital signage content is the focus of lots of small, moving parts. Choosing great content sources, setting them up, selecting the branding and getting it all live in a timely, relevant manner. Follow the guide above and you'll be in a great place to start, as digital signage becomes more common across the world's screens. Get started today at signage.screen.cloud.