If you're old enough, you'll remember the days when you had to program your VHS player if you wanted to record your favorite TV show. And boy did that thing have a lot of buttons… Today, it's all available on demand. That simplification is pretty much what's happened with digital signage over the last decade. It's moved from expensive and complicated set-ups to easily managed cloud-based systems that you can get started with in minutes. And nobody needs to be convinced any more that digital signage is an incredibly effective communication tool, whether you're using it to inform, educate, or advertise to your audience.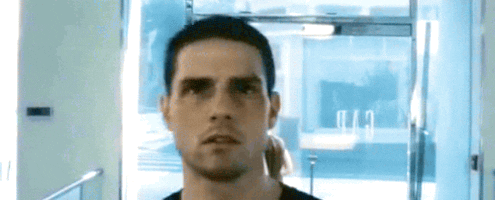 Ok, maybe screens don't call out your name and your last purchase circa Minority Report (thankfully!), but there are plenty of other exciting developments happening. Here are some digital signage trends we're seeing for 2020...
6 key digital signage trends in 2020
1. Digital signage used internally
Under the radar in many organizations, digital screens are being used not as outward facing advertising displays, but as internal communication digital boards. In 2020, we predict that even more organizations will start to look at how they can better disseminate information that's crucial to their business.
When you think about it, we're in the era of the notification. Knowledge workers are repeatedly interrupted by chat systems, emails, intranets, employee social networks and other tools designed to increase communication.
How can employees expect to keep the most important information at the front of their mind? Digital screens in shared spaces may hold the key.
These information radiators help to push out (forget the "pull" method of going in search of new information) key company metrics, announcements, or changes that employees need to know about. These pieces of information are bitesized and digestible by employees while they get a coffee, or take a break.
Digital screens may have found their roots in advertising, but we believe they'll blossom in the world on internal communication in the year(s) ahead. 
2. Screen traffic analytics to create dynamic content
One of the big questions we, amongst others, have been asking ourselves about digital signage is how to measure it. Apart from qualitative measures like return on objectives, it can be difficult to know exactly who is watching your screen at any one time.
The most obvious application of better screen metrics would be to give you the right data to allow you to create real-time, highly personalized promotions and brand awareness strategies. Research shows that 80% of customers are more likely to buy a product or service from a brand that offers a personalized experience. But it's equally relevant in internal communication use cases where you need to ensure that key information is being seen by employees, at the right time. 
Of course, the digital signage answer to date has been facial recognition. Technology plugged into advertising screens that monitors who is watching, and most importantly, their demographic details like age, race and gender. For obvious reasons, this calls privacy into question.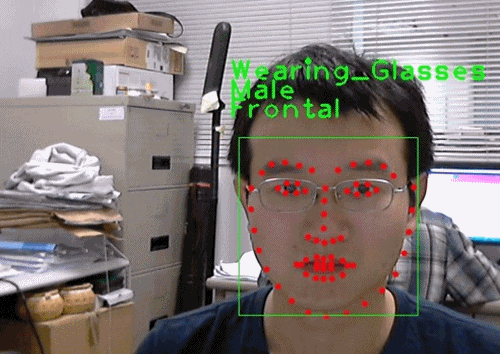 But now there's an option to collect data on traffic without having to collect personally identifiable information, which is where we see the digital signage industry evolving in 2020.
In fact, at ScreenCloud we recently implemented a quick study using the screens in our reception area, which allowed us to identify how many passersby actually stopped to watch the screen, how long for, and what the most popular times of day and days of the week were.
In 2020 we plan to use this type of tracking in order to determine content priority and weighting using an "if this then that" trigger system. For example, if content has been viewed by 90% of people in a building, you could trigger that piece of content to be removed from the playlist.
If an extremely important piece of content has been seen by less than 30% of people, you could automatically extend the time it's shown, or its frequency, to ensure that important content is always seen. 
The possibilities of the application for better digital signage analytics in 2020 are endless.
3. Secure sharing of dashboards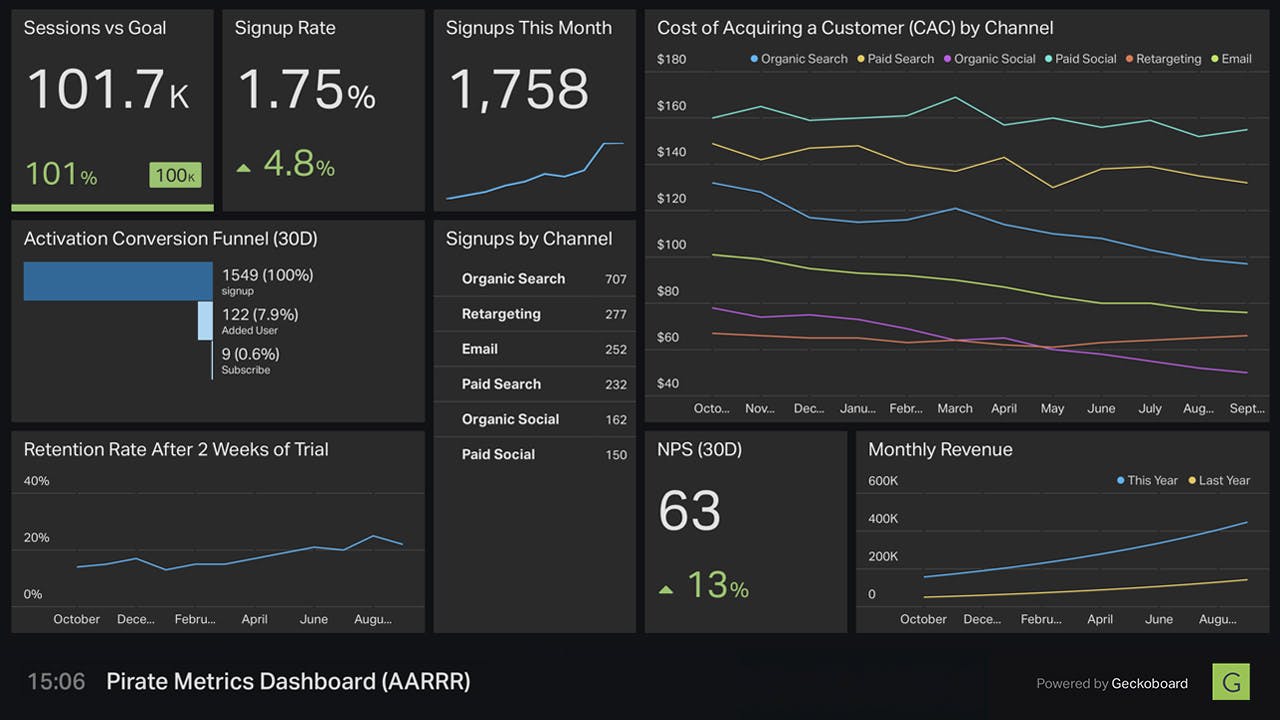 There are already many different tools out there that help businesses become more data-driven by sharing important data onto digital signage dashboards.
Users want to be able to display these dashboards through their digital signage solution alongside other content. But dashboards contain sensitive company data, so displaying it through a publicly available URL just isn't a safe option. 
Most dashboards are behind a secure login – be it username and password, SSO, or an access token – so in order to display various dashboards on screen, the different users would need to be present to log in, which isn't very practical. The alternative would be for the screen to log in by itself but this would mean keeping the various login details on file, which isn't secure.     
The solution of the future is cloud-based rendering of dashboards, which will remove the need to make dashboards public, or share logins, or pay for expensive extra licenses to allow additional people to view the dashboards. We see this coming in as the best, and often only, option in 2020 for digital signage users who see the power of sharing data to screens in easy to understand visualizations. 
This is something we've been working closely on at ScreenCloud, to ensure our customers using tools like Trello, Grafana and PowerBI, can easily share content to digital signage screens for companies.
4. A focus on brand design
As digital signage has become more common-place in lots of different environments, there's also been an increased expectation for the look and feel of the content shown.
No longer can organizations, and digital signage companies to an extent, get away with showing content that's off-brand, or doesn't fit within the guidelines used to keep, say, the website or company magazine in check.
This will lead to the rise of brand guidelines for digital signage displays, helping to ensure the transfer of content from channels like employee portals and messaging systems to a screen medium without losing the brand messaging.
Digital signage tools will need to have this built into their content management systems, allowing owners to set a brand theme and to provide set templates or designs.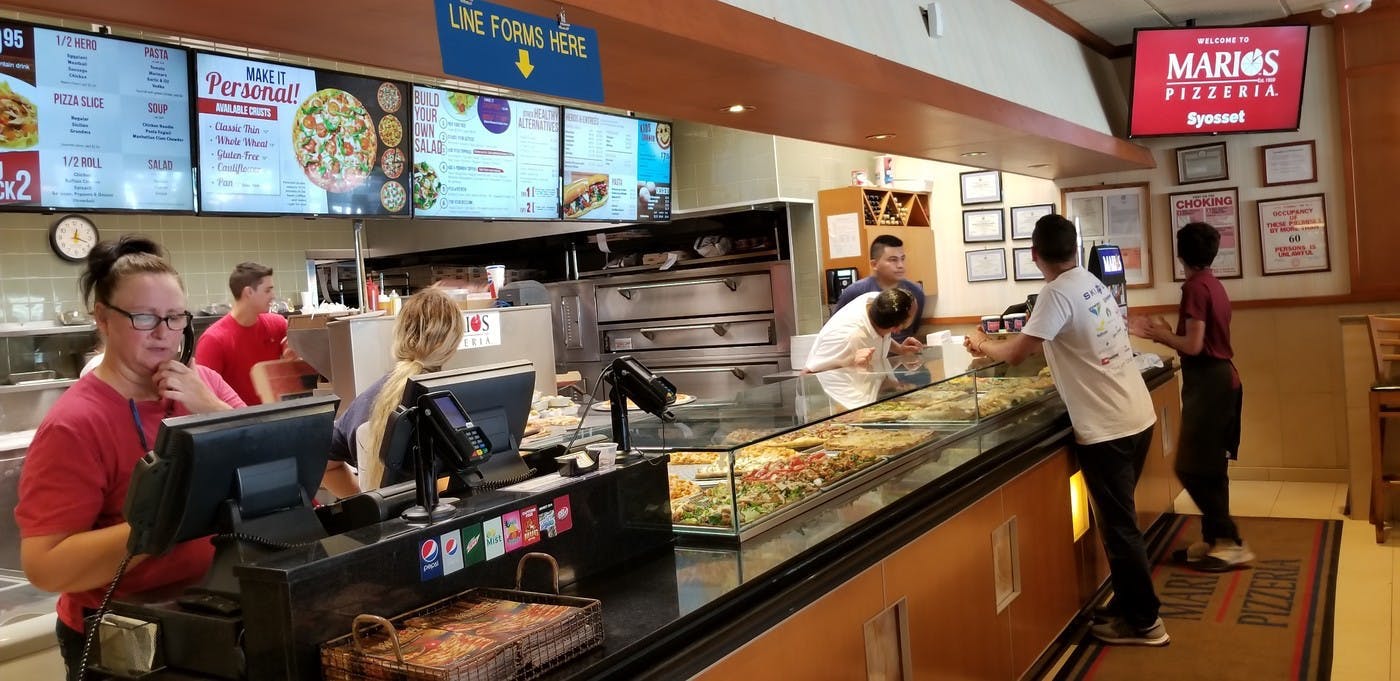 Mario's Pizzeria, where the screen branding is as great as the pies.
5. More digital signage interactions using mobile
We do nearly everything on our mobile phones these days, so it's hardly a surprise that we'd expect to also be able to manage our digital signage content from a phone. 
To date, this has meant taking a photo of the humble QR code in order to launch something from the screen to the smartphone. But the truth is, you don't really need a digital screen to do that. Print out and stick a QR code anywhere and you can have almost the same effect. So how are we going to use our smartphones to interact with digital signage in 2020? We see a few key ways.
The first is instant and temporary screen takeovers via mobile. This is particularly useful for making unplanned changes to content. This could, for example, be in an office to enable an emergency evacuation announcement, or in a fast-food outlet when a store manager needs to update digital menus to reflect changes in availability or price.
Another example of engaging with digital signage through mobile might be to provide a short URL. One way we're seeing this used more, is to invite people to join in a discussion. A company called Slido, who we like a lot and use internally often, makes it easy for audiences to participate in events or even internal meetings, by sending their questions or polls to the digital screens around them.
Lastly there's the option to inspire social media-type content that gets moderated before being added to digital signage. We've been developing an app called Engage that lets employees use an Instagram Stories type format to snap and share photos with captions. Once shared to a "screen stream", a moderator can choose what gets pushed out to the screens. 
Digital signage access via mobile helps to ensure higher levels of control of digital signage screens and help to surface more voices and messages, which can only be a good thing for the evolving digital signage industry. 
6. Outdoor digital signage for public content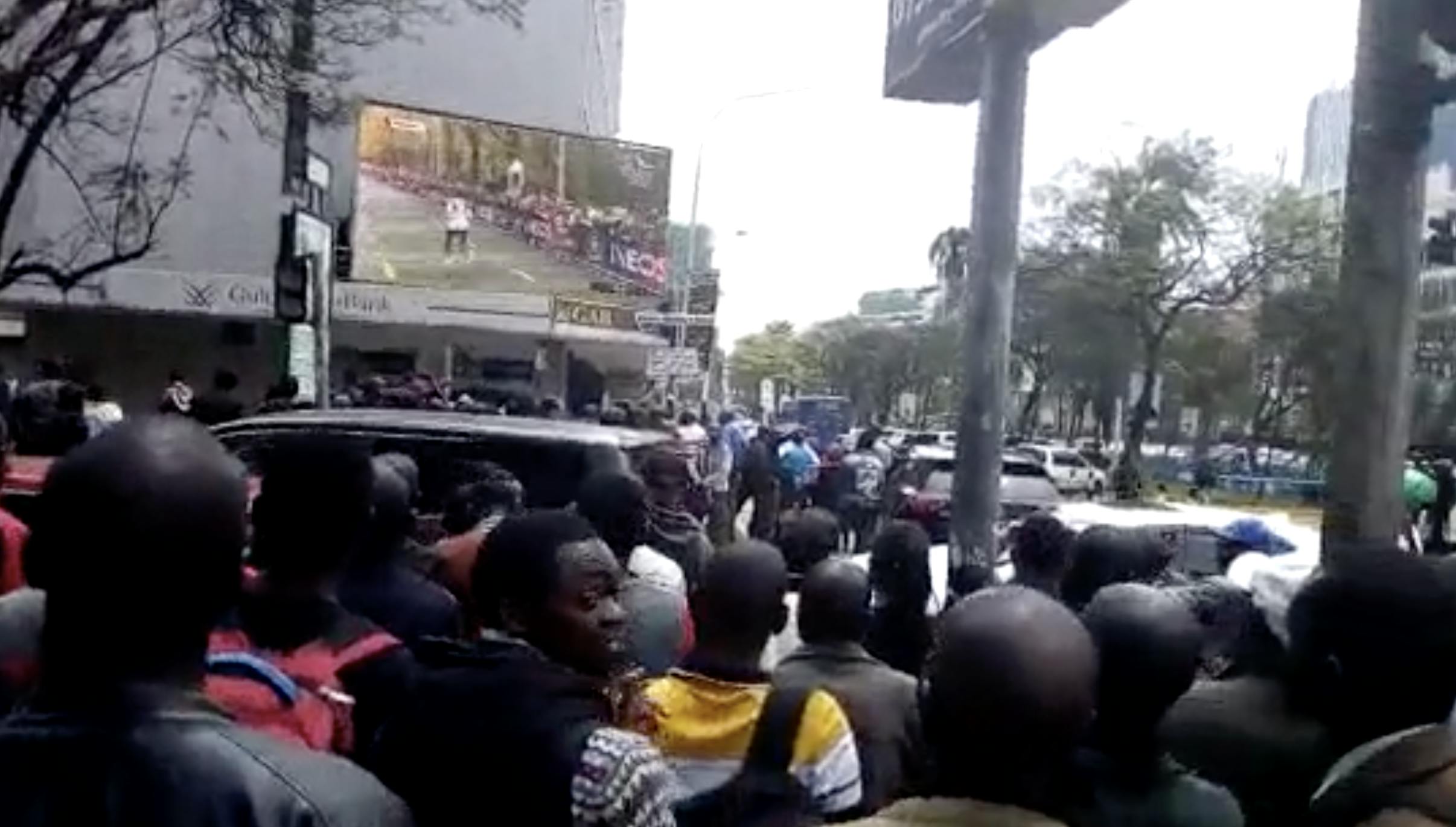 We're all glued to our own personal screens, which is why we predict outdoor digital signage becoming more common as a method of entertainment, in order to bring strangers together through public, communal viewing experiences. The perfect example is this scene from Kenya, where a ScreenCloud-powered outdoor screen stopped traffic as people watched fellow Kenyan Eliud Kipchoge's break the 2-hour marathon barrier – an achievement that brought some audience members to tears.
Outdoor digital screens are becoming more legible, even in direct sunlight, thanks to advances in reflective LCD technology. This means we'll see a lot more outside signage in areas like public information displays, wayfinding, marketing and quick service restaurants. Adoption is also increasing because the hardware is becoming more and more affordable and, unlike analog equivalents, it's super simple to amend messaging to reflect any unexpected changes. 
Where do you see digital signage trends going in 2020 and beyond? We'd love to hear your thoughts. Leave us a comment on Twitter @screencloud.
Shout out to Tudor Baciu on Unsplash for the great photo we used as a cover here, thank you!