If we think of digital signage as a long-distance run there are two main hurdles. The first is technical setup. But as we've mentioned in this guide there is a simpler way that doesn't require leads, expensive media players or break-the-bank hardware.
Once you're over that one, the second is content. With digital signage there comes a 'set it and forget it' mentality. By that I mean we agonize over our first batch of content, we set it up, feel proud of ourselves, show our boss. Then of course, we never look at it again.
The same content stays up on the wall, on loop, showing the same videos or images which eventually become mediocre to all watching, if not out-of-date completely. This is a huge wasted opportunity. Digital screens work and contain huge potential for reaching your audience in a way that you can't on the web or social media. 
The need to create and develop a proper digital signage content strategy is vast. Just a few of the benefits include:
Content that your audience actually wants to see
Improved brand perception
A solid foundation for great communication
More engagement
More user generated content on social media and feedback sites
More traffic to your website or other owned channels
Improved internal communication
Digital signage content that is easier to update and manage
If you need help setting up your digital signage display then head to our hardware selector tool. If you have that bit nailed, then let's get you started on how to build a powerful digital signage content strategy. 
1. Ask questions to set goals
Let's be honest, when we don't have clear goals our digital signage content becomes a hash of everything we have sitting in our Dropbox account. 
To avoid this, the first question to ask is: what do you want to accomplish? Common digital signage content objectives could fall into the metrics camp:
Increase web traffic (send audiences to a specific URL from your signage)
Sell more products (in the case of restaurant promotions and upselling)
Increase signups to an event or mailing list
Gain more social media followers or user generated content
Alternatively, they could drive viewers towards more desirable behavior:
Encourage sales teams to achieve higher target goals
Ease wayfinding or room booking processes
Increase brand awareness across key verticals or new products
Let's take an example of this in action. PC and Tablet manufacturer Lenovo needed to increase the awareness of specific products within their physical store locations. To do this, they needed to find a way to get customers interacting with them, to learn who Lenovo are and what they do. 
From these goals, Lenovo's digital signage strategy was twofold. Firstly, they created a digital signage 'selfie' wall in store, which setup a series of backgrounds and allowed visitors to use Lenovo's tablets to take images and push them to social media channels.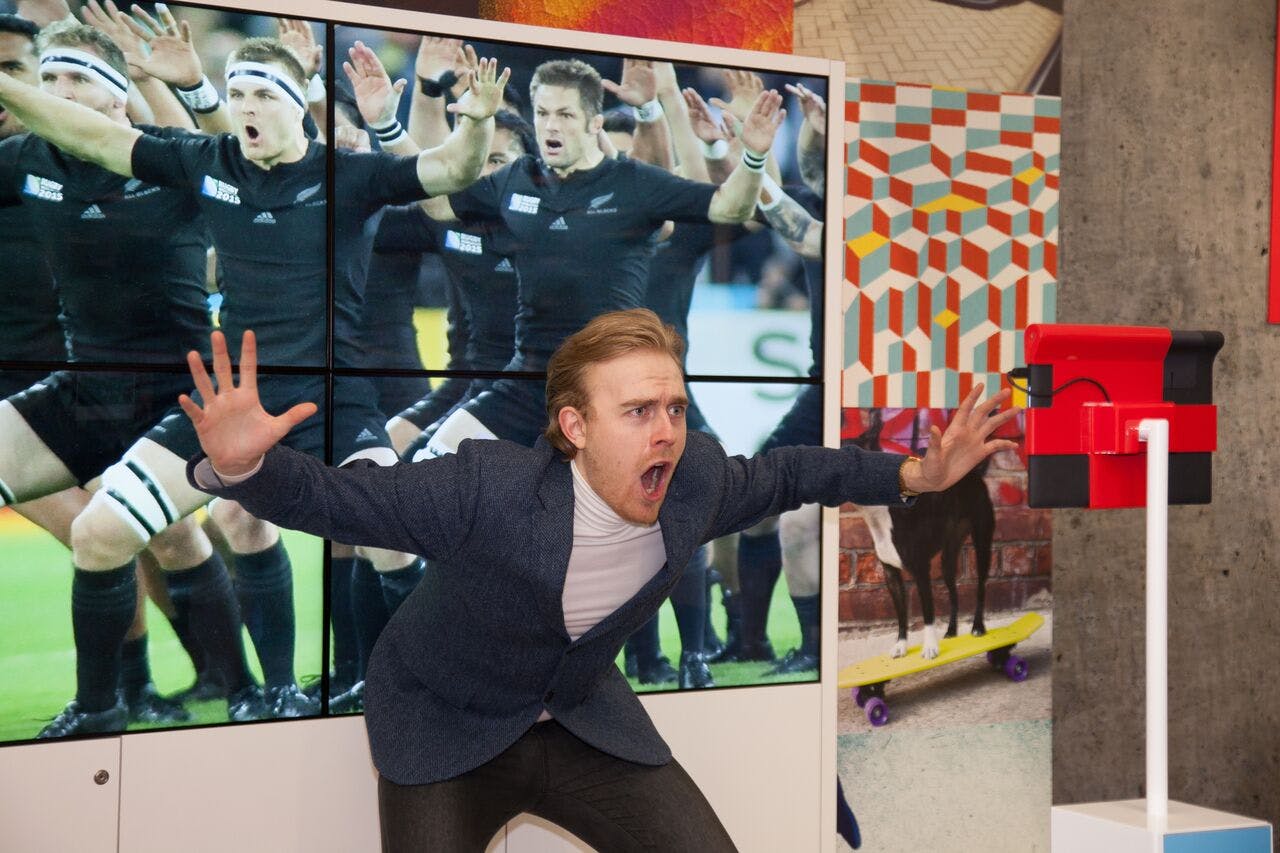 First goal achieved; visitors were learning about the products and were helping to spread the word to other potential users across social media.
Secondly, Lenovo ensured that they consistently pushed new messaging to their digital signage screens, updating promotions and providing key product releases. This kept visitors engaged with the brand and its developments, rather than simply pushing the same advertising content over and over again.
The result: a much more engaging digital signage strategy delivered for customers, using goals as the targets through which to define content. 
2. Set measurables
On the web it's perhaps easier to convince stakeholders of the value and importance of content marketing. You have companies such as Buffer and Kissmetrics who have defined entire business models around their power to draw in people using great content.
With digital signage content, you may still come across those who are skeptical. 
This leads to a very important question - how will you measure your goals? Whether it's by dollar, number, referral, follower count, web sessions, ice cream sales… the metric is your choice. If you can't think of a concrete way to measure what you're promoting then you probably aren't ready to begin implementing it in the first place.
Don't let this overwhelm you, it's simple! Set a goal, choose a KPI. Then repeat that until every piece of your content strategy has a start, middle and end. 
This doesn't need to squash your creativity either. Simply adding a unique URL, a promotional code or a call-to-action will help tell visitors what to do (they like that) and will ensure you get your measurables. 
Remember how successful the Coca Cola 'Share a Coke' campaign was? They printed names on a bottle guys. Yet it led to millions of user generated content on social media, uploads of fan images and a real alignment where people began to identify with the drink again.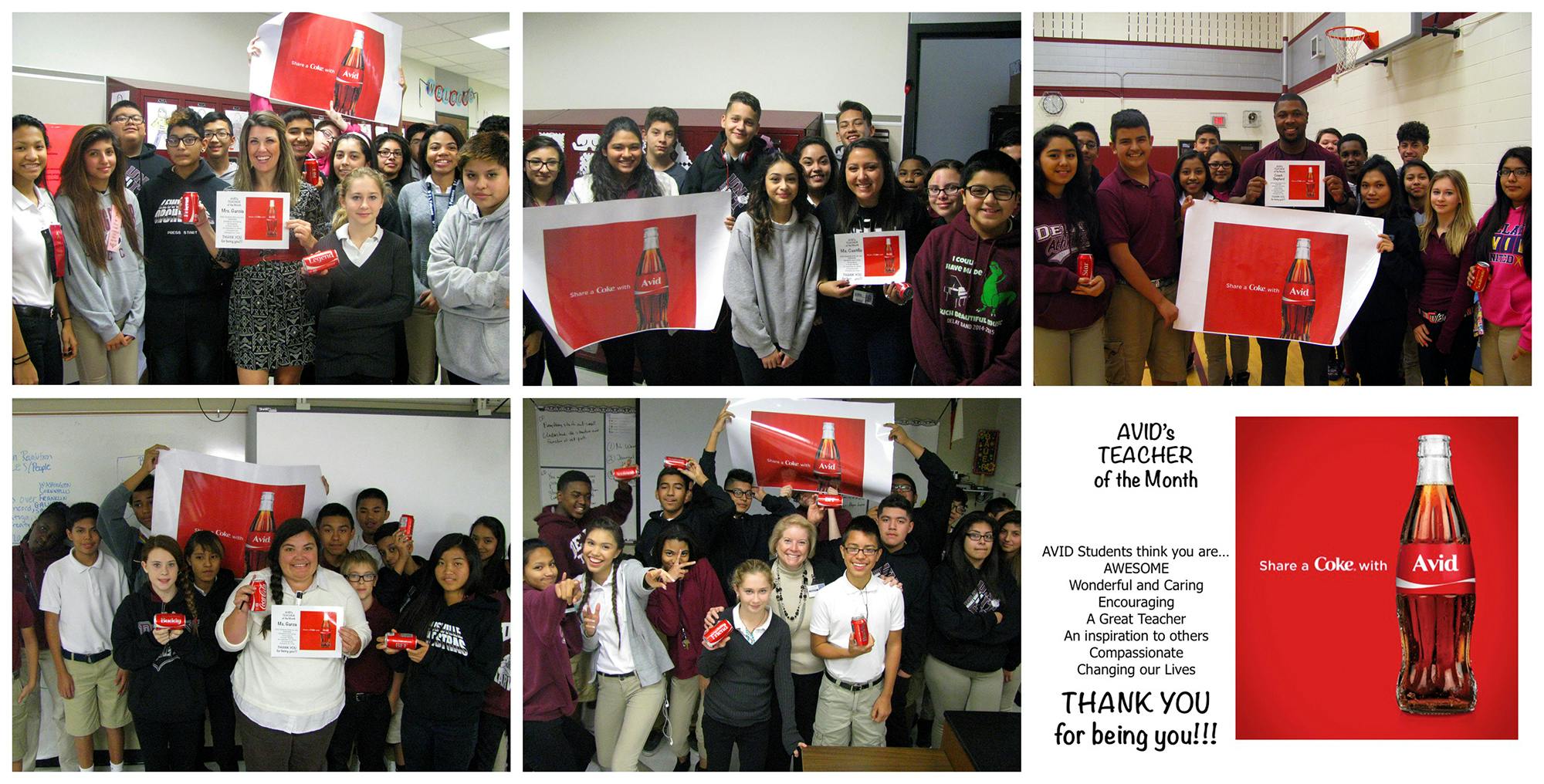 This is a powerful example of how the right content, with a simple metric such as 'get people sharing more' can take affect.
Don't think creativity is just for B2C either. With a B2B brand you could achieve the same goal by using company polls, dashboards and private social media channels that encourage staff to share more. 
3. Define your audience
If you haven't already, you need to create buyer personas. Hubspot have this great buyer persona guide that can help you dig deep into who your customer is, what their personal goals are and how you can help achieve them.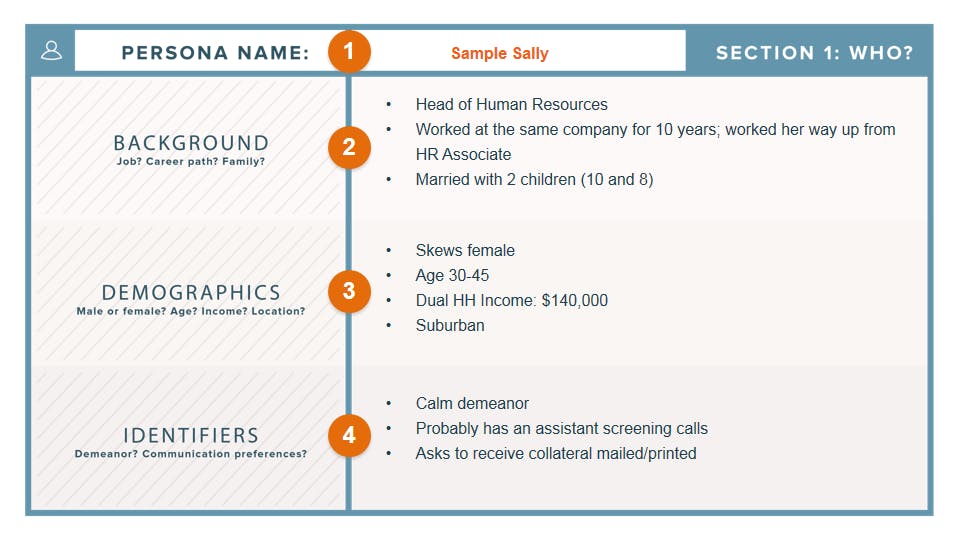 You can see how one of our digital signage customers has done that for their audience in the diagram below. Mamuska is a Polish restaurant based in London who have made digital signage a core part of their content marketing strategy. By doing this, they are able to connect what's happening on screen to their core business goals of increasing profitable peaks and enticing new audiences into the restaurant.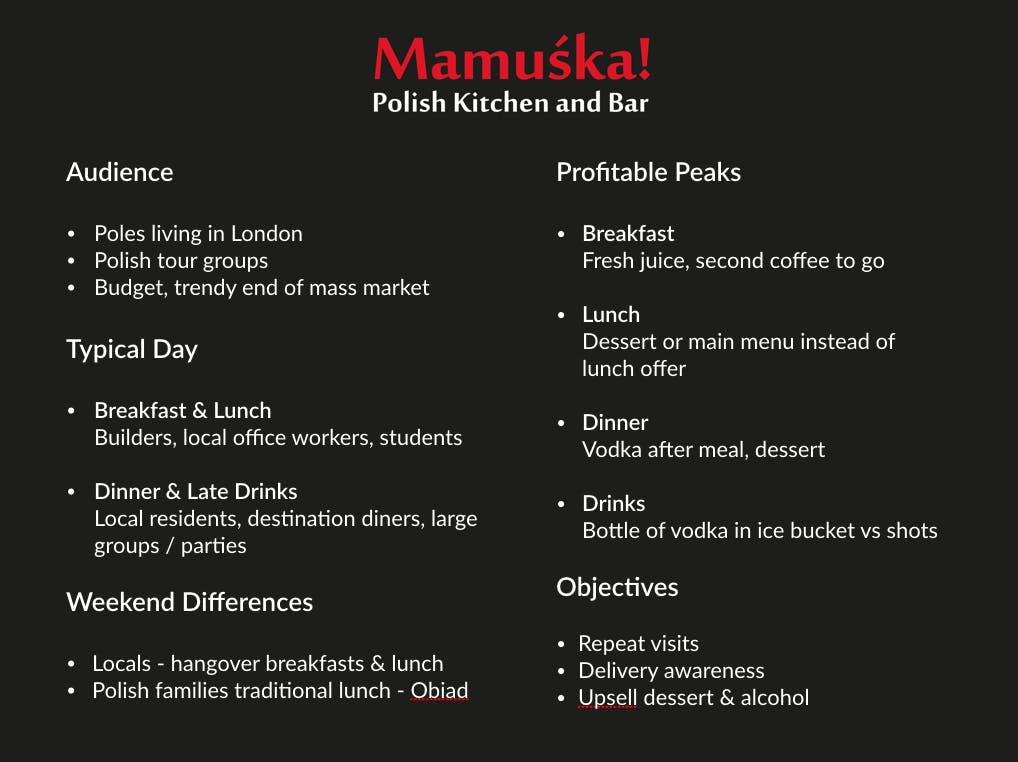 From this outline Mamuska has identified:
Who their core audiences are
What their typical day looks like
What their typical day looks like during the week vs the weekend
What they are interested in at each peak time (breakfast, lunch, dinner etc.)
What their objectives are for these core groups (encourage them to return more, buy more desserts etc.)
Once you have your audience personas it should be much easier to choose and design content. Which leads us onto step four!
4. Pick content for personas
After doing all of the work on your buyer personas it would be silly not to use them to drive content right?
According to the Content Marketing Institute, companies who use a variety of content approaches (15 to be exact) have higher success with their content marketing strategy.
Some of the content forms you could use for display on your digital signage displays include:
Social media - if you already have social media streams that you love and nurture why not put these out into the world? We have a ton of apps and dashboards which allow you to create beautiful social media signage that can easily help fulfil goals of increasing followers and even directing more traffic back to campaign pages on your website.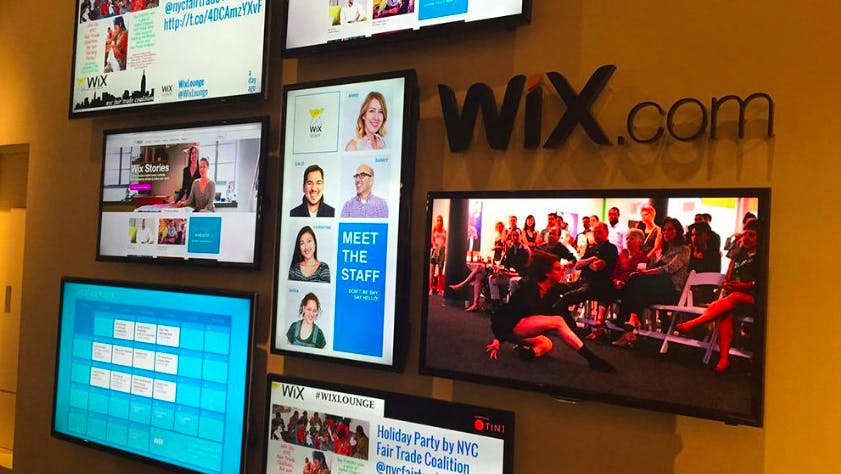 General information - if one of your goals is to make patrons linger longer over their coffee, why not use information of general interest such as news feeds, weather and currency rates? This can also be used with digital signage zoning as a way to attract eyeballs to your screen. We all want to see the latest headlines, so why not setup a zoned display that shows the news, a Twitter feed and your latest product or showcase? 
Visuals - videos, images, infographics and dashboards are all great ways of displaying information in a more visual format. You only have to look at Go Pro's Instagram account to see how dynamic and emotive their visuals are. The pace is exciting, the shots led by events. They're selling cameras designed for action and who wouldn't be inspired to try or buy one after seeing that?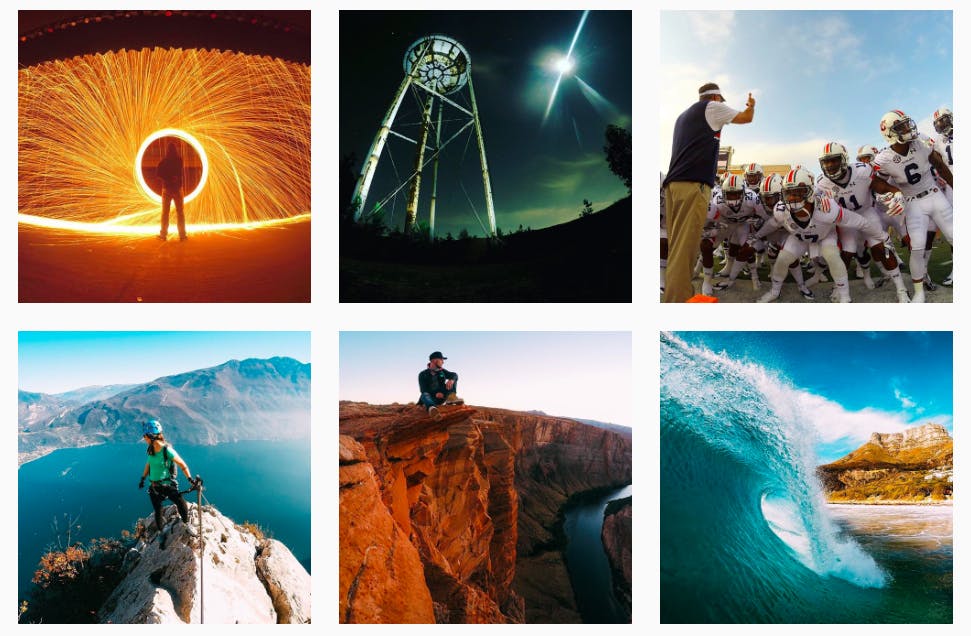 Video - our instincts that once helped protect us from danger ensure that movement attracts our eye. This is why video is becoming such a popular format for disrupting the viewer's glance within social media feeds and across other mediums. This is a powerful way of displaying content to your audience via the medium of digital screens. 
Notices and humor - how many times do you see people Instagram the quirky messages pubs put on chalkboards to entice people inside? Certainly more than once or twice. Knowing your audience means knowing what you can do to surprise, delight or make them laugh. Humor and emotive messaging is a great way to inspire them to act and share your message with friends.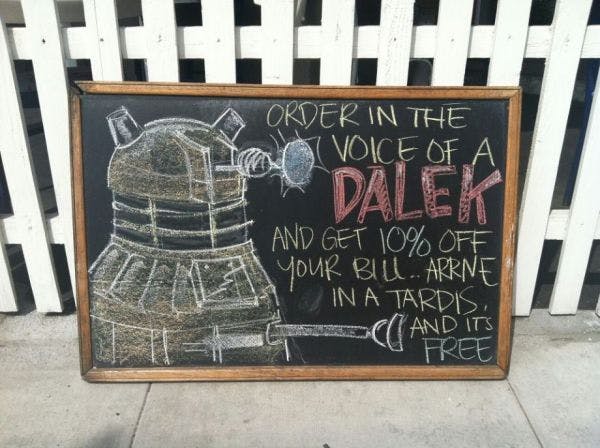 Lastly, give your content a 'sense check' before it gets displayed on your screens. This ensures you cement your digital signage content with your viewer's behavior. As a viewer, there would be nothing more annoying than being shown an advertising reel, but not being able to find the toilet. Your digital signage content's primary goal is to help, inform or impress your audience.
If this means creating a display that shows the way to the toilet, cafe or exit between every slide then so be it. The content needs to be interesting but shouldn't hinder the experience. Basically, it needs to be worth the watcher's time.
4. Segment your content times
Once you have your content you can segment it in order to create the optimal display for your audience. To work this out you may want to think about:
What type of audience will be passing by and when?
Who are my customers and how will they be feeling when they see my displays?
Are my customers different in the morning compared to the afternoon?
What information is going to be most useful/relevant/interesting to my audience at any given moment?
Something we discuss in our guide to creating the perfect playlist is how to tell a story or 'anchor' your digital signage display with slides or notices that lead each section. This only really works if your audience are going to be watching the content for more than a few seconds.
In an office, reception, restaurant or hotel bar, your audience are likely to linger longer. You can use this opportunity to create one full piece of content (such as a video infused with client testimonials, action shots, interesting stories and case studies) or you could create lots of short pieces of information, perhaps led by a theme or with introductory slides.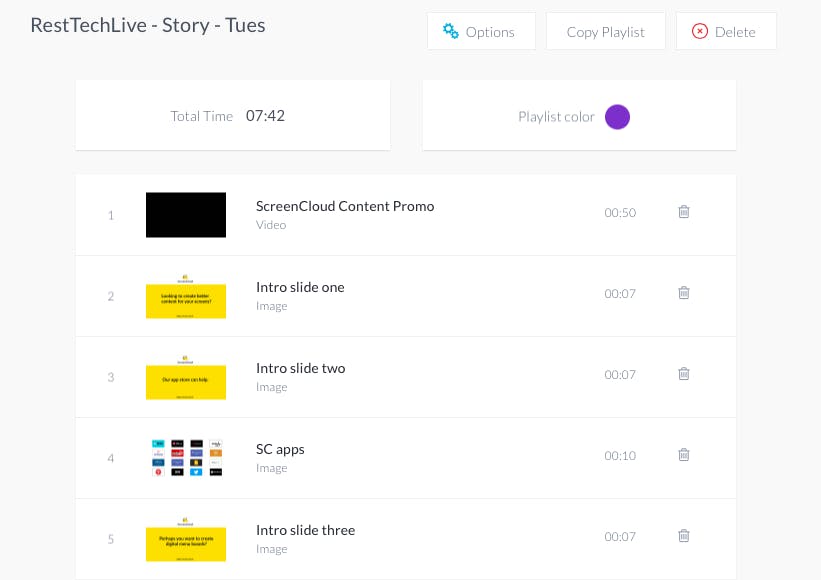 In Pixar's 22 rules of storytelling number five is:
"Simplify. Focus. Combine characters. Hop over detours. You'll feel like you're losing valuable stuff but it sets you free."
Once you have created your content and set it up into playlists and schedules this is a great way to check that the narrative makes sense. 
Could you simplify your messaging for those who will only catch a glimpse? Is there too long a pause between each slide? Watch it back as if for the first time and try to condense your messaging and format.
5. Build for engagement
Virgin, perhaps one of the biggest and most successful brands in the world, conducted a study in order to underpin its future content strategy with data-led insights. 
They looked at:
What people search for
What they follow on social platforms
The views and interests they express online
From this they were able to create a strategy for how the Virgin.com website could use content to drive higher engagement.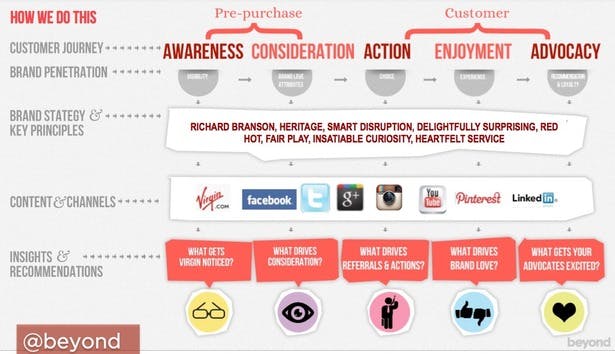 One insight was that space travel was promoting the most buzz around the brand, as opposed to fitness, travel or any of Virgin's other verticals. This was then used as a key theme through which to generate conversation and showcase insights.
Perhaps you don't have as much data or research to hand as Virgin did but I bet you could still work out what gets the best engagement with your audience.
Some of the digital signage content tactics you could try include:
Competitions
Social media conversations that ask for audience participation
Voting and polling
Product competitions 
Live data - website hits, sales metrics, conversions
Team insights
Customer storytelling
Points of interest
World events and commentary 
6. Create fast, break things
Perhaps you want to try a fun way to sell more deserts by creating a distinct promotional code, hiding it within a video and telling every viewer who finds it that they can grab a free ice cream. 
Or maybe you want to react to Pokemon Go, or the latest Presidential elections by popping up a slide or image that gives your insight to the topic.
The true benefit of cloud-based digital signage (like ScreenCloud) is that your content is never set in stone. Unlike print, static signs or old digital signage displays powered by USB sticks, there's endless potential to create content, test ideas and refine your offering. 
7. Review and adjust
As we mentioned earlier, the purpose of a digital signage content strategy is to ensure your content doesn't get stale. Don't spend time and effort setting up your digital signage then let it rot away like an unloved website or weather-tarnished static sign.
This guide can be revisited at any time. Your measurables can be tracked at any given moment. We become much better marketers and our money is better spent when we review and adjust our digital signage campaigns and uncover what really works for our audience.
 To get started with simple digital signage software that allows you to setup all of the above, head to screen.cloud for a 14-day free trial.