Publish content to your screens directly from Microsoft Teams
Learn More


How to Boost QSR Profit With Digital Menu Boards
...and win in the attention economy
It's 1921. The world's first burger chain—White Castle—opens its doors for the first time. The smell of their iconic onion-steamed sliders spill out into the street. Back then the faint waft of a killer burger was enough to convert customer attention. Not anymore.  Permanent distraction is the standard operating system for many. QSRs need to cut through the noise and compete for attention. Adopting digital menu boards as the 'secret sauce' in a QSR digital signage strategy is key in a world of intensifying digital chatter.

Before sticking a fork into 'how' digital menu boards boost QSR profit, it's important to first understand 'why' food menu media is even necessary.
Why digital menu boards need to win the battle for customer attention
QSR franchisees will be forgiven for thinking:

"We sell fast, tasty, honest food. Not digital clickbait content. What does the attention economy have to do with us and why would we need digital menu boards?"
It's true—attention economics is a talking point of digital, online economies. That said, there are parallels for profit-conscious QSRs that rely on converting customer attention. Especially given the overlap between digital and physical commerce, plus the resulting spillover in expectations of customers used to digital dining experiences.

The takeaway is this—old and outdated print menus do little to elevate the customer experience. Big chains already learned the lessons of attention economy, creating digital dining experiences by removing the old printed menus and replacing them with smart screens. Ambitious QSRs looking to keep pace and thrive must follow suit.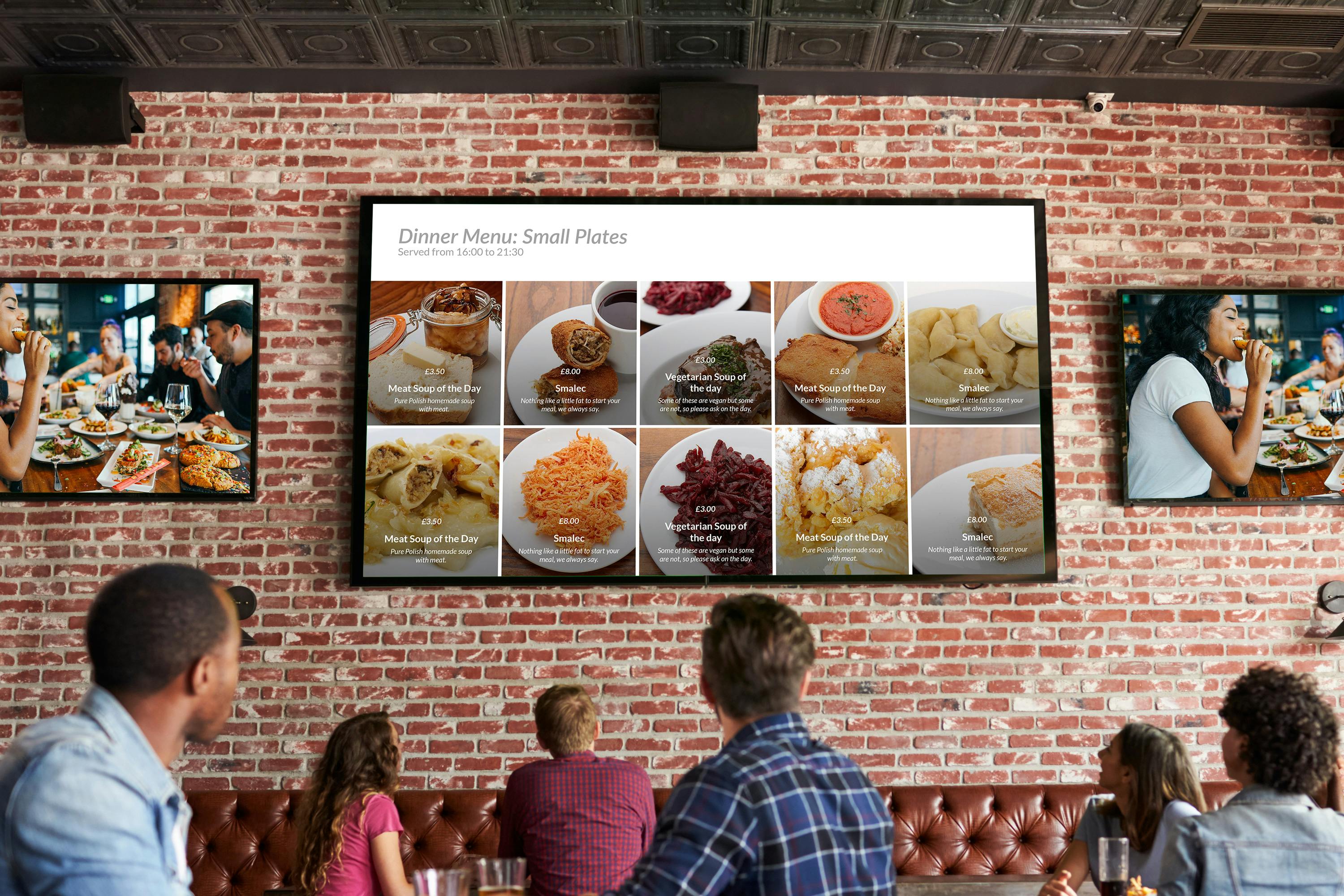 What is the 'attention economy' and why should QSRs care?

In the simplest terms:

"Attention economics is an approach to the management of information that treats human attention as a scarce commodity."

In today's intensely competitive QSR economy, you can bet your bottom dollar customer attention is scarce. QSRs must compete not only with big chains and other local competitors, but with their own customers' limited attention spans – plus, a myriad of digital attention economy players trying to capture them.
What's the opportunity with digital menu boards for QSRs?

The value of food menu media for QSRs is to emulate—both curbside and inside—the digital experiences customers are used to for sourcing information. Tired, inert print menus that fade to background just don't compete on that level.
What causes empty-handed customer u-turns?
It could be any number of things:
Maybe their order is 'out of stock' on the paper or JPEG menus you forgot to update
Maybe they were put off by queuing 
Maybe they spot a larger chain opposite and are seduced by the promotions clearly shown on large, digital screens
The point is that all of these distractions make costly land grabs into customers' attention that can leave QSRs out of pocket. Digital menu boards can prevent this, and in turn, significantly boost QSR profit.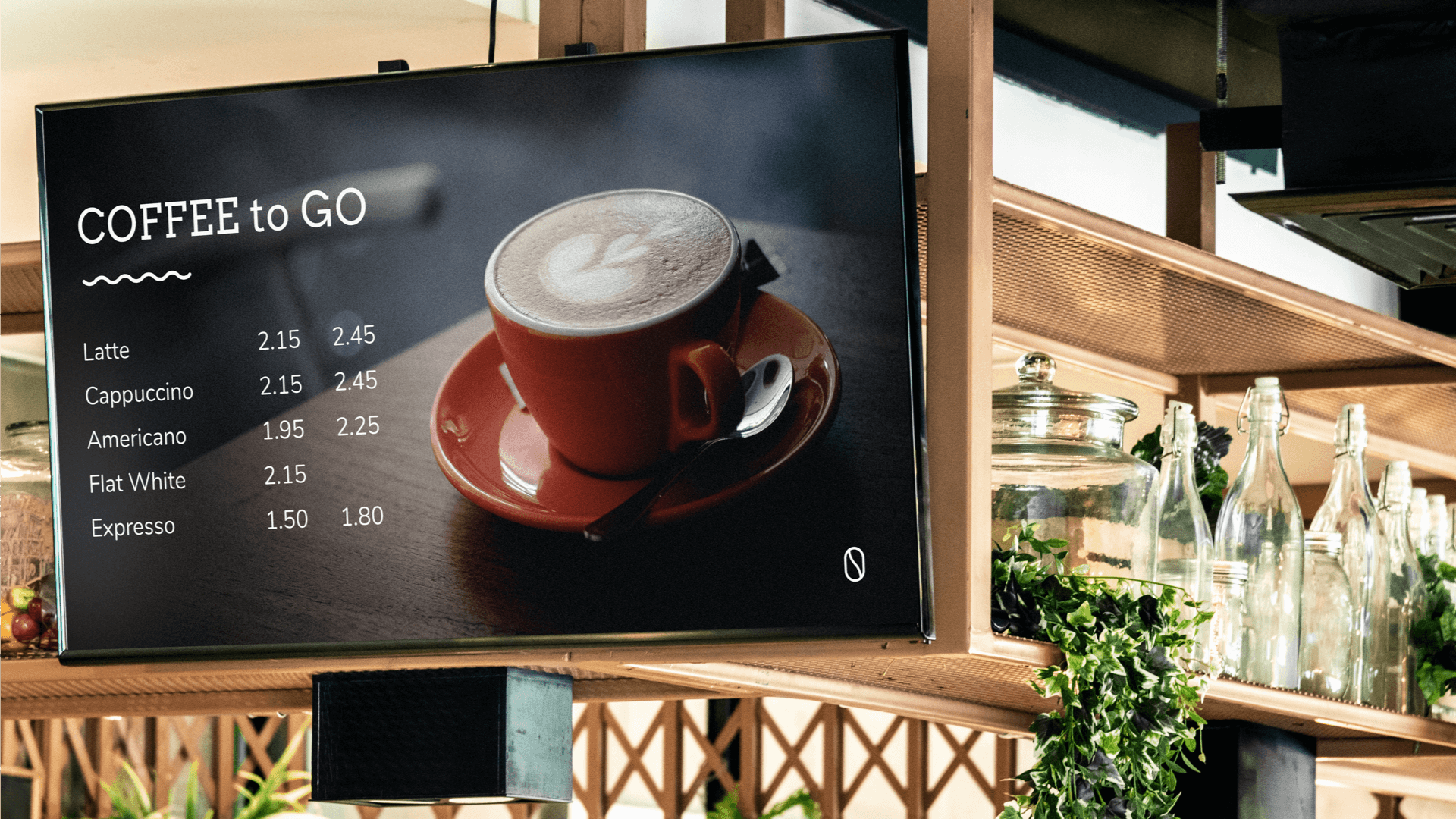 How digital menu boards win the battle for customer attention
Just getting footfall to hotfoot inside and load up on orders is a challenge QSRs strategize for—and adopting digital signage as part of that strategy is a powerful way of fighting digital fire with digital fire.

QSR profit boosting is all about the attention grab

Food menu media and the digital signage software for creating it are more than about simply keeping menus automatically refreshed and updated.

Digital menu boards pack a lot of other perks.

Get curbside footfall outside, inside

Forget the chalk sandwich board. It's all about curbside digital signage that comes to life with rich media, scrolling promotions and eye-catching design. That's how savvy QSRs cut through ambient distraction to draw people inside.

Keep queueing customers inside and engaged

Once you have queueing customers, the tactics need to change. Now it's about sustaining and entertaining attention with dynamic food menu media that keeps customer boredom and apathy at the door.

Create meaningful and consistent digital dining experiences

What's the top-down value of digital signage and digital menu boards for QSRs? It's the utility of being able to match customer expectations and user mental models that have been shaped by digital experiences.

Ultimately, digital signage and food menu media help QSRs communicate brand relevance to customers through consistent, relevant digital brand experiences.
Game-changing digital signage for attention-hungry QSRs doesn't have to cost the world
The good news for QSRs is that there's no reason why 'mom and pop' eateries can't compete with the big players. Launching sophisticated digital food media strategies doesn't have to be prohibitively complex or expensive.

Easy, affordable digital signage scalability

ScreenCloud gives QSR franchises an alternative to the costly enterprise route for rolling out digital signage incentives that generate meatier bottom lines.

Better still, ScreenCloud's intuitive, easy-to-use software is ideal for easily scaling digital signage strategy at a pace of your choosing across multi-location QSRs. Whether centrally or locally controlled franchisors and their franchisees can quickly create and adapt strategic digital signage strategies that command and convert the attentions of even the most distractible customers.
Ready to get your organization connected?
Connect your first screen today with our 14-day free trial
blog