Without the large resources enjoyed by major banking groups, Credit Unions have historically not been in a position to invest heavily in digital transformation. 
Yet, improving new and existing member engagement doesn't have to be complicated – or costly. Using a tool like ScreenCloud removes both the IT and content creation difficulties often associated with digital signage.
Digital signage is a powerful messaging medium that can unlock the barriers between what you want your members to know, what they want to know, and amplifying those key messages. It is also  greatly beneficial for the engagement and productivity of your staff. 
Ultimately, it can be your most powerful marketing ally. 
Why digital signage is great for Credit Unions
As a community-focused business in a competitive market, improving member and employee engagement is critical to a Credit Union's retention capabilities. 
As a member-owned business, focusing on digital transformation benefits everyone; offset membership fees with a better customer experience, increase dividend payouts from promoting new products and play a bigger role within your community – all enabled by digital signage. 
Customer-facing digital signage screens
One of the major benefits of banking with a Credit Union is that they place members above profit. But this in turn increases expectations for a greater customer experience.
Digital signage allows you to inform, educate and entertain members. Show content that really matters to them, all with the ease of pushing that content out to your entire screen network from one centralized content management system – no matter the screen location.
With the right content strategy, a customer-facing screen greatly enhances your marketing efforts; one credit union saw a 369% increase in car loans, a 233% change in card valet enrollments and a 109% increase in their rewards program, all from implementing a digital signage strategy.
Digital signage also allows you to replace the (often outdated) paper notices that can make branches feel cluttered. It helps you to structure what you want your members to see, and also enhance the visibility of those messages above other communication methods.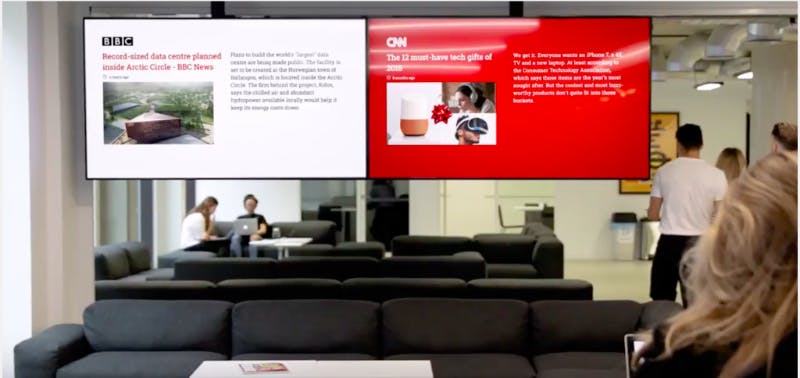 Create a Members' Playlist
Playlists are a flexible way of organizing your content, and creating one specifically with your members in mind can enhance engagement. 
Create branch-specific content or a communal Playlist that can be shown across your screen network; any edits can be made directly within ScreenCloud, which in turn updates the content shown on all screens.
You can create your own content using a simple design editor tool like Canvas, or upload your own existing media.  You can also download one of the 60+ app integrations from the ScreenCloud App Store.
Members' Playlist content could include:
ATM locations: Show an up-to-date map of where every available ATM is for your Credit Union.
Fees: Highlight any changes to fees (and how they compare to your competitors).
Sell products and services: Ambiently show various products and services without the push tactics. (Read about the power of 'dwell time' here). 
Dividend payments: Entice new members by showing historic dividend payouts and when the next is due. 
Decrease perceived wait time: Showing things like live news or soccer scores can reduce perceived wait times by giving your members something else to focus on. You can also use your digital signs to signal when the next banker is available, or average wait time.
Branch news: Celebrate new members or employees joining. Highlight branch initiatives. Or even upload quotes from members.
Build a community
Credit Unions are a big part of the local community, so use your digital signage to reflect your positive corporate citizenship. Along with showing your members' Playlist, create a community one to show your members that you are truly focused on the people in the communities that you serve. 
User-generated content: Build an active following on social media by showing some of your members' posts in-branch and turn them into brand ambassadors. Create a special hashtag for members to show off community events, or projects made possible by you. Schedule a social media wall to show these posts amongst other content. You can also add a QR code to take members straight to your social channels to follow.
Local events: Add a countdown timer to the next big community event, or even share videos from it via the YouTube app. If it's something special – like a Christmas light turn on – you can even broadcast it live to your screens for members and employees to enjoy. 
Member news: Add a further personal touch by creating a member noticeboard. Celebrate member announcements or advertise local offers. Have a look at these 10 uses for the noticeboard app for inspiration. 

Employee-facing screens
Digital signage doesn't just benefit Credit Union members. Screens in the back office can greatly increase employee engagement and productivity, while also adding to your internal communications strategy.
Secure dashboards
As with any business, getting the right data in front of the right teams is essential for cultivating a data-driven work environment. This can greatly increase productivity. One of the many issues of achieving this, however, is how to get this data onto screens securely.
ScreenCloud Dashboards can optimize your data visualization tools and empower your employees with real-time performance metrics – with enterprise-grade security. Use tools like Tableau, Grafana or Power BI to monitor account health, member sign ups, expenses or even your marketing activities.  
Branch news
If your Credit Union has multiple locations, keep everyone informed of what's going on with a centralized Playlist. Show weekly reports of new members, fee changes, board meeting notes and general announcements. Using an app like Google Alerts can also send through any branch mentions on the web to ensure you can take immediate action where required.
Employee news
We've written before about how digital signage is an essential tool for improved employee engagement; uploading employee news and announcements can help with retention and making employees feel valued. It can also build a sense of community and camaraderie.
(For more ideas on how digital signage can improve internal communications, check out our guide to engagement, screens and the new workplace.)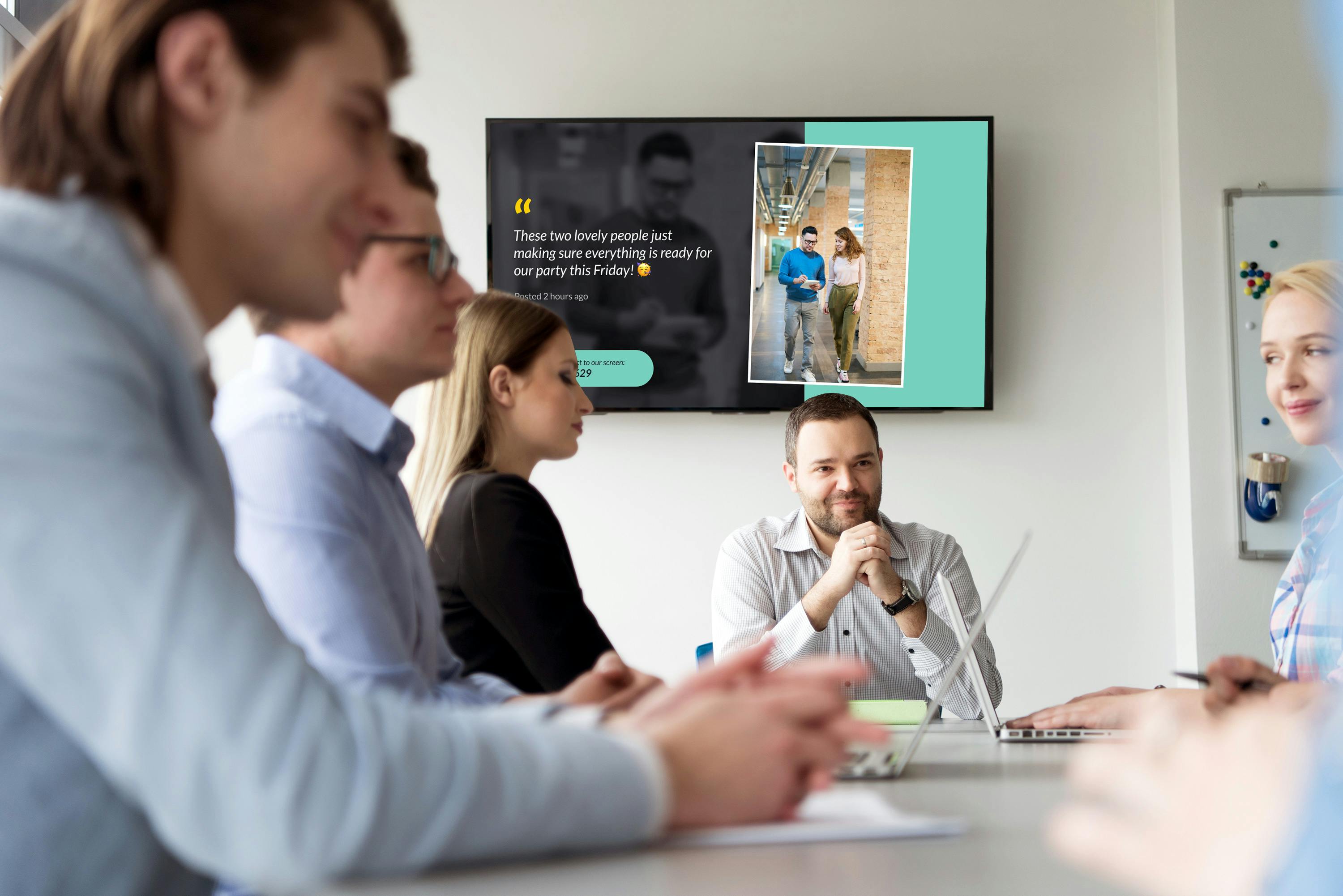 Get started with Credit Union digital signage
If you'd like to see how ScreenCloud can help you create a personalized experience for both your members and employees, request a demo or sign up for a free trial.